Summer Activity Board for the Family
Calling all kids (and parents too)! When warm weather comes and school is no longer in session, we might think we've got it made in the shade—literally! But after a while, it's easy to run out of fresh ideas for summer fun. Not anymore! We've tackled that problem head-on and come up with an over-the-top idea that's so totally summery, it's crazy. Introducing the Summer Activity Board: a DIY project that's packed with fun summer activities for kids and adults and LOADED with awesomeness. Long, boring summers are about to become a thing of the past. Let's check it out!

Disclaimer: This post contains affiliate links. To learn more about 'em, click here.
But first, we have to give a gigantic summertime shoutout to Carisa from Messes to Memories for designing such truly adorable printables for us. Seriously, this ultra-high level of summer fun just wouldn't have been possible without her skills!
Assembling your Summer Activity Board
Alrighty, let's jump right into the sprinklers er…we mean the goodies! Your Summer Activity Board full of fun activities for kids is SO easy to assemble, it's almost nuts. We've truly made the guesswork non-existent with this one and we can't wait for you to check it out! To begin, you'll want to gather a few materials and read the following steps so you're super duper set for some serious summer fun.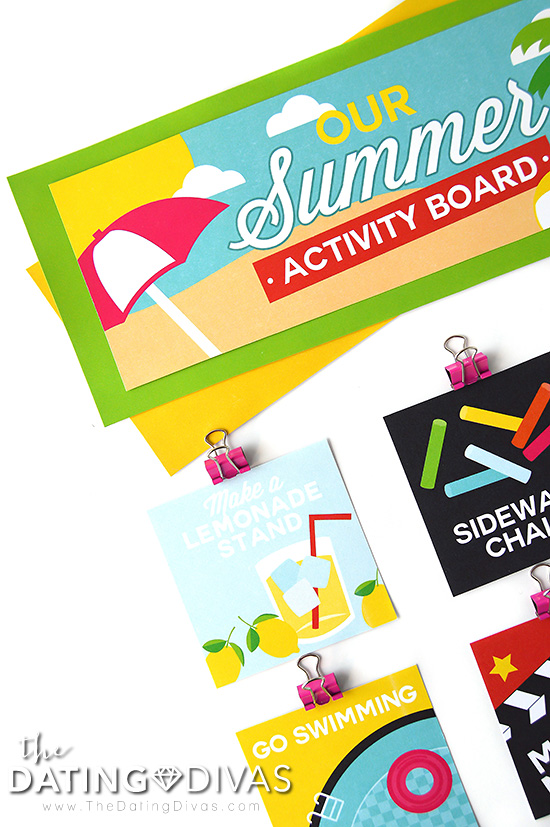 Materials Needed
Step 1- Print the Summer Activity Board printable pack (you can find it at the end of this post!) and cut out the board title and individual activity cards. As a note, we've included a blank activity card in case you and your kiddos feel like brewing up even more summer trouble, but you could always use colored sticky notes in a pinch!
Step 2- Go ahead and grab your board of choice. There are SO many ways you could take this idea! We went with a large, solid-white foam board but you could also use a traditional cork/bulletin board, or take everything in a more magnetic direction by using a chalkboard, whiteboard, or even the fridge.
Step 3- Grab whichever type of 'pins' you plan on using! Again this will all depend on which board you use. We decided to hot glue miniature binder clips on our foam board backdrop for a fabulously easy way to rearrange our cards.
Step 4- Place your board title at the top of your board and secure with adhesive. Unlike the activity cards, the title will remain in place for as long as your board is in use so using adhesive isn't a problem.
Step 5- Decide exactly how many summer activity cards you want on the board at one time – this will determine how many clips or pins you'll need. If you're securing clips with any type of adhesive (like we did), now's the time to do so!
Step 6- Gather the kiddos and pick out which summer activity cards you'd like to do first. Warning: this may be the trickiest part as there are just so many great ideas to choose from!
Step 7- Affix your selected cards in place and get ready to rock 'em!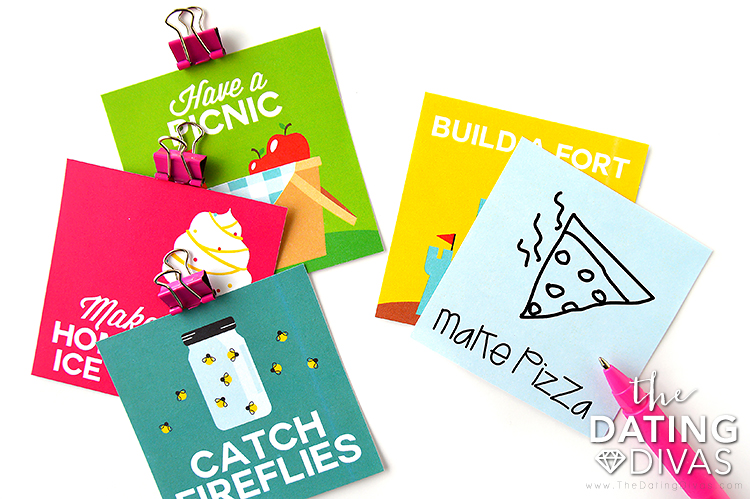 Seriously simple assembly for endless summer fun (whew, say THAT five times fast)!
Using Your Summer Activity Board
Once everything is in place, it's time to make the magic happen. Each day (or whatever frequency you choose), have your little ones pick a summer fun activity they'd like to do from the board and go have a ball! Repeat the process each day until you've done every activity on the board. Once that happens, it's time to revamp and refresh by swapping the completed cards out for new ones. The same card instructions as above apply: select, place, partayyy! Save this step by step process on Pinterest!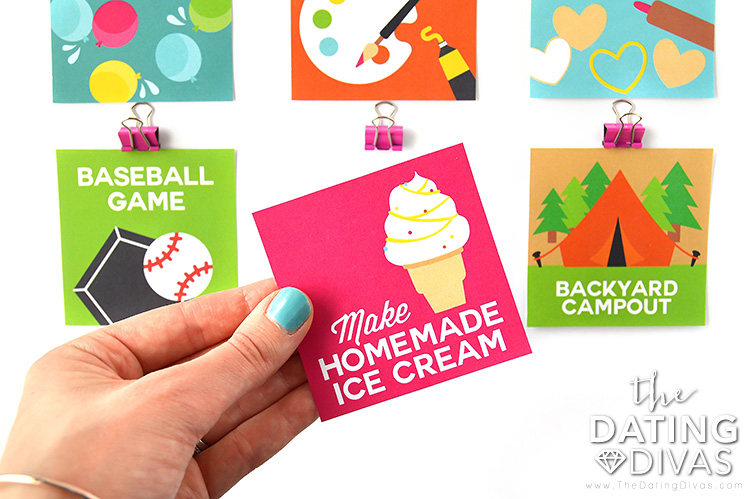 Indoor Activities for Kids
One of the BEST things about your Summer Activity Board is that there are SOOO many options to choose from! We've got everything from indoor activities for kids and adults to more outdoorsy options that everyone will love. Whether you want to take it easy and keep cool or get more in touch with nature, there's a card for that! Take a look at some of the more indoor-friendly options below: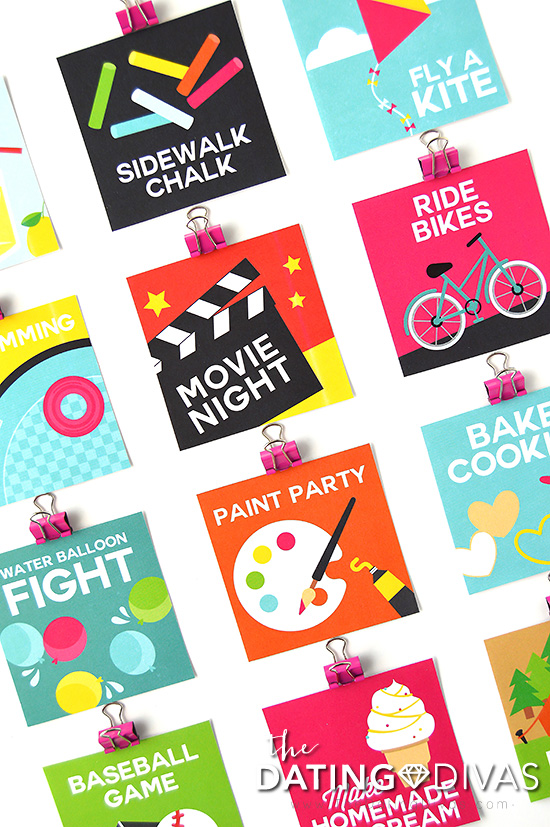 Movie Night
Bake Cookies
Paint Party
Make Homemade Ice Cream
Visit the Library
Play with Playdough
Build a Fort
Blow Bubbles
Outdoor Activities for Kids
And for the more outdoorsy families (or those aspiring to be such!) we've got a great set of fun outdoor activities for kids that are perfect for even the tamest of little ones. These might require a little more planning and a lot more sunscreen, but they're cuh-razy fun and will make for some fabulous summer memories. Take a look!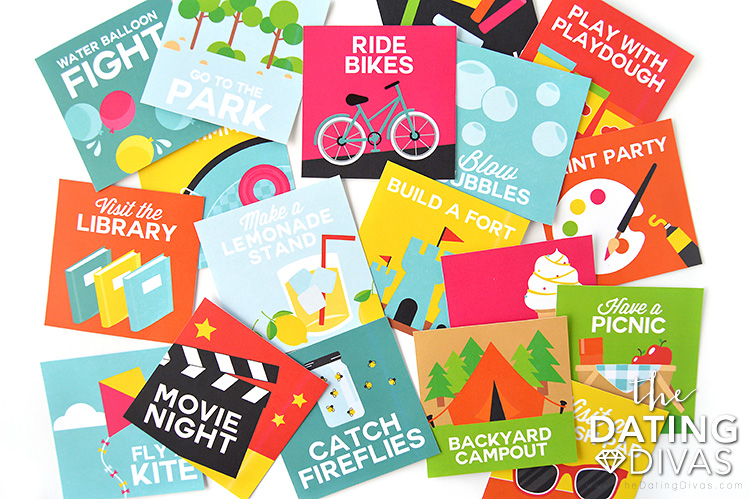 Fly a Kite
Make a Lemonade Stand
Water Balloon Fight
Go Swimming
Backyard Campout
Ride Bikes
Go to the Park
Catch Fireflies
Play in the Sprinklers
Baseball Game
Visit a Splash Pad
Night Games
Miniature Golf
Have a Picnic
Even More Summer Fun Activities for Kids
Has this been full of fun or what?! We told you even the adults of the family would be on board—no pun intended! Now try as we might, we just couldn't include EVERY single summer fun activity that we wanted because there are literally too many to count! Luckily, we've included the following list of ideas for even more goodness. Try selecting a few to add to your own Summer Activity Board or come up with a few of your very own.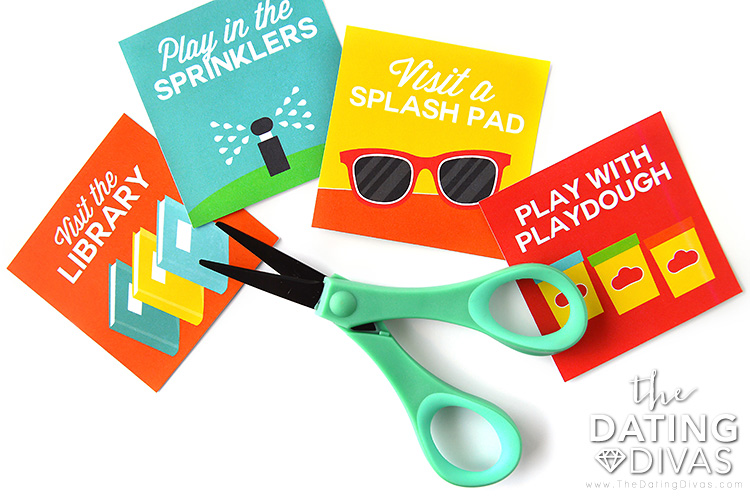 The opportunities for summer fun are ENDLESS and as long as your family is having an A-okay time, we call that a win!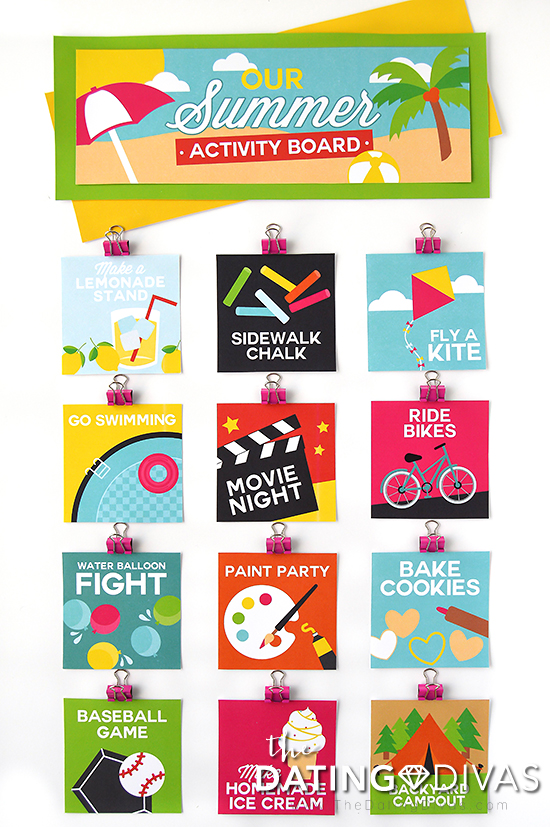 Now what are you waiting for?! Go whip up your board STAT and Happy Summering!
SaveSaveSaveSave
SaveSave
Summer Activity Board
Printables Designed by Carisa @ Messes to Memories Exclusively for The Dating Divas