Indoor Rainy Day Activities
I am definitely feeling a need for some beautiful, sun-shiny days! But while we anxiously await summer days at the splash pad, why not make the most of the Spring rain with some awesome indoor activities for kids AND adults?! That's right, not only do we have indoor activities for kids, we have rainy day date ideas and other rainy day activities for adults! Because let's be honest, not only do the kids need to be entertained, I need something to keep me entertained! Let's take a look!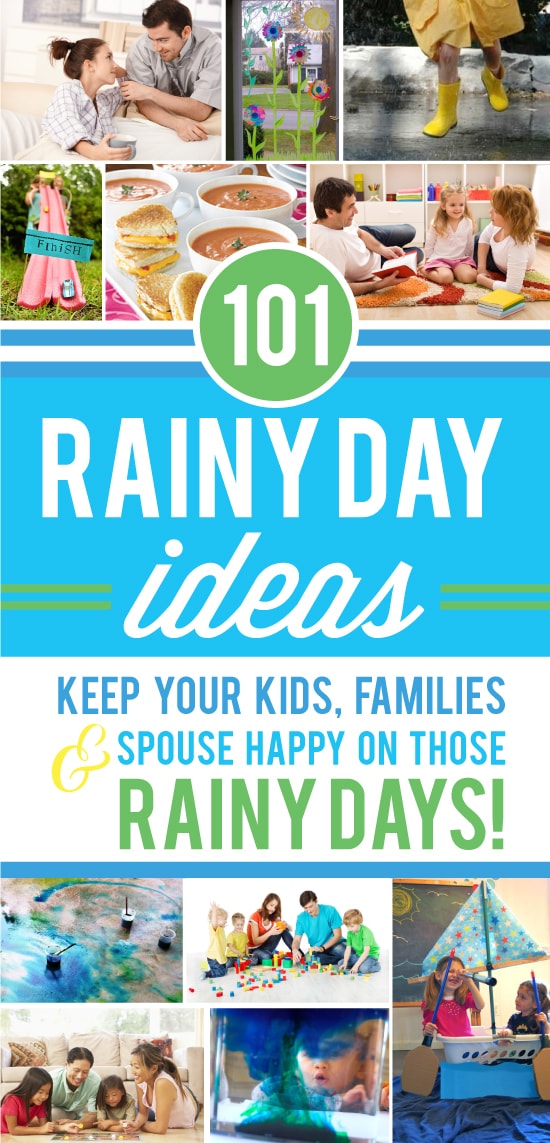 I love Spring, but it taunts me a little with all the rainy days. One day its beautiful and then all of a sudden, we are stuck inside for a week with the rain! I know I can get a little crazy when I'm cooped up inside. And my kids, they get a little stir crazy, too. My little 2-year-old will sit and stare longingly out the window watching the cars go by! In order to help with all of those rainy days, we've collected 101 indoor activities for rainy days that will help keep the kids occupied, the family excited and you and your spouse lovin' life, despite the dreary rain!
We're covering all the bases here! With so many ideas, we decided to break them all down into the following 7 categories that you can click on to be taken straight to each section!
14 Educational Indoor Activities for Kids
16 Fun Indoor Activities for Kids
15 Arts & Crafts Indoor Activities for Kids
8 Outdoor Things to Do on a Rainy Day
18 Family Things to Do on a Rainy Day
Now, let's get started!!
Educational Indoor Activities for Kids
Turn the time indoors into a one-of-a-kind learning experience with these fantastic indoor activities for kids! Watch their imaginations shine and their minds expand as they learn AND have fun.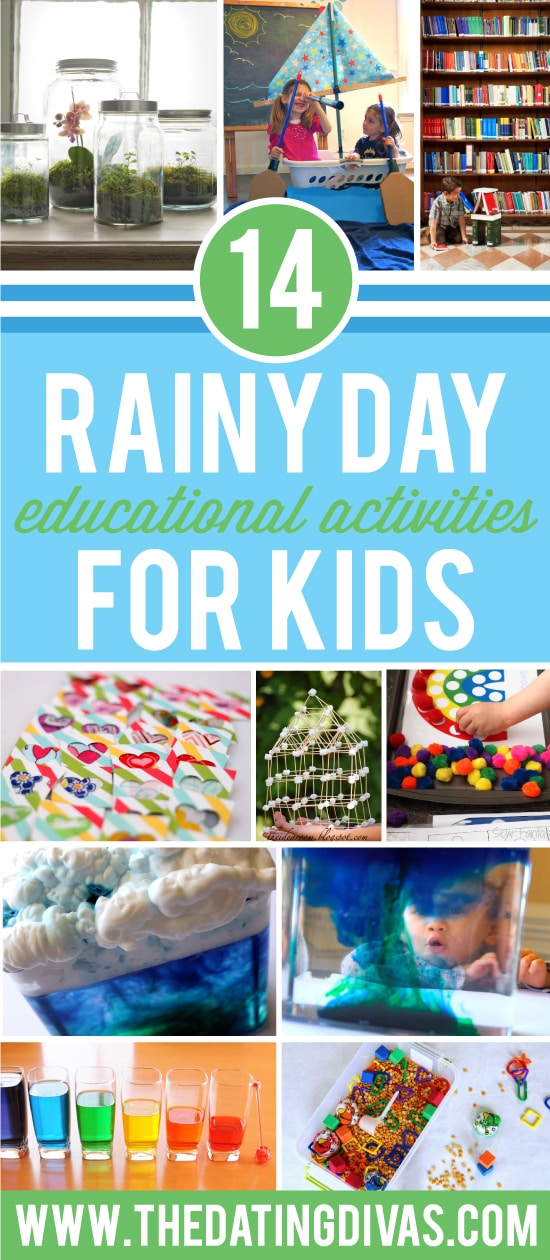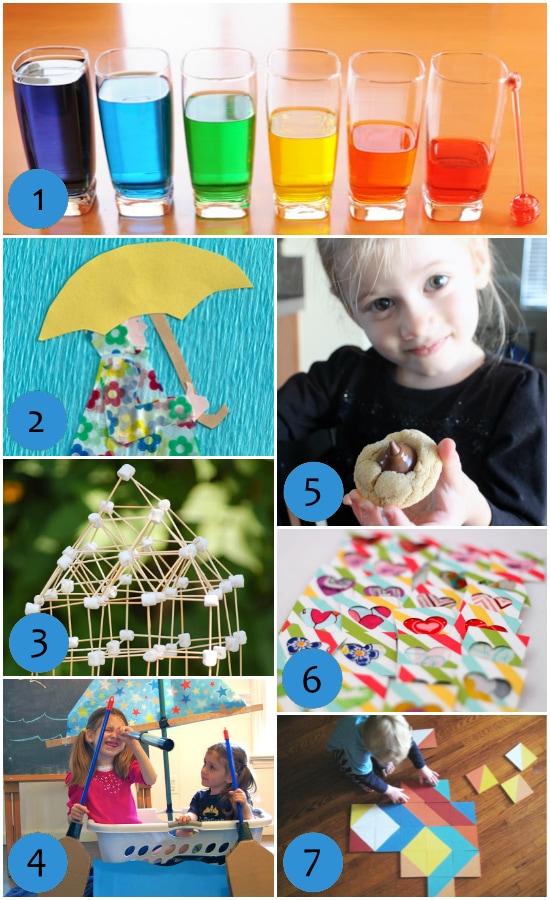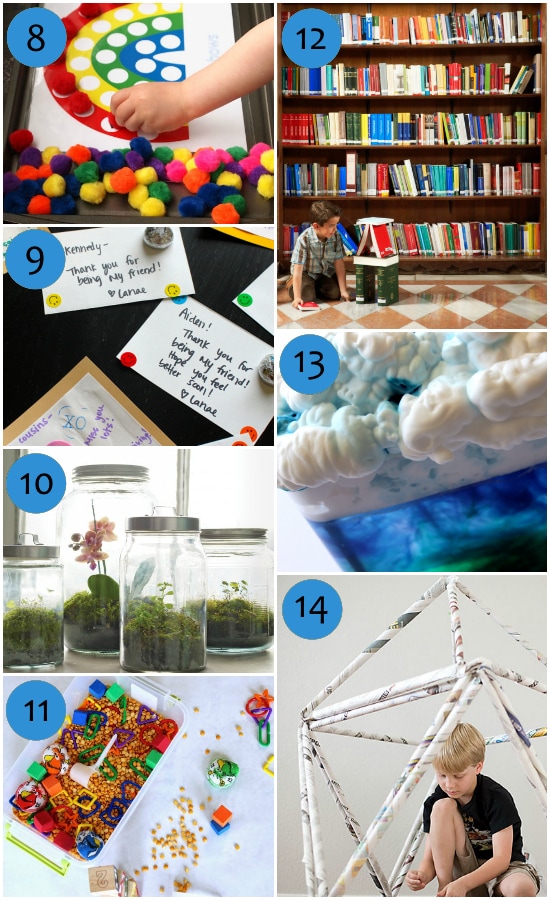 Fun Indoor Activities for Kids
Just because they're cooped up all day, that's no excuse not to have a little fun! These indoor activities are not only house-friendly but super exciting as well!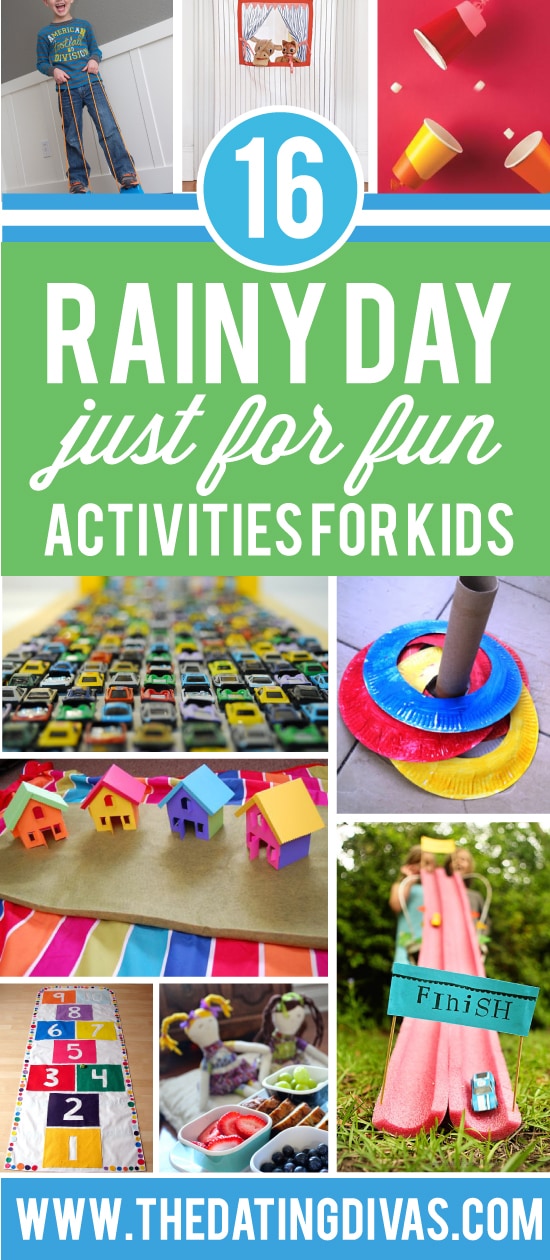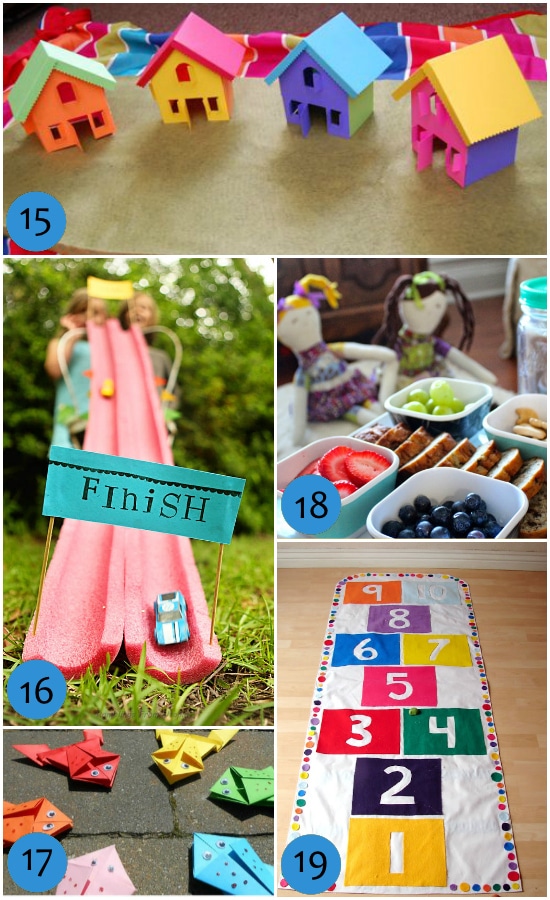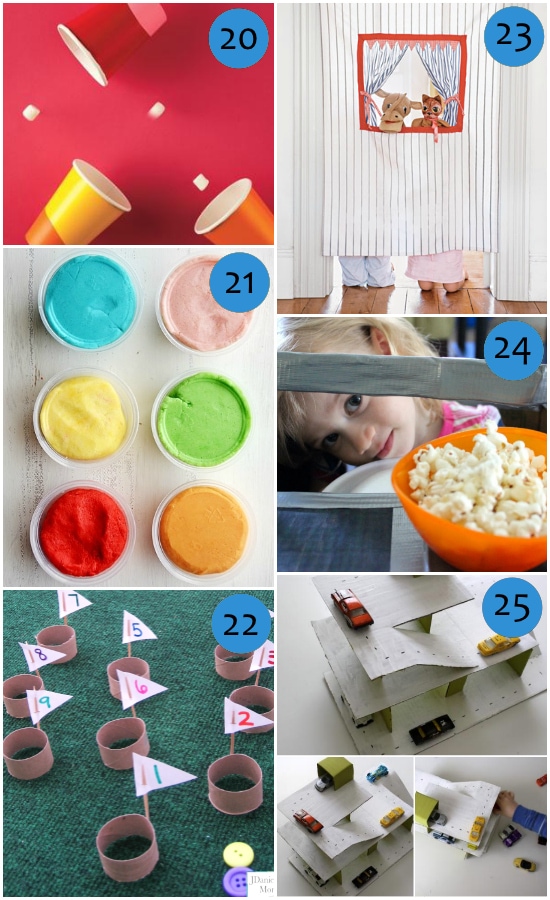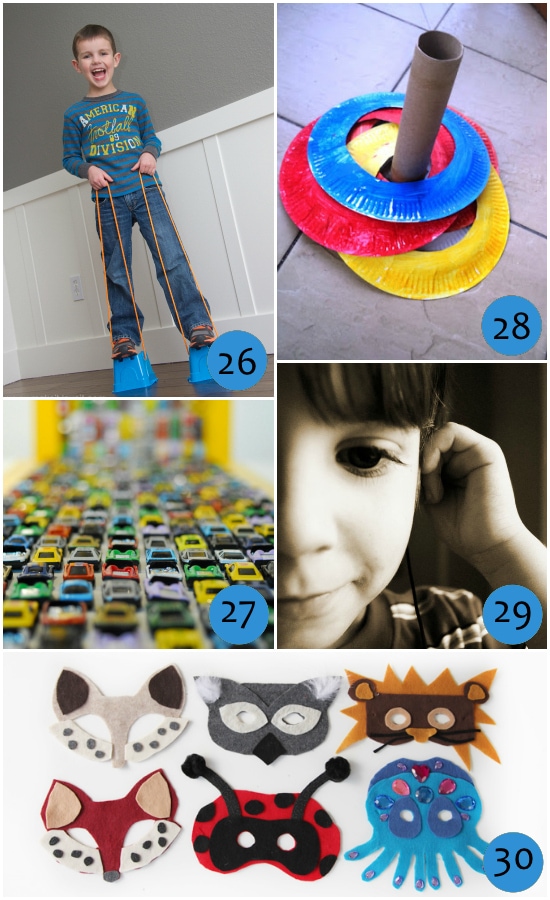 Walking Stilts— This is definitely for the kid that loves to run around the house and bounces off the walls. Attach some walking stilts and he'll slow down for just a minute while developing a great skill… balancing on walking stilts!
Indoor Car Track– Use some tape and the couches, chairs, tables, and other furniture to create a fun indoor car track. You could even add some obstacles that the kids have to drive through!
Paper Plate Ring Toss— This is a simple and fun game that is sure to get the kids excited. It's also a great game to make into a contest!
Play DJ— Let the kids turn on some music and dance around!
Dress up with Masks— This would be great for the kids to actually make their own masks and then be able to play with them!
Arts & Crafts Indoor Activities for Kids
Unleash their inner Monets and Picassos with these art-themed indoor activities for kids! After all, the day might be gray but their own little world doesn't have to be. Unleash the color!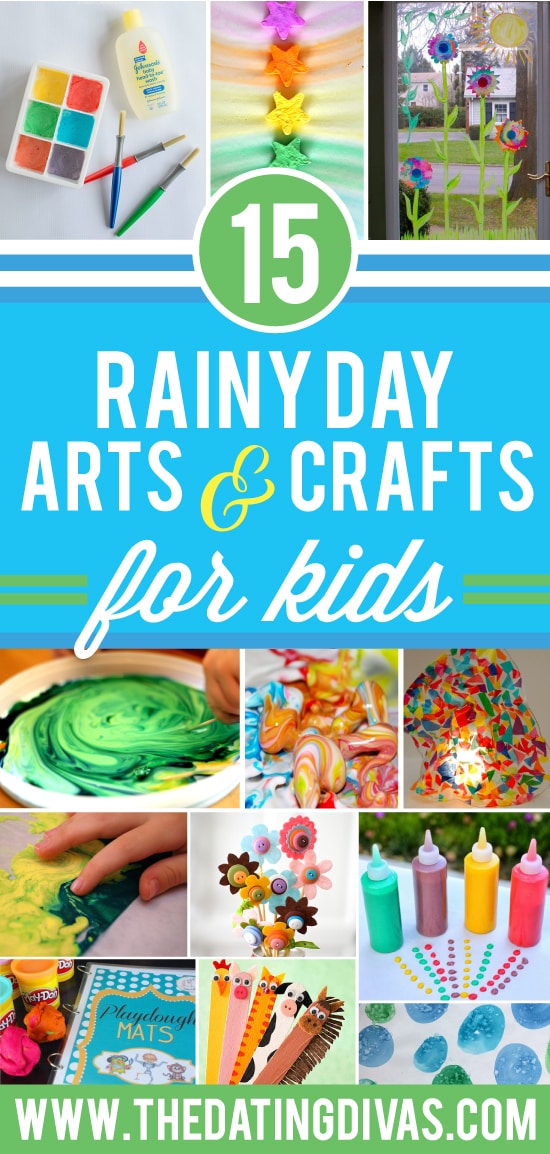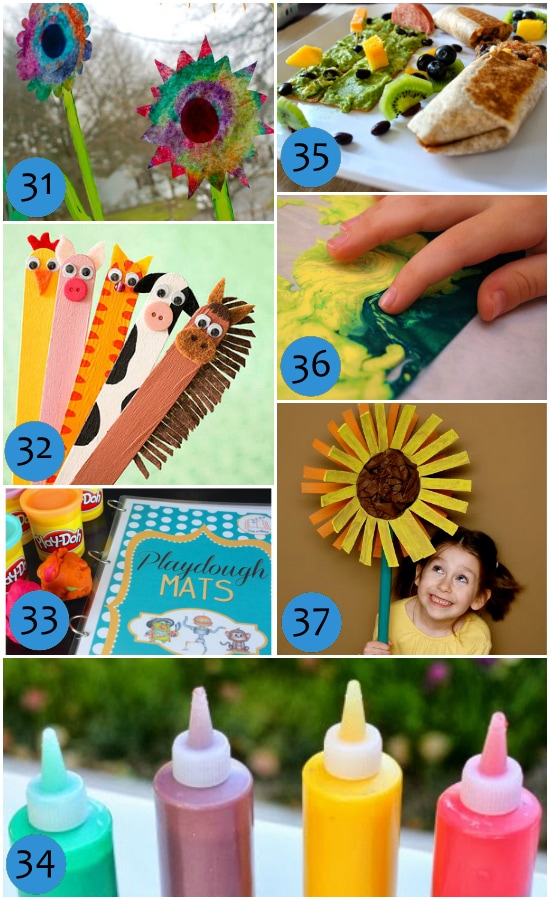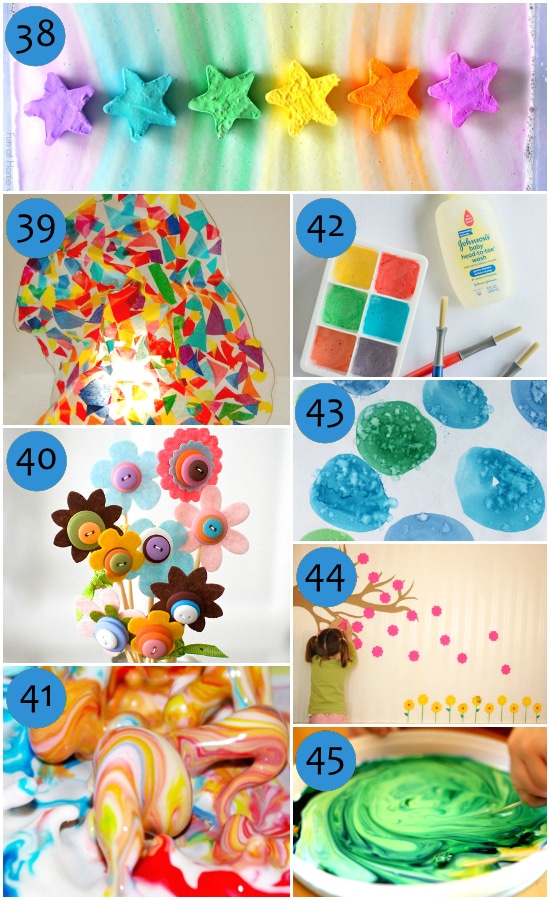 Outdoor Things to Do on a Rainy Day
If you're feeling adventurous, we absolutely encourage you to take a step outside! Enjoy the wet weather with these fabulous outdoor activities that kids will love.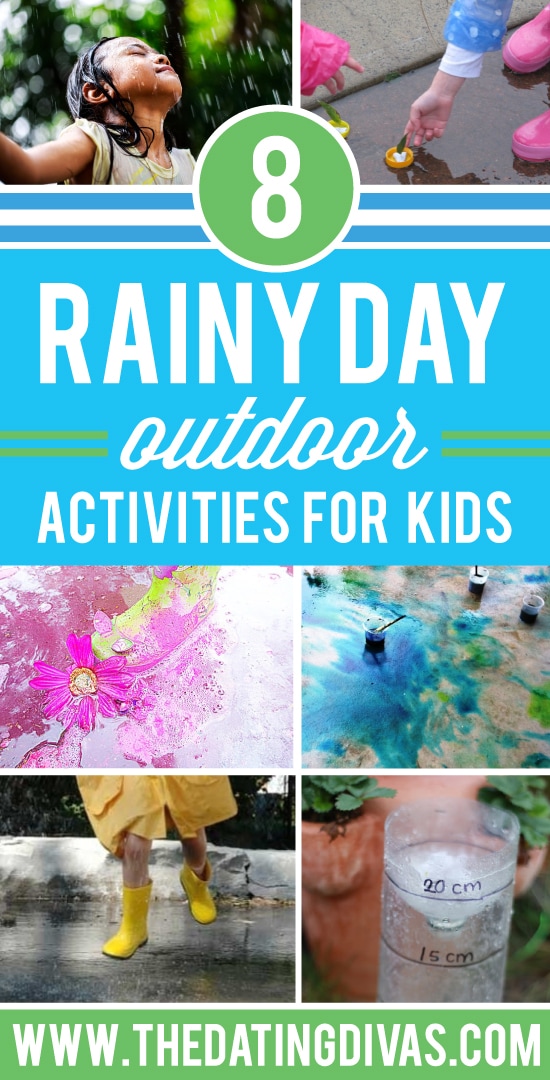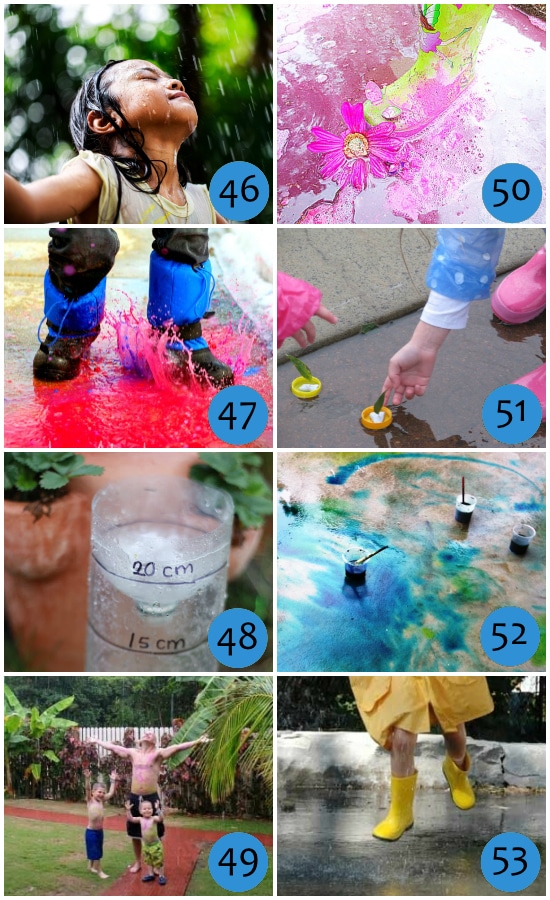 Dance in the Rain– Embrace the rain… head out for a little dancing in the rain!
Sidewalk Chalk Puddles— This is a great idea for after the rain has come and gone. Go make some colorful sidewalk chalk puddles to splash around in!
Homemade Rain Gauge— See how much it rains over a period of time with your own homemade rain gauge.
Wash Away Paint— This activity is definitely for those that are a bit adventurous. Paint on your sidewalk and then let the rain wash it away.
Magic Puddles— Add some unique items to the puddles to make magic sensory puddles to play in. Perfect for a rainy day!
Bottle Top Leaf Boats— Oh I love this idea. So easy, but so entertaining… and a little less messy than some of the other outdoor rain activities. Make a little boat out of whatever you have lying around!
Painting in Puddles— The rain can do some crazy fun things to your paintings! See what you can create by painting in the puddles!
Splash Contest– Yes! Go ahead and jump in and get wet! It's a contest!
Family Things to Do on a Rainy Day
Strengthen that family bond with these family-friendly ideas! Perfect for adults and kids alike, these rainy day adventures will have you creating memories that will last a lifetime.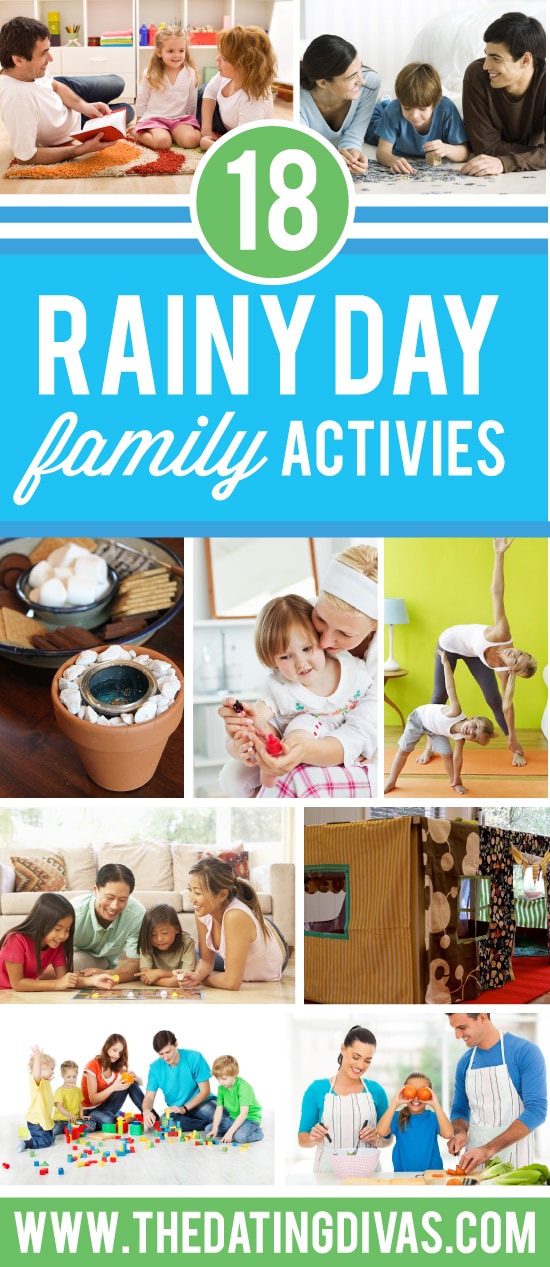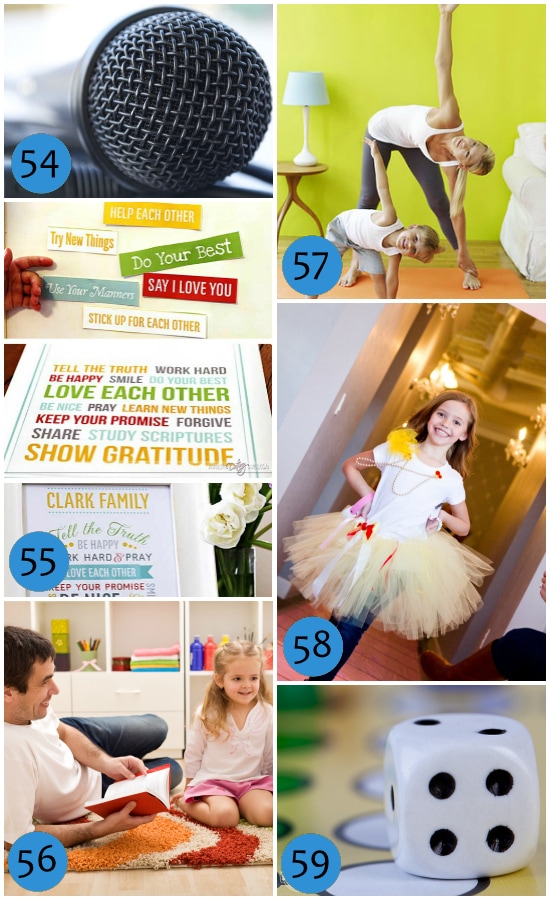 Karaoke— Can't go out, so stay home and get silly with a little family karaoke!
Create Your Own Family Mission Statement– Use the extra indoor time to sit down and discuss your family's mission statement! This is a great way to bond and set some goals for the future.
Story Time– Remember those books you got at the library?? Sit down and crack one open as a family!
Yoga— It's important to keep your body moving, have a family yoga session. Or choose another kind of workout that you love! It's sure to get everyone relaxed and refreshed and is a great way to get those cooped-up-all-day jitters out.
Fashion Show— See who can come up with the craziest outfit! Crank up the tunes and create your very own catwalk down a hallway!
Make Your Own Board Games— My husband has been trying to convince me to do this for years. Here are some great pointers and ideas for creating your own board games.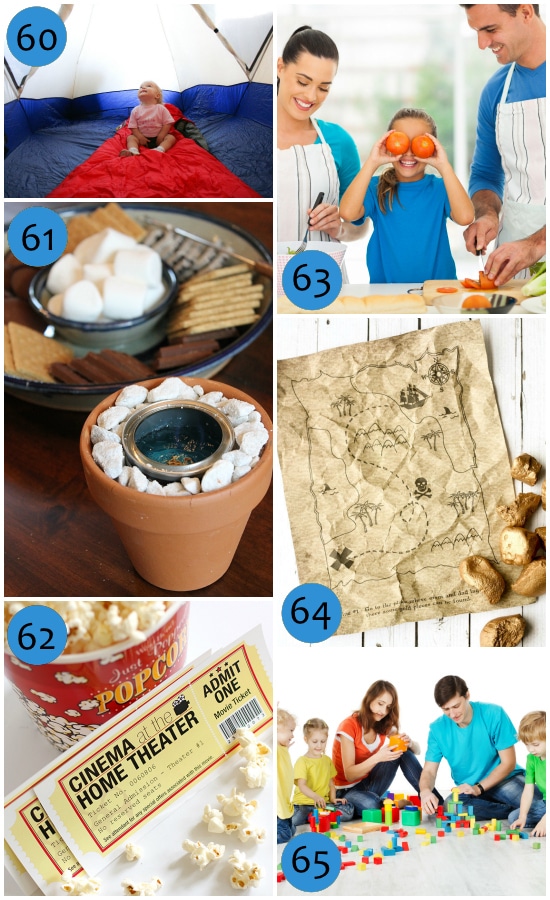 Indoor Tent— Set up the tent and play indoors. The change of scenery will lift the mood for sure. Grab some board games and snacks to really complete the atmosphere.
S'mores Night— Marshmallows and chocolate are another great way to get everyone in high spirits as we anticipate those warm summer campfires!
Family Movie Marathon— Settle in with some popcorn and hold a family movie marathon at home with all your favorite movies!
Cook Together— The kitchen is one of the most fun places to bond as a family! Get everyone in the kitchen helping to create a culinary masterpiece and strengthen your relationships as you do it!
Inside Treasure Hunt— This is a great printable treasure hunt, however, there are so many out there and you could even create your own treasure hunt!
Build Stuff– Legos, blocks, K'Nex. It doesn't matter, build something together!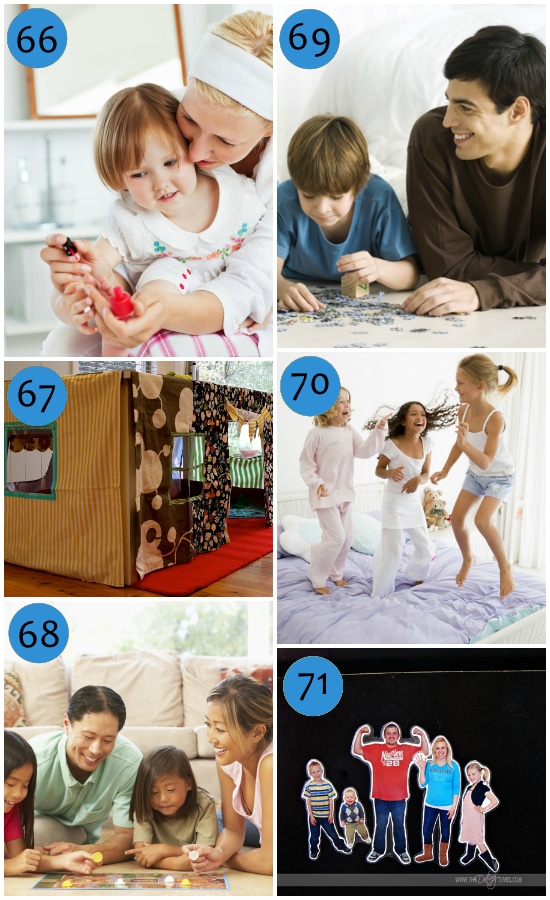 Spa Day— My daughter loves Spa Days where we sit down and paint fingernails and use mommy's lotion so that we look and smell our very best!
Build a Fort— Using blankets, cushions and furniture, build a fort where you can all cuddle up and play! Then listen to the rainfall for the perfect indoor day.
Play Card or Board Games– My husband loves board games of all kinds, he'll take any excuse to pull out his favorites, Ticket to Ride or Dominion!
Jigsaw Puzzle— Puzzles can be such a fun family project! One puzzle can entertain us for a day or two or even a whole week!
Jump on the Bed— Break the rules and jump on the bed together! Sing the children's classic "5 little monkeys" for added fun!
Magnetic People— Make some cute magnetic people together. You can make a big deal out of it by setting up pictures with props and then print them out on your magnetic sheet!
Rainy Day Dinner Ideas
We all love to eat, right? Add a little rainy day excitement to the menu with these fantastic wet-weather treats! They'll be sure to make for happy tummies and happy times.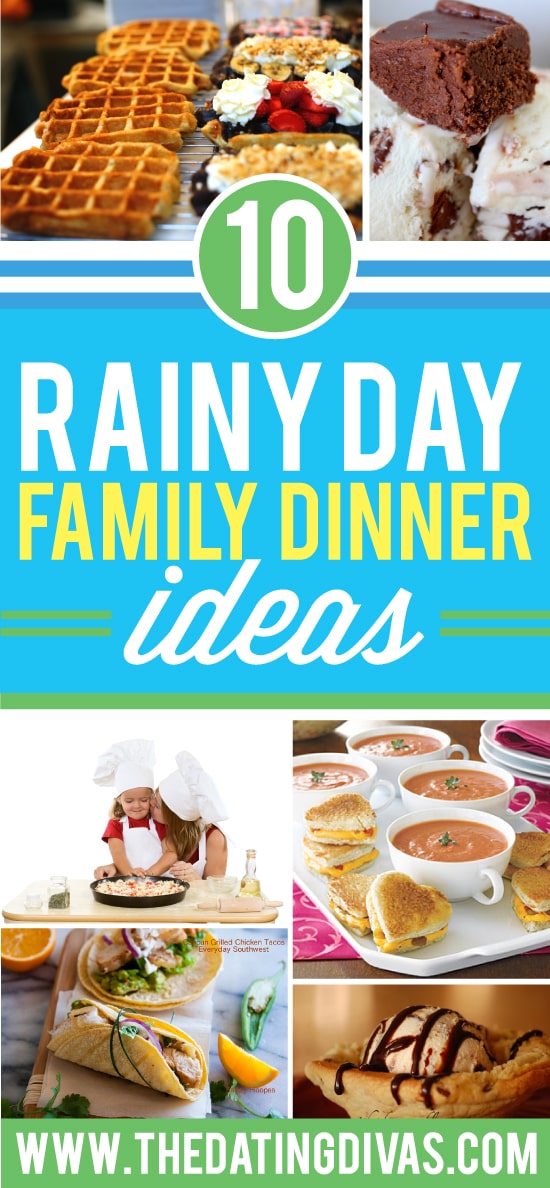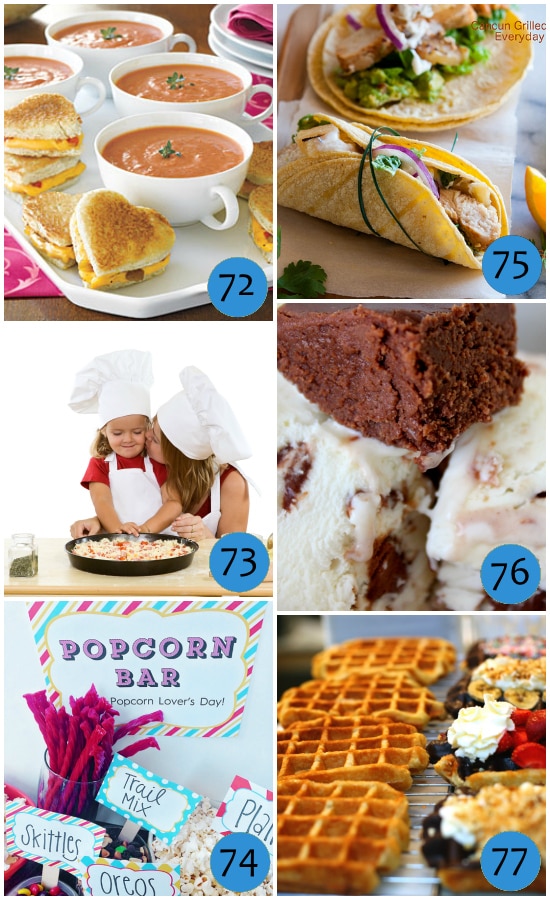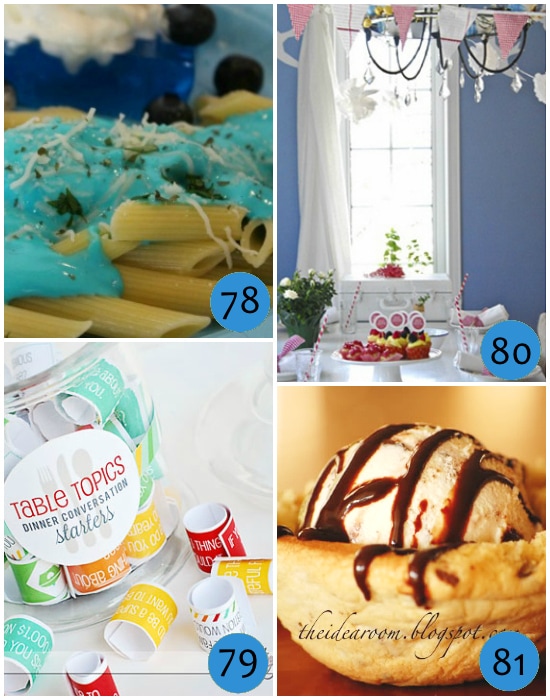 Rainy Day Date Ideas
Grab your sweetheart and try a few of these rainy day date ideas! After all, a little precipitation is a perfect excuse to snuggle up and keep warm. Oo la la.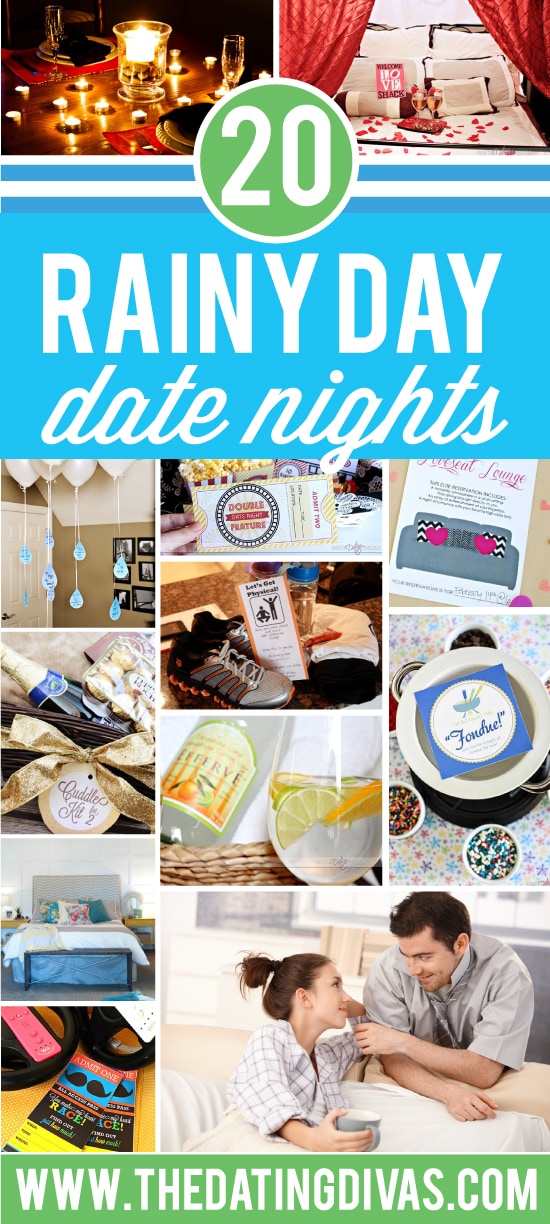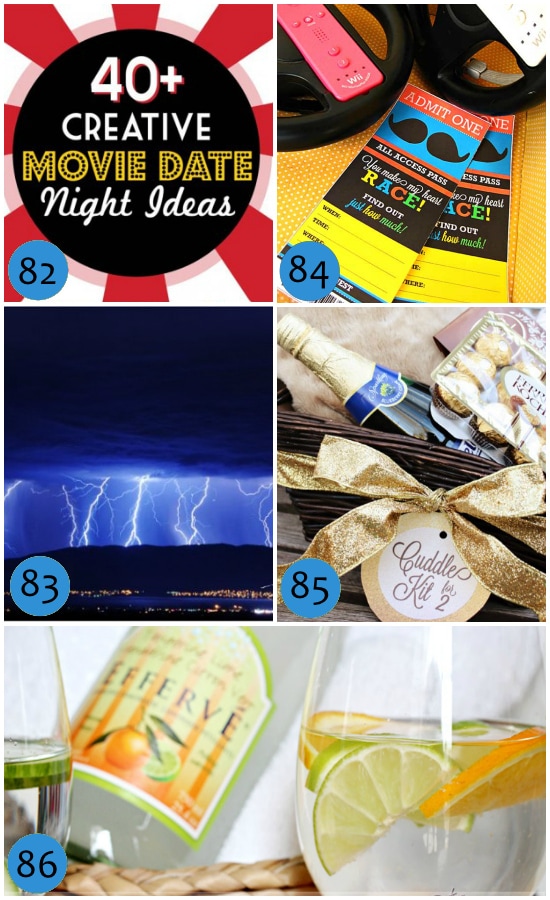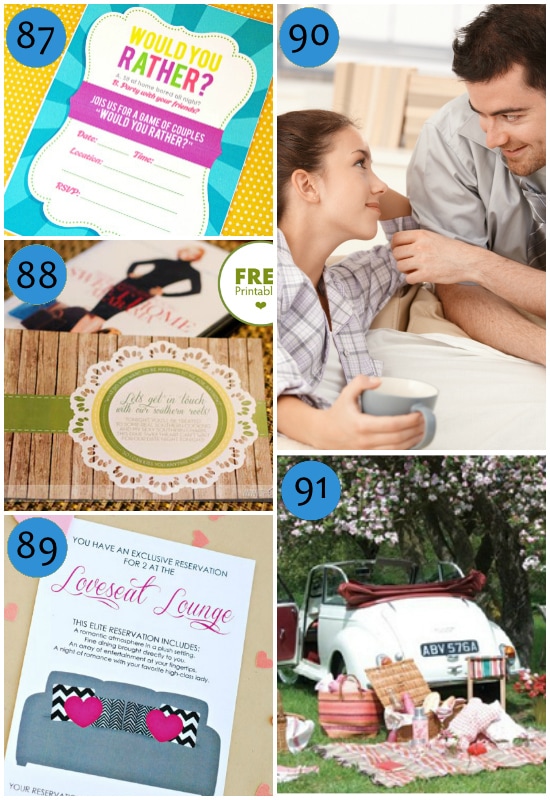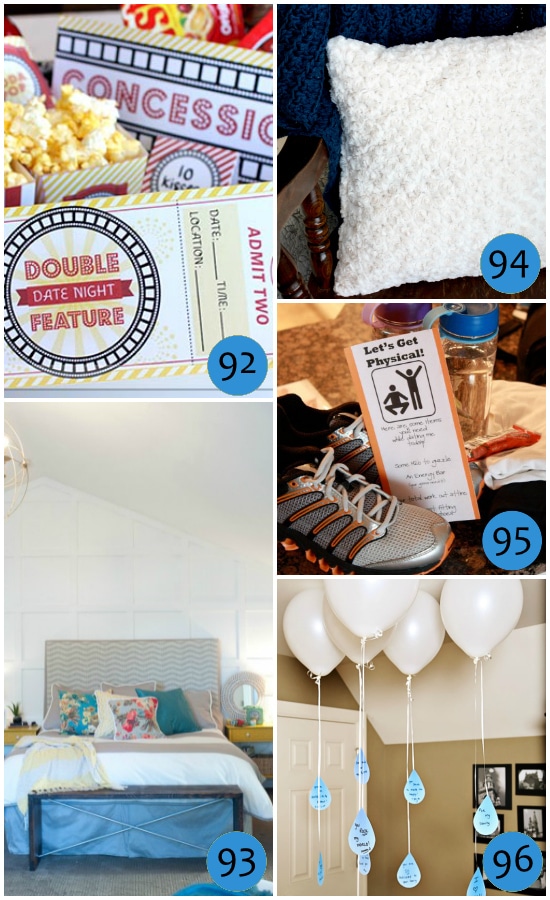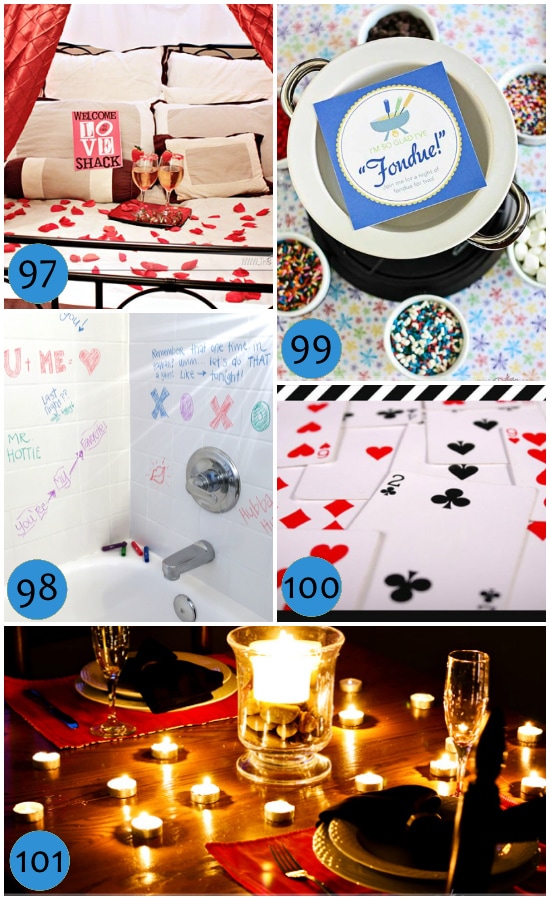 Now you have a huge list of activities to help you stay busy during all the rainy spring days! But if you are looking for even more fun spring ideas, check out our list of 60 Spring Break Boredom Busters for Kids or our Spring Cleaning Kit. Rainy days are great for getting a little cleaning done, right??