Rainy Day Activities for Kids & Adults
I am definitely feeling a need for some beautiful, sun-shiny days! But while we anxiously await summer days at the splash pad, why not make the most of the Spring rain with some awesome rainy day activities for kids AND adults?! That's right, not only do we have rainy day activities for kids, we have rainy day date ideas and other rainy day activities for adults! Because let's be honest, not only do the kids need to be entertained, I need something to keep me entertained!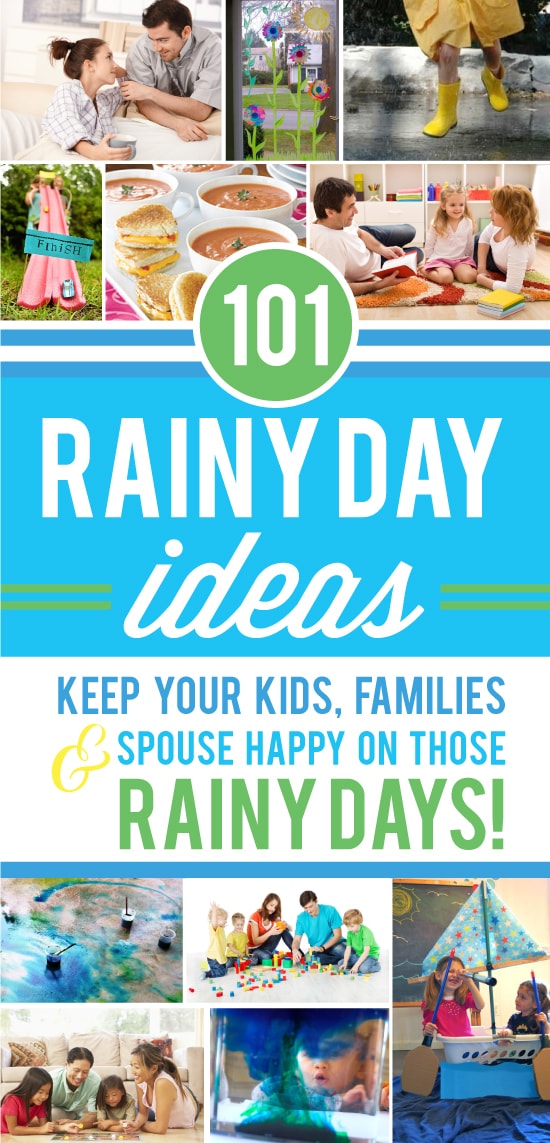 I love Spring, but it taunts me a little with all the rainy days. One day its beautiful and then all of a sudden, we are stuck inside for a week with the rain! I know I can get a little crazy when I'm cooped up inside.
And my kids, they get a little stir crazy, too. My little 2-year-old will sit and stare longingly out the window watching the cars go by!
In order to help with all of those rainy days, we've collected 101 rainy day activities that will help to keep the kids occupied, the family excited and you and your spouse lovin' life, despite the dreary rain!
We're covering all the bases here! With so many ideas, we decided to break them all down into the follow 7 categories that you can click on to be taken straight to each section!:
Now, let's get started!!
Educational Rainy Day Activities for Kids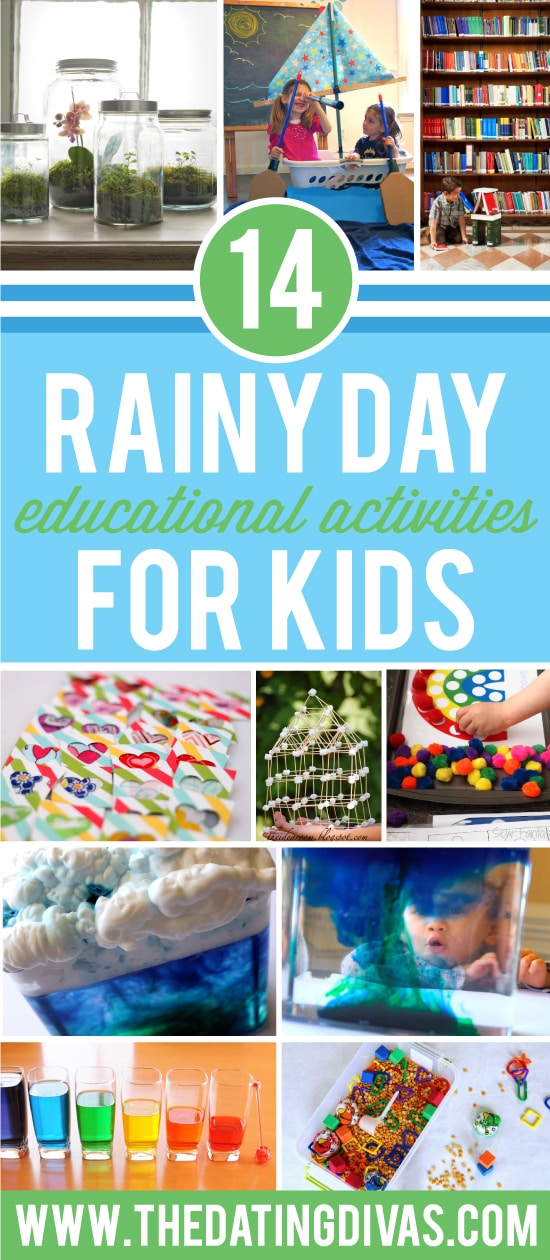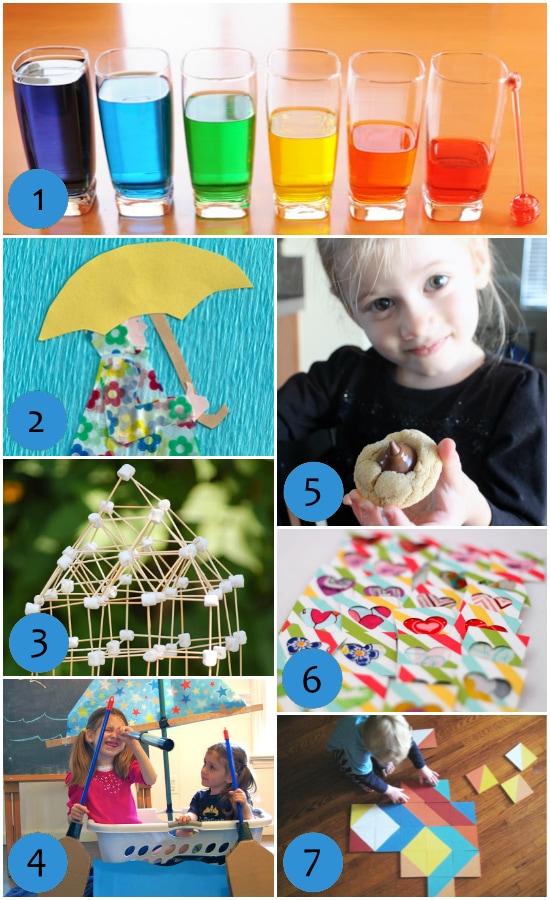 1. Rainbow Xylophone— This is such a fun, educational and musical activity that kids will definitely enjoy! Plus, it's super colorful!
2. Rainy Day Songs— Do your kids start dancing around every time they hear a song they love? If so, you might want to teach them some rainy day nursery songs.
3. Marshmallow Toothpick House— This would be such a fun activity to keep some of those older boys busy… And maybe even the girls, too! It will definitely keep them entertained if you make it a contest.
4. Make Believe Boat— Encourage a little imaginative play with simple things from around the house.
5. Baking Cookies— This is one of my favorite activities to do with the kids! Cookies, bread, muffins… Bake something the whole family will love!
6. DIY Memory Game— Help the kids develop some thinking skills by creating a fun DIY Memory game.
7. Geometric Puzzles— These puzzles are so cool because there isn't just one correct way to put it together. Kids can practice matching colors and create whatever they want!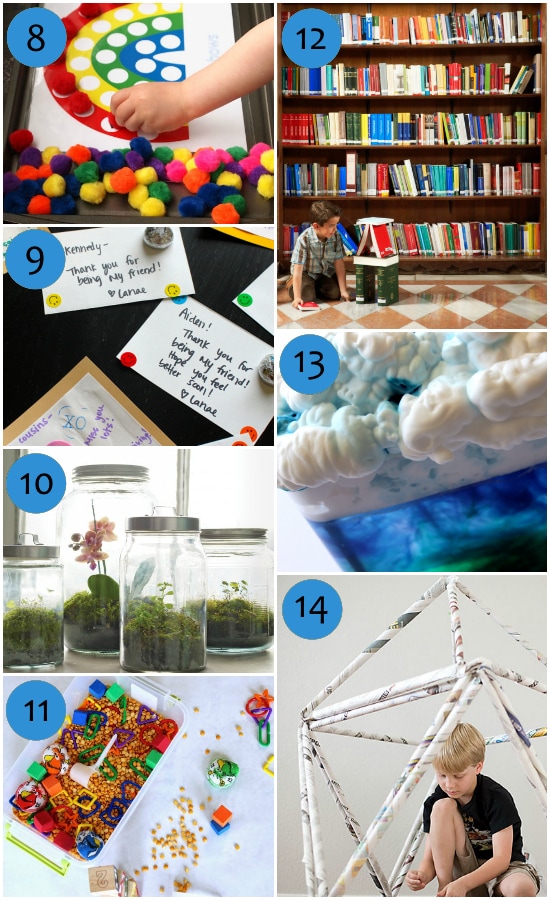 Rainy Day Activities for Kids that are Educational
8. Rainbow Sorting— Use the rain as an excuse to teach about all the colors in the rainbow! I love simple sorting activities like this!
9. Kisses Cards— Write cards to send to family and friends. If your kids are too little to write, they can always use stamps, or in this case, lipstick!
10. Make a Terrarium— These are beautiful and add so much life to a room. What a great rainy day idea!!
11. Color & Shape Sensory Bin— Here is another great idea for learning about colors and brightening up a cloudy day!
12. Library Day— Sometimes you just need to get out! The library is the perfect place to escape to.
13. Rain Cloud Science— Teach your kids about rain. Where does it come from anyway? This is a science experiment kids of all ages will enjoy!
14. Build a Fort— This is an intense idea for building a fort! See what kinds of materials you can use to create a fort of your own.
Fun Rainy Day Activities for Kids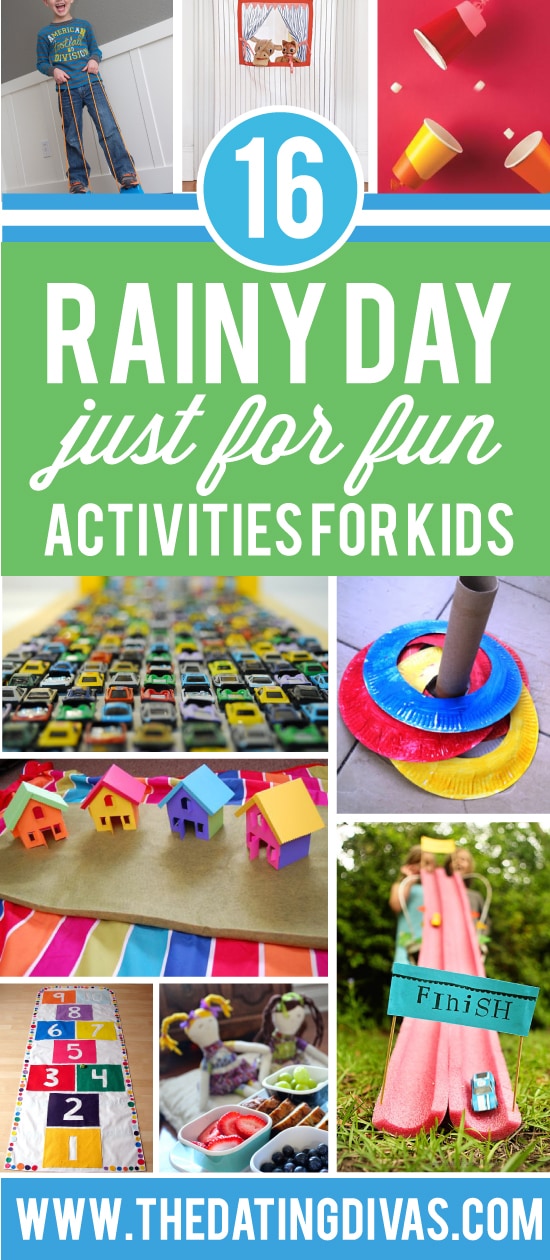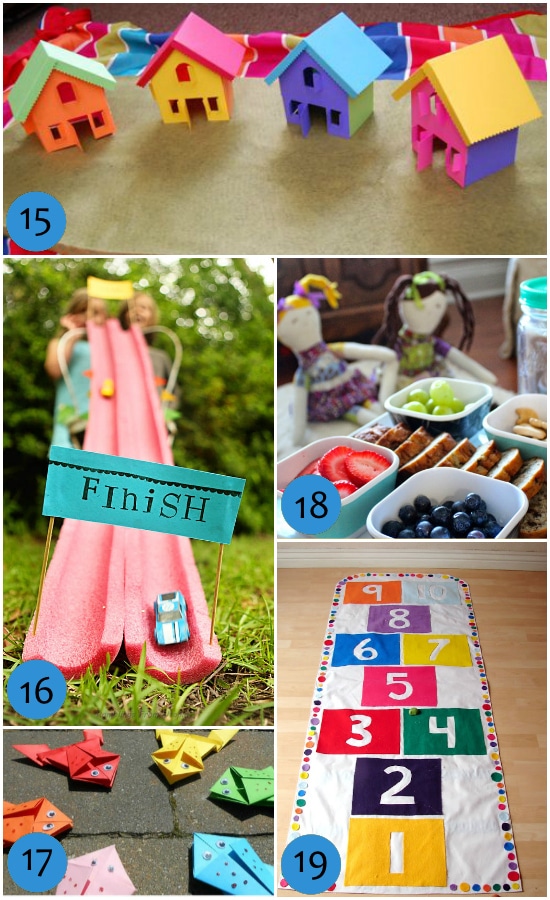 15. Rainbow Village— Check out these adorable printable rainbow village homes and create your own!
16. Pool Noodle Race Track— This is an activity you can easily take indoors and set up your own car or marble races!
17. Origami Hopping Frog— Here is a great video tutorial that shows you how to make these Origami Frogs!
18. Tea Party— Gather up all the dolls, stuffed animals and siblings to have a fun tea party! Any excuse for some snack foods is appealing to me and the kids!!
19. Hopscotch— I absolutely love this super easy indoor hopscotch mat. What a great idea to encourage some movement!
Easy Rainy Day Activities for Kids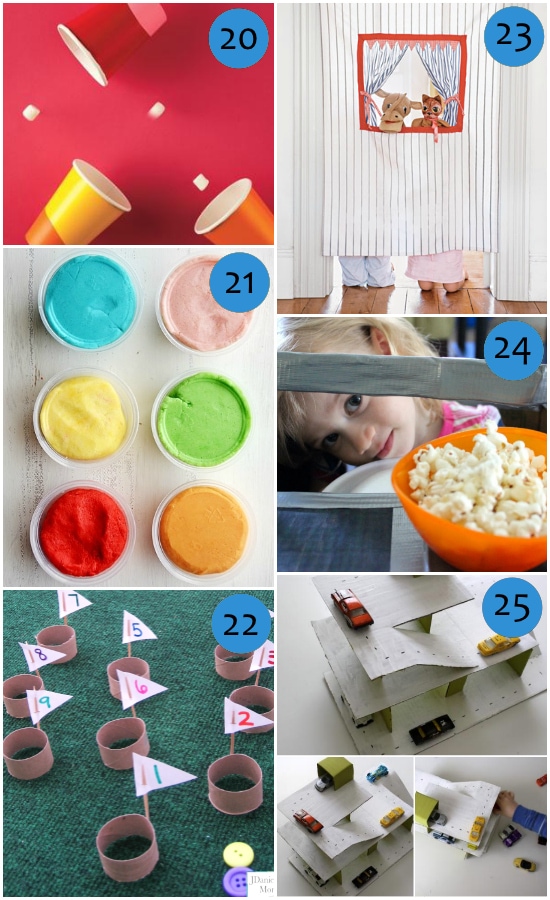 20. Marshmallow Popper Game— This is a fun activity that will keep a couple kids busy playing together. Especially if they can make a game out of it!
21. Kool-Aid Playdough— Super bright playdough that smells amazing!! You can totally make this and store it so the kids can play with it all through the Spring.
22. Button Golf— This is such a fun DIY game that will help the kids develop some great fine motor skills.
23. DIY Theatre— Turn their imaginations on by providing a little theatre where they can put on shows for each other.
24. Drive-In Movie— Build a special cardboard box car so the kids can go to the drive-in movies!!
25. Car Track or Parking Deck— Any child who loves cars would love a little ramp and parking deck to race their cars around (Check out Slide 7).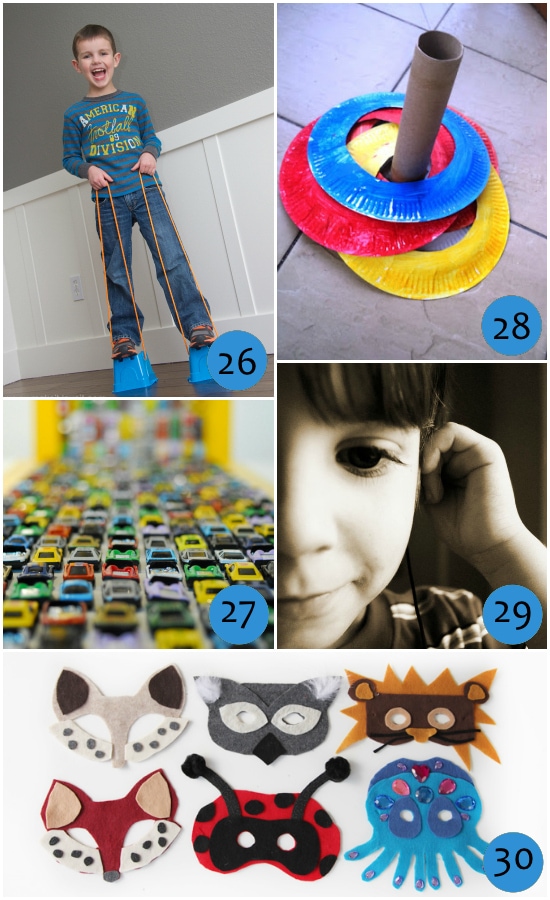 26. Walking Stilts— This is definitely for the kid that loves to run around the house and bounces off the walls. Attach some walking stilts and he'll slow down for just a minute while developing a great skill… balancing on walking stilts!
27. Indoor Car Track– Use some tape and the couches, chairs, tables and other furniture to create a fun indoor car track. You could even add some obstacles that the kids have to drive through!
28. Paper Plate Ring Toss— This is a simple and fun game that is sure to get the kids excited. It's also a great game to make into a contest!
29. Play DJ— Let the kids turn on some music and dance around!
30. Dress up with Masks— This would be great for the kids to actually make their own masks and then be able to play with them!
Arts & Crafts Rainy Day Activities for Kids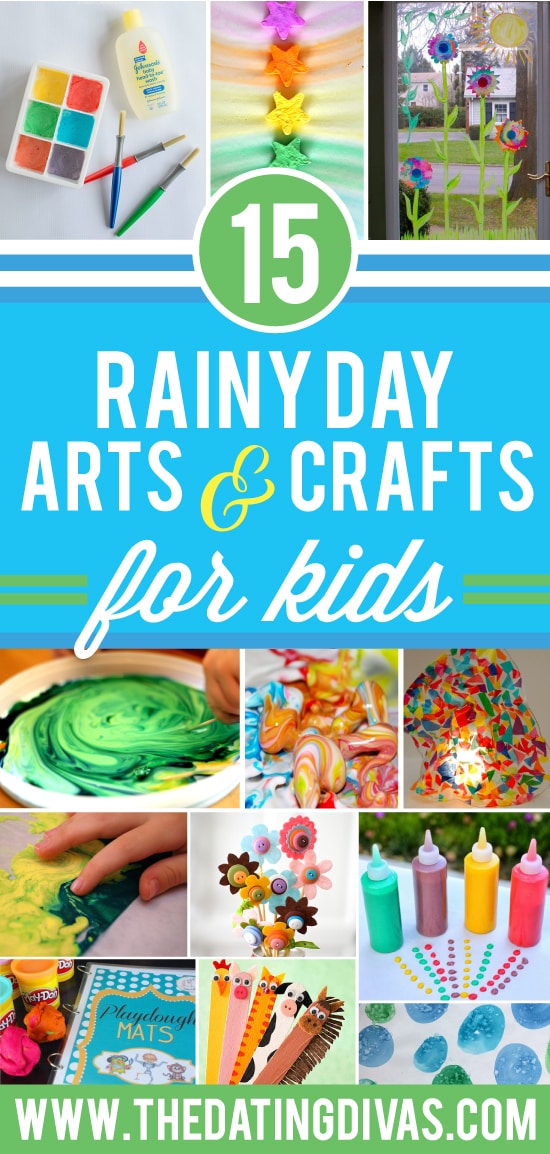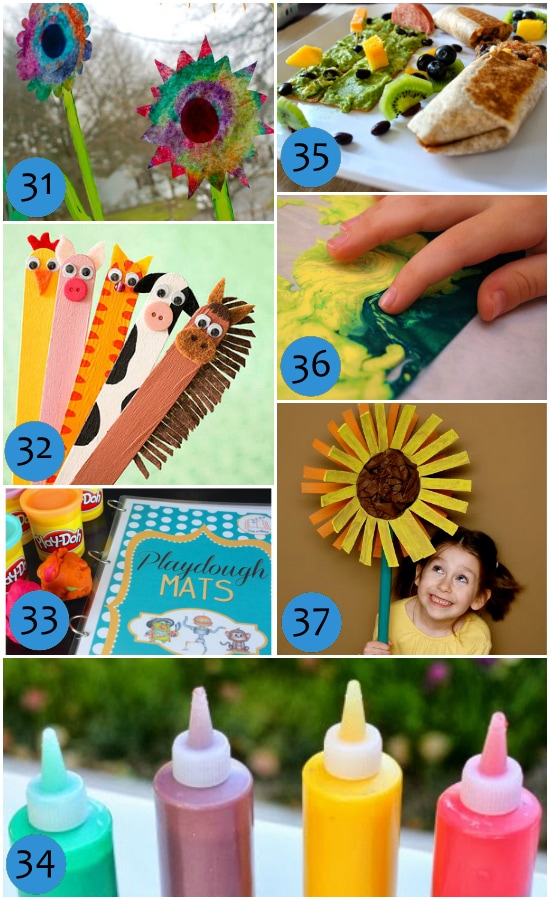 31. Spring Window Painting— Create some beautiful and simple artwork to brighten up the windows.
32. Make Puppets— These popsicle stick puppets are fun and easy to make and will inspire some creative play!
33. Play Dough Mats— Make playing with play dough so much more fun with these cute play dough mats.
34. Homemade Puffy Paints— These puffy paints are super easy to make and even more fun to play with!
35. Food Art— Give your kids permission to play with their food and create some fun food art. 
36. No Mess Marble Painting— No mess and painting don't really go together usually… but they definitely do with this project!
37. Sunflower— Encourage the sun to come out by making a beautiful sunflower!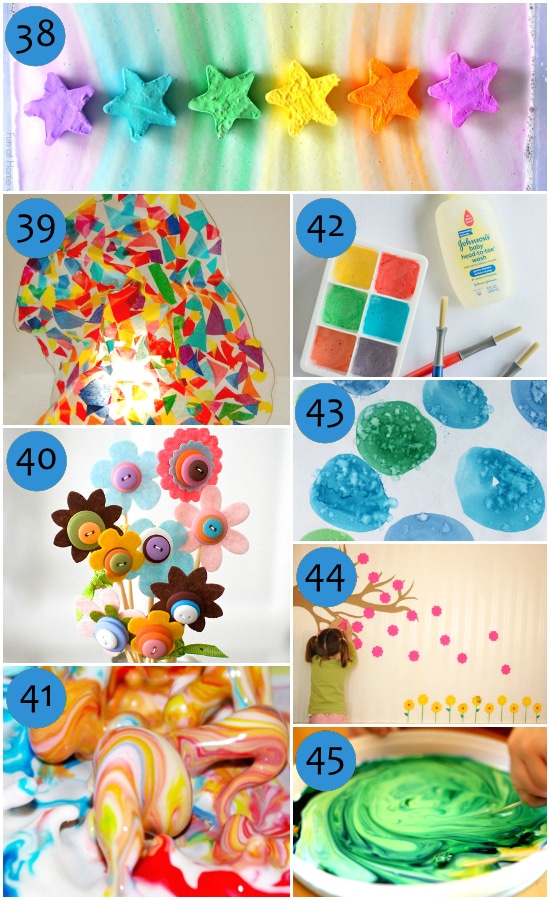 Creative Rainy Day Activities for Kids
38. Foaming Stars— Science and art combined. These foaming stars are colorful, fun and bubbly!
39. Modern Art— I can't believe how cool this modern art is! Let the kids work on their own pieces of modern art!
40. Button Bouquet— Use up leftover buttons and felt to create these adorable button bouquets.
41. Dancing Ooblek— Some more science and art that will totally fascinate your kiddos! I'm definitely feeling pretty curious about this one!
42. DIY Bath Paints— Bath time is a great way to entertain the kids. Have you ever tried using bath paints in the bath?? Double the entertainment factor with these DIY Bath Paints!
43. Art Using Rain— I love this idea to actually use the rain to create a unique piece of art! You should definitely check out this easy craft.
44. Spring Mural— Use simple stickies to create a mural on the wall. This could have endless possibilities.
45. Milk Paint— See what happens when you combine just a few key ingredients in this milk paint project!
Outdoor Rainy Day Activities for Kids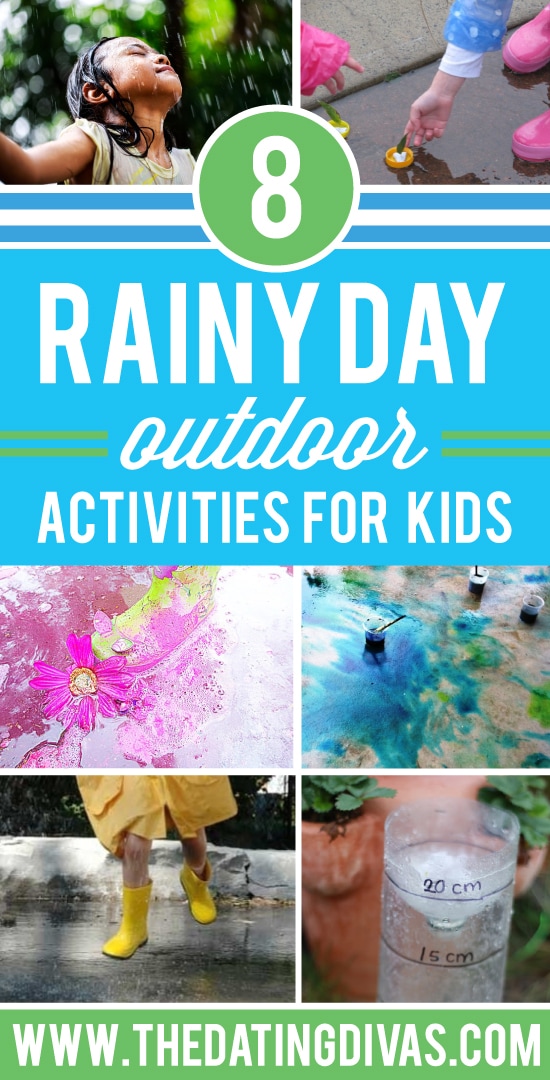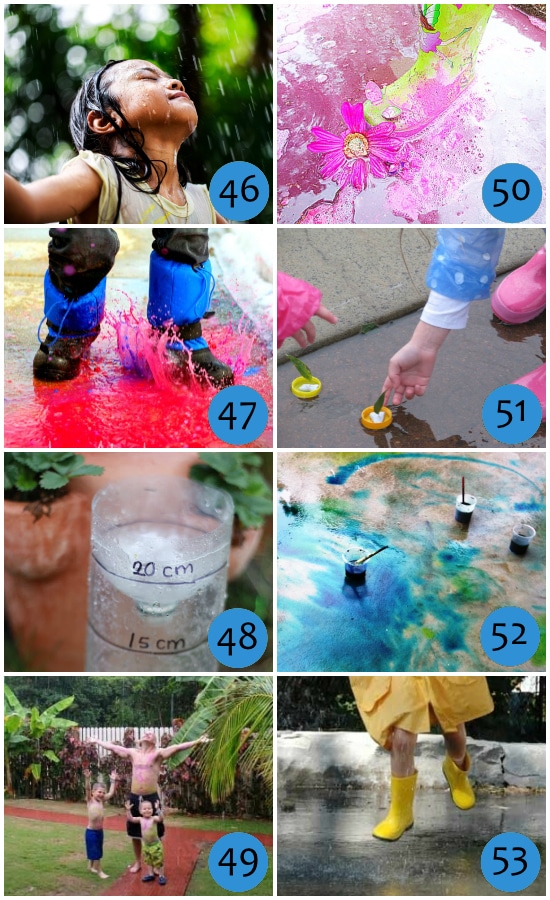 46. Dance in the Rain– Embrace the rain… head out for a little dancing in the rain!
47. Sidewalk Chalk Puddles— This is a great idea for after the rain has come and gone. Go make some colorful sidewalk chalk puddles to splash around in!
48. Homemade Rain Gauge— See how much it rains over a period of time with your own homemade rain gauge.
49. Wash Away Paint— This activity is definitely for those that are a bit adventurous. Paint on your body and then let the rain wash it away (Check out slide 3)!!
50. Magic Puddles— Add some unique items to the puddles to make magic sensory puddles to play in.
51. Bottle Top Leaf Boats— Oh I love this idea. So easy, but so entertaining… and a little less messy than some of the other outdoor rain activities. Make a little boat out of whatever you have lying around!
52. Painting in Puddles— The rain can do some crazy fun things to your paintings! See what you can create by painting in the puddles!
53. Splash Contest– Yes! Go ahead and jump in and get wet! It's a contest!
Rainy Day Activities for the Whole Family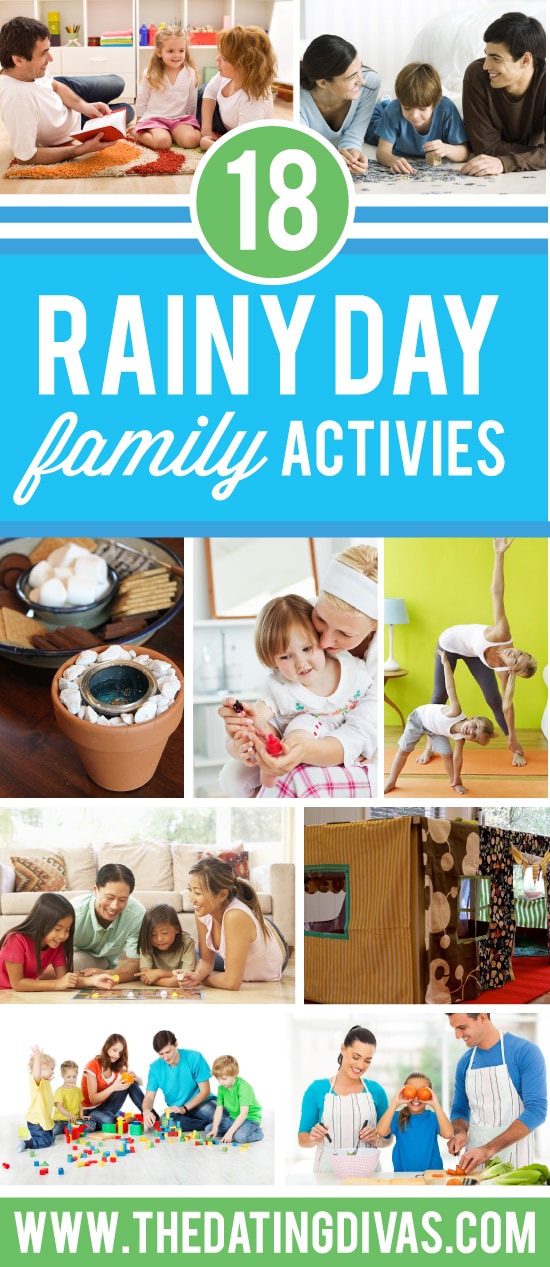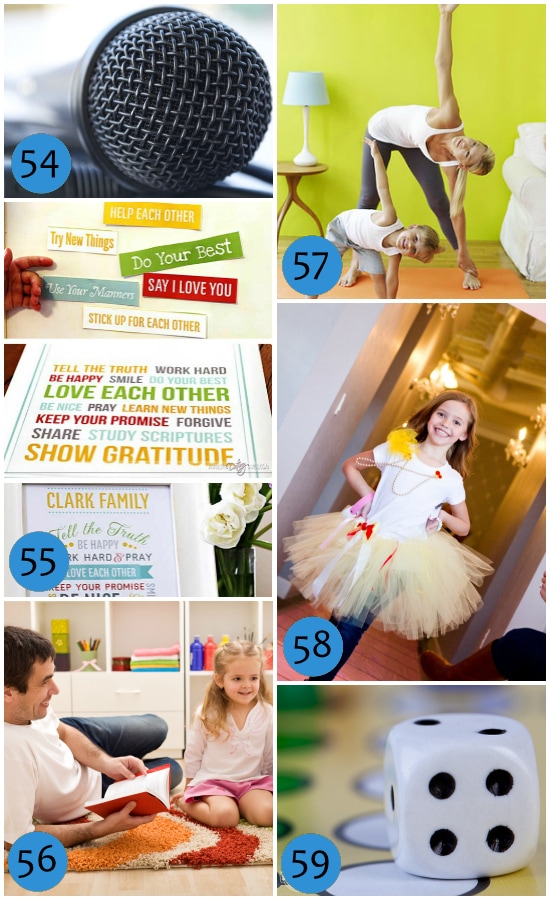 54. Karaoke— Can't go out, so stay home and get silly with a little family karaoke! 
55. Create Your Own Family Mission Statement– Use the extra indoor time to sit down and discuss your family's mission statement!
56. Story Time– Remember those books you got at the library?? Sit down and crack one open as a family!
57. Yoga— It's important to keep your body moving, have a family yoga session. Or choose another kind of workout that you love!
58. Fashion Show— See who can come up with the craziest outfit!
59. Make Your Own Board Games— My husband has been trying to convince me to do this for years. Here are some great pointers and ideas for creating your own board games.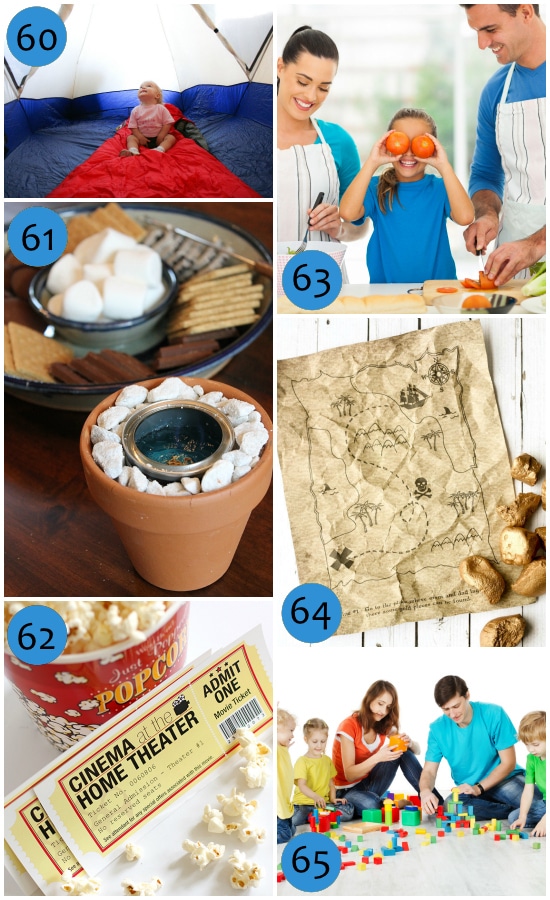 Rainy Day Activities for the Family
60. Indoor Tent— Set up the tent and play indoors. The change of scenery will lift the mood for sure.
61. S'mores Night— Marshmallows and chocolate are another great way to get everyone in high spirits as we anticipate those warm summer campfires!
62. Family Movie Marathon— Settle in with some popcorn and hold a family movie marathon at home with all your favorite movies!
63. Cook Together– The kitchen is one of the most fun places to bond as a family! Get everyone in the kitchen helping to create a culinary masterpiece!
64. Inside Treasure Hunt— This is a great printable treasure hunt, however, there are so many out there and you could even create your own treasure hunt!
65. Build Stuff– Legos, blocks, K'Nex. It doesn't matter, build something together!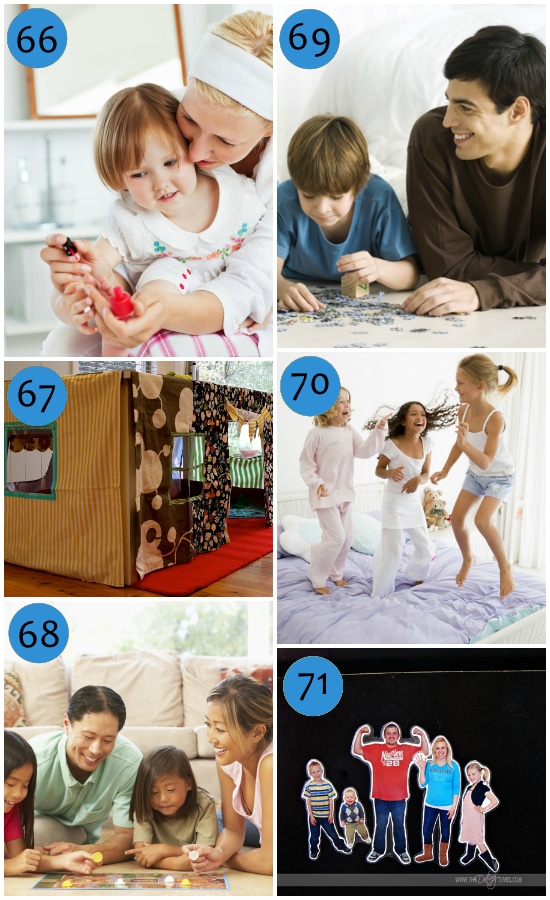 66. Spa Day— My daughter loves Spa Days where we sit down and paint fingernails and use mommy's lotion so that we look and smell our very best!
67. Build a Fort— Using blankets, cushions and furniture, build a fort where you can all cuddle up and play!
68. Play Card or Board Games– My husband loves board games of all kinds, he'll take any excuse to pull out his favorites, Ticket to Ride or Dominion!
69. Jigsaw Puzzle— Puzzles can be such a fun family project! One puzzle can entertain us for a day or two or even a whole week!
70. Jump on the Bed— Break the rules and jump on the bed together!
71. Magnetic People— Make some cute magnetic people together. You can make a big deal out of it by setting up pictures with props and then print them out on your magnetic sheet!
Rainy Day Dinner Ideas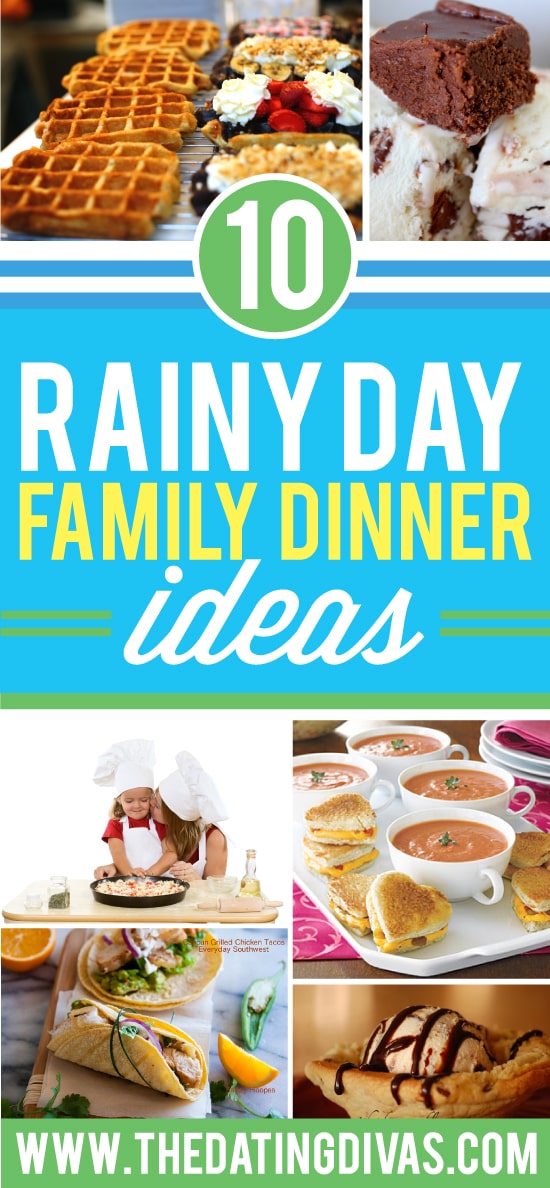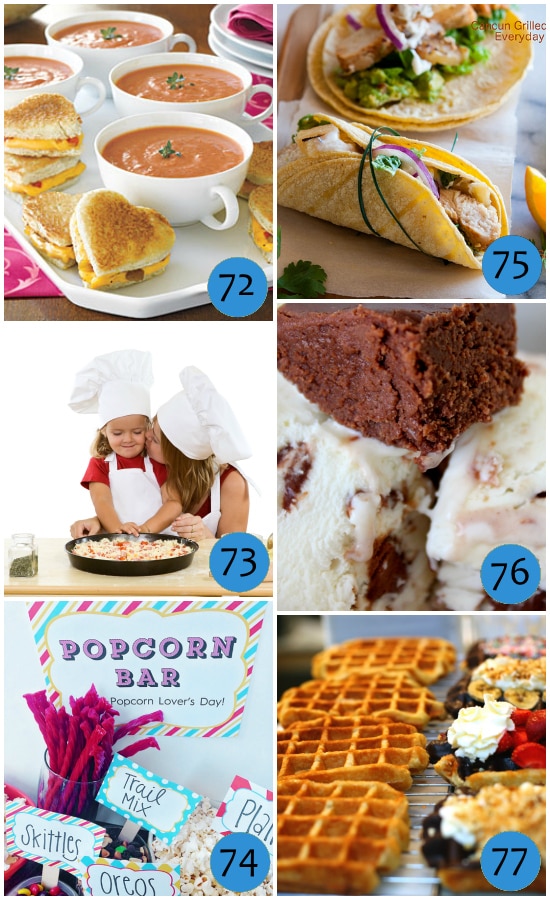 72. Grilled Cheese & Soup Bar— Mmm. Nothing warms you up more than grilled cheese and soup! Make all your family's favorite soups for a special night!
73. Family Pizza Night— Pizza is another dish that makes everyone happy. Let your family make their own mini pizzas!
74. Popcorn Bar— Oh boy! If you love popcorn, you will love creating your own little popcorn bowls with plenty of fun toppings. 
75. Taco Bar— I love tacos. They are a super easy dinner that you can throw together and the whole family will enjoy sitting together and enjoying their individual tacos. 
76. Ice Cream Party— Make homemade ice cream and top it with all the family favorites! This is a simple 3 ingredient recipe that tastes Ah-Mazing!
77. Waffle Bar— Who loves breakfast for dinner?? It's always a treat around here and there are some great ways to make your waffle bar special!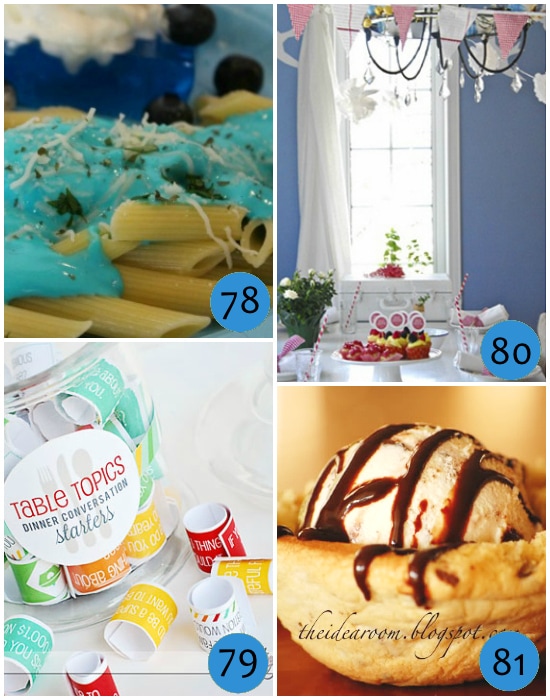 Easy Dinners for Rainy Days
78. Fun Blue Family Dinner— This is such a fun idea to make dinner special and different. Blue is the perfect color for those rainy days! But you could do any color and have a fun family dinner!
79. Family Conversation Starters— Start a new family dinner tradition and get the whole family talking!
80. Indoor Picnic— Make a special dinner by having an indoor picnic. This post is full of some great picnic ideas!
81. Chocolate Chip Cookie Boats— Cookies make everyone happy! But how about these cookie boats??? Filled with Ice Cream and chocolate-y goodness!?
Rainy Day Date Ideas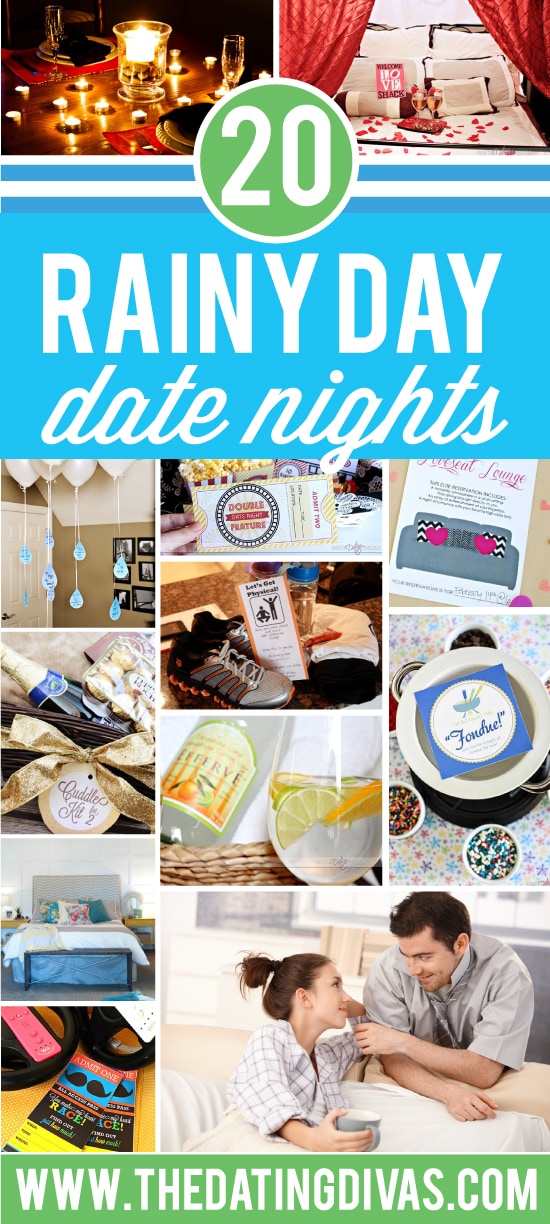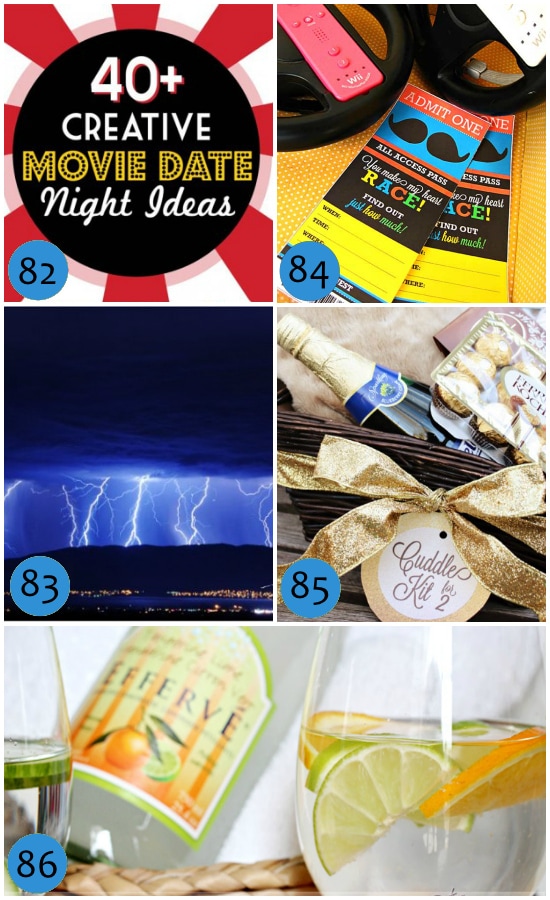 82. Movie Date Night— Take one of these 40 Creative Movie Date Nights and cuddle up with your honey!
83. Last Minute Light Show— Sometimes storms can be very entertaining. Sit down and enjoy the show!
84. Video Game Night— I'm sure the hubby's would love this idea! Let the gaming begin!!!
85. Cuddle Kit for 2— Some of the best nights are spent cuddling up with your loved one. This cuddle kit will make your night even more special!
86. Spa Date— Give a little love and attention to your spouse with ideas from this Spa Date.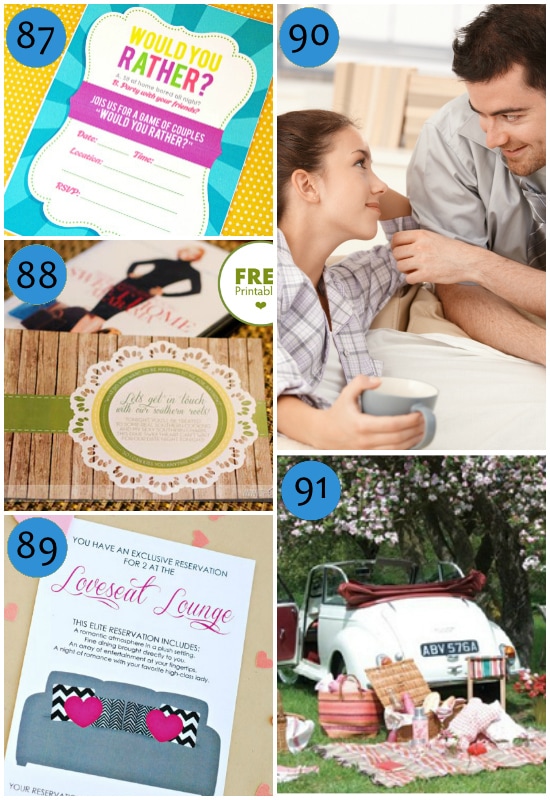 87. Would You Rather Date Night– This would be a fun way to get your spouse talking about some fun things… Make a game of it!
88. Sweet Home Alabama— This movie is a great rainy day movie… If you've seen it, you know why! If not, you need to have a special Sweet Home Alabama night!!
89. Loveseat Lounge— This is another rainy day movie night. It's another fun spin on dinner and a movie!
90. Spouse Sleepover— A spouse sleepover might be exactly what you need to make those rainy days bearable. Or you might want to have one just for fun!
91. Indoor Picnic— Have a special indoor picnic for two. That implies candles and romance!
Rainy Day Dates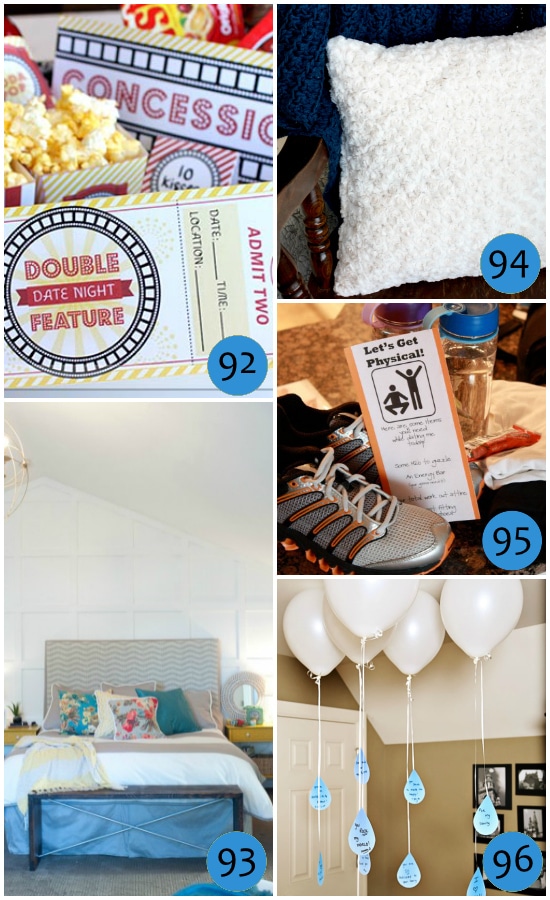 92. Movie Marathon— Choose both of your favorite movies for a fun movie marathon.
93. Home Improvement Project— This is one of my favorite things to do with my spouse. We love home improvement projects that we can do together!! 
94. Pillow Fight— Pillow fights are super fun and easy and definitely bring lots of warm fuzzies!
95. Let's Get Physical Date Night— Get movin' with an energetic exercise date night! Those endorphins will make the world seem bright and happy!
96. Showering You With My Love— Here's a fun and rainy way to say I love you!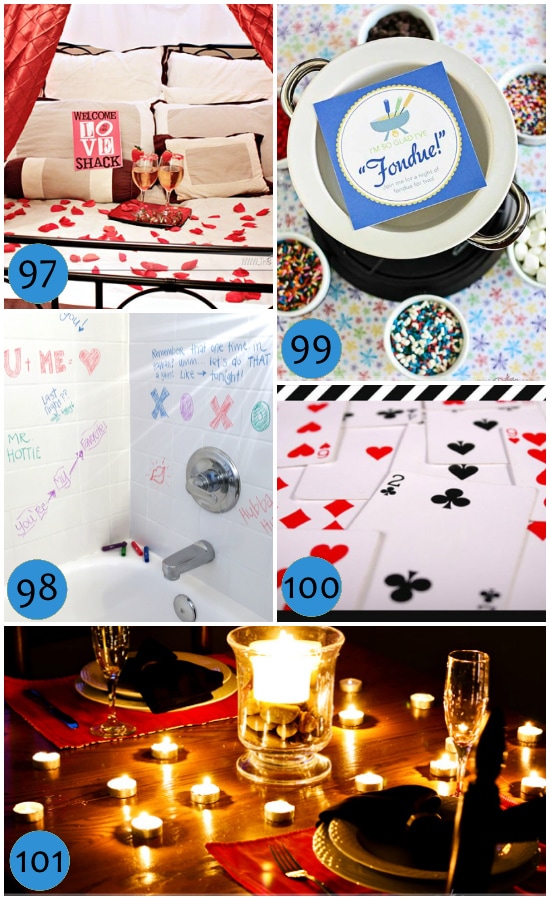 97. Love Shack— Take the fun to the Love Shack for a romantic evening!
98. Shower Love Notes— It's raining outside… And it's raining inside! Leave a little note for your honey in the shower!
99. Fondue Date Night— I love fondue! This is a colorful and exciting take on a special fondue date night!
100. Card Games— Card games are a fun way to spend time together as a couple! Here are a ton of great card games to play!
101. Power Outage Date Night— Whether the power goes out or not… You can have a fun power outage date night! Get the details here!
Now you have a huge list of activities to help you stay busy during all the rainy spring days!
But if you are looking for even more fun spring ideas…
Check out Becca's 60 Spring Break Boredom Busters for Kids
Megan's 75 Spring Break Trip Ideas
Or
 65+ Spring Cleaning Tips and Ideas.
Rainy days are great for getting a little cleaning done, right??