Birthday Breakfast Ideas
Hip hip hooray! It's your sweetie's birthday! Why not show them a little extra love with a breakfast birthday party just for them? We've come up with the BEST birthday breakfast ideas for adults below, and we know you'll love them. For example, the printable download below includes items such as a special breakfast birthday party placemat, a happy birthday breakfast note, birthday food flags, and even more birthday breakfast ideas for your spouse. On top of that, you'll include a scrumptious breakfast to accompany all the these adorable printables! Doesn't this sound like the ultimate birthday surprise? Keep scrolling to check it out!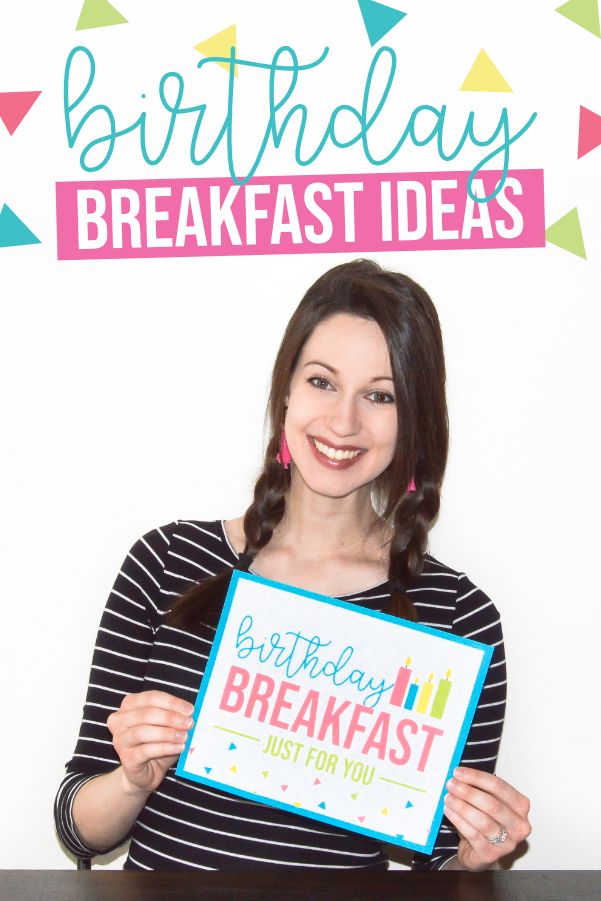 Disclaimer: This post contains affiliate links. To learn more about 'em, click here.
Before we explore the best birthday breakfast ideas for adults, we have to give a shoutout to Diva Elizabeth. She helped make this at-home breakfast birthday party come to life!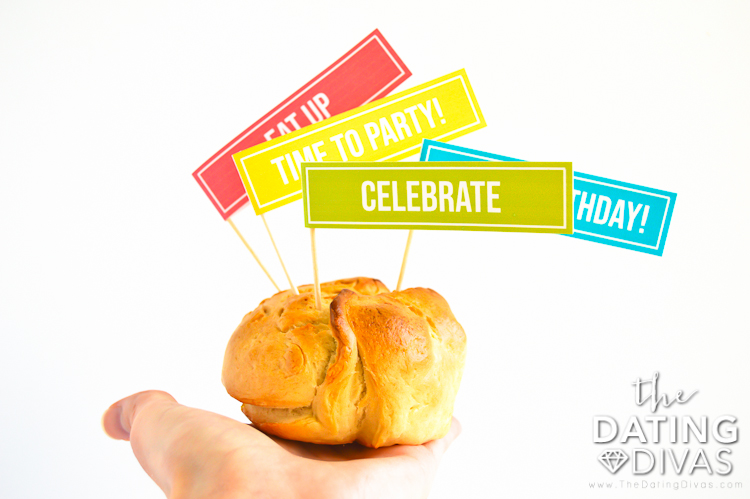 Your Birthday Breakfast Printables
We promise that this set of birthday breakfast printables will start your sweetie's special day off on the right foot! Take a look at the included items below. After that, go ahead and keep reading through the post for a more detailed description of how to use each of them.
Birthday Breakfast Party Placemat
Happy Birthday Breakfast Card
Food Flags
Blank Happy Birthday Breakfast Menu
Drink Wrap
Mini Birthday Banner
How fun and festive are those?!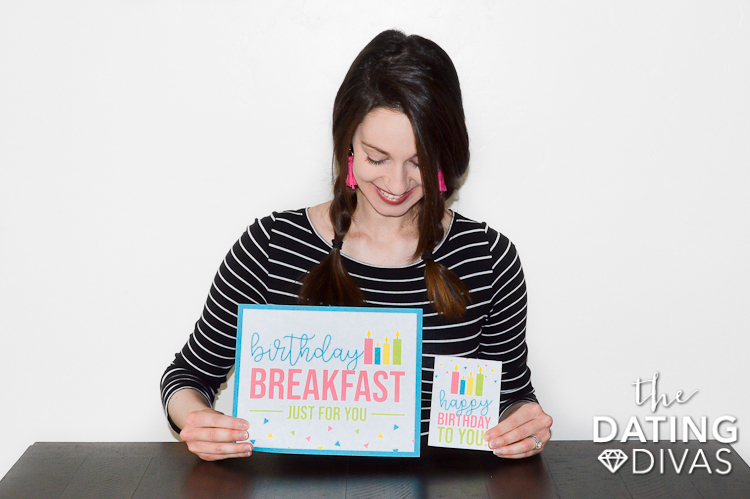 Birthday Breakfast Party Placemat
This is one of the most adorable "Happy Birthday" breakfast ideas we've ever seen! It will not only keep the birthday boy or girl's eating area clean and fresh, but it also adds the perfect touch of celebratory goodness. We recommend printing it on a heavy-duty paper like card stock for ultimate durability. Also, you could laminate the placemat for future use!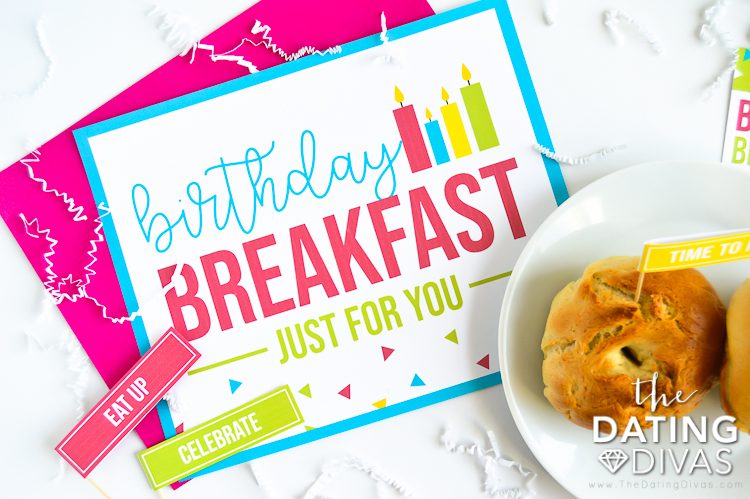 Happy Birthday Breakfast Card
Be sure to place the included card somewhere your sweetheart is sure to see it! It has the perfect place to write a sweet message of your very own – plus, check out the design! So fabulous, right? Not only that, but the assembly is beyond easy.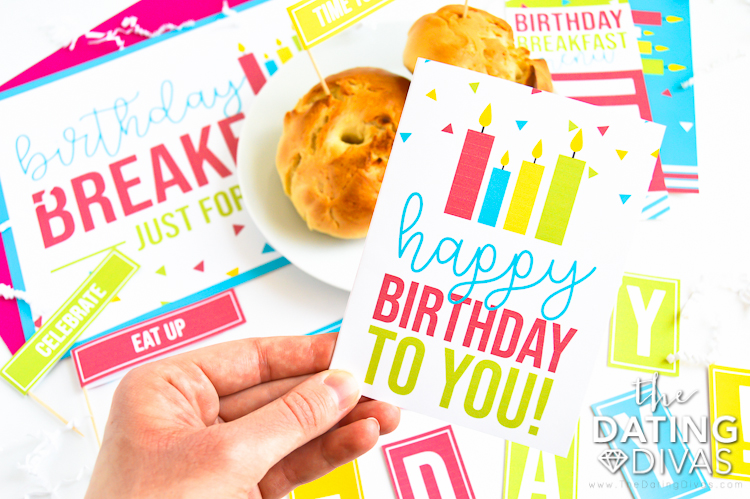 First, print and cut. After that, fold down the centerline creating an inside/outside. Finally, write your message inside and stand your card up! Easy peasy!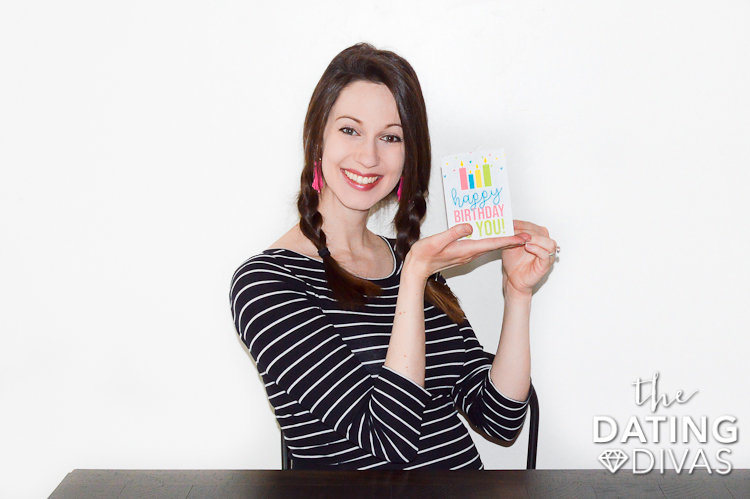 Happy Birthday Breakfast Menu
Let your sweetheart know exactly what type of delectable delights are coming their way with the included printable breakfast menu! Simply fill in the blank spaces, display, and you are on your way! Are you looking for some specific birthday breakfast ideas? The following are some of our very favorite breakfast items. Pick a few of your favorites to create a meal that won't be forgotten!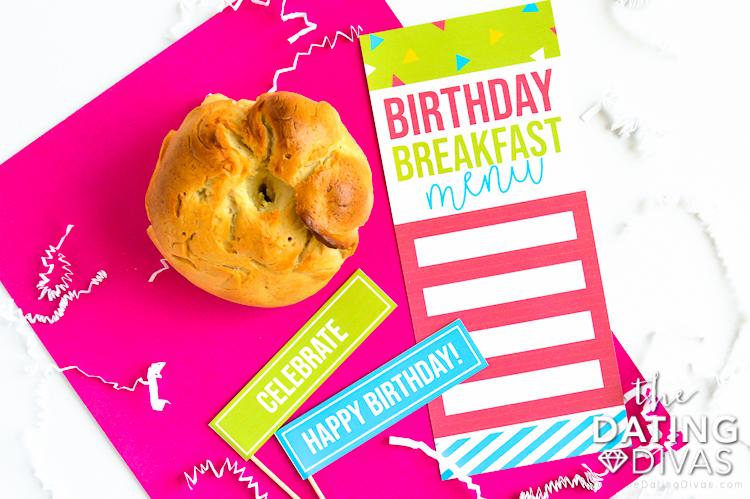 Bagels & Cream Cheese
Scrambled Eggs
Orange Juice
Belgian Waffles
Crepes with Berries & Whipped Cream
Breakfast Burritos
Pastries
Chocolate Milk
Fruit Yogurt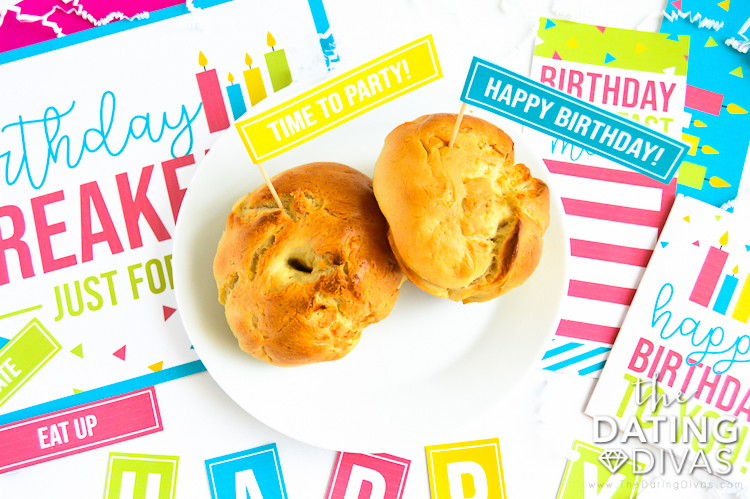 Food Flags
Be it pancakes with whipped cream and sprinkles, or toast, eggs, and orange juice (the opportunities are endless), your chosen birthday breakfast ideas for food will get an extra dash of pizazz with these printable food flags. To assemble them, simply print, cut, and fold around a toothpick to create an effortless splash of color and fun. After that, add a little bit of adhesive to keep it closed and attached to the toothpick. By the way, these can double as straw toppers, too!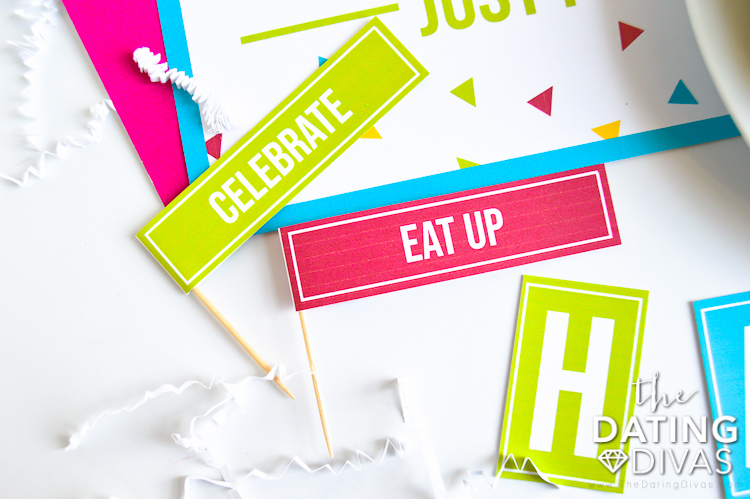 Mini Celebration Banner
Of all the birthday breakfast ideas for adults, this idea is our favorite. It just screams "birthday glam," doesn't it? This printable mini birthday banner is a MUST for your sweetie's birthday breakfast! To assemble, simply print, cut, and attach to string or twine. After that, be sure and hang it near the breakfast area!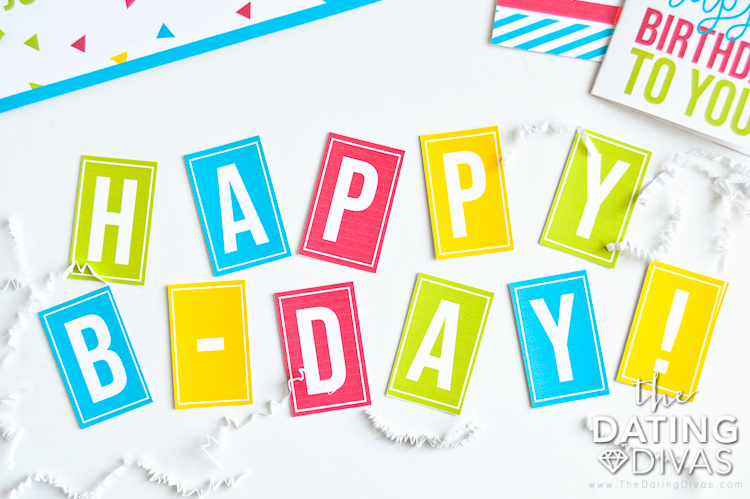 How fun is all of that?! Without question, we've included the best birthday breakfast ideas for adults above, and we're sure your spouse will love each one! Now that we think of it, you could totally use these printables for a child, other family member, or friends birthday as well!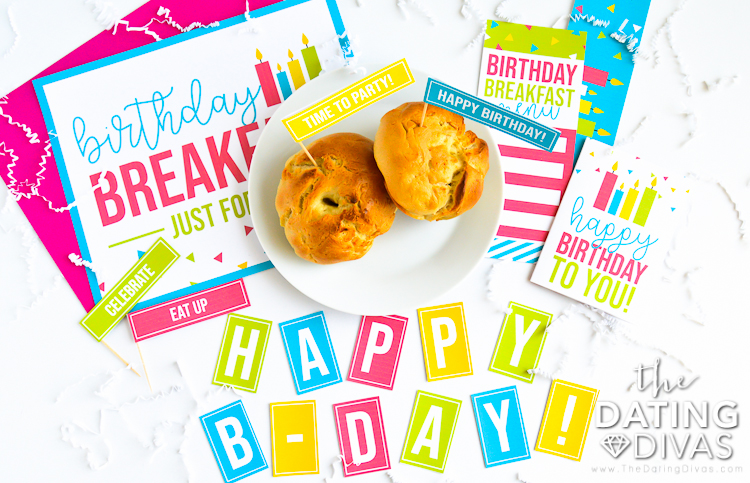 For even more birthday fun, be sure to check out our list of the Best Birthday Gift Ideas. Additionally, you might want to look at our 101 Birthday Party Printables. Above all, we hope you have fun celebrating your sweetheart on their birthday!
Happy Birthday Breakfast
Printables Designed by Elizabeth Edwards Exclusively for The Dating Divas