40 Baby Halloween Costumes You'll Love
Nothing beats baby Halloween costumes. Nothing. If I had to use a sweetness scale to rank strawberry and cream gummy puffs against baby Halloween costumes, the baby would win. No contest. And so it is with this knowledge that we present you with the SWEETEST toddler and infant Halloween costumes.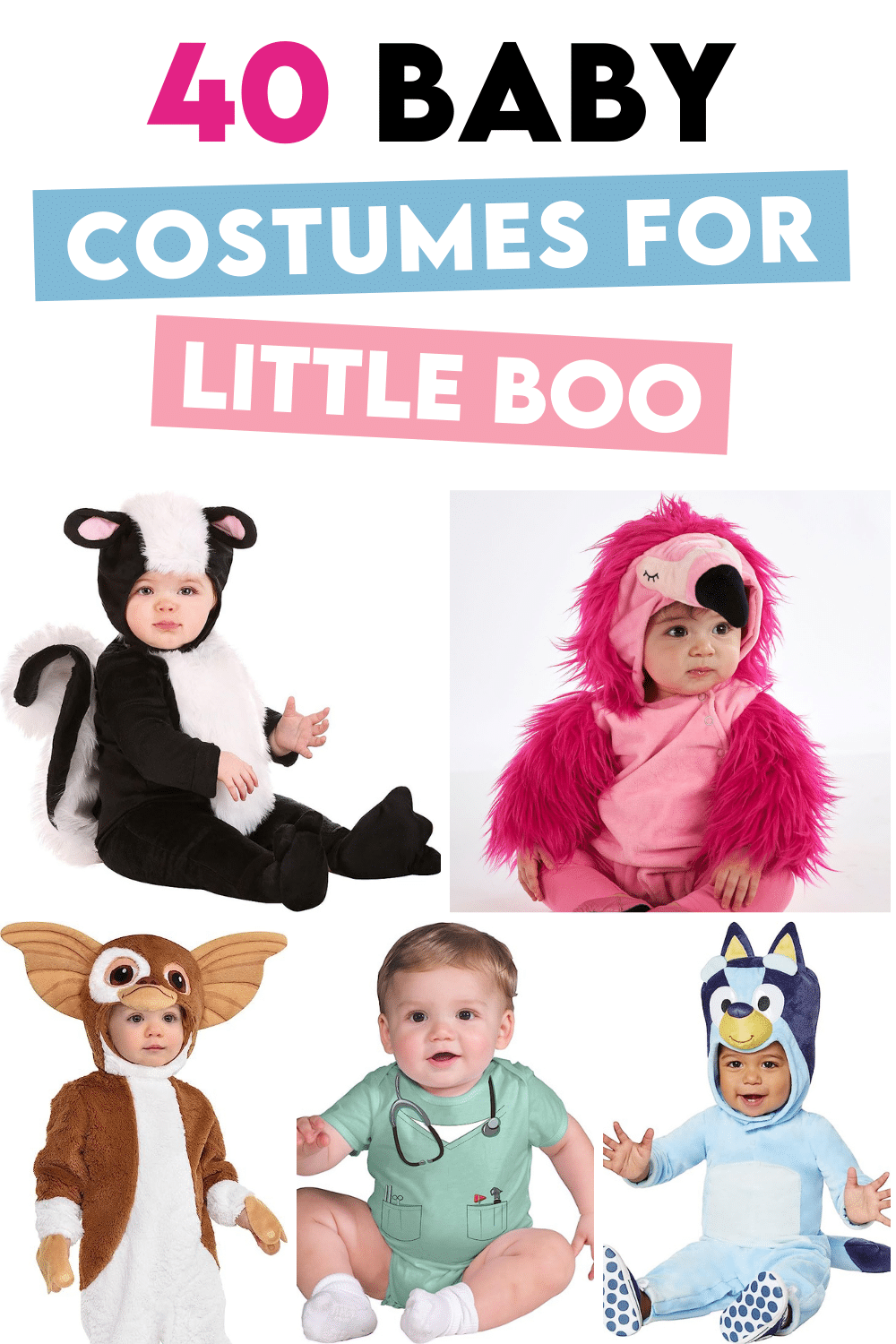 Disclaimer: This post contains affiliate links. To learn more about 'em, click here.
Food-Themed Baby Halloween Costumes
Is there anything better than finding the perfect food nickname for your sweet little baby? Well, there may be one thing that might top it: finding them the perfect food-themed baby Halloween costume!
1. Avocado – If you were obsessed with avocado toast while pregnant, this is the baby costume for you!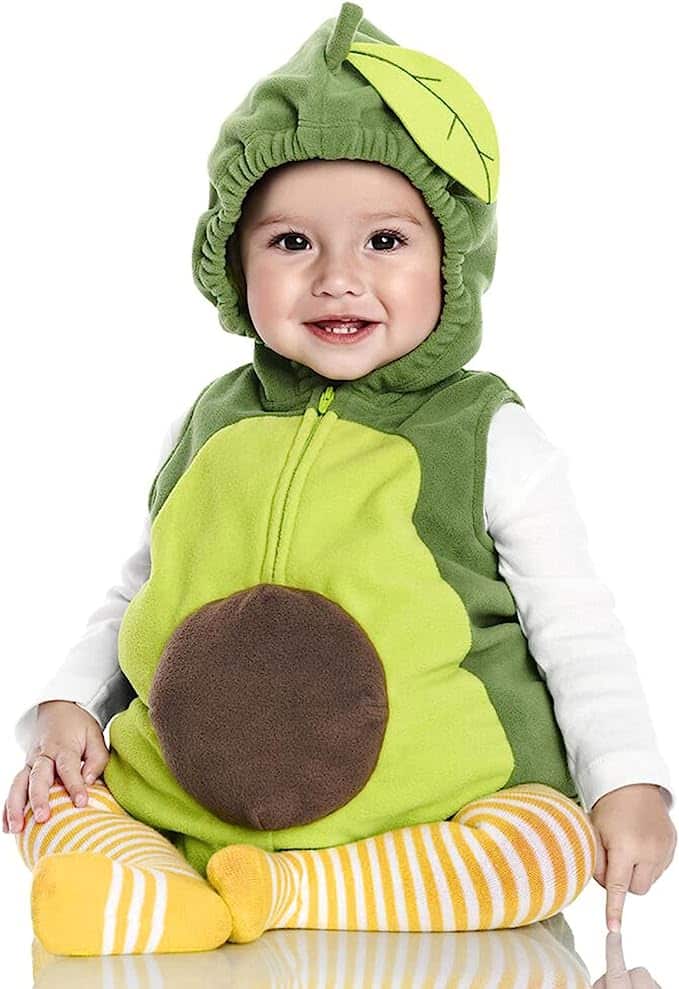 2. Burrito – You practiced your swaddle skills on tortilla shells for 9 months; put that to good use with this cute and simple newborn Halloween costume.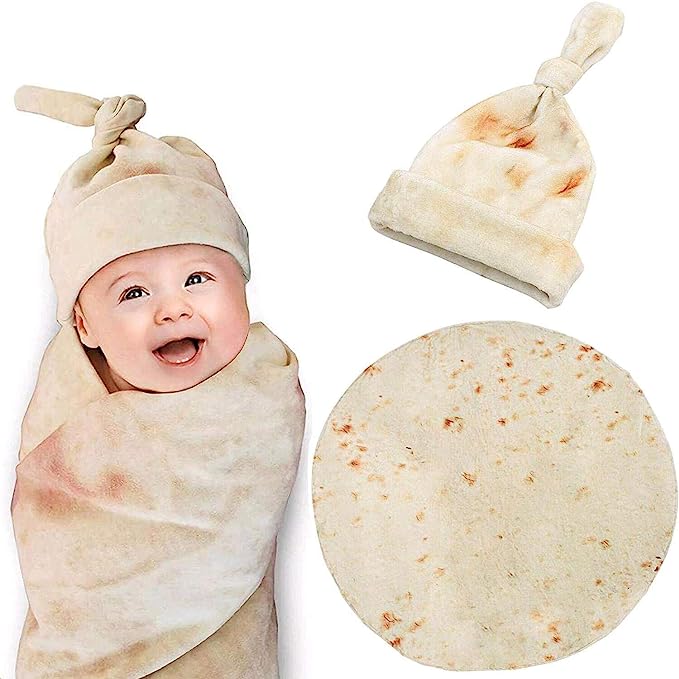 3. Sriracha – Hot sauce fan? Halloween onesies can be so convenient, and they can be reused throughout the year!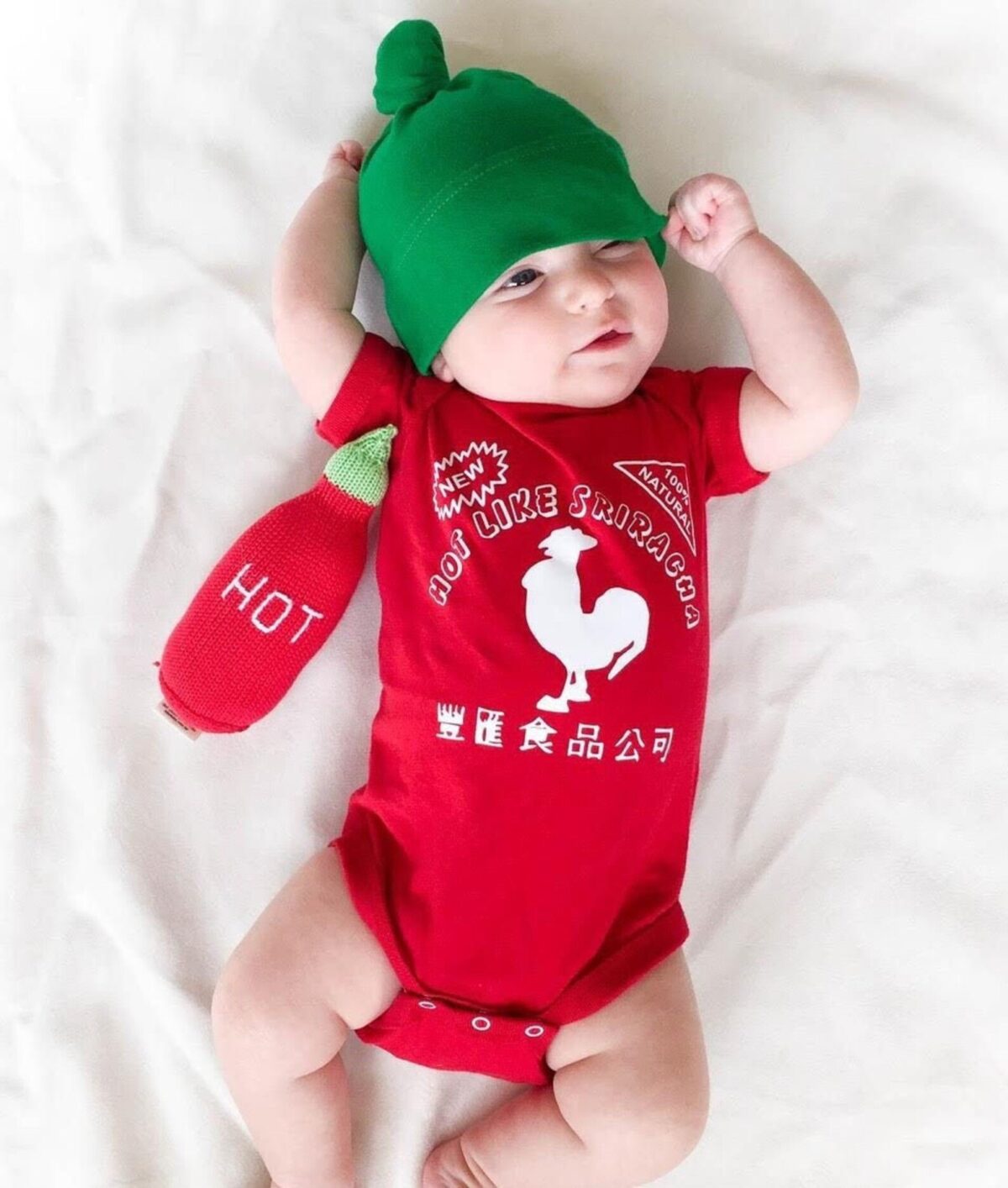 4. Sushi – This cutie sushi is good enough to eat!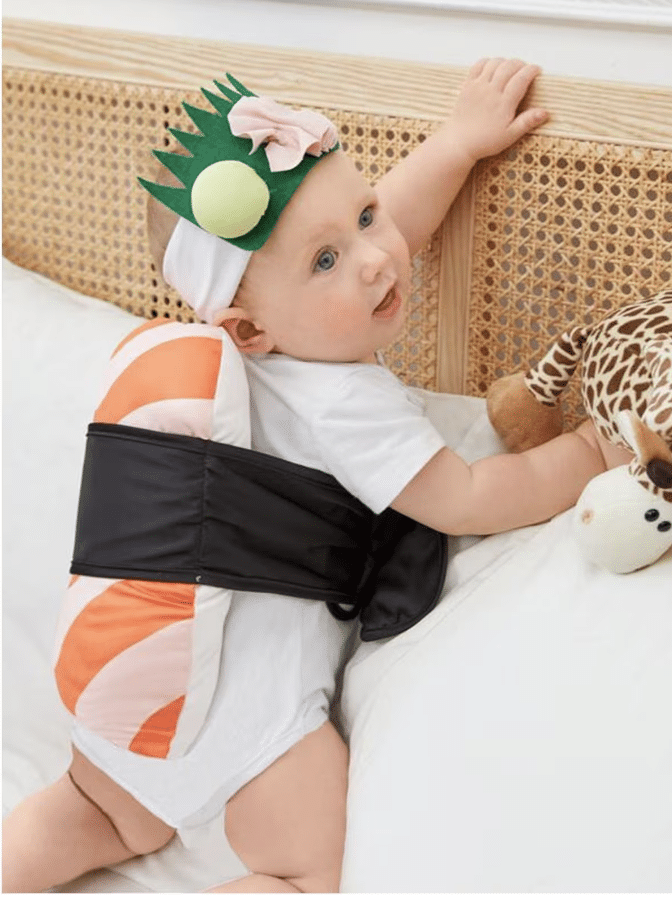 5. Fries – Fries are the most addictive food, and we're willing to bet that you'll be addicted to this McDonald's costume.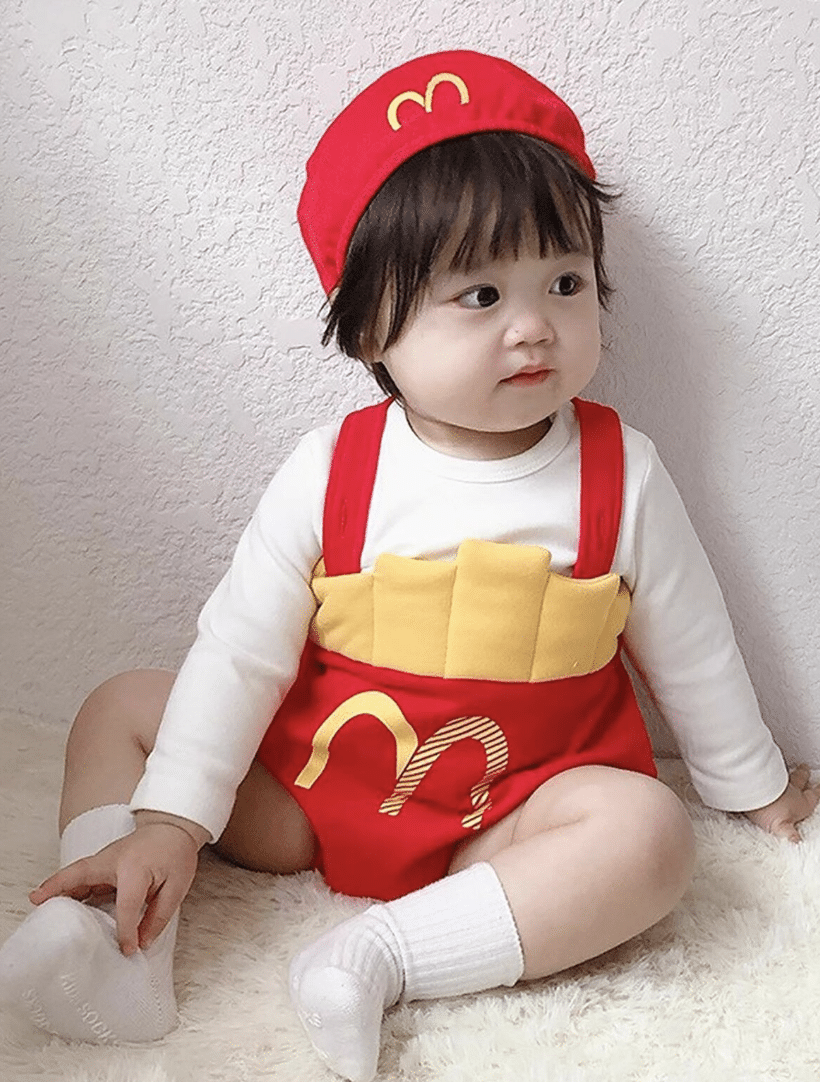 6. Cup of Noodle – The curly noodles coming out of the hat are to die for! Easy Halloween onesies win again!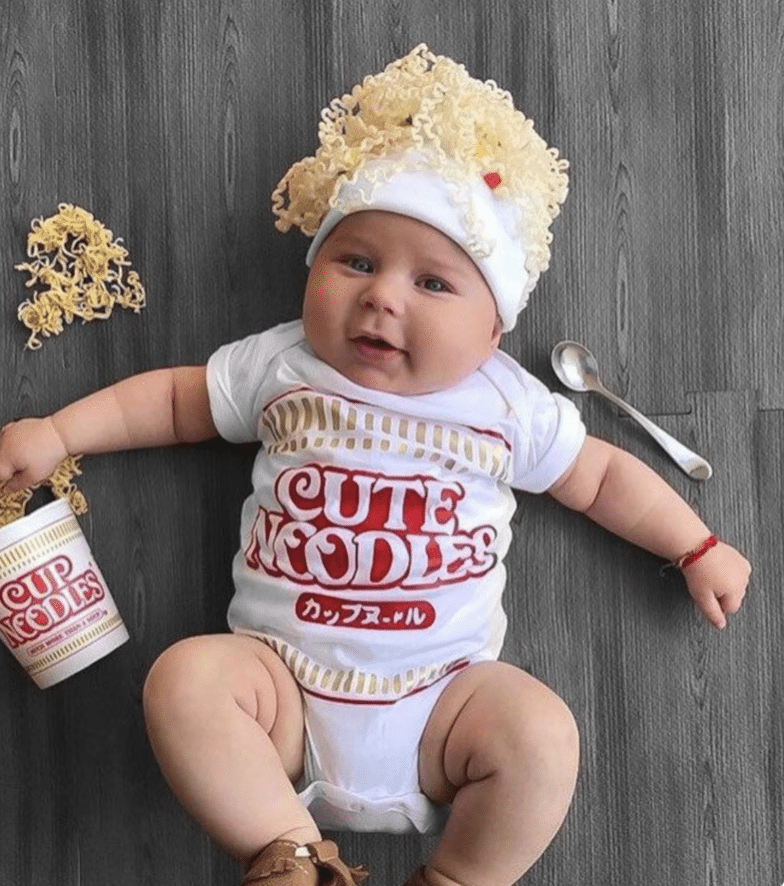 7. Corn on the Cob – It's corn! Finding baby Halloween costumes that are cozy and cute for the colder climates can be tough. This fixes that. Imagine dressing up like a farmer!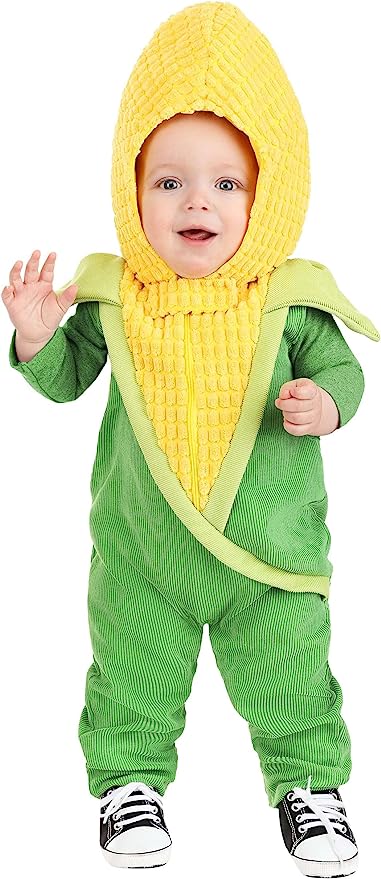 8. Loaf of Bread – Baby sandwich, anyone? Could this get any cuter?!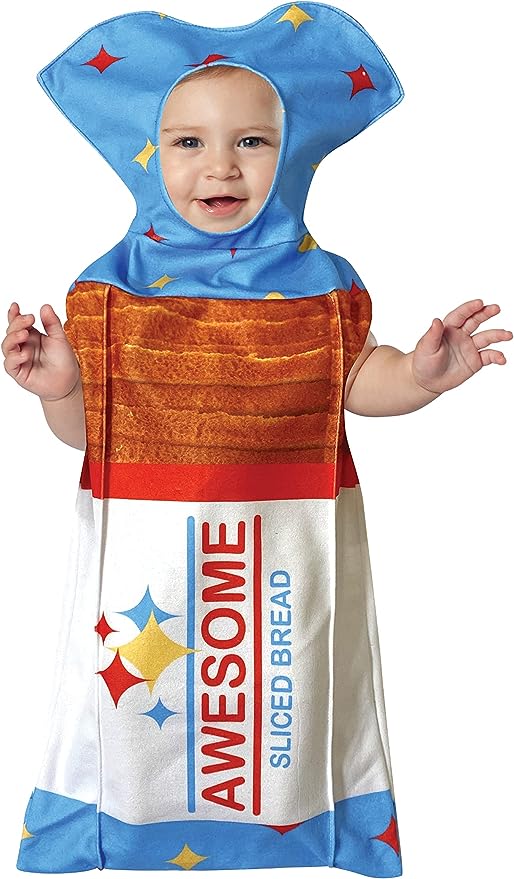 9. 7-Layer Burrito – You loved them in college, so you might as well dress your baby up as a Taco Bell burrito!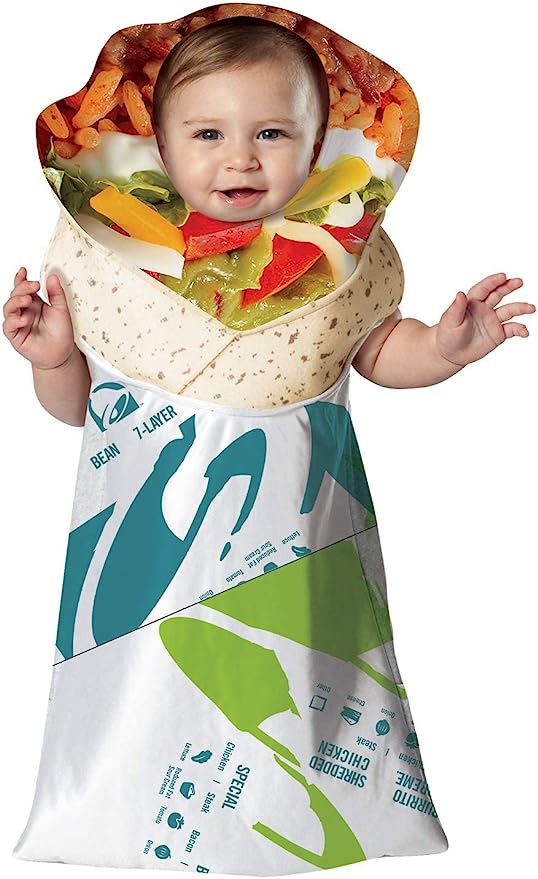 10. Mr. Peanut – Not your normal peanut; the top hat really adds some class. 🙂

Baby Halloween Costumes from Pop Culture
11. Gizmo Gremlin – Did you love Gremlins as a kid? You'll probably love having a baby Gizmo because, let's be real, they do turn into gremlins as a result of seemingly innocuous events.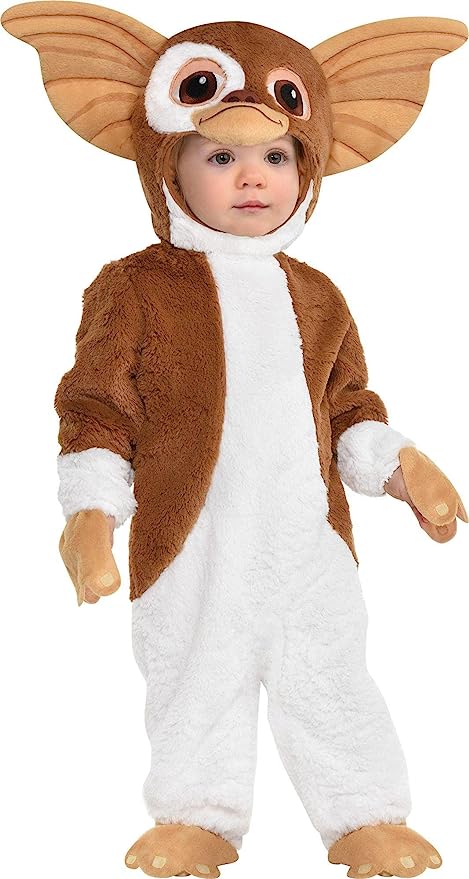 12. Baby Shark – You may be tired of hearing the song, but you can't be tired of this cute baby costume.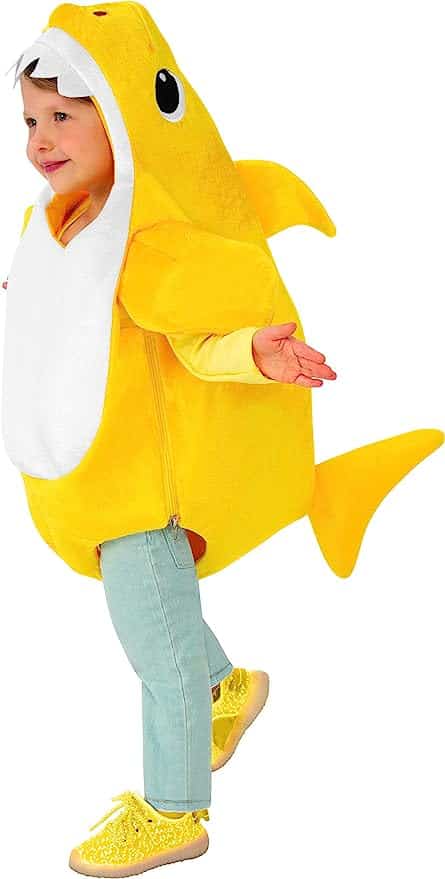 13. Bingo – Little sister or brother would love to dress up as Bluey's little sis in this infant Halloween costume.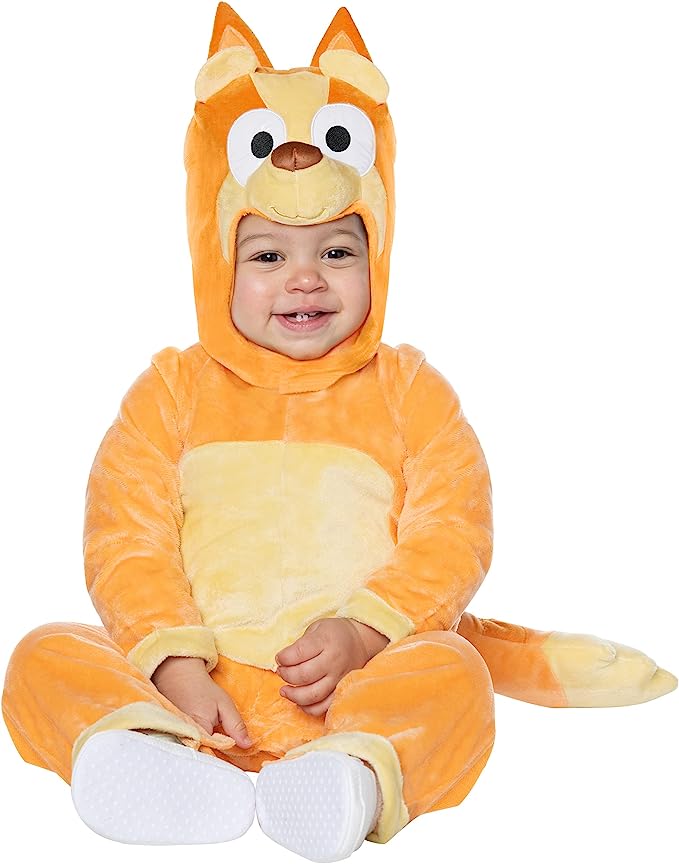 14. Bluey – BLUEY! The Disney sensation is coming to your house this Halloween!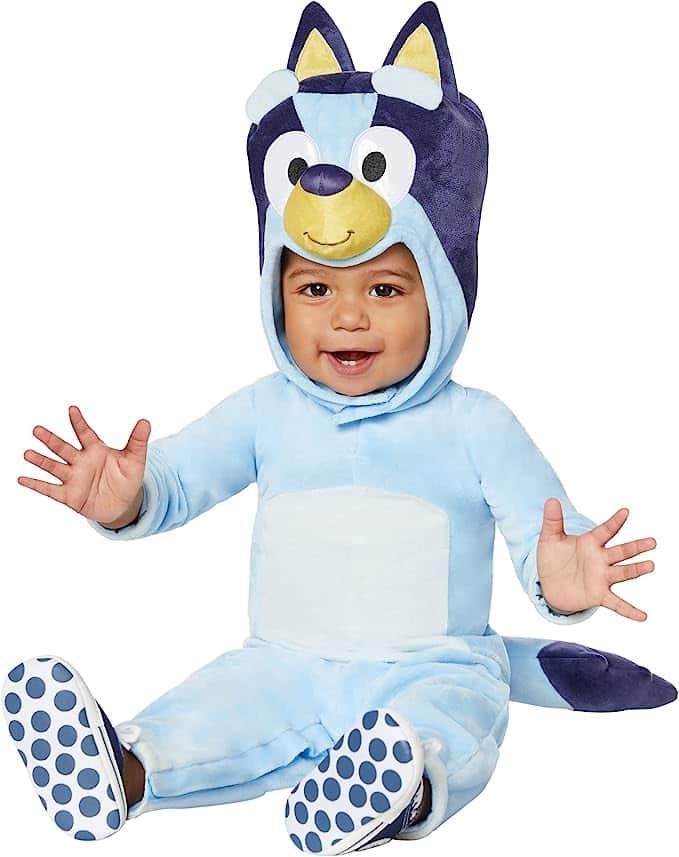 15. Baby Yoda – Little babies are just the right size for a Yoda costume.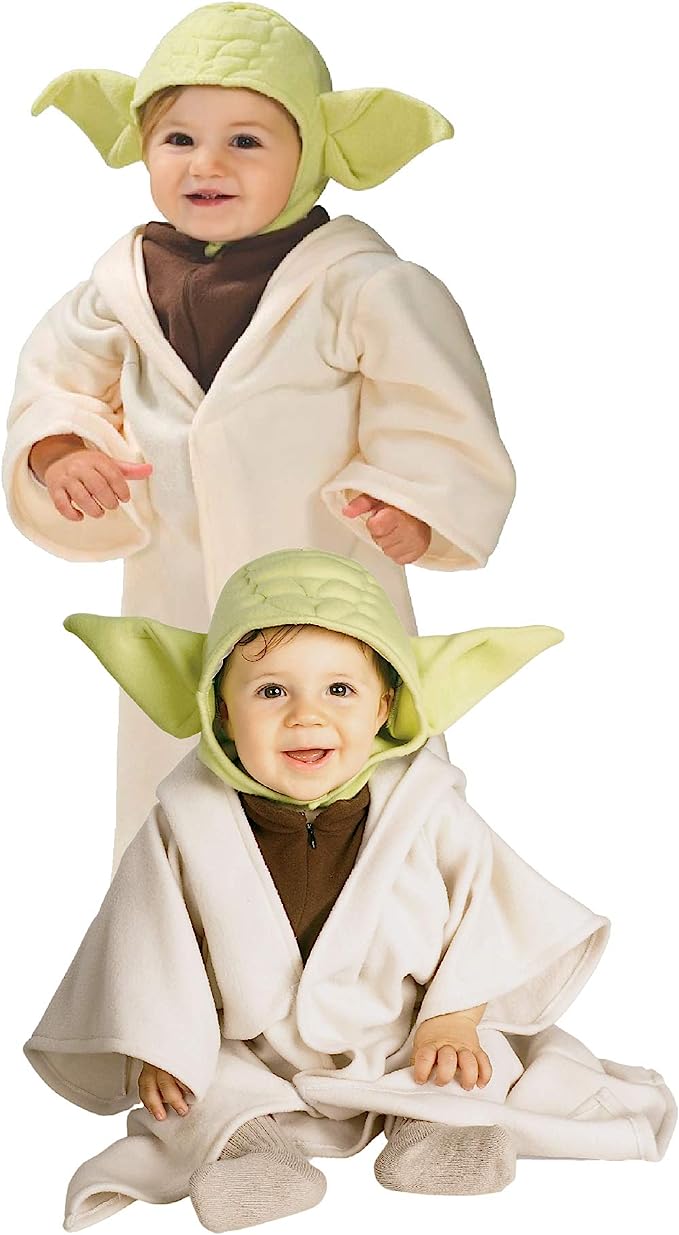 16. Link – Zelda lovers rejoice! You can now dress your baby as your favorite little Link.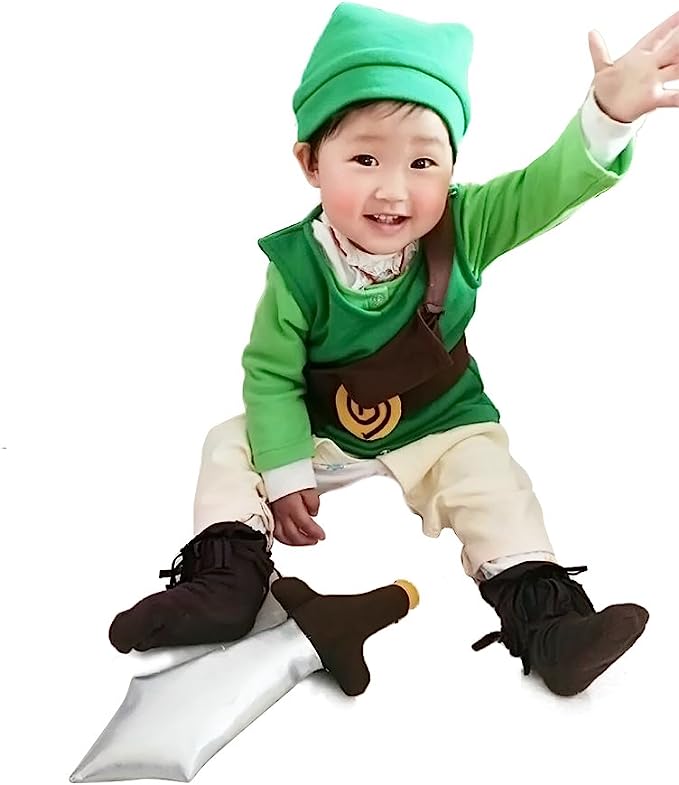 17. Nemo – Nemo's a special little fish, and this costume is perfect for your special baby.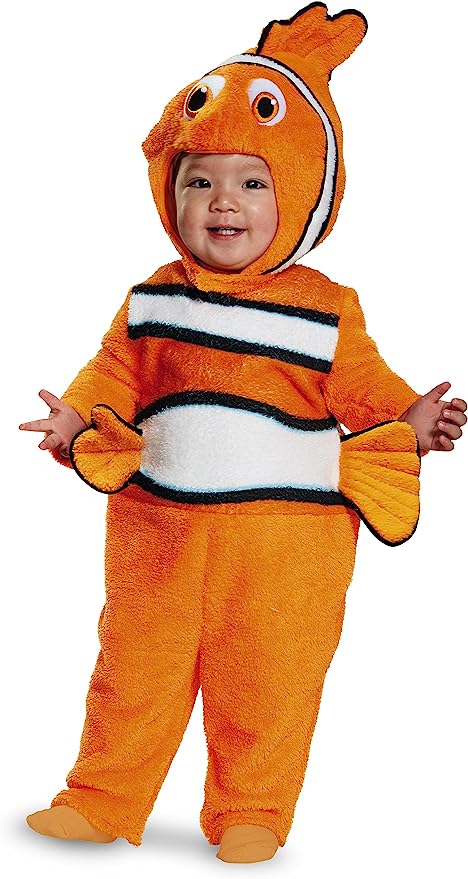 18. Glo Worm – Remember Glo Worms?! They were so cool. This sleeping bag-esque baby Halloween costume will keep your worm warm even when the sun sets.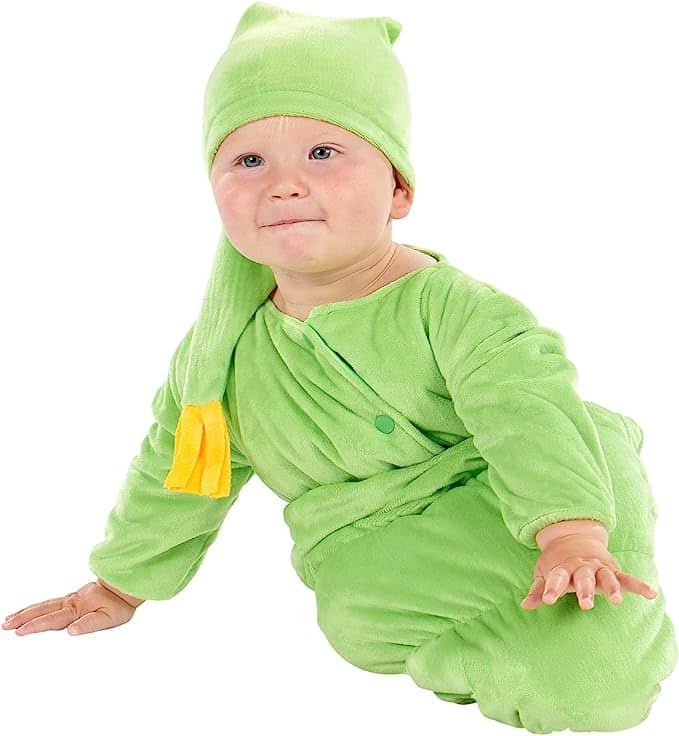 19. Snorlax – Pokemon fan? Cozy your little Snorlax up in this Halloween onesie.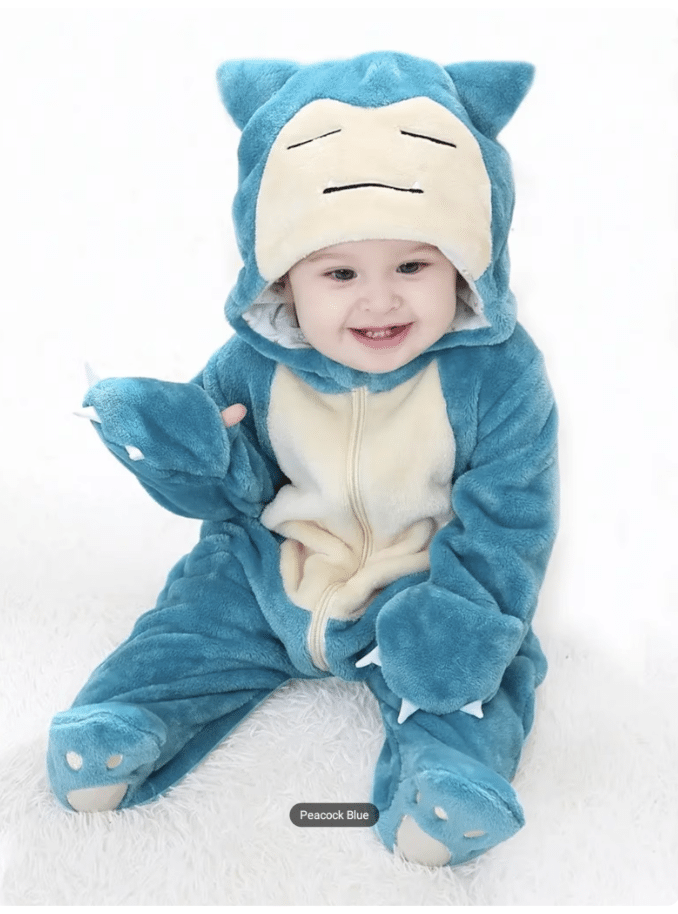 20. Dumb and Dumber – A favorite show from your childhood is now your favorite baby costume.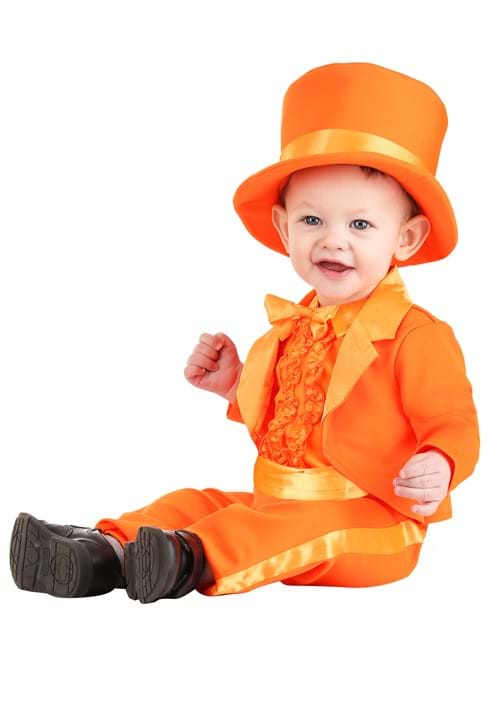 Funny Infant Halloween Costumes
21. Baby Works Out – I can't stop laughing at this adorable combo. I love the '80s vibes and the stuffed weights.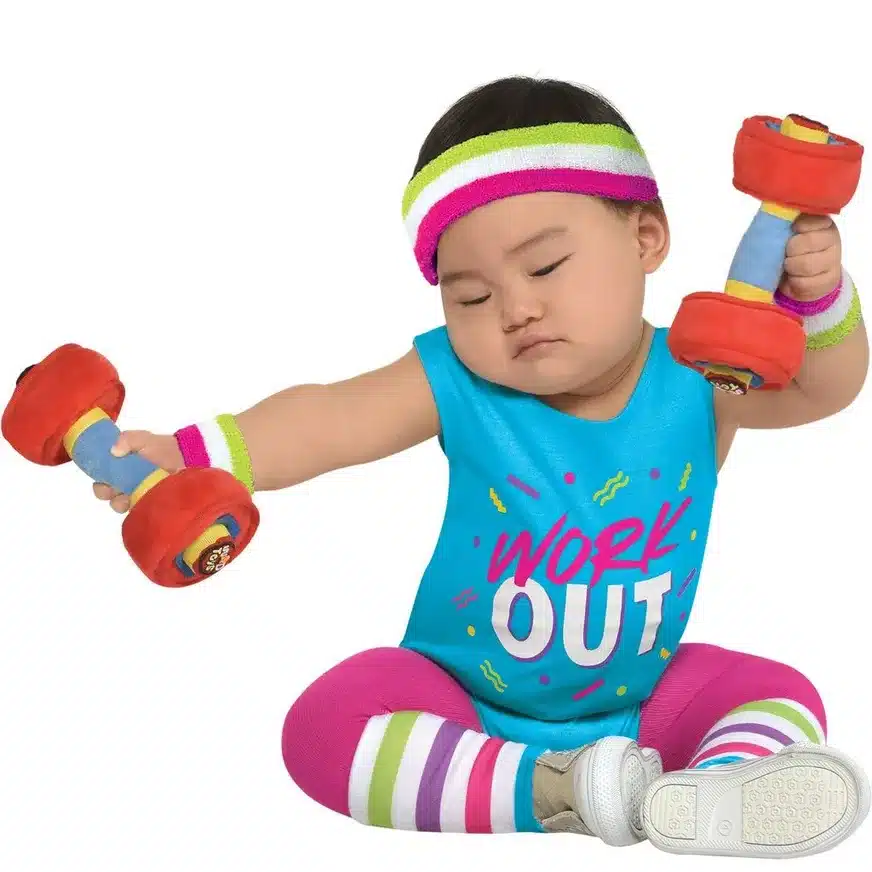 22. Baby Doctor – Turn your baby into a baby doctor with this simple Halloween onesie. They may be young, but they have goals!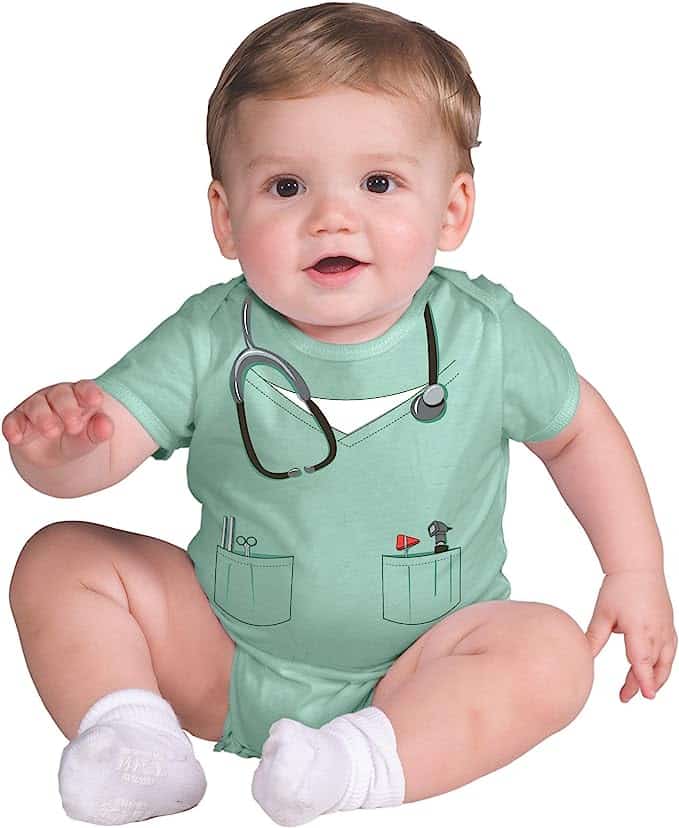 23. Elvis – This little king is going to have everyone giggling. The gems. The collar. The hat. Perfection.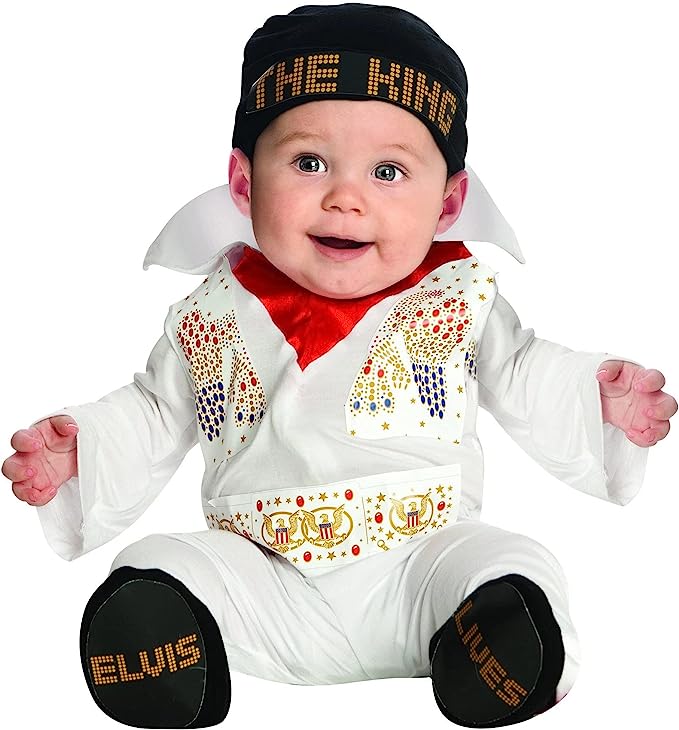 24. UPS Driver – Your favorite boxes come via UPS, and now your baby can look the part.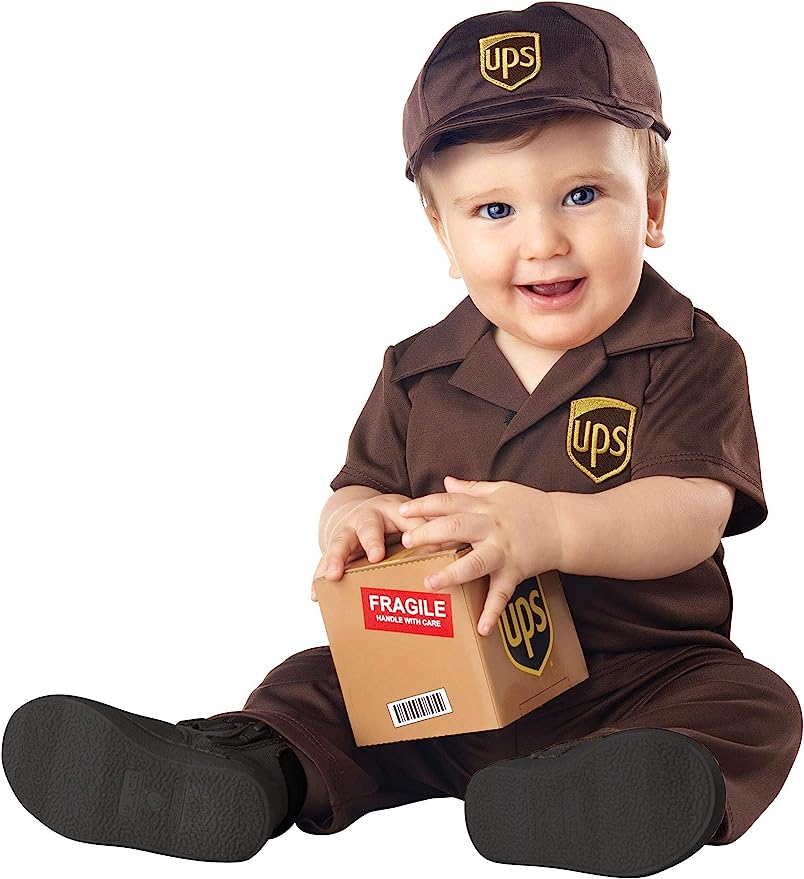 25. Baby Dust Mop – It's easy, and it's funny. It might even be functional once your baby starts crawling.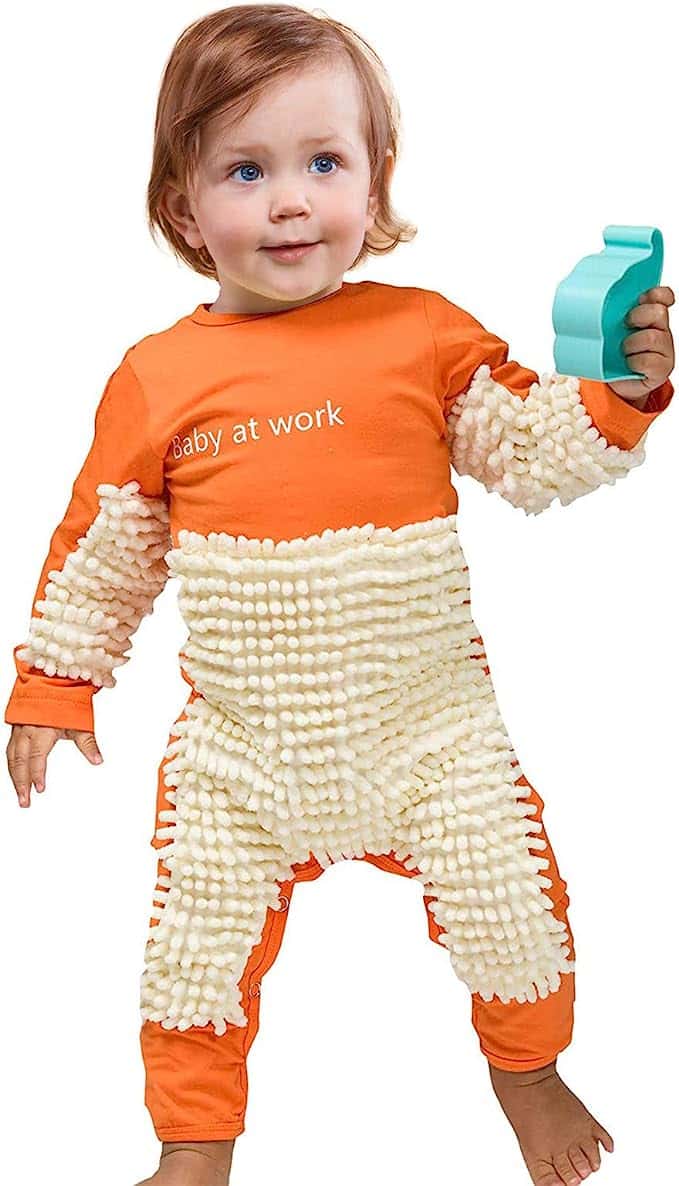 26. Macho Man – Got a tough baby? Make them a macho man!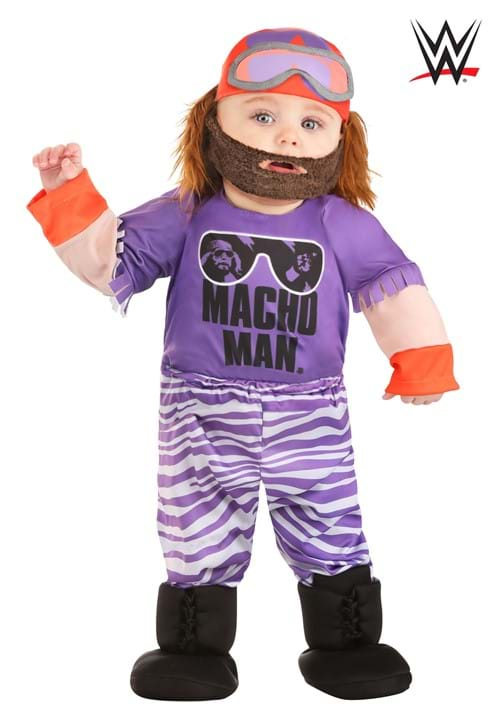 27. Baby Golfer – If mom or dad is a golfer, they won't be able to stop laughing at this proper little person ready for their tee-time.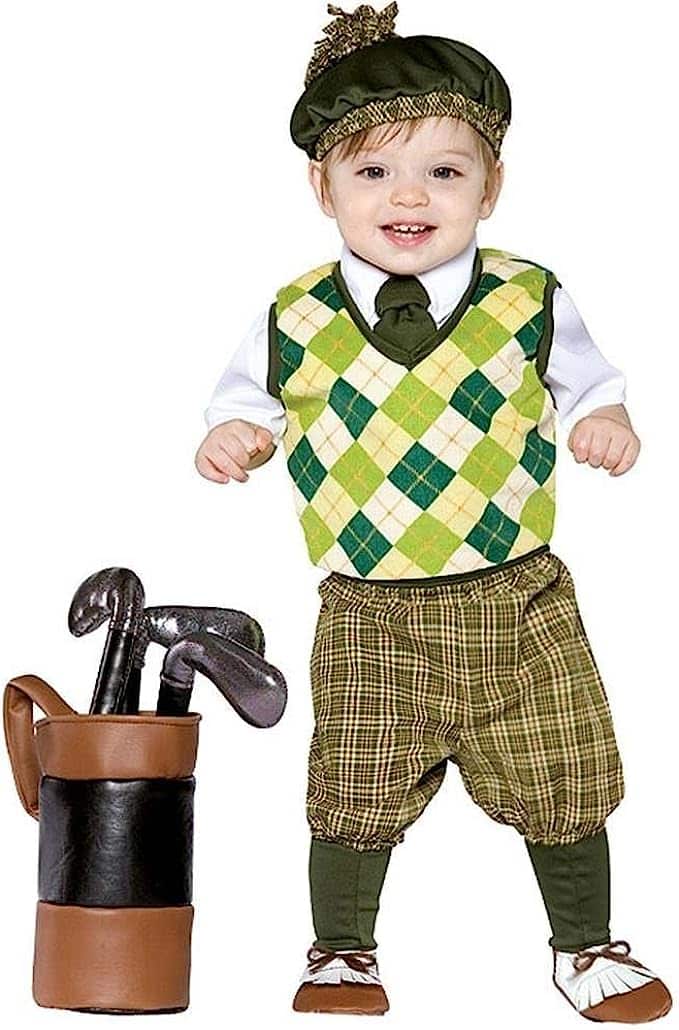 28. Little Old Lady – Get ready to hear laughter all night long because this funny old lady costume on a little baby is pure gold.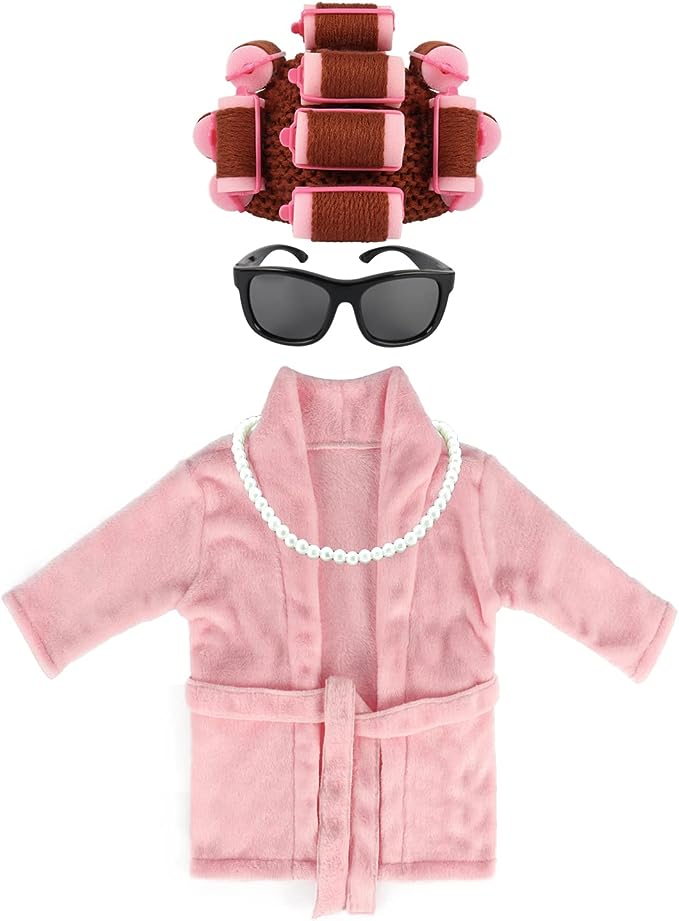 29. Condiments – If you have twins, this funny condiment costume is perfect.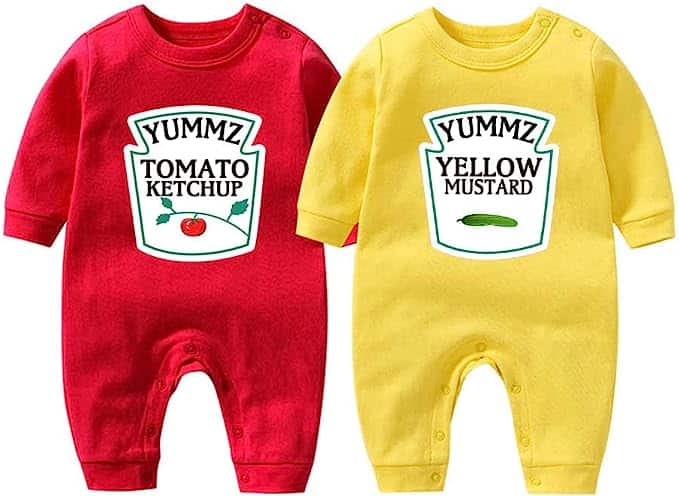 30. Acute Baby – Not in the mood for an elaborate costume? Slip this onesie on your baby, and bam! You've got a baby Halloween costume. And if you have a math nerd in your life, they're definitely going to chuckle about this.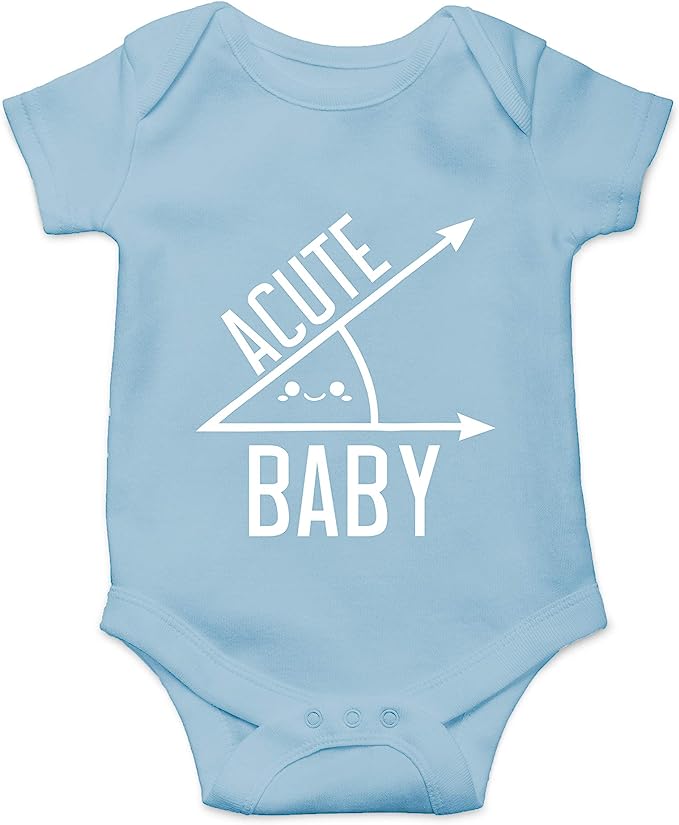 Animal Dress-Ups
31. Flamingo – Bright pink and totally brightening up your Halloween night!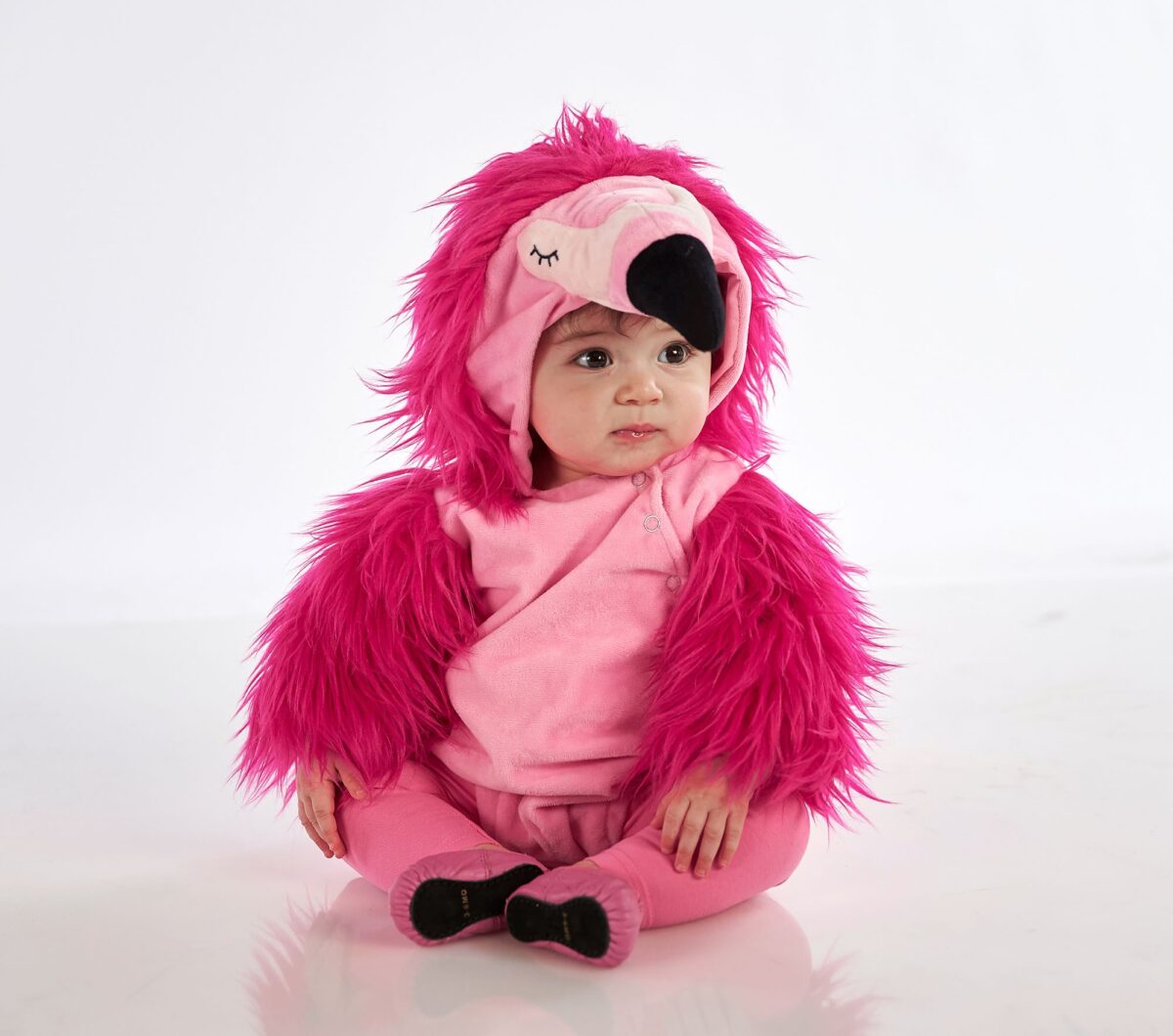 32. Skunk – Need newborn Halloween costumes for your little stinker? This skunk will do it for you!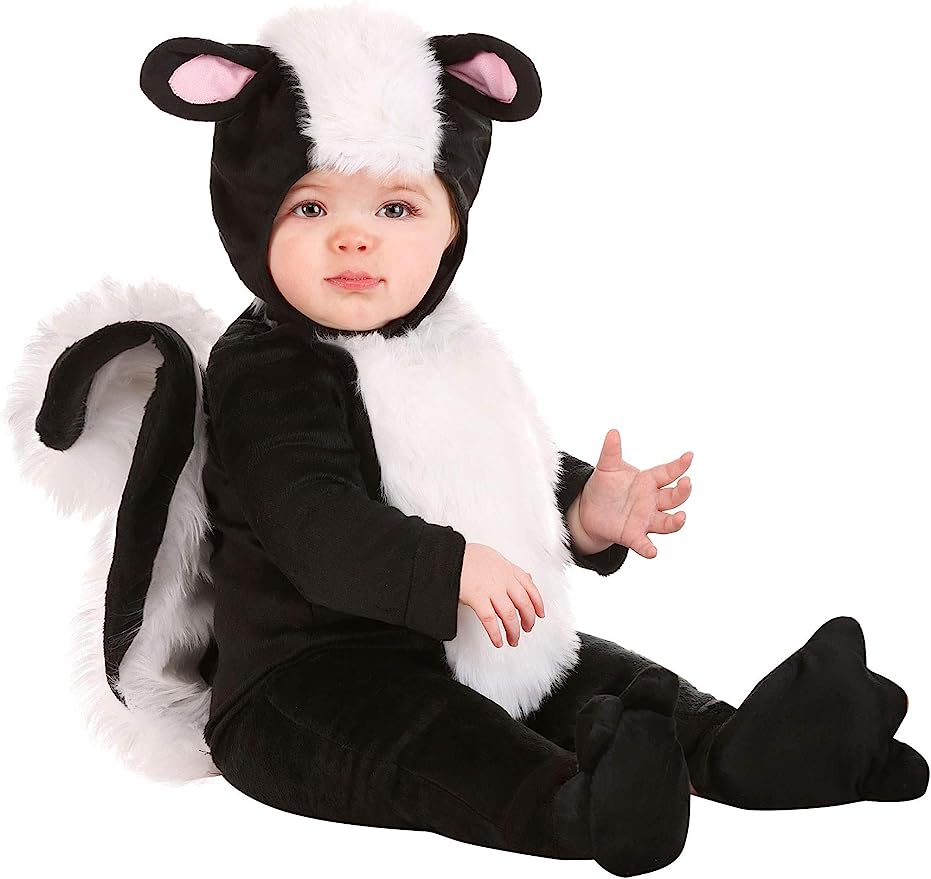 33. Snail – This is super original and super cute. This cozy handmade baby Halloween costume is perfect for your slowpoke.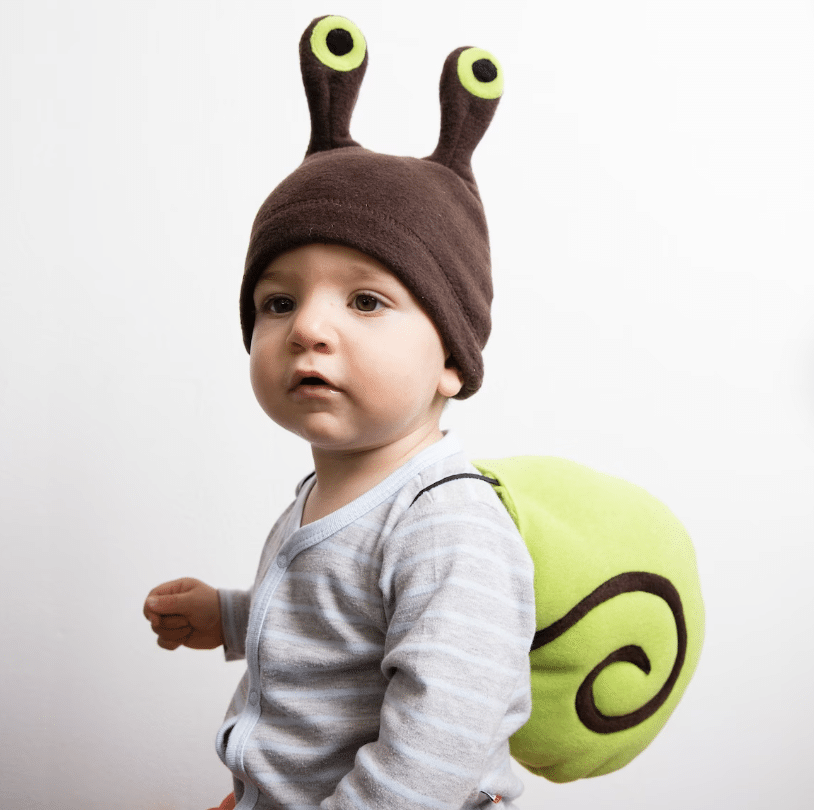 34. Bunny – Floppy bunny ears are adorable any time of the year, so you may as well make it one of your newborn Halloween costumes. Bonus—if your kiddo is slow-growing, you can reuse it for Easter. 🙂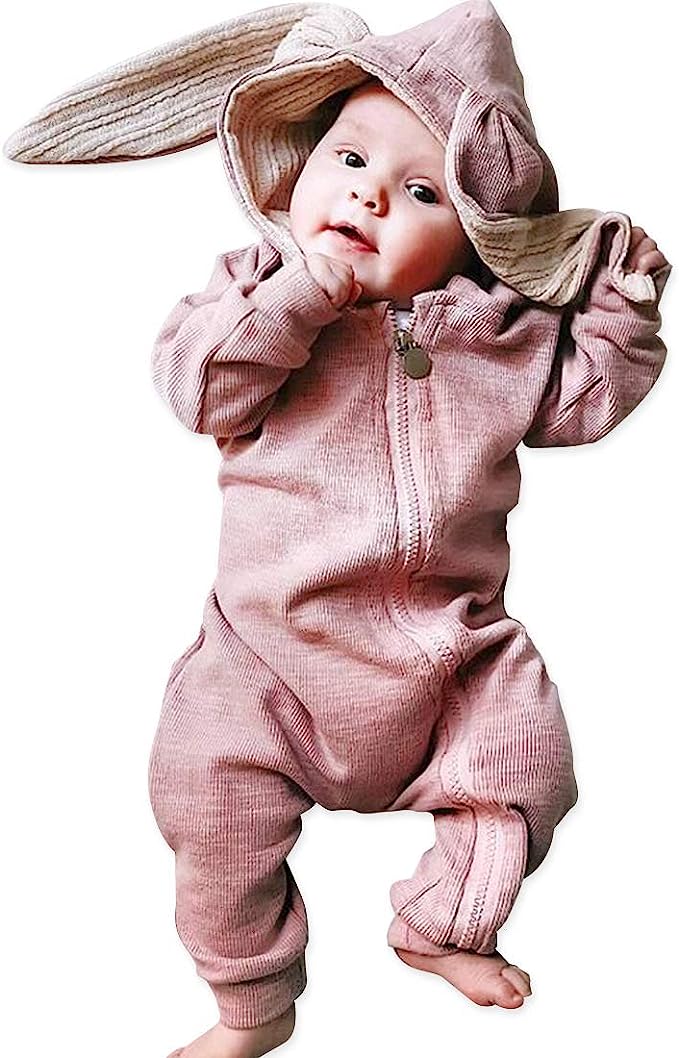 35. Baby Big Bad Wolf – Imagine the family costume possibilities! Goldilocks? The 3 pigs? Little Red Riding Hood!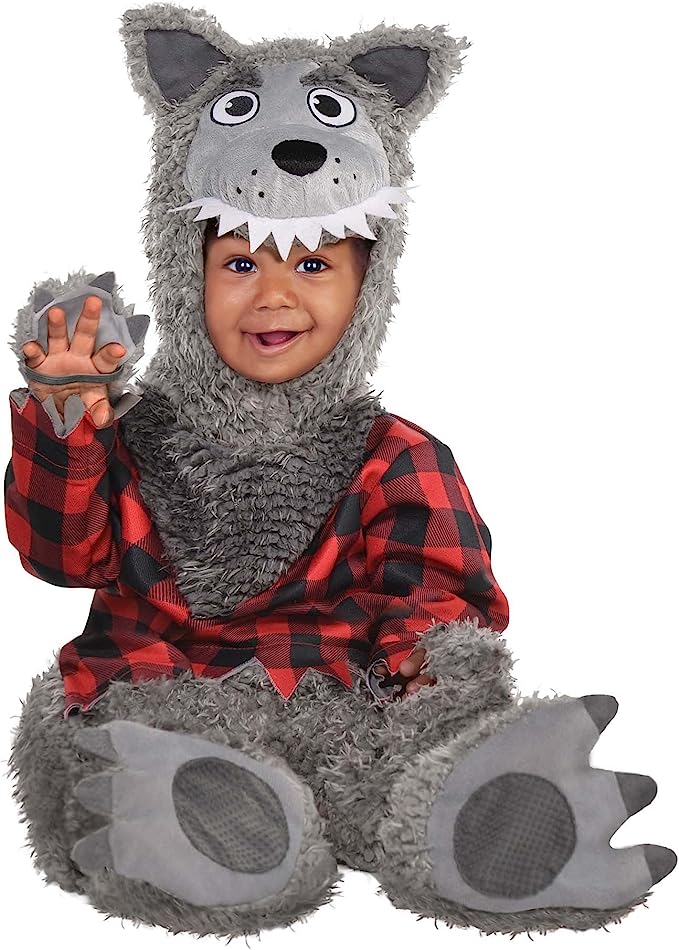 36. Little Lady Bug – This swaddle makes one of the most adorable (and perfect!) newborn Halloween costumes!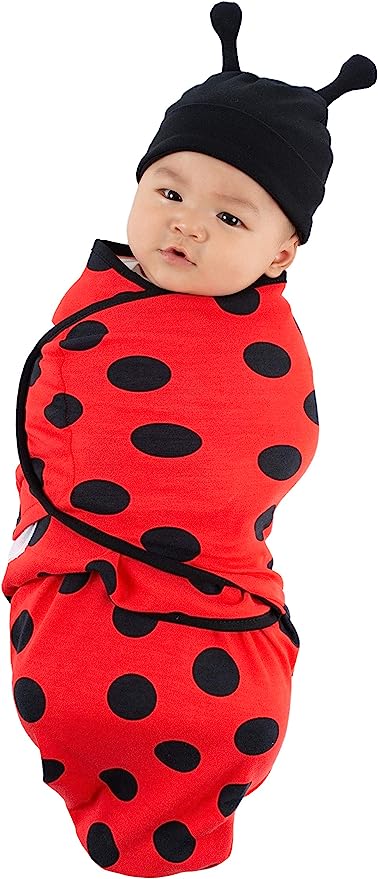 37. Lobster – Babies in full-body suits are so adorable and helpless. HA! Can you imagine your baby trying to crawl away in this lobster baby Halloween costume?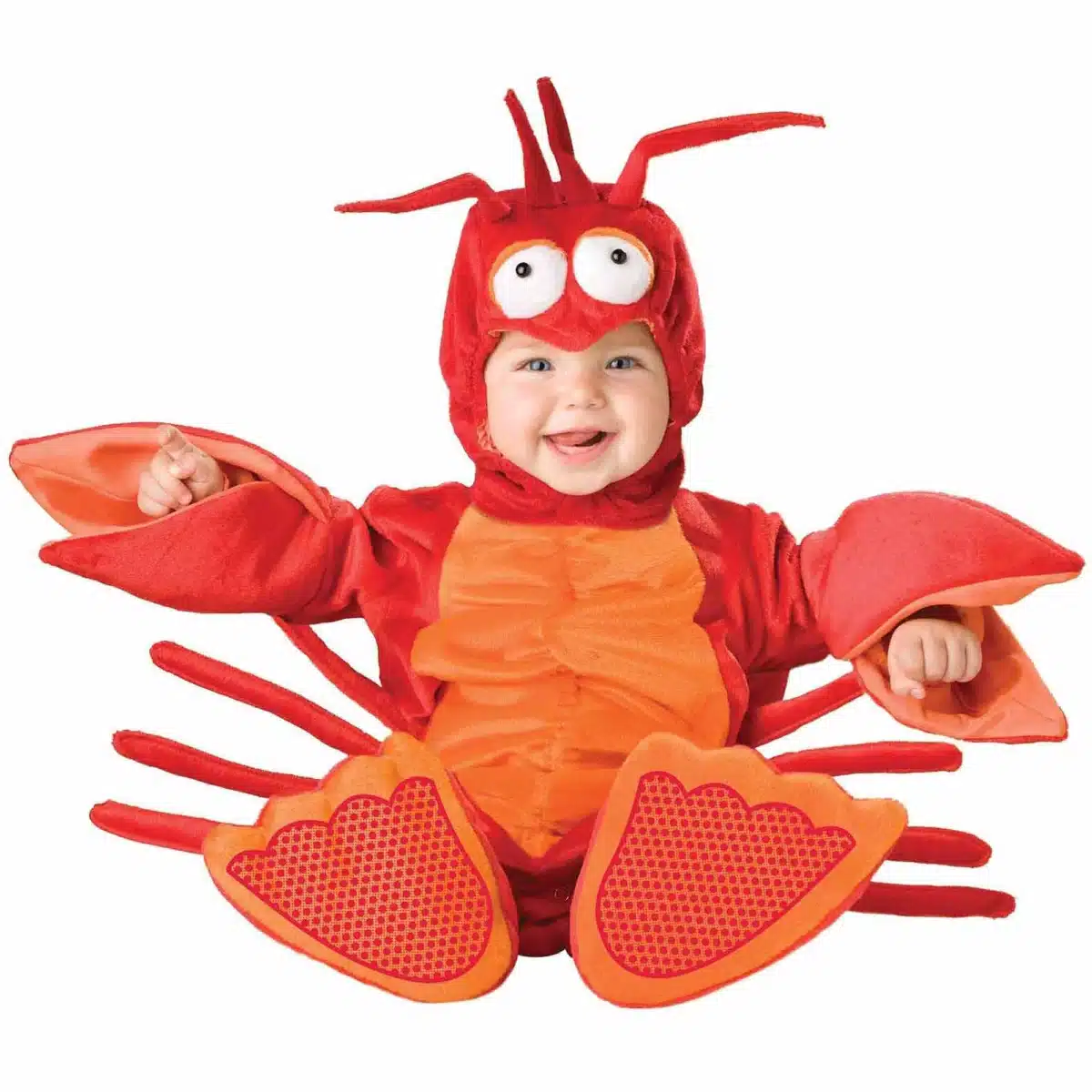 38. Dino – Look who's just hatched! Infant Halloween costumes should make everyone smile; this fits the bill.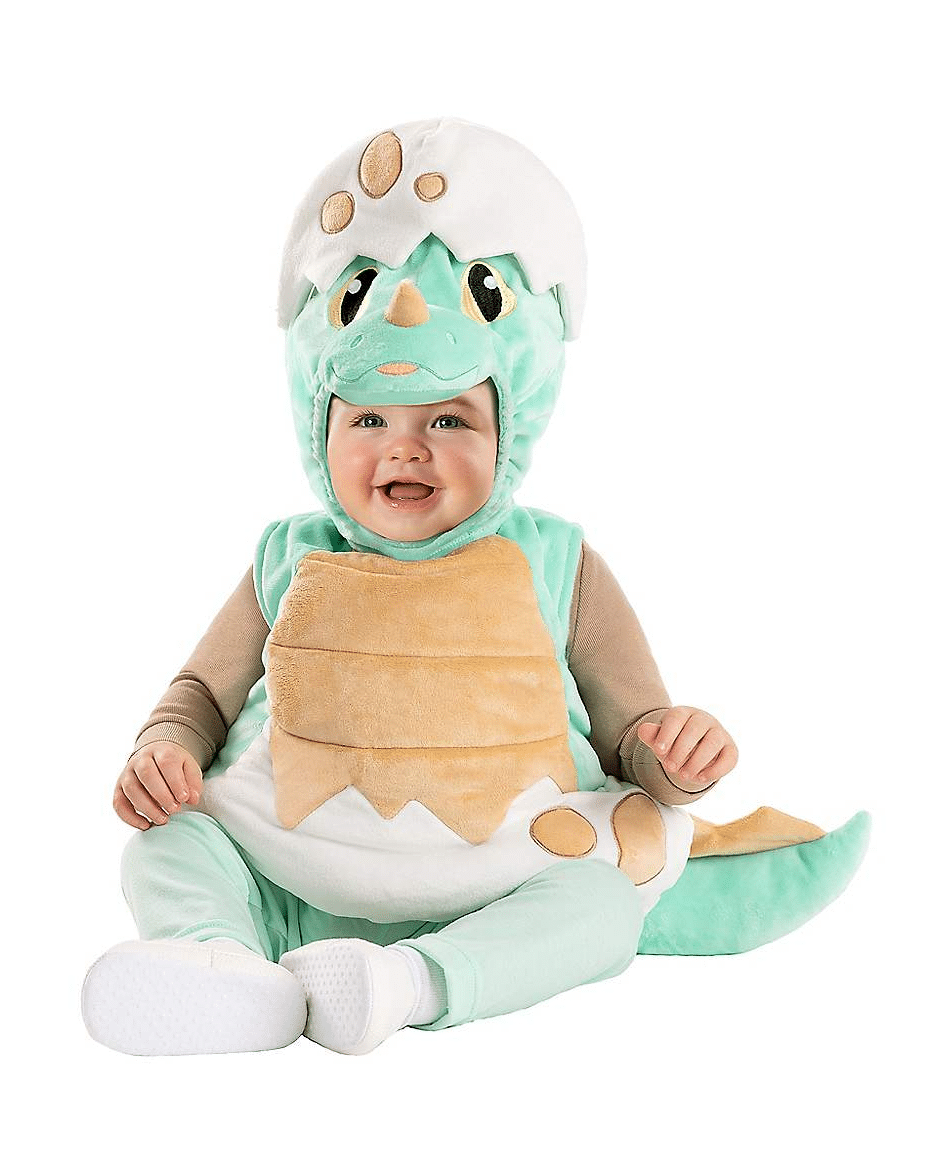 39. Dragonfly – Shiny and big-eyed, this sweet little costume will make you giggle every time you see your shiny big-eyed baby.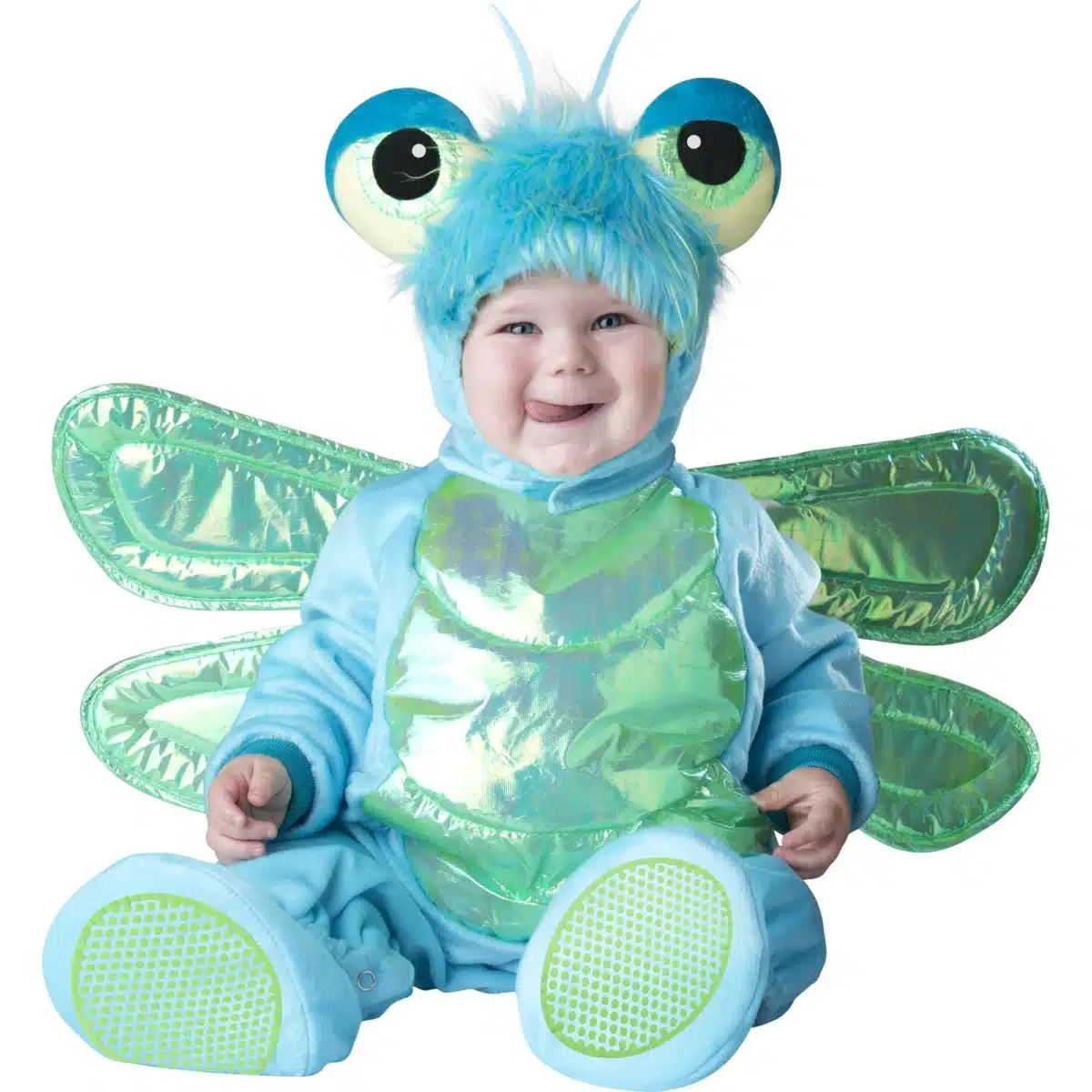 40. Bluebird – Straight out of a cartoon, this adorable bluebird will become a favorite.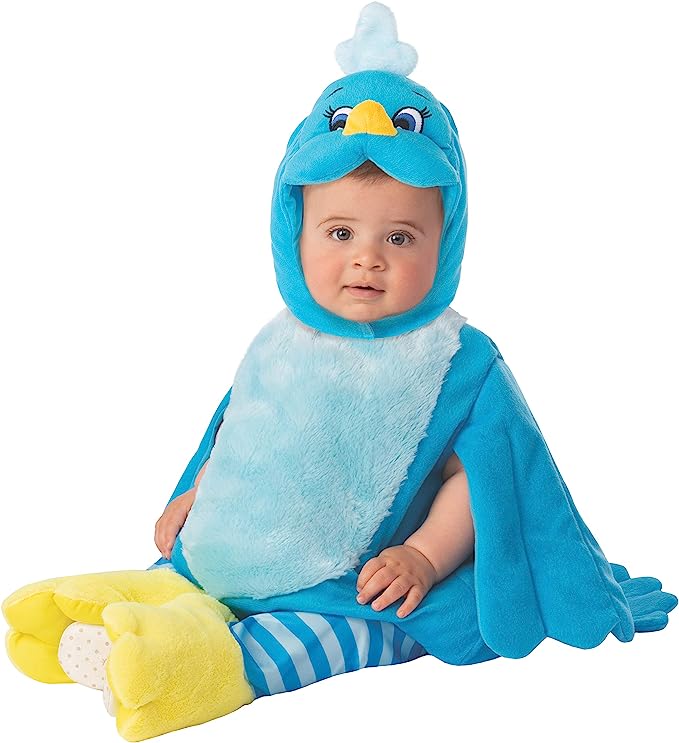 Are you so overwhelmed with the adorable baby Halloween costumes? We know. Us too! But if you think you need even more costume options, we have 101 Halloween Costumes, 101 More Halloween Costumes, or 101 DIY Halloween Costumes. And yes, each of these has a little section full of baby Halloween costumes.
Happy Halloween!