Your Ultimate List of Halloween Songs
Spooky skeletons, vicious vampires, and wacky werewolves are lurking–invite them in with this list of 75 Halloween songs! We LOVE Halloween, so you know we had to make a GIANT list of Halloween music. There are 4 different lists of the best Halloween songs here for you, so you can find your faves.
Table of Contents
Disclaimer: This post contains affiliate links. To learn more about 'em, click here.
Classic Halloween Songs
Those classic monsters deserve their own playlist. These songs are all about those brisk, crunchy, fall nights we see in the movies. We love the classic Halloween music sound and created a whole list of our faves.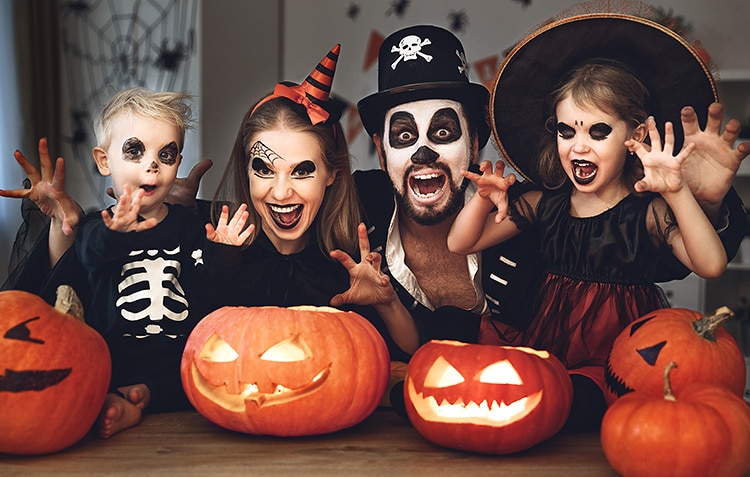 1 . Monster Mash by Bobby "Borris" Pickett – This is at the TOP of the list of Halloween songs for a reason. Get ready to groove with the ghouls!
2 . Thriller by Michael Jackson – If you have time, watch the whole video and learn the dance too!
3 . Spooky by Classic IV – Halloween is a spooky night, so this is the perfect Halloween music to play.
4 . Werewolves of London by Warren Zevon – Try not to howl listening to this. Just try!
5 . Witchy Woman by Eagles – OOOOOoooooo, witchy woman! Sing along with Eagles while placing your witch hat just so.
6 . Ghostbusters by Ray Parker Jr. – Are you a Ghostbusters fan? Then this is a good add to your Halloween music list.
7 . The Addams Family Theme – The snaps that alert the world to the sweet and creepy family.
8 . Love Potion No. 9 by The Searchers – Put a spell on the one you love this Halloween.
9 . I Put a Spell on You by Annie Lennox – There are a lot of versions of this song made popular by Hocus Pocus; find your favorite!
10 . The Devil Went Down to Georgia by The Charlie Daniels Band – This may not feel like one of the classic Halloween songs, but it's about the Devil and has a great fiddle part, trust us.
11 . Graveyard Cha Cha by The Three D's – It may not have been released in a "classic" era, but this song has that perfectly classic sound making it one of the best Halloween songs.
12 . Witchcraft by Frank Sinatra – Ol' Blue Eyes is still serving bops all these years later.
13 . That Old Black Magic by Bing Crosby – The original witchy woman is the focus of Bing's classic Halloween song.
14 . Halloween by Victor Moore, Boris Karloff, and Bing Crosby – This interesting mix of a crooner, a comedy actor, and Frankenstein's monster make for some great Halloween music.
Enjoy this playlist embedded below with a slight change (we couldn't find a version of Bing Crosby singing That Old Black Magic).
The Best Halloween Songs for Adults
Halloween isn't just for kids! Adults LOVE their Halloween parties and this is the perfect playlist for the older ghouls. Enjoy a good mix of some older thrillers and more modern bangers.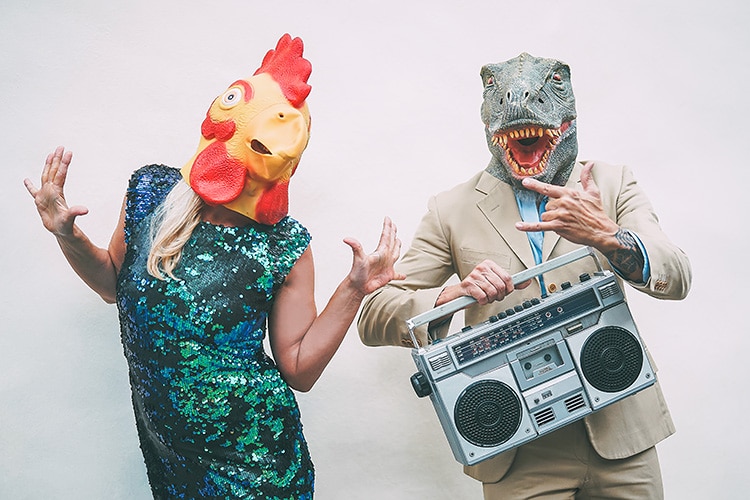 15 . Somebody's Watching Me by Rockwell – Spooky synth will keep you looking behind your back all night long.
16 . Hungry Like the Wolf by Duran Duran – We all turn into wolves with the full moon, right? Take that hunger to the party with this Halloween music!
17 . Psycho Killer by Talking Heads – Surprisingly peppy for a serious song, this 1977 Halloween song keeps people groovin'.
18 . Pet Sematary by The Ramones – Inspired by the classic horror book by the same name, this will have you rushing past the cemetery.
19 . A Nightmare on My Street by DJ Jazzy Jeffs and the Fresh Prince – Break it down old school with DJ Jazzy Jeff and the Fresh Prince with these classic '90s beats.
20 . Skeleton in the Closet by Louis Armstrong – Pure Halloween swing music courtesy of Louis.
21 . Wolves by Selena Gomez and Marshmello – Run with the wolves through the dark side of the forest this Halloween night.
22 . Superstition by Stevie Wonder – You could be the most logical person in the world, but on Halloween we're all a little superstitious!
23 . Zombie by The Cranberries – Keep coming back from the dead to listen to this hit!
24 . Season of the Witch by Donovan – Donovan takes you on a slow psychedelic burn that builds up for the chorus.
25 . Men in Black by Will Smith – Aliens are welcome to celebrate Halloween too!
26 . Time Warp from Rocky Horror Picture Show – Do you even have a list of the best Halloween songs if Time Warp isn't on it?
27 . Love Me Dead by Ludo – A campy, but fun love song perfect for your couple's party.
28 . Total Eclipse of the Heart by Bonnie Tyler – It's a love song… for a VAMPIRE!
29 . I'm Your Boogie Man by KC and the Sunshine Band – Disco never goes out of style, so get into it with the Boogie Man!
30 . Swamp Witch by Jim Stafford – A classic American comedian, Jim Stafford will introduce you to Hattie in his Halloween song that tells a story.
31 . Tribute by Tenacious D – A demon appears on a wooded road and challenges two men to a duel? Sounds like one of the better Halloween songs to me!
32 . Once Upon a Dream by Lana del Ray – The version of this song from Maleficentis such a hauntingly beautiful way to turn a classic love song into Halloween music.
33 . House of the Rising Sun by The Animals – Prepare to be frightened by the many mysterious residents of New Orleans.
34 . Heads Will Roll by Yeah Yeah Yeahs – Your choices are pretty limited: Off with your head or dance 'til you're dead. Yikes.
35 . Halloween by Matt Pond PA – Enjoy a folksy Halloween song centered around a party on the 31st.
36 . Disturbia by Rihanna – There's a lot disturbing things happening all the time, but we actually kind of like it around Halloween.
37 . Freaks Come Out At Night by Whodini – Listen to some fresh, funky beats to get you ready for some tasty treats.
This whole list is embedded below for your enjoyment! (We couldn't find the radio edit of Tribute on Spotify, so we left that one out).
Kid-themed Halloween Playlist
Throw on a playlist you know will be safe and fun for your kiddos. These songs have some silly, spooky, and even some learning thanks to the five little pumpkins!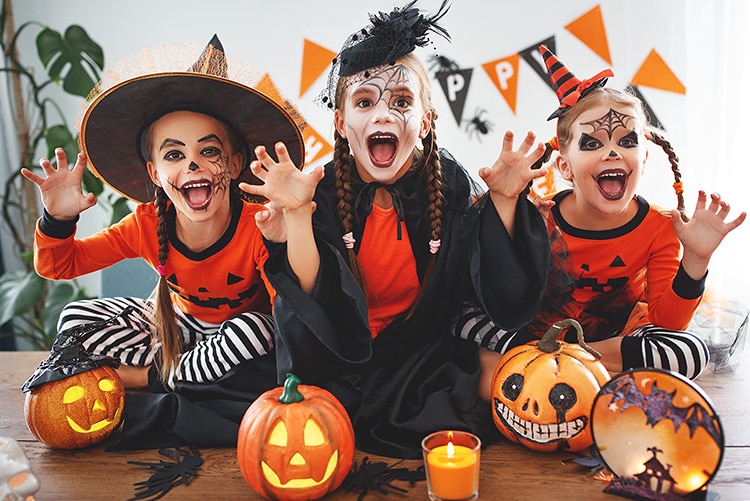 38 . Scooby Doo Theme by Simple Plan – Do your kids love Scoob?! Do you love reliving your high school days listening to Simple Plan? Perfect.
39 . Calling All Monsters by China Anne McClain – Tween pop that will get your toes tapping as well.
40 . Halloween, Halloween by Wee Sing Halloween – Preschool concerts have made this one of our favorite Halloween songs for kids.
41 . Five Little Pumpkins by Super Simple Songs – One little pumpkin rolls out of sight, and four other actions to help your little one practice their counting skills.
42 . Fly Little Bats by Wee Sing Halloween – Halloween songs for kids need to have actions, and this one provides so many opportunities.
43 . Remember Me from Coco – Coco takes the viewers on a journey to learn more about the Day of the Dead and inspires us to remember our ancestors, so we had to include Remember Me.
44 . Spooky, Spooky by A. J. Jenkins – Use this Halloween song to introduce your kids to a lot of different Halloween creatures.
45 . Knock, Knock, Trick-or-Treat by Super Simple Songs – Practice trick-or-treating with your kids as you sing along with this Halloween music.
46 . Haunted House by The Learning Station – Visit all the inhabitants of the haunted house!
47 . Five Little Ghosts by Super Simple Songs – Pretend to be the five little ghosts in this children's classic.
48 . Oogie Boogie's Song from The Nightmare Before Christmas – The video to this song is super creepy for kiddos, but the actual song just skirts the line.
49 . Friends on the Other Side from The Princess and the Frog – Learn about a voodoo man's friends from this Disney classic.
50 . The Skeleton Dance from Disney's Silly Symphony – Instrumental songs can be just as fun with kids, but if you can, let them watch the classic cartoon that accompanies this track.
51 . Dem Bones by Sing-Along Kids – Dem dry, dry bones! The sound of the bones clanking around is so fun!
52 . Rotten to the Core from The Decendants – If your kids are obsessed withThe Decendants, you already know this new favorite.
53 . Trick or Treat by Andrew Gold – Remember that old rhyme, "Trick-or-treat, smell my feet, give me something good to eat?" Andrew Gold does, and now your kids will too.
54 . The Creature from the Tub by Andrew Gold – Little kids turn into little creatures once full of sugar and covered with sticky, foreign substances.
55 . Gimme a Smile by Andrew Gold – The story of how a pumpkin becomes a jack-o-lantern.
56 . Spooky Scary Skeletons by Andrew Gold – Dance to Halloween songs for kids that also pleases adults! You need to give it a try.
57 . Spooky Walk by Newbridge Songs for Learning – This is a guided adventure that asks kids to create the song along with the performer. It's similar to the "Going on a Bear Hunt" song.
58 . Purple People Eater by Sheb Wooley – All about a monster we all learned about at a young age thanks to this song. Welcome him to your home for Halloween!
58 . Halloween Freeze Dance by The Kiboomers – This is a very active Halloween dance song for kids and their parents, but yeah… you're going to be winded while they're still running laps around you.
A few of the songs listed above can only be found on YouTube (they are all linked for you!), but we also put together a Spotify playlist of these Halloween songs for kids that's as complete as possible.
Instrumental Halloween Music
There are so many wonderfully spooky Halloween songs that are instrumental and perfect for background music. We love the idea of playing instrumental music from within your house while trick-or-treaters visit.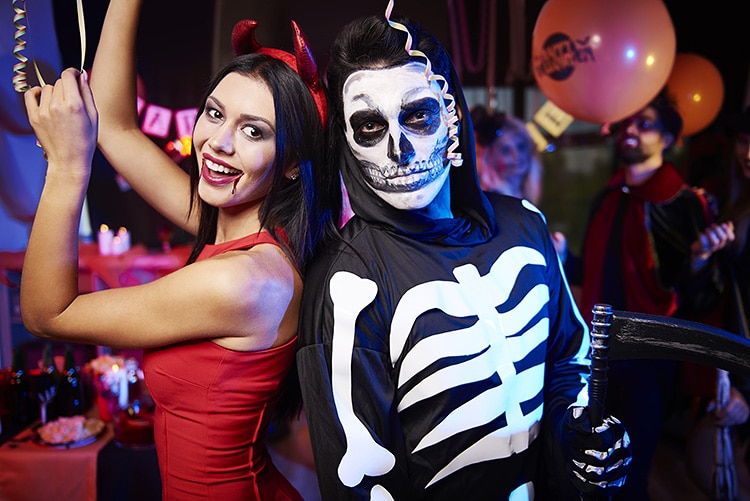 60 . Corpse Bride Theme by Danny Elfman – Danny Elfman is king when it come to spooky shows and Corpse Bride is no different. It's a great Halloween song that is instrumental.
61 . Phantoms by Trans-Slyvanian Orchestra – A great orchestra that will take you on a journey to experience some phantoms.
62 . In the Hall of the Mountain King by Grieg – Journey up the Mountain King's hall and celebrate All Hallow's eve with this Halloween song.
63 . Satan's Lair by Trans-Sylvanian Orchestra – Take a trip down to the underworld with this spooky instrumental song!
64 . Phantom of the Opera Overture by Andrew Lloyd Webber – The organ in this is the perfect way to set a creepy scene for Halloween!
65 . Swamp Witch by The Flietchers – Visit a swamp witch's bubbly cauldron as you listen to the ambient noises of the swamp.
66 . Ravensbrook by The Fietchers – Conjure up a creepy, wooded walkway with this Halloween song.
67 . Psycho Theme by Bernard Hermann – Classic horror movies always come with a theme song that becomes part of Halloween music for the ages.
68 . The Exorcist Theme by Tubular Bells – This is a bell-focused version of one of those horror movie theme songs.
69 . Spooky Ride by Twim Musicom – Ride into the moonlit night with this instrumental Halloween song.
70 . Ghost Story by Kevin MacLeod – There's a lot of eerie ambient noise and screeching to accompany this track.
71 . Stranger Things Theme – We will never hear this without picturing red neon, demogorgons, and some sweet '80s fashion.
72 . The Twilight Zone Theme – One of the best Halloween songs to come out of TV!
73 . Beetle Juice Theme – Black and white stripes go perfect with a crisp, Halloween night.
74 . Halloween Theme by John Carpenter – Get transported to the storyline we all tried to forget when babysitting late at night.
75 . Hedwig's Theme from Harry Potter – Harry Potter will always scream HALLOWEEN to me so it had to be included. Enjoy your time at Hogwarts.
Some of the instrumentals are only available on YouTube; however, we were able to compile most of the songs listed above in an easy-to-play Spotify playlist found below.
Music is so powerful when setting a mood! We know that these lists will make your next Halloween get-together next-level. For more Halloween goodies, you must check out our lists of Halloween Ideas, Halloween Games, and our Costume Party Tips.
Oh, and if you want to get a little alone time on Halloween night, try our Sexy Trick or Treat game for some extra sweet fun.