Couples Easter Scavenger Hunt Ideas
Once you have kids, holidays tend to be all about them–but that all changes with these Easter scavenger hunt clues meant for your spouse! The day of all things eggs is right around the corner and we've got a post full of Easter egg scavenger hunt clues your hubby will DIE for! Yes, that's right. We'll help you tell him he sure is some-bunny special with our FREE printable download below that includes a one-of-a-kind set of Easter scavenger hunt clues! Not only are they cute, but they're so easy to prep and SO fun to set up! You are sure to make this Easter one to remember for your sweetie! So, are you ready to step into that bunny-suit and get to the goodies? Alright, let's go!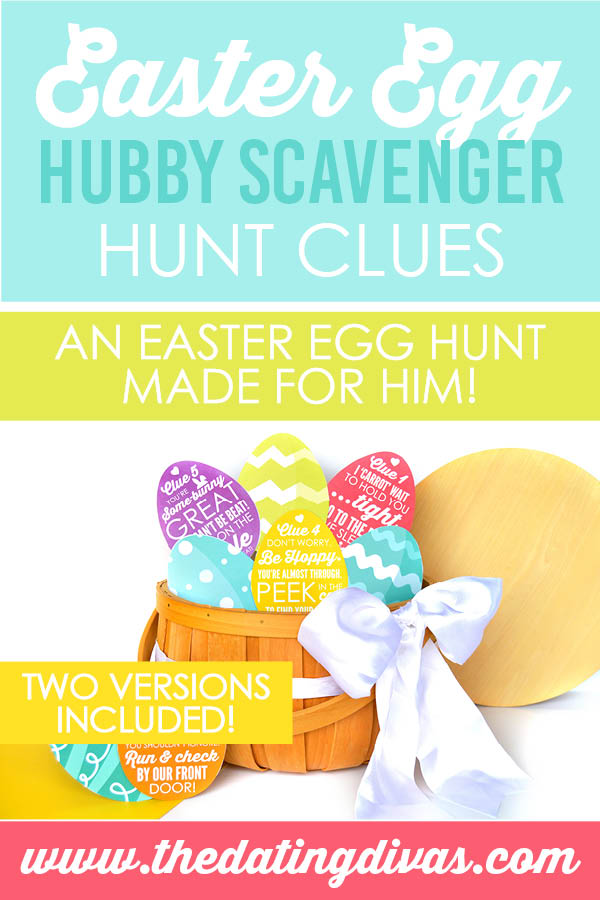 But first, we have to pause and give a huge Easter-sized "Thank you!" to Carisa from Messes to Memories for creating such egg-cellent printables for us. We seriously couldn't have done it without her and we're always blown away by her talent! Alright, are you ready to take a peek at this awesomeness??
Easter Ideas for Adults
There's nothing more fun than a riddle, am I right? This idea has taken riddling to an entirely new level with our set of five pre-made, printable paper Easter egg hunt clues that will take your hubby on the hunt of his life! Plus, we've included a beginning AND ending clue card (not to mention a blank one if you'd like come up with your own ideas) to get the ball rolling and signal the end. And, if you wanted to take it up one more notch, we included another scavenger hunt you can surprise your sweetheart with! Now that's what I'm talking about!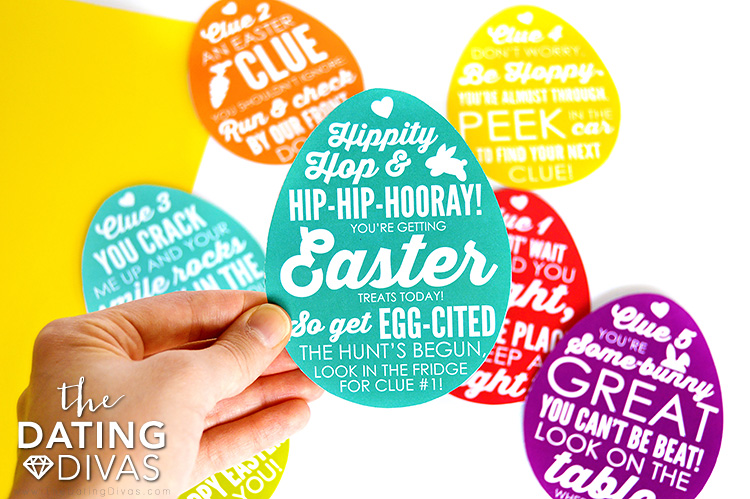 Easter Scavenger Hunt Clues
Show your sweetheart that some-bunny loves them by sending them off on an epic scavenger hunt! First, take a look below to see the exact wording that appears on clue #1 so you can see what your one-of-a-kind Easter hunt ideas entail. These adorable egg-shaped printables will simply tell you where to place each clue. With these clues, it will provide lots of fun ideas to really vamp up your hunt! Trust me, you are sure to make some memorable fun this Easter with your spouse!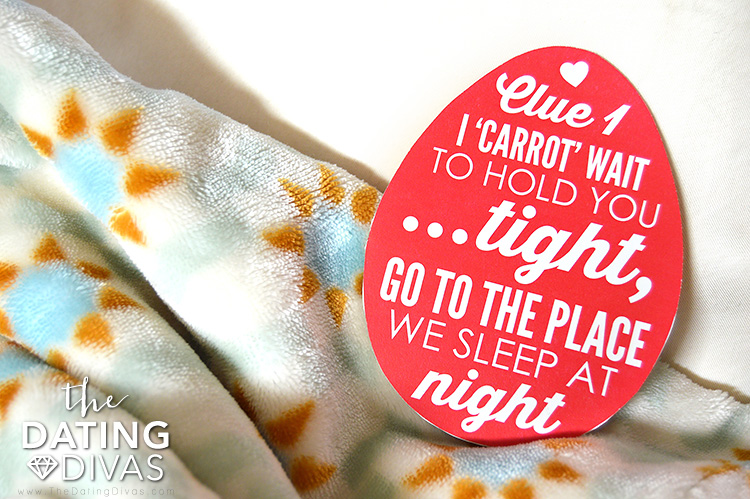 How to Prep Your Easter Egg Hunt Clues
Assembling your Easter egg scavenger hunt clues for your husband is a piece of cake! Basically, we're all about what's EASY, and crafting your clues definitely fits the bill! And, to make it even easier on you, here are some step by step instructions!
First, download and print on the paper of your choosing. We absolutely love using a high-quality card stock for this type of project, but feel free to use what works for you!
Next, you'll want to cut around each egg, making sure NOT to cut down that center line where the two sides attach. That nifty little spot is what makes folding your double-sided egg clues oh-so-easy!
And finally, apply a little adhesive to the back of each egg side. Fold down the previously mentioned line and voila! You've got yourself a set of double-sided Easter egg hunt ideas that are fab and functional.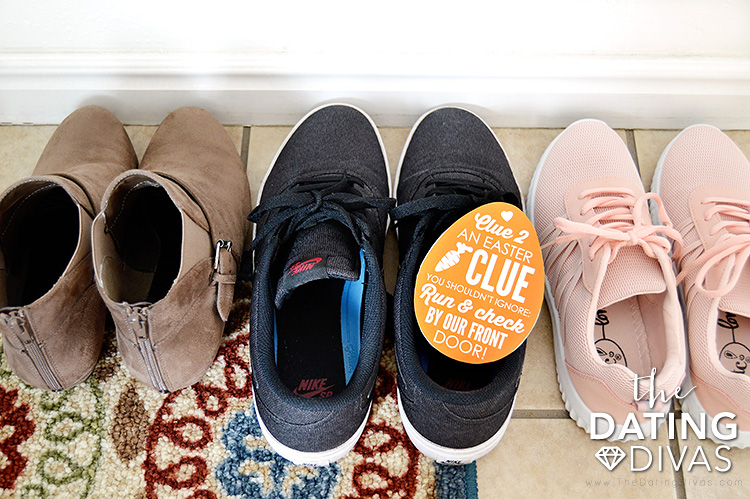 Easter Hunt Ideas
In short, you can go about this Easter hunt idea in one of two ways. First, you can choose to do what we did by leaving a trail of clues throughout the house that leads to one big basket of fantastic Easter goodness. OR, secondly, you can choose to leave one treat along with each clue. Now, if you choose the second option, your hubby will essentially be finding each of his Easter basket items as he goes along instead of all at once. But we think both ideas are stellar!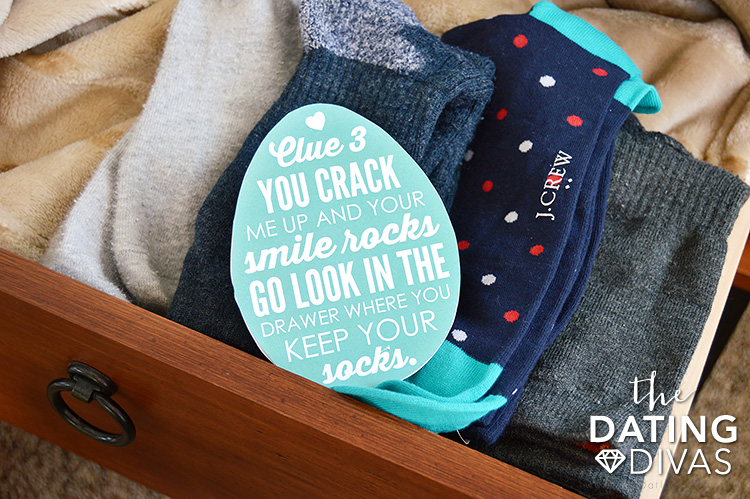 Easter Basket Ideas for Adults
So, if you go the first route and leave the scavenger hunt cards leading to the grand finale, check out the list of basket ideas below that will really make their Easter basket shine! That being said, I believe an adorable Easter egg basket is a MUST HAVE to truly get into the Easter spirit (because everyone appreciates a basket filled with love!) So after you've gathered all the basket items, add in your cute printables and tie a bow around it. VOILA! You are done! It's the perfect end to your Easter egg hunt for your hubby.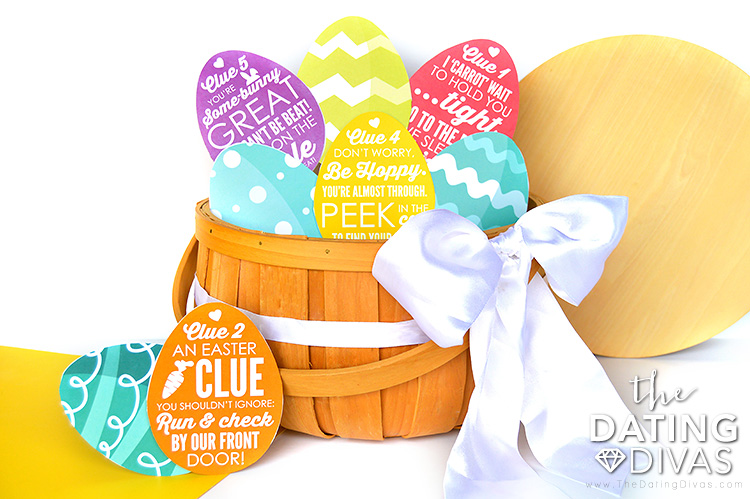 We can't wait for you to see these Easter Egg Hubby Hunt printables (two different versions!) Just click below to grab them completely free!
Looking for even more for hubby-friendly Easter activities? Check out our After Hours Easter Egg Hunt. He's sure to enjoy that one! 😉
Happy Easter from all of us Divas to you!
SaveSaveSaveSave
Easter Egg Hubby Scavenger Hunt Clues
Printables Designed By Carisa @ Messes to Memories Exclusively For The Dating Divas