Sexy Gift Ideas for the Bedroom
Whether it is time to spice things up or you just want to surprise your babe with a little somethin somethin, your partner is sure to LOVE these sexy bedroom gift ideas! There are sexy games that are fun, intimate, and exciting. There are kits that have everything you need for a perfect night! And there are products to help you try something new and bring in some excitement! It's always fun to switch things up and I am sure you won't regret it!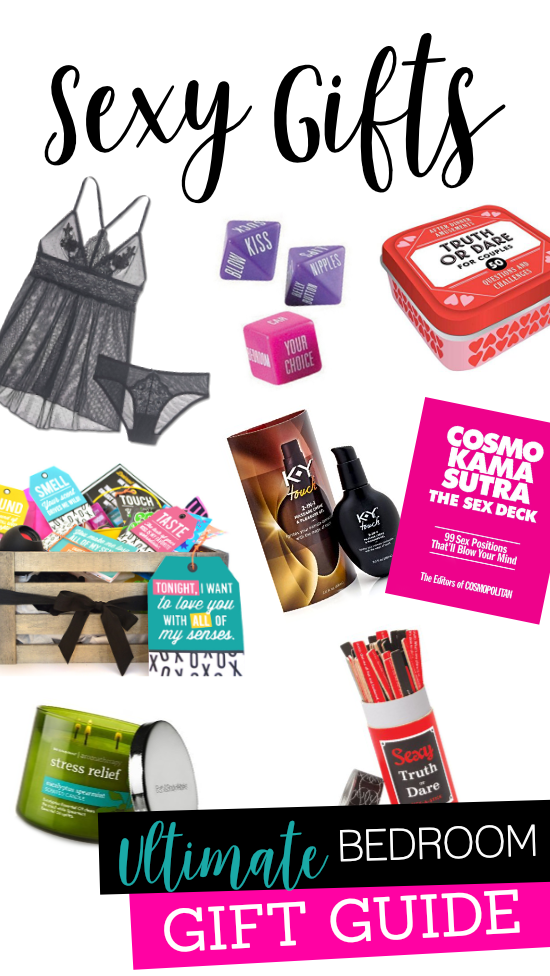 Disclaimer: This post contains affiliate links. To learn more about 'em, click here.
Get ready to SPICE things up and bring back the excitement in the bedroom!
Sexy Gifts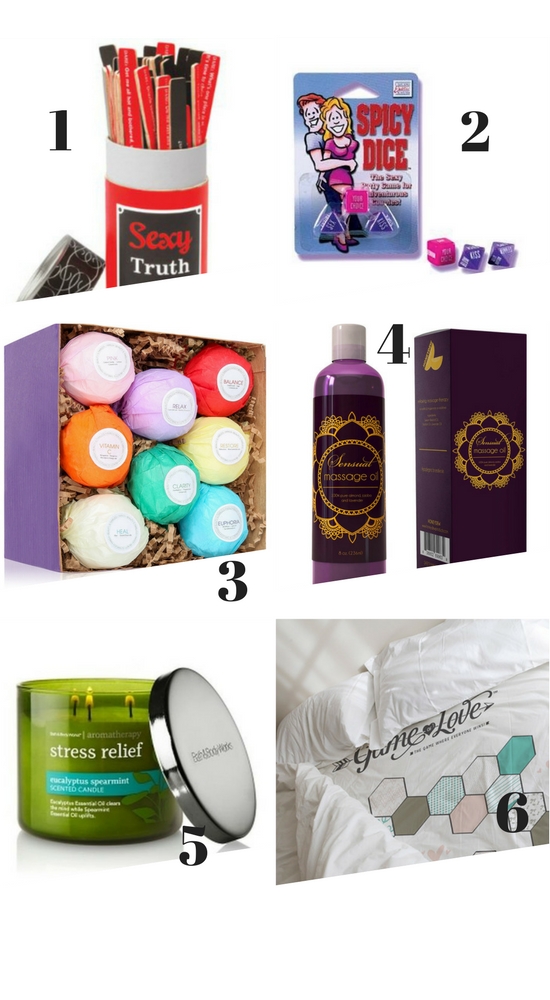 1. Truth or Dare Sexy Sticks – This game features 100 truth or dares to make sure there is action in the bedroom, if ya know what I mean? 😉

2. Spicy Dice – These fun dice will encourage fun and spicy tasks!

3. Bath Bombs – Nothing sets the mood quite like a nice bath together and these yummy bath bombs will make it even more fun!

4. Massage Oil – This oil smells great and is such a great consistency for a full body massage…YES PLEASE!

5. Candles – This candle has eucalyptus and spearmint which are sure to bring on relaxation.

6. Game of Love – This game comes printed on your sheet and will spice things up for sure, SO fun!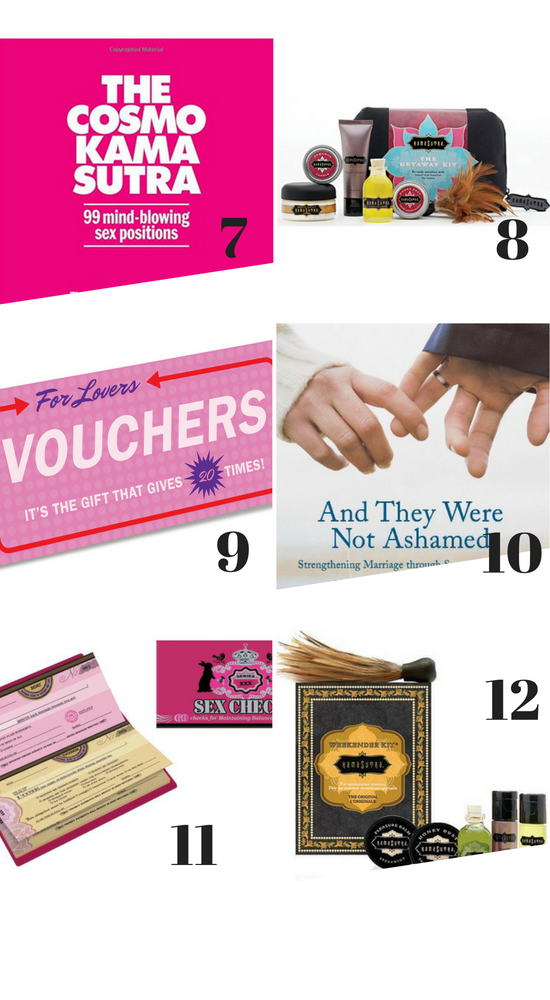 7. Cosmo Kama Sutra – A book full of different and exciting positions to switch things up and try something new!

8. Getaway Kit – Everything you need for a seductive getaway and all TSA size approved for your vacay!

9. Vouchers for Lovers – The gift that gives 20 times with vouchers for various requests.

10. And They Were Not Ashamed – This amazing book is to give hope and help for a successful and fulfilling sexual relationship!

11. Sex Checks – These fill in the blank checks are fun and exciting with IOU's and UOME's!

12. The Weekender – A travel set perfect for those spontaneous romantic moments!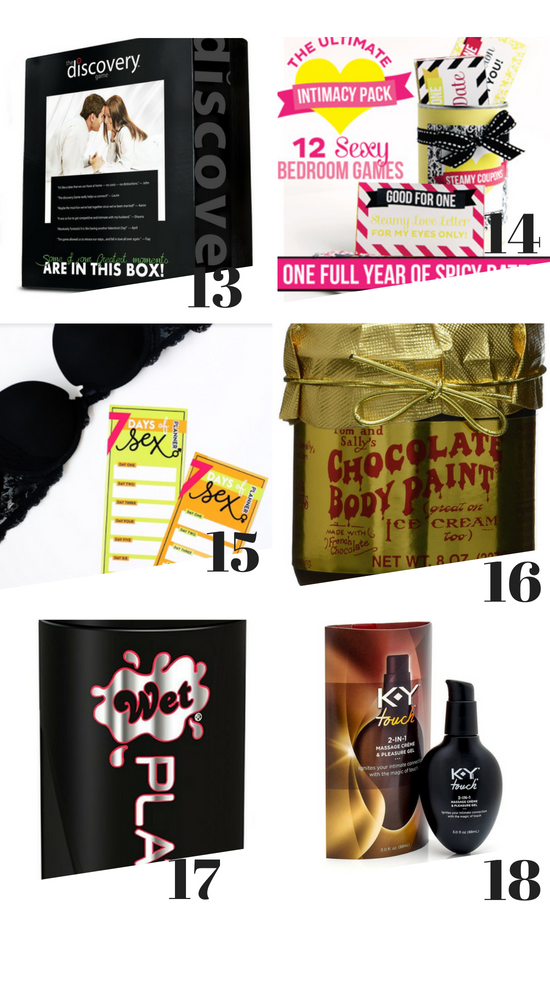 Sexy Bedroom Ideas
13. Discovery Game – This game with help you to discover your spouse and fall in love again and again!

14. Intimacy Pack – These 12 sexy bedroom games will ensure that things never get boring in the bedroom.

15. 7 Days of Sex Challenge – Just like what it sounds like, 7 days of sex! Yes it may seem like a lot but you'll be surprised what it can do for your relationship!

16. Chocolate Body Paint – YUM! Fun and delicious sounds like a good plan to me!

17. Waterproof lube – This lubricant is waterproof..therefore location is no limit!

18. KY Touch – A 2-in-1 massage creme and pleasure gel! It also has a gentle warming sensation to increase physical touch.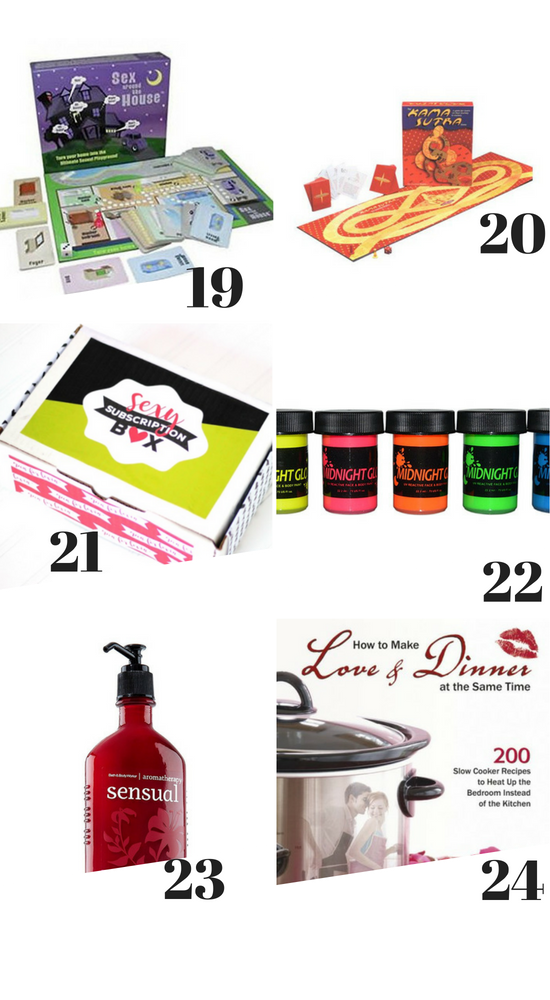 19. Sex Around The House Board Game – A fun game that will have you all over the house having fun in each room!

20. Kama Sutra Board Game – This game allows you to explore sensual and sexual aspects. A fun way to change things up!

21. Sexy Subscription Box – A fun way for you to give your babe a delivery on the bed full of sexual surprises!

22. Body Paint – Glow in the dark body paint! This will surely get the party in your bedroom going!

23. Sensual Lotion – The jasmine inspires sexy self-confidence while the vanilla soothes! The perfect blend to get in the mood!

24. How to Make Love & Dinner at the Same Time – "200 slow cooker recipes to heat up the bedroom instead of the kitchen" Yes please, sounds good to me!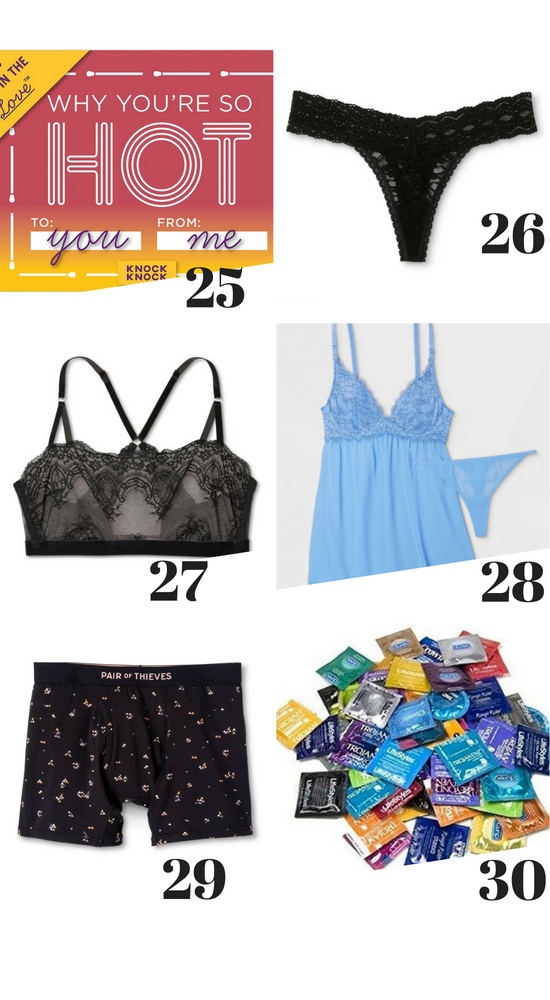 Spicy Gift Ideas
25. Why you're so hot – A fill in the blank book proving just how hot you think they are! Great way to get things started.

26. Panties – Fun little panties will get your spouse excited real quick.

27. Bralette – Flirty and dainty! Love the color of this lace bralette!

28. Lingerie – No hints needed here! Walk down in this and your babe knows it's game time!

29. Boxers – Leave these with and a note on the bed saying you can't wait to see him in these tonight. He will be thinking about it all day!

30. Condoms – This variety pack has different kinds allowing you to try them out to find your favorites!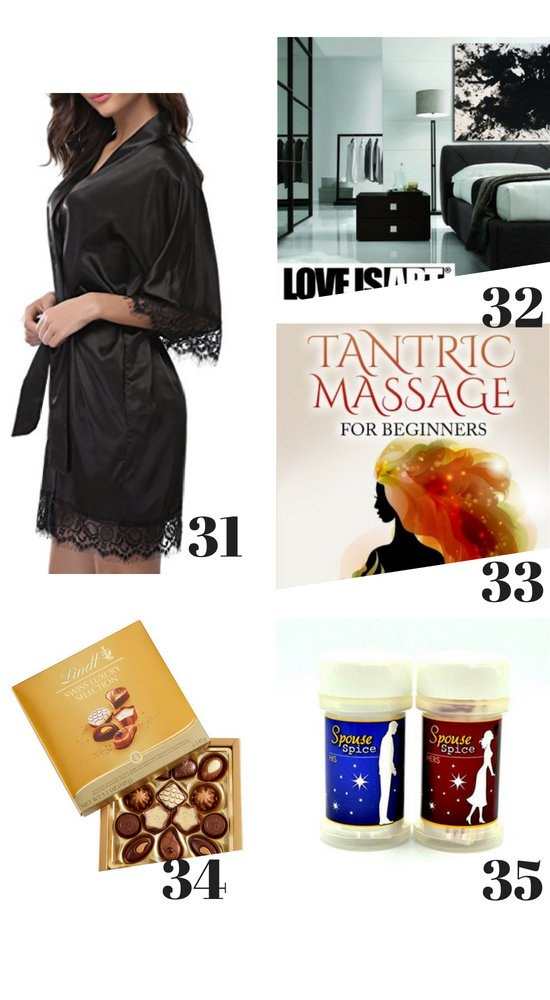 31. Silky Robe – This delicate robe is sexy and comfortable.. WIN-WIN!

32. Love is Art Kit – This kit allows you to create an abstract piece of art while being intimate with your lover!

33. Tantric Massage for beginners – This book will teach you techniques to deliver a sensual massage. I know my babe would appreciate this one.

34. Chocolates – Delicious chocolates… need I say more! Perfect way to start or end the evening!

35. Spouse Spice – Instruction cards that will bring wholesome spice into your relationship.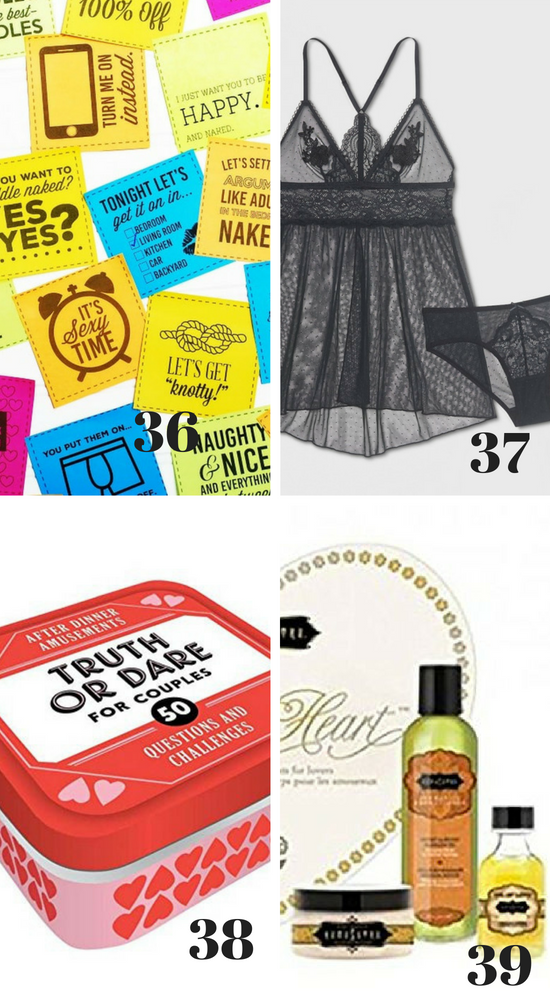 36. Sexy Sticky Notes – These flirty messages are perfect for prepping your babe for what's to come and heat things right up!

37. Mesh lingerie – So pretty and feminine! It is sure to get your lover excited.

38. Truth or Dare Cards – 50 truths and challenges that will switch things up and bring a whole new level of fun!

39. Kama Sutra Love Kit – This kit includes delicious vanilla flavored body treats for you lovers! YUM!
One more sexy gift idea to use as a steamy bedroom surprise is the
This sexy bedroom idea is a quick and easy way to pull together a steamy gift to let your sweetie know they are loved and WANTED! Check out the post here!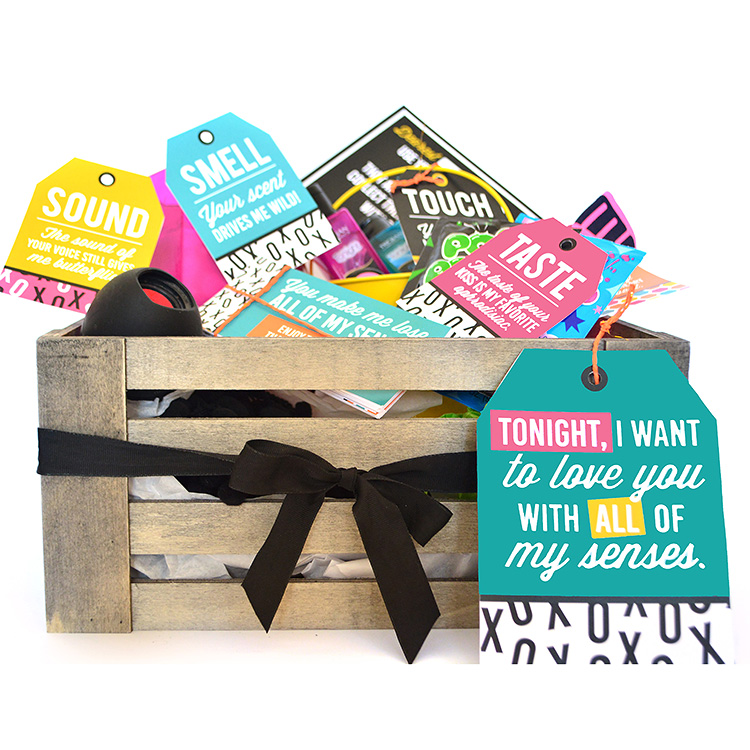 There is something here for every marriage! And something that will definitely add some steam and spice to your love life! Switch things up, surprise your spouse, and have some fun with these SEXY bedroom gift ideas! Your babe will appreciate it and will surely feel the love as you strive to create something special in the bedroom.
We also have 75 Bedroom Games, that are so fun! We also have Sexy Room Service that will make your babe feel loved!