50+ Back to School Tips You'll Totally Appreciate
Although the new school year is an exciting time, it can also be an overwhelming one! So we wanted to make the transition smooth and easy by providing you with the best back-to-school shopping hacks and organization supplies out there!
Whether it's being on time to school, organizing your papers, or trusting your kids with more independence, these parent-approved back-to-school life hacks make starting over so much easier! Plus, when you're preparing for the first day of school, you'll want to refer to this often!
Click the links below to find exactly what you are looking for!
Disclaimer: This post contains affiliate links. To learn more about 'em, click here.
Back to School Hacks
These back-to-school hacks will make going back to school smoother than you can imagine!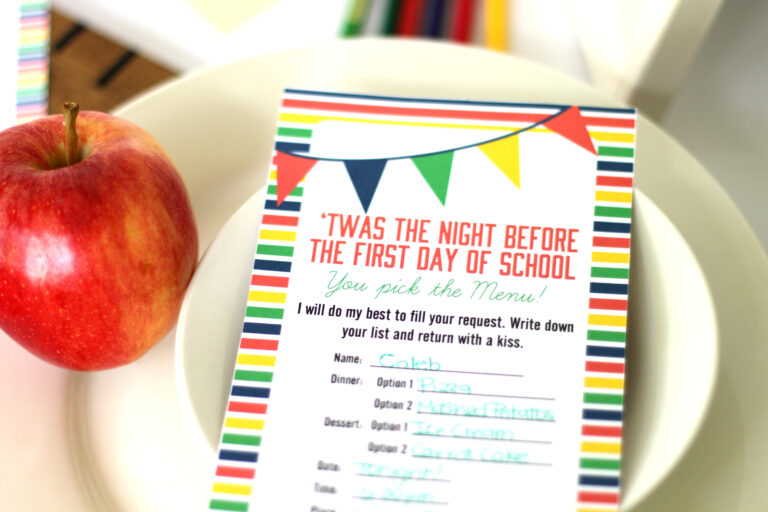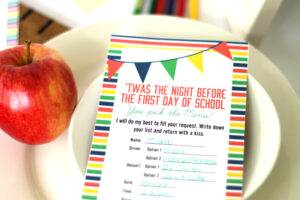 1. 'Twas the Night Before School – Don't forget to make the night before the first day of school special with this adorable tradition!
2 . 30 Ways to Celebrate Back to School – 30 back-to-school life hacks to celebrate the start of a new school year with your family!
3. Back to School Shopping Date – Turn this year's shopping trip into a memorable one-on-one date with your son or daughter.
4. Routine Chart – Make chores or assignments fun and help your children remember what they must do every day without having to nag!
5. Back to School Photo Tips and Ideas – As you begin to check off your long to-do list, don't forget to snap some meaningful back-to-school photos of your kids!
6. Mom Hacks – Awesome mom hacks to create an easier school year. Work smarter, not harder!
7. Best Questions to Ask Teacher – Knowing the answers to these questions will help maximize your child's education.
8. Hack Your Home – These tips and tricks can streamline life at home this back-to-school season.
9. Open House – Open house events can be so informative. Here's how to get the most out of the experience, according to teachers.
10. 9 Things to Know – Additionally, this has excellent advice to make going back to school easier.
11. 80 After School Ideas – This post has 80 ideas to help every mom make their after-school time a breeze!
12. How to Prep – Educational experts weigh in on how parents can help their kids get ready for the school year.
13. Back to School Tips – Here's your grade-by-grade guide to help you and your kid feel ahead of the game this school year.
14. After School Question Cards – These conversation cards are perfect for chatting with your kids!
15. Back to School Teacher Gift Ideas – Over 100 back-to-school teacher gifts just for you!
16. Back to School Essentials – All of the best organization supplies your child needs!
School Lunch Ideas
Check out the best school lunch ideas, recipes, and free printable lunch box love notes out there! Not to mention, some back-to-school lunch hacks that will make packing lunches easy for everyone!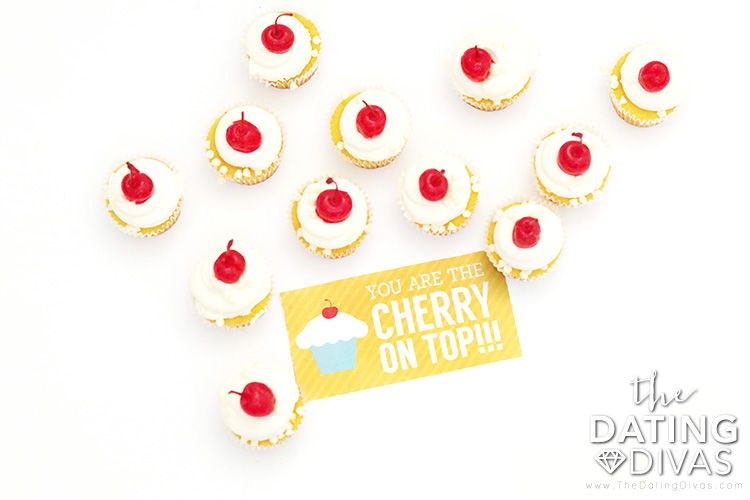 17. Free Printable Lunch Box Love Notes – Here you can give them all the love by slipping in adorable lunch notes for your kids!
18. Special Fridge Lunch Spot – Put all of your essential lunch food in a specific area in your fridge to stay organized.
19. School Lunch Ideas for Kids – Change things up a bit and think outside the "lunchbox!" with these back-to-school ideas!
20. Create a Lunchbox Cabinet – Conquer those reusable plastic containers and store them alongside lunch box items to give you easy access.
21. Pizza Wraps – Here's a simple – no cooking or baking required – lunch idea!
22. Marshmallow Fruit Dip – Whip up this sweet and creamy dip in just 10 minutes!
23. 1-2-3 Snack Mix – Salty and satisfying, this kid-friendly trail mix provides quick protein and energy by the handful.
24. Turkey Ranch Wraps – Here's a great lunch idea that's ready to be gobbled up in no time.
25. Kiddie Crunch Mix – This no-bake snack mix is a real treat for kids, and you can easily increase the amount to fit your needs.
26. Fruity Peanut Butter Pitas – These pitas are delicious and healthy!
27. Meal Prep Hacks – Follow these easy tips for breakfast, lunch, snacks, and dinner, and you'll be golden for that first week and onwards.
28. Pasta Salad in A Jar – Tie a plastic fork to the jar, and your kid's lunch is good to go!
29. Cookie Monster Popcorn – Surprise your kid with a fun treat – this will definitely light up their day!
30. PB&J on A Stick – A unique twist to a PB&J!
31. Peanut Butter Granola Pinwheels – A great snack for after school! Speedy to make and filling enough to hold the kids over until dinner.
32. Bread Sushi Rolls – These sushi rolls will satisfy your kid's hunger so fast!
33. 28 After-School Snacks – Delicious after-school snacks for your kids!
Back to School Ideas for Staying Organized
Here are the best back-to-school organization hacks to keep your home running smoothly!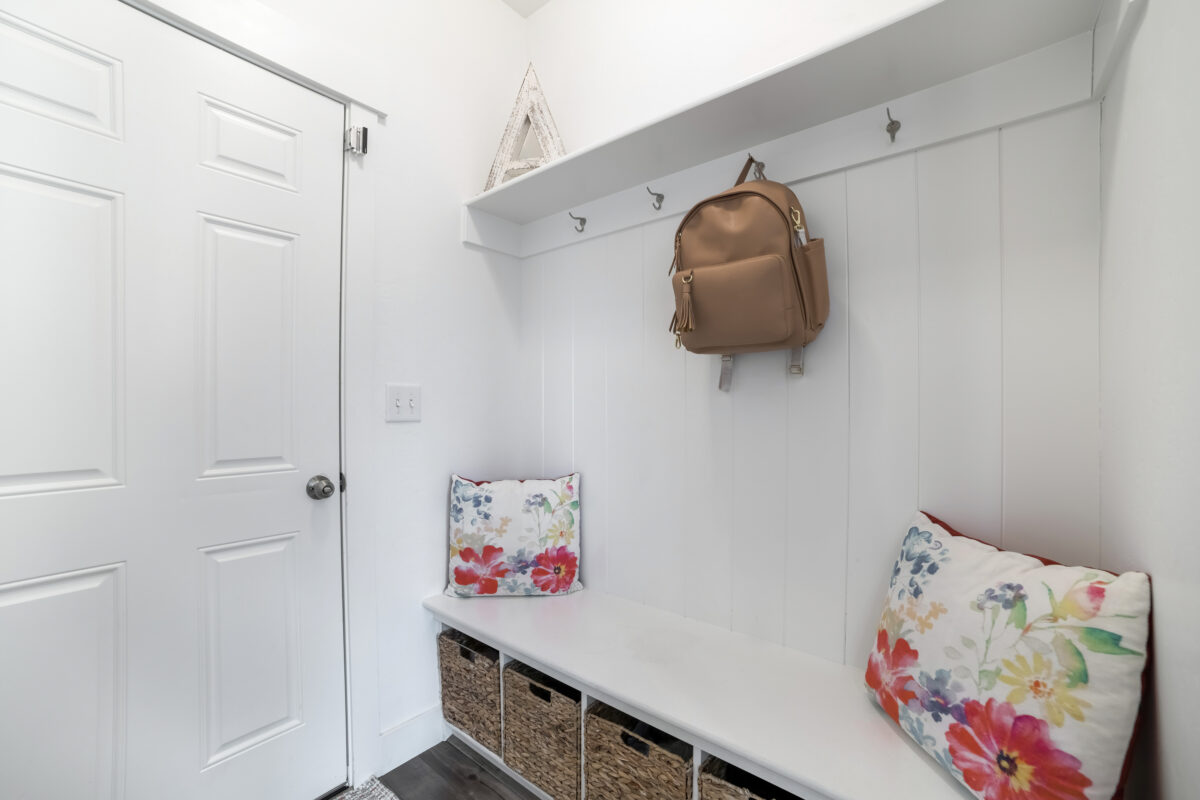 34. DIY Mudroom – Keep everything you need by the door, so you can avoid running around the house when it's time to go.
35. Pack Spare Supplies in the Car – Keep backup school items in your car so you always have what you need!
36. Bathroom Organization – Keep mornings running smoothly with an organized bathroom.
37. Back to School Shopping Hacks – The best back-to-school shopping hacks just for you! 😘
38. Stay Connected – Download a family calendar app to keep everyone's schedules straight and color-coded.
39. Plan in Advance – Planning dinners, meetings, or playdates in advance so you can stay on top of things!
40. Daily Routine Schedule – Help your kids establish a morning, lunch, and bedtime schedule.
41. DIY School Supplies – Keep your child's supplies fun and exciting!
42. Dedicate a Homework Area – Make study time simple by stocking a caddy with the essentials.
43. Put Them to Bed on Time – Young kids need 10 to 12 hours a night to feel energized the following day.
Back to School Supplies for Organization
Check out this list of great back-to-school organization supplies below!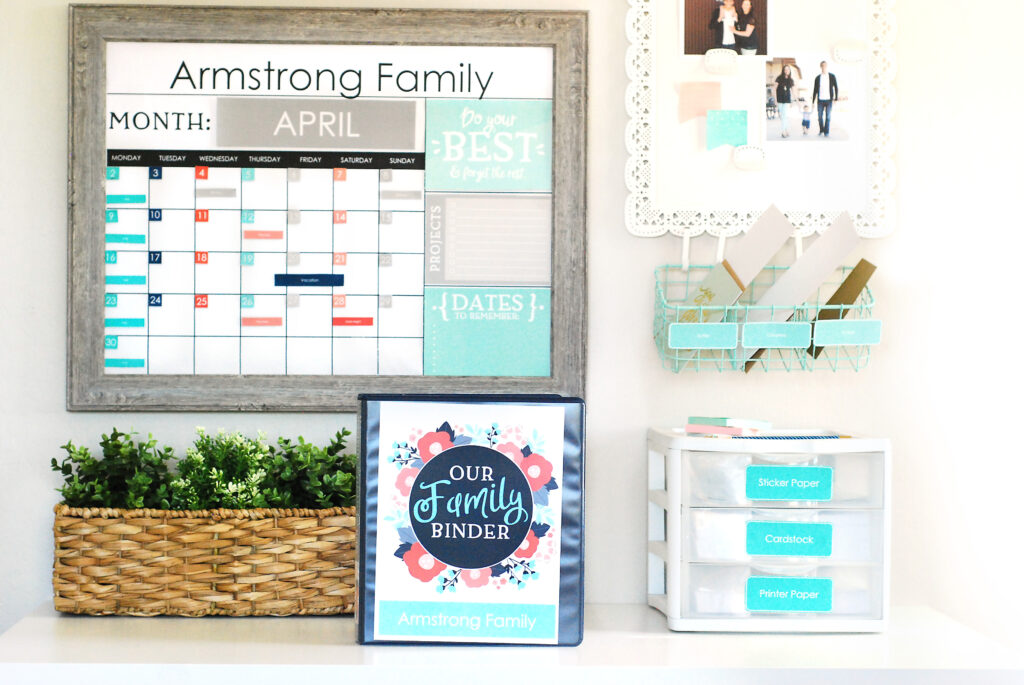 44. Family Organization Kit – This kit will provide you with resources and tools to set up your own customizable family binder and create a central family command center that is completely personalized to your family!
45. Organized Wall Calendar – Put this cute organization calendar where everyone can see it.
46. Pen and Pencil Organizer – Keep clutter out of your kid's life with this awesome three-piece desk organizer for their pens and pencils!
47. Over the Door School Craft – Keep your crafts in one area and hidden!
48. Over the Door Paper Files – The perfect way to store your papers!
49. Library Book Basket – Add a basket to your child's room and have them put their books inside.
50. Label – Labeling items can keep things organized and know who or what it belongs to!
51. Sticky Notes – For reminders you just can't forget, write it on a sticky note and place it where it's most helpful.
52. Alarm Clock – Get your kids to wake up on time by providing them with an alarm clock.
53. File Everything – Create a "home file" for the year with a file box or a cabinet drawer.
54. Create a Supply Stash – Be prepared for those last-minute projects and have the supplies you need at home.
55. Closet Organizer – A perfect back-to-school organization system to set up your child's weekly outfits in their closet!
Needing more back-to-school hacks? We've got you covered!
Check out this School Celebration Kit and our ultimate list of First Day of School Traditions.