Our Favorite Family Movies 
Family movie night is a great tradition to have! Pull out the blankets, pop some popcorn and settle in for an evening of entertainment and fun! With so many movie options out there it can be hard to know which films are appropriate for families – especially with small children. There are some real duds out there including films that appear to be family-friendly and aren't! Well, look no further – we've collected 101 Family Friendly movies that everyone is sure to love! Together with suggestions from our readers, ideas from the Diva team and a little research, we have put together a collection of family movie night ideas that you can use for your next family movie night!
Keep your family night simple, or if you want, you can take your family movie night to the next level! Once you have picked a movie, grab these printables and get ready for a night of relaxing fun for the whole family. These simple family movie nights can be a monthly or even weekly event that everyone looks forward to.
Disclaimer: This post contains affiliate links. To learn more about 'em, click here.
NOTE: Before you dive into this jam-packed list of fabulous films, remember that these films are a collection of suggestions and research.  Ultimately, however, it is up to you to determine which movies you feel comfortable watching with your family. With 101 ideas – you are bound to find several films that fit your family best!
If you are looking for more details on the content of any film you show your family, a great resource is Internet Movie Database website (aka: imdb). Within this site you can search any particular film and select "Parents Guide" to view content advisory. Most films list, in detail, content issues regarding language, violence/gore, profanity, sex & nudity, alcohol/drugs/smoking and even frightening/intense scenes!
Another great resource that my husband and I recently discovered is VidAngel. We've linked up to it directly in some of the films so you can check it out for yourself! This is an amazing site that allows you to stream a movie for only $1 and most importantly, it allows you to have complete control in filtering content from the film. With a click of a few buttons you have access to hundreds of films and the option of choosing filters for nudity, violence, language and more! Plus, the selection is so much better than Netflix!
So, let's get started! When choosing your film for family movie night, you may want to start with what type of film you are going for. Below we have links to all the film suggestions and a description (thank you Imdb.com!) for the following categories:
Comedies
Adventure Movies
Animated Films
Fantasy Films
Films Even The Adults Will Love
Must-See Family Friendly Comedies 
Sometimes after a long week your family just needs something light-hearted! These films are tried and true to get your laugh on! From classic films to modern – there is a large variety of laughs coming your way!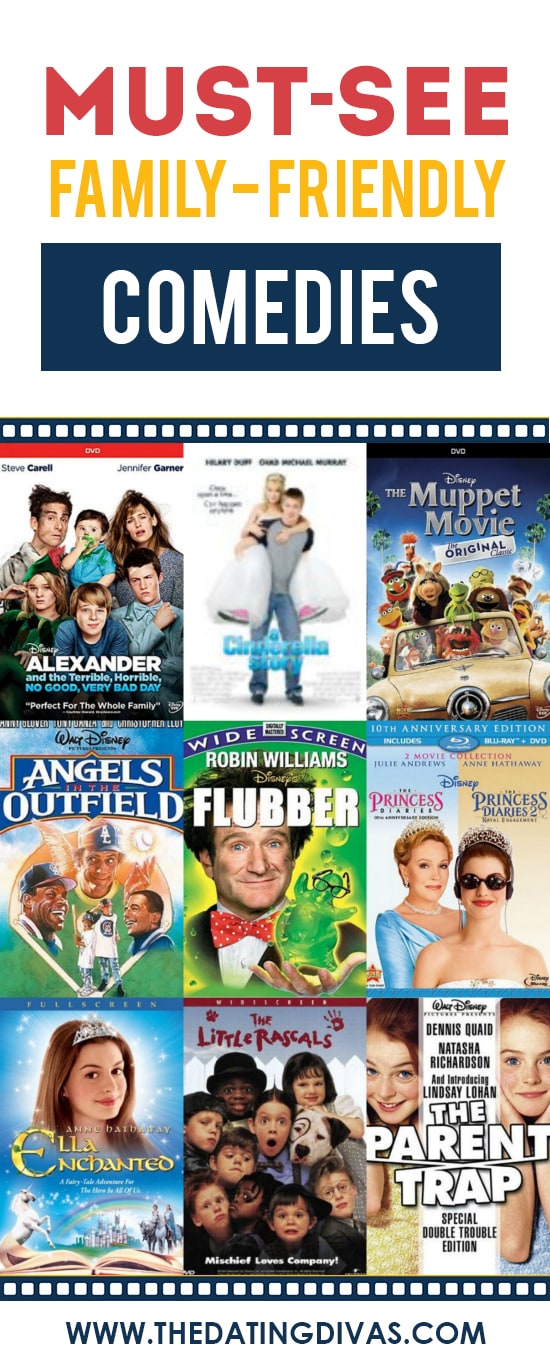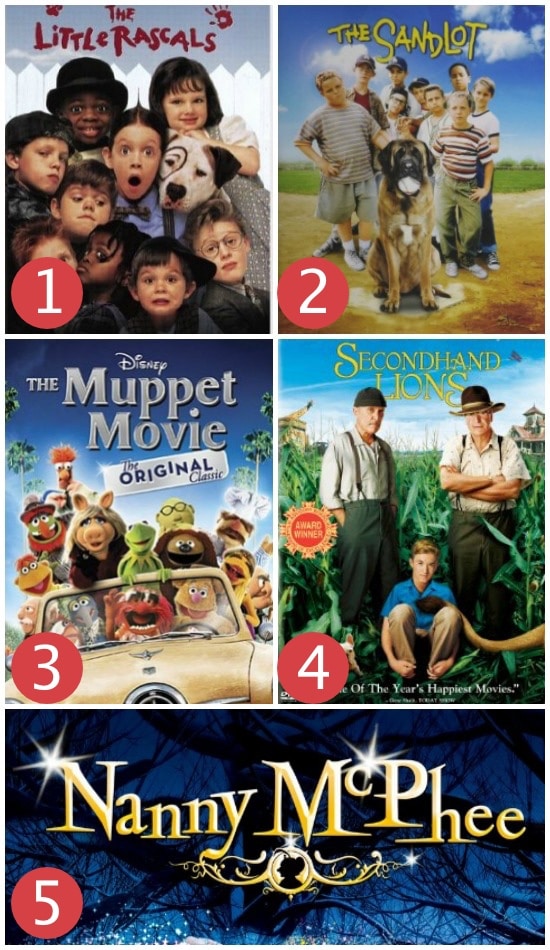 1 . The Little Rascals – Alfalfa is wooing Darla and his "He-Man-Woman-Hating" friends attempt to sabotage the relationship.
2. The Sandlot – A new kid in town is taken under the wing of a young baseball prodigy and his team in this coming of age movie set in the summer of 1962. Together, they get themselves into many adventures involving rival teams, lifeguards, and a vicious dog.

3. The Muppet Movie – Kermit and his new found friends trek across America to find success in Hollywood, but a frog-legs merchant is after Kermit.

4. Secondhand Lions – A coming-of-age story about a shy, young boy sent by his irresponsible mother to spend the summer with his wealthy, eccentric uncles in Texas.

5. Nanny McPhee – Emma Thompson stars as a governess who uses magic to rein in the behavior of seven ne'er-do-well children in her charge.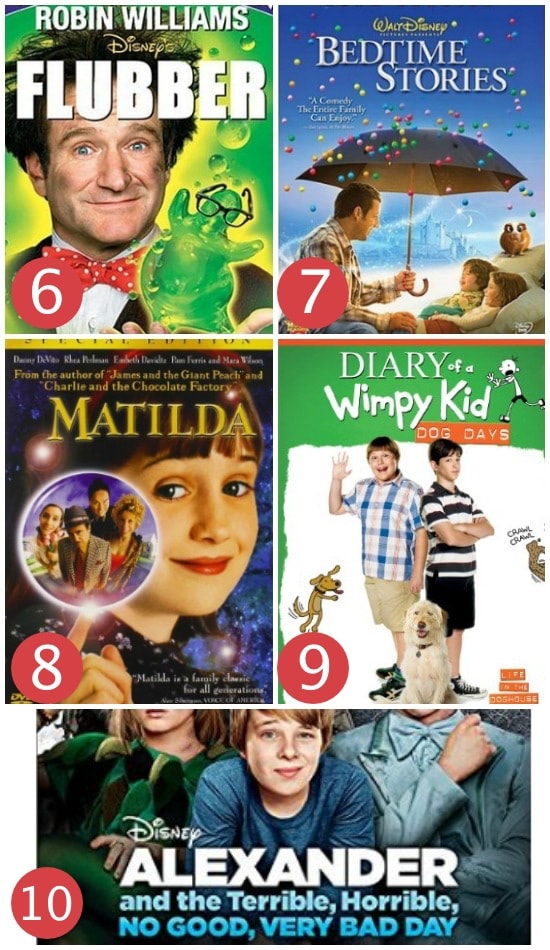 6. Flubber – An absent-minded professor discovers "flubber," a rubber-like super-bouncy substance.

7. Bedtime Stories – A hotel handyman's life changes when the lavish bedtime stories he tells his niece and nephew start to magically come true.

8. Matilda – The story of a wonderful little girl, who happens to be a genius, and her wonderful teacher vs. the worst parents ever and the worst school principal imaginable.

9. Diary of a Wimpy Kid – The adventures of a teenager who is in Middle School, where he has to learn the consequences and responsibility to survive the year.

10. Alexander and the Terrible No Good Very Bad Day – Alexander's day begins with gum stuck in his hair, followed by more calamities. However, he finds little sympathy from his family and begins to wonder if bad things only happen to him, his mom, dad, brother and sister – who all find themselves living through their own terrible, horrible, no good, very bad day.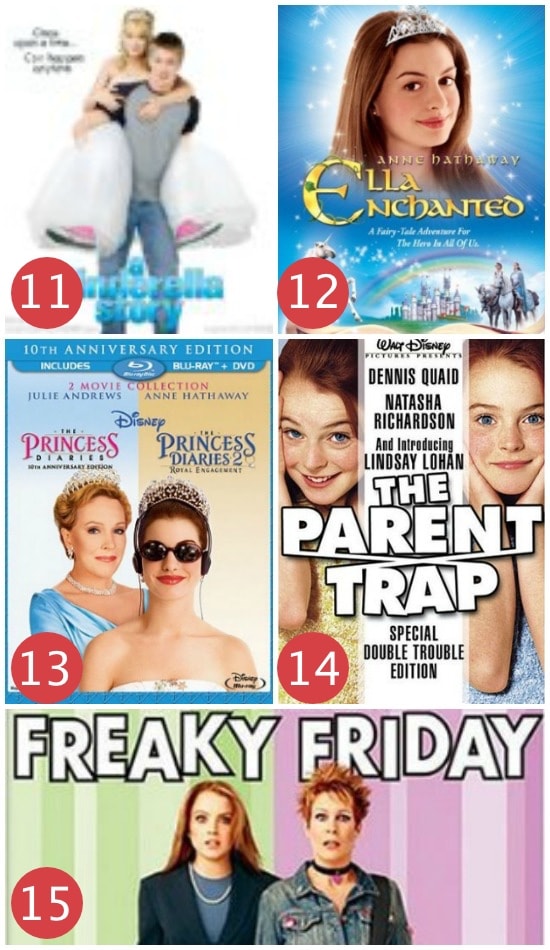 11. A Cinderella Story – Routinely exploited by her wicked stepmother, the downtrodden Sam Montgomery is excited about the prospect of meeting her internet beau at the school's Halloween dance.

12. Ella Enchanted – Ella is under a spell to be constantly obedient, a fact she must hide from her new step-family in order to protect the prince of the land, her friend for whom she's falling.

13. Princess Diaries Series – Mia Thermopolis has just found out that she is the heir apparent to the throne of Genovia. With her friends Lilly and Michael Moscovitz in tow, she tries to navigate through the rest of her 16th year.

14. Parent Trap – Identical twins, separated at birth and each raised by one of their biological parents, discover each other for the first time at summer camp and make a plan to bring their wayward parents back together.

15. Freaky Friday – An overworked mother and her daughter do not get along. When they switch bodies, each is forced to adapt to the other's life for one freaky Friday.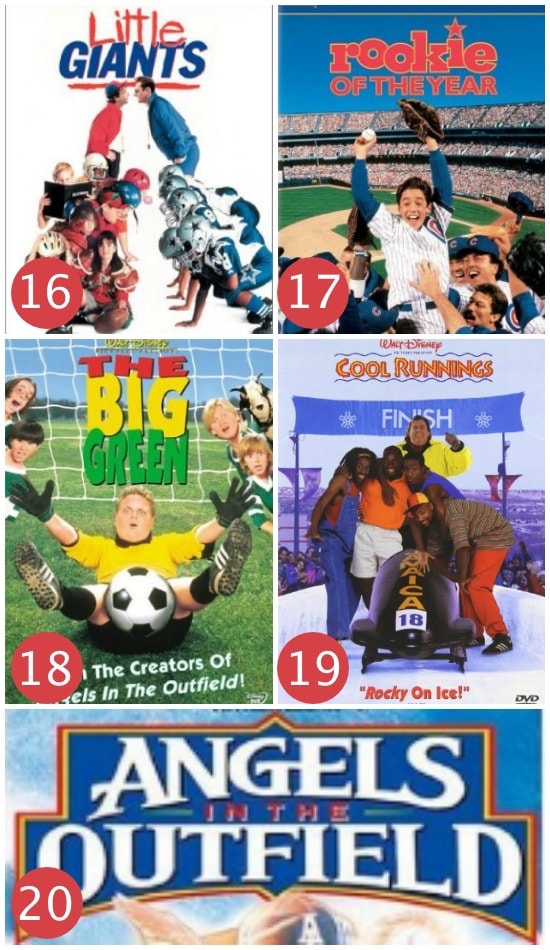 16. Little Giants – Misfits form their own opposing team to an elite peewee football team, coached by the elite team coach's brother.

17. Rookie of the Year – When an accident miraculously gives a boy an incredibly powerful pitching arm, he becomes a major league pitcher for the Chicago Cubs.

18. The Big Green – An underdog soccer team of misfit kids learns to play a new sport and become champions through the able assistance of a foreign exchange teacher and a former local sports hero as coaches.

19. Cool Runnings – When a Jamaican sprinter is disqualified from the Olympic Games, he enlists the help of a dishonored coach to start the first Jamaican Bobsled Team.

20. Angels in the Outfield – When a boy prays for a chance to have a family if the California Angels win the pennant, angels are assigned to make it possible.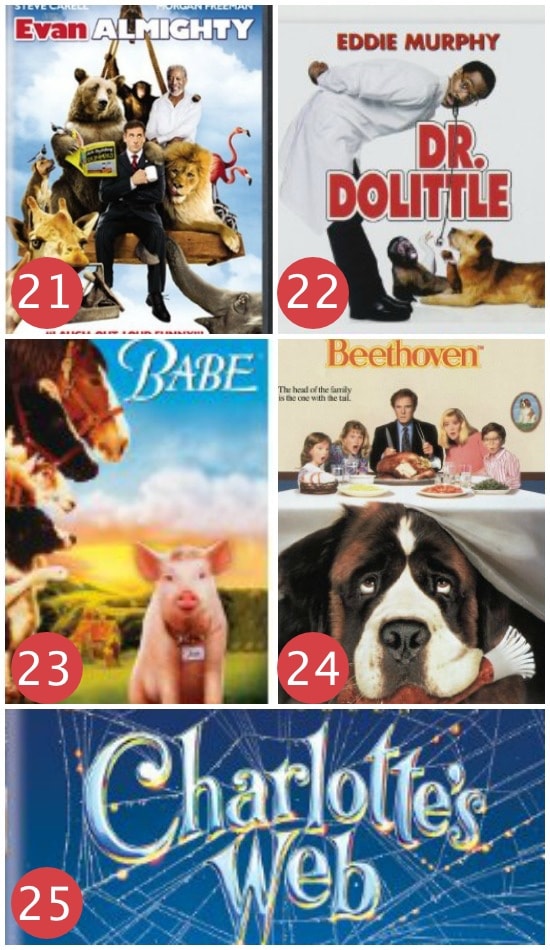 21. Evan Almighty – God contacts Congressman Evan Baxter and tells him to build an ark in preparation for a great flood.

22. Dr. Dolittle – A Doctor finds out that he can understand what animals are saying. And the animals find out that he understands.

23. Babe – Babe, a pig raised by sheepdogs, learns to herd sheep with a little help from Farmer Hoggett.

24. Beethoven – A slobbering St. Bernard becomes the center of attention for a loving family, but its veterinarian secretly wants to kill him.

25. Charlotte's Web – Wilbur the pig is scared of the end of the season because he knows that come that time he will end up on the dinner table. He hatches a plan with Charlotte, a spider that lives in his pen, to ensure that this will never happen.

Family Adventure Movies 
Everyone loves a good underdog, a hero and a battle! These movies are full of adventure and intrigue and the best part? They are all family-friendly! The hardest part might be choosing just one!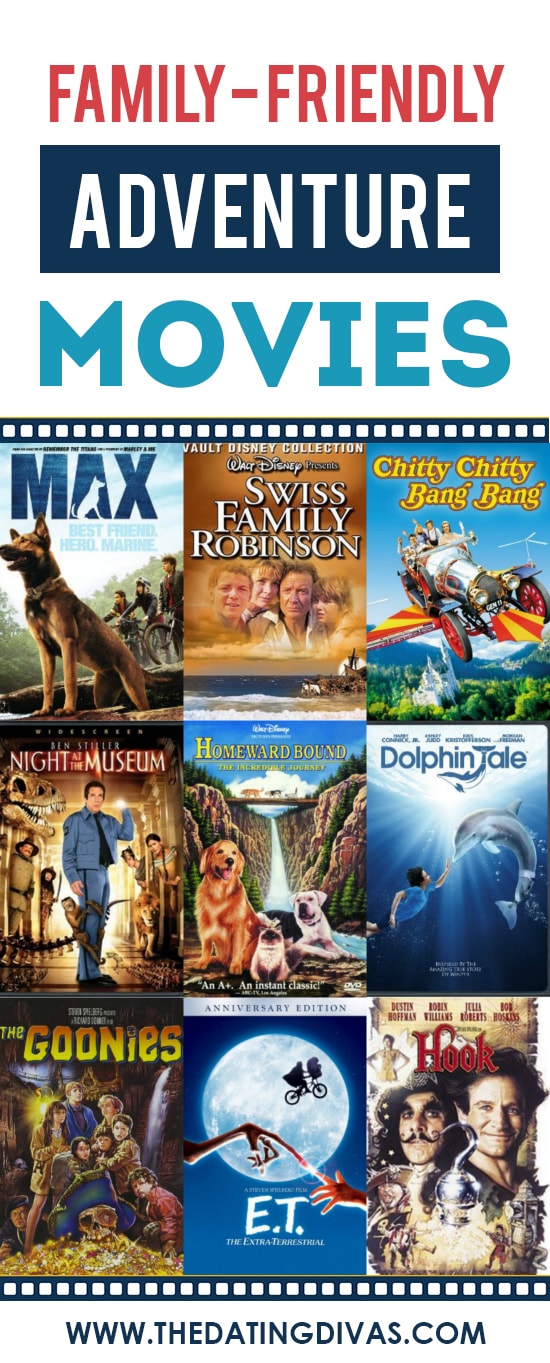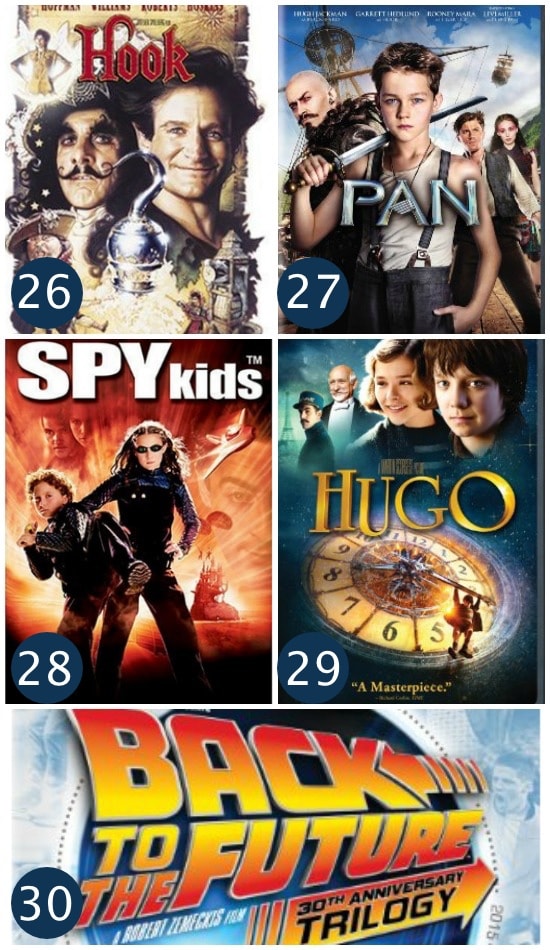 26. Hook – When Captain Hook kidnaps his children, an adult Peter Pan must return to Neverland and reclaim his youthful spirit in order to challenge his old enemy.

27. Pan – 12-year-old orphan Peter is spirited away to the magical world of Neverland, where he finds both fun and danger, and ultimately discovers his destiny.

28. Spy Kids – The children of secret agent parents must save them from danger.

29. Hugo – Set in 1930's Paris, an orphan who lives in the walls of a train station is wrapped up in a mystery involving his late father and an automaton.

30. Back to the Future – Some movies will never grow old! Back to the Future is a classic film that is still popular today! A young man is accidentally sent thirty years into the past in a time-traveling DeLorean invented by his friend, Dr. Emmett Brown.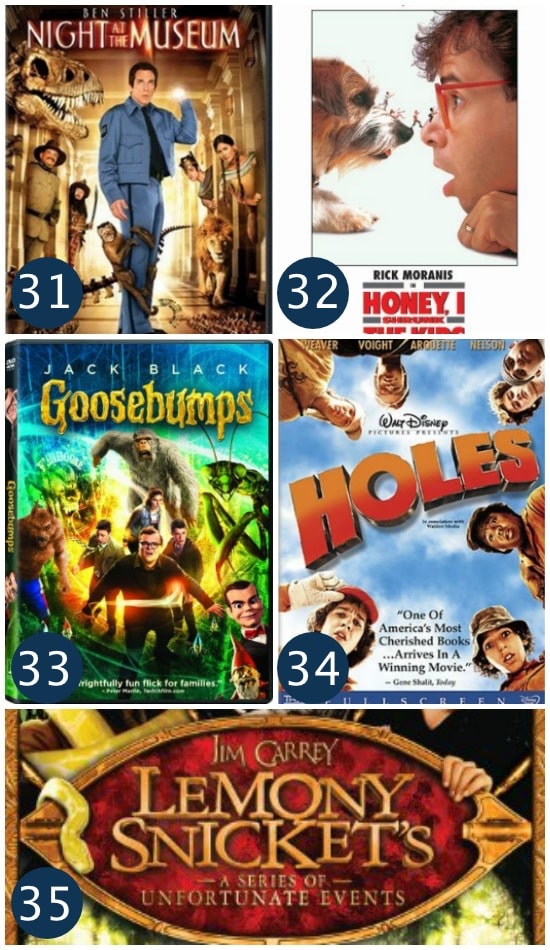 31. Night at the Museum – A newly recruited night security guard at the Museum of Natural History discovers that an ancient curse causes the animals and exhibits on display to come to life and wreak havoc.

32. Honey, I Shrunk the Kids – The scientist father of a teenage girl and boy accidentally shrinks his and two other neighborhood teens to the size of insects. Now the teens must fight diminutive dangers as the father searches for them.

33. Goosebumps – A teenager teams up with the daughter of young adult horror author R. L. Stine after the writer's imaginary demons are set free on the town of Madison, Delaware.

34. Holes – A wrongfully convicted boy is sent to a brutal desert detention camp where he joins in on the job of digging holes for some mysterious reason.

35. Lemony Snicket's: A Series of Unfortunate Events – A thrilling misadventure involving three ingenious orphans and a villainous actor named Count Olaf who wants their enormous fortune.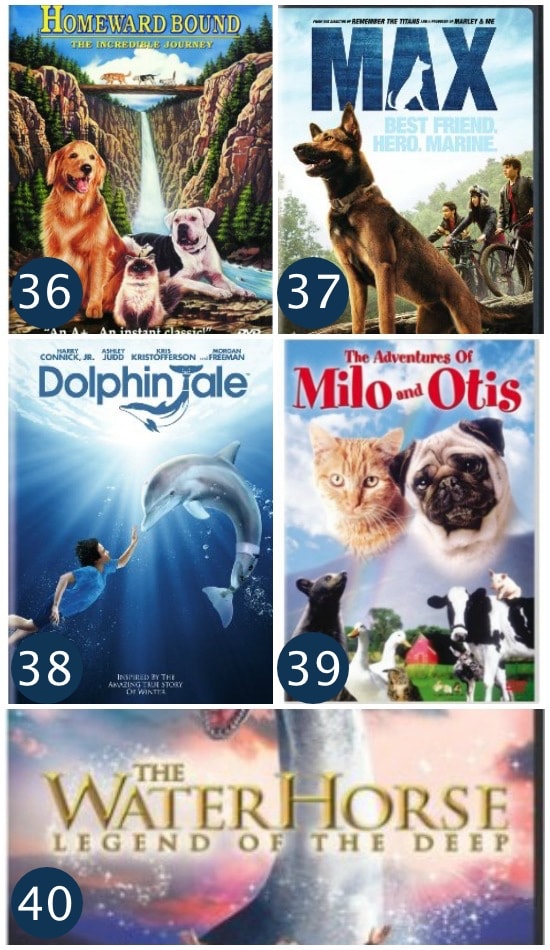 36. Homeward Bound – The Incredible Journey – Three pets escape from a California ranch to find their owners in San Francisco.

37. Max – A dog that helped US Marines in Afghanistan returns to the U.S. and is adopted by his handler's family after suffering a traumatic experience.

38. Dolphin Tale – A story centered on the friendship between a boy and a dolphin whose tail was lost in a crab trap.

39. The Adventures of Milo and Otis – The adventures of a young cat and a dog as they find themselves accidentally separated and each swept into a hazardous trek.

40. The Water Horse – A lonely boy discovers a mysterious egg that hatches a sea creature of Scottish legend.

41. The Wizard of Oz – Dorothy Gale is swept away to a magical land in a tornado and embarks on a quest to see the Wizard who can help her return home.

42. Oz: The Great and Powerful – A small-time magician is swept away to an enchanted land and is forced into a power struggle between three witches.

43. The BFG – A young orphan girl, Sophie, gets taken away to a faraway land populated by giants and dreams.

44. Mirror Mirror – An evil queen steals control of a kingdom and an exiled princess enlists the help of seven resourceful rebels to win back her birthright.

45. James and the Giant Peach – An orphan with terrible aunts for guardians, befriends human-like bugs who live inside a giant peach and take the boy on a journey to New York City.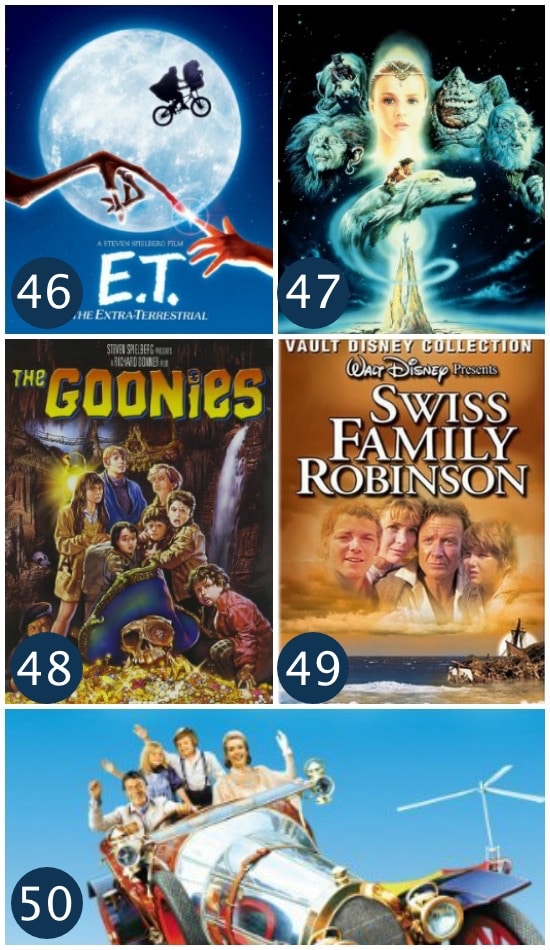 46. E.T. the Extra-Terrestrial – A troubled child summons the courage to help a friendly alien escape Earth and return to his home world.

47. The Neverending Story – A troubled boy dives into a wonderous fantasy world through the pages of a mysterious book.

48. The Goonies – In order to save their home from foreclosure, a group of misfits set out to find a pirate's ancient treasure.

49. Swiss Family Robinson – A Swiss family must survive being shipwrecked on a deserted island.

50. Chitty Chitty Bang Bang – A down-on-his-luck inventor turns a broken-down Grand Prix car into a fancy vehicle for his children, and then they go off on a magical fantasy adventure to save their grandfather in a far-off land.

Family Friendly Animated Films

 
Animated films are aimed at a child audience so they are naturally more family-friendly. There are hundreds of cartoon films to choose from, but these are our FAVORITE animated films to watch as a family.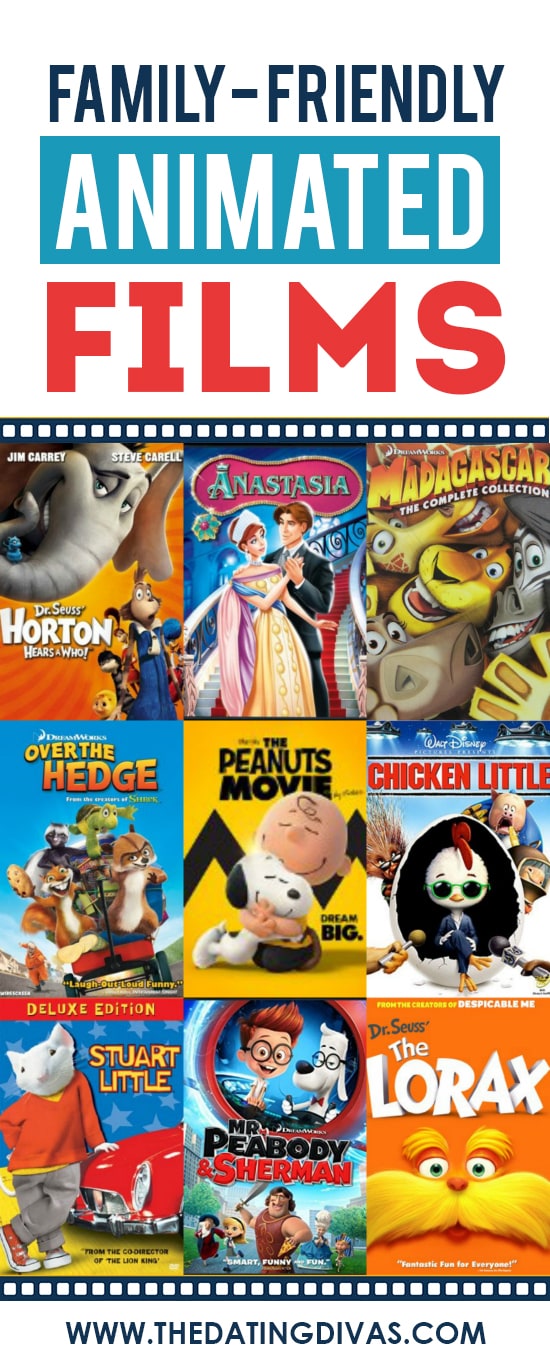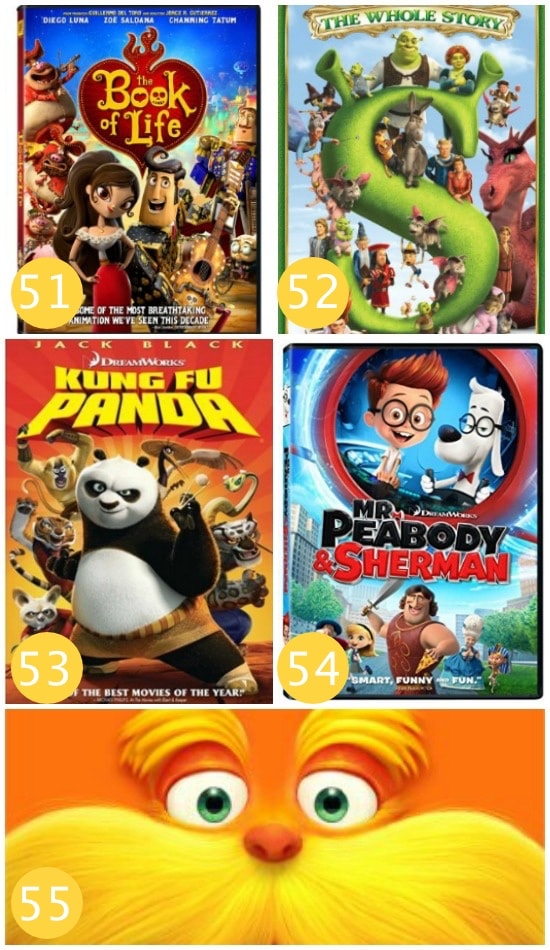 51. The Book of Life – Manolo, a young man who is torn between fulfilling the expectations of his family and following his heart, embarks on an adventure that spans three fantastic worlds where he must face his greatest fears.

52. Shrek – After his swamp is filled with magical creatures, an ogre agrees to rescue a princess for a villainous lord in order to get his land back.

53. Kung Fu Panda – In the Valley of Peace, Po the Panda finds himself chosen as the Dragon Warrior despite the fact that he is obese and a complete novice at martial arts.

54. Mr. Peabody and Sherman – The time-travelling adventures of an advanced canine and his adopted son, as they endeavor to fix a time rift they created.

55. The Lorax – A 12-year-old boy searches for the one thing that will enable him to win the affection of the girl of his dreams. To find it, he must discover the story of the Lorax, the grumpy yet charming creature who fights to protect his world.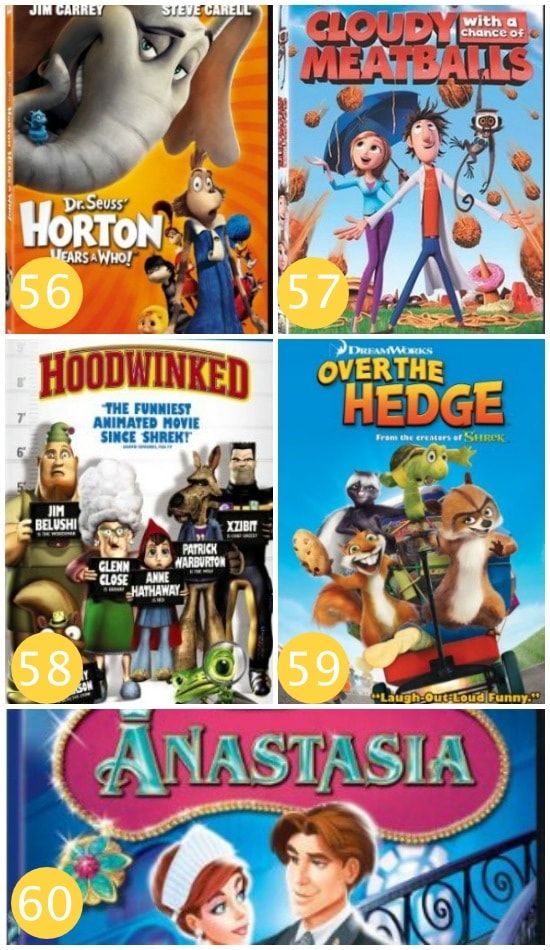 56. Horton Hears a Who – Horton the Elephant struggles to protect a microscopic community from his neighbors who refuse to believe it exists.

57. Cloudy With a Chance of Meatballs – A local scientist is often regarded as a failure until he invents a machine that can make food fall from the sky. But little does he know, that things are about to take a turn for the worst.

58. Hoodwinked – Little Red Riding Hood, the Wolf, the Woodsman, and Granny all tell the police the events that lead up to their encounter.

59. Over the Hedge – A scheming raccoon fools a mismatched family of forest creatures into helping him repay a debt of food, by invading the new suburban sprawl that popped up while they were hibernating… and learns a lesson about family himself.

60. Anastasia – The last surviving child of the Russian Royal Family joins two con men to reunite with her grandmother, the Dowager Empress, while the undead Rasputin seeks her death.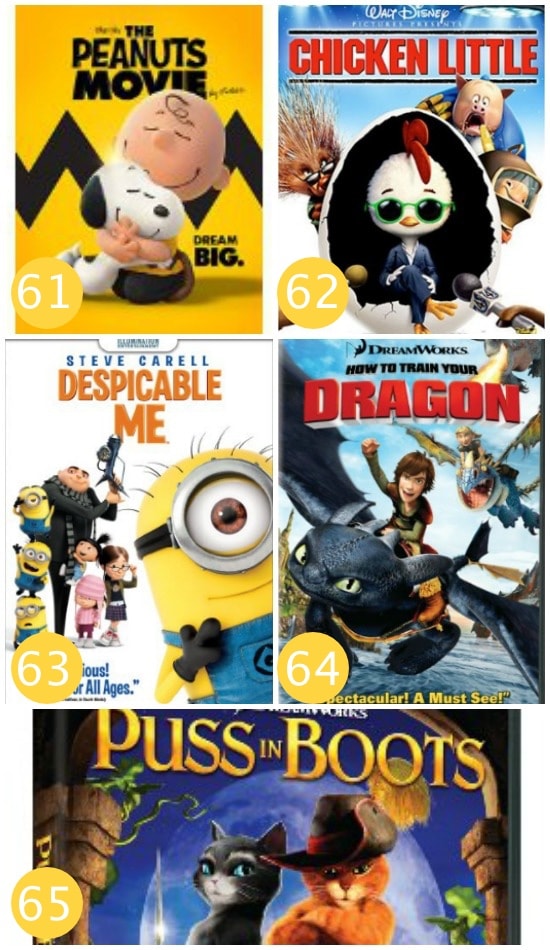 61. Peanuts Movie – Snoopy embarks upon his greatest mission as he and his team take to the skies to pursue their arch-nemesis, while his best pal Charlie Brown begins his own epic quest back home to win the love of his life.

62. Chicken Little – After ruining his reputation with the town, a courageous chicken must come to the rescue of his fellow citizens when aliens start an invasion.

63. Despicable Me – When a criminal mastermind uses a trio of orphan girls as pawns for a grand scheme, he finds their love is profoundly changing him for the better.

64. How to Train Your Dragon – A hapless young Viking who aspires to hunt dragons, becomes the unlikely friend of a young dragon himself, and learns there may be more to the creatures than he assumed.

65. Puss in Boots – The events leading up to the sword fighting cat's meeting with Shrek and his friends.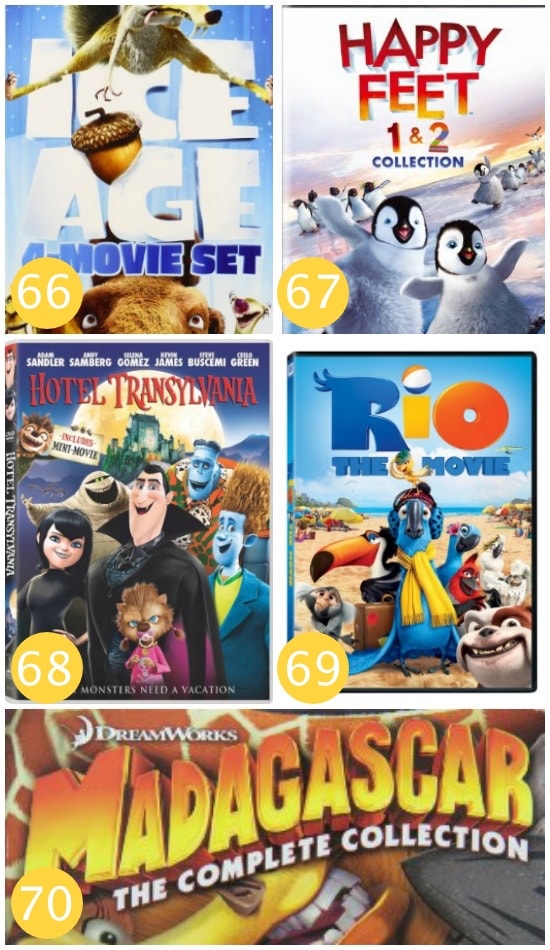 66. Ice Age – Set during the Ice Age, a saber-tooth tiger, a sloth, and a woolly mammoth find a lost human infant, and they try to return him to his tribe.

67. Happy Feet – Into the world of the Emperor Penguins, who find their soul mates through song, a penguin is born who cannot sing. But he can tap dance something fierce!

68. Hotel Transylvania – Dracula, who operates a high-end resort away from the human world, goes into overprotective mode when a boy discovers the resort and falls for the count's teen-aged daughter.

69. Rio – When Blu, a domesticated macaw from small-town Minnesota, meets the fiercely independent Jewel, he takes off on an adventure to Rio de Janeiro with the bird of his dreams.

70. Madagascar – Spoiled by their upbringing with no idea what wild life is really like, four animals from New York Central Zoo escape, unwittingly assisted by four absconding penguins, and find themselves in Madagascar, among a bunch of merry lemurs.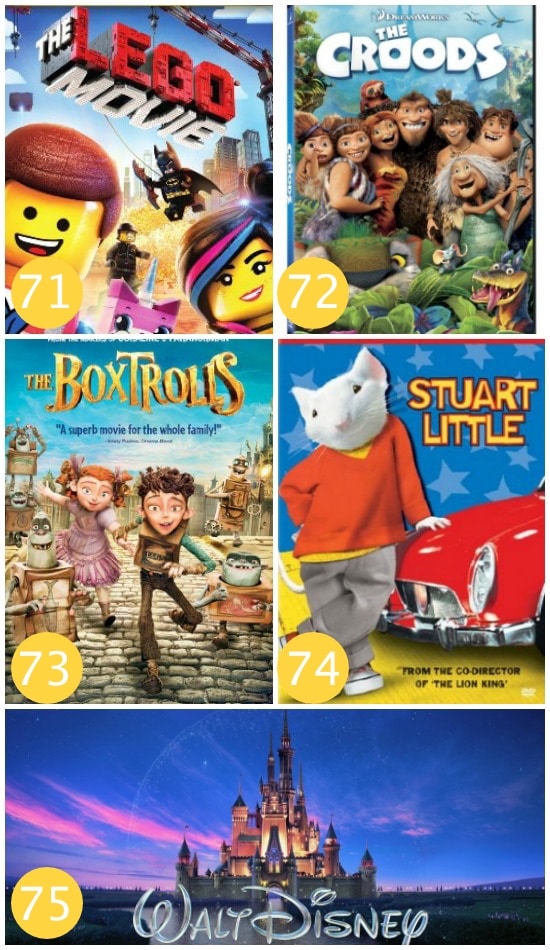 71. Lego Movie – An ordinary Lego construction worker, thought to be the prophesied 'Special', is recruited to join a quest to stop an evil tyrant from gluing the Lego universe into eternal stasis.

72. The Croods – After their cave is destroyed, a caveman family must trek through an unfamiliar fantastical world with the help of an inventive boy.

73. Boxtrolls – A young orphaned boy raised by underground cave-dwelling trash collectors tries to save his friends from an evil exterminator.

74. Stuart Little – The Little family adopt a charming young mouse named Stuart, but the family cat wants rid of him.

75. Disney Animated Films – Our family-friendly list could have included 101 Disney films alone! Disney does an excellent job of creating films the whole family can enjoy. As we asked our readers for their favorites, these were the most listed as favorites for family movie night: Cars, Finding Nemo, Inside Out, Monsters University, Ratatouille, Tangled, The Incredibles, and Up.        

Family Friendly Fantasy Films
Who doesn't love letting the imagination run wild? Both kids and adults can appreciate a film that takes you to another world. These films are great choices for an adventure to a far off place!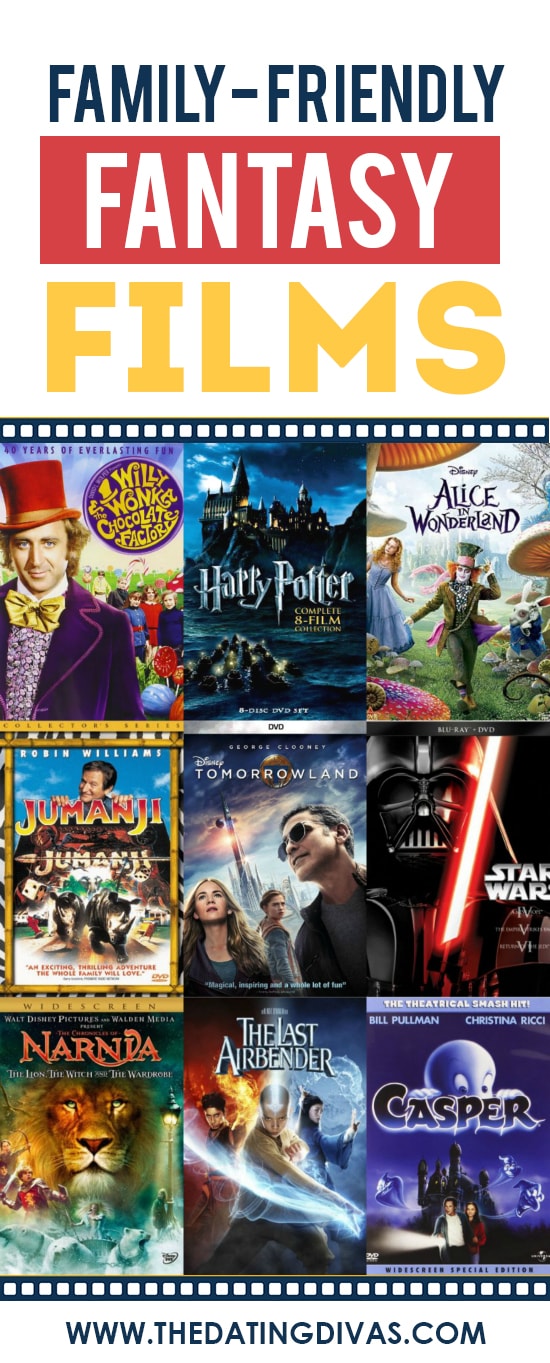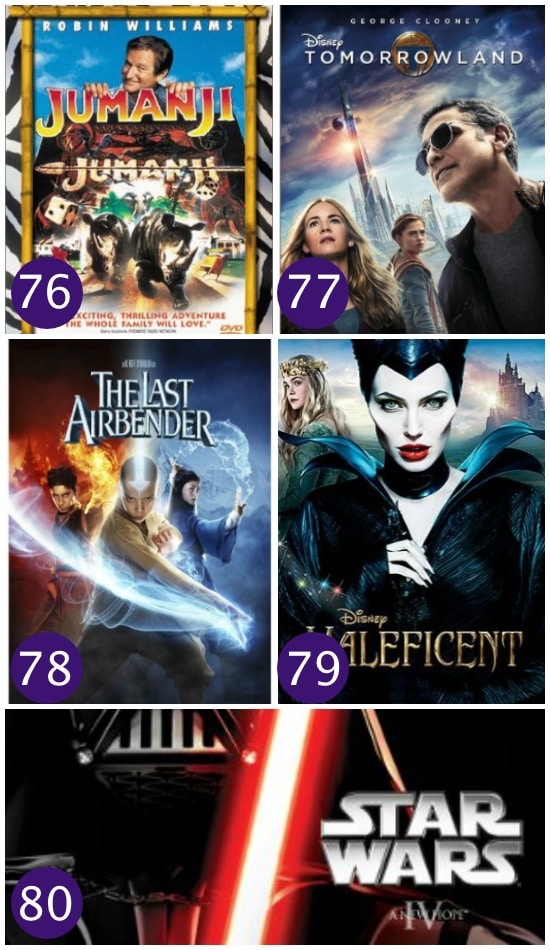 76. Jumanji – When two kids find and play a magical board game, they release a man trapped for decades in it and a host of dangers that can only be stopped by finishing the game.

77. Tomorrowland – Bound by a shared destiny, a teen bursting with scientific curiosity and a former boy-genius inventor embark on a mission to unearth the secrets of a place somewhere in time and space that exists in their collective memory.

78. The Last Airbender – Follow the adventures of Aang, a young successor to a long line of Avatars, who must master all four elements and stop the Fire Nation from enslaving the Water Tribes and the Earth Kingdom.

79. Maleficent – A vengeful fairy is driven to curse an infant princess, only to discover that the child may be the one person who can restore peace to their troubled land.

80. Star Wars – Luke Skywalker joins forces with a Jedi Knight, a cocky pilot, a wookiee and two droids to save the galaxy from the Empire's world-destroying battle-station, while also attempting to rescue Princess Leia from the evil Darth Vader. BONUS! We have a Star Wars Movie Date Night with activities and printables that could totally work for a family movie night! Make sure to check it out!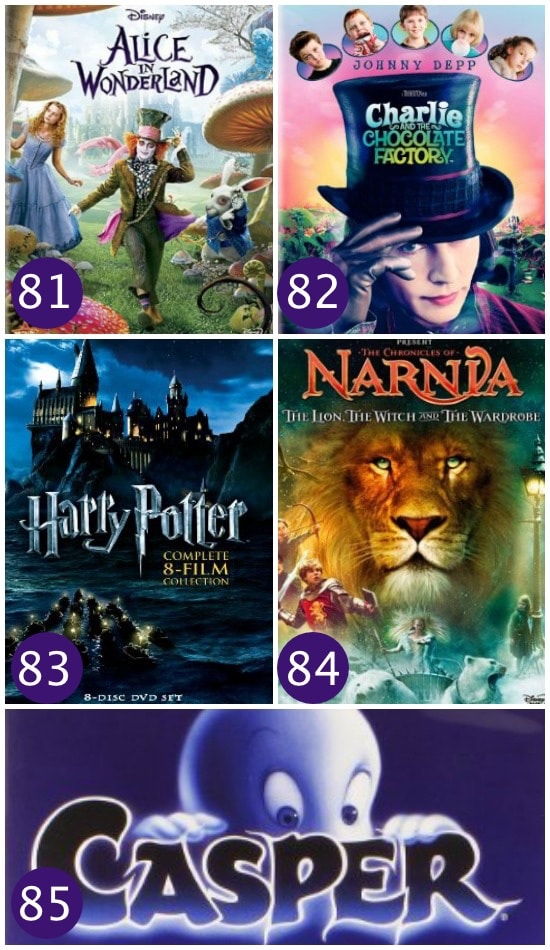 81. Alice in Wonderland – Nineteen-year-old Alice returns to the magical world from her childhood adventure, where she reunites with her old friends and learns of her true destiny: to end the Red Queen's reign of terror. BONUS! Diva Central members have access to printable activities that go right along with this film! Our Alice in Wonderland Photo Booth Props and more!

82. Willy Wonka and the Chocolate Factory – A young boy wins a tour through the most magnificent chocolate factory in the world, led by the world's most unusual candy maker.

83. Harry Potter – Rescued from the outrageous neglect of his aunt and uncle, a young boy with a great destiny proves his worth while attending Hogwarts School of Witchcraft and Wizardry.

84. The Chronicles of Narnia: The Lion, the Witch and the Wardrobe – Four kids travel through a wardrobe to the land of Narnia and learn of their destiny to free it with the guidance of a mystical lion. You can watch the entire series here.

85. Casper – A paranormal expert and his daughter bunk in an abandoned house populated by 3 mischievous ghosts and one friendly one.

Films Even The Adults Will Love
Even adults who are "kids at heart" can admit that family-friendly films can sometimes be daunting to watch (especially when your two year old requests to watch it over and over . . . ) Here are a few films that kids AND adults will love – no matter what their age!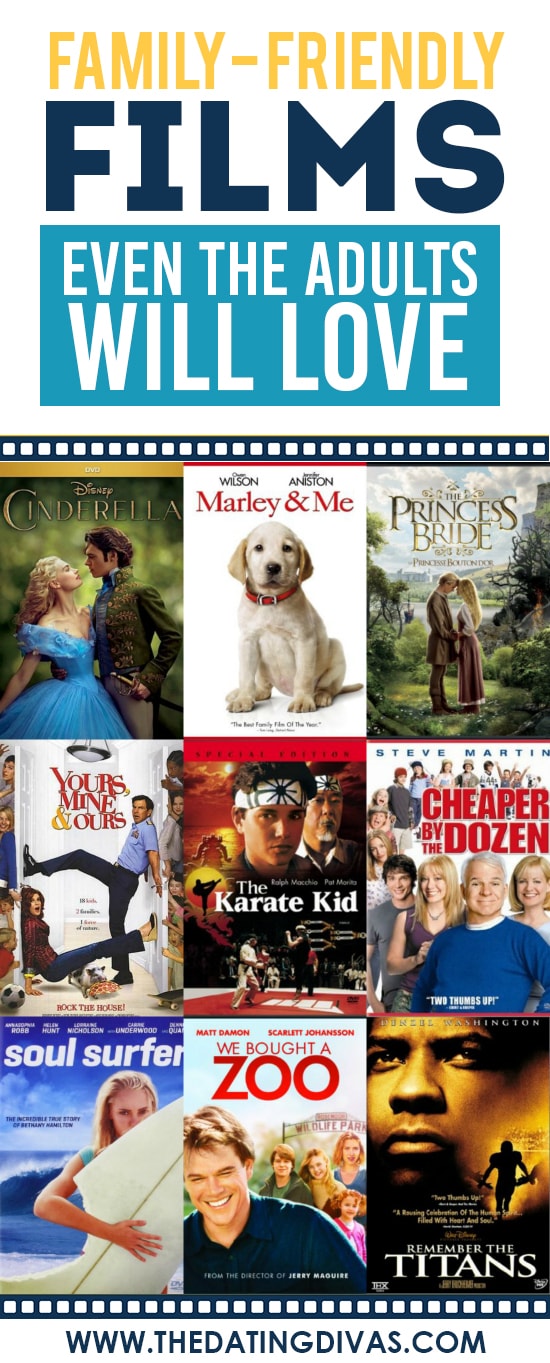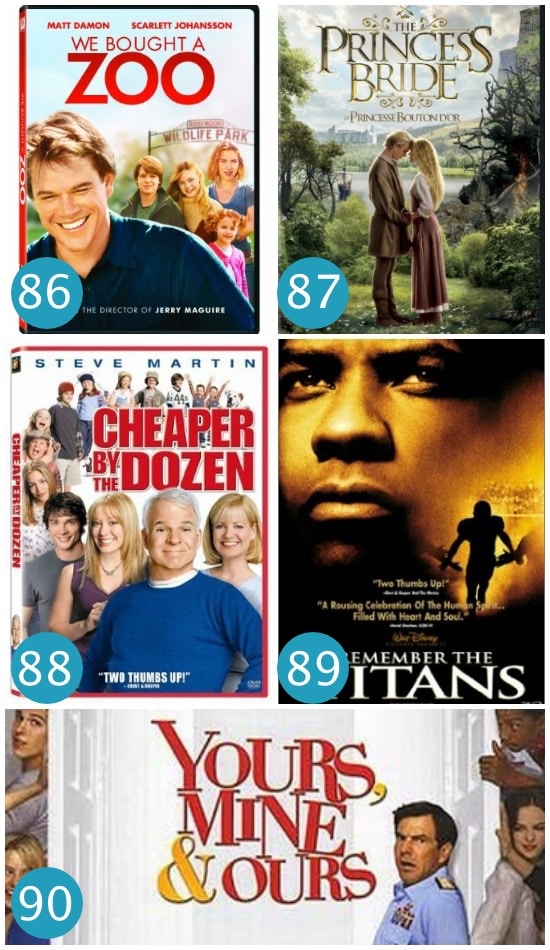 86. We Bought a Zoo – Set in Southern California, a father moves his young family to the countryside to renovate and re-open a struggling zoo.

87. The Princess Bride – While home sick in bed, a young boy's grandfather reads him a story called The Princess Bride.

88. Cheaper By the Dozen – With his wife doing a book tour, a father of twelve must handle a new job and his unstable brood.

89. Remember the Titans – The true story of a newly appointed African-American coach and his high school team on their first season as a racially integrated unit.

90. Yours, Mine & Ours – A widowed Coast Guard Admiral and a widow handbag designer fall in love and marry, much to the dismay of her 10 and his 8 children.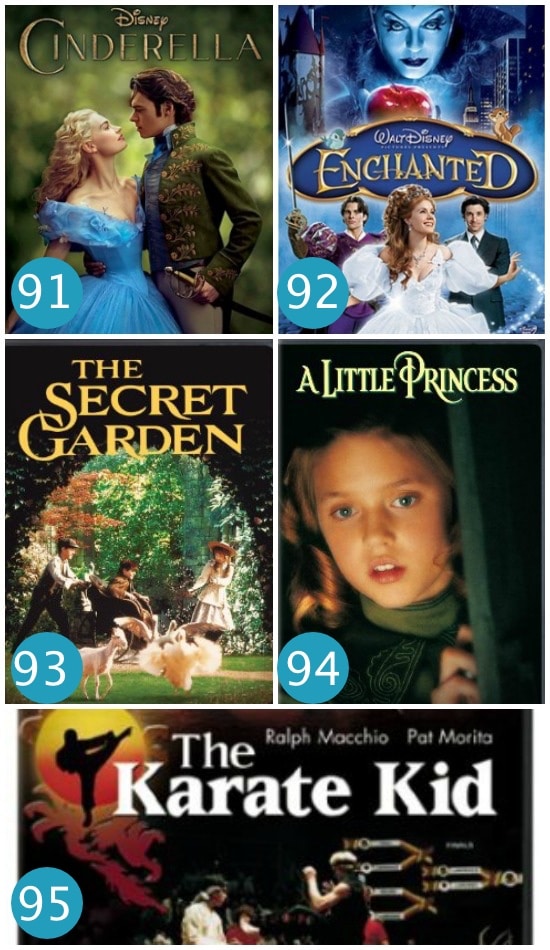 91. Cinderella – When her father unexpectedly passes away, young Ella finds herself at the mercy of her cruel stepmother and her scheming step-sisters. Never one to give up hope, Ella's fortunes begin to change after meeting a dashing stranger.

92. Enchanted – A princess, who is prepared to be wed, is sent away to New York by an evil queen, where she falls in love with a lawyer.

93. The Secret Garden – After losing her self-indulging parents in an earthquake, a bitter young girl named Mary Lennox is sent to live in England with her reclusive uncle. Eventually she discovers her bedridden cousin and a 'secret garden' that once belonged to her deceased aunt. With the help of her cousin, the kindly Dickon, and a little 'magic', can Mary find a way to bring love back to her family?

94. A Little Princess – A young girl is relegated to servitude at a boarding school when her father goes missing and is presumed dead.

95. The Karate Kid – A handyman/martial arts master agrees to teach a bullied boy karate and shows him that there is more to the martial art than fighting.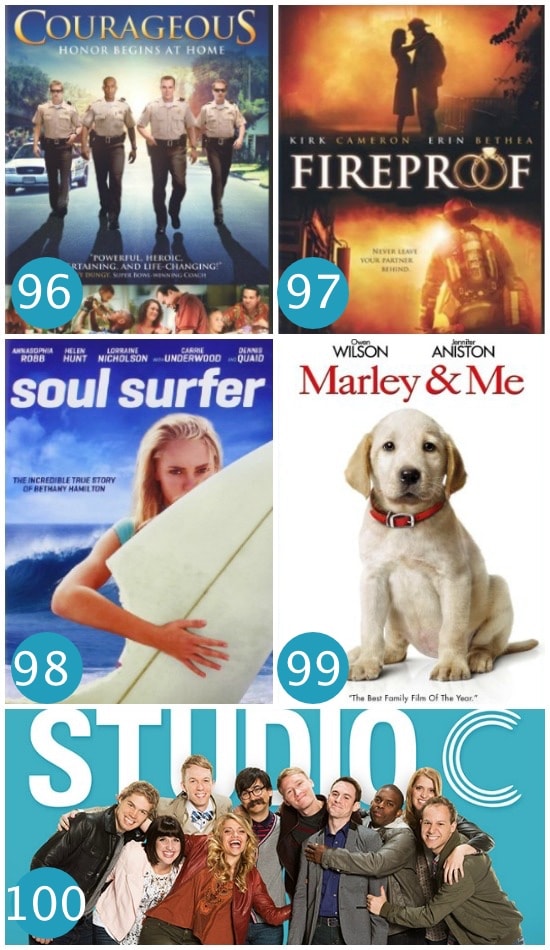 96. Courageous – When a tragedy strikes close to home, four police officers struggle with their faith and their roles as husbands and fathers; together they make a decision that will change all of their lives. BONUS! We have an activity that goes perfect with this movie! We have printables for you to Create Your Own Marriage Resolution – just like in the movie!

97. Fireproof – In an attempt to save his marriage, a firefighter uses a 40-day experiment known as "The Love Dare". BONUS! We have a planned-for-you date night that goes with this movie! Check it out: Fireproof Your Marriage.

98. Soul Surfer – Teenage surfer Bethany Hamilton overcomes the odds and her own fears of returning to the water after losing her left arm in a shark attack.

99. Marley and Me – A family learns important life lessons from their adorable, but naughty and neurotic dog.

100. Studio C – Not exactly a movie but a TV series the whole family can enjoy! A fresh, live comedy sketch series that explores the funny side of everyday life.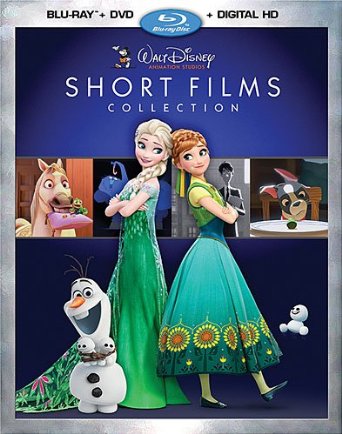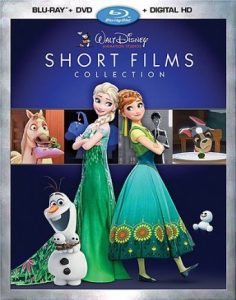 101. Pixar Shorts – A collection of short films played before Disney Pixar films. Although short and sweet, you can now watch all these small films in one place!
So, who is ready for a great family movie night? Surely you now have a list of several movies to watch – why not make it a tradition?
And if you are looking for some movies for date night – we have 40+ Creative Movie Date Nights prepped for you and your spouse to enjoy!
Save