Fun & Creative Thanksgiving Food Ideas (Turkey-Themed)
With Thanksgiving right around the corner, our Pinterest feed has been flooded with fun Thanksgiving food ideas. We couldn't get over all of the seriously cute and creative Thanksgiving snacks and turkey treats we were seeing, so we thought we'd share our very favorite Thanksgiving food ideas with YOU!
I love making the holidays extra special for my family, and these Thanksgiving food ideas are so cute that any kid would gobble them — okay, okay, any adult too!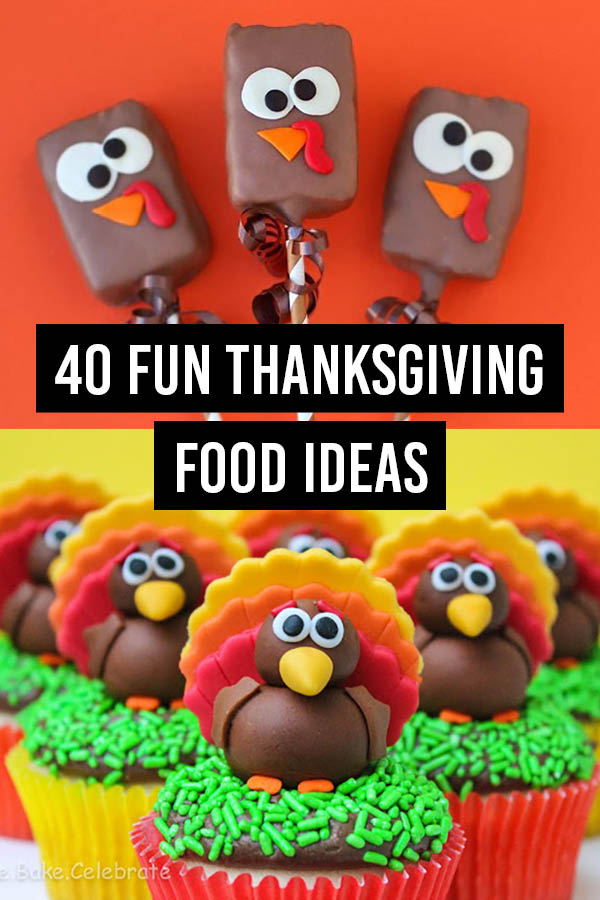 Check out the variety of Thanksgiving food ideas we've compiled!
Whether you're looking for a fun way to surprise the kids on Thanksgiving morning or festive appetizers to take to Thanksgiving dinner with friends, we've got a little something for everyone.
Disclaimer: This post contains affiliate links. To learn more about 'em, click here.
Okay! Now, let's get this party started! First up…
Creative Thanksgiving Food Ideas for Breakfast
First thing in the morning, start your kids' day off right with these easy Thanksgiving breakfast recipes. They're both festive AND delicious!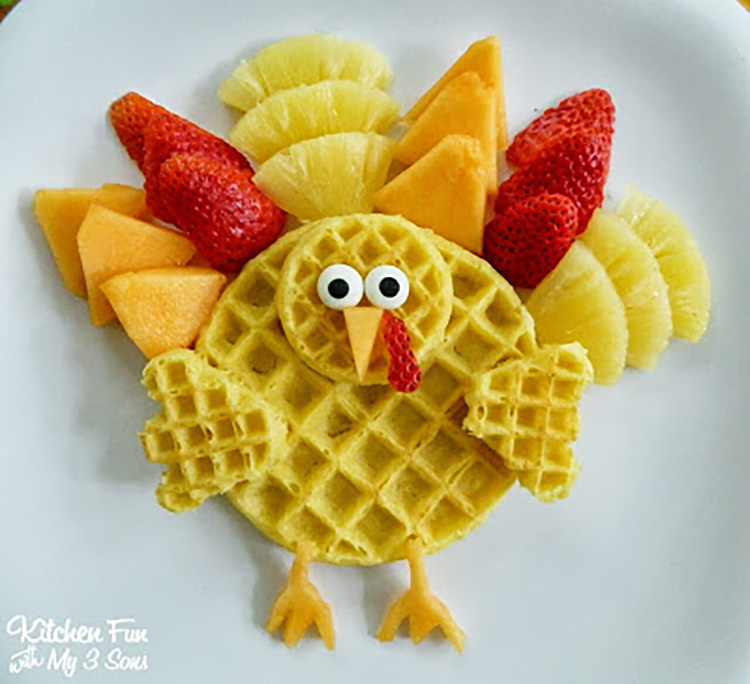 1. Turkey Waffle Breakfast: A great way to get the kids to gobble up lots of fruit in the morning. Skip the mess and put their plates on these amazing mats. They come in all sorts of colors!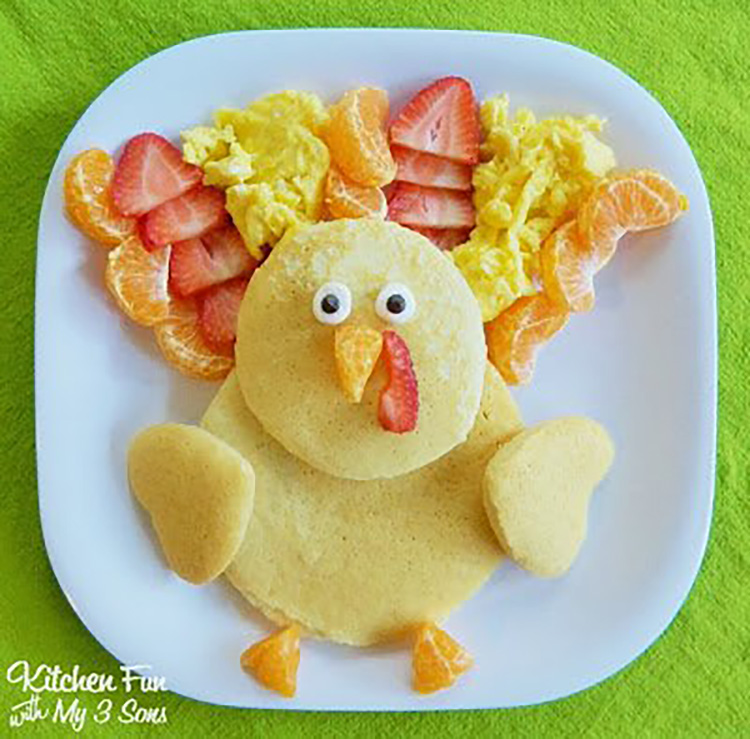 2. Thanksgiving Turkey Pancakes: I love that this version of Thanksgiving breakfast includes scrambled eggs!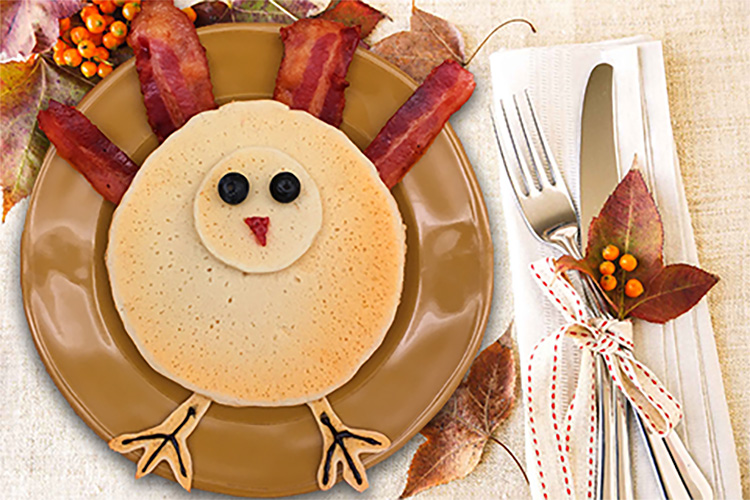 3. Bacon-Feathered Turkey Pancakes: You can never go wrong by adding bacon!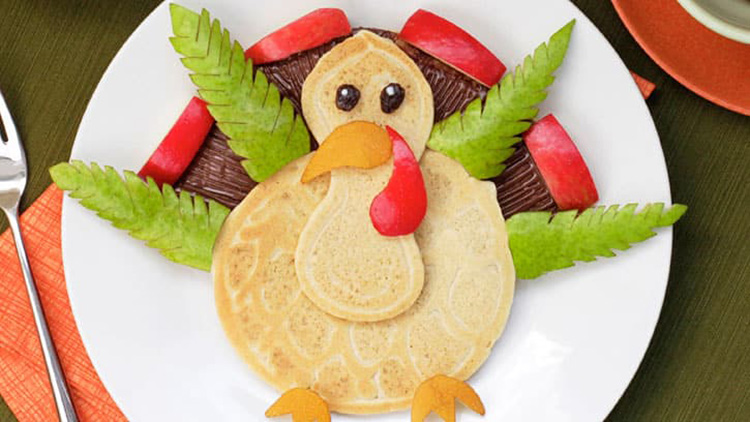 4. Gobble-y Good Pancake: A pear, red apple, green apple, and a little chocolate hazelnut spread were used for this cute version.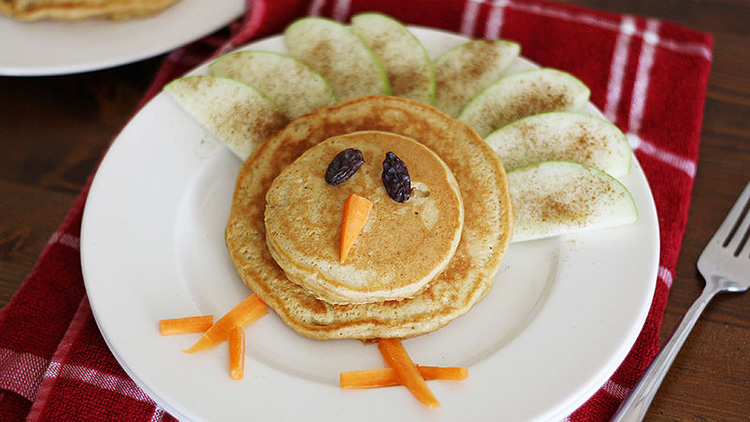 5. Gobble Gobble Pancakes: I love the extra sprinkling of cinnamon on these turkey pancakes. Use these plates and napkins for even more Thanksgiving food festivity!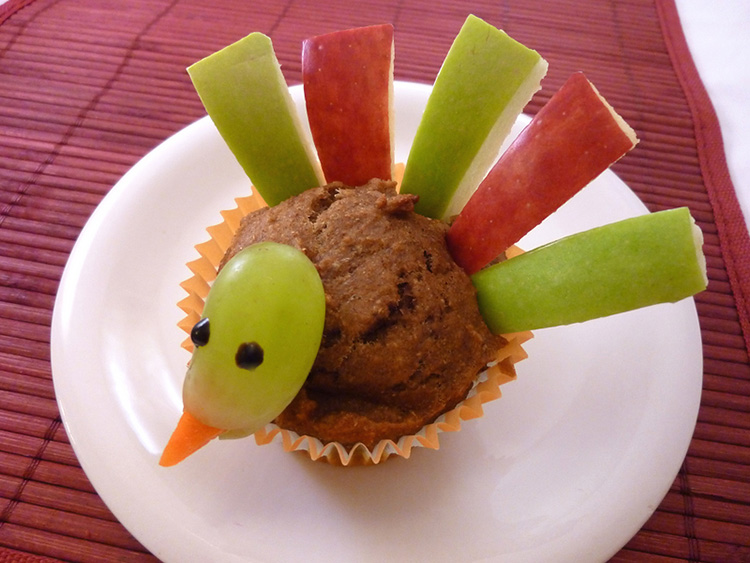 6. Turkey Muffins: Turn a regular muffin into a cute Thanksgiving turkey using apple slices and a grape. Grab some of these muffin liners to make them even more festive!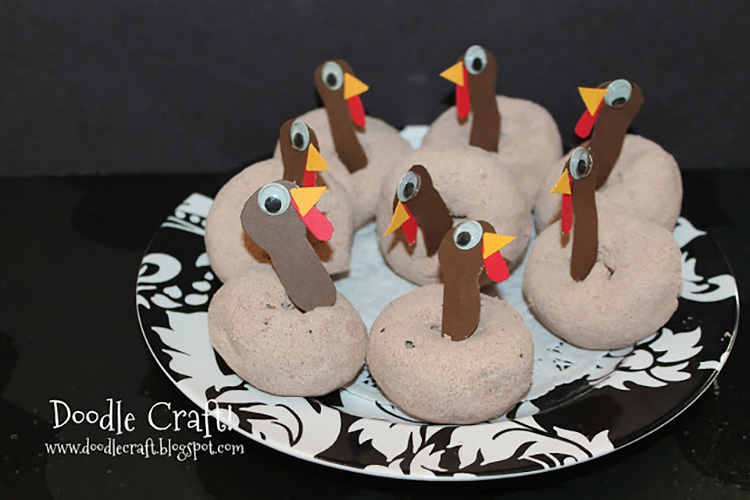 7. Donut Turkeys: How cute is this? Just add paper turkey heads to some apple cinnamon donuts for the cutest (and easiest) idea ever!
Thanksgiving Food Ideas for Snacks and Lunch
Our favorite Thanksgiving food ideas come in the snacks prepared for a mid-day meal before the big turkey dinner! Scroll through and try to only pick one! (Pssst: it's impossible!) I'll be making everything into a turkey this year.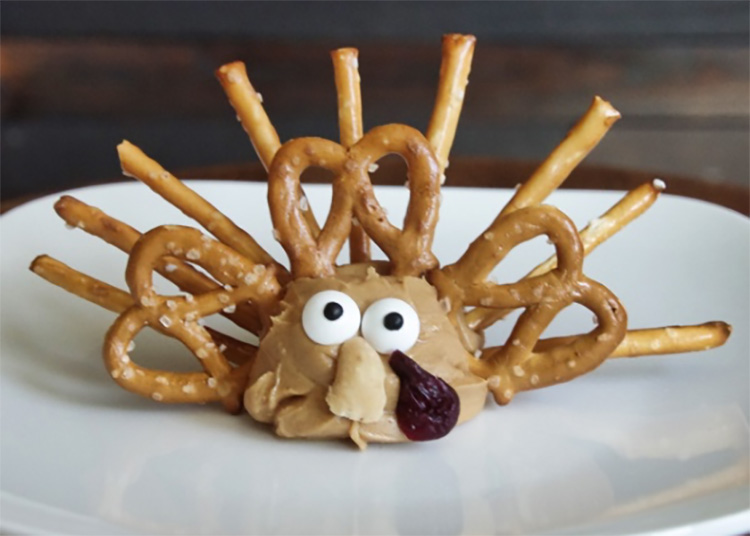 8. Peanut Butter Turkey Treats: I love how cute and EASY these Thanksgiving pretzels are. It's perfect for the kids to munch on while they're waiting for Thanksgiving dinner to be ready. Don't forget the edible turkey eyes!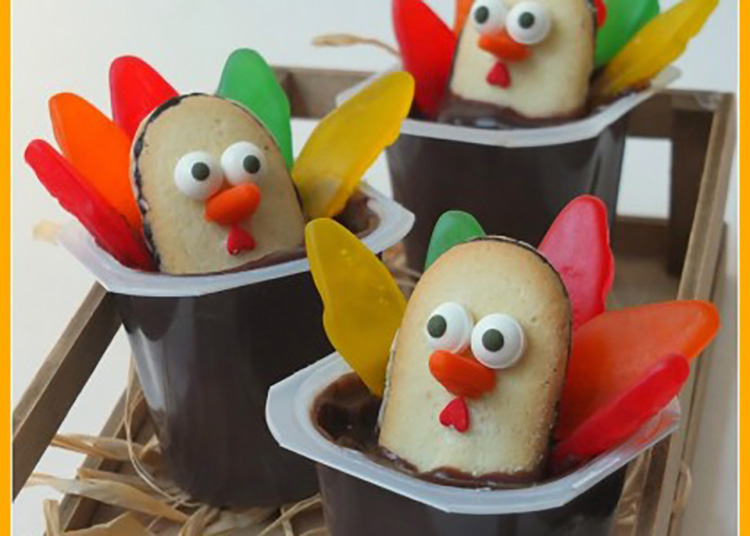 9. Turkey Pudding Cups– What kid wouldn't want to gobble up this cute turkey treat made from a pudding cup? It would also be the perfect treat to make for a Thanksgiving class party at school!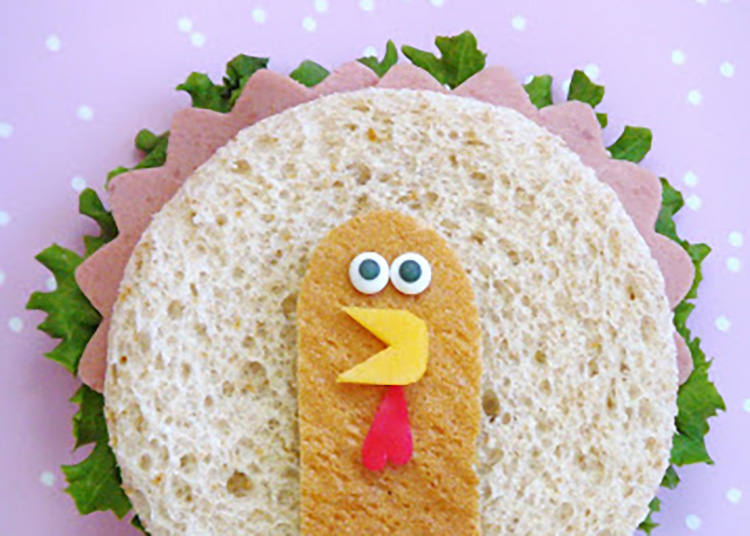 10. Cute Turkey Sandwich for Thanksgiving: This turkey sandwich is almost too cute to eat! Make a few of these Thanksgiving treats for kindergarteners and watch the adults gobble them up too!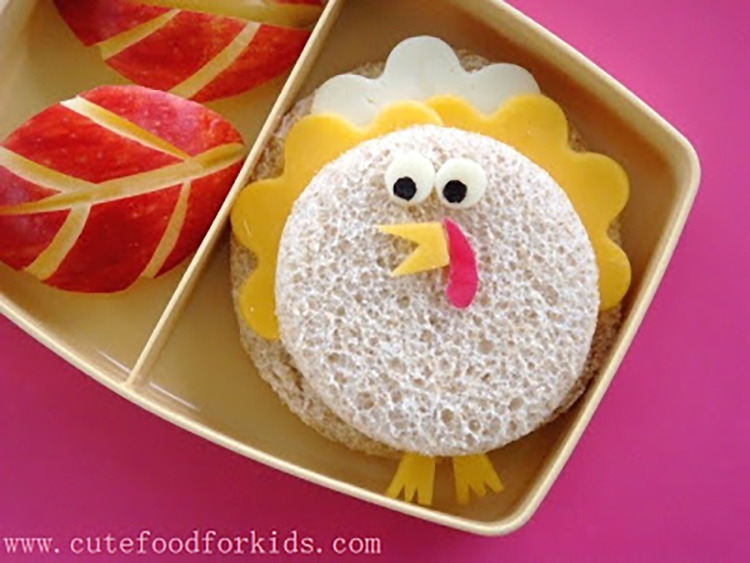 11. Cute Thanksgiving Turkey Sandwich– Use cookie cutters to cut the sandwich meat and cheese slices into the perfect shape for your turkey sandwich.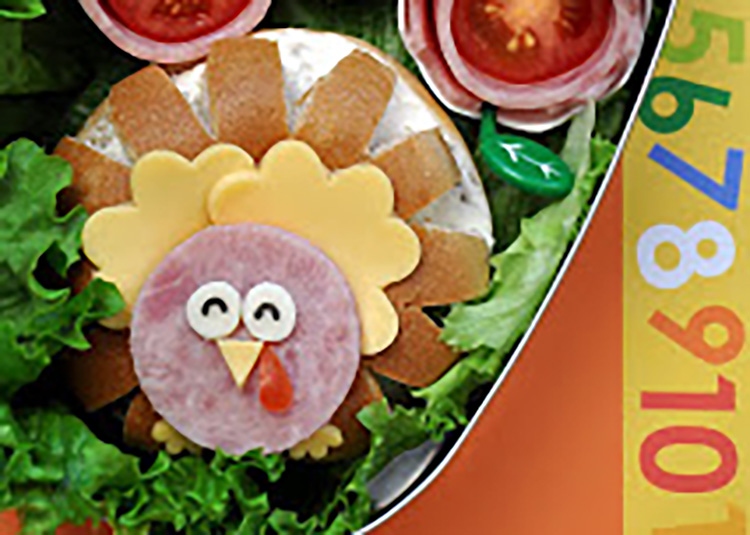 12. Thanksgiving Turkey Bagel: Check out this fun bagel turkey sandwich! You can make the perfect turkey tail just by cutting triangles out of the top of the bagel.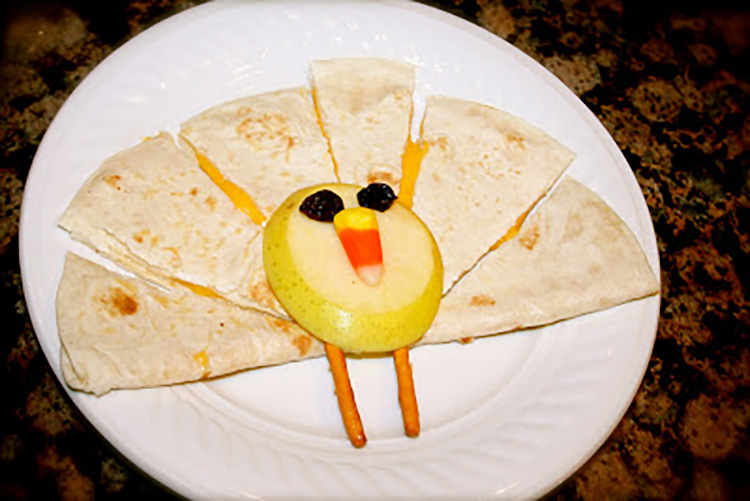 13. "Gobble Me Up" Quesadilla: I'm loving this easy and darling turkey quesadilla… The candy corn beak just tops it off!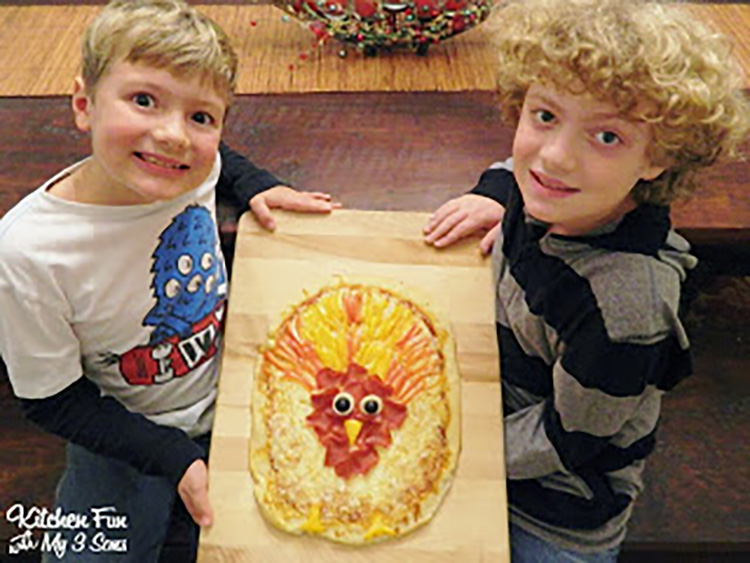 14. Turkey Pizza: Decorate your pizza to look like a turkey this Thanksgiving season! The kids will definitely get a kick out of that!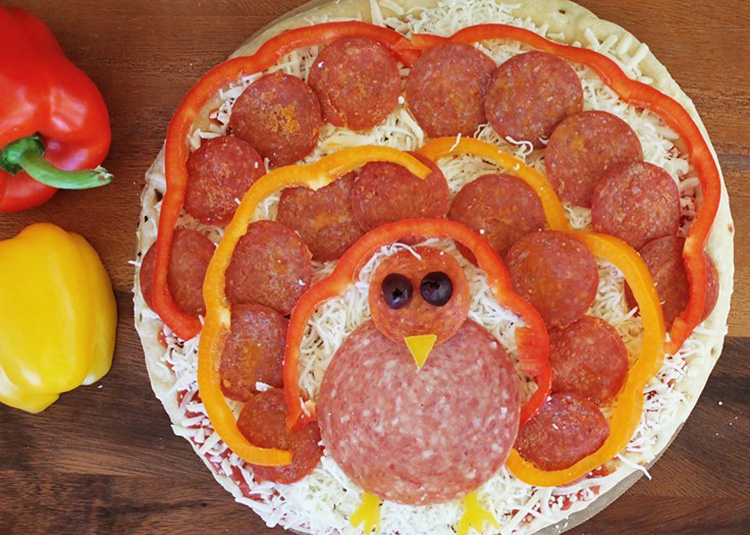 15. Thanksgiving Turkey Pizza #2: All you need to decorate this fun Thanksgiving turkey pizza is pepperoni, bell peppers, and olives for the eyes!
Creative Thanksgiving Turkey Trays
Look no further than this simple list of the best Thanksgiving food ideas for your appetizer table. Now you just have to choose which one to take to a fall-themed party!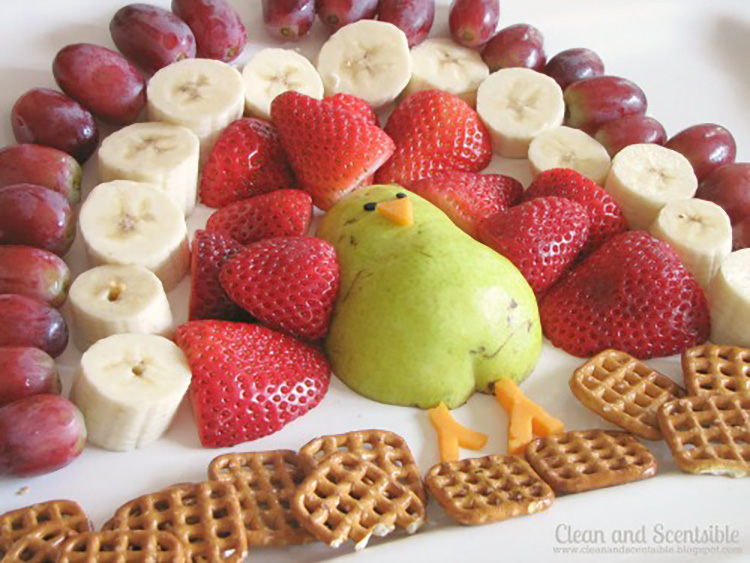 16. Chocolate Turkey Fondue: How cute is this fruit tray for Thanksgiving? I love that the fruit slices can be dipped into fondue!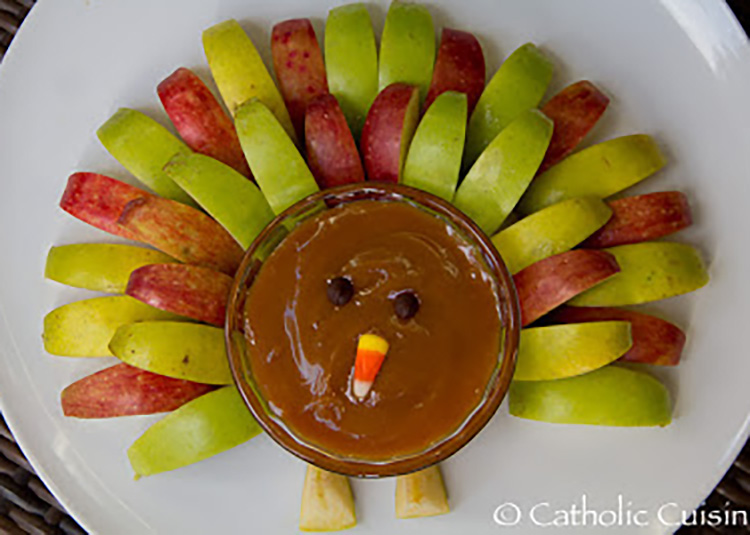 17. Caramel Apple Turkey: This is one of my favorite Thanksgiving appetizers because it is SO easy and still SO cute! Just cut some apple slices and pour some caramel dip into a bowl. All that's left to do is add two chocolate chips for the eyes and a piece of candy corn for the beak!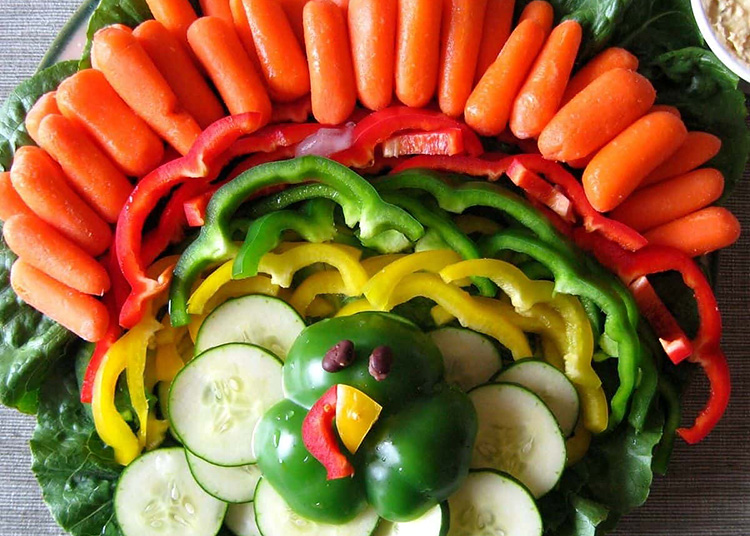 18. Turkey Veggie Platter: Already planning on making a veggie tray of Thanksgiving appetizers? Why not arrange the veggies into the shape of a turkey like this nutritious Thanksgiving food idea?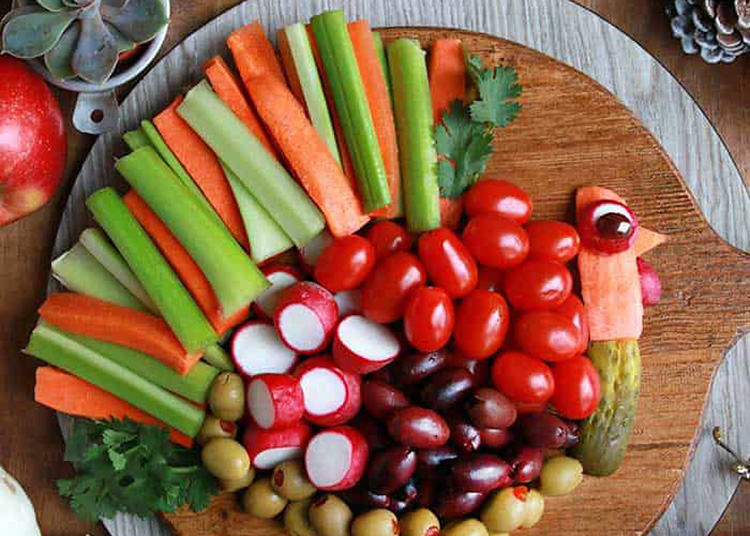 19. Turkey Vegetable Tray: I love how many options there are with this one. You can pretty much use any vegetables of your choice. It's the arrangement that makes it so fun!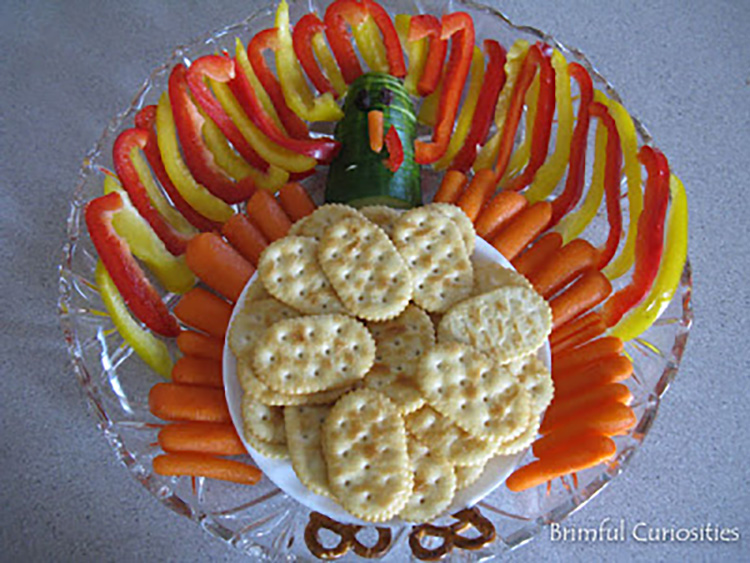 20. Cracker and Vegetable Turkey Platter: Here's another cute turkey platter! I love that this version includes crackers.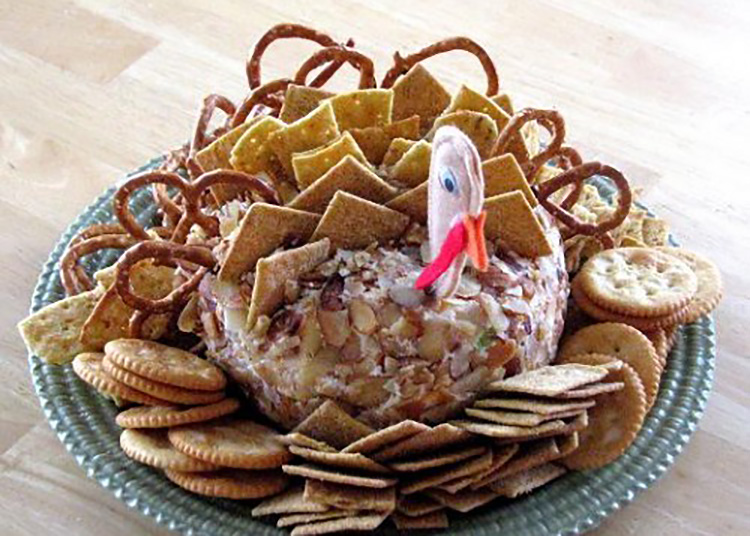 21. Turkey Cheese Ball: Stick crackers and pretzels into the cheese ball to make a cute turkey tail! Decorate it on an adorable platter and consider your Thanksgiving appetizer done!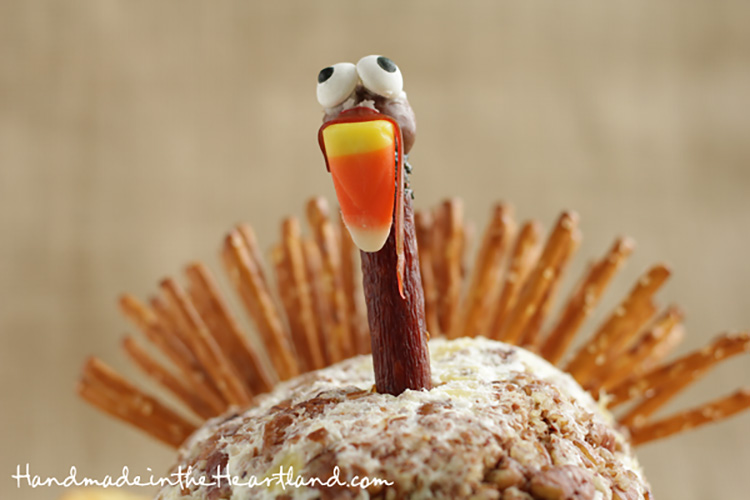 22 . Thanksgiving Cheese Ball: If you're already planning on making a cheese ball for Thanksgiving, you have to try this version! I love that you can transform a regular cheese ball into a turkey just by adding some pretzel sticks, eyes, and a nose.
Fun Thanksgiving Desserts
The most delicious, creative and cute turkey ideas come in the form of Thanksgiving desserts! You're about to discover all of our favorite, easy Thanksgiving dessert recipes!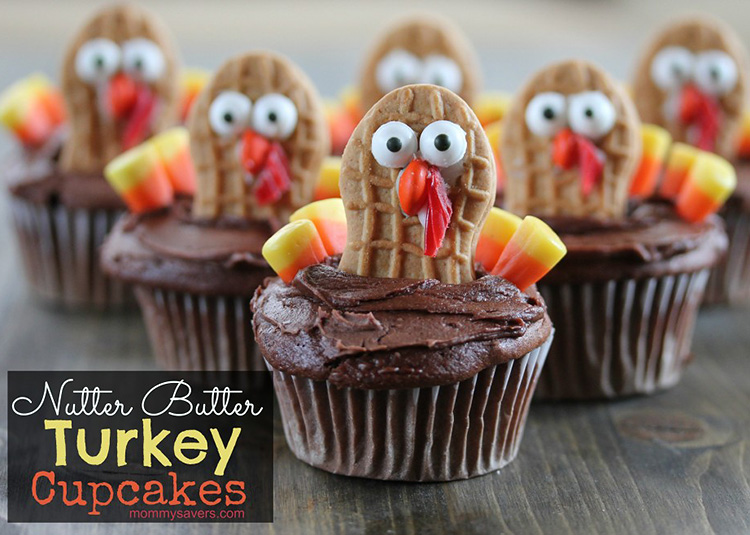 23. Nutter Butter Turkey Cupcakes: Nutter Butter cookies are the perfect shape for a turkey face, so they're obviously a key ingredient in Thanksgiving dessert recipes.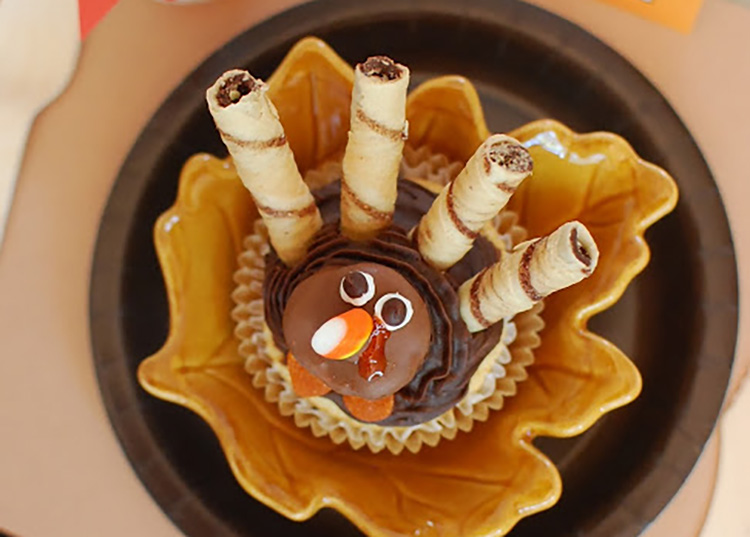 24. Wafer Turkey Cupcakes: Stick some wafer cookies into a cupcake to make a fun turkey tail for a Thanksgiving dessert.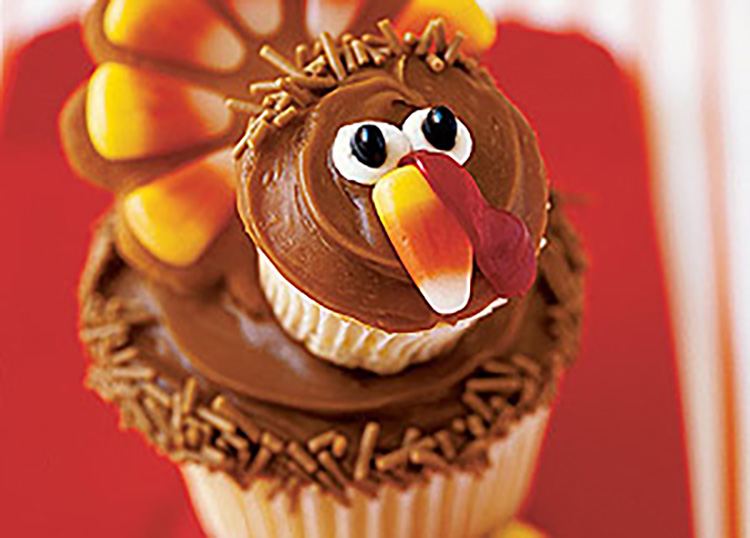 25. Creative Turkey Cupcakes: This might be my favorite version out of all the turkey cupcakes… And no one will complain that it uses two cupcakes!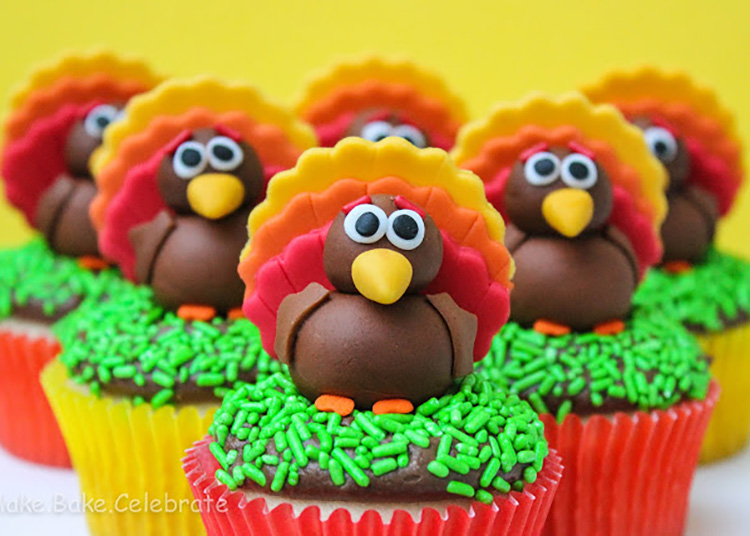 26. Fondant Turkey Toppers: These cute turkey toppers are made from fondant and look surprisingly easy to make.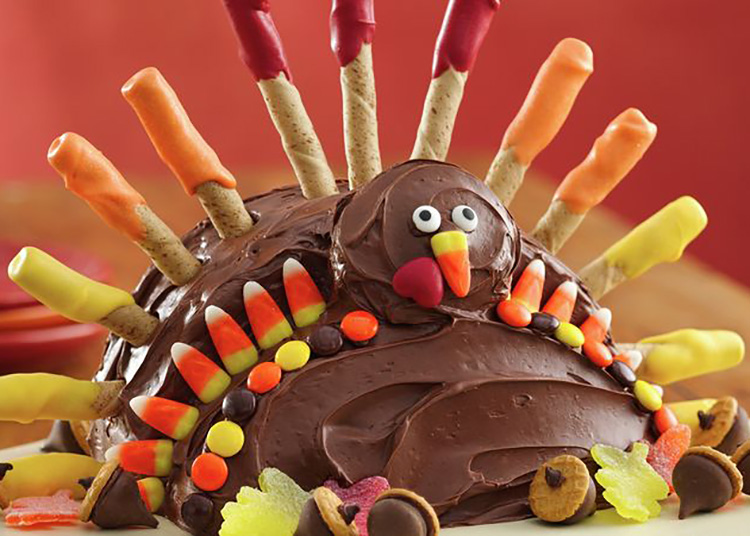 27. Turkey Cake: If you're looking to WOW your Thanksgiving guests, you can't go wrong with this over-the-top turkey cake.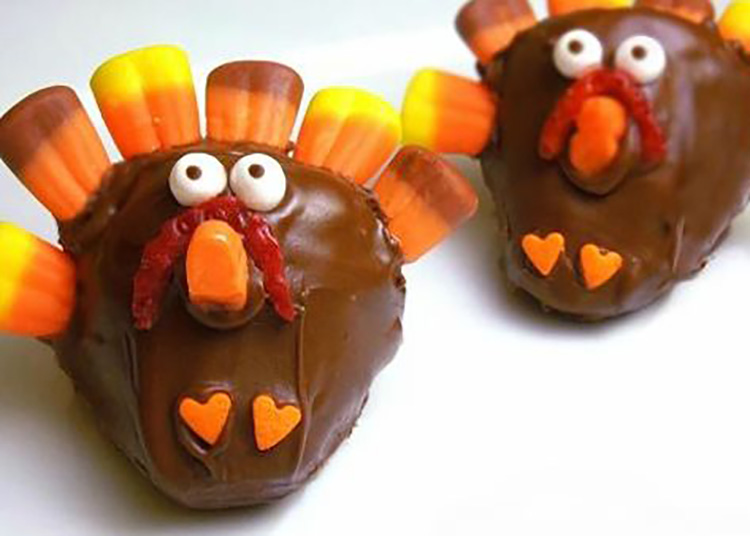 28. Chocolate Covered Strawberry Turkey Treats: Add candy corn feathers to some chocolate covered strawberries! How creative is that?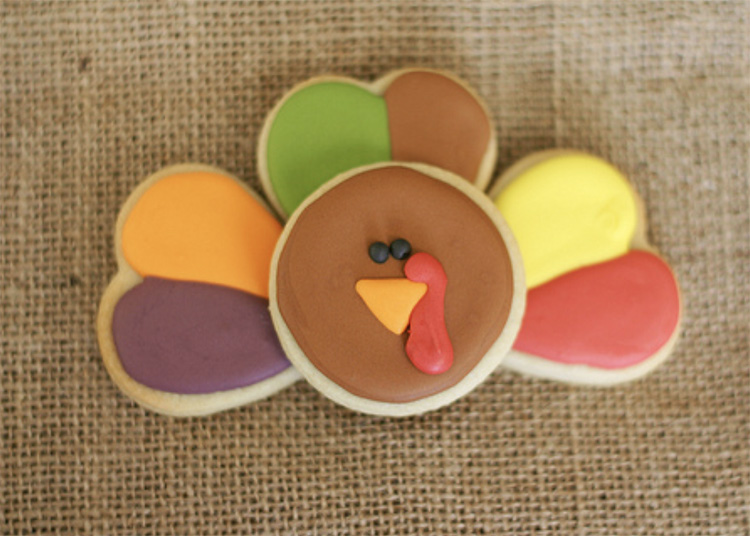 29. Turkey Cookies With Heart: Use circle and heart cookie cutters to make these darling turkey cookies. Totally genius, right?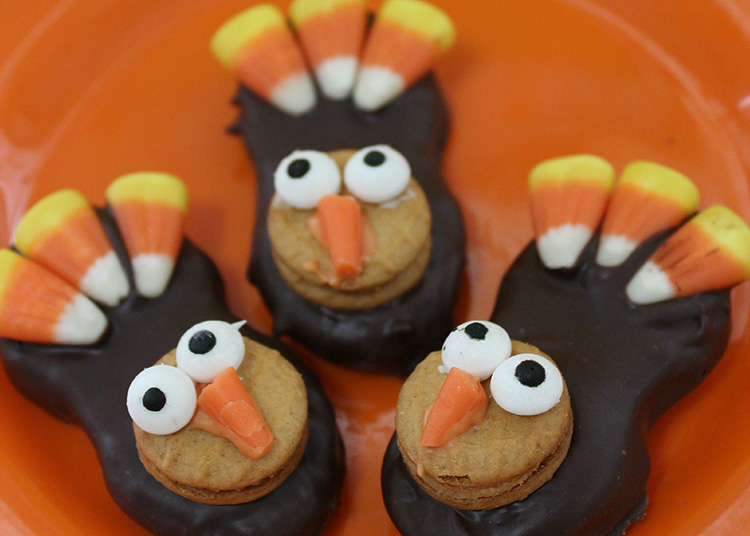 30. Turkey Nutter Butter Cookies: These Nutter Butter turkey cookies are the perfect edible craft to do with the kids this Thanksgiving.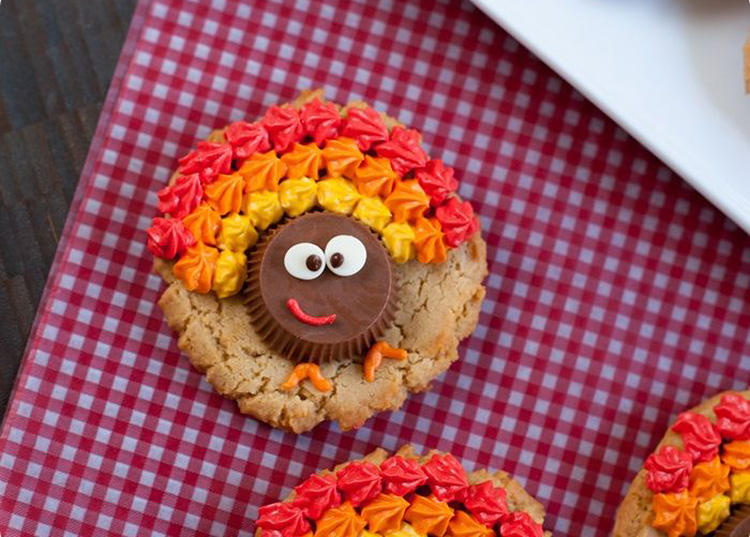 31. Peanut Butter Cup Turkey Cookies: Use a peanut butter cup and some frosting to decorate the top of your cookies like a turkey.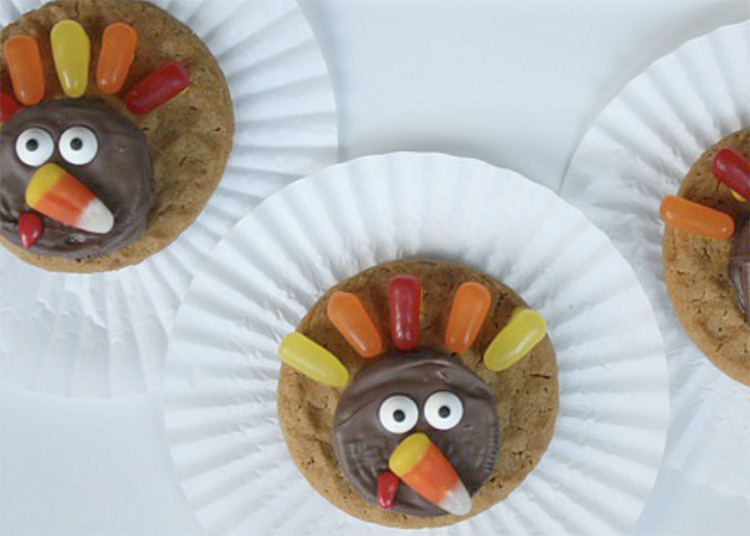 32. Mike & Ike Turkey Cookies: Mike & Ikes are the perfect colors for making turkey tail feathers. Hello, easy Thanksgiving dessert recipe!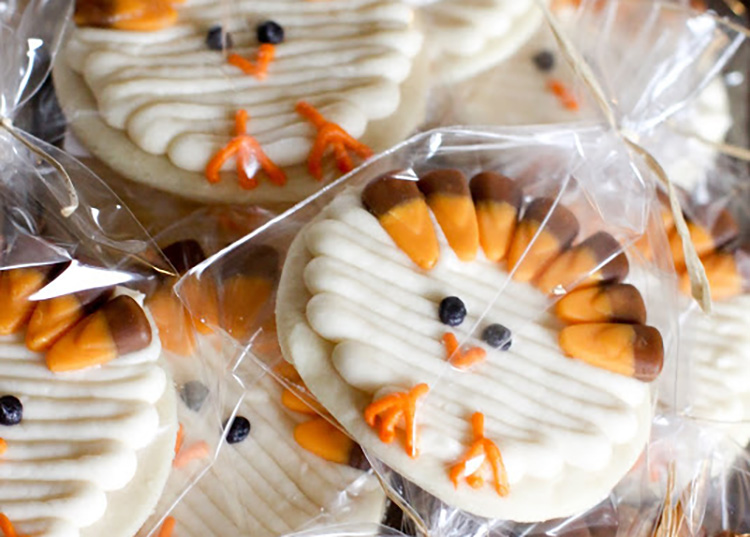 33. Easy Turkey Cookies: I love how simple these turkey cookies are! They make the perfect Thanksgiving dessert or gift.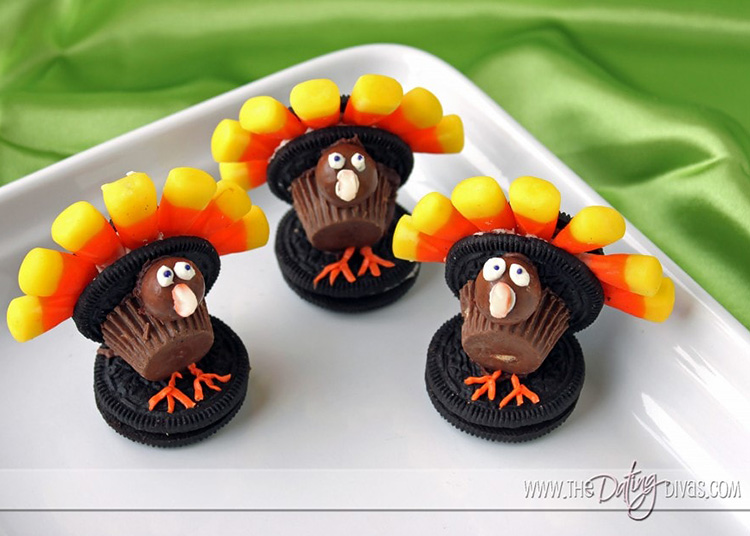 34. Reese's Turkey Cookies: Oreos, peanut butter cups, candy corn—how can you go wrong with these as your Thanksgiving dessert?
35. Turkey Pop Treats: Just a little chocolate and some candy corn can turn regular Rice Krispie balls into cute turkeys. Love it!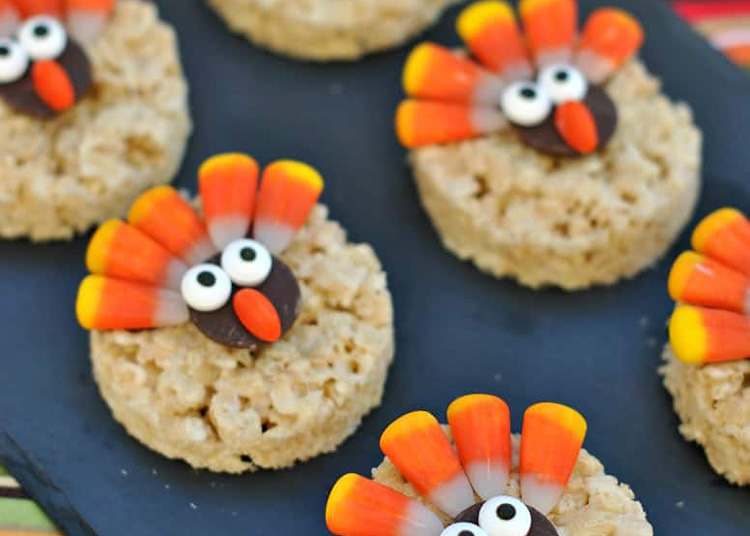 36. Turkey Rice Krispie Treats: Rice Krispie Treats are always a kid favorite, but they're even better when they're shaped like a turkey.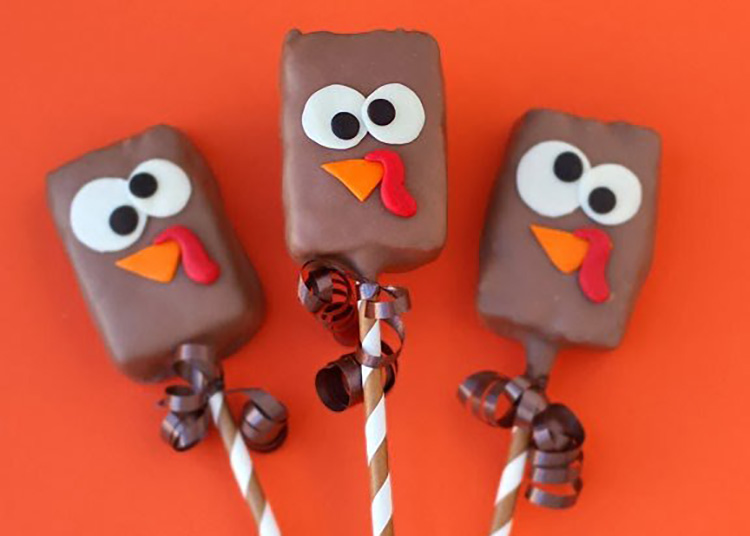 37. Rice Krispie Turkey Pops: You only need four ingredients to make these cute turkey pops. Move over, pie—this is the newest, most fun Thanksgiving food idea out there!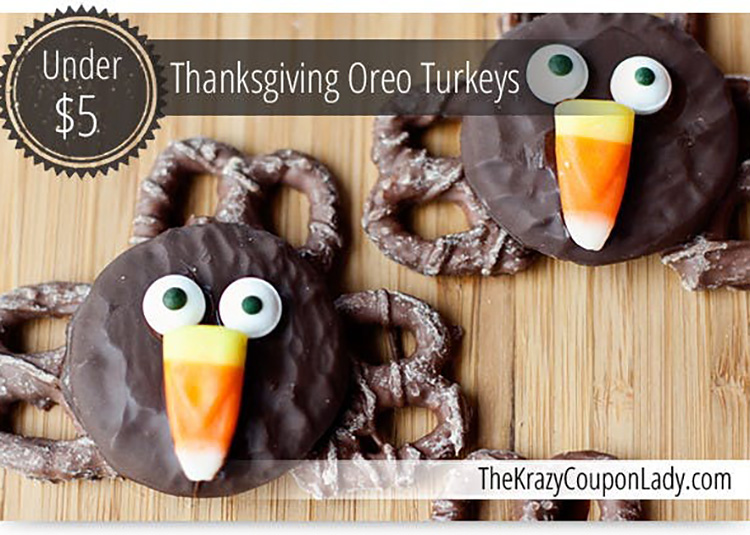 38. Turkey Pretzel Treats: These turkey pretzel treats would be so fun to make with the kids as a Thanksgiving dessert!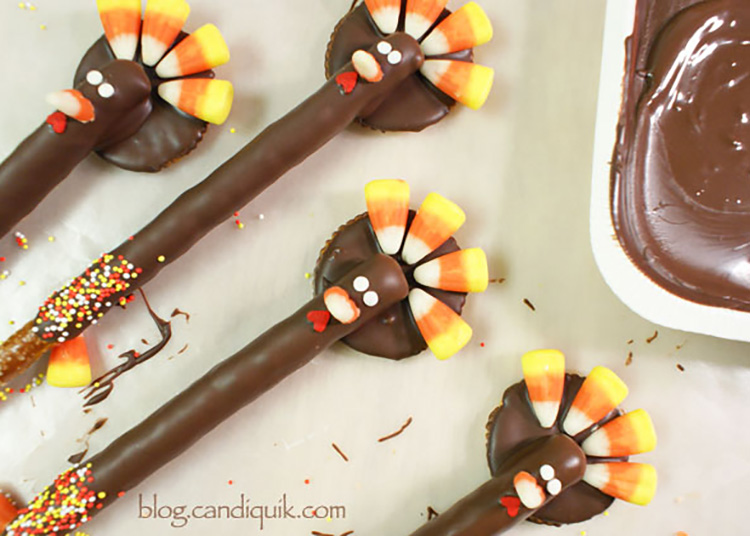 39. Turkey Pretzels: Who knew that a pretzel rod could make such a cute turkey?!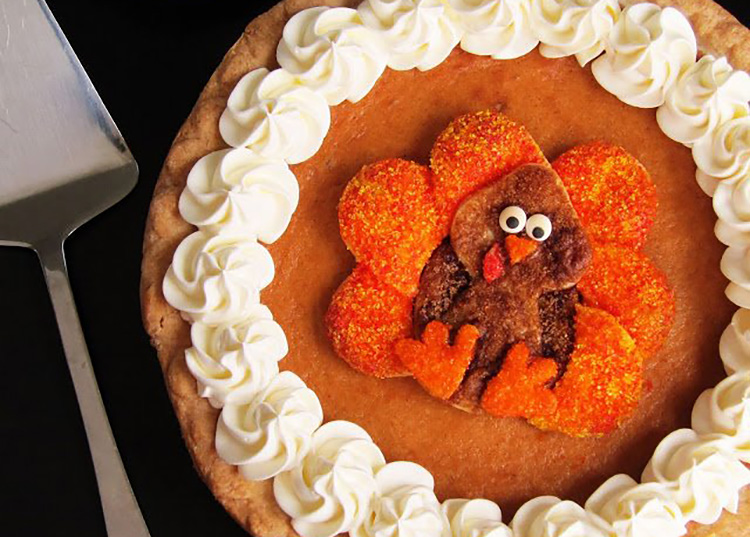 40. Turkey-Decorated Pumpkin Pie: If you're bringing the pie to Thanksgiving dinner, you need to check out this turkey-decorated pumpkin pie! I can't get over how cute it is.
By the way, I just have to say that if you like cooking up some fun in the kitchen with your kids, you NEED to check out these three cookbooks for kids! #1: Kid Chef Bakes, #2: Kid Chef, and #3: How to Celebrate Everything. Love them ALL!!!
Happy Thanksgiving!
What are some fun, kid-friendly Thanksgiving food ideas?
1. Caramel apple turkey tray – let the kids dip their apple slices into the caramel.
2. Turkey waffles for breakfast.
3. Turkey donuts.
4. Rice Krispie turkey pops.
5. A veggie tray in the shape of a turkey.
6. Turkey-shaped sandwiches.
7. Dipped strawberries decorated like a turkey.
8. Cracker and vegetable tray in a turkey shape.
9. Pretzel rod turkey treats.
10. Cheeseball with pretzel "feathers."
If you loved these Thanksgiving food ideas, you've got to take a look at some of our other favorite ideas: