Best Thanksgiving Games to Play with Family
We absolutely LOVE a big Thanksgiving feast, but it's the Thanksgiving games afterward that we are ALL about! We've scoured the internet to find you the very best Thanksgiving games and Thanksgiving activities for families to enjoy after their meal! We even have them organized into one easy-to-read list so you can pick and choose the very best Thanksgiving activities for your crew. Check these out!
Disclaimer: This post contains affiliate links. To learn more about 'em, click here.
Table of Contents
Fun Family Thanksgiving Games For Kids
Gather a few of these simple Thanksgiving activities for kids to keep them entertained while you complete all of your preparations! With activities ranging from playing tag outdoors to simple table games for kids, you are sure to find something that will fit your specific group's needs.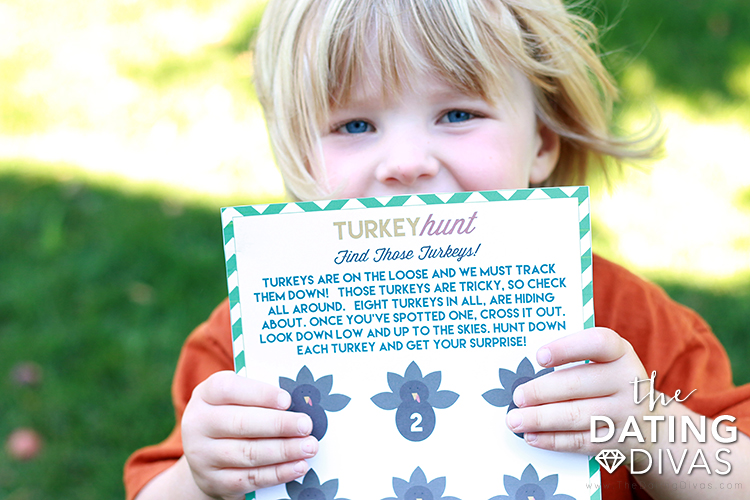 Thanksgiving Games for Adults
This holiday is all about bringing the family together (adults included!) So while most of these Thanksgiving games could be played by all ages, these are our favorite Thanksgiving games that are adult-approved!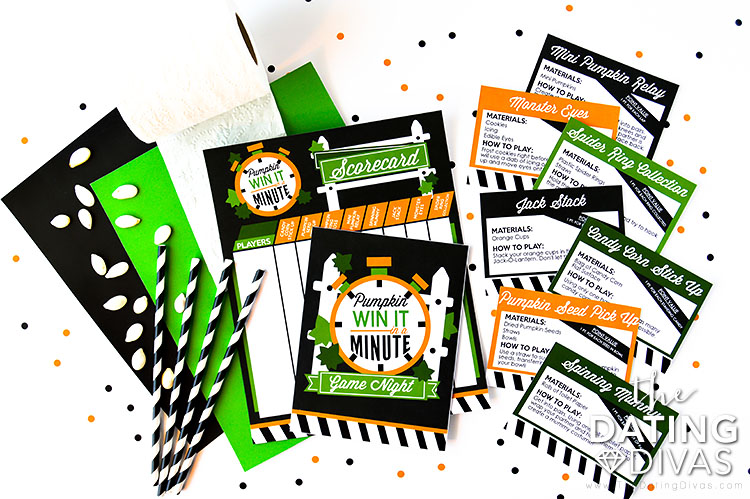 Pumpkin Win it in a Minute – Add a little friendly competition with these hilarious, fall-themed Thanksgiving games.
Friendsgiving Dinner –

Celebrate the holiday with the "family you choose" – your friends! This link will take you to free customizable printables to organize and decorate for your own Friendsgiving!

Pie Night Tradition –

So much food and so little time. Extend the holiday a little by having a night dedicated entirely to pies!

Thanksgiving Mad Libs –

Everyone loves this classic childhood game. Fill in the blanks to create wacky, wild stories about Thanksgiving.

Thanksgiving Scattergories – Put your post-Thanksgiving dinner brain to the test with this fun twist on the game of Scattergories.
Thank'phone'ness Challenge –

Pull out your phones for a wacky, Thanksgiving photo scavenger hunt.

Thanksgiving Family Feud –

Bring the family together for a little friendly competition, and face off to answer these Thanksgiving-themed questions.

The "Best" Thanksgiving Group Game –

This is a hilarious group game in which teams select someone to represent their team in a superlative, such as the tallest or the fastest. The twist? No one knows the part that comes next!

Thanksgiving Minute to Win it Games – Try these additional

silly Thanksgiving games that only take a minute!

Thanksgiving Trivia Game –

Gather some family facts and see how well your family knows them. Some great examples are included in this post.

Turkey Trot –

Organize a little running race for your family before the big meal.

The Left-Right Game –

Start by selecting a prize (or prizes) to pass around a circle. As you read the story, you will pass the prize to the left or right every time you hear that word.
Thanksgiving Games for Families
We love playing games that appeal to all ages, don't you? So check out the following Thanksgiving activities for families!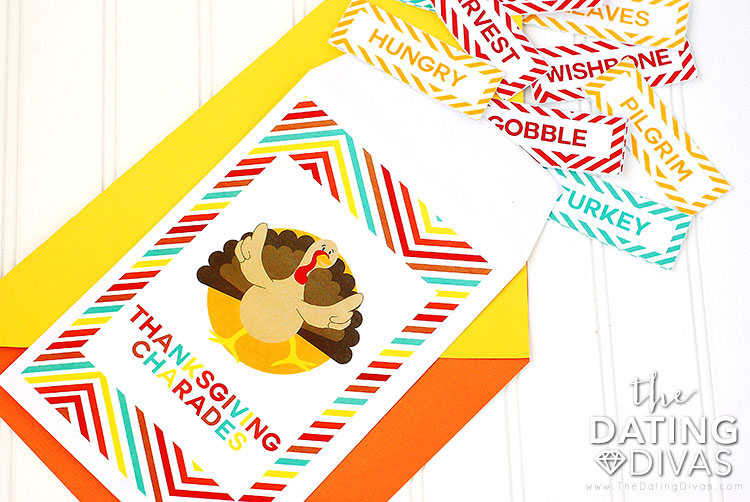 Thanksgiving Charades – This is a super fun twist on the classic game of charades, and is one of our favorite Thanksgiving family games!
Thanksgiving Bingo –

A classic game that is perfect for large groups. Place your marker on various traditional Thanksgiving images.

Scavenger Hunt With Thanksgiving Activities –

Try this unique Thanksgiving scavenger hunt. So much fun for the whole family!

Turkey Bowling –

This idea is both a craft and a Thanksgiving game, and is a whole lot of fun! These printables give you everything you need (minus the squash).

Shooting Turkeys –

For the wildest of Thanksgiving activities, gather your nerf guns and aim at turkeys drawn on helium-filled balloons.

Flying Turkey –

Flying Turkey is a little twist on the shooting turkey idea that uses paper cups instead of balloons.

Thanksgiving Pictionary –

Thanksgiving family games don't get much better than this. A little bit of skill and a lot of guessing make this one so fun for the whole family.

Stuff the Turkey –

A game of toss with this brown bag turkey will be a hit with the whole family.

Turkey Baster Relay –

Race to get the turkey feather across the line using only a turkey baster.

Shake Your Tail Feather –

This post includes twelve hilarious Thanksgiving Games for adults and kids alike!

Candy Dice Game –

Roll the dice to earn (or lose!) assorted candy pieces.

Pumpkin Stomp –

Start by filling orange balloons with small prizes. Then, race to stomp and pop the balloons to get your prize.

Thanksgiving Scavenger Hunt – These

printable clues will lead your group around the house in search of clues.

Turkey Tag –

Get your family up and moving with this creative mixture of tag and flag football. It's perfect for the whole family

!
The Thanksgiving Charades Game –

In this board game, players experience different Thanksgiving Games such as ThanksGiving, ThanksGuessing, and ThanksSharing.

Photo Booth Props –

Capture the memories of your family gathered together by adding these fun props.

The Gratitude Game: Pick Up Sticks –

In this fun twist to the game of pick up sticks, each color guides you to questions about gratitude.
Thanksgiving Activities at the Table
We believe that what happens around the table is just as important as what's on it. That's why these dinner-friendly Thanksgiving family games take the cake!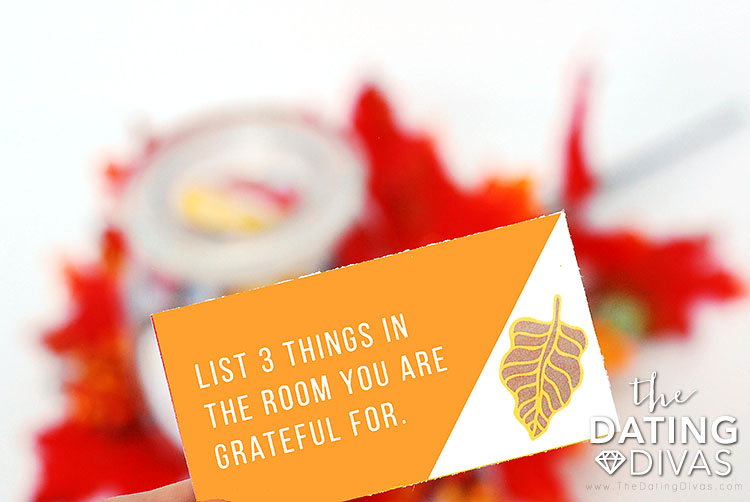 Thanksgiving Conversation Starters – Get the conversation focused on the meaning of Thanksgiving with these unique Thanksgiving conversation starters.
Gratitude Tree – Draw a large tree on butcher paper and fill it in with the things you are grateful for.
Coloring Tablecloth –

This tablecloth provides places for the kiddos to color as well as some fun Thanksgiving games and activities.

Engineer Print Tablecloth to Color –

Engineer prints are a super inexpensive way to create a DIY giant coloring sheet for the little kid's table.

Table Spinner –

This is a little 'spin' on the game Spin the bottle. Spin the arrow to take turns answering questions.

Would You Rather? –

These unique questions act as both a fun game and will provide lots of conversation for the Thanksgiving table.

M&M Gratitude Game –

This is a fun way to share what you are grateful for this year.

Thanksgiving Jokes –

Pull out some of these Thanksgiving jokes and prepare for laughter.

Thankful Basket – In this activity, guests write something they are grateful for and place it in a basket or cornucopia. At the table, pass the basket around and have people randomly choose a paper to read aloud. Then, everyone tries to guess who wrote it!
Conversation Cards and Tasks –

These printables include questions and funny tasks for your family and friends to complete.
Gratitude Thanksgiving Activities for Families
Sometimes amidst the family gatherings, the football, and the food, the focus on gratitude gets a little lost. So here are a few of our favorite Thanksgiving activities to keep you thankful all month long!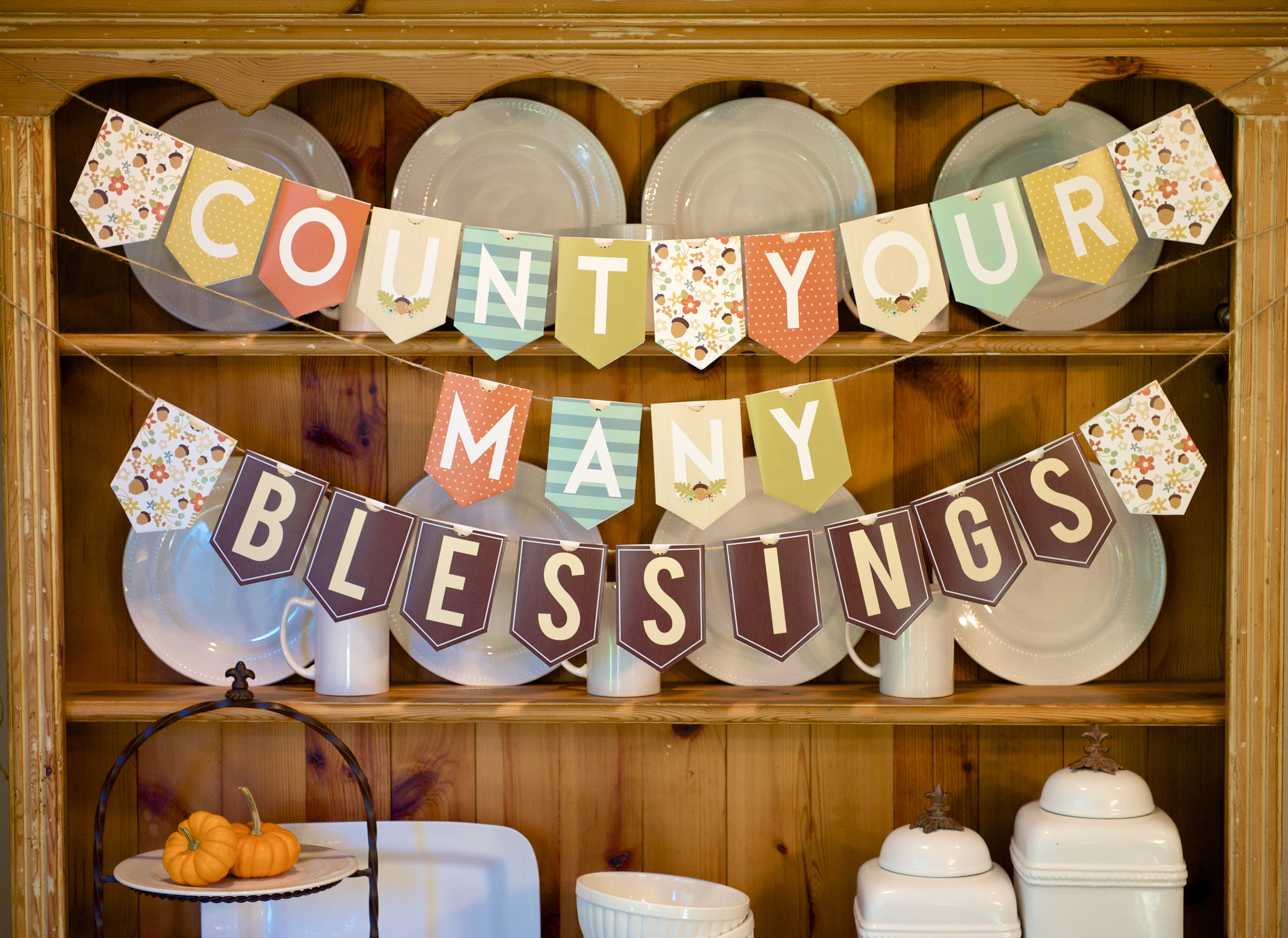 Was that a great list or what?! It is surprising how much a simple game can change the whole family environment. We hope you have a wonderful Thanksgiving holiday and make many new memories!
And now that you have your Thanksgiving games all picked out, here is a little help for you to plan your meal! Check out our Thanksgiving Meal Planner as well as these delicious Thanksgiving Recipes.