Couples Charades With A Twist
 Ready to have an exciting group date night?? If you are a charades fan, you'll love this new version of couples charades with a little twist… group acting skills will be required, don't worry, group acting is a whole lot more fun than solo acting! And it's time to find out once and for all whether the men or the women have the better acting skills because this game is girls versus boys! Game on!!
Which spouse will get bragging rights for the night? Husbands or wives!?!?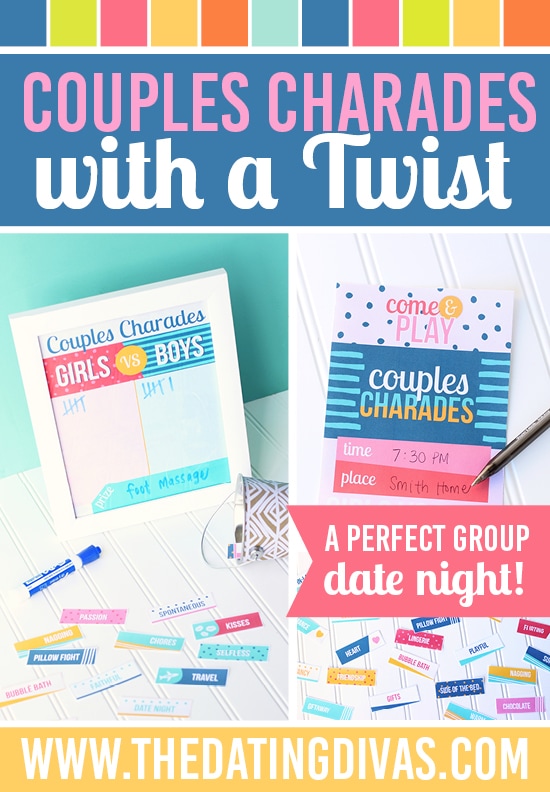 Disclaimer: This post contains affiliate links. To learn more about 'em,
click here
.
It was so fun creating these couples charades printables! You should definitely stop by Messes to Memories where I share even more printables and fun for the whole family!
On to this fun and super easy date night! All you gotta do is print out this cute, little invitation and send it out to all of your fun-loving friends.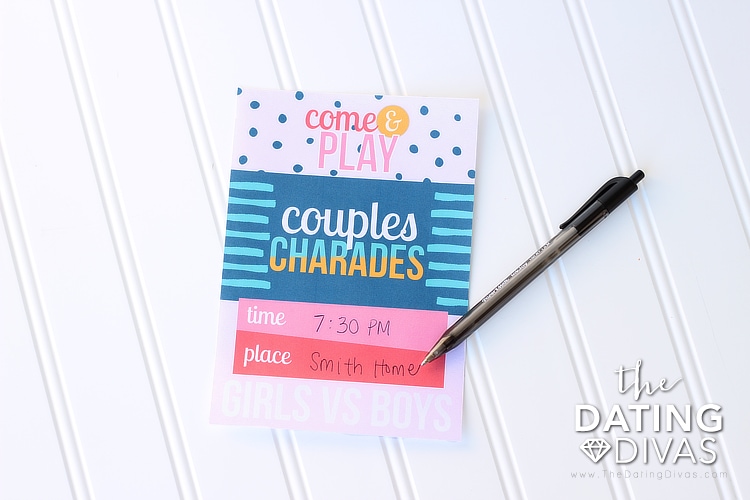 Then get excited for game night!
Now this game of couples charades is filled with fun and crazy words that you deal with as a couple. They are all marriage related, which means you might be asked to act out words like compromise, pillow fight or maybe even romance. You'll be sure to have a lot of laughs.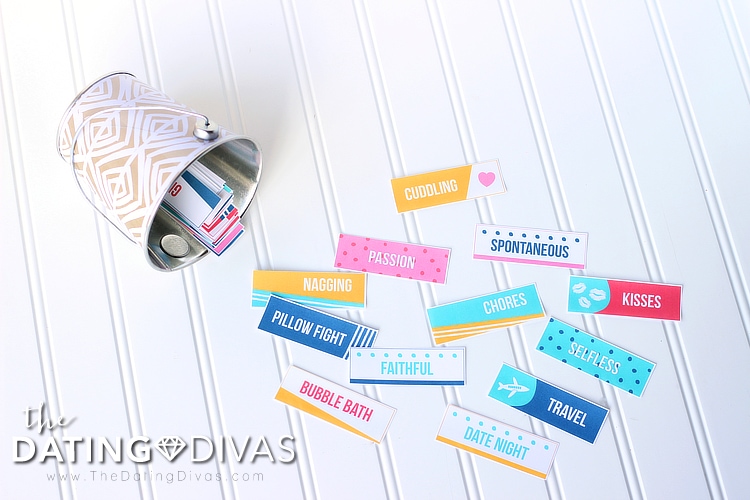 Reverse Charades Game Night
I am normally not a fan of charades… but I discovered reverse charades about a year ago and it is a lot of fun! Here is where the twist comes in… It takes a little pressure off of the actors and puts all the pressure on the guesser. That's right, in this fun, little game the whole group acts out an important marriage related word and one person is left to guess what it could be!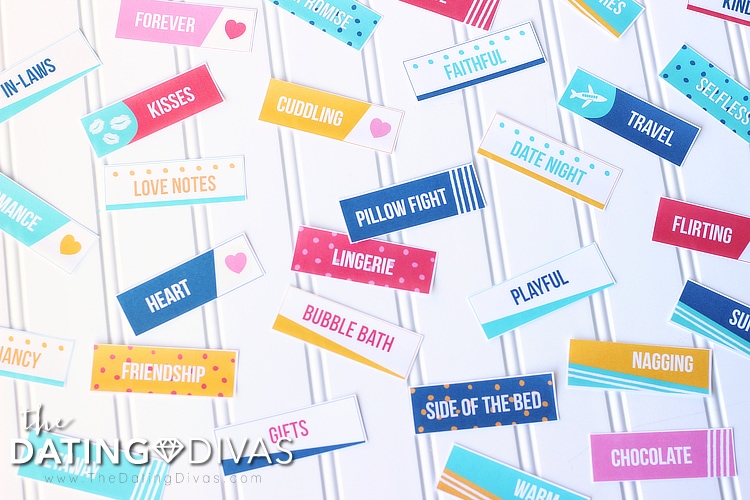 You get points for getting the answer correct before the timer runs out. Super easy and super fun! There is plenty of time for chatting, laughing and developing close relationships while you play, which makes game-night that much better.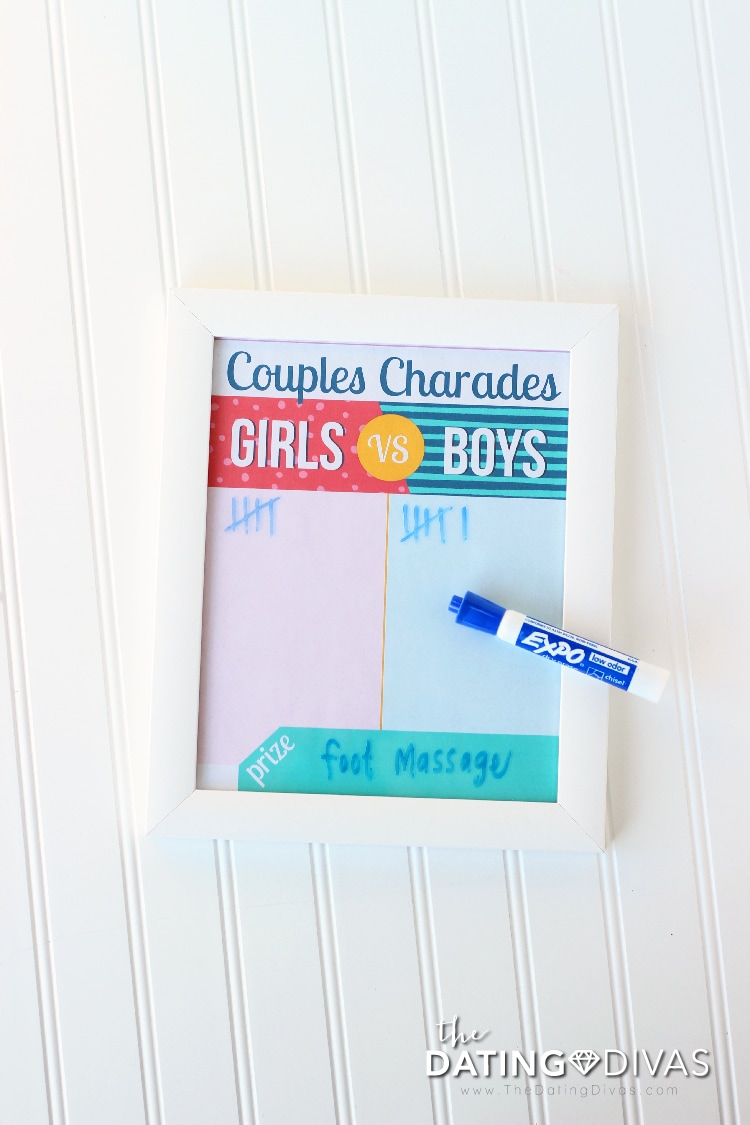 Grab a pretty frame and some dry erase markers so that you can keep score. Believe me, you'll definitely want to stay on top of the scoreboard so that the right spouse gets credit for winning…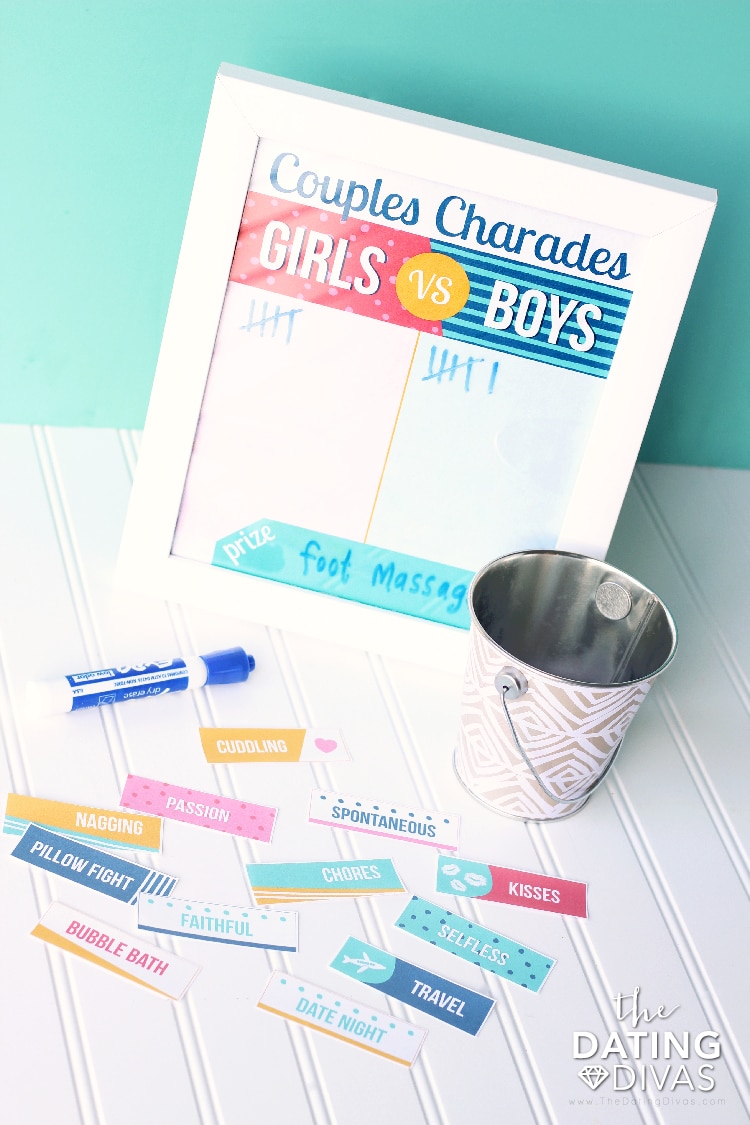 Oh, and don't forget to determine what the prize will be when the night is through! We went ahead and chose a nice foot massage as our prize. Then if the ladies win, the men will be delivering and vice versa. Fingers crossed for you ladies!! 🙂
And if you are looking for even more charades ideas, check out our Telephone Charades, All About US Date Night Charades, and even our Thanksgiving-themed charades!