Unique Bridal Shower Gifts for Her
If you know someone getting married, you will LOVE today's post because we've rounded up the most unique bridal shower gifts ever! You're sure to find the PERFECT present any bride will love. Plus, each idea is inexpensive and heartfelt. What could be better than that?!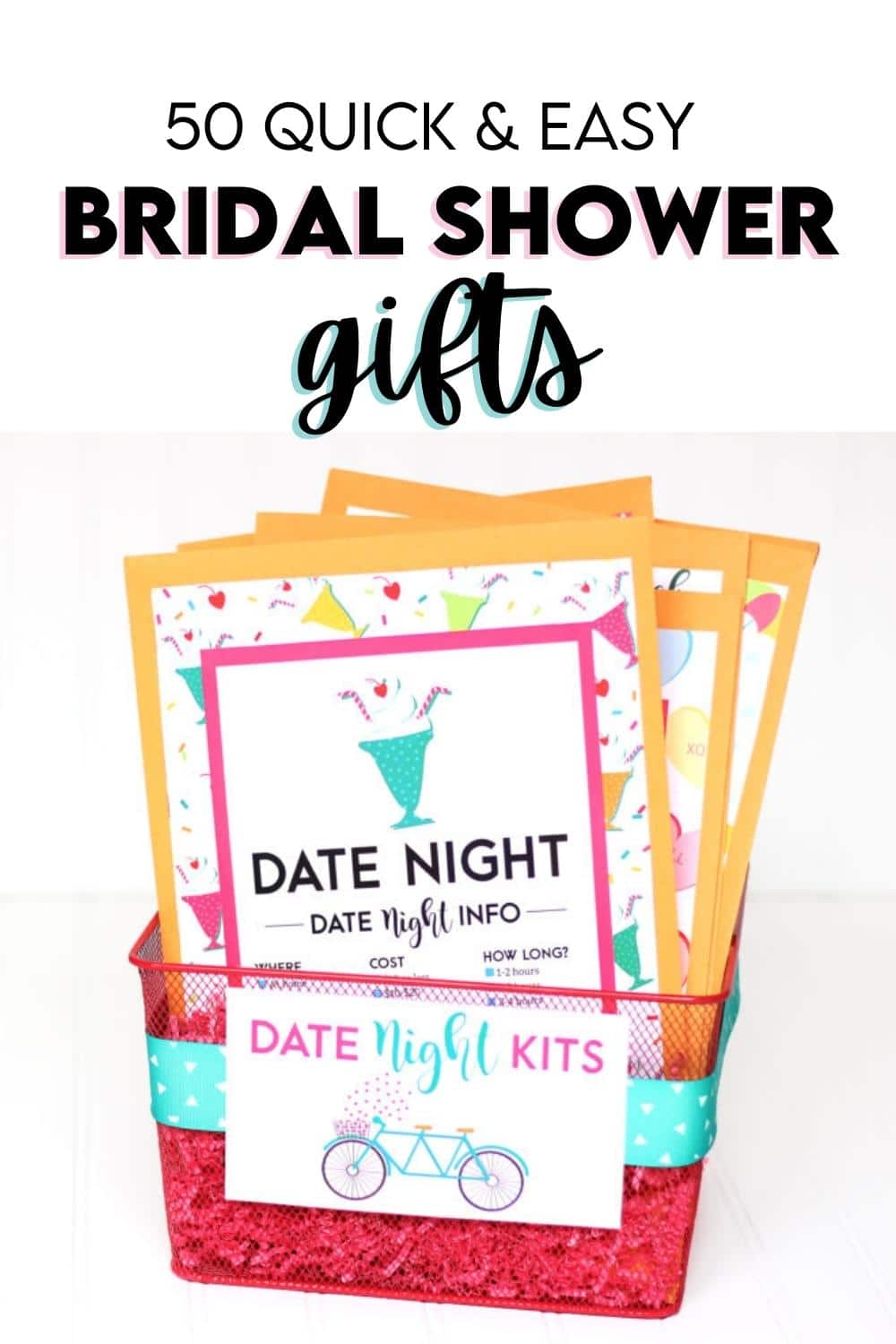 Disclaimer: This post contains affiliate links. To learn more about 'em, click here.
Just wait until you see all of the great bridal shower gift ideas and goodies we've found. To make browsing the list easy for you, we've divided it into the following categories:
Meaningful Bridal Shower Gifts
Taking wedding vows is one of the most meaningful moments of anyone's life. With that in mind, we've collected some of our favorite meaningful gifts for a bridal shower. From date ideas to home decor, these unique bridal shower gifts are sure to be a hit.
1 . Can O' Dates – Help the bride and broom keep those sparks flying even after the wedding bells with this fun Can O' Dates gift idea.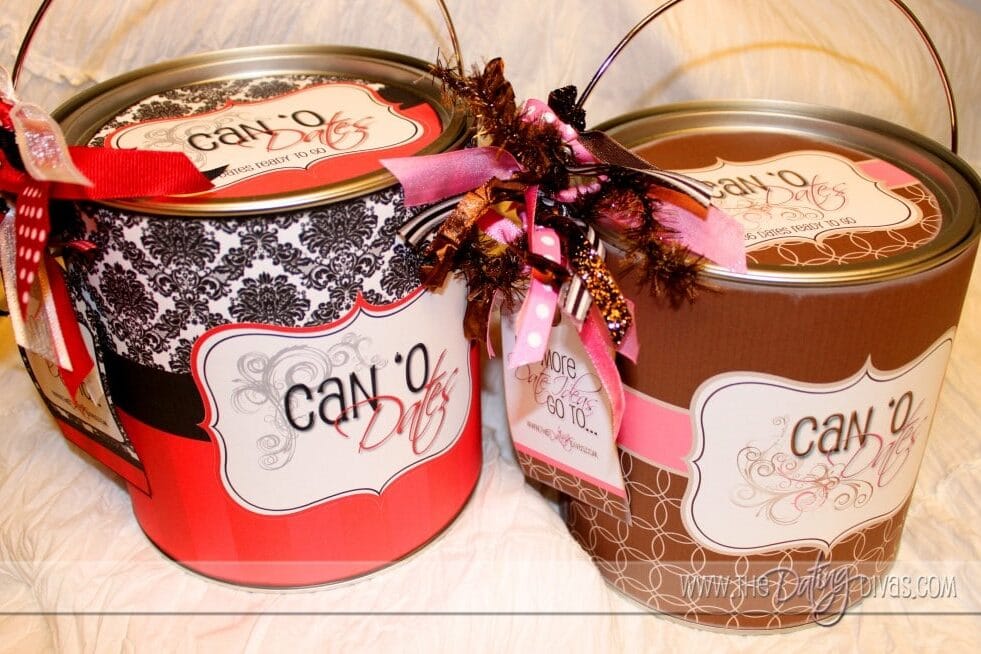 2 . Communication Station – Help get the newlyweds off to a good start with their own Communication Station.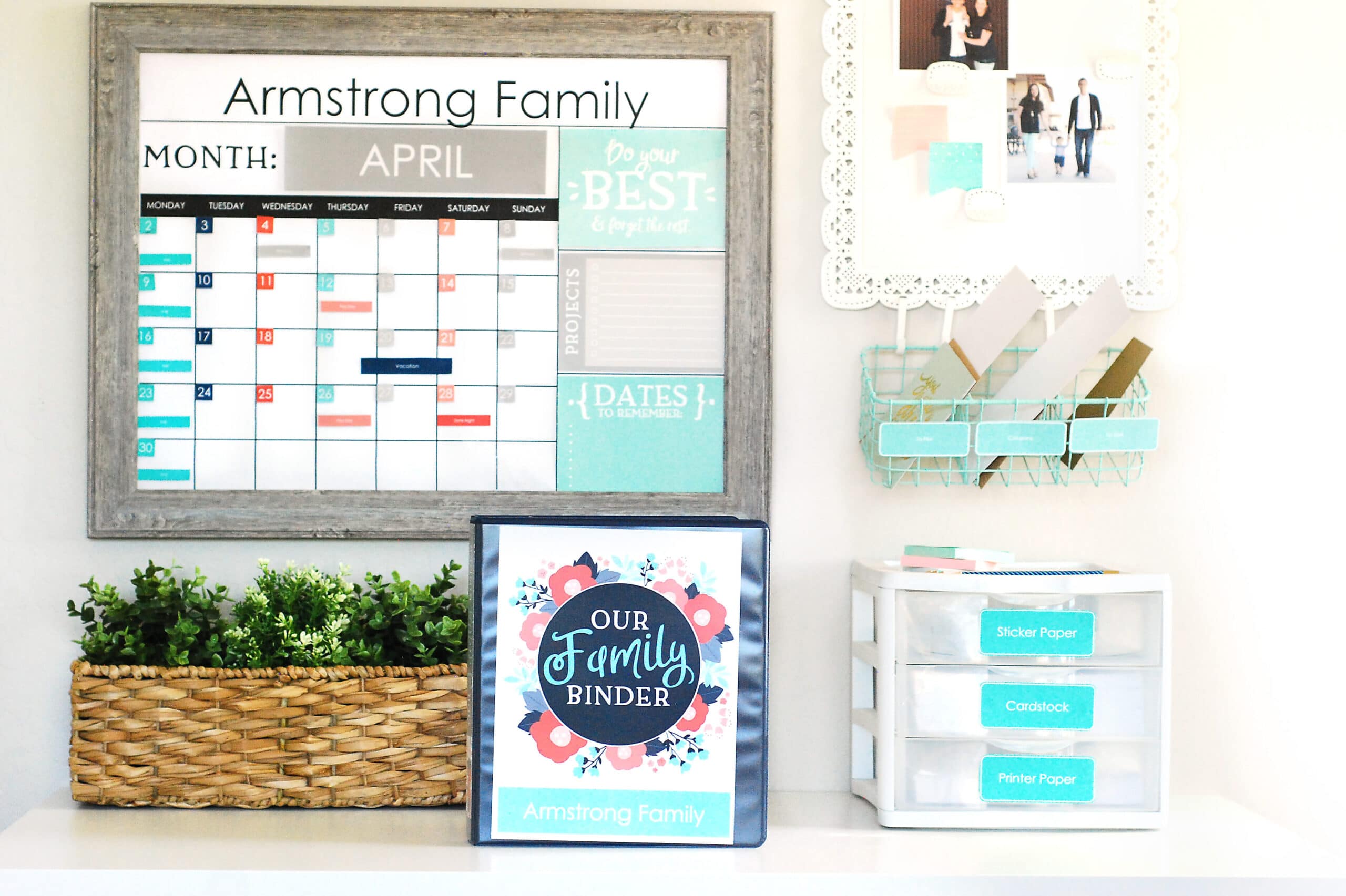 3 . The Ultimate Date Night Book – We can't think of a better way to start off a marriage than with a commitment to regularly "date" each other. This book does all of the planning for you!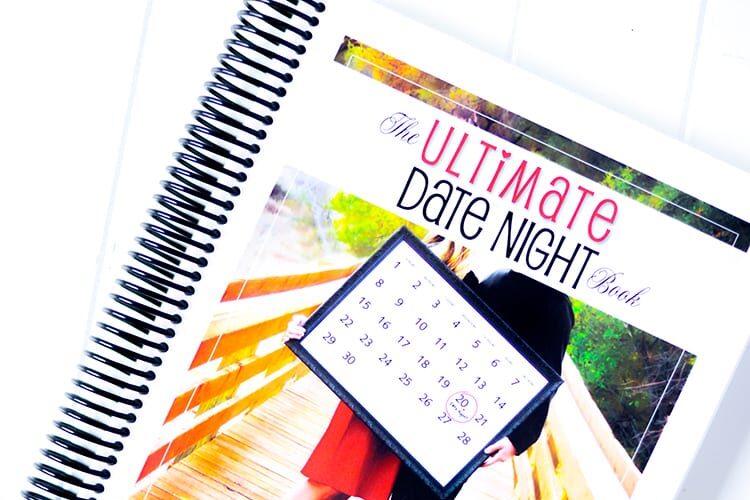 4 . Year of Dates Binder – Give the bride and groom the BEST first year of marriage ever with this awesome Year of Dates Binder.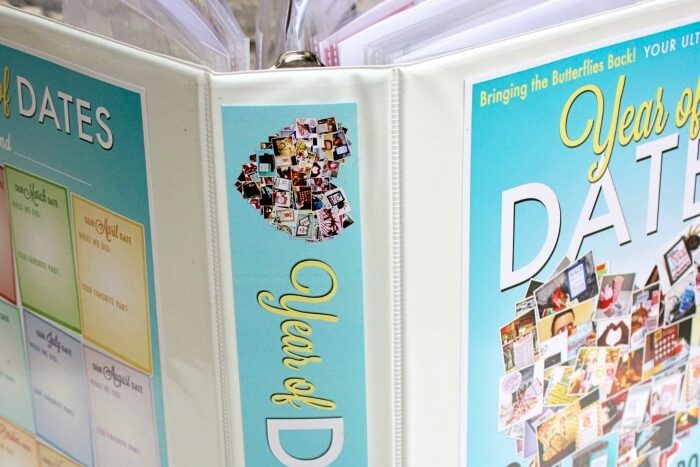 5 . The Hint Box – One of the most challenging parts of marriage for a new bride can be the realization that her husband cannot read her mind. Help her out by making her very own hint box!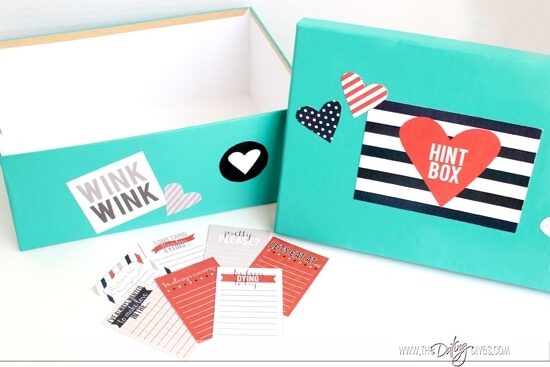 6 . Love Notes Clothespin Wreath – How darling is this love notes wreath? You won't believe how easy it is to make.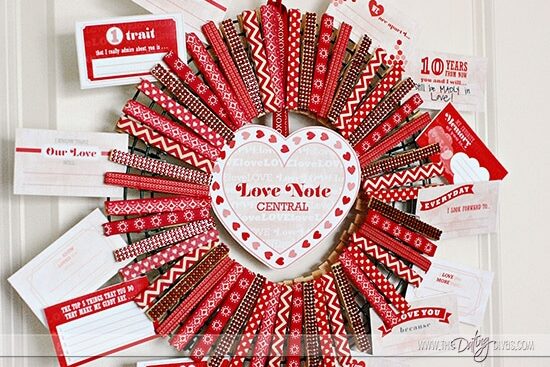 7 . Bedroom Wall Art – These personalized wall prints are the perfect housewarming gift for the new couple. If you like these, you're definitely going to want to check out our printable Marriage Manifesto.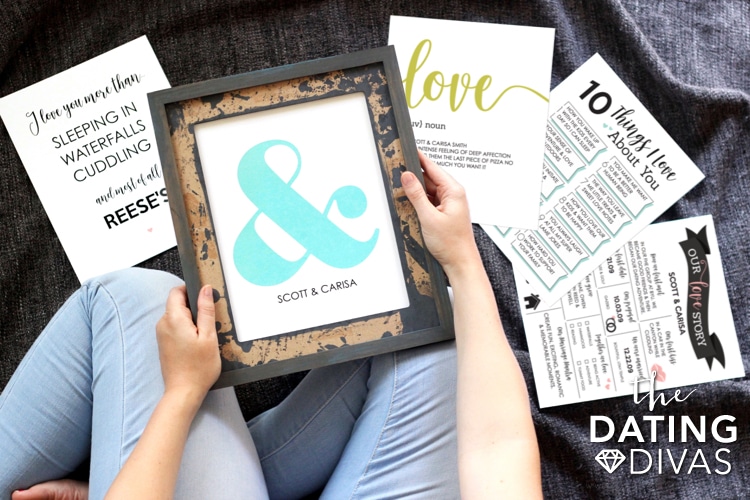 8 . Couples Travel Map – This DIY travel map is the perfect gift for the couple that loves to travel. Additionally, our cute Travel Funds Jar would be perfect to pair with this gift.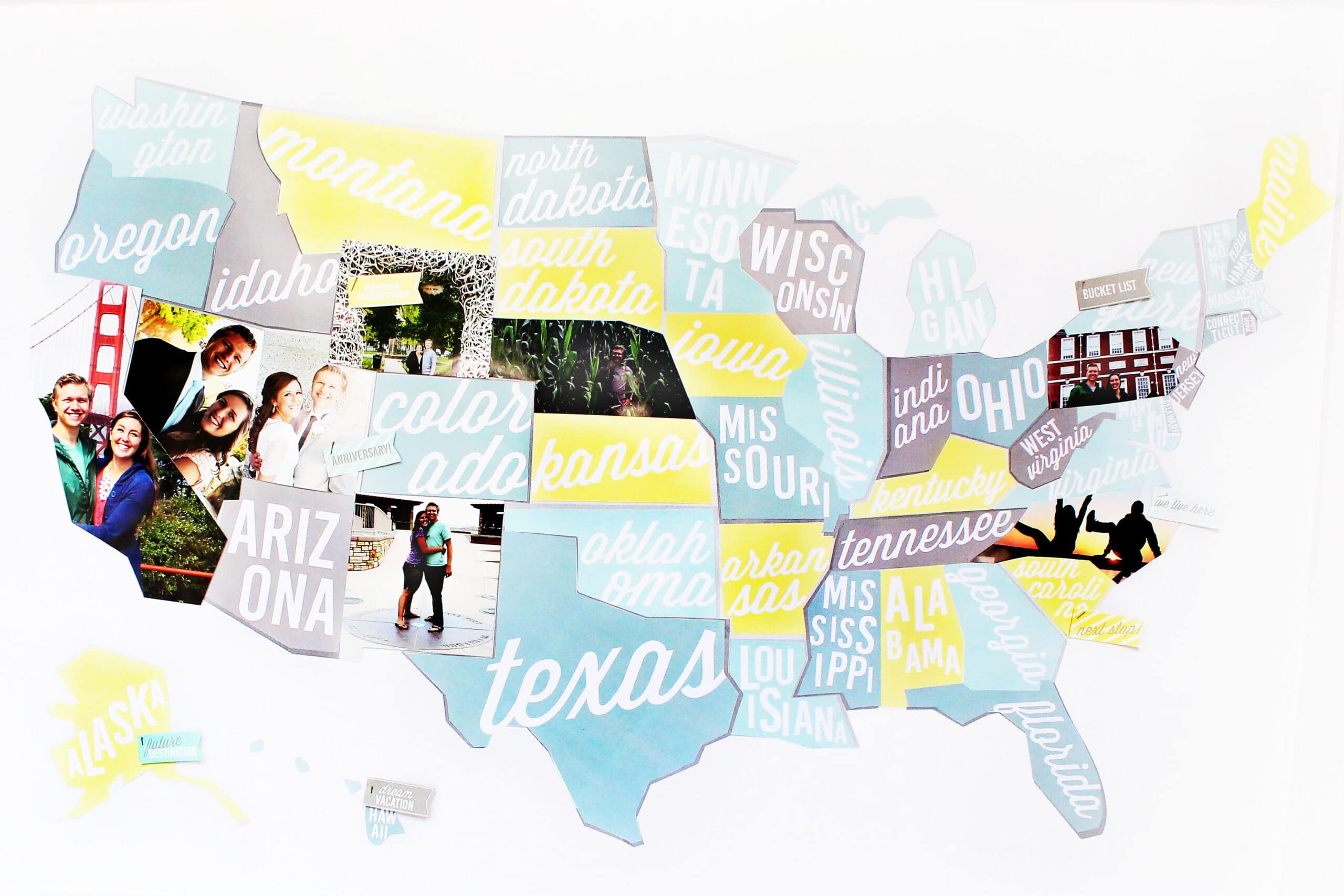 9 . Anniversary Photo Album – This anniversary photo album is a great gift, because it starts a fun tradition AND doubles as a meaningful keepsake. Our printable first year Anniversary Signs would be the perfect thing to pair with this idea.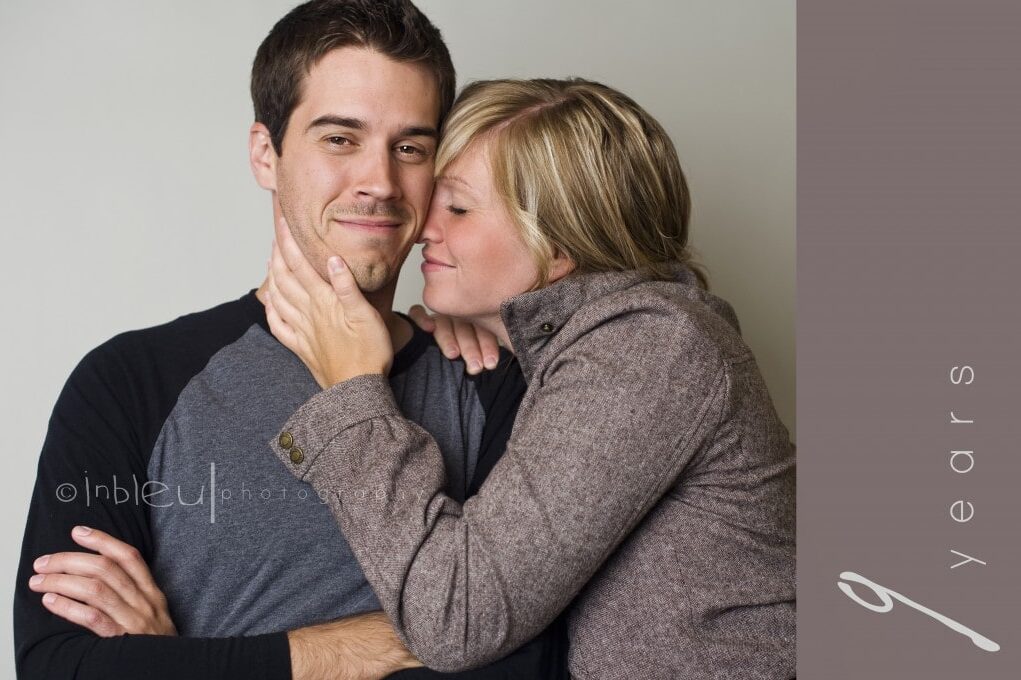 10 . "Two Little Lovers Sitting in a Tree" Decor – Try turning the happy couple's wedding song into a gorgeous piece of wall art!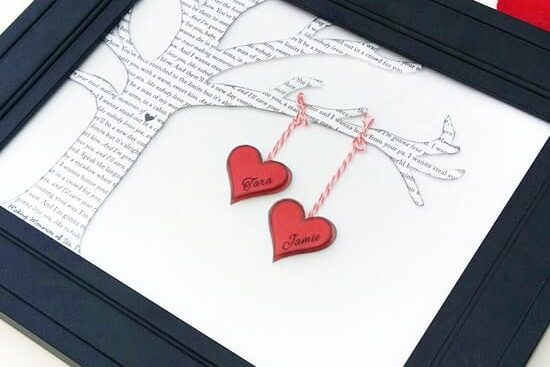 11 . Personalized Wedding Pillow Cases – These darling pillowcases are customized with sweet sayings for Him and Her. How perfect is that?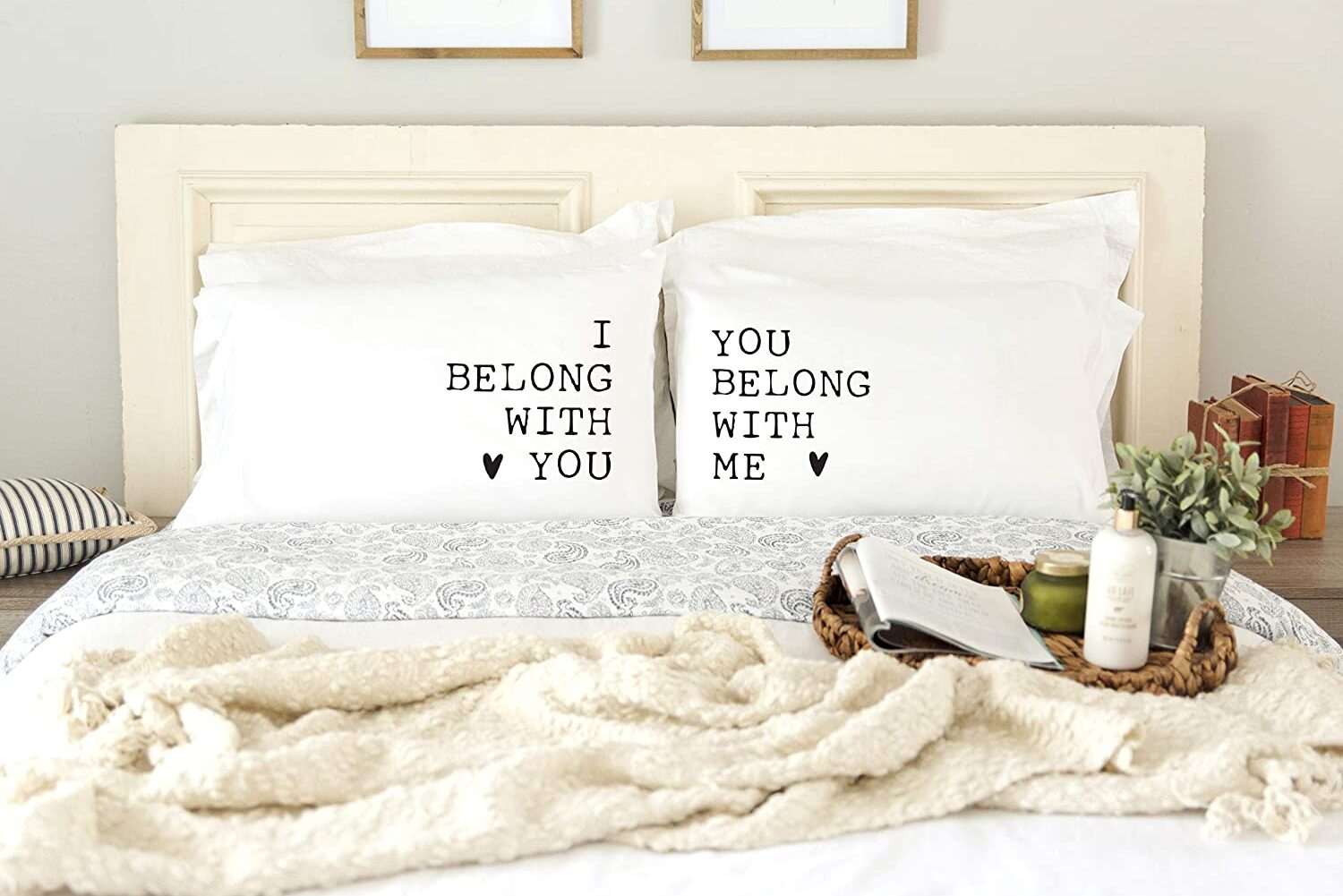 12 . The Newlyweds' Book of Firsts – This keepsake journal would make a perfect gift for a bride and will help the couple commemorate those first milestones of married life.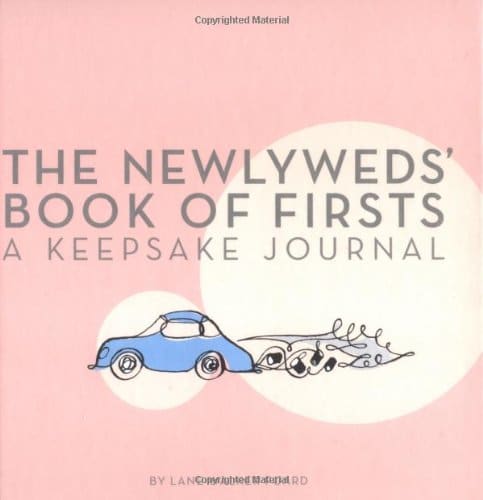 13 . Wedding Advent Calendar – The last few days before the wedding can be super stressful for a bride. Help her reclaim a little bit of the fun and excitement with this darling DIY advent calendar.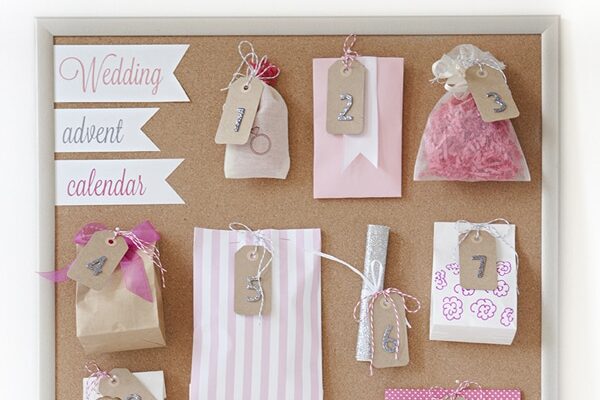 14 . Hubby and Wifey Aprons – These matching aprons will help encourage the newlyweds to spend extra time together while cooking.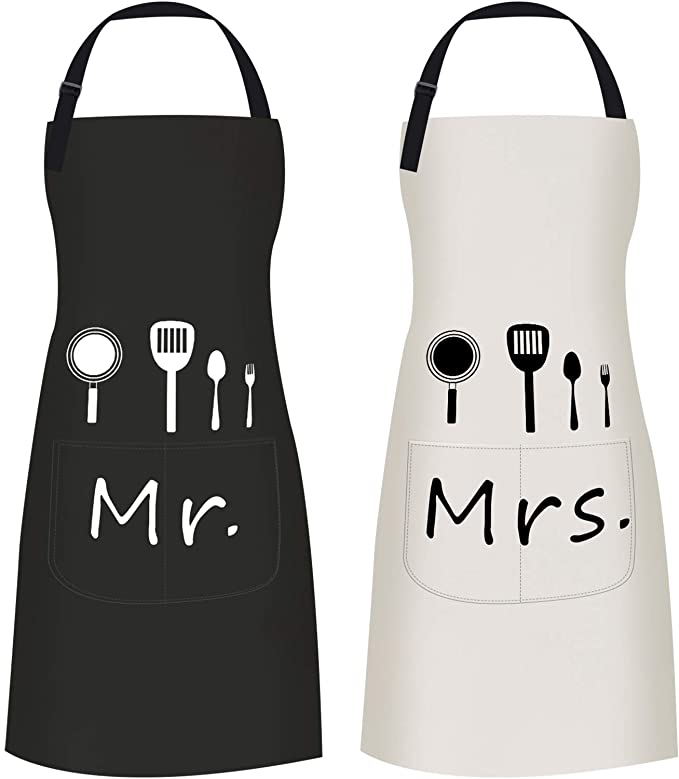 15 . Wedding Time Capsule Gift Set – This gift includes everything the bride and groom need to capture and preserve the memories of their wedding day, honeymoon, and first-year together.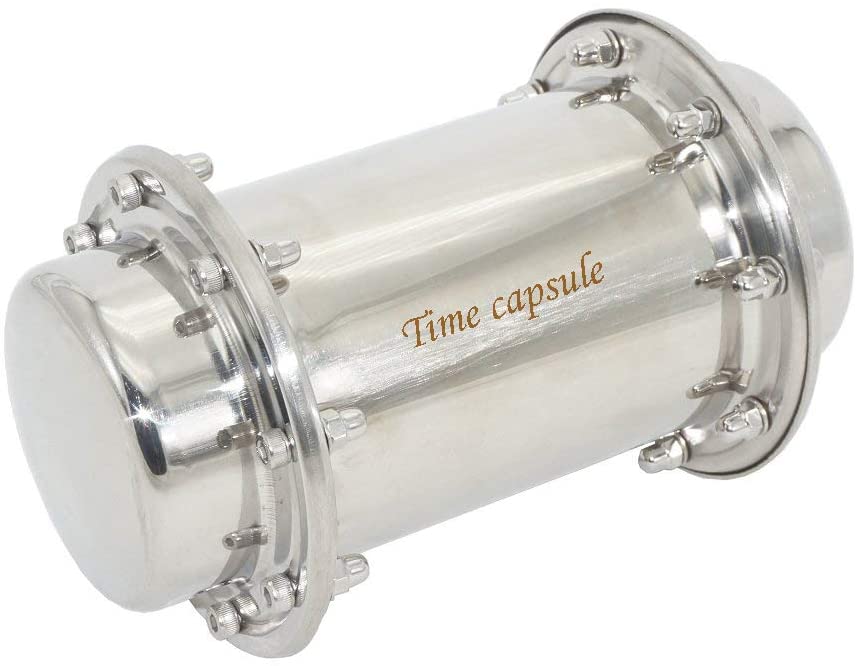 16 . Wedding Day Emergency Kit – Every bride needs an emergency kit of the essentials on her wedding day!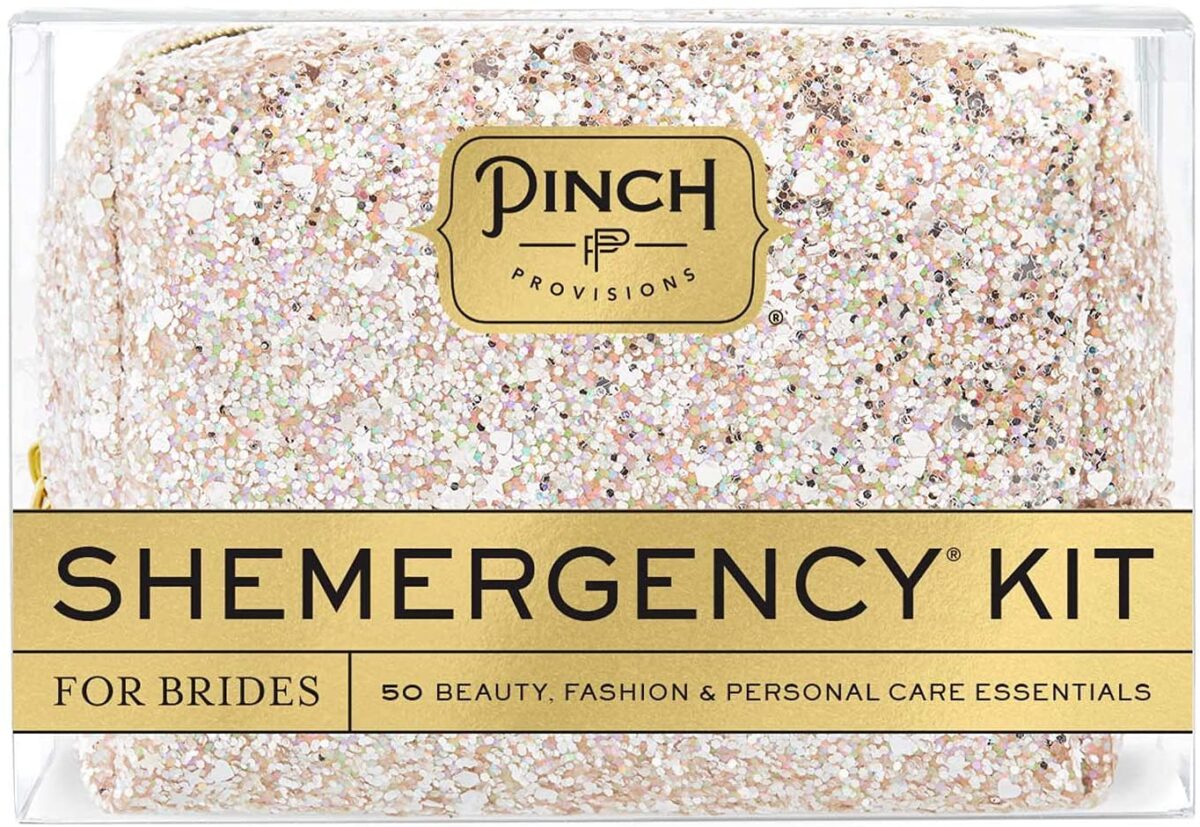 17 . Personalized, Romantic Decor – This meaningful, DIY gift doubles as romantic bedroom decor for the newlyweds.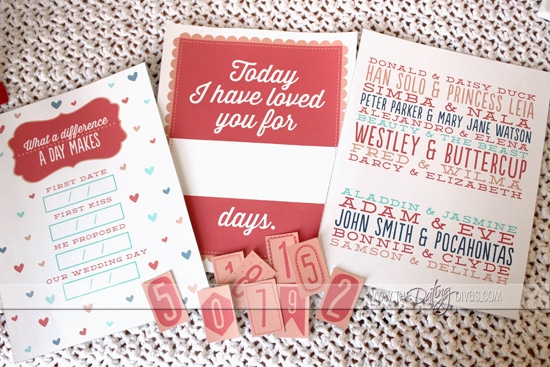 Sexy Bridal Shower Gifts
Bridal showers often hint at or flat out focus on the wedding night. If you are looking for slightly sexy gifts for a bridal shower–this is your list! We have a lot of different sexy date ideas on our site, but these are some of our favorites to give as unique bridal shower gifts.
18 . The Steamy Bucket List – Bucket lists are always fun, but the bride and groom will especially love this intimate bucket list for two!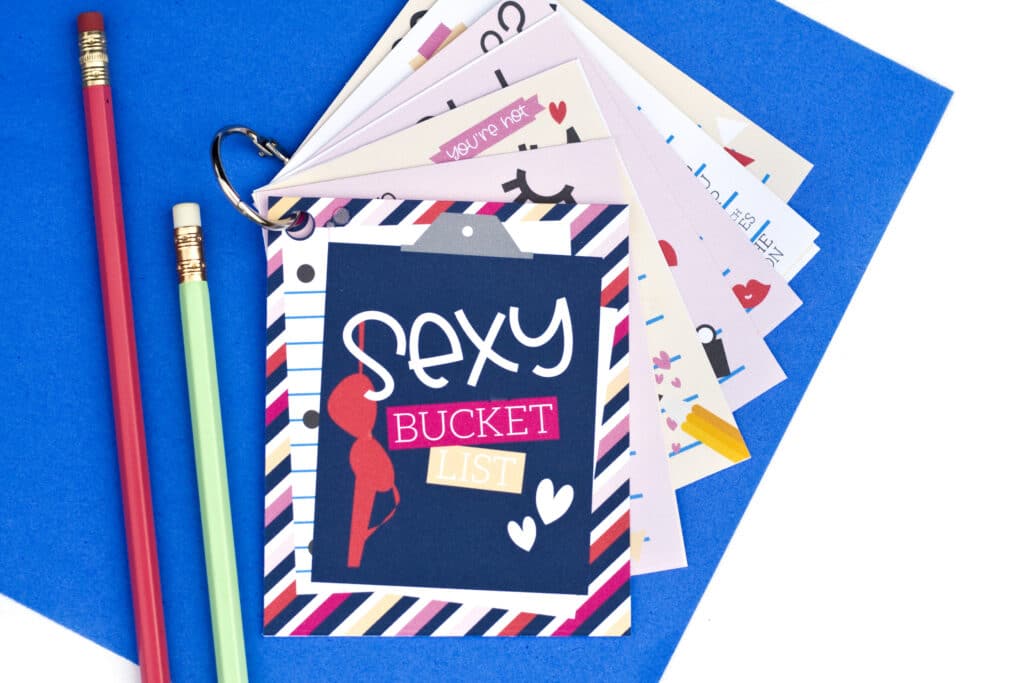 19 . Not Your Mother's Spice Rack – Help the new couple add a little "spice" to married life with this clever, DIY gift.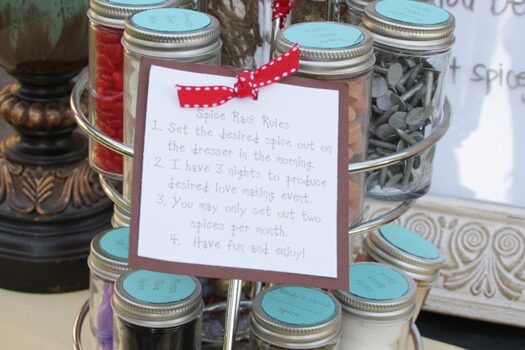 20 . The Penny Jar – The penny jar is a fun marriage tradition to introduce to the bride.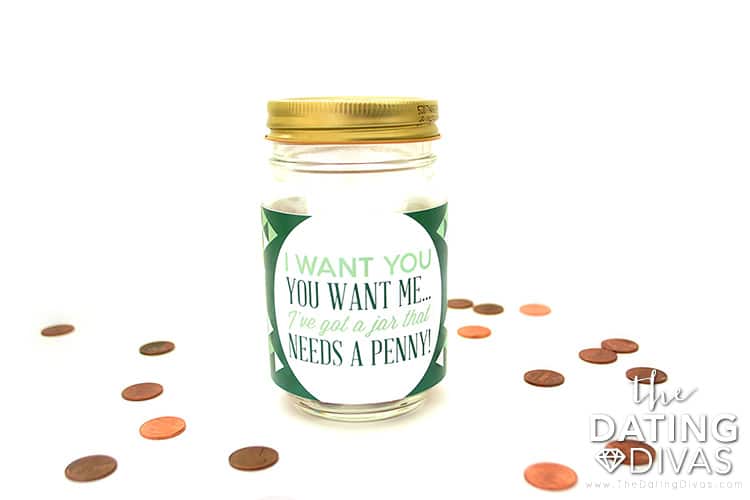 21 . Basket of Bedroom Games – Intimacy is such an important (and FUN) part of marriage. Why not give the bride and groom a whole basket full of fun bedroom games? We have 75 of them for you to choose from!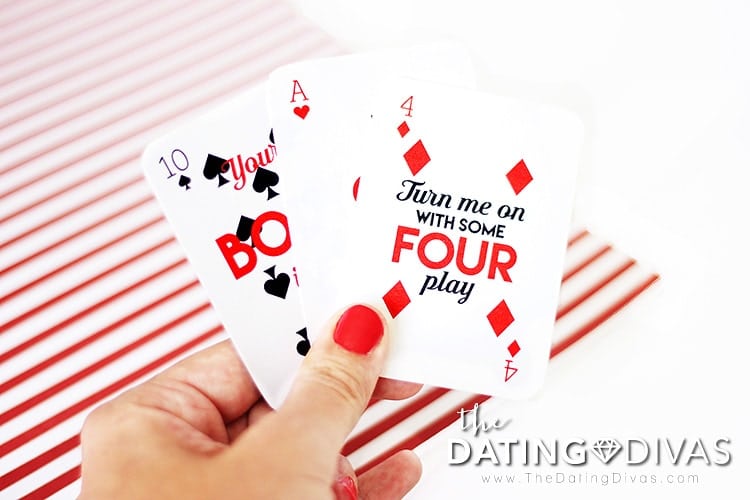 22 . Sexy Survey – Many married couples feel awkward or uncomfortable discussing the more intimate aspects of their marriage. This printable Sexy Survey makes it easy to do!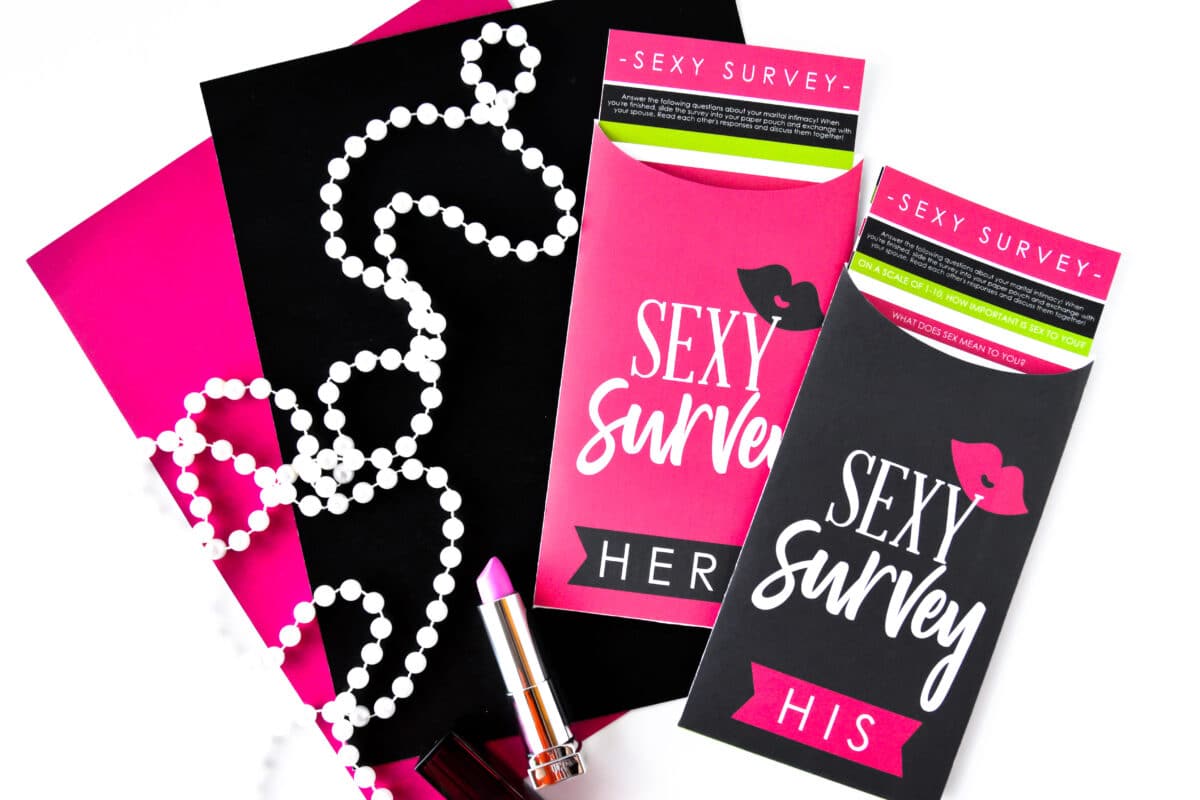 23 . Panty Wreath – This clever panty wreath was originally a sexy surprise for the hubby, but it would also make the perfect bridal shower gift! Simply leave off the printable note.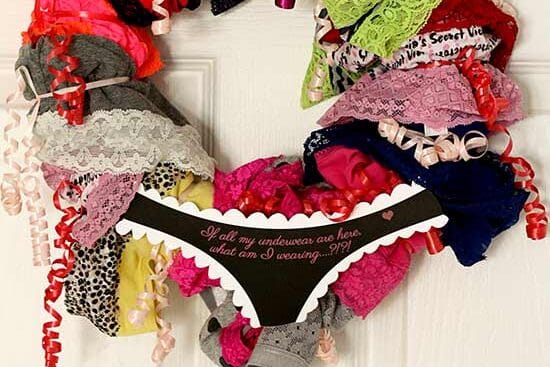 24 . Game of Love – This is one of the BEST bedroom board games out there! We love the ability to rinse and repeat for a whole new adventure.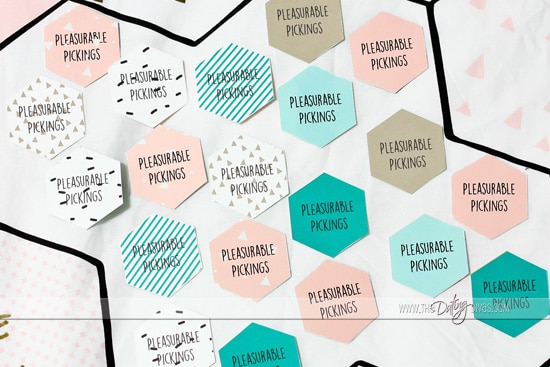 25 . 5 Senses Bedroom Edition – Help the new bride prepare a fun gift for her husband by prepping this sexy gift basked.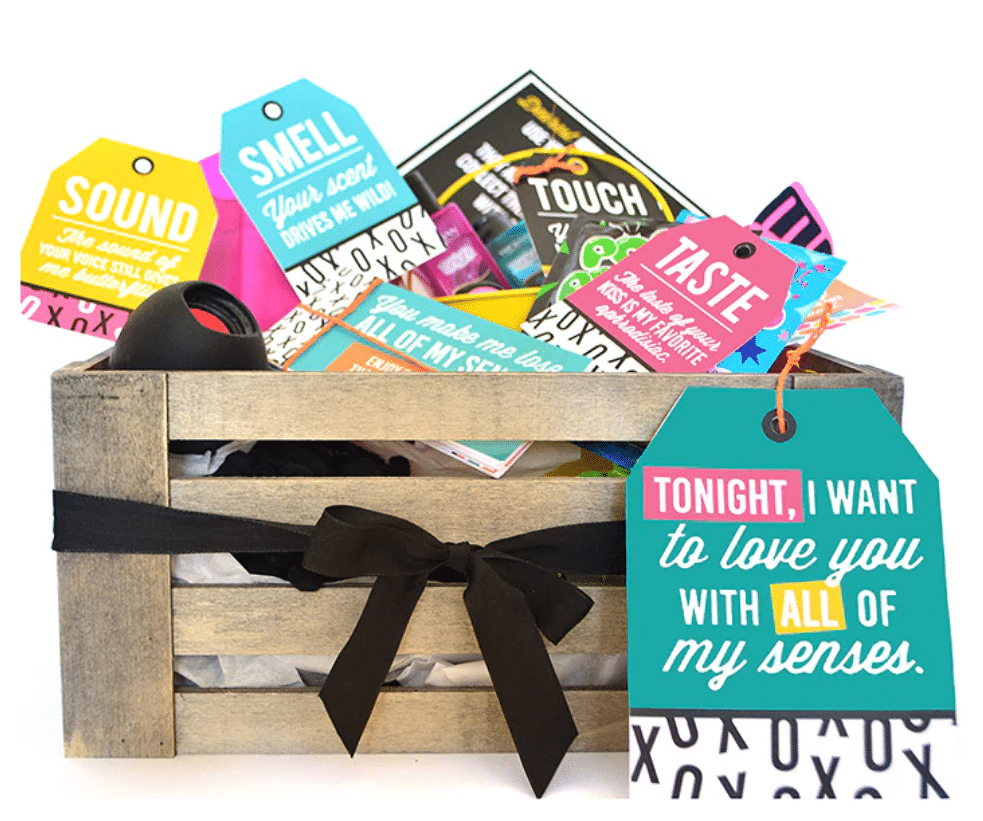 26 . The Man Can – We love this can full of coupons for the bride's forever-man! This post also gives other ideas of what to put in the can.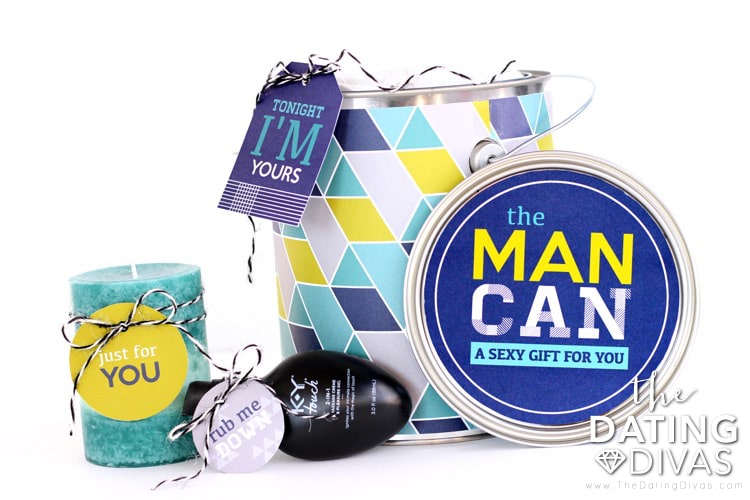 27 . Ultimate Intimacy Pack – Want to give a sexy idea for each month of the year? You've found it!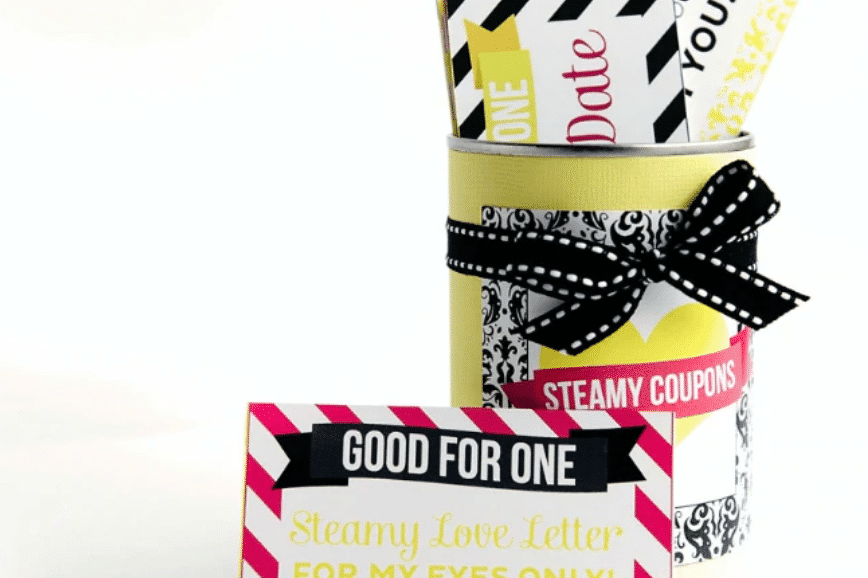 28 . Sexy Room Service – Print off these sweet [and FREE] printables to give your friend a fun idea for how to give sexy service to her groom.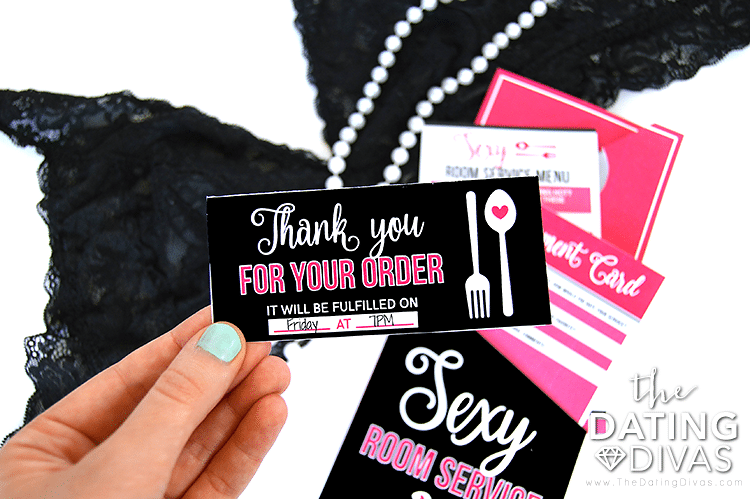 29 . Sexy Cosmo Kama Sutra – This is totally the gift that's going to make the bride blush!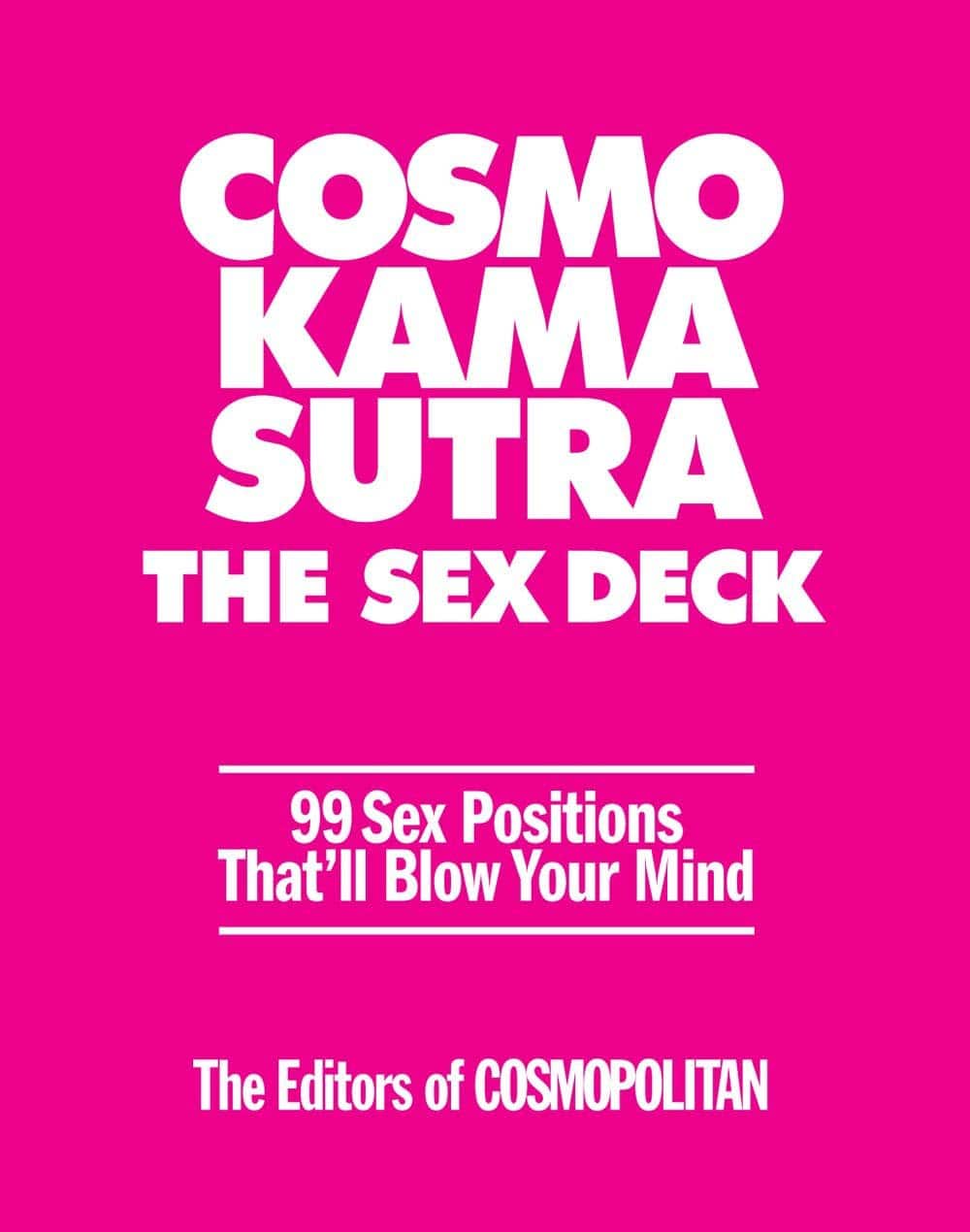 30 . Truth or Dare – It can be hard to find a comfortable way to talk about what's wanted in the bedroom. These Sexy Truth or Dare cards will help the new couple out!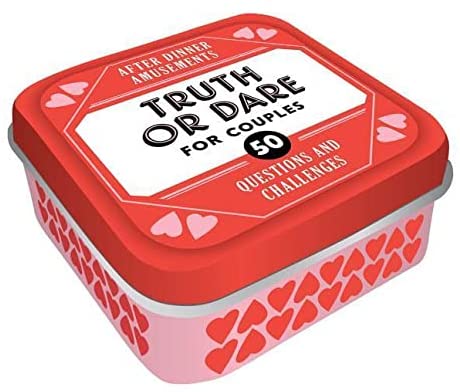 31 . Kama Sutra Massage Oil Candle – The oil in this candle is never too hot and smells divine!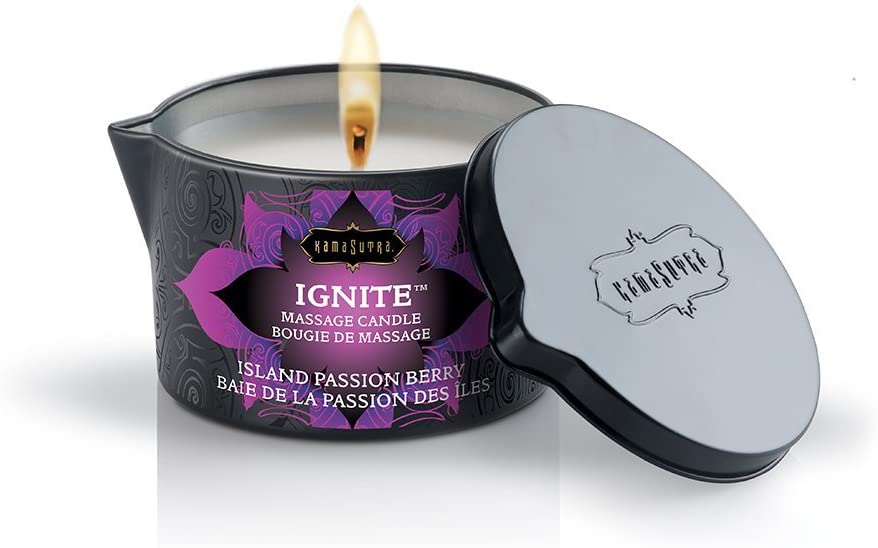 32 . Spin the Bottle Board Game – Make the couple their own romantic board game to play on their honeymoon.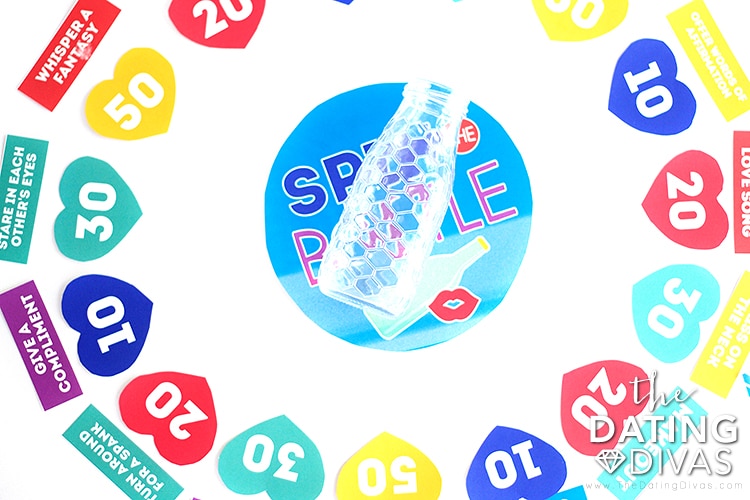 Bridal Shower Gift

Baskets

Want to put together a whole themed gift basket instead? Everyone loves receiving gift baskets and these ideas are perfect for a bridal shower gift.

33 . Cuddle Kit for 2 – Make the bride and groom their own Cuddle Kit packed with a fuzzy blanket, romantic movie, bubbly, and snacks.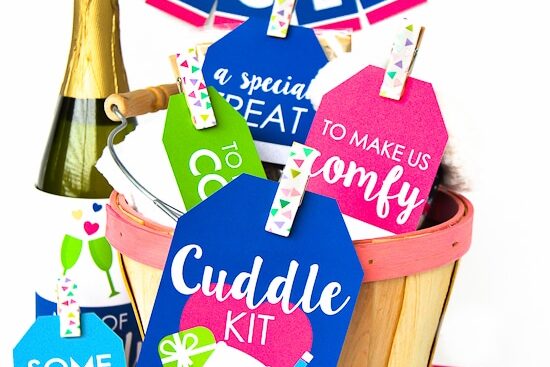 34 . Relaxation Kit – This Relaxation Kit is the perfect gift for the bride and groom to take on their honeymoon!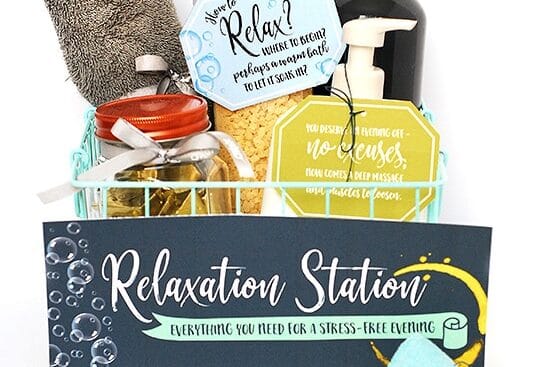 35 . Date Night in a Bag – What bride wouldn't love an entire date night planned and ready to go?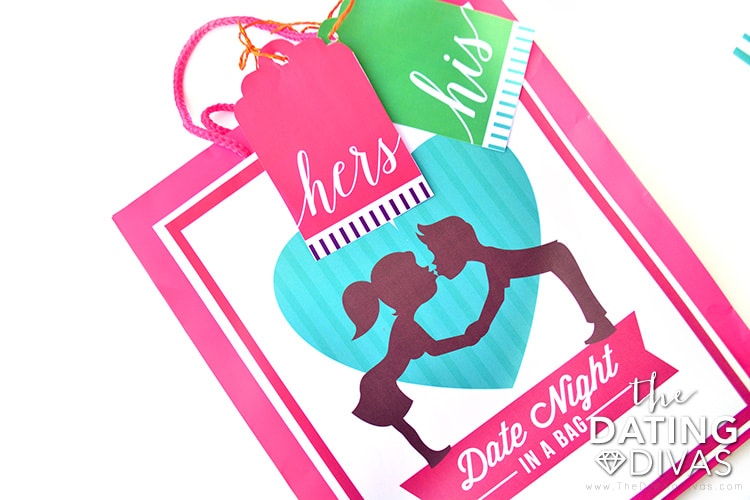 36 . Movie Night Date Basket – Fill a gift basket with everything the bride and groom need for a fun movie date night!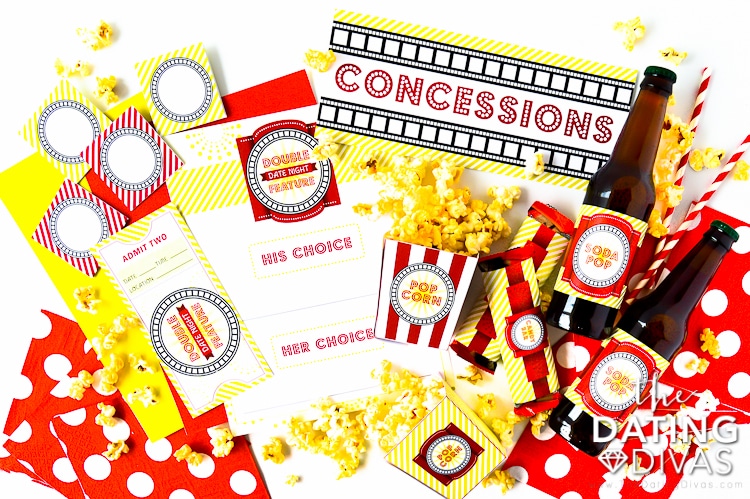 37 . "Perfect Pair" Basket – Are the bride and groom the perfect pair? Then make this fun themed gift basket for them.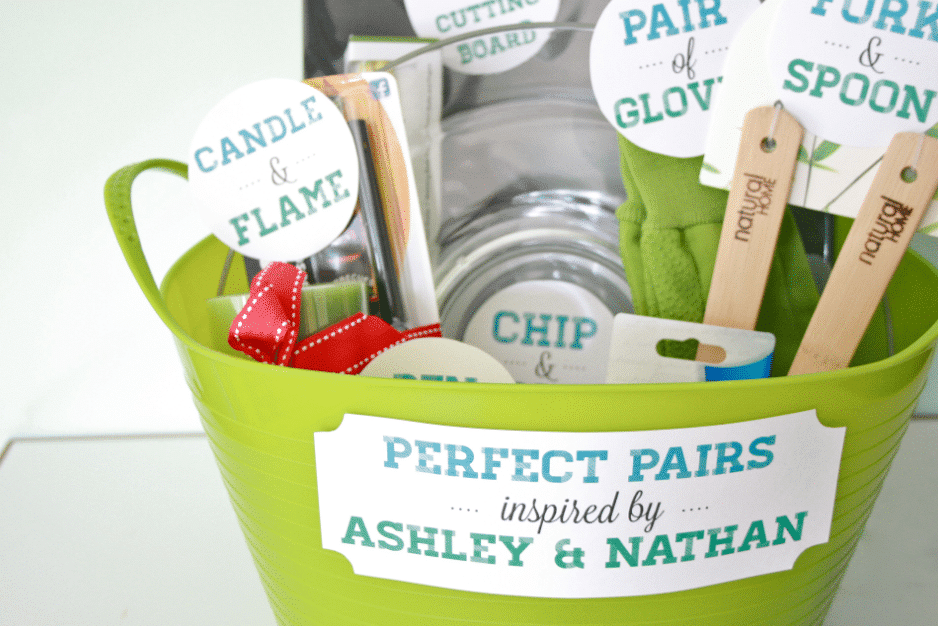 38 . Couples Game Night Basket – Couples that play together stay together!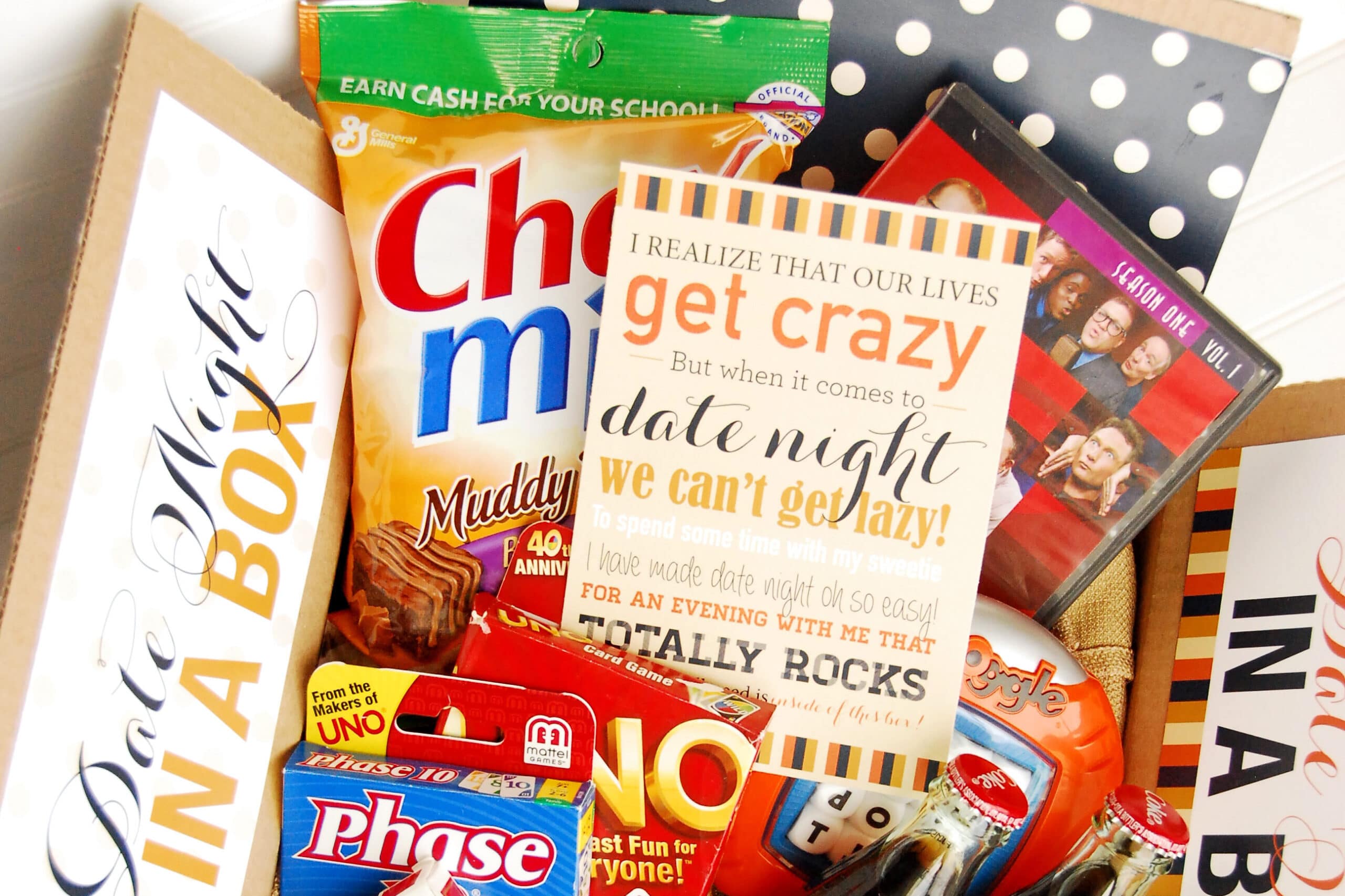 39 . Life is a Picnic: Marriage Survival Kit – This picnic themed gift basket is the perfect bridal shower gift.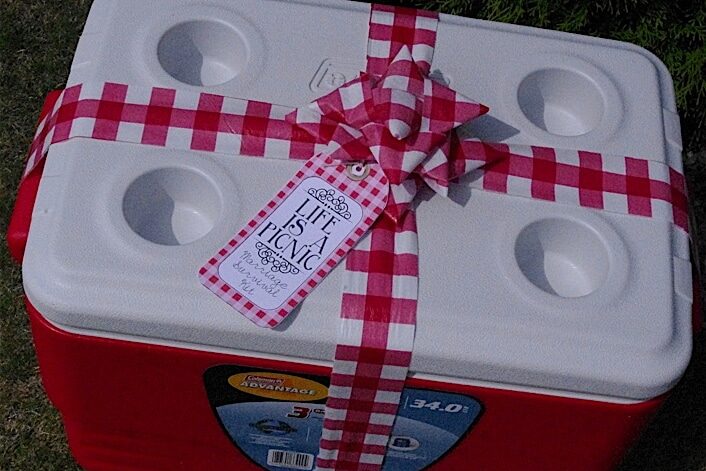 40 . Honeymoon Survival Kit – Another version of a Honeymoon Survival Kit, this gift is personalized and inexpensive.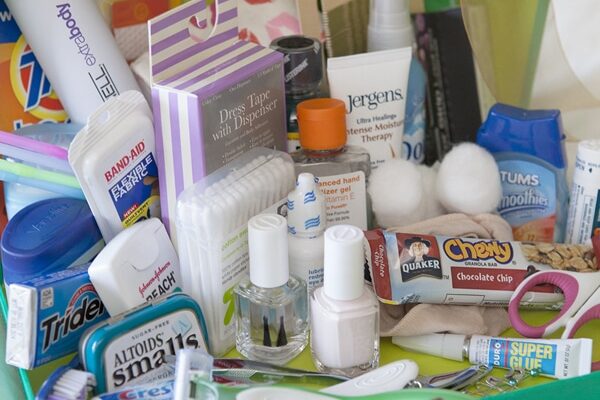 41 . Marriage Survival Tool Kit – This marriage survival tool kit is creative, personal, AND practical!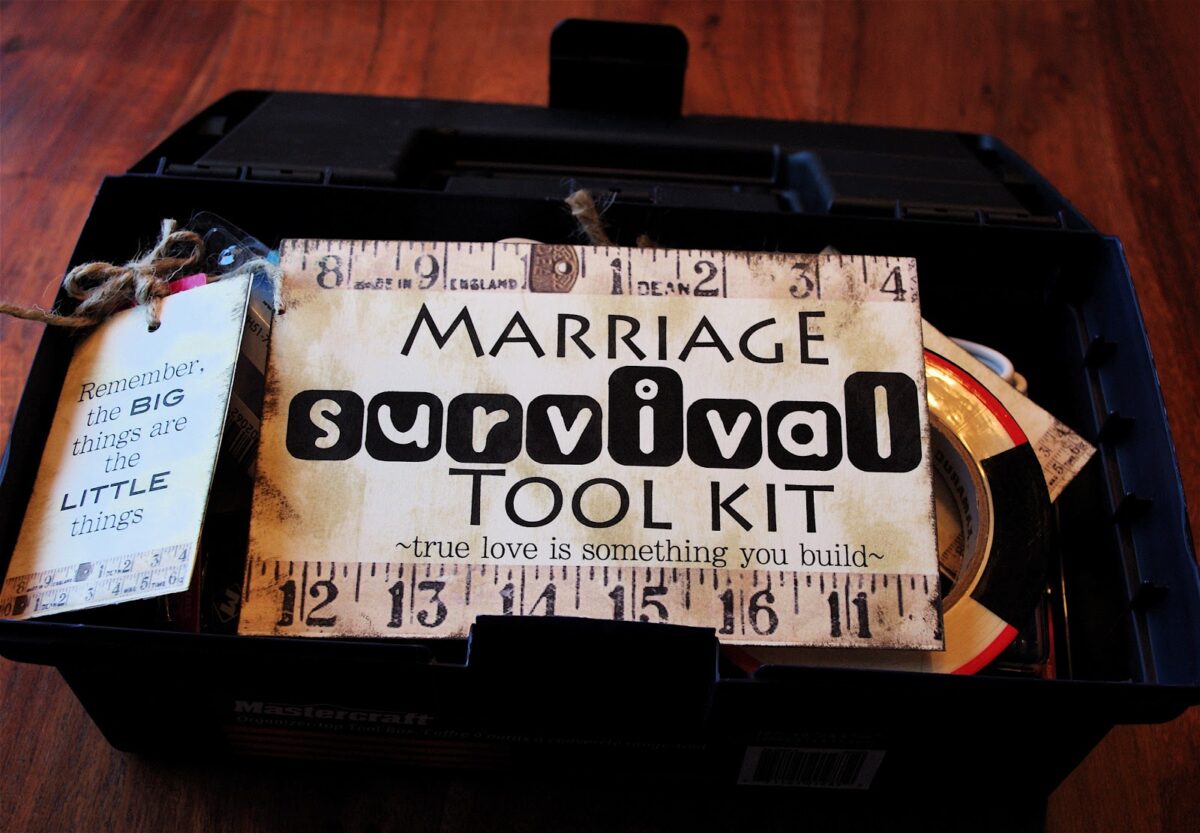 42 . Honeymoon Morning Gift Basket – Make the honeymoon morning extra special with this fun themed gift basket.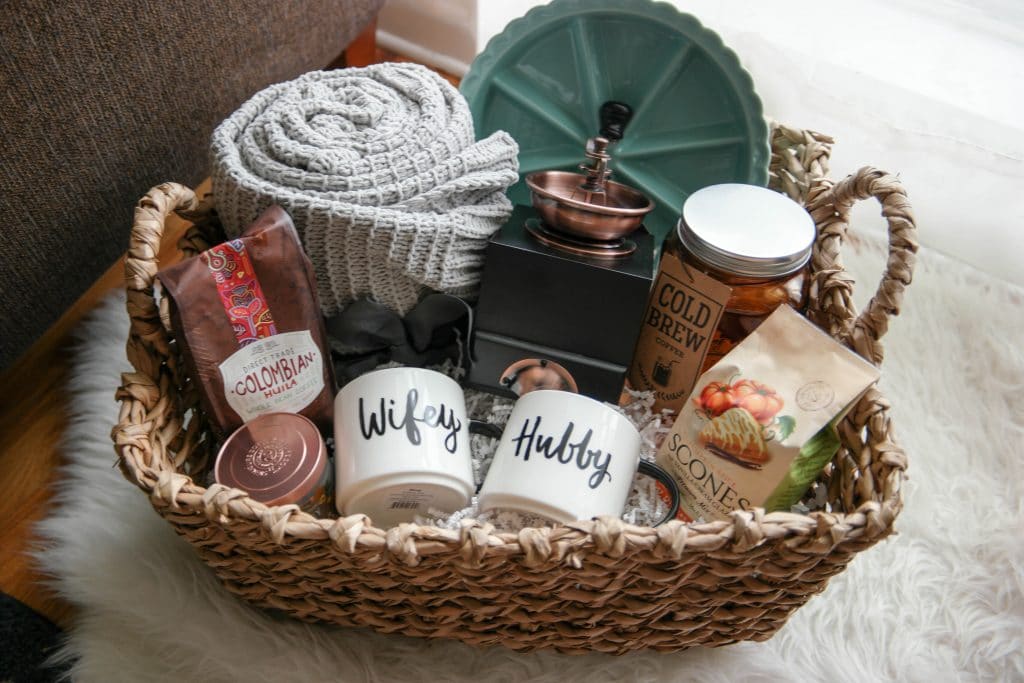 43 . Bubbly Basket of Firsts – We've seen so many variations of this bubbly basket, and we just love the idea. Each bottle has its own rhyming tag explaining when it is to be opened.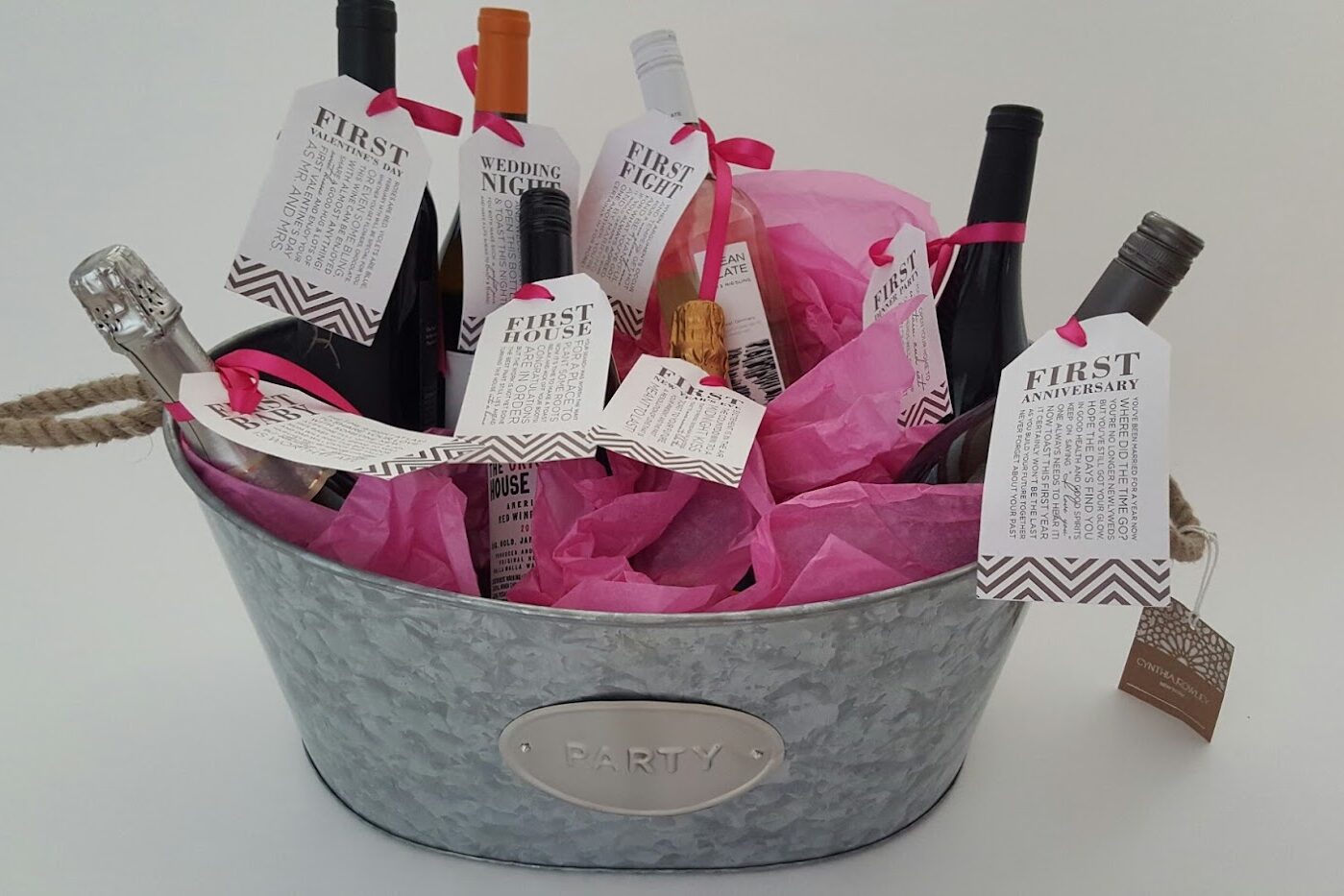 44 . SOUPer Gift Basket – Use a large stockpot as your gift basket and fill it up with colorful soup bowls, a ladle, pot holders, etc. For an added personal touch, write your favorite soup recipe inside the card.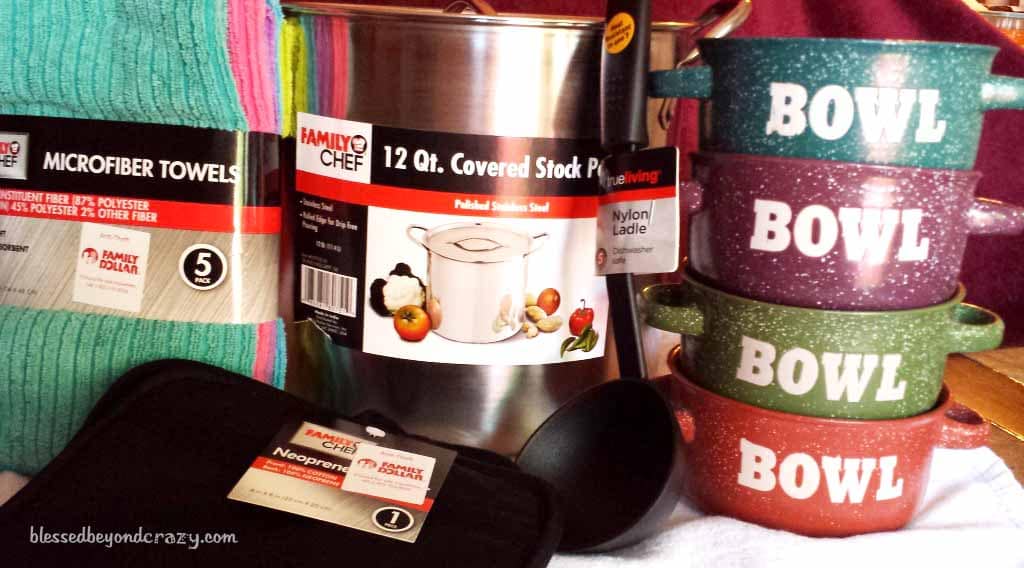 45 . Slow Cooker Basket – Grab a slow cooker and fill it full of goodies! Some ideas include a favorite slower cooker cookbook, some cute cloth napkins, and a bottle of bubbly.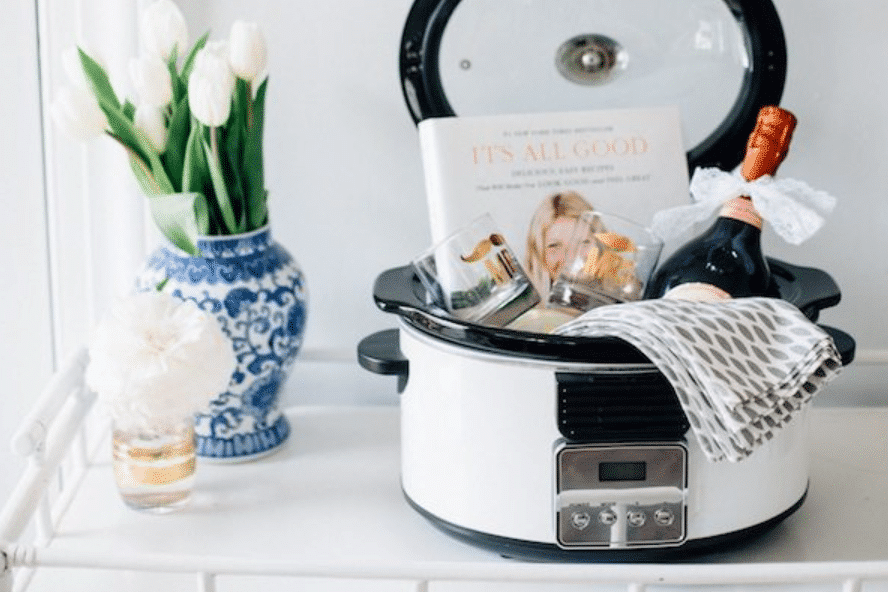 46 . Around the World Dates – Put together a spectacular date gift basket that will take the couple around the world… from their own home!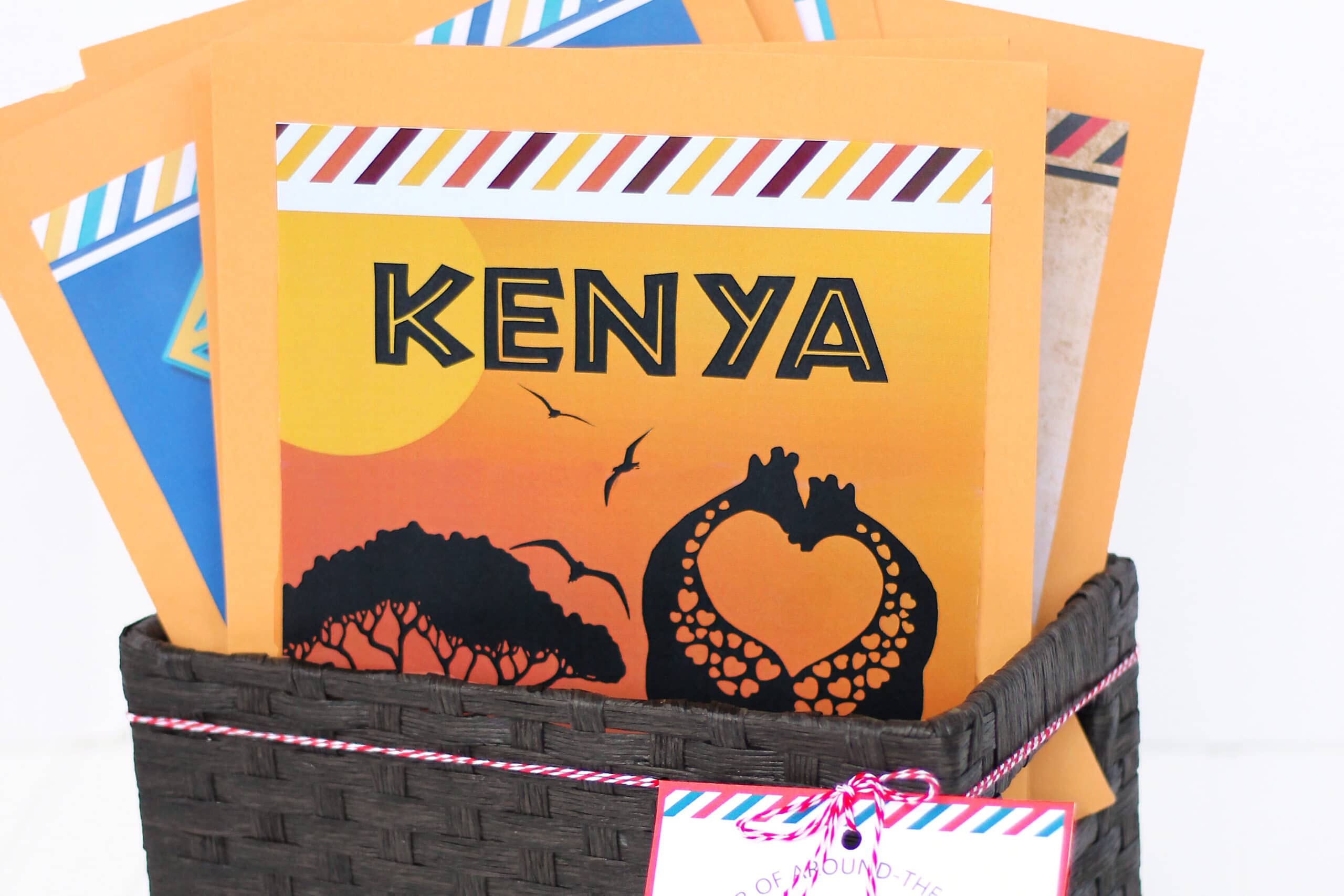 47 . A Year of Movie Dates – How fun would it be to put these envelopes together and pop them in the basket with a couple of films that match the genres!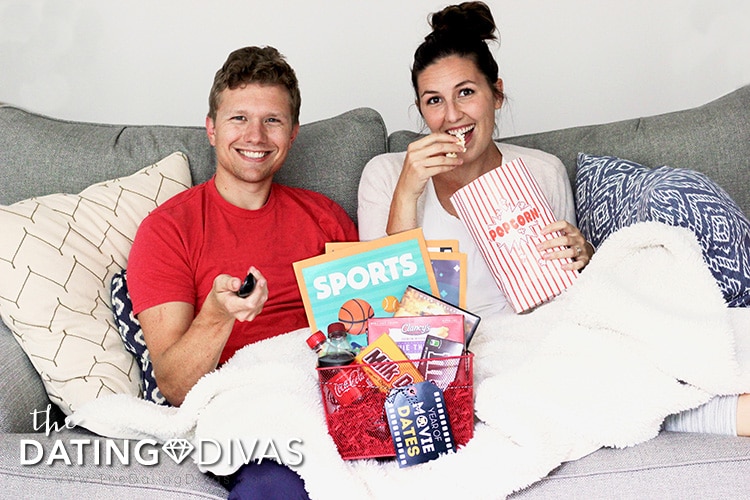 48 . A Year of Sports Dates – Do the bride and groom love getting active? This is the perfect monthly date kit for them.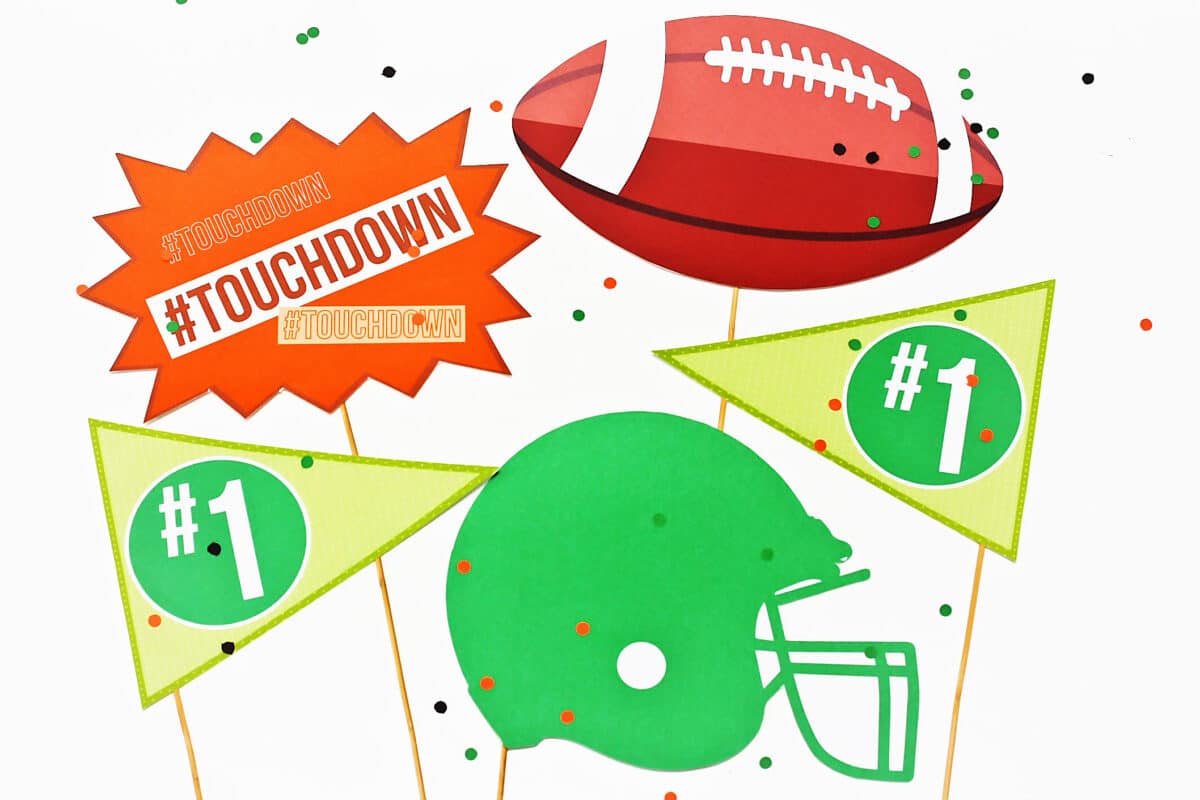 49 . Date Night In a Box – Prepare a special box for the newlyweds to use for their date nights!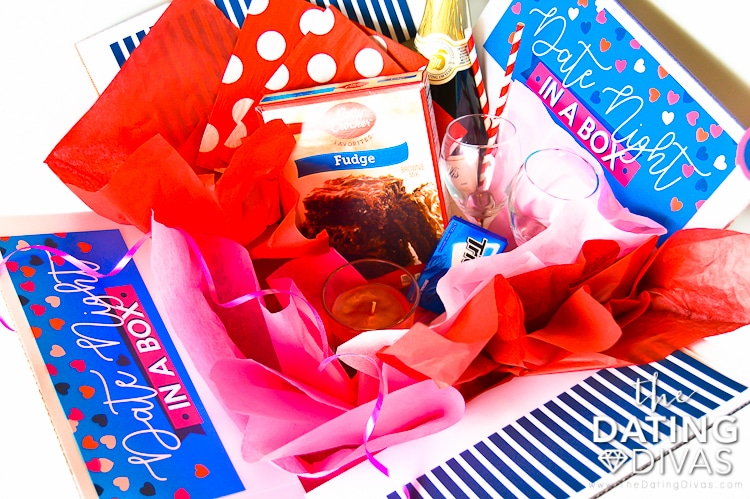 50 . The ULTIMATE Honeymoon Kit – This printable pack is loaded with everything the bride and groom will need for a fabulously memorable honeymoon.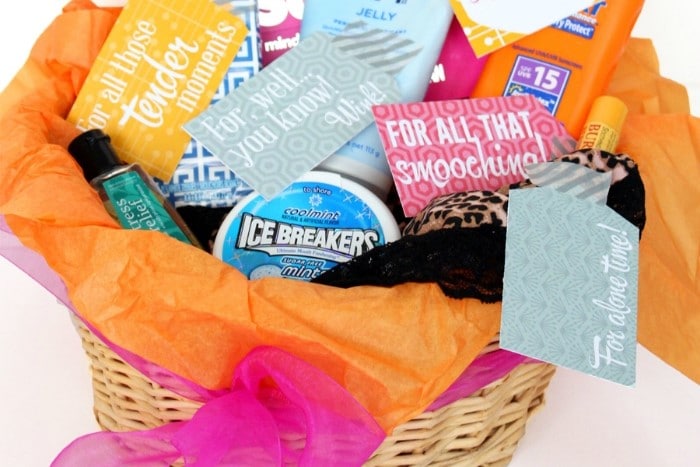 Is that a fantastic list or what? For even MORE unique bridal shower gifts and ideas, check out our Bridal Shower Printable Pack. It includes EVERYTHING you need to throw a fabulous shower for the bride-to-be including decor, activities, and favors!
And because it's customary at a bridal shower to gift lingerie or lacey things, make sure to check out this list of 30 Sexy and Flirty Women's Lingerie Pieces. There's even a bridal section!