Leave NO 'Mother' out This Mother's Day!
Shopping for Mom can be tough! Finding the perfect gift that fits her personality, shows just how much you care and notice all she does for your family AND fits within your budget can be rough.  Multiple that by ALL the mother's in your life and you're stumped!
Well, NOT anymore!
With Mother's Day just around the corner, we've created the ULTIMATE gift guide to surprise every type of mother in your life.  That's right! We have gift ideas for the moms, grandmas, stepmoms, mother-in-laws AND godmothers!
You're WELCOME!
Feel free to mix and match ideas found within any of the categories as a handful can easily be given to any of the special mothers in your life!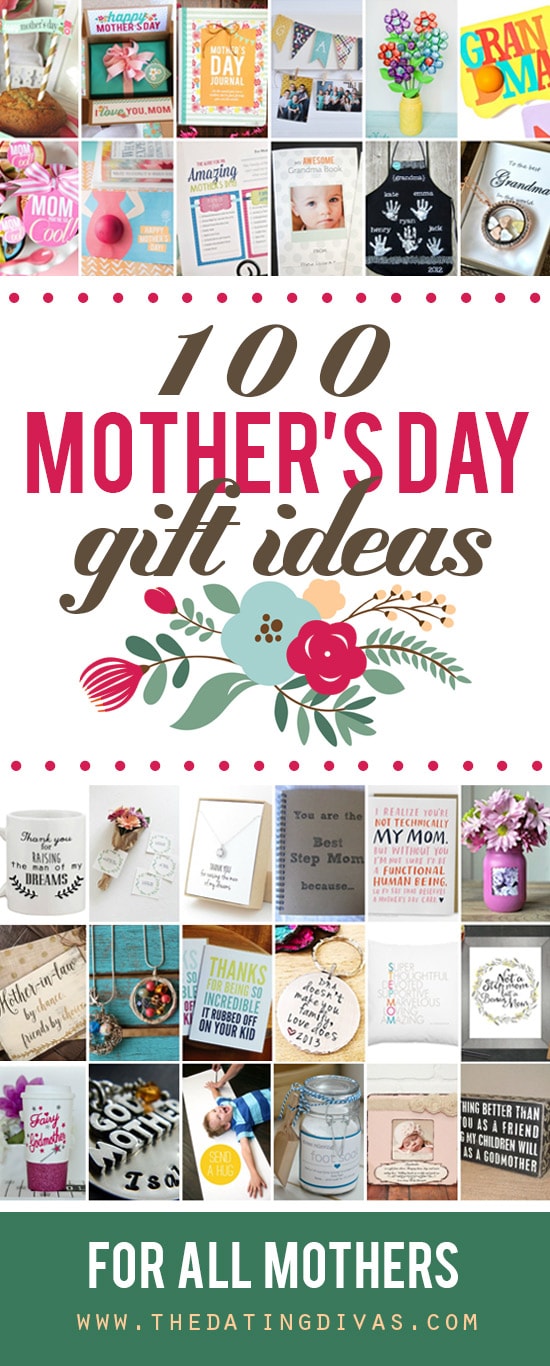 Disclaimer: This post contains affiliate links. To learn more about 'em, click here.
There is still time to find a perfect gift for each leading lady! Just select from any of these darling ideas:
30 Mother's Day Gift Ideas for Mom
20 Mother's Day Gift Ideas for Grandma
20 Mother's Day Gift Ideas for Stepmom
15 Mother's Day Gift Ideas for Your Mother-In-Law
15 Mother's Day Gift Ideas for Your Godmother 
Go ahead and grab some pen and paper, it's time to make your shopping list!
30 Mother's Day Gift Ideas for Mom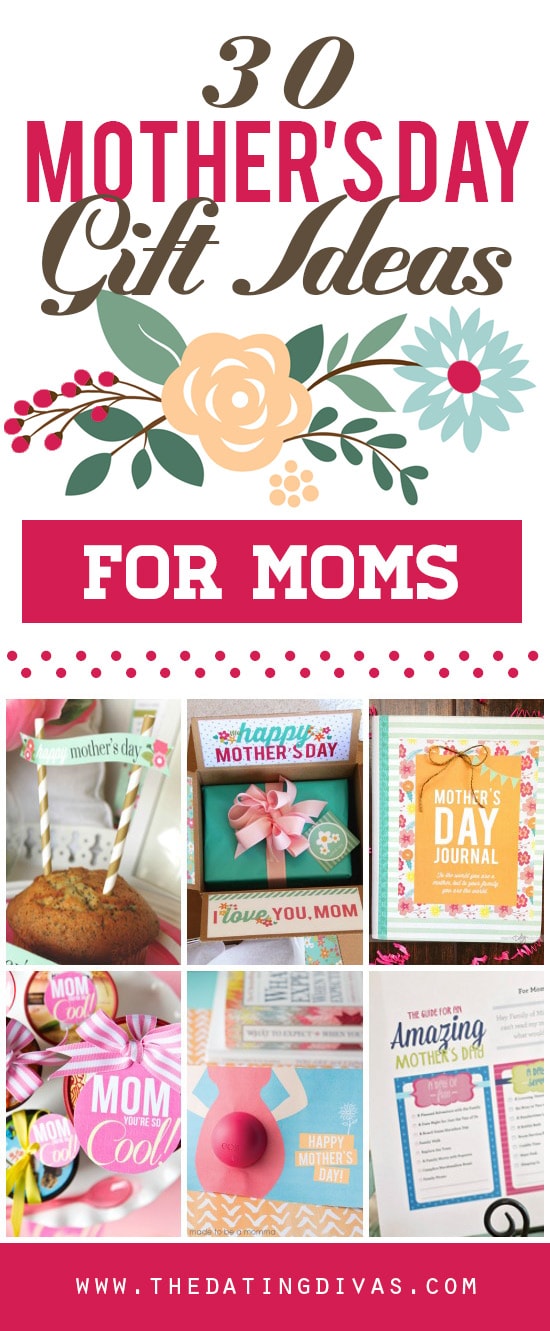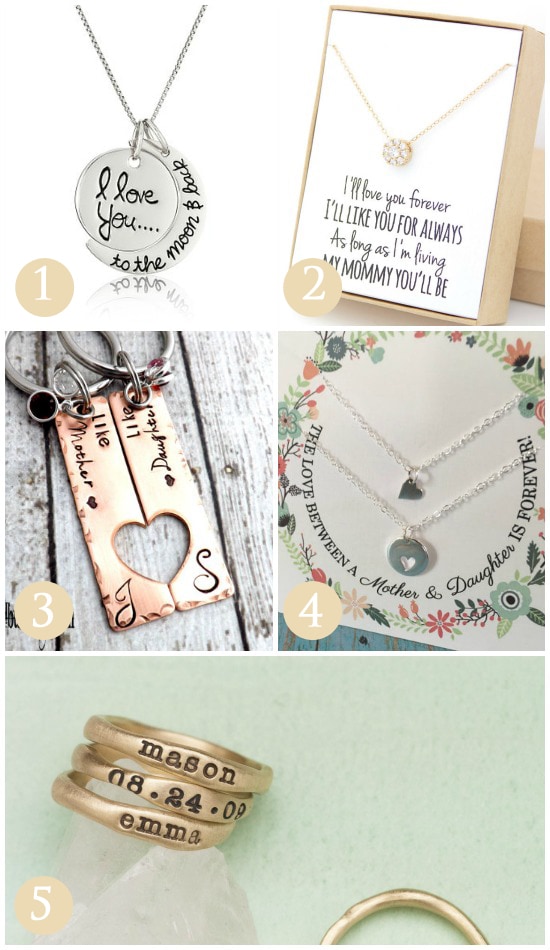 1. "I Love You to the Moon and Back" Necklace – This sweet phrase is one that many mothers actually say to their children. So, if this is a common phrase used in your house, this is the PERFECT gift for Mom!
2. "My Mommy You'll Be" Necklace – This gorgeous necklace allows you to customize the saying written below the pendant. As shown, it displays the meaningful saying found in a popular children's book. If this book is in rotation in your bedtime routine, then this is the gift for you.
3. Split Keychain – As you get older, your relationship with your mother may vary, but this keychain allows you to always be with one another. By giving her one piece and you keeping the other, you and your mother are forever connected – and that's something special.
4. Split Necklace – Similar to the keychain, this beautiful necklace allows both you and your mother to wear a simple piece of jewelry, showing the love you have for one another.
5. Personalized Stacking Rings – Stacking rings are super popular right now and it's no wonder why… they are darling! Personalize stacking rings to read the names of your kids and give them to Mom to wear forever.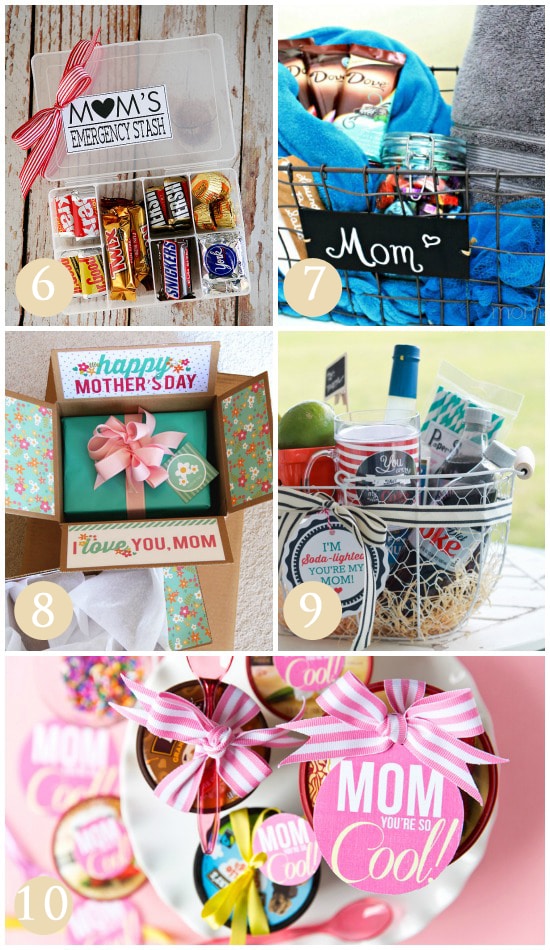 6. Mom's Emergency Stash Kit – Moms know all about sharing with their little ones. So, for this Mother's Day, create a stash that's all her own using a bead organizer, chocolate, and ribbon!
7. Spa Basket – Create the ultimate gift basket full of goodies she can use to lounge around with in the tub. From a new book, to chocolates, a fluffy towel and bath bubbles – give her the basket of relaxation.
8. Mother's Day Care Package – If your mom lives far away, these printables allow you to create a darling care package to send the perfect gift! Fancy up any old box and surprise her with something special.
9. "Soda-lighted" You're My Mom Kit – This kit provides the perfect printables and ideas to create a refreshing soda basket for Mom to enjoy all to herself! Loving this cute chicken wire basket to tie it all together!
10. "You're So Cool" Basket – What mom wouldn't LOVE to be showered in ice cream? This darling idea is the easiest way to a mother's heart… through her stomach!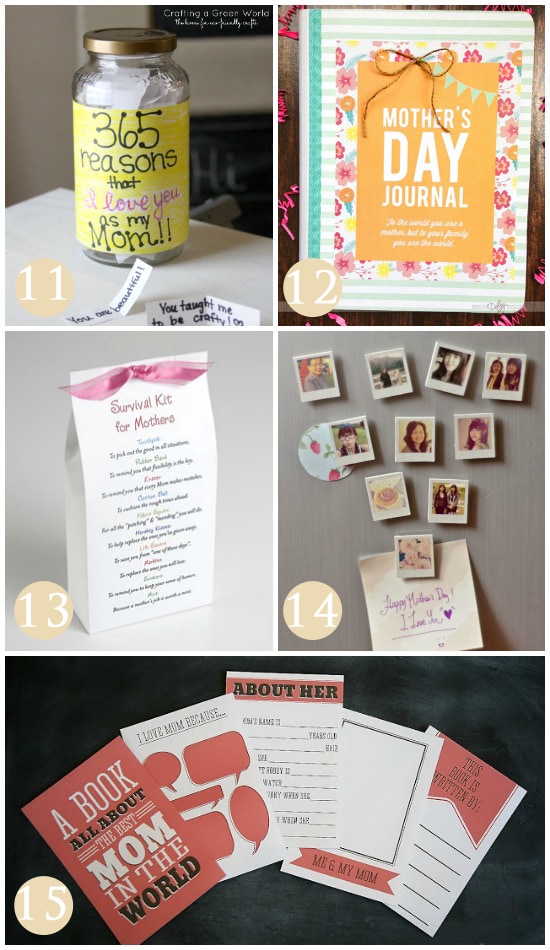 11. 365 Reasons I Love Mom Jar – Write out 365 reasons why you LOVE Mom and place them all in a jar!  Then, let her open one each day of the year!
12. Mother's Day Journal – Gather the kids and have them work together to create a darling Mother's Day journal written with their mom in mind using a composition notebook!
13. Survival Kit for Mothers – This idea is just darling!  Printed on a white lunch bag like these are a bunch of items that you can place inside and a reason why!  The items and reasons are so creative, it will surely make your mom smile!
14. DIY Magnet Pictures – Moms LOVE hanging art work created by their favorite little people, but if they can hang it with actual pictures of their favorite little ones, that's even better! All it takes are a few snaps, some mounting board, and a few good magnets!
15. "Best Mom in the World" Book – Fill in these pre-designed pages to create a book about the BEST mom in the world – your mom! Don't forget the classic brag book!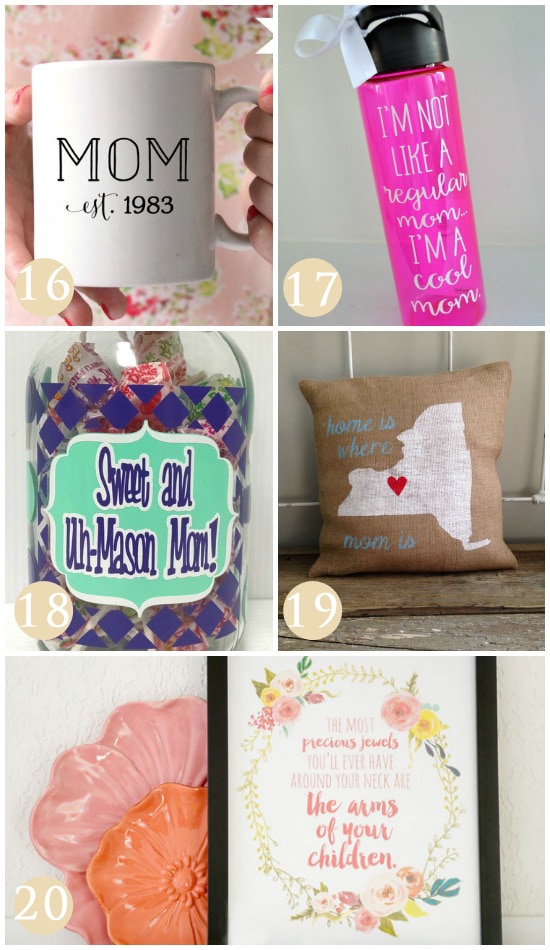 16. Personalized Mom Mug – Every mom needs her morning coffee or her evening tea. This personalized cup will remind her of that special year when she took on her biggest job, as a mom!
17.  "Cool Mom" Water Bottle – If your mom is a gym rat, then this is perfect for her!
18. Uh-Mason Jar – Fill this darling jar with some of her favorite treats! And if you're super crafty, you could even make one yourself.
19. "Home Is Where Mom Is" Pillow – Especially if you live in a different state from your mom, let her know that your heart is always with her!
20. Printable Wall Art – This message is a perfect reminder of what is truly most important in our life as a mom.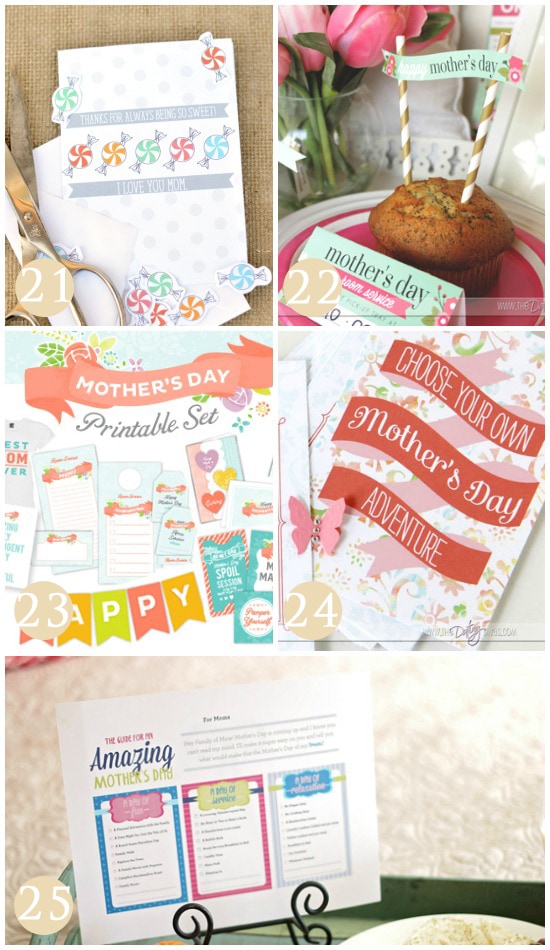 21. Printable Mother's Day Cards – These darling, free Mother's Day cards can be printed from home but are just as beautiful as any store bought card. Print one from each kid to give to Mom!
22. Breakfast in Bed – Moms rise with the sun and rest with the moon! This year, let her sleep in a little and wake her with a delicious and thoughtful breakfast in bed. This idea is FULL of printables to make it extra special.
23. Mother's Day Printable Pack – Still not sure what to do for Mom?! Equipped with banners, cards, ways to spoil mom and MORE, this has everything you need to celebrate Mom.
24. Mother's Day Adventure – Let Mom choose an adventure that's all her own! This darling gift lets her select just how she'll spend her day, which is every mom's wish!
25. Mother's Day Guide – Since it's her day, let her guide you with how she wants to spend it. Have Mom fill out this Mother's Day Guide to help create the perfect way to celebrate her on Mother's Day.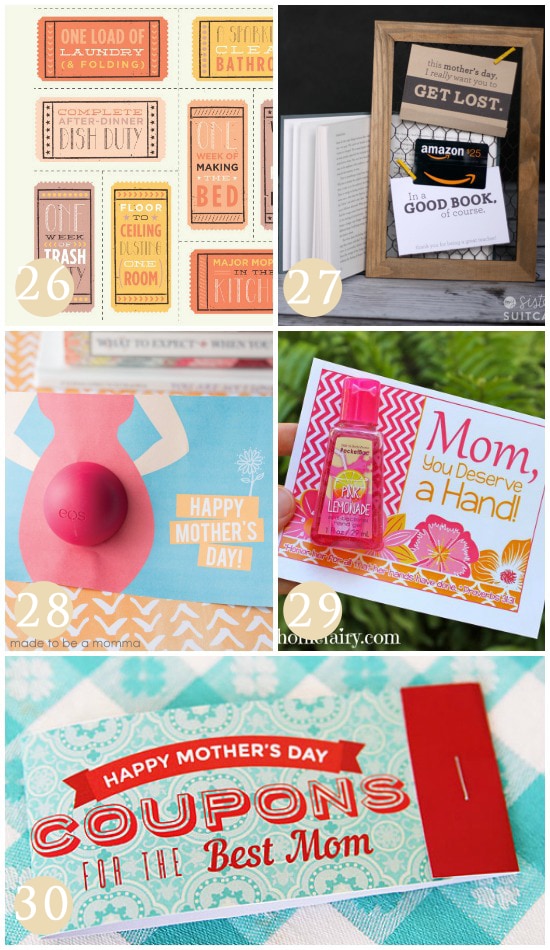 26. Mom Tickets – Give Mom a break, she deserves it! These printable tickets allow her to pass on some of her everyday chores!
27. "Get Lost" Card Holder – Tell Mom to "get lost," in a good book that is! Give her an Amazon gift card in this darling gift card holder and then give her some time to relax!
28. Mom-to-Be EOS Chapstick Holder – We can't forget our moms-to-be! This darling holder using EOS lip balm is a thoughtful way to recognize future moms.
29. "You Deserve a Hand" Printable – ALL moms deserve a hand and ALL moms use hand sanitizer. What a simple way to show you appreciate Mom by giving her something you'll know she'll use!
30. Coupon Book – Add this cute coupon book to the Mom tickets and you've just spoiled Mom to the max. These coupons can be redeemable for a massage or a favorite dinner.
20 Mother's Day Gift Ideas for Grandma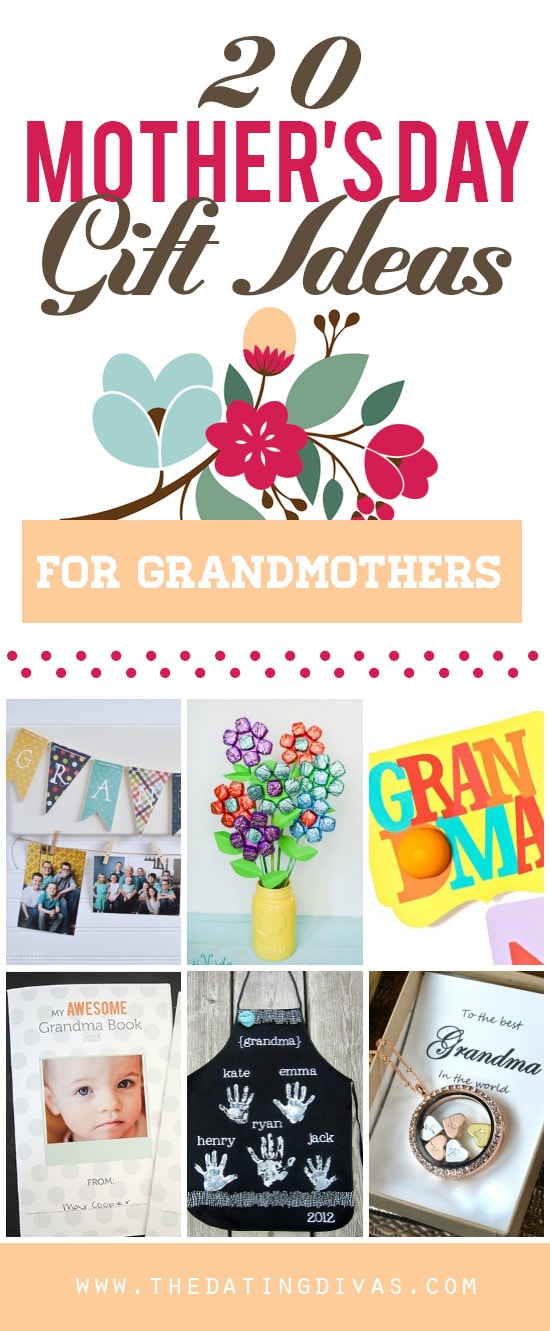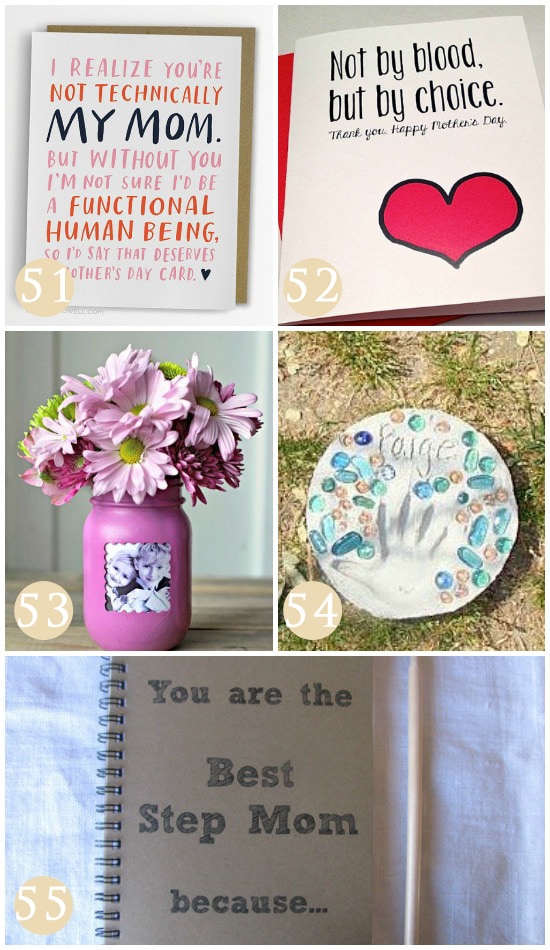 51. "Function as a Human Being" Card – This silly card might ring true for your relationship with your stepmom. Let her know that without her, you just might not be able to function as a human being – haha!
52. "By Choice" Card – Tell your stepmom that it's not by blood, but by choice that you love her and all that she does for you!
53. DIY Photo Vase – All moms love flowers. Create the DIY photo vase with a mason jar and fill it with her favorite flowers for an extra special surprise.
54. DIY Stepping Stone – Create a personalized stepping stone for your stepmom using a stepping stone kit! It's a beautiful addition to her garden, just as you were a beautiful addition to her family!
55.  "Best Step Mom" Journal – Fill in this thoughtful book with all the reasons your stepmom is the best! This is a for sure keepsake.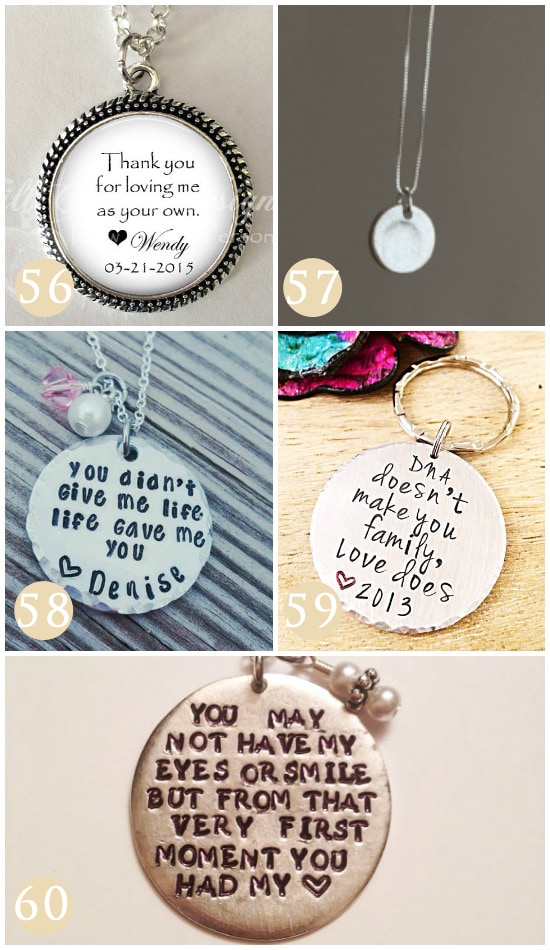 56. "Love Me as Your Own" Pendant – There are so many ways to express your love and appreciation to your stepmom and this section is FULL of them. This necklace is a great place to start.
57. DIY Thumbprint Necklace – Create a pendant with your thumbprint using bake-able clay! You could do one for each child and string them all on the same chain.
58. "Life Gave Me You" Necklace – Another great saying that expresses how grateful you are for having your stepmom in your life.
59. "Love Makes You Family" Keychain – Blood may not tie you together, but love surely does!
60. "Had My Heart" Pendant – Love is strong enough to surpass any differences you might have.
61. "Evil Stepmothers" Mug – If you and your stepmom have a joking relationship, then this cup might be a great gift to suit your relationship.
62. "Best Stepmom" Mug – If your stepmom loves her coffee or tea then let her sip from a cup that lets her know how highly she is thought of.
63. DIY Candle in a Cup – What a pretty gift idea! AND, you can make it yourself using some candle wax flakes and candle wicks! When a gift is homemade, it means twice as much as a store bought gift!
64. DIY Sugar Scrub – This stuff is AMAZING, and only needs some sugar, essential oils, and coconut oil! It's also the perfect way to give her a spa-like treatment without the spa-like price.
65. Personalized Picture Frame – Personalize this frame with your names and include one of your favorite pictures as the perfect gift for Stepmom.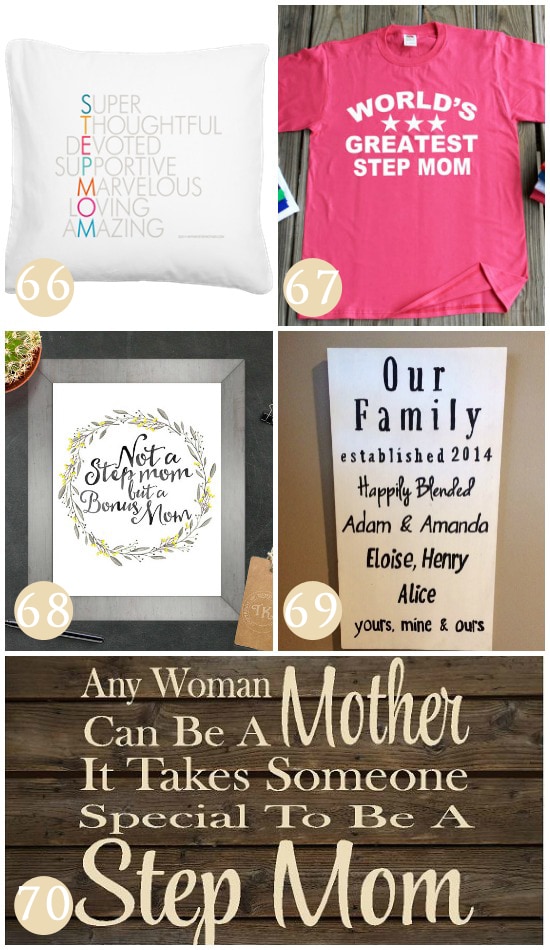 66. Stepmom Pillow – The letters of stepmom are used to list out special characteristics of the stepmom in your life. It's a sweet reminder that she can keep out all the time.
67. "Greatest Stepmom" T-shirt – Let her show off loud and proud how great you think she is by giving her this t-shirt.
68. Bonus Mom Print – I just love this! Let her know how lucky you are that you have a 'bonus' mom!
69. Blended Family Sign – Design a canvas with the names of your blended family for your stepmom to display with pride.
70. Someone Special to be Stepmom – If this doesn't make Stepmom feel good, I'm not sure what will!
15 Mother's Day Gift Ideas for Your Mother-in-Law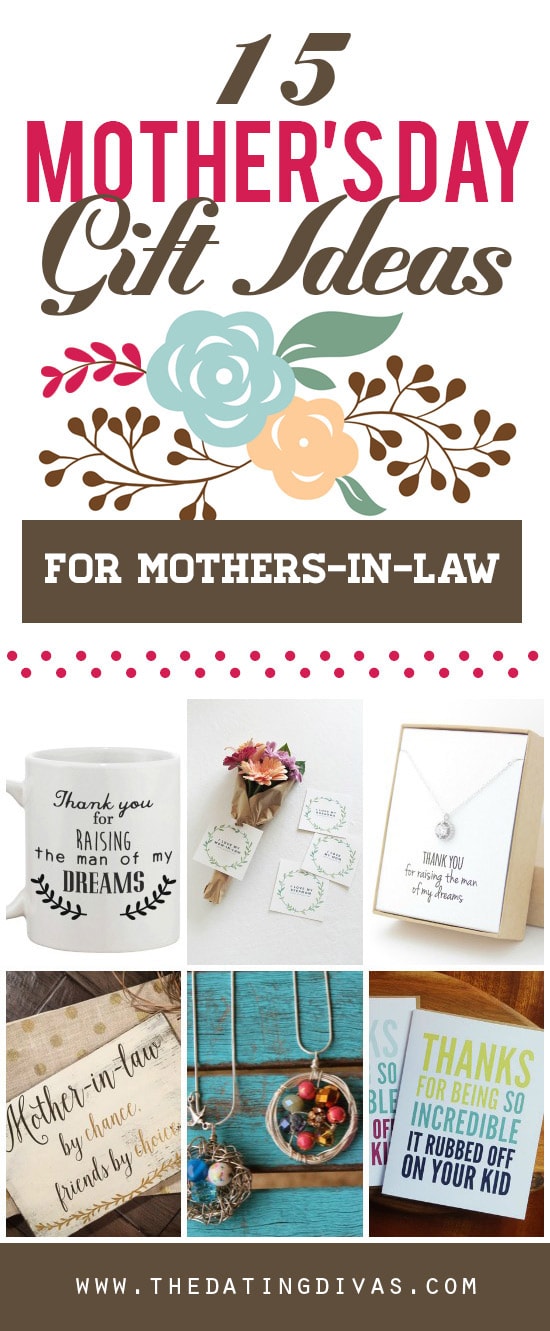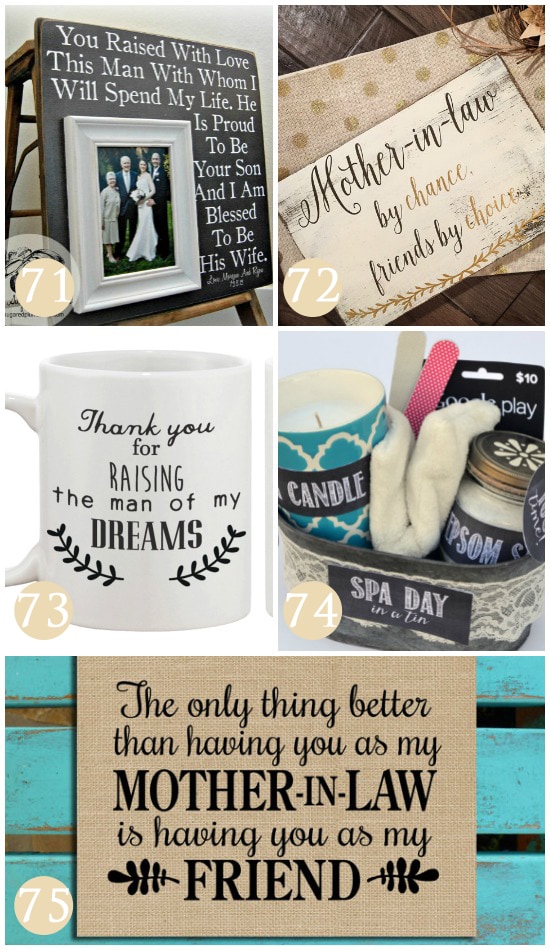 71. "Blessed to be His Wife" Frame – Your mother-in-law might melt into a puddle when you give her this frame.  The message is so genuine, you'll be her favorite daughter-in-law forever.
72. Friends by Choice – This sign is a great way to tell your mother-in-law she is more than your husband or wife's mom but a also a friend.
73. "Raising the Man of My Dreams" Cup – When a mother marries off her son, it can be hard for her to adjust to him having a new "important" woman in his life, but with this cup you can remind her of how much you appreciate the love and dedication she put into raising an incredible husband.
74. Spa Day in a Tin – Spoil your mother-in-law with a spa kit in a cute galvanized tub like this one, so she can enjoy a "spa day" in the comfort of her own home.
75. Having You as a Friend – Similar to #72, this burlap print is a sweet note letting your mother-in-law know that she is also your friend!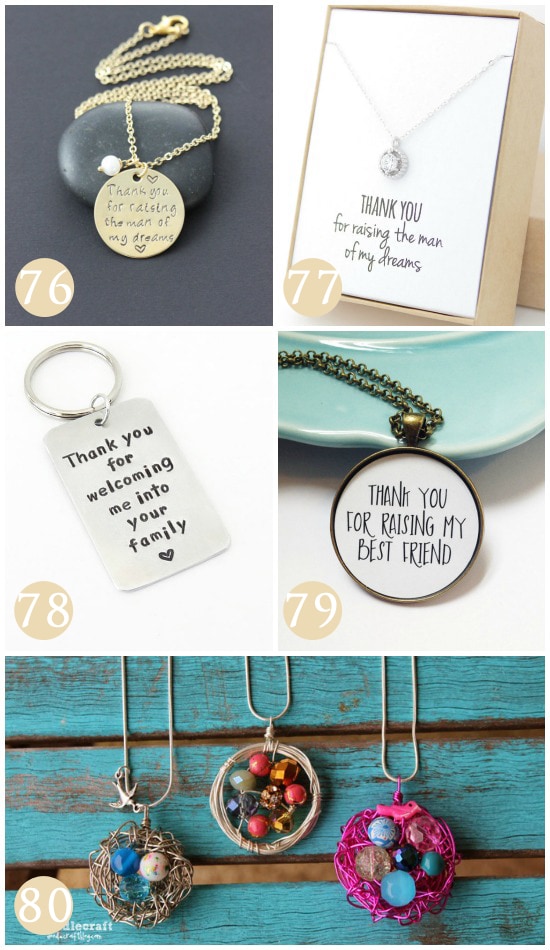 76. Raising the Man of my Dreams Necklace – This is such a popular saying for mothers-in-law and it is so true. This and the next idea are various ways to express your love for your mother-in-law using this saying.
77.  Pendant with Saying – Whatever her taste, you can find a way to thank her for her hard work raising your sweet husband.  This pendant might be just her style!
78. "Welcoming Me to Your Family" Keychain – If you are newlyweds, this keychain will mean a lot to your mother-in-law for the first year celebrating her as your new "mom."
79. "Raising My Best Friend" Necklace – If you are looking for an idea for your wife's mom, this is very similar to the popular saying of "raising the man of my dreams," but is more fitting for the wife's mother.
80. Birthstone Eggs Nest Necklace – Create a custom bird's nest pendant for your mother-in-law with your children's birthstones OR her grandchildren's birthstones.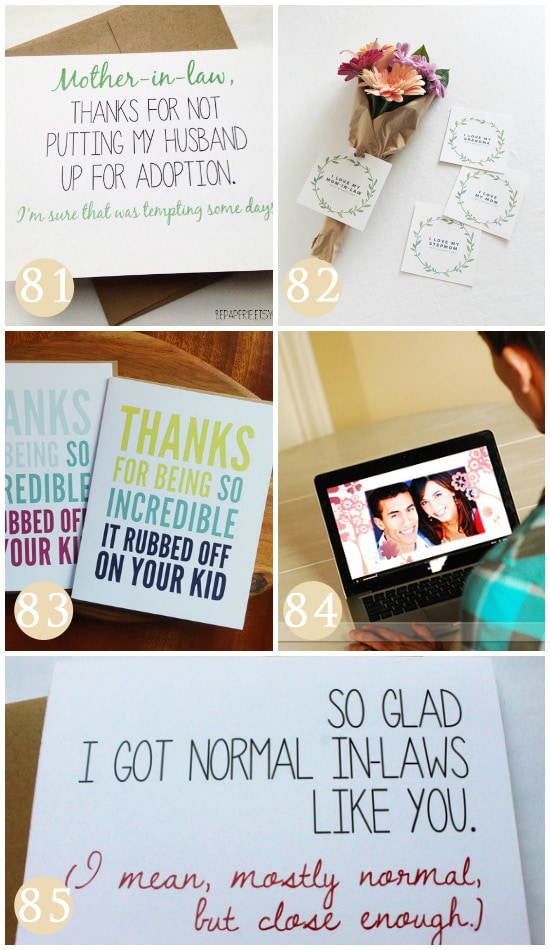 81. "Not Putting Him up for Adoption" Card – Give your mother-in-law a chuckle with this silly card and leave her a sweet message inside.
82. Printable Tags – This printable tag can be attached to any gift, candy or bouquet of flowers you choose to give your mother-in-law on Mother's Day.
83. "Rubbed off on Your Kid" Card – Just keep it simple – give her compliment in a card!
84. Video Slide Show – If your mother-in-law lives far away, create a video for her using images of you and your spouse and/or grandkids. Then send it to her to view as often as she'd like!
85. "Normal In-Laws" Card – If your mother-in-law has a sense of humor, then this card is for you! Personalize your own message inside, expressing your appreciation for her on Mother's Day.
15 Mother's Day Gift Ideas for Your God Mother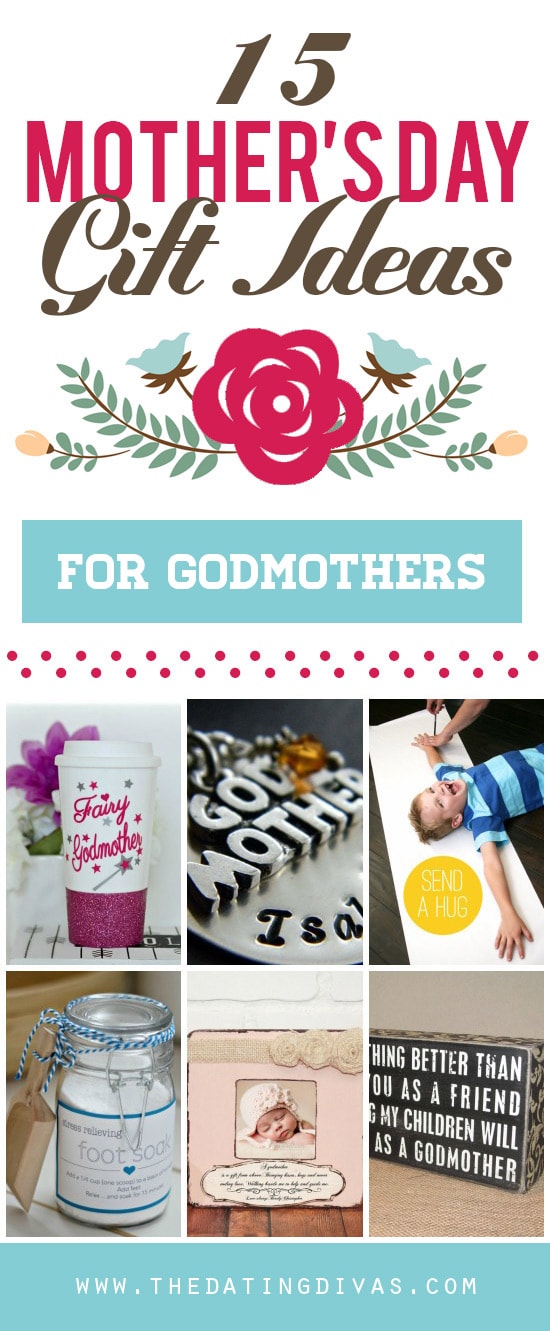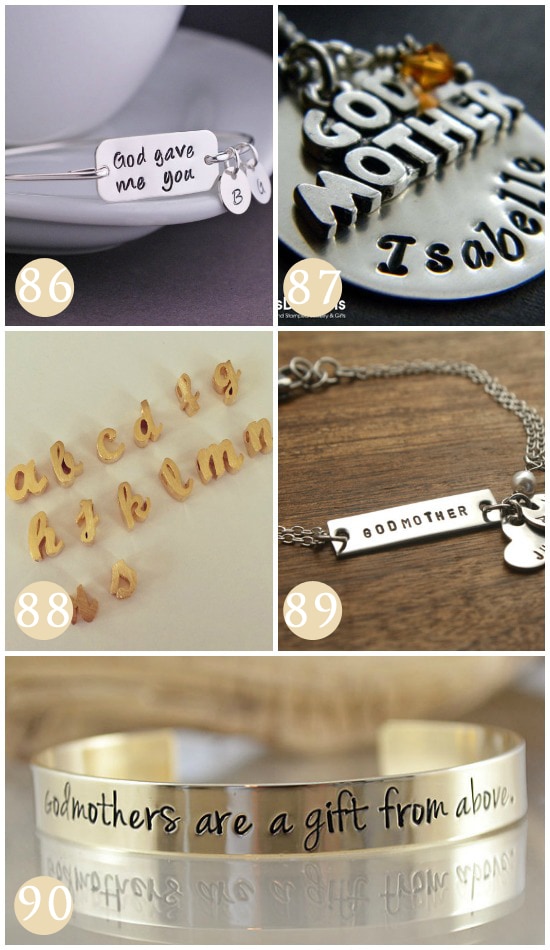 86. "God Gave Me You" Bracelet – Add your initials for a personalized gift for your godmother.
87. Godmother Pendant with Name – Customize this pendant with your name and birthstone gem as a beautiful piece of jewelry.
88.  Letter Beads – These letter beads allow you to customize any name or word into a unique piece of jewelry.
89. Godmother Bracelet – Just another style and option for a beautiful way for your godmother to wear your love .
90. "A Gift from above" Cuff – Cuffs are all the rage! This is a perfect, trendy gift.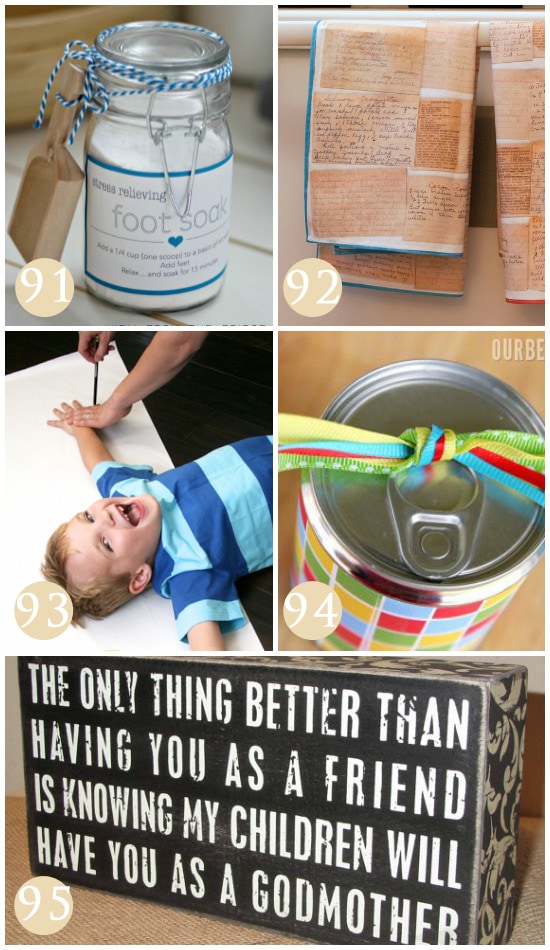 91. DIY Stress Relief Foot Soak – Pamper your godmother with some DIY foot soak using sea salt, epsom salt, and baking soda. It's a quick-and-easy idea that is sure to be a hit.
92. Recipe Towels – This unique idea is sure to capture the heart of your godmother. This site gives you step-by-step directions on how to create this recipe towel with family favorite recipes!
93. Send a BIG Hug – This is by far the easiest and most meaningful idea here! Grab some large craft paper and stencil your child's arms stretched far out. Then write a sweet message and send your godmother a big hug!
94. Tin Can Treat – Load a can full of your godmother's favorite treats and watch her face in delight as she opens it! This site explains just how to take an ordinary can and turn it into a delectable treat!
95. "My Children Have You as Their Godmother" Sign – This gift can come from both you and your children to your special godmother.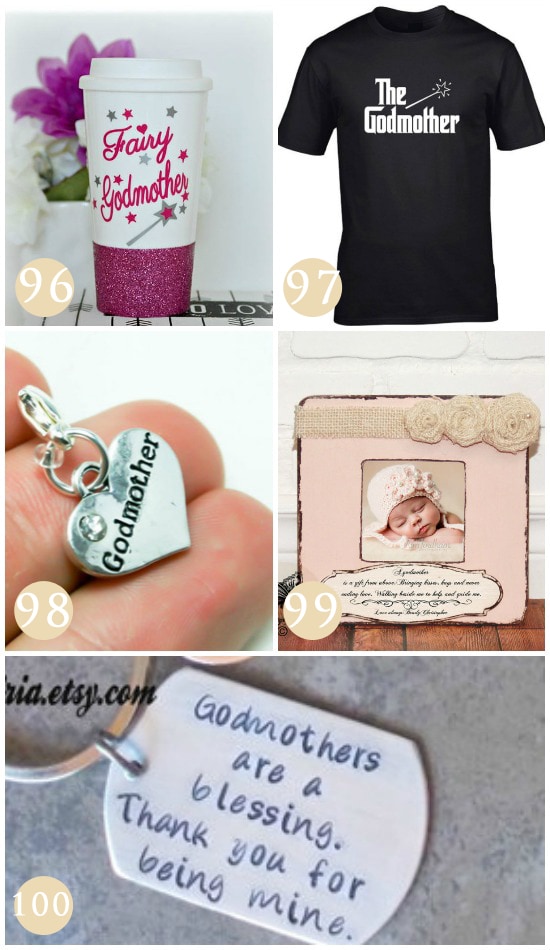 96. "Fairy Godmother" Travel Mug – If your godmother is a lover of coffee or tea then she'll love sporting this mug around!
97. "The Godmother" T-shirt – Let her lounge in style with this silly tee!
98. Godmother Charm – If your godmother has a charm bracelet, then this is a great addition to her ever growing collection.
99. Customizable Picture Frame – Select any color frame and add your darling picture as the perfect gift for your godmother.
100.  "Godmothers are a Blessing" Keychain – Keep it simple and sweet with this meaningful keychain.
Still not sure!?  Check out this round up for 40+ MORE Amazing Mother's Day Gift Ideas!
Happy Mother's Day!