Over 100 Romantic Love Quotes
You might have noticed by now that here at The Dating Divas, we LOVE love! It's true. We're a bunch of hopeless romantics who believe in happily ever after. It's why we love doing what we do – strengthening and enriching marriages. And if you're on our site, chances are, you LOVE love too! That's why we decided to share our very favorite, swoon-worthy love quotes with you. That way you can pin or bookmark this post now and come back to it whenever you need a romantic love quote. {We don't know about you, but we're always looking for little love quotes to use in flirty text messages or sentimental love letters.  These would also be perfect in vinyl or on a wall print to use for decor in your home.}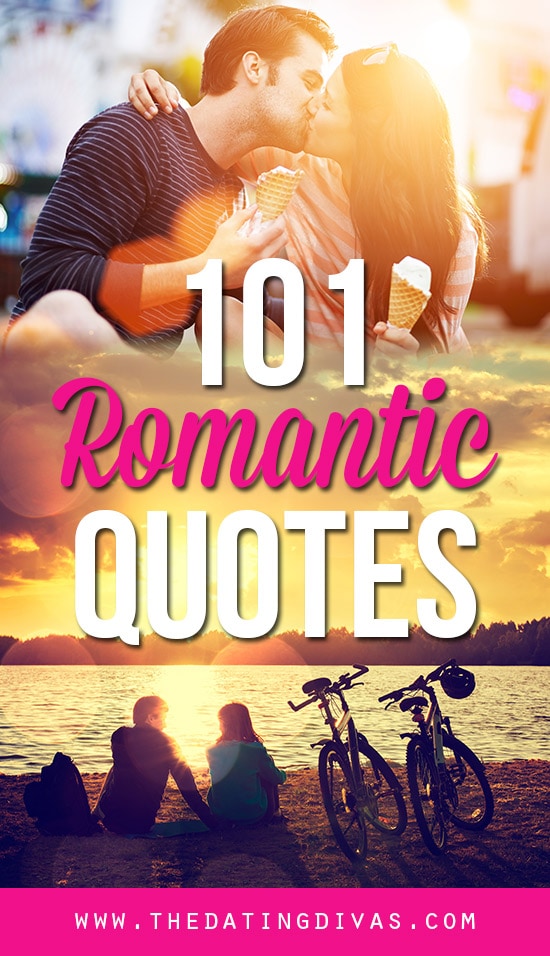 This post contains affiliate links. To learn more about 'em,
click here
.
To make browsing easier, we've divided these romantic love quotes into categories.

OUR LATEST VIDEOS
Below you'll find…
20 Romantic SONG Quotes

20 Romantic MOVIE Quotes

20 Romantic BOOK Quotes

10 Romantic WEDDING Quotes

11 Romantic MARRIAGE Quotes

10 Romantic BIBLE Quotes

10 Romantic LONG DISTANCE RELATIONSHIP Quotes
Pretty much, there's a little bit of something for everyone. Get ready to swoon…
Romantic Song Quotes
A sweet way to surprise your spouse would be to send them a romantic song quote via text or email.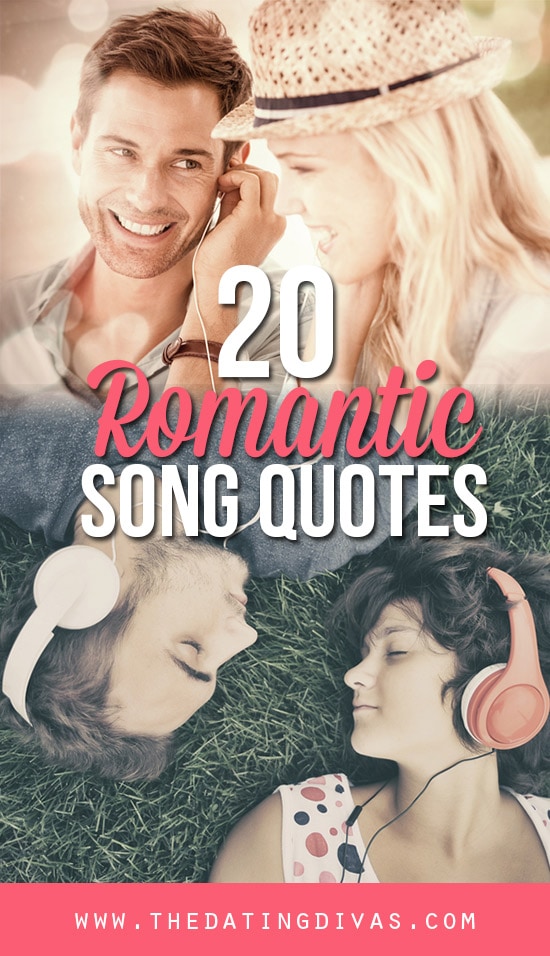 1. All of me loves all of you. Love your curves and all your edges; all your perfect imperfections. Give your all to me. I'll give my all to you. – "All of Me" by John Legend (Get it on iTunes)
2. It's always better when we're together. – "Better Together" by Jack Johnson (Get it on iTunes)
3. Now you're my whole life. Now you're my whole world… We'll look back someday, at this moment that we're in and I'll look at you and say, 'and I thought I loved you then.' – "Then" by Brad Paisley (Get it on iTunes)
4. You know it's true. Everything I do, I do it for you. – "Everything I Do" by Bryan Adams (Get it on iTunes)
5. Take me into your lovin' arms. Kiss me under the light of a thousand stars. – "Thinking Out Loud" by Ed Sheeran (Get it on iTunes)
6. I'll never stop trying. I'll never stop watching as you leave. I'll never stop losing my breath every time I see you looking back at me. I'll never stop holding your hand. I'll never stop opening your door. I'll never stop choosing you babe. I'll never get used to you. – "Never Stop" by SafetySuit (Get it on iTunes)
7. You're every minute of my every day… Whatever comes our way, we'll see it through. And you know that's what our love can do – "Everything" by Michael Buble (Get it on iTunes)
8. The more I see you, the more I want you. Somehow this feeling just grows and grows. With every sigh, I become more mad about you. – "The More I See You" by Michael Buble (Get it on iTunes)
9. I keep you with me in my heart. You make it easier when life gets hard. Lucky I'm in love with my best friend. – "Lucky" by Jason Mraz & Colbie Caillat (Get it on iTunes)
10. I won't hesitate. No more, no more. It cannot wait, I'm yours. – "I'm Yours" by Jason Mraz (Get it on iTunes)
11. Take my hand, take my whole life too. For I can't help falling in love with you. – "Can't Help Falling in Love" by Elvis Presley (Get it on iTunes)
12. Everything little thing you do, I do adore. – "I Do Adore" by Mindy Gledhill (Get it on iTunes)
13. I cross my heart and promise to give all I've got to give to make all your dreams come true. In all the world, you'll never find a love as true as mine. – "I Cross My Heart" by George Strait (Get it on iTunes)
14. Let's just fall in love again. – "Let's Just Fall in Love Again" by Jason Castro (Get it on iTunes)
15. There's nothing that I wouldn't do to make you feel my love. – "Make You Feel My Love" by Adele (Get it on iTunes)
16. You are the best thing that's ever been mine. – "Mine" by Taylor Swift (Get it on iTunes)
17. I don't want good and I don't want good enough. I want can't sleep, can't breathe without your love. – "I Want Crazy" by Hunter Hayes (Get it on iTunes)
18. When you say you love me, for a moment, there's no one else alive. – "When You Say You Love Me" by Josh Groban (Get it on iTunes)
19. When I see your face, there's not a thing that I would change, 'cause you're amazing – just the way you are. – "Just The Way You Are" by Bruno Mars (Get it on iTunes)
20. I need to know I can see your smile each morning. Look into your eyes each night. For the rest of my life, here with you, near with you. Oh, I need to be next to you. Right here with you is where I belong. – "Need To Be Next To You" by Sara Evans (Get it on iTunes)
Romantic Movie Quotes
Classic romantic movie quotes can melt your spouse's heart! Plus, "Name that Movie" is a fun game to play to connect with your spouse.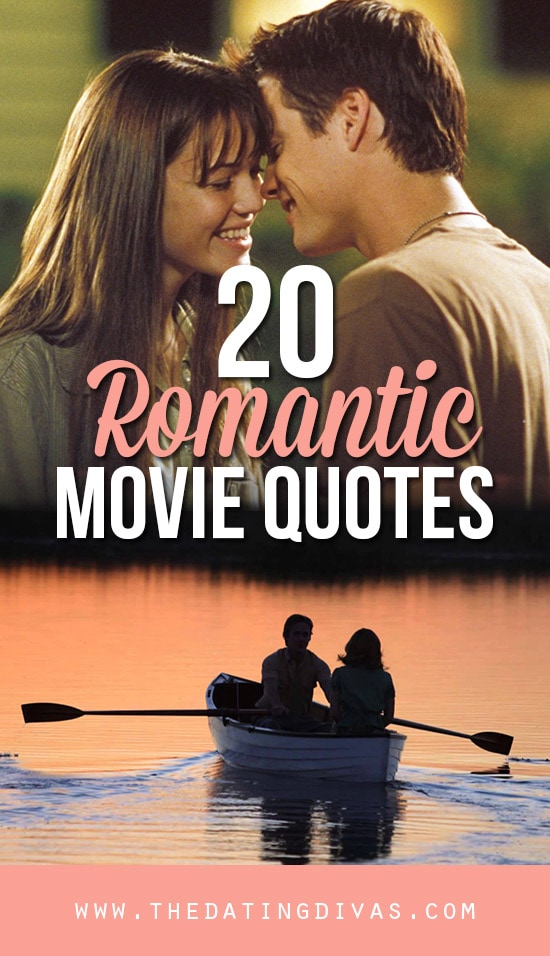 21. I want all of you, forever, you and me, every day. – The Notebook (Watch it on VidAngel)
22. It's like, in that moment the whole universe existed just to bring us together. – Serendipity (Watch it on VidAngel)
23. It was a million tiny little things like that. When you added them all up, they meant we were supposed to be together. – Sleepless in Seattle (Watch it on VidAngel)
24. So I can kiss you anytime I want. – Sweet Home Alabama (Watch it on VidAngel)
25. Our love is like the wind. I can't see it, but I can feel it. – A Walk to Remember (Watch it on VidAngel)
26. I vow to fiercely love you in all your forms, now and forever. I promise to never forget that this is a once in a lifetime love. I vow to love you, and no matter what challenges might carry us apart, we will always find a way back to each other. – The Vow
27. If I could ask God one thing, it would be to stop the moon. Stop the moon and make this night and your beauty last forever. – A Knight's Tale (Watch it on VidAngel)
28. Life is not the amount of breaths you take, it's the moments that take your breath away. – Hitch (Watch it on VidAngel)
29. Most of all, I'm scared of walking out of this room and never feeling the rest of my whole life the way I feel when I'm with you. – Dirty Dancing (Watch it on VidAngel)
30. Death cannot stop true love. All it can do is delay it for a while. – The Princess Bride (Watch it on VidAngel)
31. I am who I am because of you. You are every reason, every hope, and every dream I've ever had. – The Notebook (Watch it on VidAngel)
32. I guarantee there'll be tough times. I guarantee that at some point, one or both of us is gonna want to get out of this thing. But I also guarantee that if I don't ask you to be mine, I'll regret it for the rest of my life; because I know, in my heart, you're the only one for me. – Runaway Bride
33. I have not slept for fear I would wake to find all this a dream. – Ever After
34. Love is a leap. – Kate and Leopold (Watch it on VidAngel)
35. You want the moon? Just say the word and I'll throw a lasso around it and pull it down. – It's a Wonderful Life (Watch it on VidAngel)
36. After all… I'm just a girl, standing in front of a boy, asking him to love her. – Notting Hill (Watch it on VidAngel)
37. You are so beautiful it hurts. – Pearl Harbor (Watch it on VidAngel)
38. I promise to love you forever, every single day of forever. – Twilight (Watch it on VidAngel)
39. I wanted it to be you. I wanted it to be you so badly. – You've Got Mail (Watch it on VidAngel)
40. There is so much to say… I cannot find the words. Except for these – I love you! – Somewhere in Time
Romantic Book Quotes
Some of our favorite romantic quotes come from literature.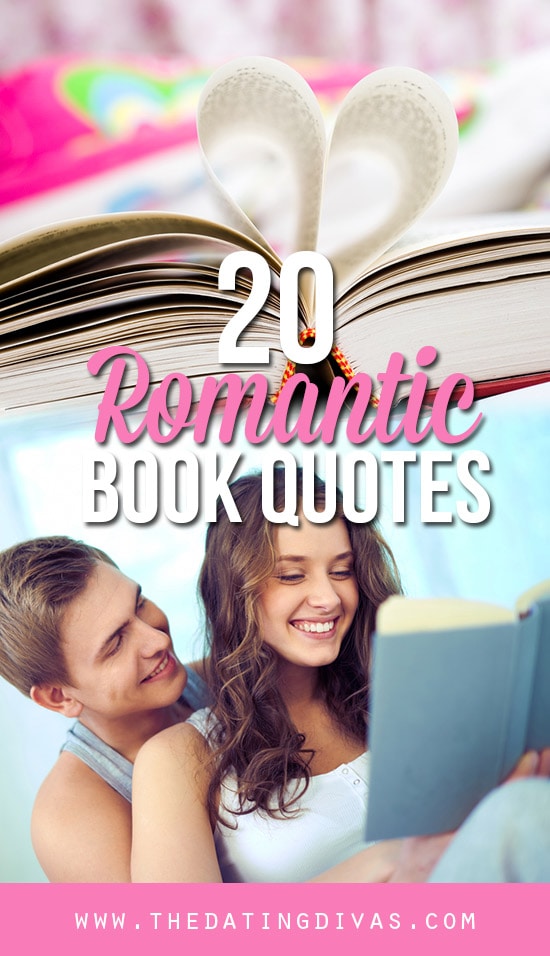 41. You must allow me to tell you how ardently I admire and love you. – Pride & Prejudice
42. You have bewitched me, body and soul. – Pride & Prejudice
43. My heart is, and always will be, yours. – Sense & Sensibility
44. Maybe it is our imperfections which make us so perfect for one another. – Emma
45. You should be kissed, and often, and by someone who knows how. – Gone With the Wind
46. He's more myself than I am. Whatever our souls are made of, his and mine are the same. –Wuthering Heights
47. Sometimes you do find what you're looking for closer than you think. –The Magic of Ordinary Days
48. I have for the first time found what I can truly love–I have found you. You are my sympathy–my better self–my good angel–I am bound to you with a strong attachment. I think you good, gifted, lovely: a fervent, a solemn passion is conceived in my heart; it leans to you, draws you to my centre and spring of life, wrap my existence about you–and, kindling in pure, powerful flame, fuses you and me in one. – Jane Eyre
49. The day my life changed forever… The day I first saw you. – The Longest Ride
50. I held her close to me with my eyes closed, wondering if anything in my life had ever been this perfect and knowing at the same time that it hadn't. I was in love, and the feeling was even more wonderful than I ever imagined it could be. – A Walk to Remember
51. Do I love you? My god, if your love were a grain of sand, mine would be a universe of beaches. – The Princess Bride
52. Perhaps, after all, romance did not come into one's life with pomp and blare, like a gay knight riding down; perhaps it crept to one's side like an old friend through quiet ways; perhaps it revealed itself in seeming prose, until some sudden shaft of illumination flung athwart its pages betrayed the rhythm and the music, perhaps… perhaps… love unfolded naturally out of a beautiful friendship, as a golden-hearted rose slipping from its green sheath. – Anne of Avonlea
53. I have loved none but you. – Persuasion
54. To love or have loved, that is enough. Ask nothing further. There is no other pearl to be found in the dark folds of life. – Les Miserables
55. I am nothing special; just a common man with common thoughts, and I've led a common life. There are no monuments dedicated to me and my name will soon be forgotten. But in one respect I have succeeded as gloriously as anyone who's ever lived: I've loved another with all my heart and soul; and to me, this has always been enough. – The Notebook
56. To one whom I love, as I do not believe man ever loved woman before. – North and South
57. The friendship I have had in my heart for you has ripened into a deeper feeling, a feeling more beautiful, more pure, more sacred. – Gone With the Wind
58. I fell in love the way you fall asleep: slowly, and then all at once. – The Fault in Our Stars
59. The power of a glance has been so much abused in love stories, that it has come to be disbelieved in. Few people dare now to say that two beings have fallen in love because they have looked at each other. Yet it is in this way that love begins, and in this way only. – Les Miserables
60. He stared at her, knowing with certainty that he was falling in love. He pulled her close and kissed her beneath a blanket of stars, wondering how on earth he'd been lucky enough to find her. – The Last Song
Romantic Wedding Quotes
These classic quotes are beautiful ways to capture the romance of your wedding day.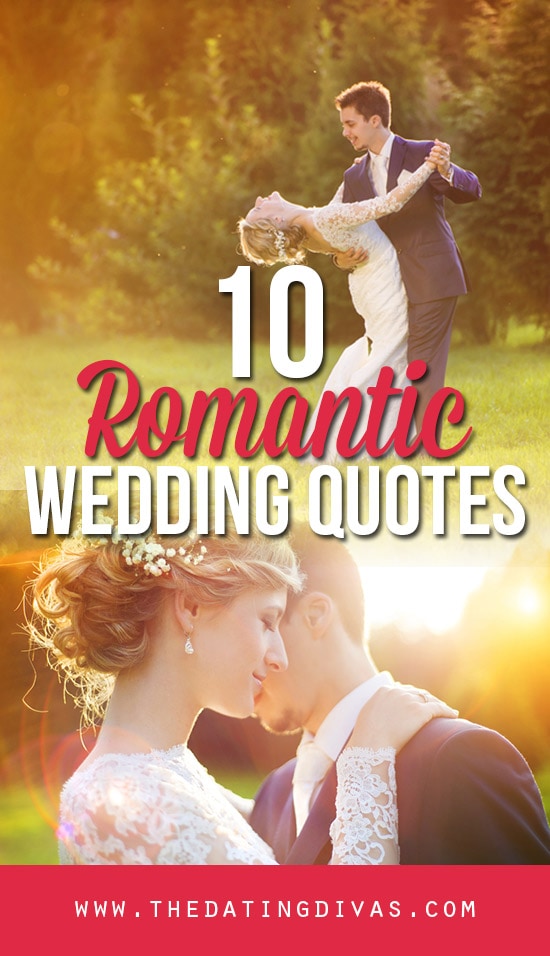 61. Happily ever after starts here! – Author Unknown
62. My whole heart, for my whole life. – Author Unknown
63. You will forever be my always. – Author Unknown
64. It was always you. – Author Unknown
65. It's by your side I make my home. –"Loving Wings" by Dave Matthews Band (Get it on iTunes)
66. From this day forward, you shall not walk alone. Your heart shall be my shelter and my arms will be your home. – Author Unknown
67. So this is love. So this is what makes life, divine. – Cinderella
68. I choose you… My whole heart will be yours forever. This is a beautiful start to a lifelong love letter. – "I Choose You" by Sara Bareilles (Get it on iTunes)
69. From this moment, life has begun. From this moment, you are the one. Right beside you is where I belong. From this moment on. – "From This Moment On" by Shania Twain (Get it on iTunes)
70. I swear, by the moon and stars in the sky, I'll be there… For better or worse, till death do us part, I'll love you with every beat of my heart. I swear. – "I Swear" by John Michael Montgomery (Get it on iTunes)
Romantic Marriage Quotes
Uplifting and romantic quotes for your marriage.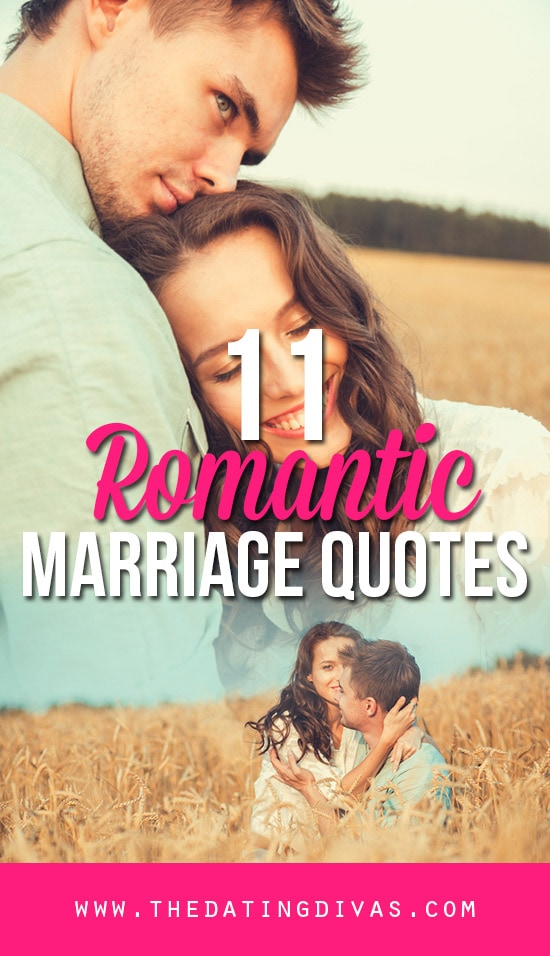 71. A successful marriage requires falling in love many times, always with the same person. – Mignon McLaughlin
72. Real love isn't just a euphoric, spontaneous feeling – it's a deliberate choice; a plan to love each other for better and worse, for richer and poorer, in sickness and in health. – Seth Adam Smith
73. A perfect marriage is just two imperfect people who refuse to give up on each other. – Author Unknown
74. Mature love has a bliss not even imagined by newlyweds. – Boyd K. Packer
75. Marriage is a mosaic you build with your spouse. Millions of tiny moments that create your love story. – Jennifer Smith
76. The best thing to hold onto in life is each other. – Audrey Hepburn
77. Love is that condition in which the happiness of another person is essential to your own. – Robert A. Heinlein
78. A true love story never ends. – Author Unknown
79. I choose you and I'll choose you over and over and over. Without pause, without a doubt, in a heartbeat. I'll keep choosing you. – Author Unknown
80. You're pretty much my most favorite of all time, in the history of ever. – Author Unknown
81. Because of you, I can feel myself slowly, but surely, becoming the me I have always dreamed of being. – Tyler Knott Gregson 
Romantic Bible Quotes
How beautiful are these Bible love quotes? Share a little romance today.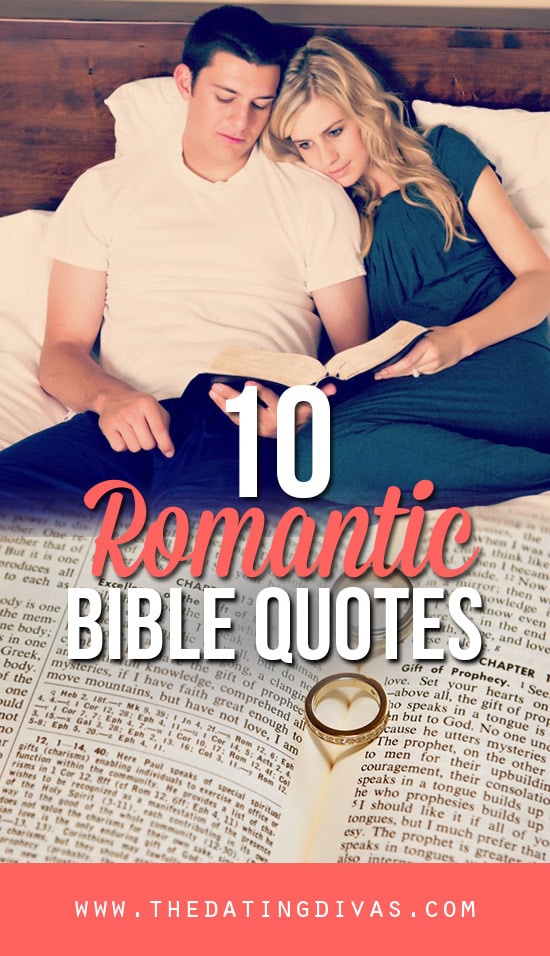 82. I am my beloved's and my beloved is mine. – Song of Solomon 6:3
83. I found him whom my soul loveth. – Song of Solomon 3:4
84. Whither thou goest, I will go; and where thou lodgest, I will lodge. – Ruth1:16
85. What therefore God hath joined together, let not man put asunder. – Mark 10:9
86. And she became his wife; and he loved her. – Genesis 24:67
87. And they two shall be one flesh. – Ephesians 5:31
88. Two are better than one. – Ecclesiastes 4:9
89. Love one another, as I have loved you. – John 15:12
90. Greet one another with an holy kiss. – 2 Corinthians 13:12
91. Come near now, and kiss me. – Genesis 27:26
Romantic Long Distance Relationship Quotes
Decrease the distance with some romance. These long distance love quotes will make the space seem less overwhelming.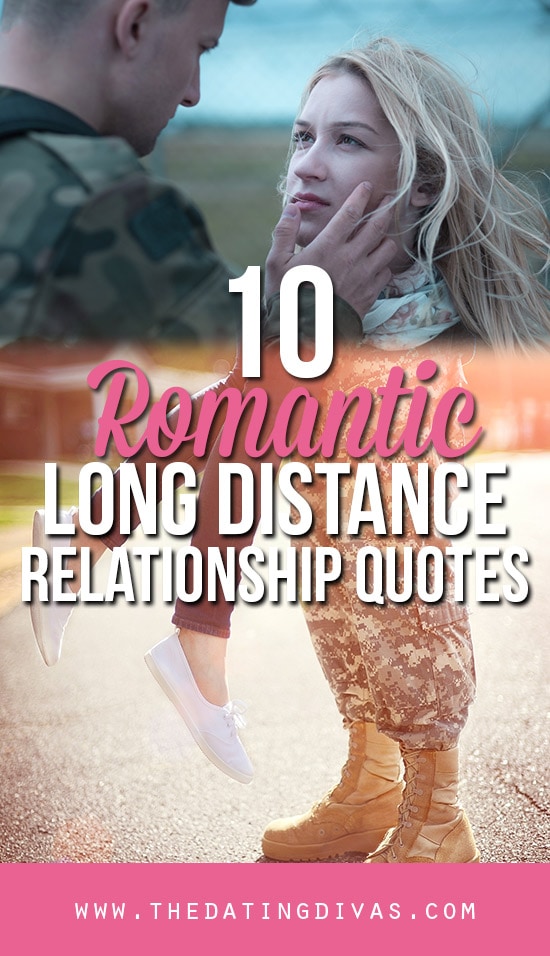 92. Distance means so little when someone means so much. – Author Unknown
93. How lucky am I to have someone who makes saying goodbye so hard. – A.A. Milne
94. Love's involved with spending time together, but spending time apart, can lead to loving even more. – Remember Me
95. Tonight, I will look up at the moon and I will know that somewhere you are looking at it too. – Dear John
96. The reason it hurts so much to separate is because our souls are connected. – The Notebook
97. While I sleep, I dream of you, and when I wake, I long to hold you in my arms. If anything, our time apart has only made me more certain that I want to spend my nights by your side, and my days with your heart. – Nights in Rodanthe
98. True love cannot be contained by borders; it penetrates miles, zip codes, and state lines. – Author Unknown
99. When two people are meant for each other, no time is too long, no distance is too far; no one can ever tear them apart. – Author Unknown
100. Distance is not for the fearful, it's for the bold. It's for those who are willing to spend a lot of time alone in exchange for a little time with the one they love. It's for those who know a good thing when they see it, even if they don't see it nearly enough. –Meghan Daum
101. I can't wait until I can roll over at 2 AM to find your lips, instead of a text. – Author Unknown
Didn't I tell you? A little bit of something for everyone!
Oh, and don't forget to check out our 5 Love Quote Wall Art Prints!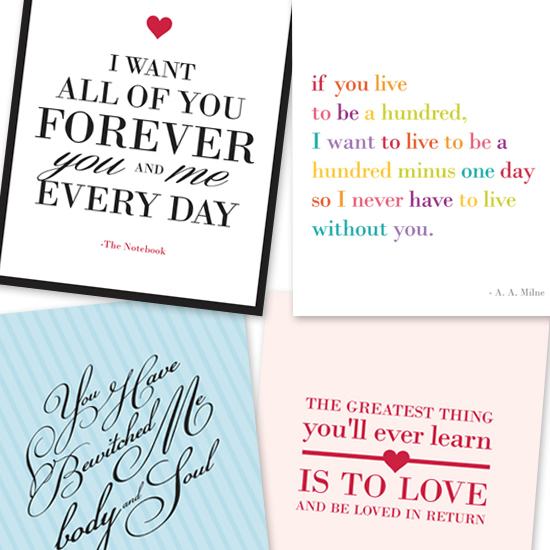 And if you liked this post, you might also like our 100+ FREE Printable Love Notes.