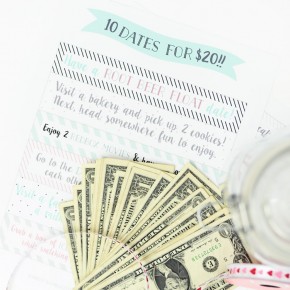 10 Inexpensive Date Nights for Under $20!
One of the biggest roadblocks to date night is time and money. Today's idea should help you with both. We have compiled 10 date nights for $20!  I decided to wrap this up in a fun way and give to my husband for Father's Day.  Now whenever we have a little time and need a date night, we grab the idea wrapped in the $2 bills and head out for a night on the town.
This is SUPER easy to put together.
All you need is to print...
Continue Reading