I am one of "those" girls who definitely thinks I married one of the best guys in the world.  My husband, from wwaaayy before we said I do, has treated me like THE princess!  It is very flattering to be treated like royalty! You should definitely try it sometime.  So, for all the hubby's and wifey's out there… take note!  Treat the one you love like the royalty they are!  Here is my better half to share with you a fun way to surprise your honey with a cute public love note!!
Hey guys, my name is Nate… my wife is the AMAZING Wendy from the Dating Divas.  I want to challenge every one of you to some how get your non-reading spouses to take a quick gander at this post.  Every once in a while we men especially, need a swift kick in the back side in order to stop doing only the status quo in our marriages.  We need to go above and beyond the call of duty.  I figure casual marriages become casualties in life.
Men, let's face it.  Our spouses have the uncanny ability to make our day amazing or not so amazing with in a matter of seconds in many different ways. 🙂   But hey, I realize a lot of you may be too "manly" or "cool" to admit the fact that you do, from time-to-time, glance at your spouse's family blog or even the Dating Divas website.  I guess I am a girly-man because I will admit it, I love seeing new posts on her blog.  She does an amazing job and the posts ALWAYS remind me of the small things in life that matter most.  The amazing part is that with all that "spare" time she seems to have after taking care of the boys (that by itself is more work than my full-time job… times ten) and then you add in preparing 3 meals, cleaning the WHOLE house and the rest of the other 100 daily jobs she some how gets done.  I figure if she can find time to write some posts about the family and the things going on in our life, I can at least find 5-10 minutes a few times a year to hack into her blog and let the world know that I love my princess.  Not only does it make her smile but it also reaffirms her decision she made while gambling on marrying me in the first place.  When I married my wife, I chose my love and now I want to find as many ways possible to show her I love my choice.
One of the fun ways to capture these pricless and limited moments we have, is to surprise her with a short little blog message of your own on her blog.  It always catches your spouse off guard and puts a smile on her face.  Oh, and one final thing to point out is the fact that the benefits you will receive from doing this will be returned tenfold and well worth it.  I would encourage you to treat each day as your last, one day it will be.
~ Nate
The following are just a few posts I have made on our family blog: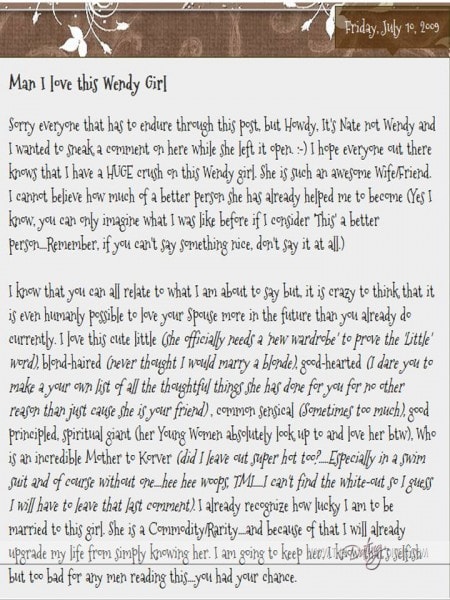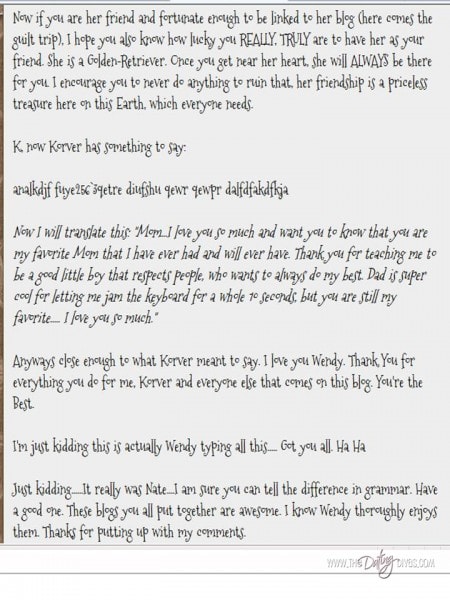 If you dont have time to write a novel, just write a small note that tells the world you love  and appreciate her.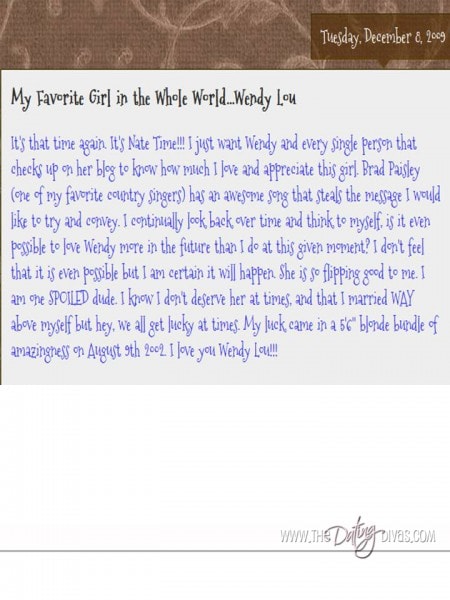 And that is my totally incredible husband Nate… I love him so much!  Thanks babe!
Another cute idea… pick up some sweets
to tell that special someone they "ROCK!" or "We were 'mint' to be together!!"