Sexy September calendar Ideas & Prompts
September–usually the month we associate with all things back-to-school, leaves, fall, chilly mornings, and the sad ending of summer. Well, not anymore! From now on, "September" is going to mean physical connection, intimacy, and fun with your sweetheart! We created this amazing Sexy September Calendar that equips you and your spouse with new and exciting intimacy ideas all month long. You both will have the best time ever planning and designing your month of love with this sexy FREE calendar idea!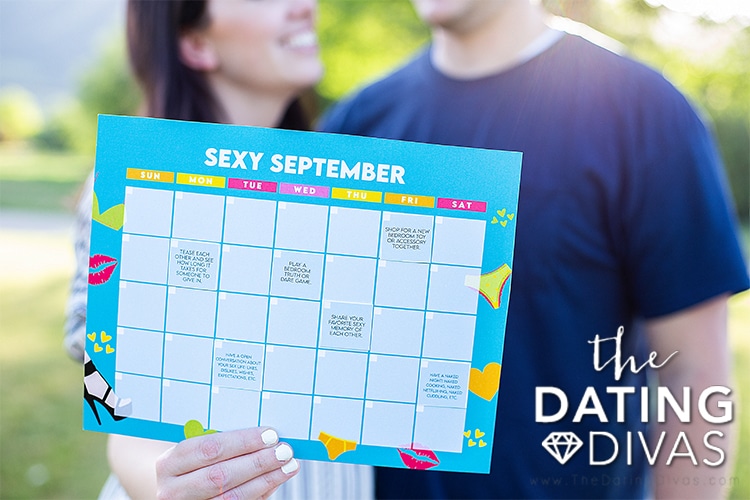 Disclaimer: This post contains affiliate links. To learn more about 'em, click here.
How to prep your sex calendar
In order to make your September the sexiest EVER, we have created this amazing Sexy September calendar idea. We designed a super cute printable calendar template, as well as inserts that you can use to attach to specific days on your calendar!
Lucky for you, the prep is pretty simple! First, download your FREE printables below. Then, cut out your calendar template as well as each of the square day inserts.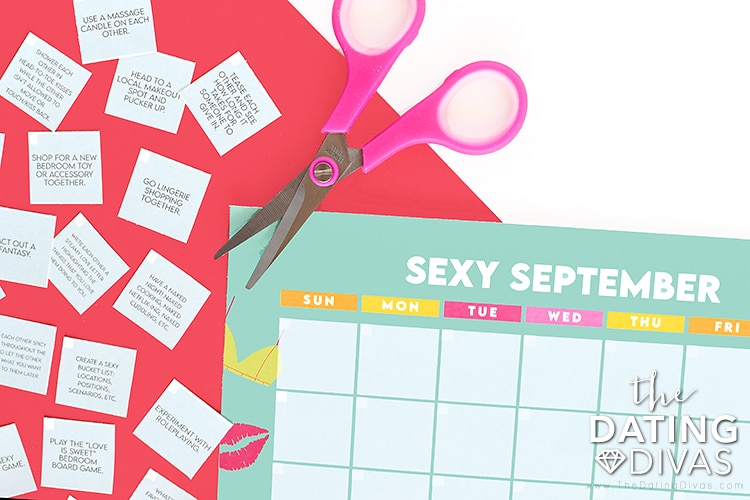 Once everything is cut out, you and your spouse can sit down together and decide which ones you would like to try out and on which days! All you have to do is grab a glue stick and paste the day inserts onto your calendar template. Once you're satisfied with how your month looks, use a pen to fill in the dates in the provided squares.
You can even turn your Sexy September planning into a date night! Whip up some finger foods, read through each of the potential prompts together, and have fun building your month of bow-chicka-wow-wow! 😉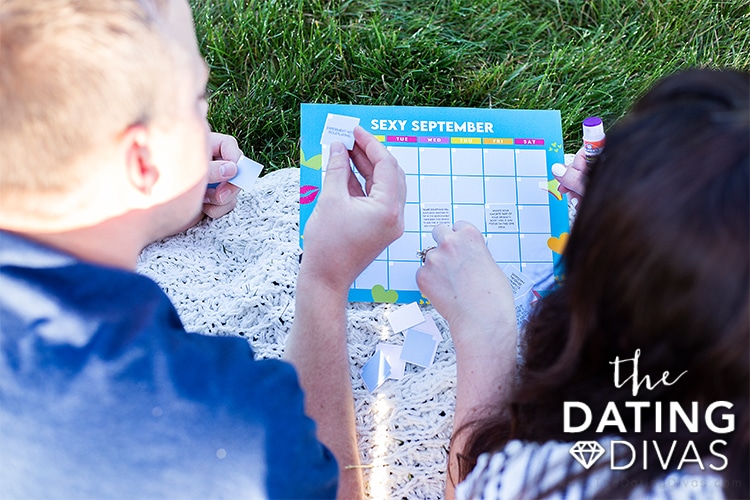 sexy september calendar template
Well, you can't have a Sexy September without the actual calendar, right?! This sexy calendar template is cute, sassy, and the perfect size for you to hide away in your bedroom (or for you to display on the fridge). Hey, whatever your jam is, we never judge 😉.
And want to know the best part about this sex calendar? Because it is easy to customize the dates on it, you can re-print it and come back to this idea year after year! You and your spouse can think of it as your long-standing date for sex in September!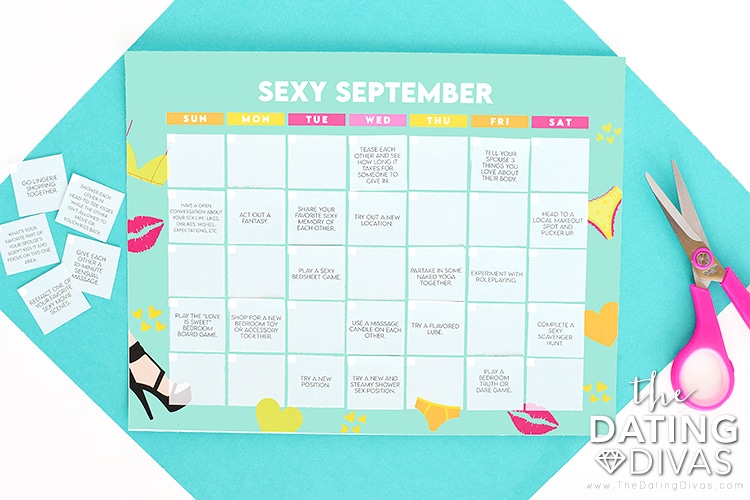 sexy september day inserts
The bread and butter of this steamy calendar idea is, of course, the sexy ideas! We planned out 30 different sexy prompts and ideas for you to browse and choose from! We also included 5 blank squares in case you wanted to get creative and come up with some of your own!
The beauty of this calendar is that there are no rules! You can decide to use 1, 2, or 3 ideas per week. OR, feel free to get a little crazy and load it up to maximum capacity! No matter what you decide to do, you are guaranteed to have the best and most exciting sex this September!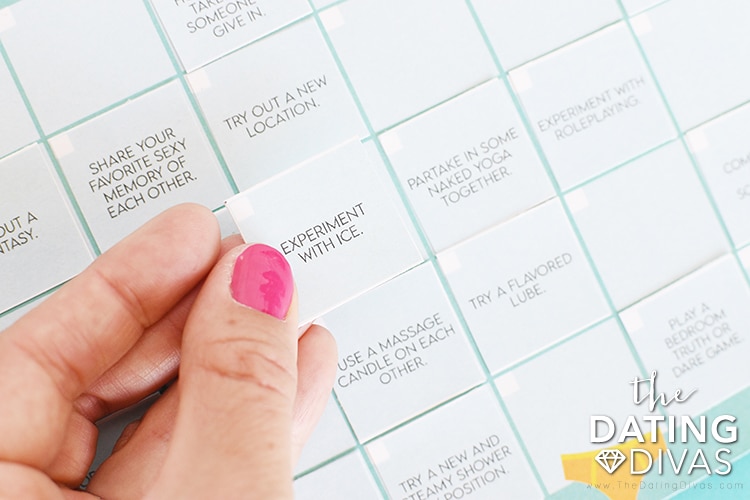 Supplemental calendar materials
To help make your September even sexier, we have added a whole list of supplemental materials! Below you'll find additional posts, date ideas, products, and games to go with almost every idea provided for your calendar. With this amazing lineup, you can kiss the idea of a boring month goodbye!
Experiment with ice – Ice, ice baby! You can even move your ice party into the shower for some hot and cold contrast play!
Act out a fantasy – Choose a fantasy situation that has been stuck in the back of your mind and put it into action!
Try a flavored lube – Not sure what you might like? Snag this variety pack and test out a few flavors!
Try a new and steamy shower sex position – If you need some guidance, you can check out How to Shower Sex Like a Pro for the best tips, positions, and products for shower sex!
Reenact one of your favorite sexy movie scenes – Obsessed with the drawing scene from Titanic? You will SWOON over this Sexy Titanic Movie Date.
Try out a new location – Choose a location where you have never been intimate before and take it for a test drive!
Try a new position – Stumped for ideas? Browse through our list of 25 Best Sex Positions. You can even stick some in a jar and pull them out at random!
Use a massage candle on each other – We love this Kama Sutra Massage Oil Candle!
Play the "Love is Sweet" bedroom board game – You and your sweetie will love our free Love is Sweet game!
Go lingerie shopping together – We've done most of the work for you and rounded up 30 of the best lingerie pieces and sets!
Play a sexy bedsheet game – Two of our favorites include Game of Love and Sheets & Ladders. You can't go wrong with either one!
Complete a sexy scavenger hunt – Need some steamy ideas? Check out our Sexy Scavenger Hunt for Couples!
Shop for a new bedroom toy or accessory together – Lucky for you, we have already rounded up the 25 Best Sex Toys to use with your spouse tonight!
Experiment with roleplaying – If you need some inspiration in the creativity department, these 10 Super Steamy Stories for Roleplaying just might do the trick.
Tell your spouse 3 things you love about their body – Nothing else will get you both in the mood quite like some sexy compliments!
Share your favorite sexy memory of each other – A good ol' fashion trip down memory lane is always guaranteed to light some fires!
Give each other a 10 minute sensual massage – If you consider yourself a novice masseuse, we have gathered 15 Expert Tips on How to Give Sexy Massages.
Partake in some naked yoga together – Need some pose ideas? This Couples Yoga Date will be the perfect place to begin!
Tease each other and see how long it takes for someone to give in – Our guess is that it won't take long for one of you to throw in the towel!
Head to a local make-out spot and pucker up – You can even use these free Car Make-out Date printables during your evening!
Play a bedroom Truth or Dare game – These Sexy Truth or Dare Sticks are perfect and will provide you both with endless prompts.
What's your favorite part of your spouse's body? Kiss it and focus on this one area – Ooh la la! Your spouse will be oh-so grateful!
Create a sexy bucket list: locations, position, scenarios, etc. – Looking for some ideas or inspiration? Check out this list of 68 Ideas for the Ultimate Sexy Bucket List!
Shower each other in head-to-toe kisses while the other isn't allowed to move or touch/kiss back – Now this is something that is sure to drive your spouse wild!
Have an open conversation about your sex life: likes, dislikes, wishes, expectations, etc. – Our Sexy Survey might help you both to open up if this is something that is difficult or uncomfortable for one of you!
Have a naked night! Naked cooking, naked Netflix-ing, naked cuddling, etc. – Just be mindful of stove splatters if you forgo an apron 😉. You can also grab our Naked Night printables to up the ante!
Write each other a steamy love letter highlighting the things that you love having them do to you – If you want to spice up your steamy love letter, grab one of these Sexy Love Quote printables to write your message in!
Send each other spicy texts throughout the day to let the other know what you want to do to them later – Need some help in the sexting department? Don't worry! We have an entire guide on How to Sext Like a Pro, as well as sample texts you could send to your spouse!
Share something you have been wanting to try in the bedroom but have been too afraid to ask for. If you both are comfortable, try it! – This could be a position, location, a toy, a specific fantasy… anything, really!
Paint by Numbers: Bedroom Edition. Use body paint to write numbers on yourself and let your spouse go on a little hunt – This Paint By Numbers Date is so creative and will be the highlight of your week, for sure!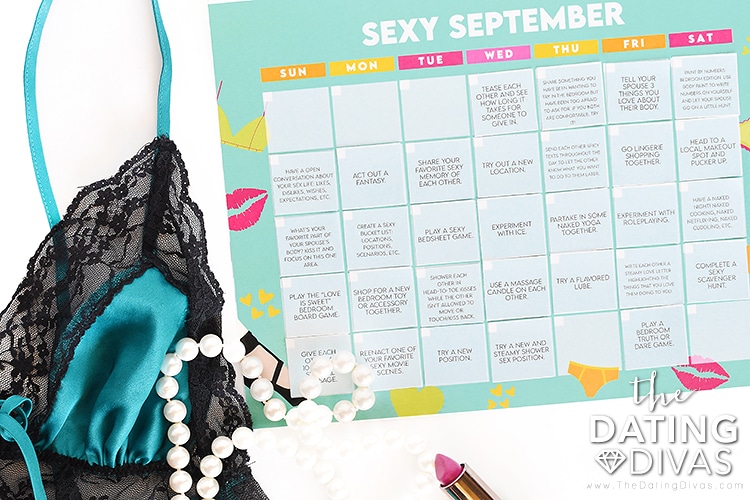 If you love the idea of having a calendar all planned out for you and your spouse, you HAVE to check out our Couples Calendar!
Our Couples Calendar is a monthly subscription where you will be sent calendars each month, much like this one! These calendars will each be different and focus on a brand new marriage topic each month. The focus will be on things like intimacy, communication, service, romance, and more! They also include supplemental printables to go along with the tasks and challenges! There are podcasts to listen to, articles to read, quizzes, and more! Transform your marriage in just one year with these amazing love challenges!
Now, go have the BEST September EVER!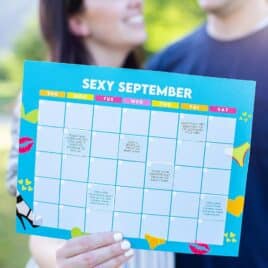 Sexy September Calendar
Printables Designed by Dawn@LockPaperEscape Exclusively for The Dating Divas