The Best Valentine's Day Dates
Needing some amazing Valentine's Day date ideas? We've got you covered! Blow your spouse away by surprising them with the best Valentine's Day date ever! This is one special day that is SO easy to show your spouse just how in love you are with them. Get ready to plan a thoughtful and sweet date that they'll enjoy and remember for years to come. We've done all the hard work gathering up the BEST Valentine's Day dates to provide you with all the inspiration you need below to plan the perfect Valentine's date! We have date ideas for the bedroom, for staying at home, and even fun ideas for the whole family!

 Disclaimer: This post contains affiliate links. To learn more about 'em, click here.
To make it easy for you, we decided to round-up the top Valentine's Day date ideas in a couple of different categories and then you can choose which date idea you like best! And if you don't have time to read through them all right now, just pin one of our pics for later. Do you want this year to be a beautiful and romantic celebration of your love? Or a fun and playful one? Do you want to get the whole family in on date night?? Or ship the kids off early so you can focus on your spouse? No matter what you're hoping for this Valentine's, we've got some ideas for you!
In this post you'll find:
25 At Home Valentine's Day Date Ideas
12 Out on the Town Valentine's Day Date Ideas
24 Valentine's Day Date Ideas for the Bedroom
15 Fun Family Valentine's Day Date Ideas
That's 76 fun Valentine's Day Date Ideas for you to choose from! Let's take a look!!
At Home Valentine's Day Date Ideas
At-home date ideas are great for those of you who are on a budget, can't find a sitter or if you just want to enjoy a nice, relaxing night at home! Whatever the reason, an at-home date, if done right, can be just as memorable and romantic as any other date! In fact, these cute Valentine's day date ideas might just be some of our favorites.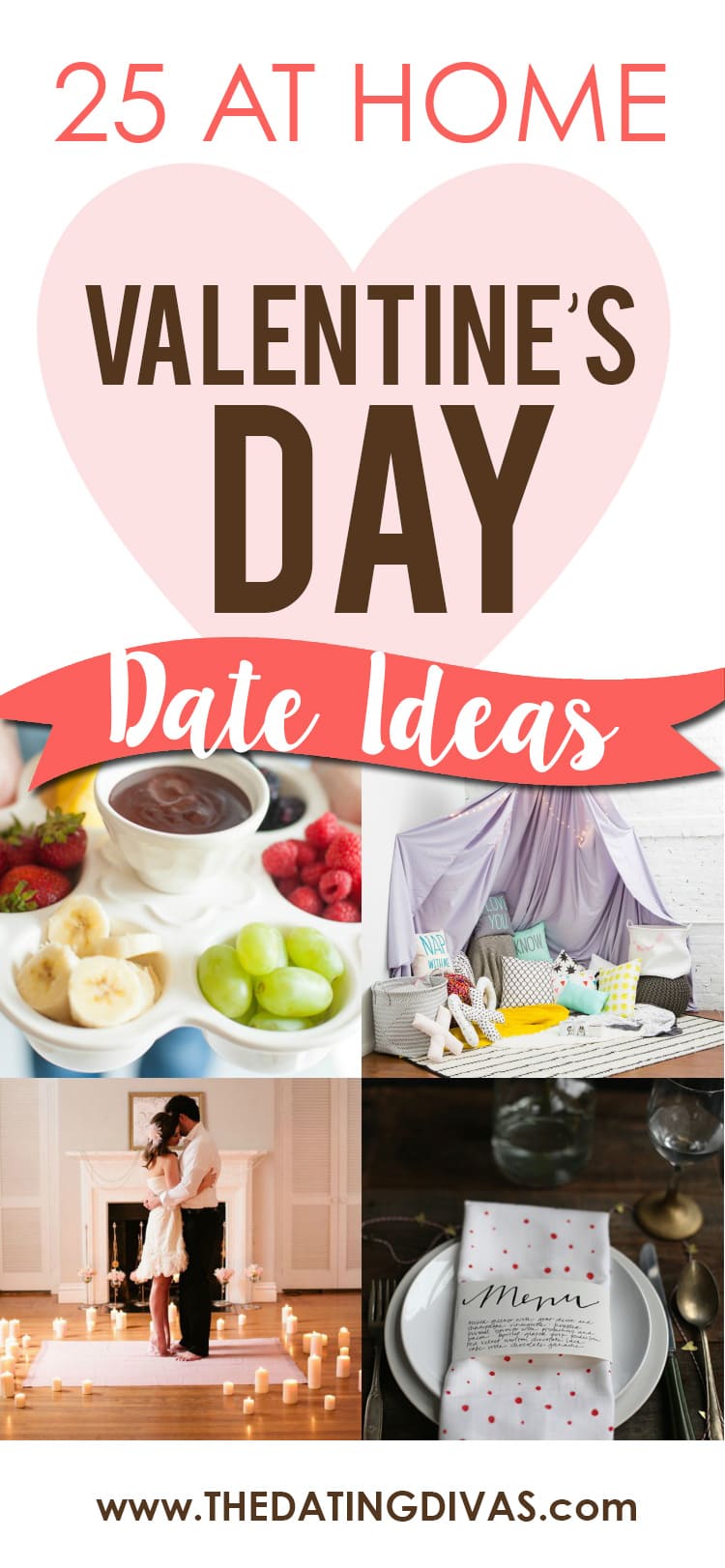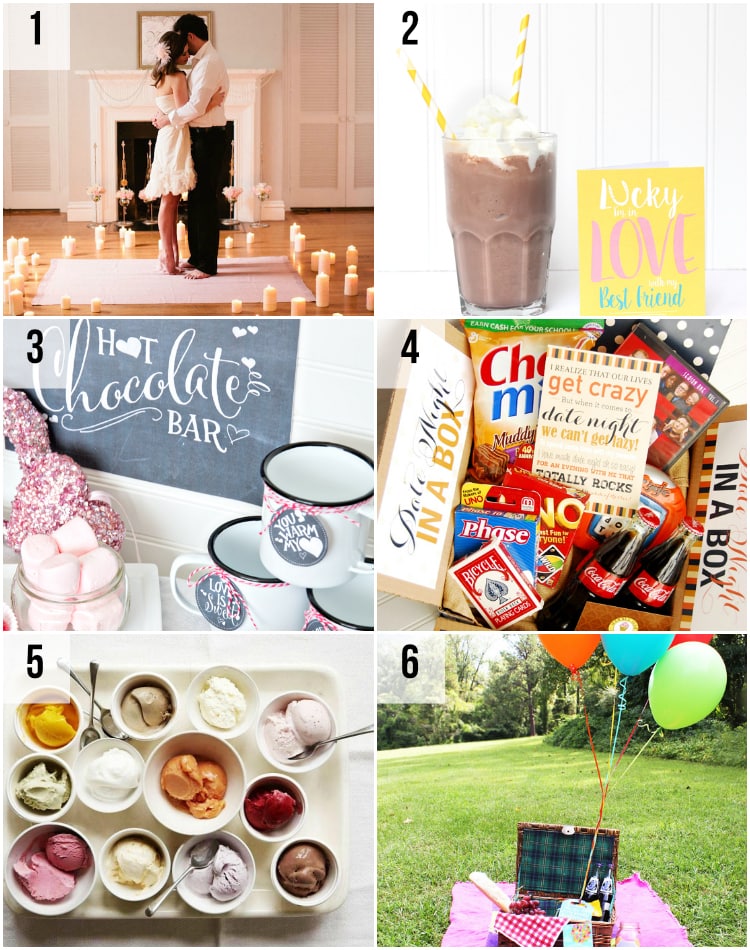 1. Ultimate Valentine's Date Night – Beautiful ideas to create the ultimate Valentine's date night.
2. Best Friend's Date – If your spouse is your best friend, this is the perfect date night for Valentine's day.
3. Hot Chocolate Bar – What could be better than snuggling up with your spouse with a nice cup of hot cocoa?! 2 cups of hot cocoa with lots of mix-ins!!!
4. Date Night in a Box – Create the Valentine's date of your dreams with this date night in a box.
5. Ice Cream Date – An Ice Cream tasting date night might just be the most romantic date night ever!
6. Up Movie Date – Celebrate your adventures together with this Up movie date.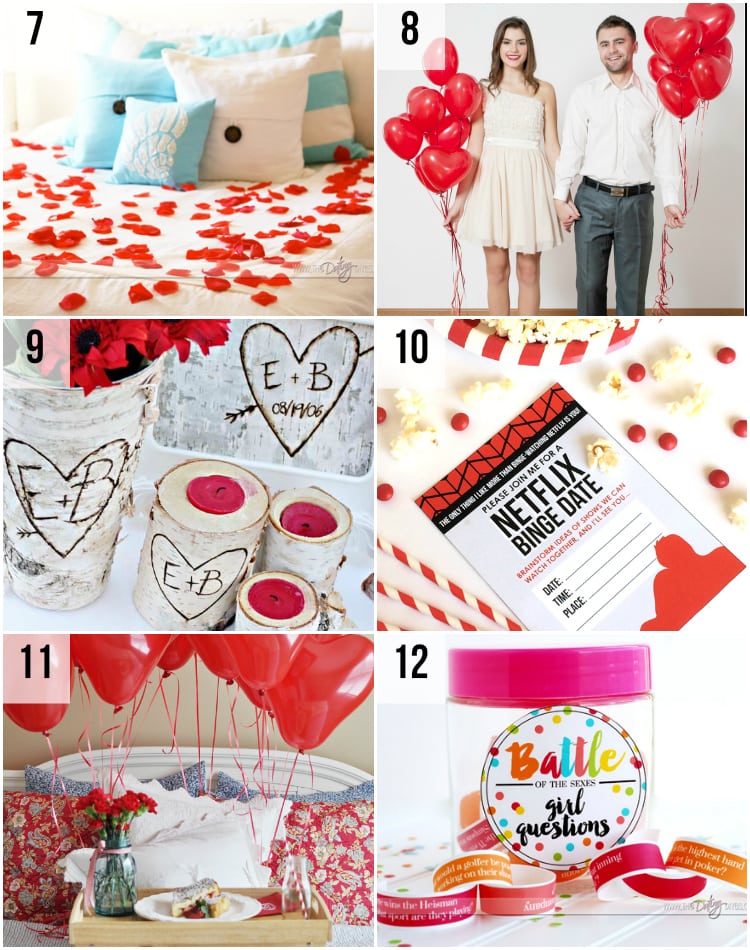 7. Ultimate Valentine's Date Night – Yes! This is one date night you'll want to check out. It has all the essential elements for romance and fun!
8. Love Letter Review – Valentine's seems like a good time to reminisce on some sweet moments in your relationship – this would be the perfect date night.
9. Romantic Dinner at Home – So many great ideas for a romantic dinner at home.
10. Netflix Binge Date – This is the perfect date for you if you love to watch shows, eat treats and play games with your spouse.
11. Breakfast in Bed – I love how simple and adorable this breakfast in bed is. Make Valentine's special with a breakfast date.
12. Battle of the Sexes – If you choose to spend Valentine's with some of your best friends, this would be a fun night… husbands verses wives.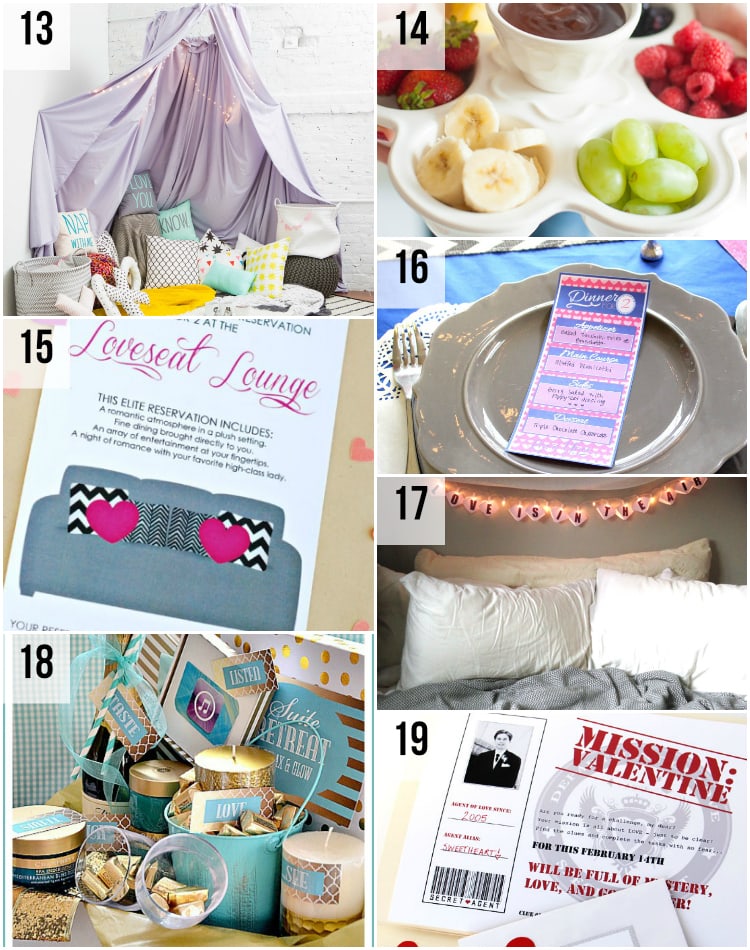 13. Valentine's Fort – Isn't that fort gorgeous? Create your own sweet cuddling space and make a fort for two!
14. Fondue Night – This is perhaps, one of the most romantic dates you could possible do. Feeding each other fruit dipped in chocolate is about as romantic as it gets.
15. Loveseat Lounge – One of the most popular romantic date nights from The Dating Divas.
16. Dinner for 2 Menu – Design your own menu together to come up with the absolute best that you'll both enjoy.
17. Valentine's Glamping – A romantic date night for two right in your own bedroom. Love is in the air!
18. Suite Retreat – This is the perfect gift basket to create your own little retreat. You'll feel like you're in a glamorous suite!
19. Mission Valentine – If you're craving adventure and mystery, this is the Valentine's date for you.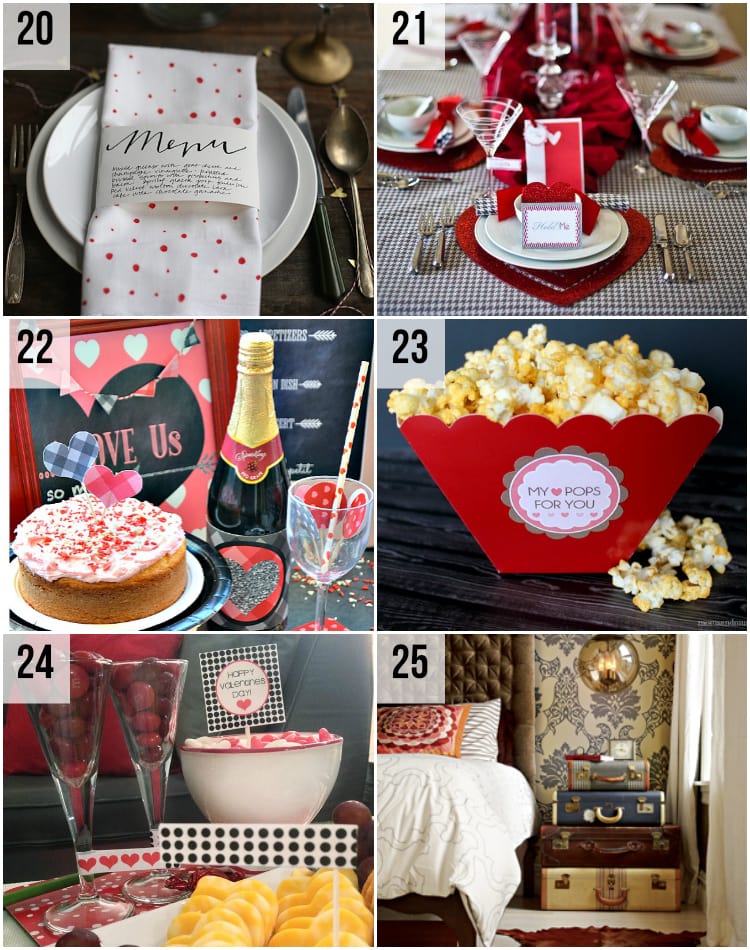 20. Ultimate Valentine's Menu – Get tips for planning the perfect Valentine's Menu.
21. Love Letters Dinner Party – This dinner party is adorable and full of romantic love letters.
22. Party of Two – This is the perfect set up for a party of 2 from 36th Avenue (hint–it's number 20 on the list) and all the printables to pull off a fabulous night.
23. Movie Date Night – My heart pops for you! What a cute way to enjoy some movies and popcorn!
24. Movies and Desserts – Another twist on a traditional movie night… movies and dessert!
25. Indoor Picnic – A romantic indoor picnic might be the perfect, relaxing night in for the two of you.
Out on the Town Valentine's Day Date Ideas
If staying inside just isn't your thing, then get out of the house this Valentine's and use one of these fun and unique out on the town dates. We know it can be tricky trying to come up with the perfect Valentines date but with these awesome ideas, we've practically done all the work for you! Just pick something out you think your sweetie will enjoy and you've got all the inspiration you need to have the most memorable Valentines date ever!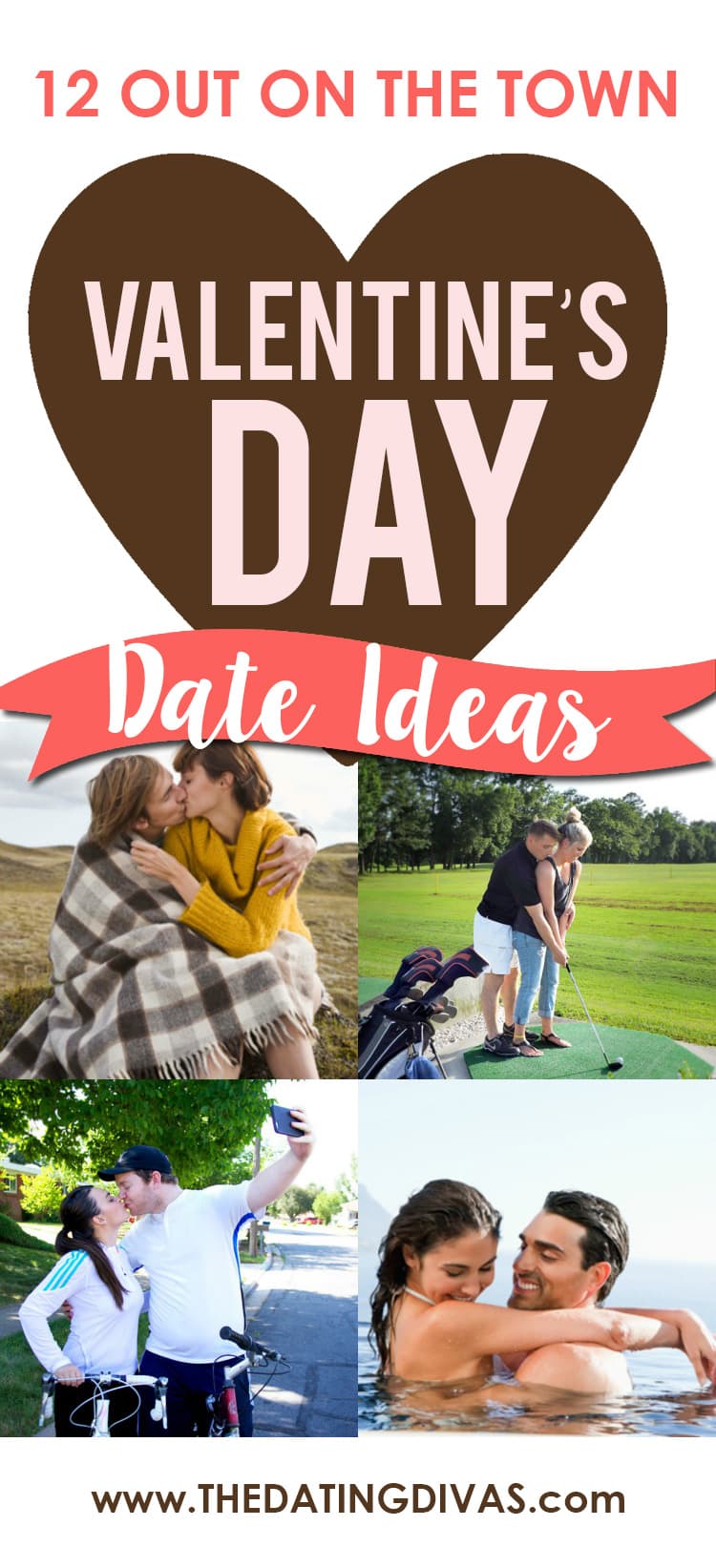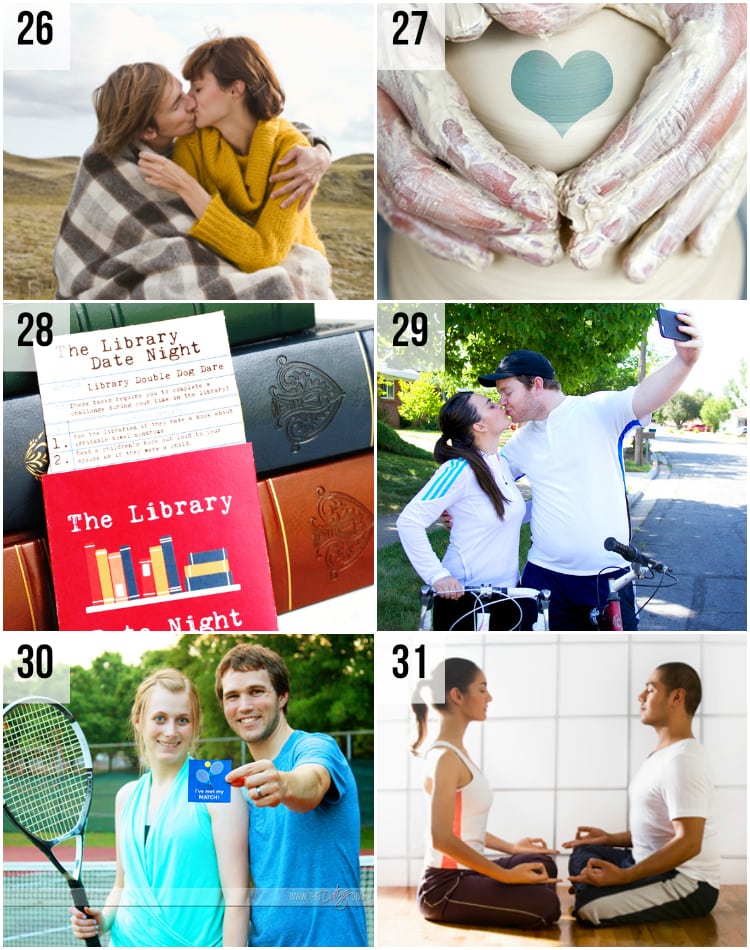 26. Watch the Sunrise – Slow down, take the sunrise in and maybe find a little romance while you're at it.
27. Pottery Class – Get out and learn something new by taking a pottery class for two.
28. Library Date Night – Snuggle up with a fantastic book after this date night at the library.
29. Biking Date – Explore the world together on this biking date. Make it even more exciting by riding a tandem bike!
30. Tennis Date – Looking for an active way to spend your Valentine's? This tennis date will help you meet your perfect match.
31. Yoga Date – This would be a great way to meditate and build a strong relationship with your partner.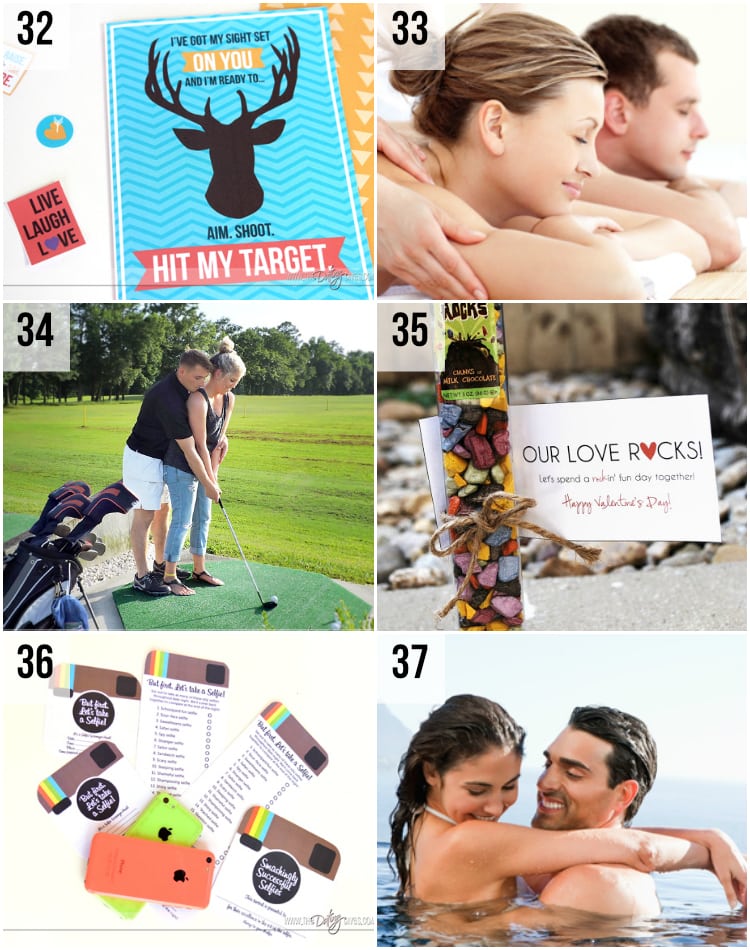 32. Shooting Range Date Night – Take your love to the shooting range and shoot for your favorite prizes on a custom target.
33. Couples Spa Date – Time to get pampered at the spa with your love. 
34. Golfing Date Night – Take to the fields for an afternoon of golfing.
35. Our Love Rocks – Rock climbing adventure together!
36. Selfie Date Night – Get out and make some memories with this fun selfie date night. You'll be sure to have some good pictures to look back on.
37. Swimming Date Night – If you have a warm pool of water nearby, a swimming date might be the best way to connect with your spouse.
Fun Family Valentine's Day Date Ideas
If you are wanting to put together a special Valentine's family date this year here are some really fun and unique date ideas. After all, Valentine's day isn't just about couples… it's about EVERYone you love, kids included! And with these cute valentine's day date ideas the whole family can get in on the LOVE! Be sure to check out "Cupid's Cafe"… it's our favorite every year!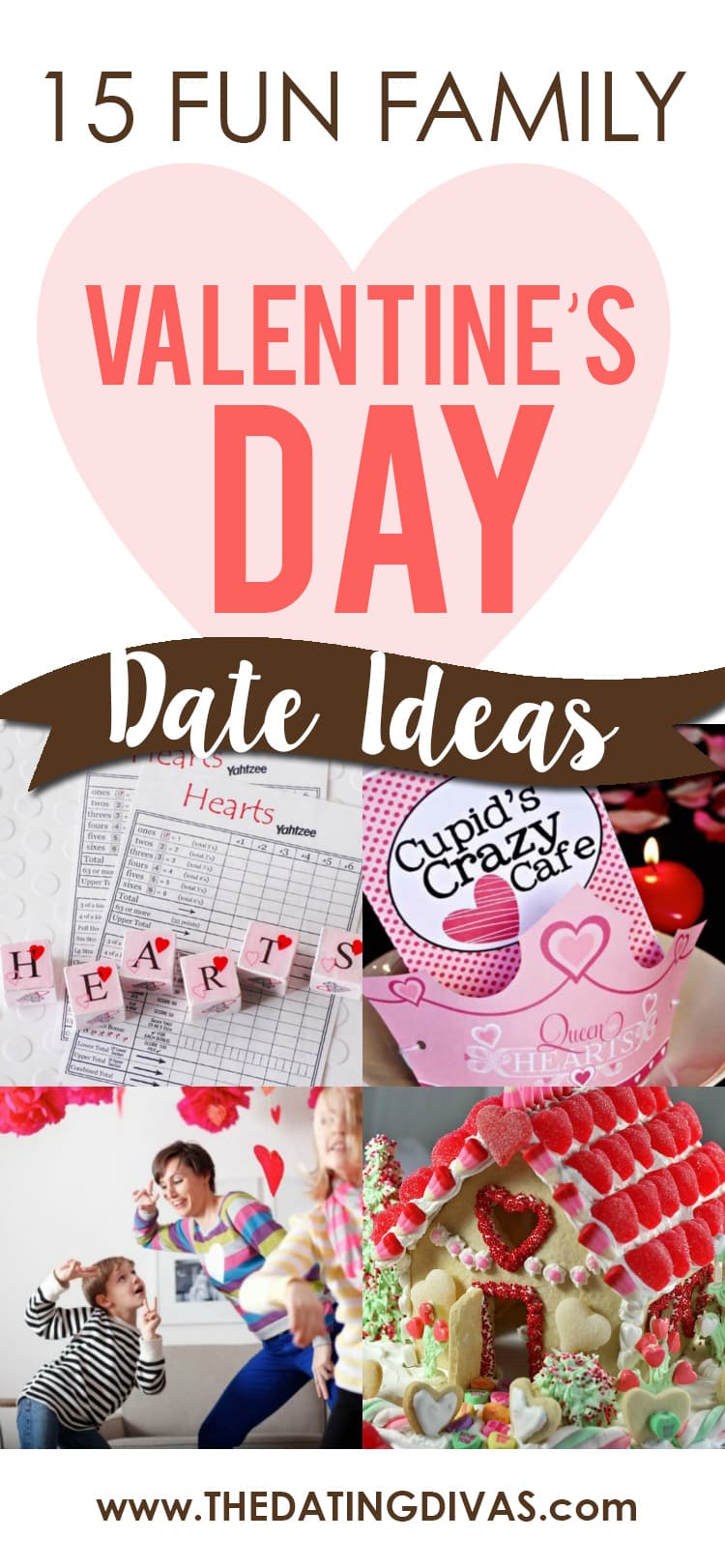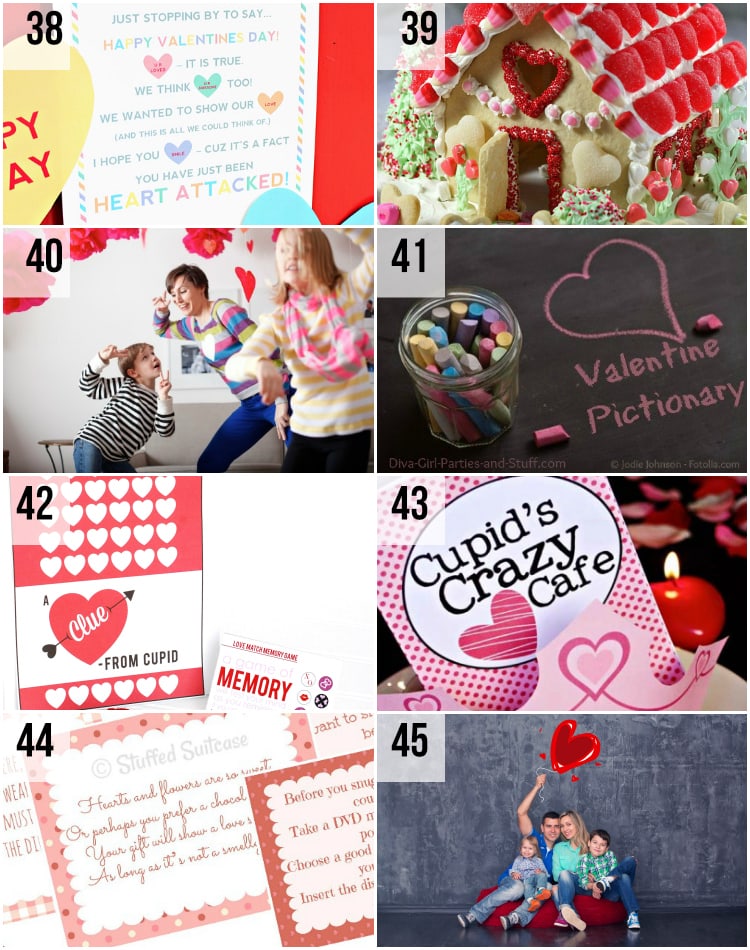 38. Heart Attack – This is a fun way to spread some Valentine's love as a family… give your neighbors a heart attack!
39. Valentine's Sugar House – This is a fun and unique family night for the crafty!
40. Family Valentine's Dance – A party for the whole family will get everyone excited.
41. Valentine Pictionary – This is an interactive date night that will get everyone laughing and playing.
42. Cupid's Love Hunt – This love hunt will be one to remember!
43. Cupid's Crazy Cafe – This is a Diva favorite for Valentine's day. Your family will love it!
44. Valentine's Day Scavenger Hunt – Send the whole family out on the hunt… this will be a night for some fun, new memories!
45. Dinner and a Movie – Cuddle up with your family and watch a fun movie.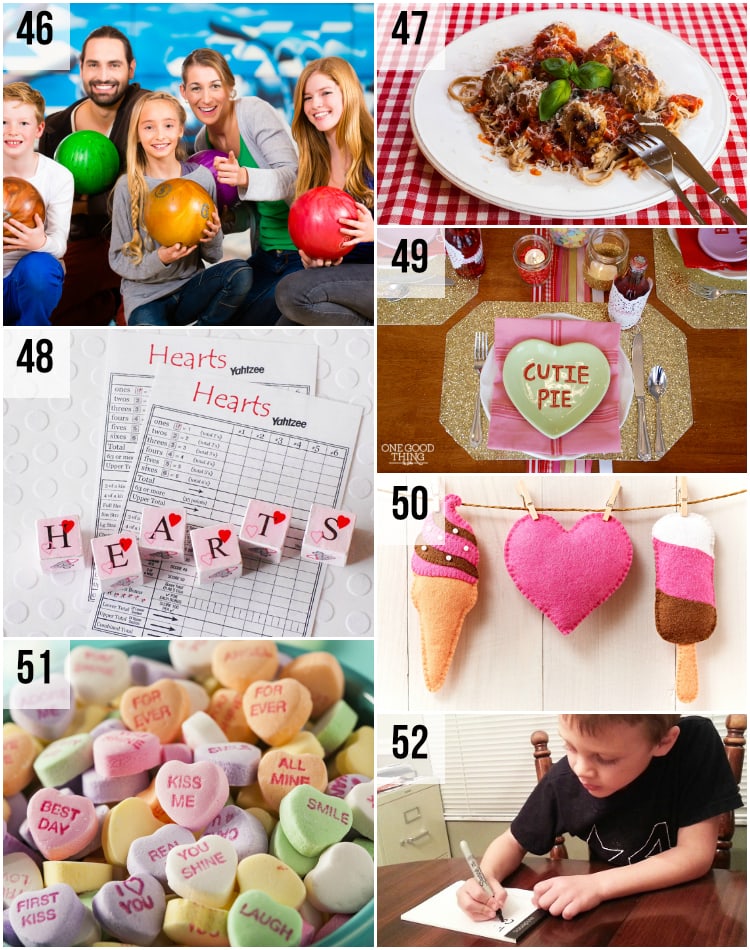 46. Bowling – Take the whole family out for a night of bowling and some fun Valentine's memories.
47. Lady and the Tramp – I love this cute idea of having a Lady and the Tramp themed night with spaghetti and meatballs.
48. Heart Yahtzee – This is a fun game with DIY dice.
49. Conversation Heart Dinner – A fun dinner set up using adorable conversation heart plates, plus some more great ideas.
50. Ice Cream Party – I'm in love with this idea. We're definitely having an ice cream party this Valentine's day.
51. Family Fun Conversation Hearts – Check out these conversation heart games for the whole family.
52. Family Game Show – Host a family game show and spend your Valentine's Day laughing.
Valentine's Day Date Ideas for the Bedroom
Valentine's day is the perfect time to take things to the bedroom… and to let yourself be a little more creative! Instead of just the normal routine, get outside your comfort zone and experiment with some of these awesome and sexy date ideas!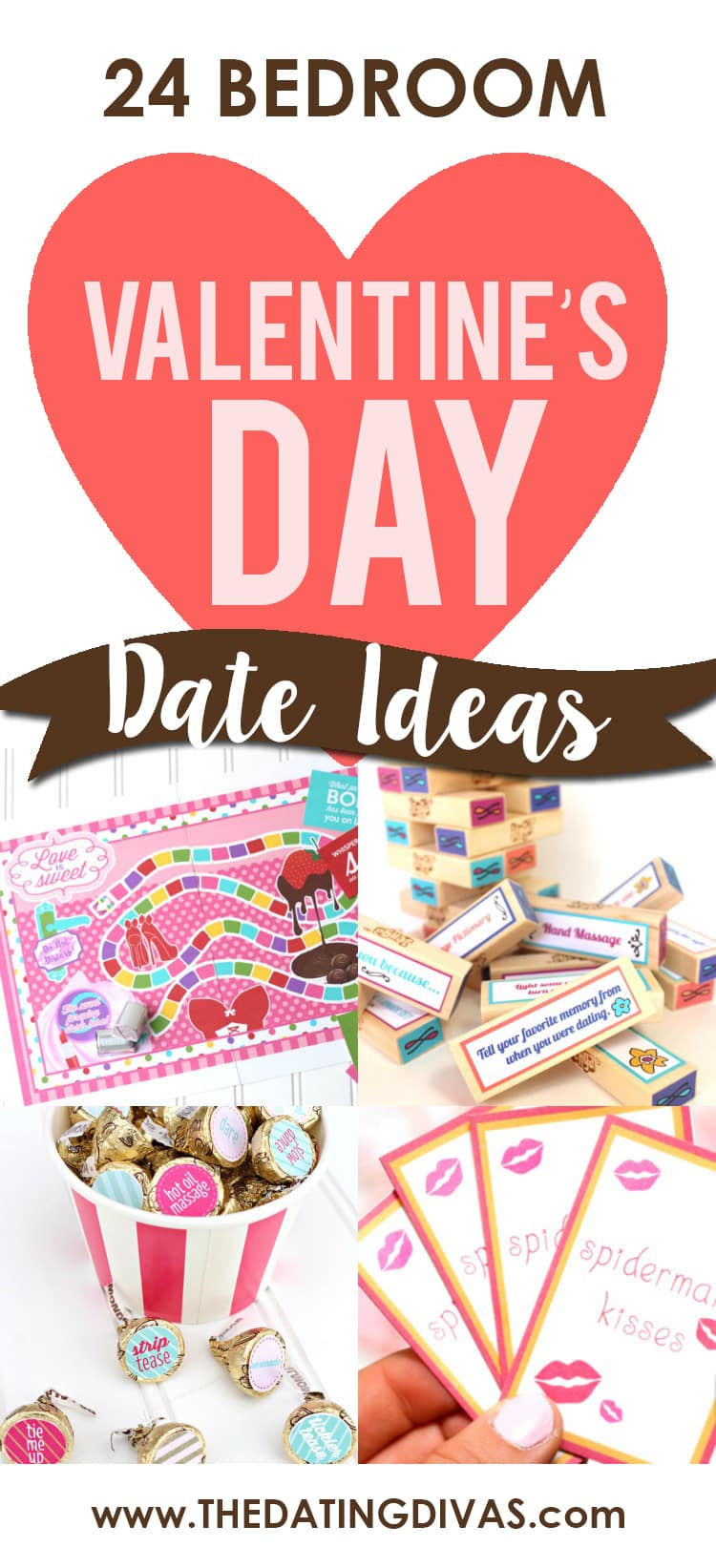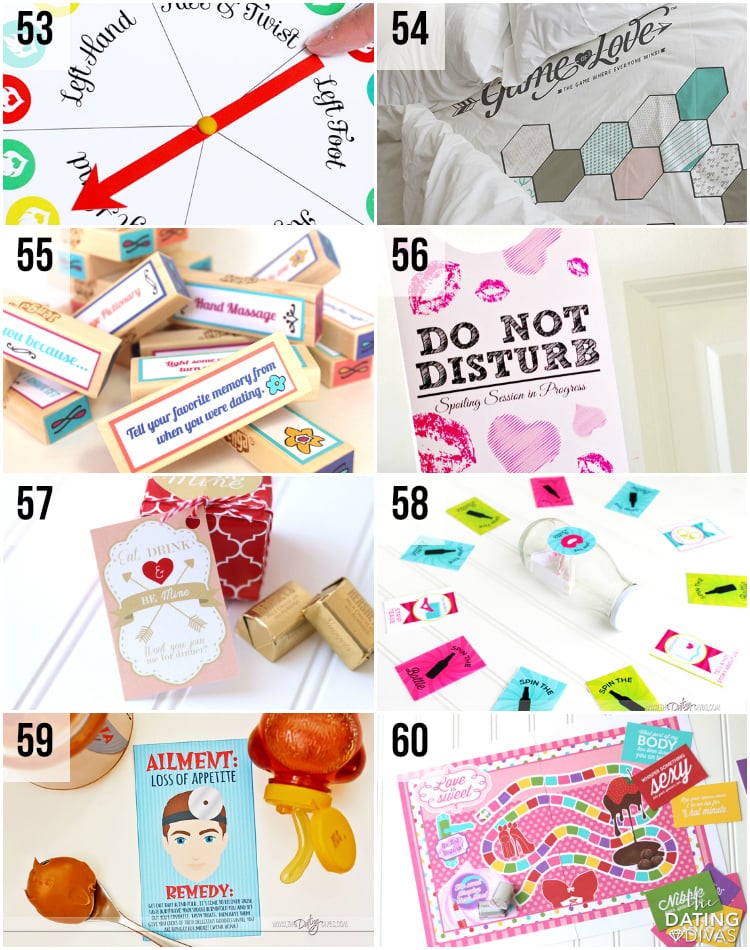 53. Ultimate Intimacy Pack – 12 fun and sexy date nights for the whole year, including sexy twister. This would be a fun Valentine's gift too!
54. Game of Love – The Game of Love is a must have for every couple, you'll love this game. Not up to the DIY? Check out this done-for-you Game of Love! 
55. Jenga Love Game – Bring a gentle touch to this block stacking game.
56. Spoil your Spouse – Valentine's Day is the best time to spoil your spouse.
57. Eat, Drink and Be Mine – This is the sweetest Valentine's date with the sweetest treats!
58. Sexy Spin the Bottle – Ready for a little fun? This game is sure to excite!
59. Bedroom Doctor – You won't feel sick after this doctor's visit!!
60. Love is Sweet – This looks like such a fun game to play… Make your own board game for Valentine's day!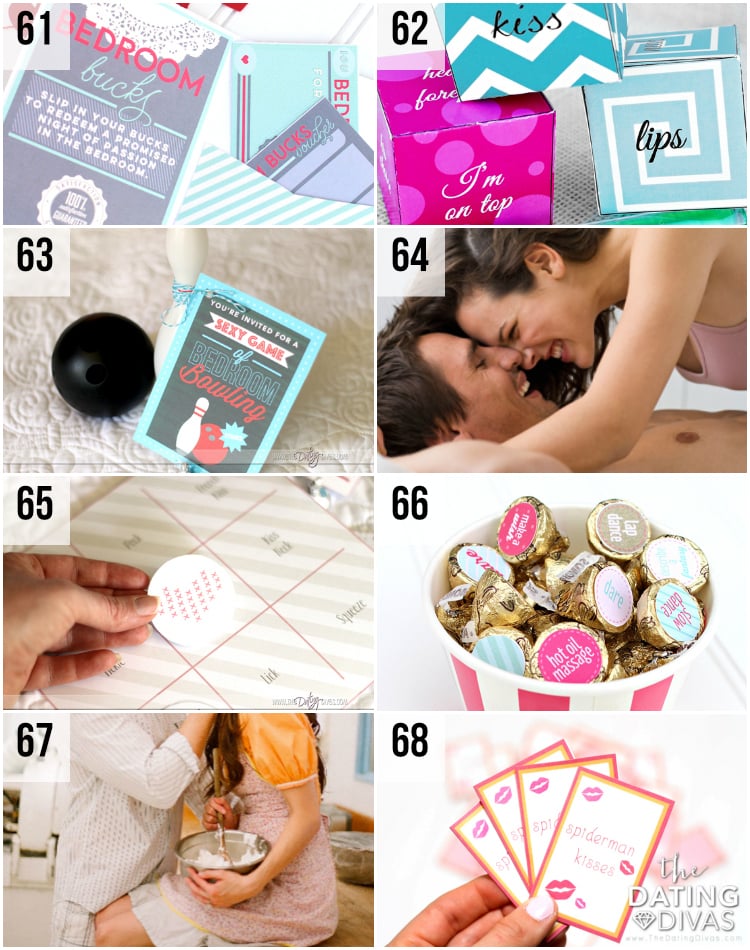 61. Bedroom Bucks – This is one of the most popular sexy dates you'll find, the anticipation makes it all the more exciting!
62. Sexy Dice – Roll the dice and get some spice!
63. Bedroom Bowling – This would be a great follow up after a night out bowling, do a little bowling in the bedroom.
64. Play Three Things – Ever want to try something new?? Now is your chance!
65. Sexy Tic Tac Toe – The old game has been recreated into something sexy and fun!
66. Sweetheart Bedroom Party – Join the after party for 2 in the bedroom.
67. Start in the Kitchen – Whip up something fun in the kitchen and see where the night leads.
68. Pucker Up Valentine's Day Card Game – This is a kissing game just for Valentine's day. Grab the chapstick and pucker up!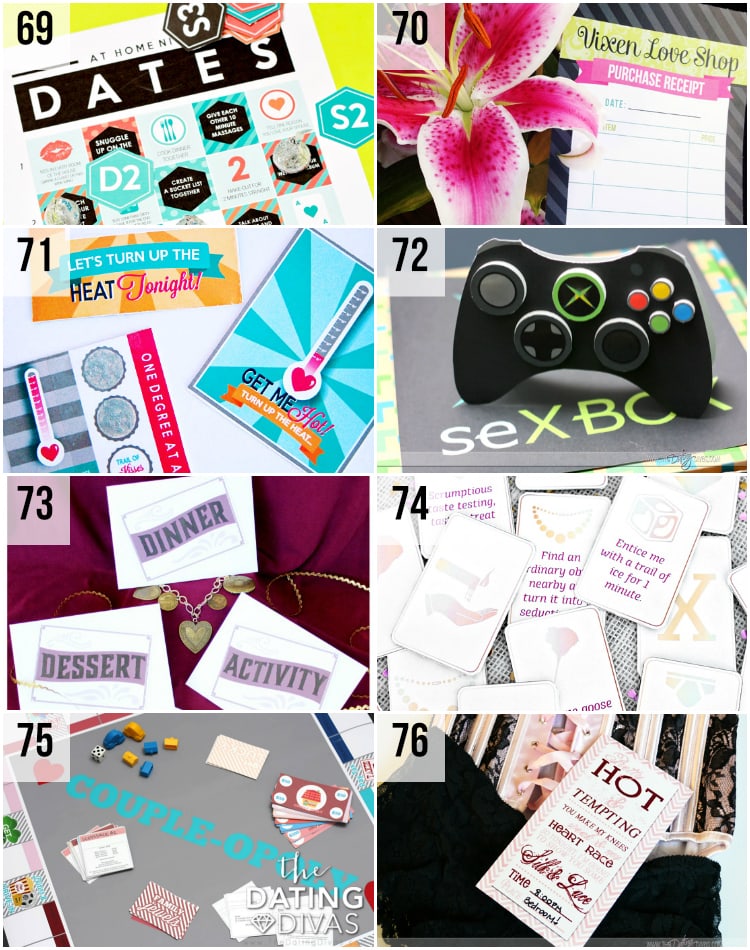 69. Date Night Bingo – This date night will be sure to end with a bingo in the bedroom.
70. Vixen Love Shop – Choose from a sexy selection of services in this steamy shop!
71. Sexy Scratch Off – Scratch it off and then take it off! This night will turn up the heat!
72. SeXBox – If you and your spouse love gaming, this would be such a fun way to switch things up a bit!
73. Valentine's Destiny Date Night – You choose your own destiny with this date night.
74. Lover's Day – A sexy celebration, this night is all about flirting, teasing, and loving your spouse.
75. Couple-opoly – This brand new game was made just for couples and you can customize it!
76. Pretty Hot and Tempting – Make your spouse's heart race with some silk and lace!
It's going to be hard to choose which category you want to focus on, so you might want to save some of these fun and romantic ideas for the future!
If you are looking for some more Valentine's Day fun, check out these 115 Last Minute Valentines Day Ideas. For even more date inspiration, this post has 100 of the most Romantic Valentine's Date Nights.