Valentine's Day Sex Ideas for Every Comfort Level
Forget the cheesy pink cards, it's time for a Sexy Valentine's Day! Here's a round-up full of sassy, cute, and Valentine's Day sex ideas the hubby is SURE to love! Don't worry, each one of these sexy Valentine's Day ideas 100% Diva approved!
We've gathered up an amazing list of sexy games, flirty ideas, and date night ideas ranging from G to PG-13+ to get you through Valentine's Day! And yes, a lot of these ideas can be used all year long or whenever you're feeling a little frisky! Valentine's Day isn't the only time to spread the love! Wink!
Disclaimer: This post contains affiliate links. To learn more about 'em, click here.
With this many ideas, you're sure to find one that's perfect for you and your sweetheart! For your convenience, we've broken them up into 4 categories:
When I told my husband about all of the fun ideas I was gathering up, he almost squealed with excitement! In a very manly way, of course! I can't wait to get started! First up…
The Best Valentine's Day Sex Ideas – Our Top 10 Favorites!
There are all sorts of ways to celebrate Valentine's Day, but we think that quite a few people would say that the best way is a little 1-on-1 time… preferably naked. Here are our favorite Valentine's Day sex ideas!
G-Rated and Cute Valentine's Day Ideas
Did I say no cute pink cards? I spoke too soon! You'll find some pretty cute ideas here! All of these sweet ideas speak enough of Valentine love, but keep it tame, just in case anyone else sees it! 😉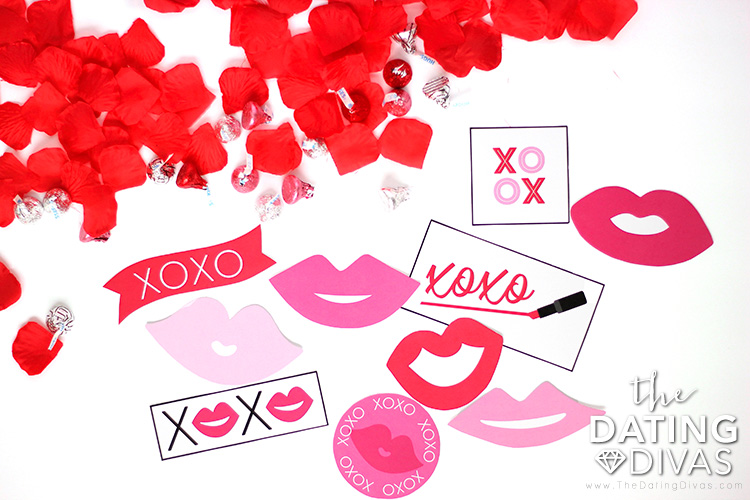 I've Kissed the Ground You Walk On – Cute, fast, and simple Valentine's Day gift idea! Leave a trail of kisses that will lead your sweetheart where you'd like. It will be a tasty night for both of you this Valentine's Day!

Man Approved Valentines

– Here are some free printable Valentine cards your man will especially appreciate! Speak to his nerdy side and see him smile in a sexy way. And let's be real – there are plenty of women who would LOVE to find one of these sweet cards for V-Day.

Secret Love Notes Date – Write a sexy little note for each other in code and use the key as a cipher for the message. This will take you both back to your childhood days of playing secret agent – all you need is a book and some paper.

Loveseat Lounge

– Here's a great date idea, and you don't have to look any further than your living room. Take out, entertainment, and cuddles = a perfect Valentine's Day date.

Room Service

– Pamper your sweetheart with this romantic Valentine's gift. What's on the menu… I'll give you a hint; it's not just food.

Valentine Photo Booth Props

– These are super cute printable props to take pictures at home with. This fun activity can be enjoyed by all members of the family and will provide priceless memories!

100 Reasons why I Love You DIY Book

– With this idea, you make a detailed list of all the reasons you love your sweetheart. You can be as flirty as you like. A lot of Divas (past and present) have given some of their reasons why they love their hubbies – so their list may also inspire you!

Valentine's Mixed CD

– Remember mixtapes?! They really are a great way to share your feelings on love. If you feel like you're running out of time for a gift idea, a love song mix will always hit the spot. It even includes cute, free, printable CD covers! And really, who says you can't mix in a few Valentine's Day sex songs? 😉

Fondue Date Night

– Dip the night away in candlelight with this tasty night in. Melted cheese, chocolate, or icing for dinner! It's romantic and delicious. Grab a

fondue kit

in advance

!

Unique DIY Valentine's Cards

– These fun Valentine's cards are punny and adorable – a perfect mix for a little G-rated V-day fun.

More Man Approved Cards

– More Valentine's cards that will speak to your man's aesthetic.

A Hearty Breakfast

– This breakfast in bed is pun-beleivable. Enjoy a sweet V-day breakfast full of hearts and kisses.

Valentine's Cuddle Kit

– A sweet way to spend your Valentine's Day if you need to keep it G-rated but you still want your snuggles! The personalized wine bottle is adorable.

Love Note Advent

– Who wouldn't want a love note a day leading up to Valentine's Day? What a fun way to build up that anticipation.

Love Lunch

– This cute post has a version for kiddos and one for your spouse! I love the thought put into the drink – a CRUSH soda! Brilliant.

Fill in the Blank Valentine's Love Notes

– Fill in these cards with whatever speaks to you! There are comparisons, pie charts, and overall adorableness.

Tied to You Valentine Surprise Hunt

– This is a sweet but fun way to lead the one you love to some special gifts just for them in the bedroom.

How Do I Love Thee? – This may not be the pinnacle of Sexy Valentine's Day ideas, but it will make your sweeti feel the love, and that does lead to some intimate moments! Give them 24 days of sweet compliments with this sweet idea.
PG-Rated Flirty Valentine's Day Ideas
Get ready to get your FLIRT on with these ideas! Take your "good" side and turn it up a few notches, but not too much that you'd be embarrassed if the kids found it. These "sexy" Valentine's Day ideas are nothing to worry too much about.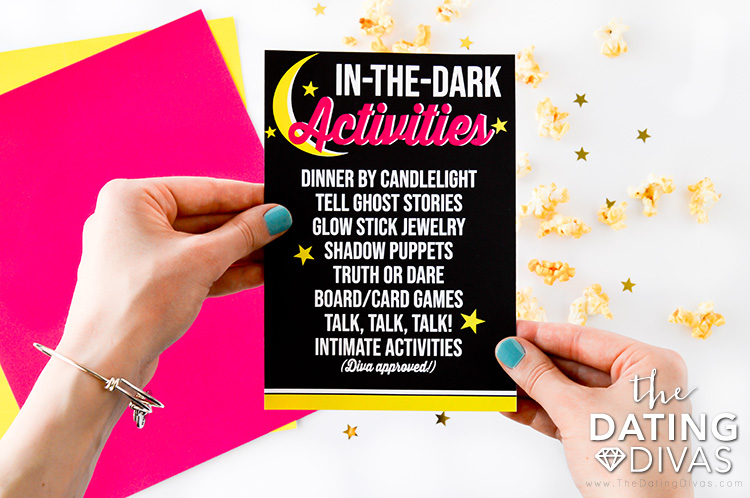 Power Outage Date – When the lights go off, the fun is just beginning. You can start it off as innocent as you want, but all that darkness and all those activities might just turn a little more… adult.

Showered in Love

– A fun and easy surprise gift for your sweetheart on Valentine's Day morning. Plus free, flirty printables! Take it to the sexy Valentine's side by offering a shower together!

Name That Treat

– Blindfold your spouse and let the taste test begin! This can definitely be considered foreplay, or you can simply tease… but that might not be very nice.

Rose Petal Romancing

– Makeover the whole house with rose petals. Change a normal day into something extraordinary! As far as simple Valentine's Day sex ideas go, this is as easy as 2-day delivery of some beautiful rose petals —

real

or artificial.

Spa Date Night Kit

– Let the two of you unwind together with a little massage at home.

Valentine's Win It in Minutes

– Everything you need for a perfect Valentine's group date (or solo date with your sweetheart!) Free printables, too!

Date Night in a Box

– Everything you need for a fun and easy date night in a cute little box. This comes with eight different date night boxes to choose from, plus – a bonus sexy Valentine's Day Ideas Box!

Valentine's By the Hour

– Give your honey a small gift every hour all day long! The free cards that go with each gift are so beautiful and truly share the love.

Quick and Easy Romantic Video

– Create a stunning video in minutes. I almost forgot the best part – it's free! Your spouse is sure to be impressed with this creative DIY gift idea.

DIY Love Coupons

– A personal and inexpensive Valentine's gift idea your spouse will love. Some are sexy Valentine's Day ideas and some are tame. You control the mood.

Kit Kat Love Note

– Break me off of a piece of that! This is a fun and flirty love note to leave for your spouse!

Heart Attack

– A sweet way to speak your love to the one

you

love! We love the look of the conversation hearts, and the fun pre-written letter makes it easy as pie. (Pro-tip: Put the hearts on your bed!)

Pucker Up Game

– These cards will have you and your honey kissing up a storm – in all sorts of ways! Don't be surprised if this takes you from a PG rating to some hot Valentine's Day sex!
PG-13-Rated Valentine's Day Ideas
Now we're ready to get down to business! Seriously, these SEXY Valentine's Day ideas are for just the two of you! (Mom, you should stop reading now! Seriously – look away.) This is a "For His Eyes Only" area! Yeah, we're bringing SEXY back!!
Sexy Products from Divas
Our store has the best and steamiest ideas, so we thought we'd compile them all for you here to browse! These are some of our favorite ideas for Valentine's Day, and they range from G to beyond!
7 Days of Spoiling – This is a little different than the 7 Days of Sex because not every day as an intimate activity for the bedroom – BUT each activity is sure to increase the intimacy in your marriage.

Valentine's Countdown

– 14 ways in 14 days to show your love! It's a great way to keep the momentum going up to Valentine's Day with romantic notes, date ideas, and acts of service. If you want to add to it or simplify, you can also check out the

Mini Pack

.

DIY Sexy Subscription Date Box

– This is your own little subscription box that will keep giving to your sweetheart month after month. It comes with printables and tips for each month of the year. Can you imagine if you gifted this for Valentine's Day?! A year of sexy surprises every month for the whole year!

Love Letters

–  Ever doubted your ability to woo via the written word? No worries, we will be your Cyrano! This amazing gift comes with letter prompts, coaching, treat ideas, and stationary. And if it's really your thing, we have a

second version

as well!

Open When Date Box

– Inspired by our ever-popular "Open When Letters," we bring you the "Open When Date Box" which allows your partner to choose what type of date night they are feeling – 15 options!

Open When Letters

–  Open When Letters are for special moments. This thoughtful gift will give your spouse the chance to turn to your words whenever they most need them – an incredible gift and keepsake.

Love Wall Art

– Take your pick from 5 different prints – all of them editable and customizable with 5 different color options! Share your love through special moments and decor.

Romance Movie Date

– If you need to stay in for Valentine's Day this year or simply don't want to fight the crowds, try out the Romance Movie Date. It has a list of romantic movies, sexy Valentine's Day ideas, and will impress your sweetheart with something different.

Love Planner

– If you need help knowing how to romance your spouse, get this! If your spouse needs help knowing how to romance you… gift this!

Intimacy Kit

– Take your intimate life to the next level with 12 different dates – 1 for each month of the year! It's a Valentine's Day gift that gives all year long.

Week of Loving

– This kit is actually multi-use. IF you need to say sorry – we have a week for that. Want to just share some good vibes? Check. With 10 weeks of options, you would have a quick and easy Valentine's Day gift with plenty of other options to have waiting on deck.  

Love Journal

– If your sweetheart is sentimental, then this is the Valentine's Day idea made just for them! Create a storybook journal of your love.

Ultimate Valentine's Day Pack

–  The best sexy Valentine's Day ideas mixed with a lot of tame ones too. This pack features 22 options from multiple bloggers to mix and match for a special Valentine's Day.
Can you believe we have even more sexy Valentine's Day ideas? Click through the links below for even more romantic ideas!