Perfect Date Ideas You NEED to Try
We LOVE dating our sweeties (and we know you do too!). After all, there's no better way to pump up the romance with some good old-fashioned one-on-one time. But what do you do when the weather takes a turn or you find yourself a little shorter on cash than you thought? You come here! With our list of 50 perfect date ideas for couples, you're sure to find something for EVERY occasion! From holidays and budget-friendly items to rainy-day favorites, these are our tip-top, absolute favorite ideas you HAVE to try (or you're totally missing out!). Ready for romance? Let's take a look!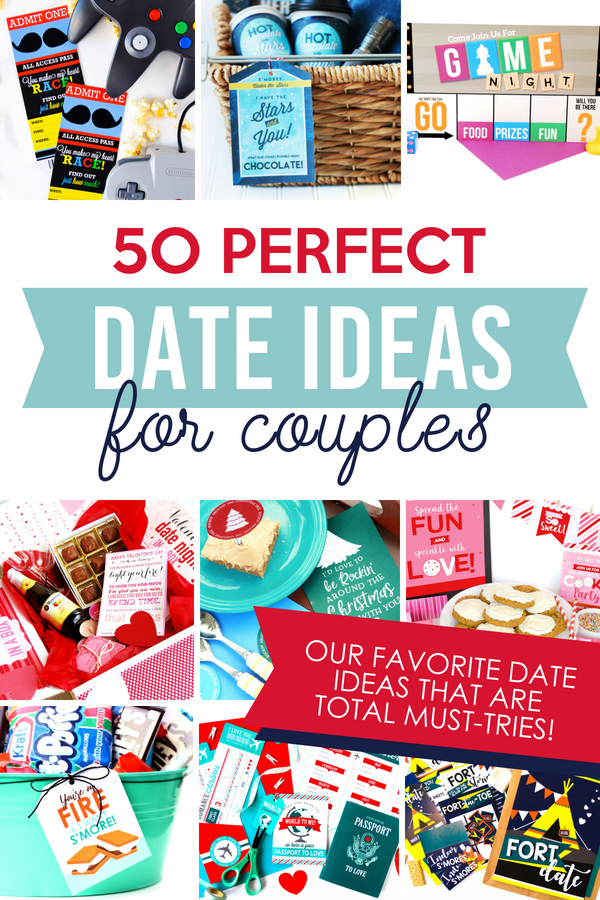 Disclaimer: This post contains affiliate links. To learn more about 'em, click here.
To make your browsing even easier, we've divided our list of perfect date ideas into the following 5 categories:
Is this list an absolute goldmine or what?! Keep reading!
Perfect Date Ideas for Rainy Days
You're ready and set for the perfect outdoor activity when suddenly… the showers start coming. We've all been there! But no need to fear, these rainy day date ideas will have your hearts shining in no time.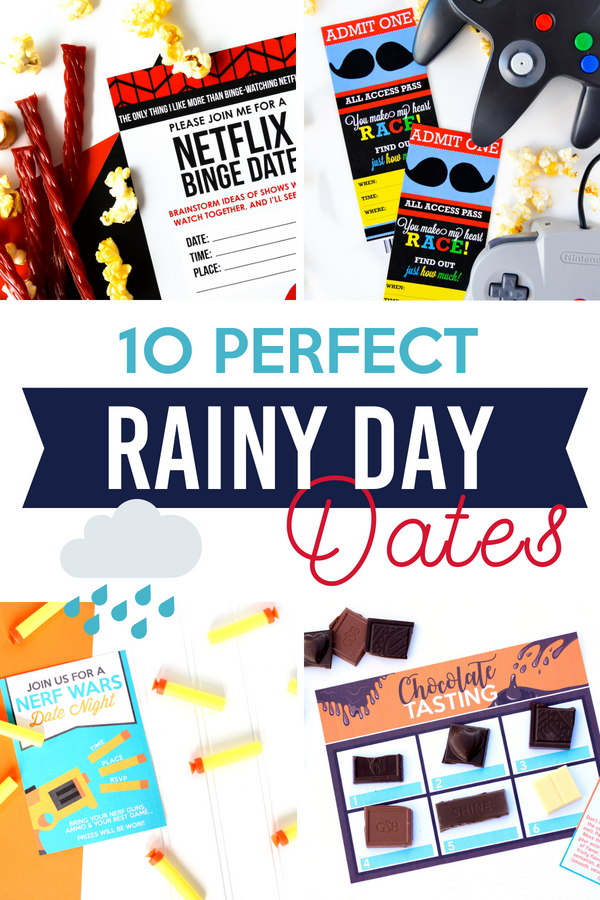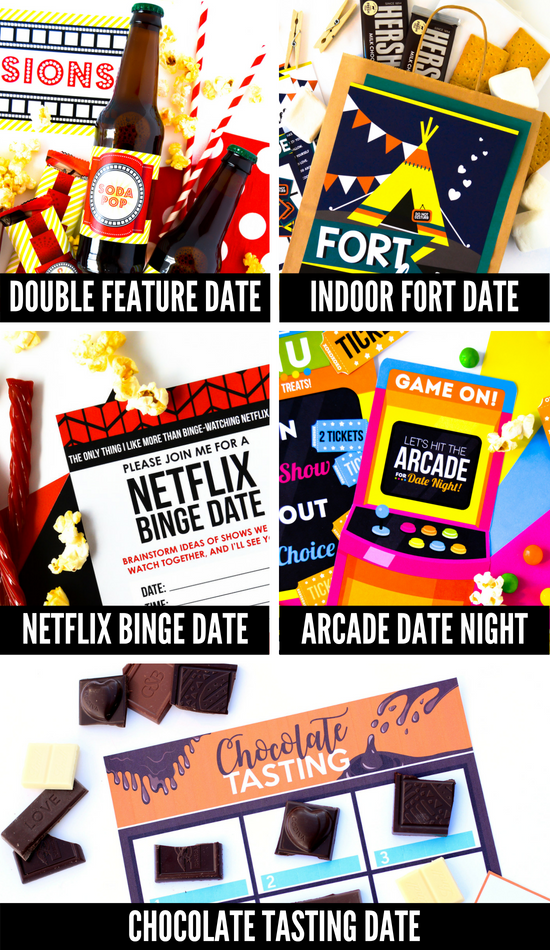 1. Double Feature Date – Grab your two favorite movies and these fun printables for a double-feature like no other!
2. Indoor Fort Date – Get ready for indoor s'mores and a whole lot of fun with this great idea.
3. Netflix Binge Date – Turn everyone's favorite pastime to an epic date!
4. Arcade Date Night – Who says arcades are just for kids? Not us!
5. Chocolate Tasting Date – It's creamy, it's sweet, and it's the perfect treat to eat on date night.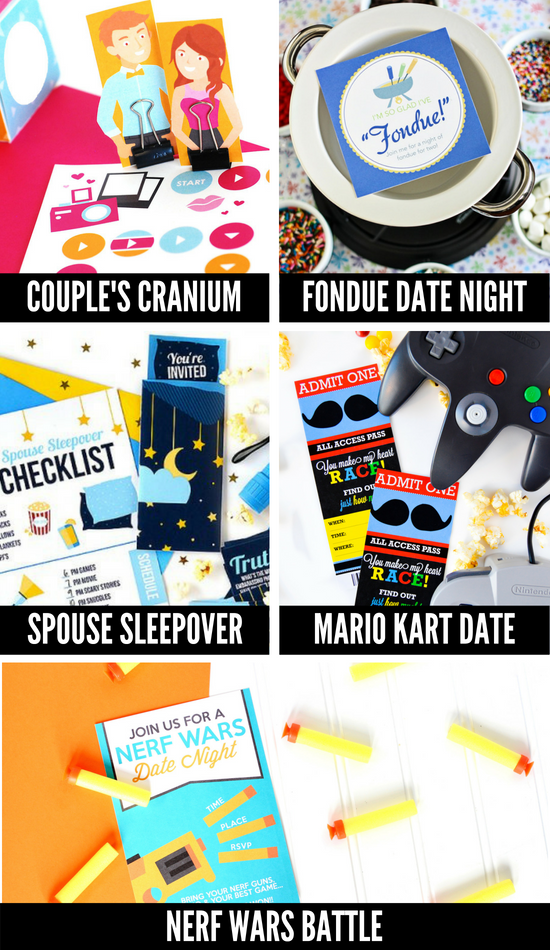 6. Couple's Cranium Date – You've never played cranium like this before and we know you'll love it.
7. Fondue Date – This date is mmmm good and oh-so melty. What could be better than that?
8. Spouse Sleepover Date – Dim the lights and take advantage of that rainy day goodness with this sleepover idea.
9. Super Mario Kart Date – If you or your spouse is a video game fanatic, then this is the date for you!
10. Nerf Wars – Stuck in the house? No problem! Turn the lights off and gear up for battle like never before.
Perfect Date Ideas That Are Cheap
Has the wallet been feeling a little thin lately? No problem-o! Check out these budget-friendly and cheap date ideas that are low on cost and high on fun!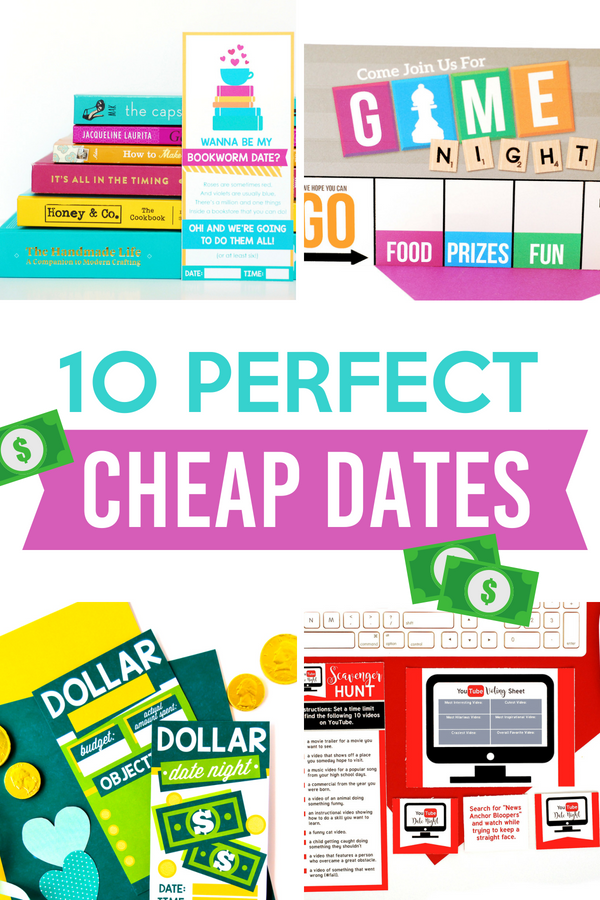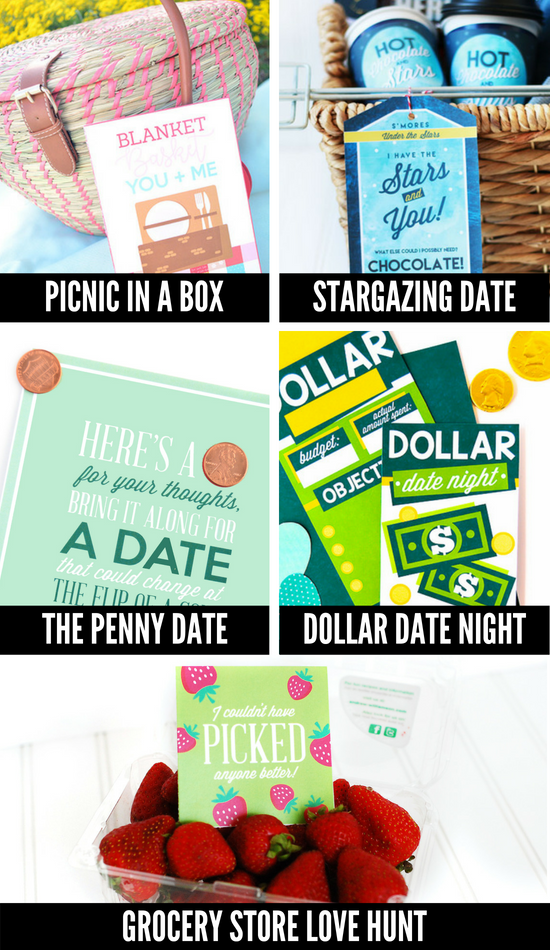 11. Picnic In a Box – If going out to dinner is a bit out of your price range, be sure and give this idea a try.
12. Star Gazing Date – Nothing says romance like a little star gazing. And you can't beat the price.
13. Penny Date – Keep costs low with this super fun and clever date!
14. Dollar Date – See how far you and your sweetie can stretch a dollar with this unique date idea.
15. Grocery Love Hunt – Think the grocery store isn't romantic? Think again!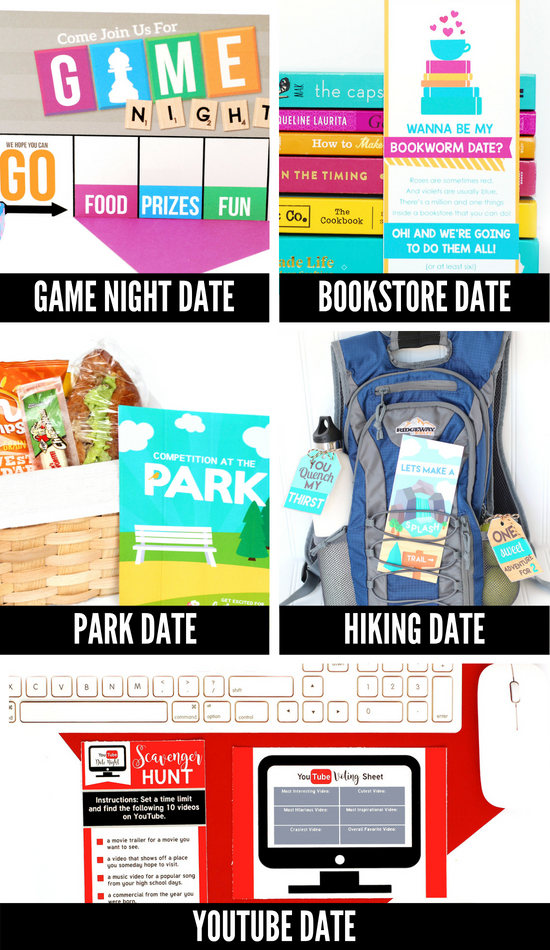 16. Game Night – Grab the whole gang for an inexpensive group date that's packed with laughs.
17. Bookstore Date – If the two of you like reading, you'll be all over this one. It's one of our absolute favorites!
18. Competition at the Park – Hit up the neighborhood park for a super cheap and easy adventure for two.
19. Hiking Date – Take a walk in the great outdoors and re-kindle the love while you're at it!
20. YouTube Date – If you haven't tried this free idea, you're seriously missing out!
Perfect Date Ideas for Summer
When the weather gets hot and you're looking for some super cool fun with your sweetie, turn here! These summer date ideas are not only hot-weather approved but may also help heat things up in the bedroom…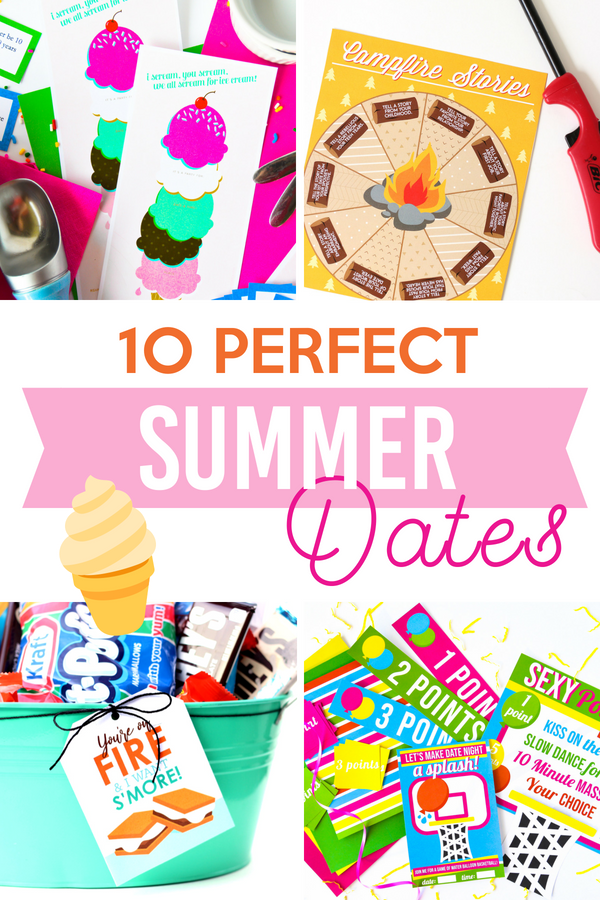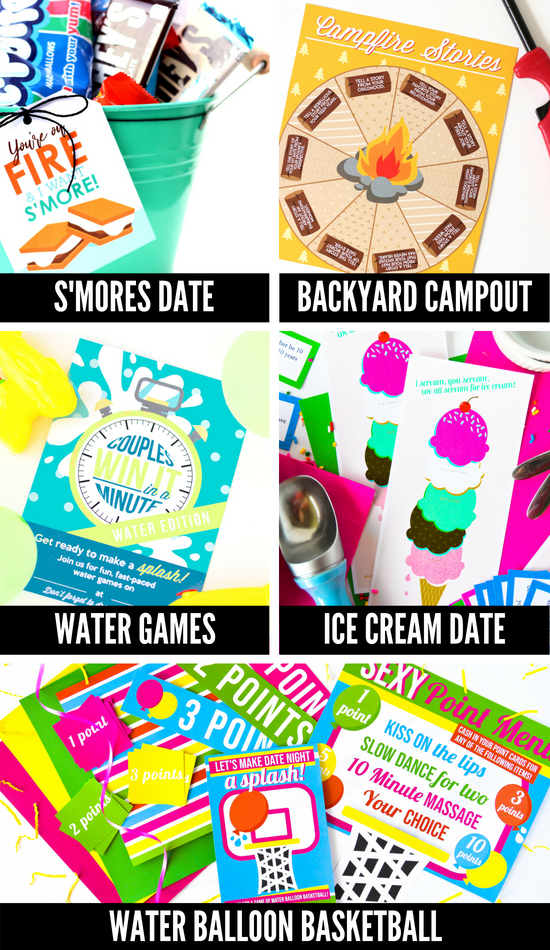 21. S'mores Date – Let everyone's favorite summertime treat take center stage!
22. Backyard Campout – Fun, easy, and way more convenient than traditional camping, this backyard idea is a total must-try.
23. Win It In a Minute Water Games – Get wet, wild, and all sorts of crazy with these fun water games.
24. Get the Scoop! – Break out the sweet and creamy treats with this combination ice-cream/get-to-know-you game.
25. Water Balloon Basketball – Ordinary water balloons get a crazy-fun makeover with this basketball version.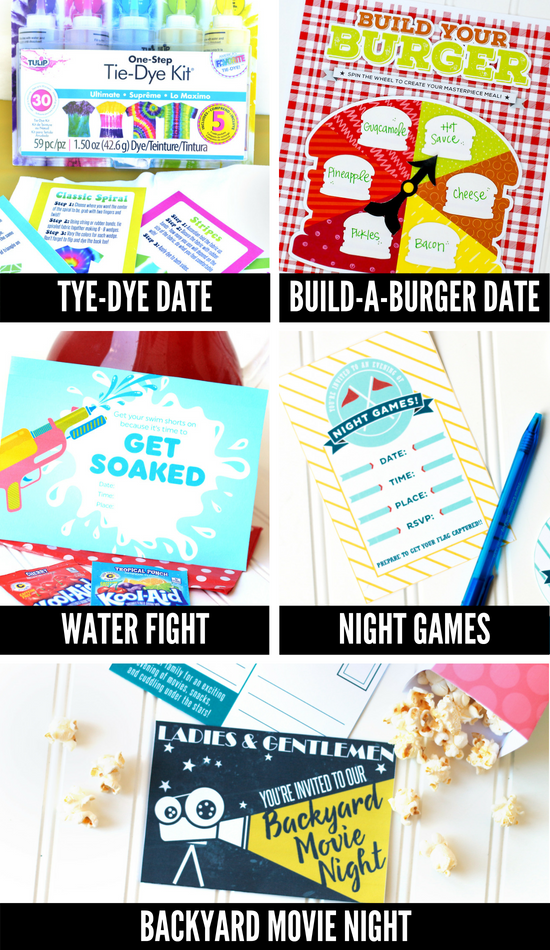 26. Tie Dye Date – Stop, drop, and get to dyeing! You'll remember this fun summer date for years to come.
27. Build a Burger Date – Build a burger (and your relationship) with this fun burger spinner and date idea.
28. Water Fight Date – Get ready, get set, get absolutely soaked!
29. Night Games Date – Kick daytime dates to the curb with these fun night-themed adventures.
30. Backyard Movie Night – Invite the neighbors (or keep it between the two of you) and watch a favorite flick—outdoors!
Perfect Date Ideas for Christmas
Deck the halls and grab your honey. These are some of our most very favorite Christmas date ideas that you NEED to try!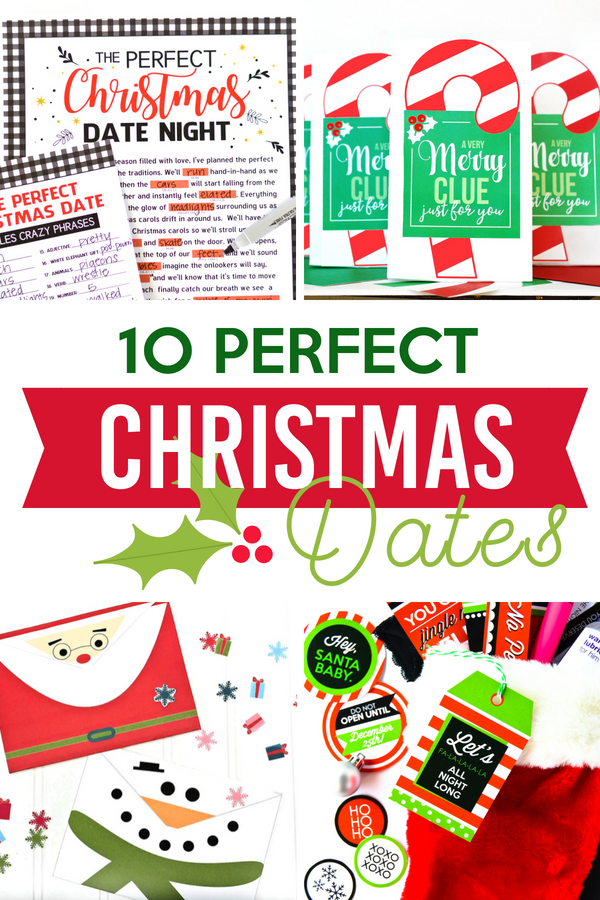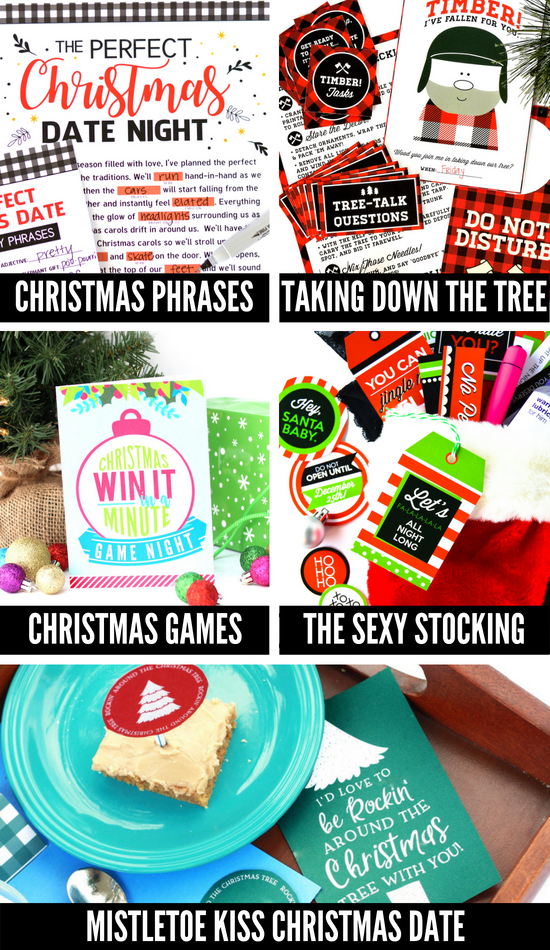 31. Crazy Christmas Phrases – Take some time out of the crazy holiday season to reconnect with these hilarious word games.
32. Taking Down the Christmas Tree Date – Once the holidays are over, this date will help you have a ball as you take down the decor.
33. Win It in a Minute Christmas Games – Get into the full Christmas swing of things with these fun games for 2+ people.
34. The Sexy Stocking – Fa la la and va va voom! This sexy Christmas activity lasts all month long and is one of our absolute faves.
35. Mistletoe Kiss Date – Get smooching in no time at all with this sweet holiday date.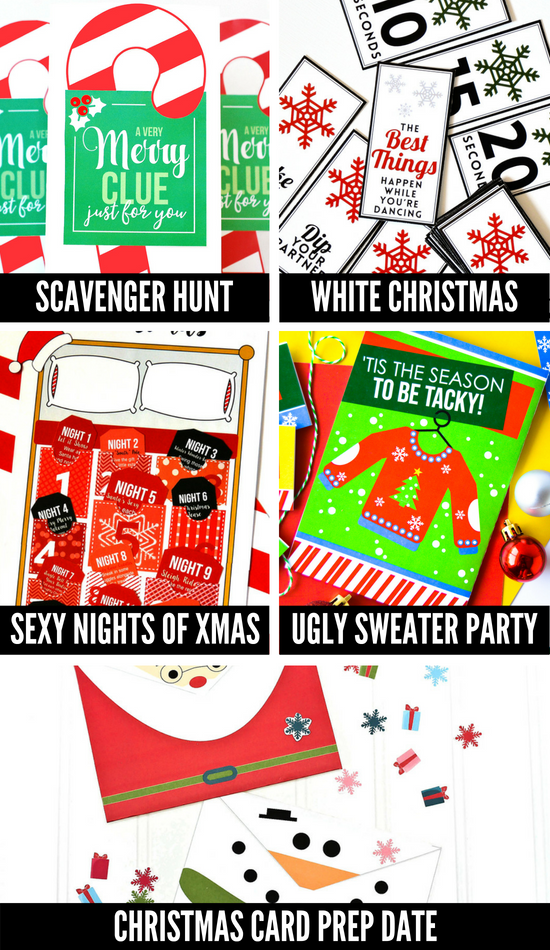 36. Christmas Scavenger Hunt – Make some major holiday memories with these pre-made clues and activities.
37. White Christmas Movie Night – Lovers of the holiday classic, White Christmas, will adore this movie night date.
38. 12 Sexy Nights of Christmas – Countdown to Christmas in the sexiest way possible with this free and frisky idea.
39. Ultimate Ugly Sweater Party – This Ultimate Party Kit has everything you need for a truly tacky group date/party.
40. Christmas Card Prep Date – Grab your sweetheart and get ready to prep!
Perfect Date Ideas for Valentine's Day
Nothing says romance like a little lovin' on your Valentine, and these Valentine's Day date ideas are the perfect way to do it! Many of these ideas can also be used year-round or whenever you need a romantic idea.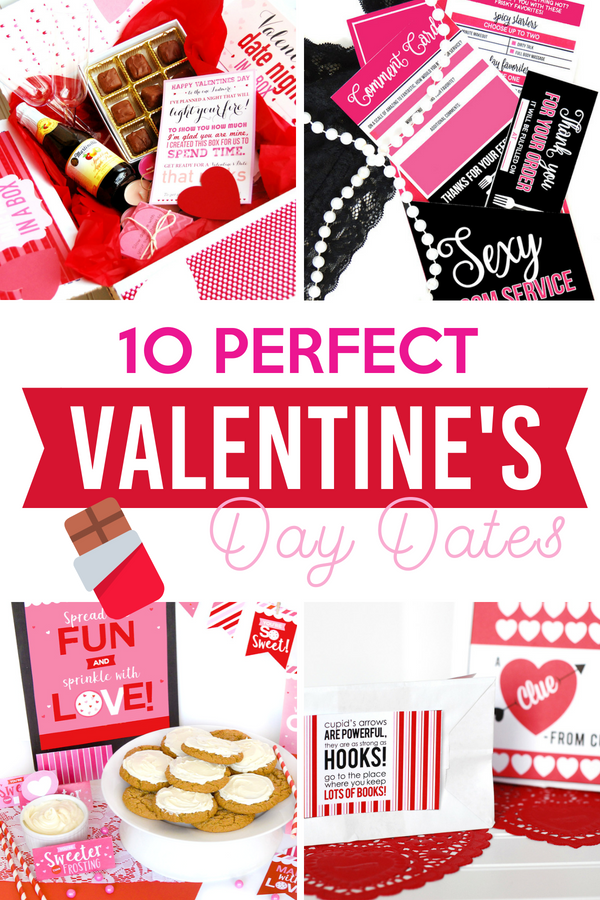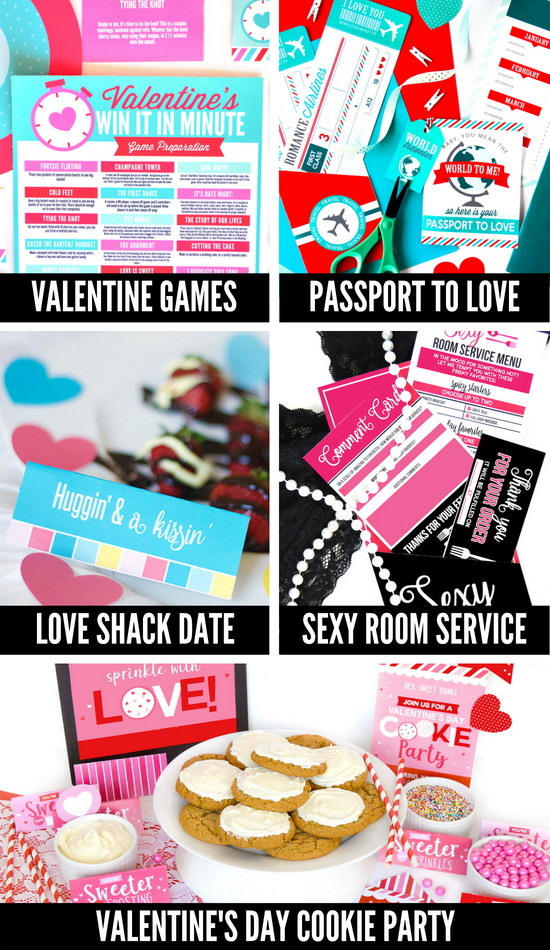 41. Valentine Win It in a Minute – Heart-filled games and tons of laughs await!
42. Passport to Love – Travel the world (without leaving your house!) with these lovey-dovey date idea.
43. Love Shack Date – Remember the classic 'Love Shack' song? Well, we've got a crazy fun date based off of just that.
44. Sexy Room Service – Give your spouse some Valentine pampering with this free idea that gets rid of all the guesswork.
45. Valentine Cookie Party – 'Spread' the love—and don't forget to sample!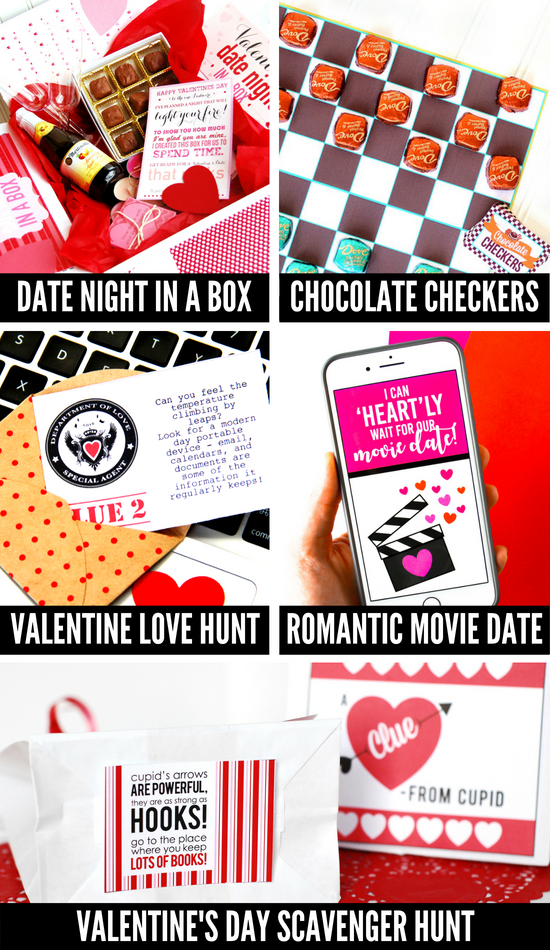 46. Date Night in a Box – Light your baby's fire with this practically done for you date-in-a-box.
47. Chocolate Checkers – End your Valentine's Day right with this chocolate-y bedroom game.
48. Valentine Love Hunt – Send your sweetheart on a love-note hunt they'll never forget!
49. Romantic Movie Date – Pull out ALL the stops with this jam-packed date idea that's perfect for V-day.
50. Valentine's Day Scavenger Hunt – Unleash your inner Cupid and scatter love left and right!
What did we tell you?! These perfect date ideas are the best of the best and you need to try them ASAP.
Need more easy & fun date ideas? You'll never have to wonder "What Should We Do For Date Night?" again! We've done ALL the work for you.
GET DONE-FOR-YOU DATES THAT YOU CAN USE STRAIGHT ON YOUR PHONE FOR ONLY $5 PER MONTH!
We're talkin' activities, games, invitations, instructions – EVERYTHING you need to have fun while connecting with your sweetie.
Get a new date each month for just $5 per month!