Looking for a fun double date or group date idea? This list has what you need!
You better believe that here at The Dating Divas, we have the best double date ideas! Check out the epic list below of double date and group date night ideas you can plan as early as tonight!
Disclaimer: This post contains affiliate links. To learn more about 'em, click here.
We are about to reveal some SERIOUSLY fun and creative group date ideas! And can you guess the best part? Most of these date ideas come with FREE printables! Yes…FREE printables! To make browsing easier, we've divided our group date ideas into 6 fabulous categories…
Okay… are you ready for some great group dating ideas? Let's do this!
Double Date Ideas Involving Games
Get your game face on! Invite some of your favorite couples over for a competitive group date game night! Below are 15 awesome games that can be perfectly played in a group.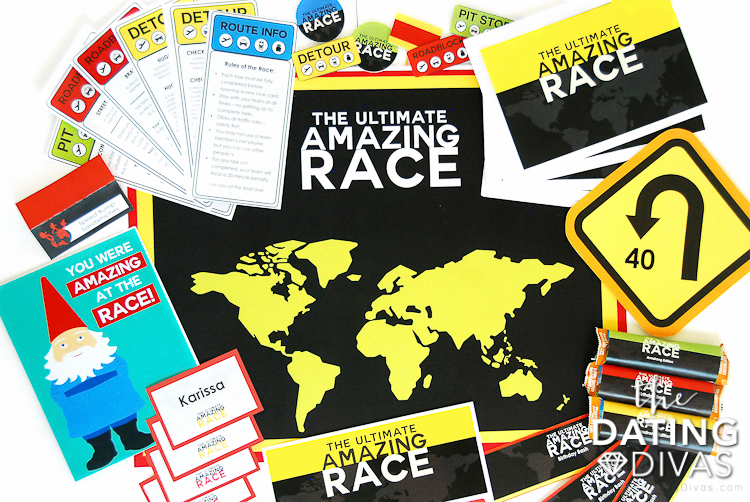 1. The Amazing Race Group Date – Have you seen this TV show?! It is definitely a Diva favorite! We have put together a group date night to play your very own version of The Amazing Race right in your hometown! Simply invite over your most adventurous friends, print off the clues, and let the race begin!
2. Win It in a Minute Group Date Night – Are you looking for group date ideas that will have you laughing all night long? Try out our AWESOME Win It in a Minute printable game night pack! This group date night kit has everything you will need to plan and host an unforgettable evening with your friends!
3. The Price is Right Group Game Night – The price is DEFINITELY right for this completely prepared group date night: FREE! That is right! In other words, the classic television game show "The Price is Right," is brought to you in this special Diva Date Night Edition – so come on down!
4. Couples Pictionary Game Night – Check out this group date night idea. It's a total hoot! Most importantly, it's sure to inspire laughs, silliness, and a bit of mischief!
5. Battle of the Sexes Group Date – Get your friends together for this unique challenge: Men against Women, to see who knows more about the opposite sex! Based on the hit board game Battle of the Sexes, this group date is fun, crazy, and sure to be a hit! Additionally, the FREE printables are some of our faves!
6. The Not-So-Newlywed Group Date Game – If you are looking for a fun group date idea that everyone will love, you NEED to check out our Not-So-Newlywed Game! This classic Newlywed Game takes a twist in focusing on those who have been married for some time. It is just plain HILARIOUS!
7. Spouse Scattergories Group Date – Based on the hit game Scattergories – all of these category questions have to do with your spouse! Invite over some of your favorite couples and team up with your spouse for the ultimate game night!
8. Couples Password – Group dating ideas don't always need to be elaborate to be fun. This fun and interactive date night idea takes hardly any planning!
9. Mario Kart Group Date – On your mark, get set, GO! Let the competition begin with a fun Mario Kart game night, based on Mario Kart Wii!
10. Couples Family Feud – Warning: This couples date night is not for the faint of heart. Check out how to plan your very own family feud game night for a group date your friends will NEVER forget!
11, Couples Bunco Game Night – Who says Bunco is just for the girls?! Let the good times roll with this awesome Couples Bunco Game Night!
12. Truth-or-Dare Jenga Group Game – Looking for a creative and fun group game? Look no further! This Truth-Or-Dare couples date night based on the popular game Jenga is a TOTAL blast and will have you laughing until your sides hurt!
13. If the Shoe Fits Group Game – Get ready to find out how well you know your spouse! This funny group date game will have you and your friends laughing all night long!
14. The Date Night Show Group Game – This is a group game night your friends won't want to miss! Inspired by The Tonight Show with Jimmy Fallon, we have picked five of our favorite games and put our own "diva" twist on them to create a hilarious group game night!
Quick and Easy Group & Double Date Ideas
Don't have a lot of time to plan an elaborate group date with friends? That's not a problem! These quick and easy date ideas are the perfect, NO-STRESS solution. We call that a total group date win.
15. Group Mall Dare Date – Here is a great alternative to the standard dinner and a movie date night that will have you and your friends cracking up! Print off your free printables and head to the mall for an outrageous Mall Dare Group Date!
16. S'mores Bar Date – This hassle-free date night is guaranteed to please even the biggest sweet tooths.
17. Group Service Scavenger Hunt Date- Have a blast with your favorite couples as you perform random acts of kindness in your community! We have come up with the PERFECT ideas to keep you busy all night long with our Group Service Scavenger Hunt Date Night!
18. Friendly Date Night Exchange – Don't have time to plan a new and creative date with your spouse? Why not have your friends plan it for you?! Check out all the awesome details on how to create your own Friendly Date Night Exchange!
19. Backyard Movie Date – This fun-filled date will require virtually no prep time on your part! Just print off our free printable bingo cards, pick a movie, head outside and go! Additionally, you might want to grab some popcorn!
20. Mall Scavenger Hunt Group Date – Check out this super popular group date night idea! Our amazing Mall Scavenger Hunt is not only fun and creative, but it is completely planned for you! It doesn't get any easier than that! Simply grab a few of your favorite friends, press print, and head to the mall for a night of entertainment!
21. The Fate Burger Group Date – This group date idea comes from one of our AH-MAZING readers! Not only is it fun, but also easy and delicious (3 of our favorite things!)
22. Record-Breaking Group Date Night Idea – This creative idea could easily be turned into a couples group date night! We've all heard of "Guinness World Records." Well, for this date, you'll be hosting your own "Oh My Goodness World Records!" Be sure to check out all the details!
23. Let's Make a Deal Date – Invite over some friends for a super easy game! Your guests will love this fun and easy date night idea and will definitely be asking to do it again.
24. "But First, Let's Take a Selfie" Group Date – We all know that selfies are all the rage! So we have turned this popular trend into a fabulous group date idea!
25. Couples Catchy Phrases – Gather your pals and get laughing with these super easy game ideas!
Outdoor Group Date Ideas
Get ready for some outdoor fun! We have collected our FAVORITE outdoor group date ideas for you and your friends to enjoy!
26. Fun Frisbee Golf With a Twist Date Idea – Check out one of our all-time favorite outdoor dates! This fun and interactive Frisbee Golf idea is the perfect way to spend an evening with your spouse and friends! Not to mention, it gets you out in the fresh air!
27. Summer Olympics Outdoor Group Date – We love the idea of using yard games to create an original group date night! This idea makes for one of the easiest and most active group dates of all time!
28. Glow-In-The-Dark Group Date Night – Food, friends, and glow-in-the-dark games! What's not to love? Invite some of your favorite couples over for a competitive group date!
29. Potluck and Group Games Date Idea – This casual and low-key group date is one EVERYONE will enjoy! You can either try this date at home or find a nearby park.
30. Group Grill and Chill Date Night – Pull out the grill and get to barbecuing some of those classic summer favorites! Invite some of your favorite couples and make it a group date night.
31. Food Truck Date – Check out this over-the-top group date filled with all sorts of food truck fun!
32. Drive-In Date Night – Go back in time and hang out at the drive-in! First, you'll want to arrange this with several of your favorite couples. Then, go ahead and set up your outdoor theater.
33. Outdoor Splash Party Group Date – What is an outdoor group date night without water games?! Make a splash with this fun-filled Splash Party Group Date! Get together with your friends for a wet n' wild time playing water games and eating yummy food! In short, this is a great way to beat the heat.
34. Farmer's Market Challenge Group Date Idea – A Farmer's Market date is the perfect way to spend a Saturday. And, it makes for a great group date!
35. Mini Golf – Invite over some NEW friends for a night of mini-golf! We have put together EVERYTHING you will need to put on this easy outdoor double date.
36. Fun Outdoor Picnic Group Date – It's time to dust off that old picnic basket and plan an awesome group date that will blow away your friends! We have provided everything you could possibly need to plan and prep this awesome outdoor date night, including FREE printables!
37. Gun Shooting Group Date – Try out this man-approved gun shooting date for your next get-together with your favorite couples! The husbands in the group will LOVE this group date…trust us!
38. Water Games Date – Hot weather + water = the perfect group date!
39. After-Dark Scavenger Hunt – This idea will help you have some summer fun in the dark! Not to mention, it's a great way to get some good exercise in!
Themed Date Ideas for Groups
You know that we LOVE to party! Here are 15 of our favorite themed group date ideas! This month, throw an over-the-top party your friends won't ever forget. This list is packed with double date ideas and group dating inspiration in the form of themed parties!
40. Patio Prom Date – Relive some of the most wonderful years of your life with this prom date! Make sure to go ALL out for this fun-themed night with costumes, decorations, and music!
41. Murder Mystery Group Date Night – Race to solve the mystery with this interactive group date game! This date has everything, and we mean EVERYTHING that you need to host and play your very own murder mystery detective game. In other words, we have done all the planning for you!
42. Black and White Movie Date- This isn't just any dinner and a movie group date… This is a "Roaring 20's Black and White" party! For this timeless affair, be sure to use black and white decoration, pearls, feathers, antiques, and platters.
43. Funky Town Group Date Night – Love bowling but wanna switch things up? Try this HILARIOUS "Funky Town" date that will have your group of friends laughing it up in no time! As far as double date ideas go, this one can't be beat!
44. Roaring 20's Group Party – Enjoy a costume party fit for everyone, in your very own home! This themed group date will bring the 20's alive again!
45. Fun Group Pep Rally – Relive the high school glory days and create your own pep rally! This is the perfect themed date for a group of sport-loving friends! Invite over your favorite couples and get ready to cheer on your favorite teams!
46. Favorite Things Couples Party – Everyone LOVES a good party! Invite your favorite couples over for a "Favorite Things" celebration! This group date focuses on couples sharing their favorite foods, gifts, marriage advice, and activities! I mean, who doesn't LOVE eating your favorite foods with your favorite people?
47. Stranger Things Party – Grab your TV-loving friends and have a Stranger Things marathon!
48. Around the World Dates – These are crazy fun and creative themed dates for you and your friends to try out! We have included everything you will need to get a taste of many different parts of the world. Recipes, activities, and more!
49. Baseball Themed Group Date – Score a home run with this awesome date night idea! Although this idea was originally set-up for a single couple, it could easily be turned into a fun group date! Grab some friends and head to the ballpark for a fun game of baseball/softball! Serve some delicious hot dogs and burgers for dinner and finish off the night with one of our great baseball movie suggestions!
50. Day of the Dead Date – Fiesta like there is no mañana with this creative Day of the Dead date night! Invite your favorite couples to prepare and share their favorite recipe for salsa or guacamole. All you will have to supply are some snacks. We provide the FREE printables!
51. CSI Group Date Idea – Are you or your spouse big CSI fans? Then this is the date for you! Create a crime scene and a mystery to solve for your group party! This idea is so creative and fun! Especially because all of the work is done for you – FREE PRINTABLES and all!
52. Couples Celebrity Date Night Party – We love this group date idea from Ask Anna Moseley! Create a V.I.P experience with a Celebrity Couples party! Invite your friends to come dressed as famous celebrity/movie couples! Don't forget to deck out the evening in glitz and glamor! You might even pass out a few "Oscars"!
53. Mustache Party – Create an over-the-top mustache themed group date! While this party could be thrown any time of year, we especially love using these decorations and ideas to celebrate No Shave November.
Fun Things to do As a Group At Home
These group date nights are so fast to set up and you don't have to leave the comfort of your own home to do them! Several of these would work perfectly as double date ideas too!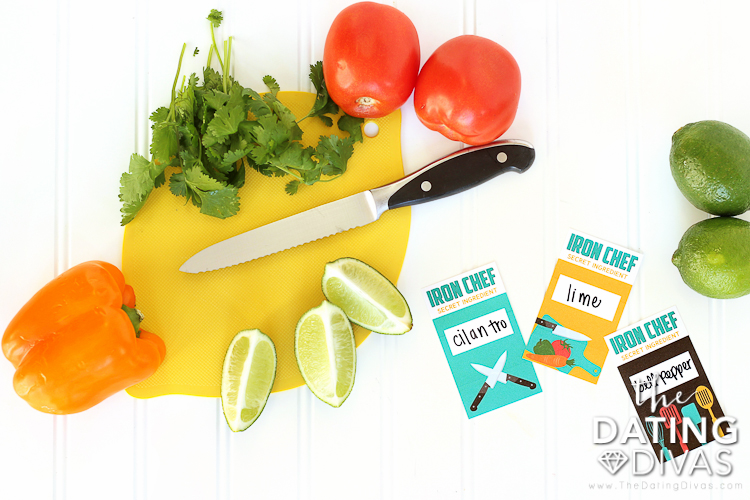 54. Iron Chef At-Home Date Night – This creative group date rocks because it can be done in the comfort of your own home! The Iron Chef Challenge is a competition between two teams to see which one can come up with a dish using a secret ingredient on the spot. You'll find out which couple has the best culinary skills! Don't forget to try all the dishes!
55. Group Waffle Date Night – Check out these DELICIOUS waffle-making ideas! This casual couples date is one everyone can enjoy. Your guests will leave with their bellies full and their sweet tooth satisfied! All in all, it's a date that will please everyone!
56. Fun Taste-Testing Group Date Idea – This free sample date is better than a trip to Costco! For instance, if you've ever wondered if different brands are worth the extra money, then this taste testing party is for you! Get together with friends for a fun taste-testing group date!
57. Couples Casino Date Night – Let the good times roll with this exciting Casino Group Date! It might sound complicated. However, this date is super easy as it can be done from home. Not to mention, you most likely already have everything you need! So simple and easy! Pull out some playing cards, grab some snacks, and print out our adorable FREE printables, and you are set for an amazing date night with friends!
58. 50's Diner Date – Let your creativity go wild with this awesome blast from the past date! Be sure to print off our FREE printables!
59. Progressive Dinner Group Date – Dinner parties are always a great excuse to get together with a group of friends! This one will introduce you to different countries as well.
60. Dessert Off – Get ready for some serious competition with this Dessert Off Date!
61. Soup Swap – This date idea puts a clever fall spin on a classic potluck.
62. Gourmet Dinner Party Date – Turn your next dinner date into a night of gourmet eats with this fun and fresh idea!
63. Chocolate Tasting Date with Friends – Invite over some of your favorite couples for dinner. After dinner, dessert just turned into group date with this easy date and our adorable FREE printables. Plus, who doesn't love a little chocolate? Yum!
64. DIY Escape Room Date – This creative date night includes all the materials you need to create your own escape room!
65. Watermelon Date Night with Friends – Relax at your home with this casual group date! Invite over some couples for a SWEET date night celebration! Don't forget to print off our FREE watermelon printables!
66. Game Night Group Date – Another great idea for an at-home group date is having a board game night! This post has everything you need to make that happen.
67. Movie Date Night with Group – This isn't your regular "movie night!" Invite over some friends and get ready for an over-the-cinema showing! And don't you worry! We have done all the work for you! Here are just 40 of our favorite movie date nights (we have included FREE printables for each theme).
68. The Ultimate Lip Sync Date – Musically inclined or always off-tune – this group date night is noteworthy of your attention!
Holiday Double Date Ideas
Celebrate any number of holidays with your friends and these awesome group date night ideas! We have provided tons of ideas below and FREE date night printables for each activity. Check them out!
69. The Walking Dead Group Date Night – Zombies, mystery, and suspense! This creative date idea is perfect for watching the popular TV series The Walking Dead. We have even included printables for a zombie survival kit!
70. Halloween Photo Booth – Have yourselves the spookiest photo session ever with these printable props! Additionally, you could add this idea to any Halloween party you might have planned.
71. Caramel Apple Date – Forget the beer and brats, start a new tradition with your favorite couples with our Caramel Apple Date! What is better than friends and caramel?
72. Halloween Movie Marathon – This Halloween group date night is SO easy to put together! Cuddle up to a scary, or just festive, Halloween movie!
73. The Ultimate Halloween Party – Throwing a Halloween party for your friends? Be sure to hop on over to our Ultimate Halloween Party post to grab your FREE party printables! We have included EVERYTHING you will need for a "spooktacular" night, including a Halloween banner, cupcake toppers, water bottle wraps, and so much more!
74. Corn Maze Date – Head to a corn maze with your spouse and other couples for a fun fall celebration! After that, you can have a corn chowder dinner and candy corns to top it off.
75. Fun Ghostbuster Group Movie Night – We're bringing back the 80's with this blockbuster movie! It's funny, it's witty, it's creative! In other words, it's The Ghostbusters
! And, it's the perfect group date night for Halloween!
76. Group Dinner: Dracula's Diner – Begin a new tradition by getting together with some neighborhood couples for a Dracula's Diner group date! This spooky and kooky Halloween dinner is not only super fun, but SO easy to do – you can do this with ANY meal.
77. Halloween Scavenger Hunt – Get together with friends and go on a hunt! After that, come back home for cider and donuts.
78. Group Pumpkin Carving Date Idea – One of our favorite fall activities is carving pumpkins! So why not do it as a group?! This would be another fun date night to turn into a competition. You could give awards for the "scariest pumpkin," "silliest pumpkin," or "most original pumpkin!" You can check out this list of 150 pumpkin decorating ideas to inspire you!
79. Pumpkin Patch Group Date – Get outside this fall to enjoy the crisp air and fall colors! To help you celebrate the beautiful changing season, we have come up with the Ultimate Pumpkin Patch Group Date!
80. Halloween Costume Party – Do you love dressing up?! If so, you'll love this group date idea! We've even included a special competition!
81. "You've Been Gobbled" Group Date Idea – We are sure you're well aware of the classic, "You've Been Booed", Halloween tradition! Similarly, this Thanksgiving, we created a fun twist on that same idea with the "You've Been Gobbled" gift for friends or neighbors! Get some couples together and create this simple service idea!
82. Pumpkin Games Night – Play some win-it-in-a-minute games, pumpkin style! This idea works all fall long!
83. Group Ugly Sweater Party – Tis the season to be tacky! It is time to pull out your worst winter wardrobe and get ready to rock the holiday season with our hilarious Ugly Sweater Group Party! First, get your craziest friends together. After that, raid your grandma's closet. Finally, celebrate the holidays! Check out these fun Christmas party themes for even more fun!
84 Santa Cookies – Grab your pals and decorate some Santa cookies together! After that, be sure and test them out. This is a super easy idea that everyone will love.
85. Christmas Lights Scavenger Hunt Group Date – Do you love looking at Christmas decorations? Get ready to race your friends to find the best Christmas lights in this couples' scavenger hunt!
86. Christmas Olympics – Bring out your competitive sides with these fun Christmas party games!
87. Group White Elephant Party – This is one of OUR FAVORITE Christmas traditions! A White Elephant party! We have included everything you will need to host this hilarious gift exchange, including party printables for decor, food, awards & more! Additionally, we've provided 14 DIY labels to create the most hilarious white elephant gifts! Check out these White Elephant Gift Ideas while you're at it
88. Christmas Karaoke Date – Unleash your inner music artists with this hilarious Christmas date!
89. Favorite Things Party – This group date puts a wonderful spin on a white elephant party idea! You'll be sharing your favorite gift ideas with the group!
90. Win It in A Minute: Christmas Edition – Are you ready for a little Christmas cheer and competition?! First, print out the printables! After that, go ahead and invite over your friends for a fun-filled couples date night! Not only will you be beating the clock to win, but you will be cheering and laughing too! Basically, you're about to have the best Christmas group date yet.
91. Christmas Gift Exchange – If you plan on hosting a holiday party with friends, you will definitely want to use this fun game!
92. New Year's Eve Win It in A Minute Games – Ring in the new year with these crazy fun games for groups! They are super easy to play and to plan.
93. New Year's Countdown Bags with Friends – Let the countdown to the new year begin with these NYE-themed double date ideas! The countdown bags are filled with activities for each hour leading up to midnight. They are perfect for a fun group or double date!
94. St. Patrick's Scavenger Hunt Group Date – The springtime is the perfect time to bring together friends for memories and some fun. This St. Patrick's Day activity would be so fun with friends!
95. Exercise Treasure Hunt – Want to get moving on St. Patrick's Day? Here's a super fun idea!
96. Easter Egg Hunt Game – If you plan on hosting an Easter party with friends, you will definitely want to print off this ADORABLE Easter Egg Hunt Game.
97. "You've Been Egged" Easter Group Date – Our cute "You've Been Egged" idea is a quick and easy service activity that you could easily do with other couples!
98. Spring Olympics Group Date – Get ready to host your own Spring Olympics!
99. Spring Bunny Brunch Group Date – Invite your favorite couples over for a Bunny Brunch! Our Bunny Brunch is complete with FREE printables, including fun activities that are perfect for Easter or springtime!
Whew! You are now equipped with all of the group date ideas and double date ideas you could ever need! For easy access to some of our most popular double date ideas, click through the links below: