Free Love Note Printables 
There are a million different ways to show your spouse you love them, but LOVE NOTES are definitely an easy and FUN way to do so! Giving a love note to your spouse doesn't take a lot of time, but it can mean so much! Here at The Dating Divas love notes are kind of our thing so if you are looking for a love note for your special someone you have just hit the jackpot! We have 101 – yep you read that right – 101 free love notes that are fun, flirty and the best part, FREE!

Disclaimer: This post contains affiliate links. To learn more about 'em, click here.
It is important in a relationship to express your love often and love notes are a quick, easy and fun way to do that! These free love notes won't cost you any money and it won't take you a lot of time to print but it will mean so much! Whether you are giving a love note for a special occasion or just a note just because, we have something that you will love! Plus, there are so many ideas you'll be able to use this giant list for a long time, so we suggest you bookmark it on Pinterest, that way you'll always know where to find the best love note ideas for free.
We have:
Unique Love Notes
These love notes are not your typical cards. Share your love in a way that is different—just like your love!
1. Printable Compliments – Hang this poster somewhere where your loved one can take a loving compliment as needed.

2. Love Postcards – Printable postcards that you can send to your spouse while you are away.

3. Banana Love Note – Here is a unique way to leave a note for your love! Scratch a love message onto a banana!

4. Love You a Hole Punch – A unique lovers loyalty punch card to recognize all of the good that your spouse does.

5. Photo Love Notes – A fun idea to leave little love notes on a picture frame of you and your love.

6. Shower Curtain Love Note – Now, here is a fun idea! Write a love note on a shower curtain liners for a fun surprise.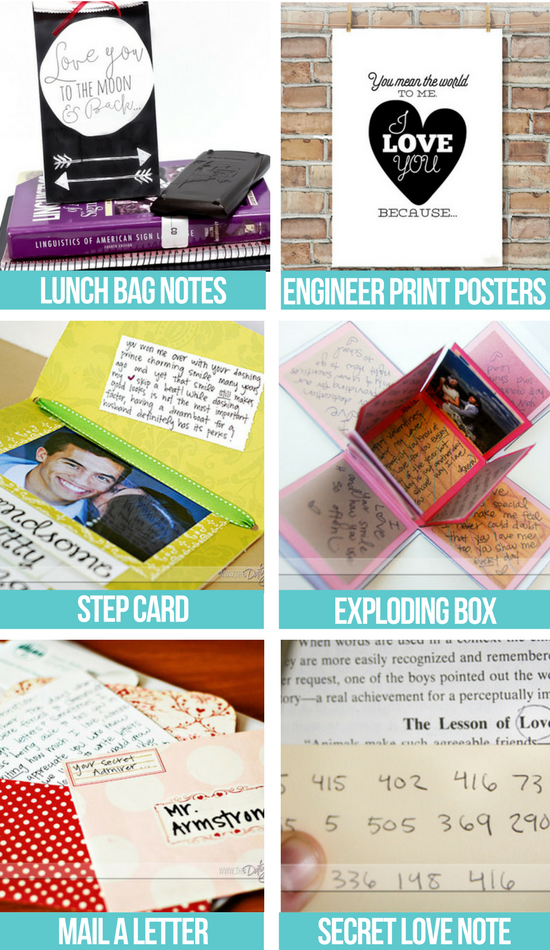 7. Lunch Bag Notes – Send them off with a love note printed on their lunch bag!

8. Reasons I Love You Engineer Print Posters – These large engineer prints are so unique for a giant love note your spouse can't miss.

9. Step Card – A unique tutorial to create the ultimate love note – with different pages customized by you!

10. Exploding Love Box – A love note that gives you 10+ flaps to write on and a place to include photos too!

11. Mail a Love Letter Idea – Here is a simple idea to impress. Send your love letter in the mail. What a fun way to receive a love note.

12. Secret Love Note – Use books to make a cipher or code that your spouse must solve to read your message.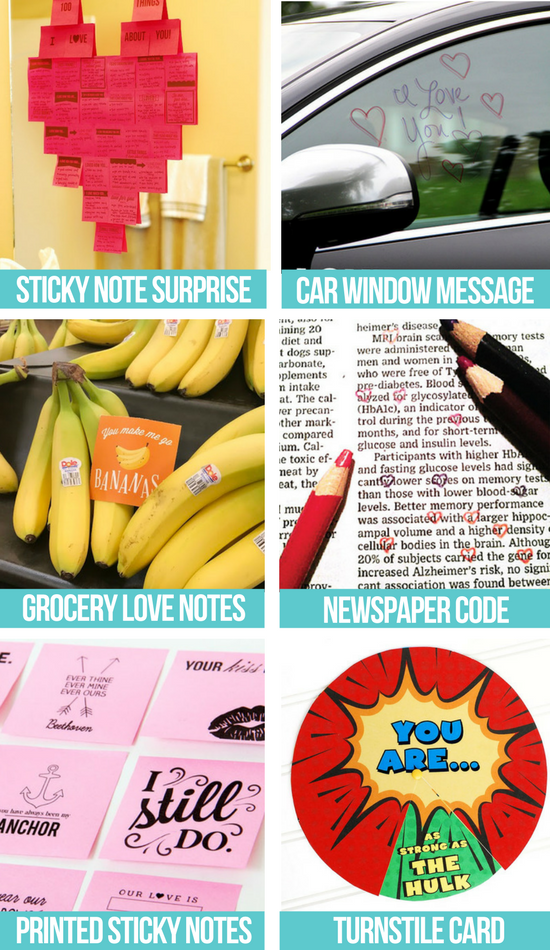 13. 100 Things I Love about You Sticky Note Surprise – Print directly onto sticky notes and use the prompts to come up with 100 things you love about your spouse.

14. Car Window Message – Grab some dry erase markers and write a love note on the car window!

15. Grocery Love Notes Hunt – Send your spouse on a hunt through the grocery store to find hidden love notes from you.

16. Newspaper Love Code – A fun way to leave a love note using a code in the newspaper.

17. Printable Love Sticky Notes – Over 100 creative love notes that can be printed directly onto sticky notes.

18. Superhero Turnstile Card – A fun turnstile card with different messages appearing in the window of the card.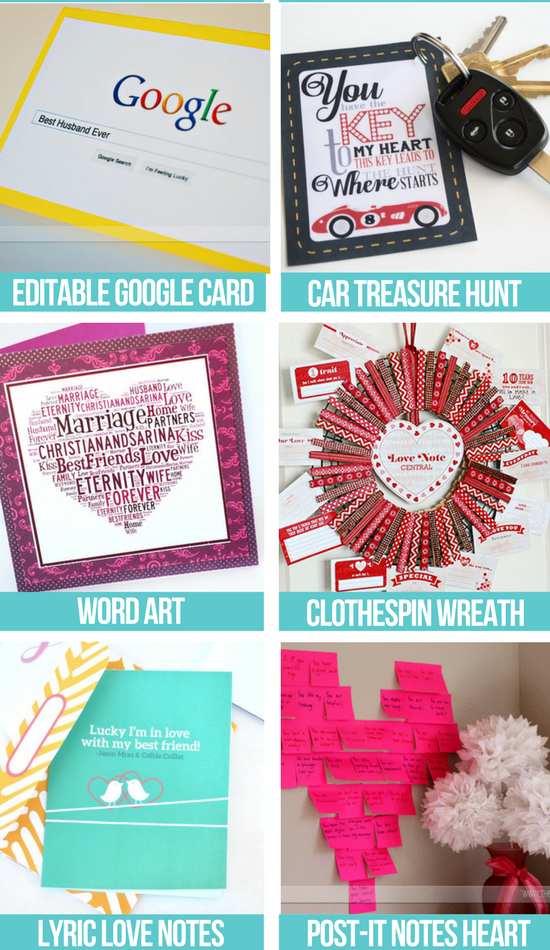 19. Editable Google Card – Create your own personalized Google search that is all about your spouse!

20. Car Treasure Hunt – Hide these love notes in your sweetheart's car.

21. 5 Fun and Free Ways to Use Word Art – A simple tutorial to create your very own customized subway art love note!

22. Love Note Clothespin Wreath – A unique way to display little love notes.

23. Lyric Love Notes – If you don't have the words yourself, try using these love notes with phrases from your favorite songs.

24. Post-It Notes Heart – Write love notes on sticky notes and place them in the shape of a heart.

Love Notes With Treats
A love note plus something to eat? That is a sweet idea! We have so many love notes that you can pair with anything from candy to drinks, from cereal to baked goods. We even have healthy options!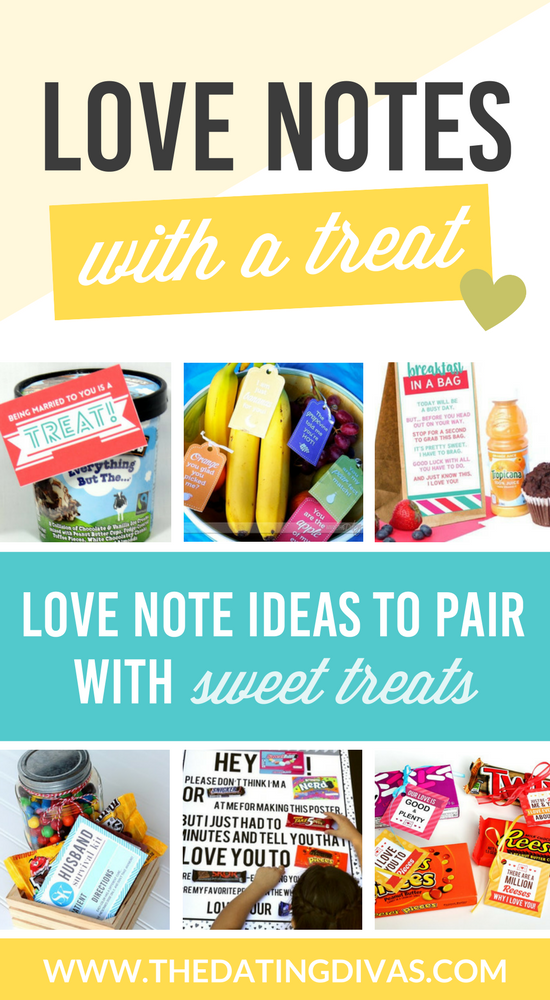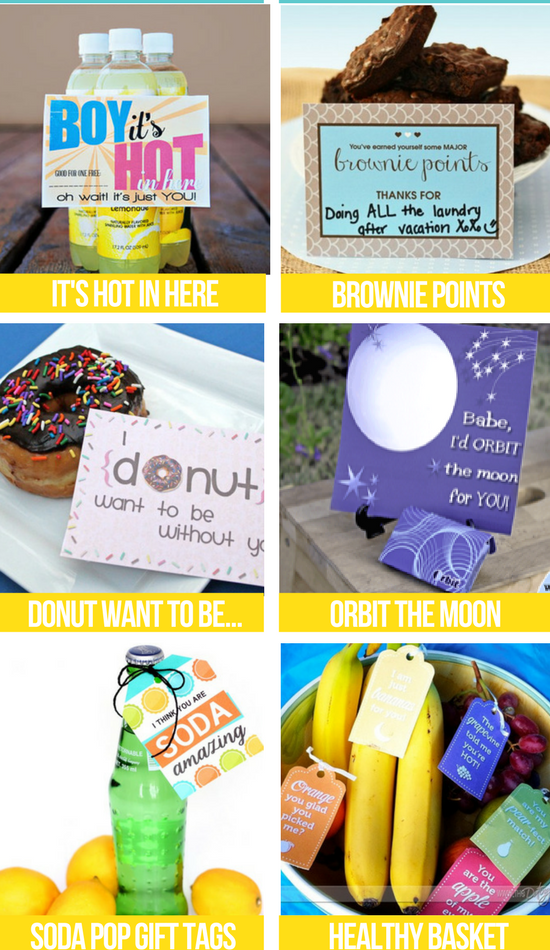 25. Boy, It's Hot in Here – Cool off from the heat with this summer treat.

26. Brownie Points – A note to attach to some delicious brownies.

27. I Donut Want to Be Without You – A fun surprise to leave your loved one when you are apart!

28. Orbit the Moon – A fun little love note to go with some Orbit-brand gum.

29. Soda Pop Gift Tags – Say thank you, flirt or let someone know that you care about them with this set of fun soda tags.

30. Healthy Basket of Love – We are all about love notes with sweets, but what about for the healthy eater? We have you covered! Check these out!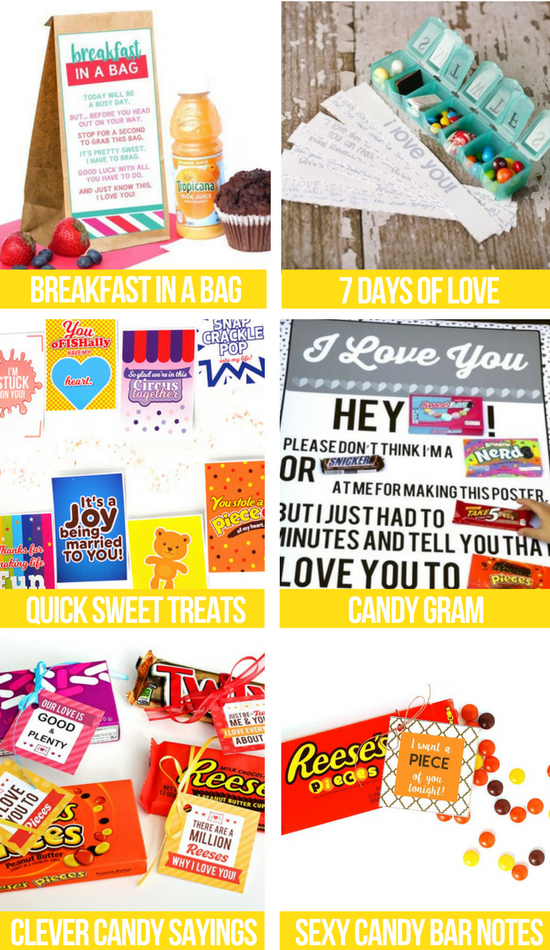 31. Breakfast in a Bag – Send your spouse off in the morning with a delicious breakfast and love notes from you.

32. 7 Days of Love – This idea includes love notes for seven days in a cute pillbox!

33. Quick Sweet Treats – You can add a little love note to any of these snacks and treats to brighten your special someone's day.

34. Candy Gram – Large engineer print designs for a poster-size candy gram. This includes 4 different poster love notes for Valentine's Day, Anniversary, Birthday and Just Because!

35. Clever Candy Sayings – Tons of love notes to attach to various candy treats with sayings. The love notes have sayings for all sorts of different occasions including birthdays, anniversaries, and more!

36. Sexy Candy Bar Love Notes – Over 40 candy bar love notes with super sexy messages!

37. Holiday Candy Bar Gift Tags – Free holiday-themed printable gift tags that pair perfectly with various candy bars treats!

38. Spouse Survival Kit –  Free love notes (and treats!) for when your spouse is having a hard day.

39. Printable Snack Love Notes – Grab some snacks and print out these free printable love notes – it doesn't get any easier than this!

40. I've Kissed the Ground You Walk On – A little love note left for your honey with a trail of kisses leading to the bedroom!

41. Riesens Why I Love You – Mix reasons you love your sweetie in with some Riesen candies for a quick and easy way to express your love.

42. I've Been a Jerk Apology – When you need a little help to apologize, here is a creative way to do it.

Love Notes for Every Holiday

 
The holidays are a great time to do something fun for your love! We have fun, flirty and free love notes for just about every holiday!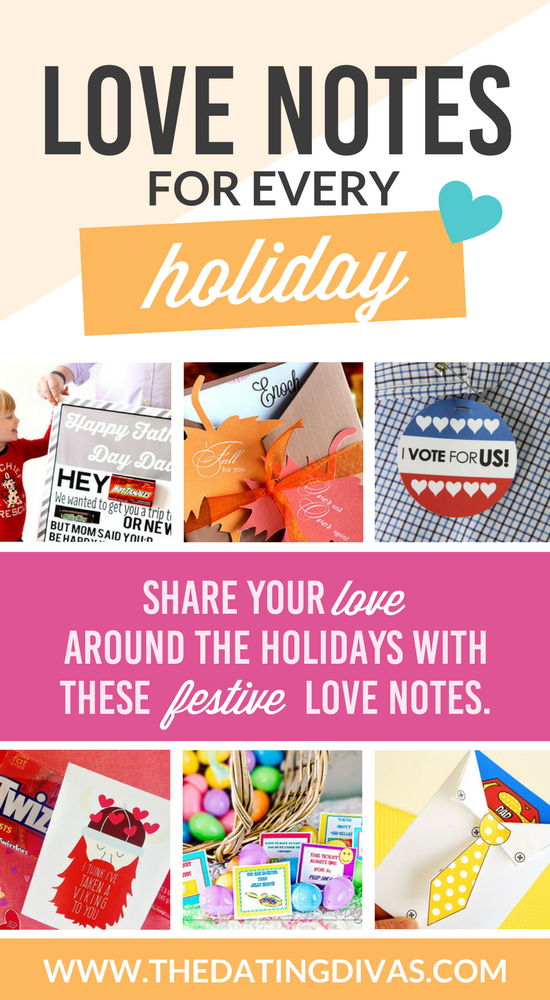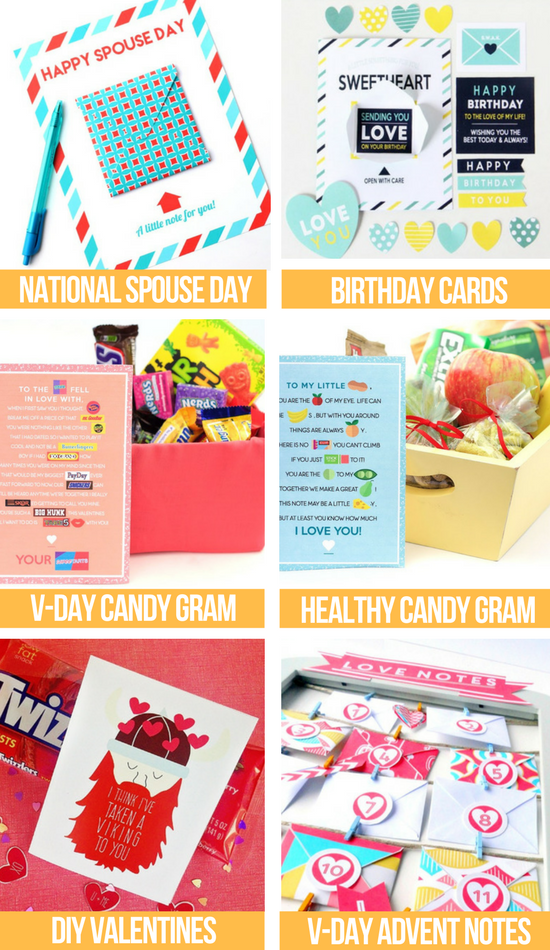 43. National Spouse Day Love Note – Give your spouse a special love note for national spouse day!

44. Birthday Cards For Your Husband – 10 DIY birthday cards for him that you can print, fold and personalize.

45. Candy Gram Card – Sweets and Treats Version – An easier version than the typical candy gram.

46. Healthy Valentine's Candy Gram Card – A healthy version of a candy gram gift.

47. 14 Unique DIY Valentine's Day Cards – The ultimate set of Valentine's Day Cards that are funny, mushy and some are just plain corny.

48. Valentine's Advent Love Notes Calendar – A fun way to countdown to Valentine's Day with a love note for each day.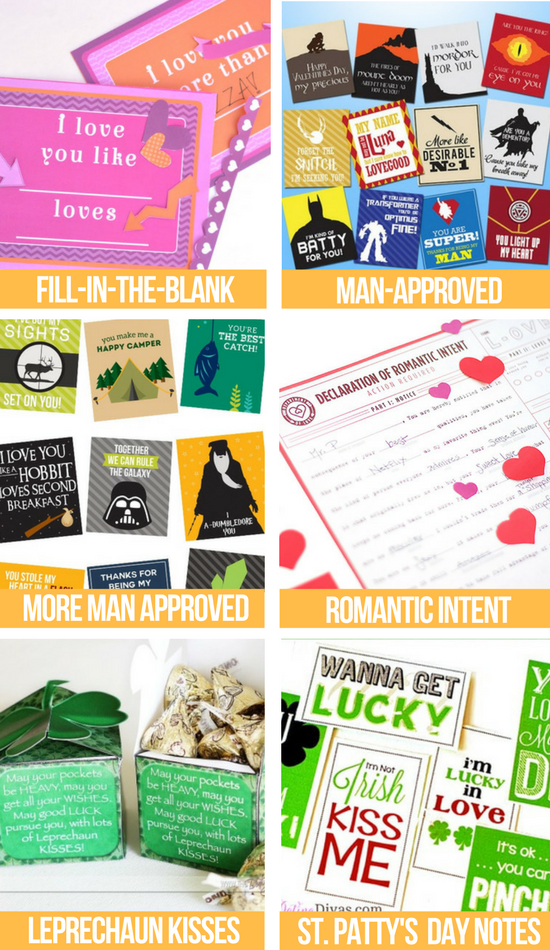 49. Fill-in-the-Blank Valentine's Day Love Notes – Ten different card options with cute sayings that you can customize to your sweetheart.

50. Man-Approved Valentines – Twenty free love notes that include themes from Star Wars, Star Trek, Harry Potter, and various superheroes.

51. More Man Approved Valentines – Even more love notes for the guy in your life.

52. Declaration of Romantic Intent – Give your spouse an official document declaring your love.

53. Leprechaun Kisses – A love note put in a printable box full of Hershey kisses!

54. St. Patrick's Day Love Notes – This post includes six different St. Patrick's day free loves notes.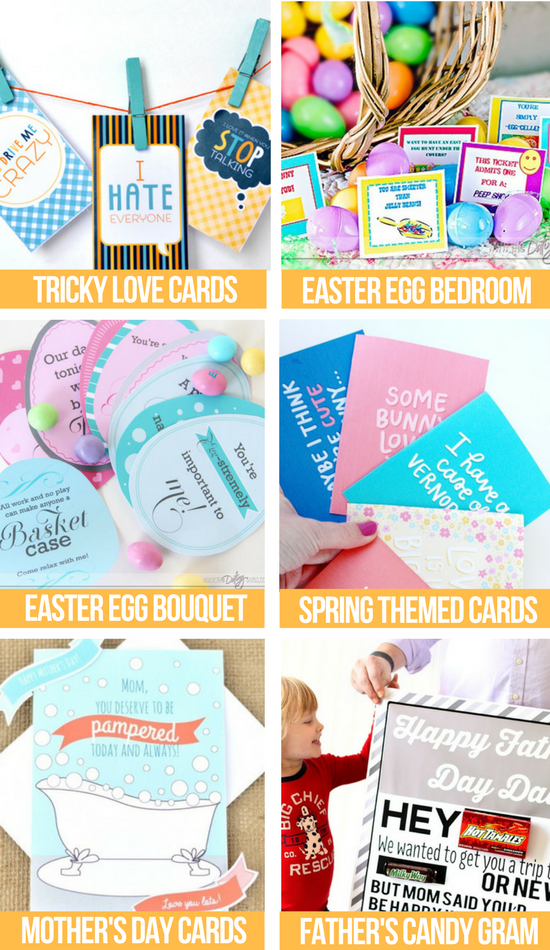 55. April Fools' Day Tricky Love Cards – These cards seem to be mean at first, but as soon as your sweetie opens one up, they'll be laughing right along with you.

56. Easter Egg Bedroom Notes – Sexy little love notes for your "peep"!

57. Easter Egg Bouquet – Create a unique bouquet with love notes in each of the Easter Eggs.

58. Spring Themed Love Cards – Love is in the air this time of year and we have printable love notes for your sweetie.

59. Mother's Day Cards – Easy to print out love notes for mom.

60. Father's Day Candy Gram – Four different engineer print posters with messages for dad.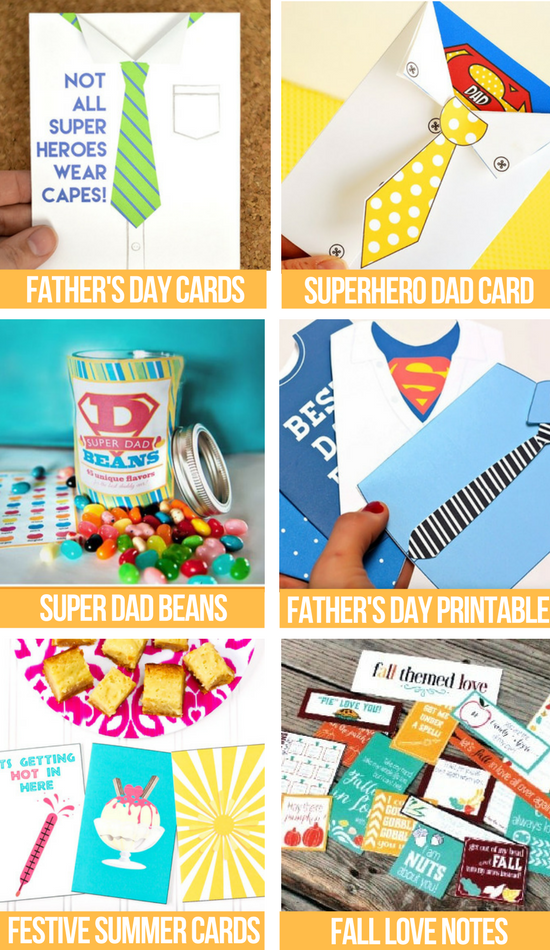 61. Father's Day Cards – Love notes for Daddy on his day.

62. Superhero Dad Card – A fun card with a shirt and tie on the outside and a superhero poem on the inside!

63. Super Dad Beans – A jar full of jelly beans where each flavor is a characteristic you love about your dad.

64. Father's Day Printable Cards – Four different designs to match your dad's personality.

65. Festive Summer Cards – This post includes three sassy and sweet love notes that are perfect for summer and two Fourth of July cards.

66. Fall Love Notes – Love notes that are perfect for FALL-ing in love!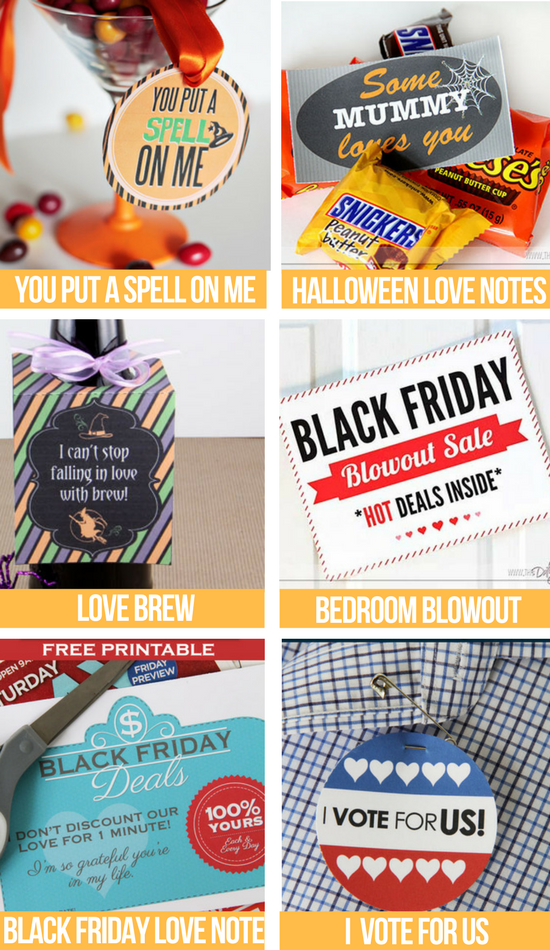 67. You Put a Spell on Me – A fun play on words for this free love note for Halloween!

68. 10 Free Halloween Love Notes – Ten sweet Halloween-themed love notes.

69. Love Brew – Pair this cute love note with a special drink for a festive Halloween surprise!

70. Black Friday Bedroom Blowout – Sexy notes for your spouse to find after all of that Black Friday shopping.

71. Black Friday Love Note – A flirty love note for your spouse to find after braving Black Friday shopping.

72. I Vote For Us – A fun little note to give to your loved one at election time.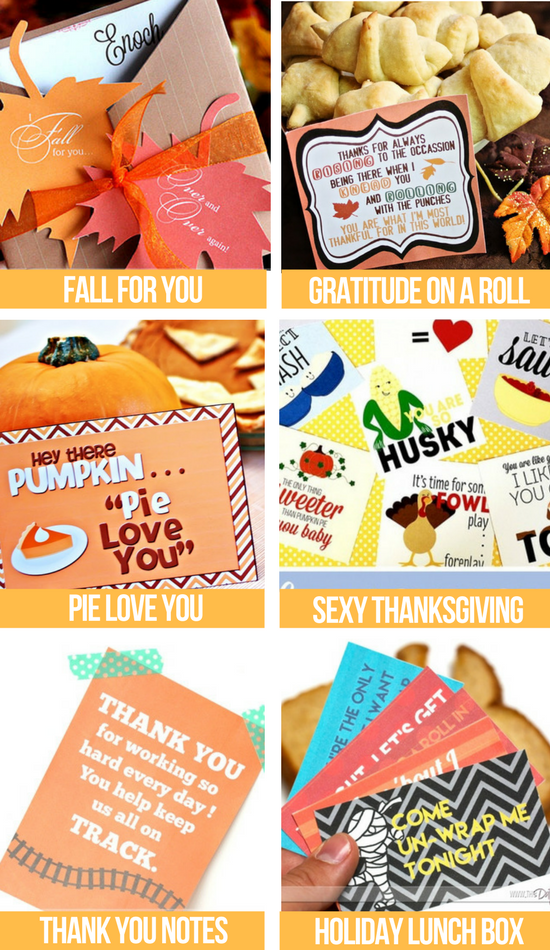 73. Fall For You – A card with beautiful leaf love notes.

74. Gratitude On a Roll – Insert little love notes of gratitude and love into some baked bread for a delicious surprise!

75. Pie Love You, Pumpkin – The perfect love note to attach to a piece of pie.

76. Sexy Thanksgiving Love Notes – Saucy love notes with suggestive Thanksgiving-themed sayings.

77. 10 Thank You Notes For Your Spouse – Send a little love to your spouse letting them know you are grateful for them.

78. Holiday Themed Lunch Box Notes – Over 100 notes and jokes to put in your spouse's lunch for the holidays.

 

Love Notes Gift Ideas 
If your sweetheart's love language is words of affirmation, then we have the perfect gift ideas for you! These gift ideas all involve love notes and would make great presents!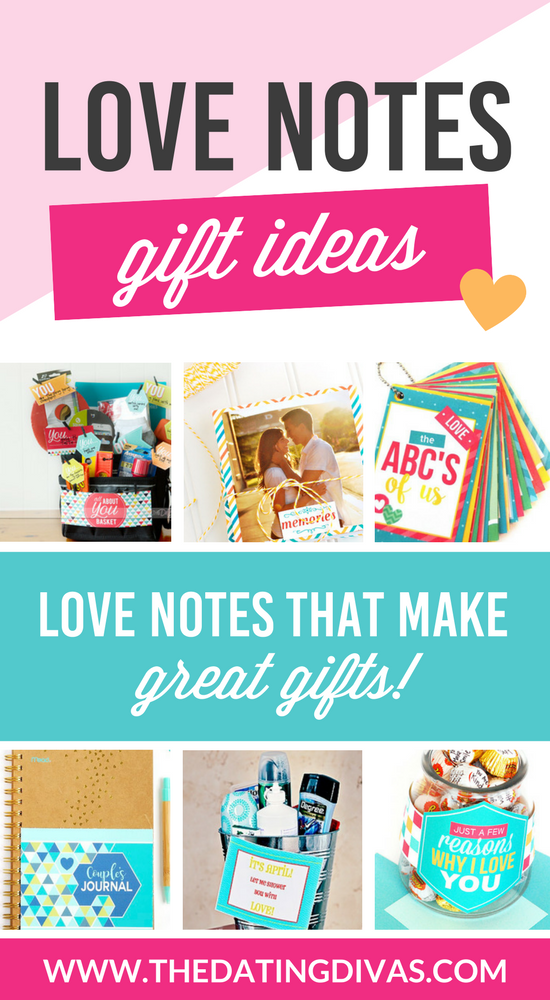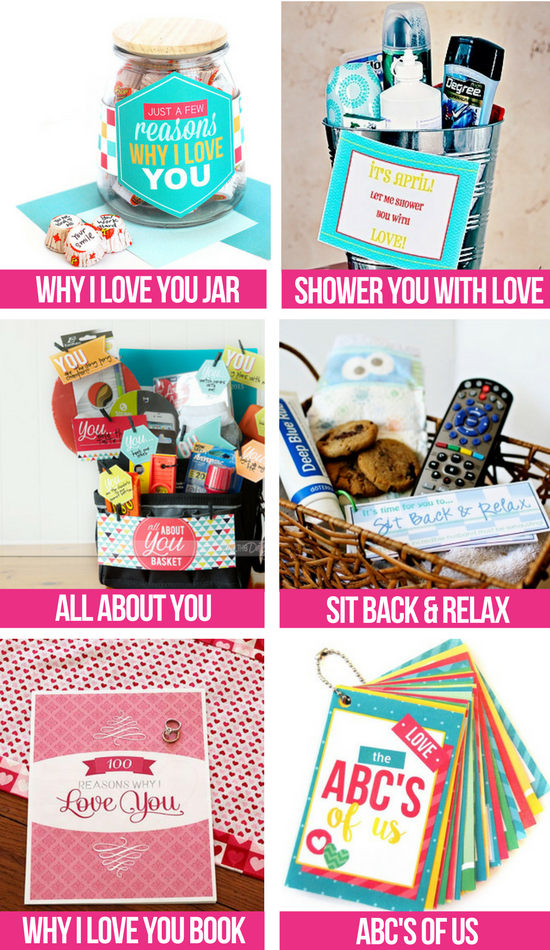 79. 50 Reasons Why I Love You Jar – A jar full of Reese Peanut Butter Cups – each with a little love note from you!

80. Let Me Shower You With Love – Add this love note to some basic shower supplies that your spouse might need and you have a great gift!

81. All About You Basket – Attach tags with things you love about your spouse to different items that remind you of them.

82. Sit Back and Relax – A love note gift that invites your spouse to relax!

83. 100 Reasons Why I Love You Book – The ultimate love note listing 100 different reasons why you love your spouse.

84. ABC's of Us – Use letter cards to create a little booklet with things you love about your spouse for each letter of the alphabet.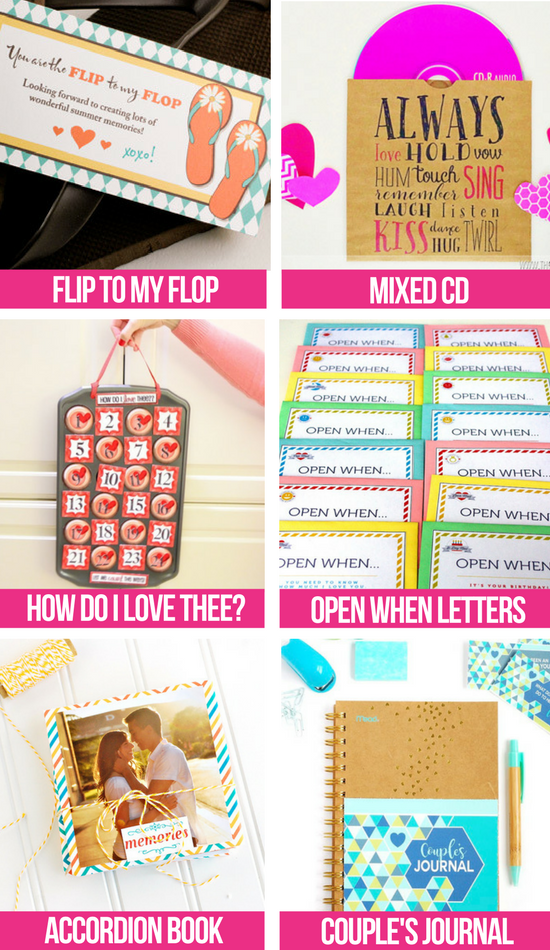 85. You are the Flip to My Flop – A fun, love note tag paired with flip-flops.

86. Valentine's Mixed CD Printables – Put together a collection of your favorite songs for a sentimental gift.

87. How Do I Love Thee? – A unique craft involving love notes, magnets and a muffin tin.

88. Open When Letters – A collection of love letters for the moment they need it.

89. Accordion Book – An interesting accordion book that opens up to reveal love notes, pictures and more.

90. Couple's Journal – A fun way for you and your spouse to write love notes back and forth.

Funny Love Notes
For the relationship that appreciates humor, here are some free love notes that will give your spouse a good chuckle.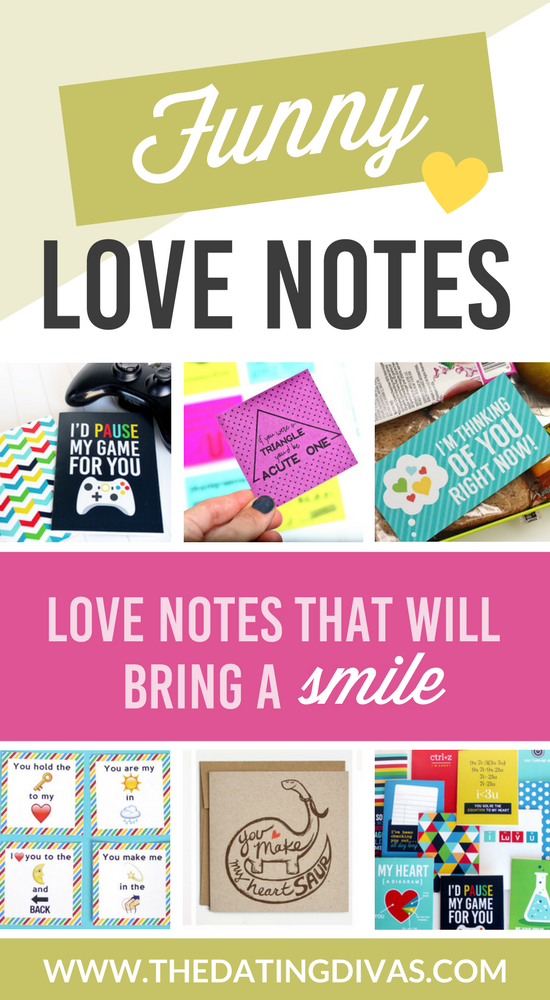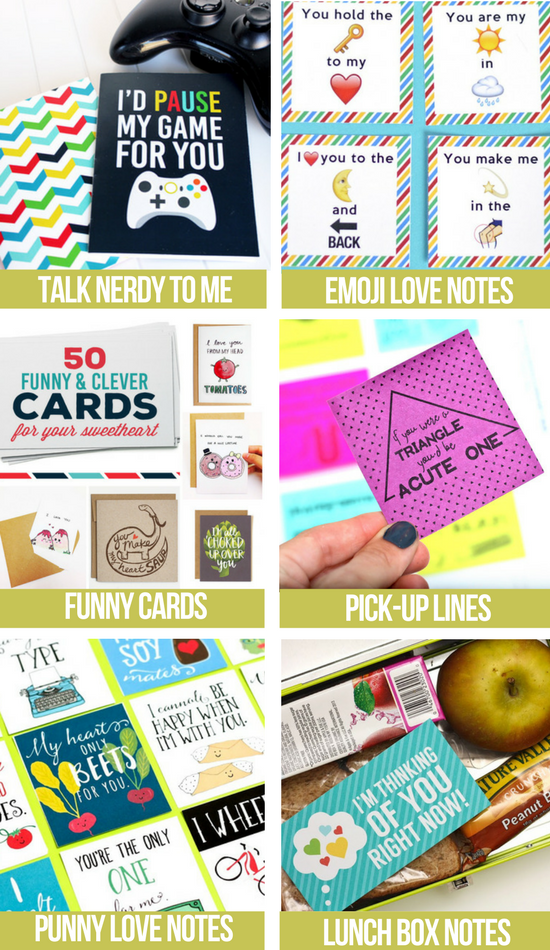 91. Talk Nerdy to Me Love Notes – Love notes that the nerdiest of people will appreciate.

92. Emoji Love Notes – Sometimes words aren't sufficient and an emoji is needed to truly express the emotion. Share your love with one of these emoji-themed cards!

93. Funny Cards for Your Sweetheart – A collection of 50 cards that are funny and clever. Note: this is a collection of cards that include cards for purchase but many free ones as well.

94. Funny Pick-Up Line Sticky Notes – Grab your sweetie's attention with some classic pick-up lines that you can print directly onto sticky notes.

95. Punny Love Notes – 12 love notes full of playful puns for your spouse.

96. Lunch Box Notes, Jokes & Pick Up Lines – Love notes and pick-up lines to add to your spouse's lunch. Over 100 notes.

Sexy Love Notes
We can't leave out our most suggestive, flirty love notes! Here are a few of our favorite ones!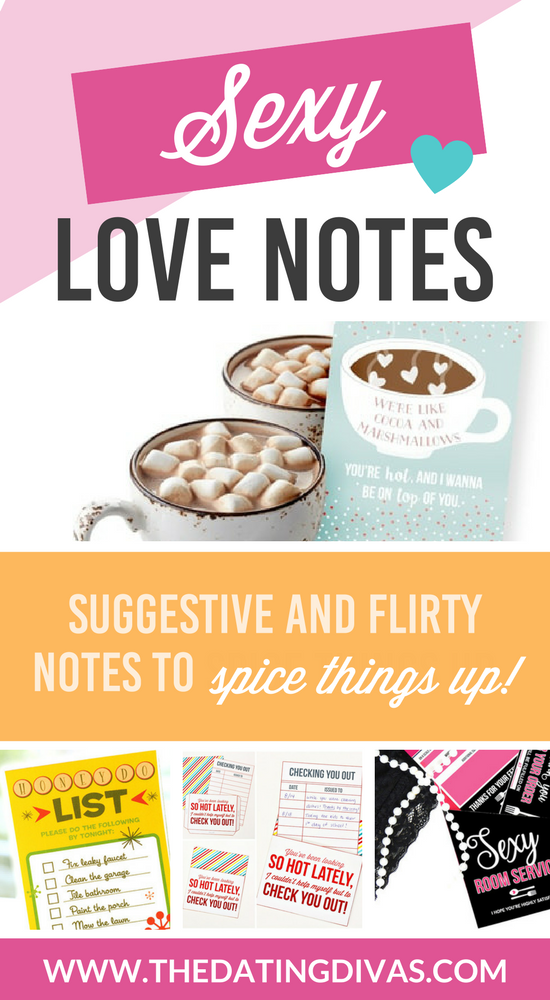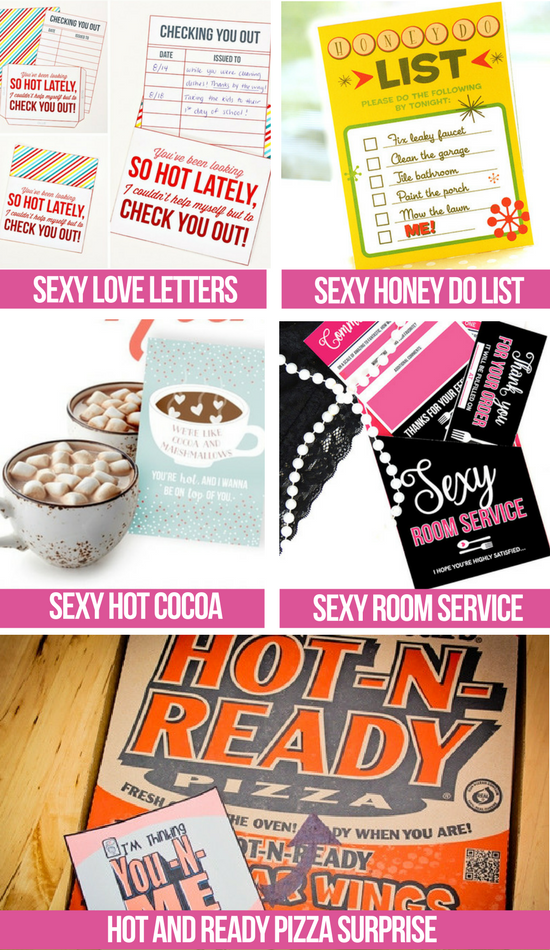 97. 25+ Sexy Love Letters – A whole collection of love notes with sassy, romantic, and sexy cards.

98. Sexy Honey Do List Card – A card with a sexy message disguised as a to-do list.

99. Sexy Hot Cocoa Love Note – Some delicious hot cocoa and this love note, and you are in for a HOT night!

100. Sexy Room Service – For the spouse whose love language is acts of service, this is a love note that they will appreciate.

101. Hot & Ready – Let your spouse know that something sexy is on the menu tonight.

There you have it! 
101 Flirty, Fun and Free Love Notes!
We hope you found something you love (maybe it's even pin-worthy?!) and, more importantly, something your sweetheart will love!
SaveSave
SaveSaveSaveSaveSaveSaveSaveSave
SaveSave
SaveSaveSaveSave
SaveSave
SaveSave
SaveSave
SaveSave
SaveSave