Valentine's Day Ideas 2022
When hunting for Valentine's Day ideas for you guys, we require that they be these three things: sweet, romantic, and FUN! You're in luck this year because, OF COURSE, we've found the best-of-the-best ideas that meet all of these requirements!
From gift ideas to date night activities, we have rounded up all the swoon-worthy goodness that comes with Valentine's Day. Keep scrolling for the ultimate list of Valentine's Day ideas to touch your spouse's heart this year!
Table of Contents
Disclaimer: This post contains affiliate links. To learn more about 'em, click here.
Valentine's Day Date Night Ideas
Out of all of our Valentine's Day ideas for him, her, or the family… date night is probably what we can help with the most! After all, it's what we do best! Here are our top 30 date ideas that would be perfect for Valentine's Day!
1. Date Night in a Box: Valentine's Day Edition – Looking for something easy-peasy? We've got you. Date Night in a Box is easy to throw together and completely customizable! Simply fill this decorative box with everything you need for a romantic evening for two!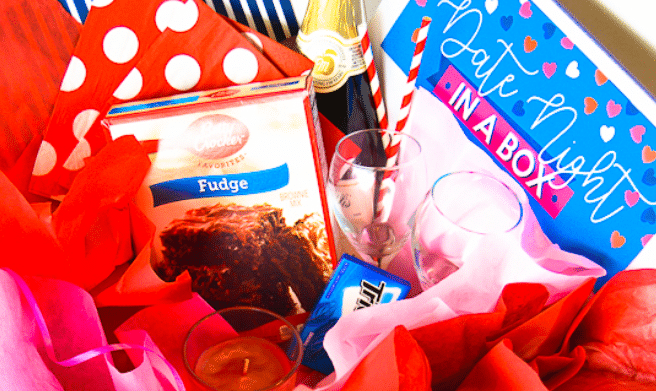 2. Valentine's Day Game: Pucker Up – Have you ever played the card game "War?" This fun game is similar! Pucker up for a unique card game that results in kissing your love again and again! Win-win, right?!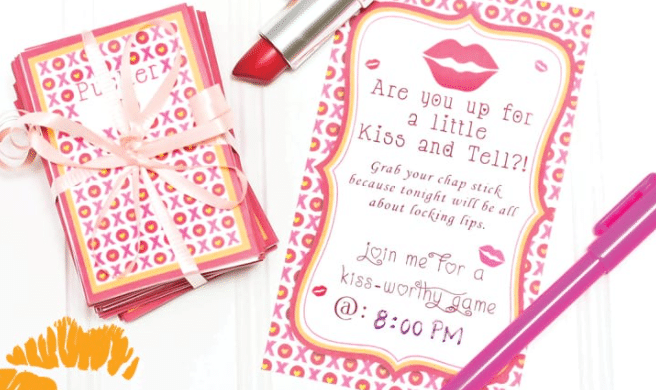 3. Eat, Drink & Be Mine – An easy-to-prep Valentine's Day dinner for two–with printables! Perfect for the lovers who want to celebrate at home. You'll love the cuter-than-words Be Mine Banner and the darling cake toppers!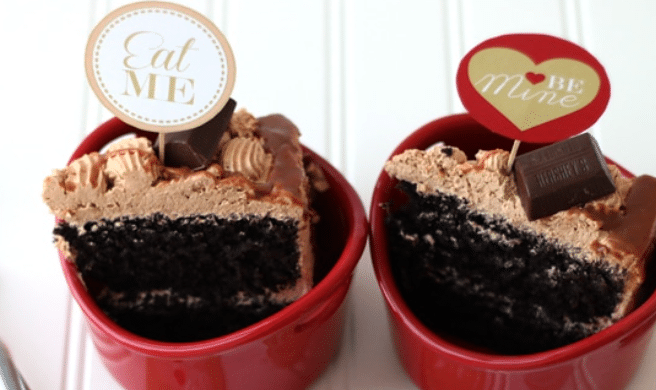 4. Valentine's Day Glamping Date Night – Looking for some Valentine's gifts for him that he can enjoy at home? What about something you can BOTH enjoy? Check this out! Create a romantic tent for two, add s'mores and twinkle lights, and you're ready to go!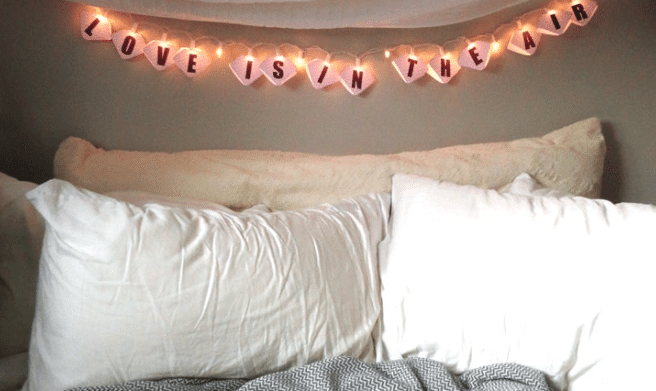 5. Valentine's Day Emergency Kit – Haven't made any plans for Valentine's Day? No worries–we have you covered with this last-minute kit! The best part? Your sweetheart will never know this was last minute! Complete with a cootie catcher, balloon tags, and a menu of activities for the evening. Enjoy!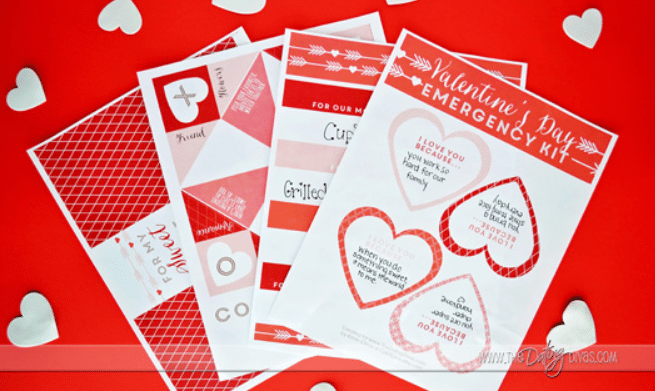 6. Valentine's Day Room Service – Spoil and surprise your spouse on Valentine's Day with a breakfast in bed served on a gorgeous tray–plus additional service throughout the day! What's more romantic than that?!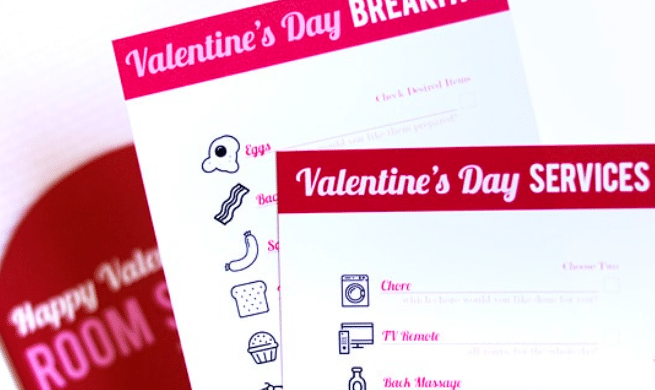 7. Valentine's Destiny Date – Do you like surprises? We do! This date night is totally determined by what is chosen from secret envelopes! No one, not even you, knows for sure what you'll be doing!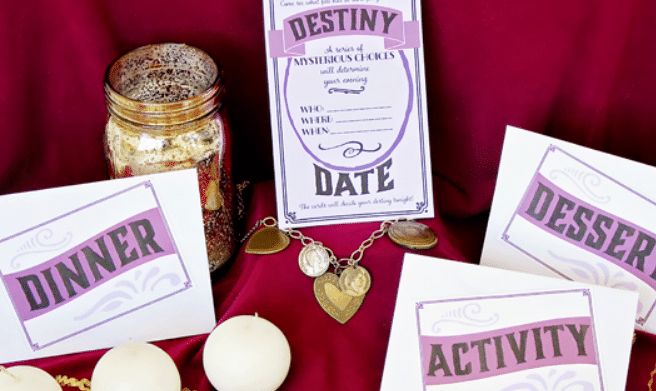 8. The Valentine Date – A completely planned date night from start to finish. Includes ideas for a candy gram gift, meals, activities, and even a scavenger hunt for your spouse! Our favorite part? Ending the evening with rose petals scattered across the bed! 😉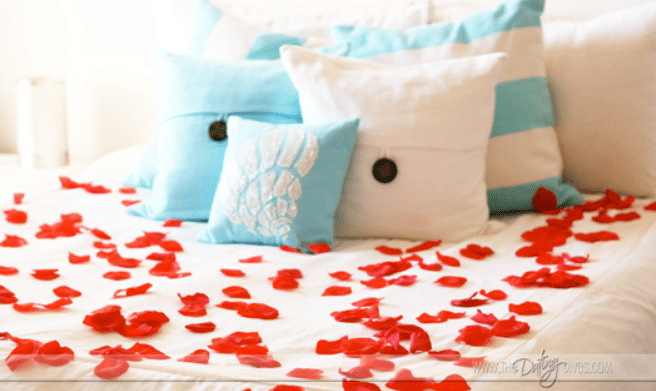 9. Mission: Valentine Love Hunt – Does your hubby have it all? Are you looking for unique Valentine's Day gifts for him? We've got you covered! This date will send your "James Bond" to complete 5 different valentine missions, with all of the clues leading him to YOU!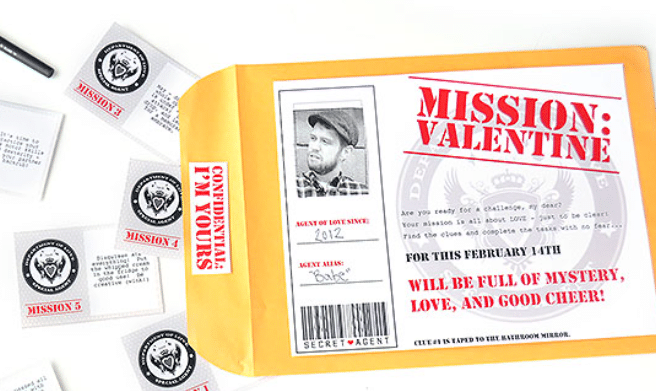 10. Valentine's Win It in a Minute – Love Day definitely doesn't have to be so serious and romantic. We believe having fun with your spouse is so important! Add some fun to your Valentine's Day with these hilarious valentine-themed games.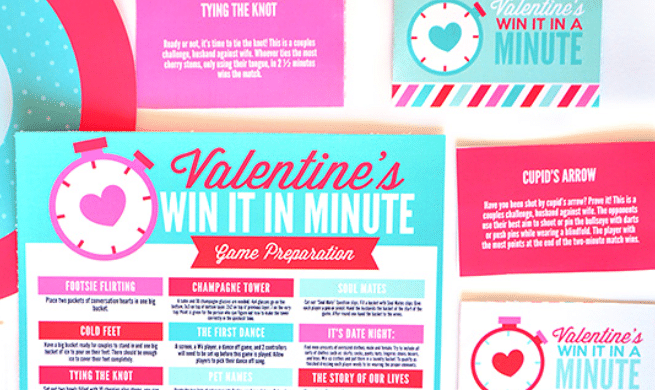 11. Valentine Bedroom Party Pack – A private Valentine's Day party for two… in the bedroom! No need to find a sitter for this date. Just put the kiddos to bed, and you're set! This date includes a checklist of activities, a super sweet scavenger hunt, and a fun game of guessing popular love songs!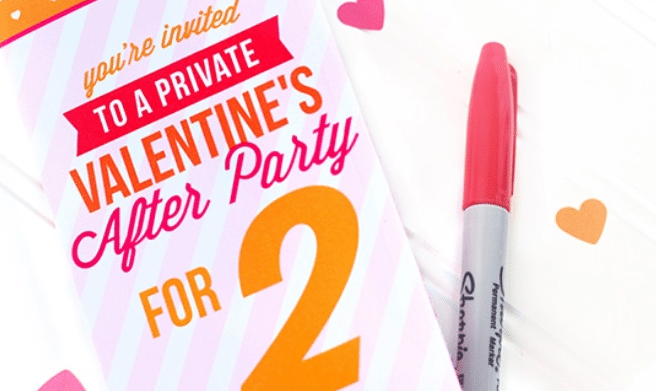 12. How to Have a Romantic Valentine's Dinner – Can't find a sitter? Or maybe you don't want to deal with the Love Day rush? No problem! We've got you covered. Create a romantic environment for a Valentine's Day date night at home with ideas for decor, food, activities, and more!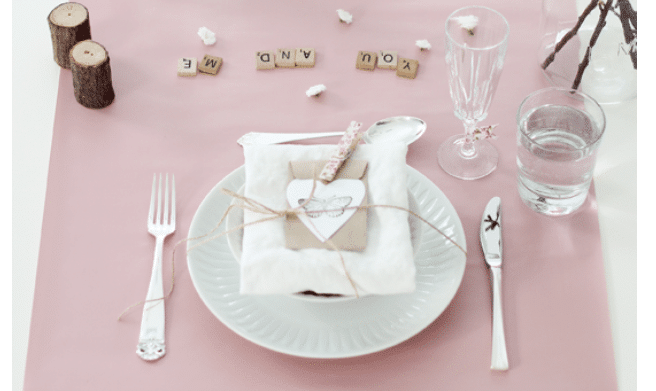 13. It's a Love Match – A game of memory with a sassy, sexy twist! This game is perfect for adding a little spice to your Valentine's Day plans. The best part? BOTH players win. 😉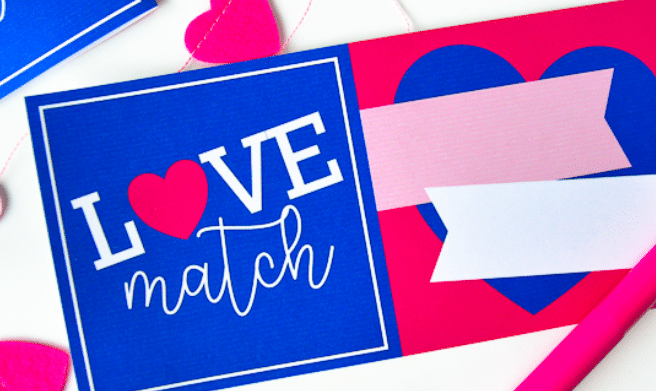 14. Sweetheart Bedroom Party Pack – A complete pack of ideas for a private, romantic party for you and your sweetheart. You'll find a Kisses Game, a sexy scavenger hunt, and valentine gift basket ideas for you to enjoy together!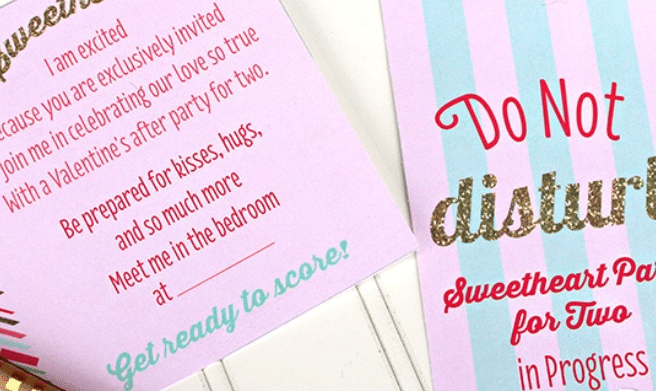 15. Love is Sweet–Bedroom Game – A unique twist on a childhood board game that brings fun to the bedroom. This game is full of fun and exciting ways to spice things up with your spouse. Without giving too much away… foreplay never tasted so sweet! 😉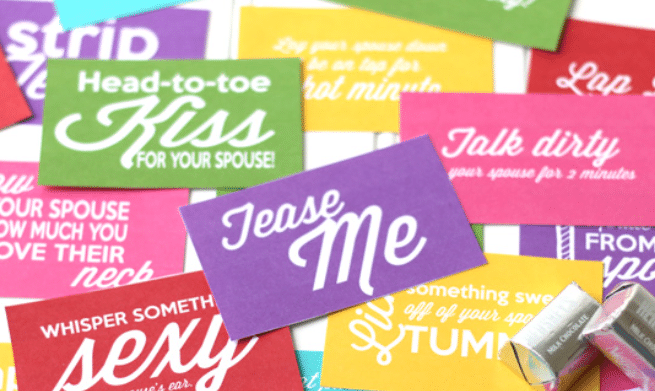 16. Love Seat Lounge – Who said you need to leave your house to have a romantic Valentine's Day? No way! We've got the perfect, chill date night at home for you and your sweetheart. Reserve the sofa for an evening of relaxation and takeout!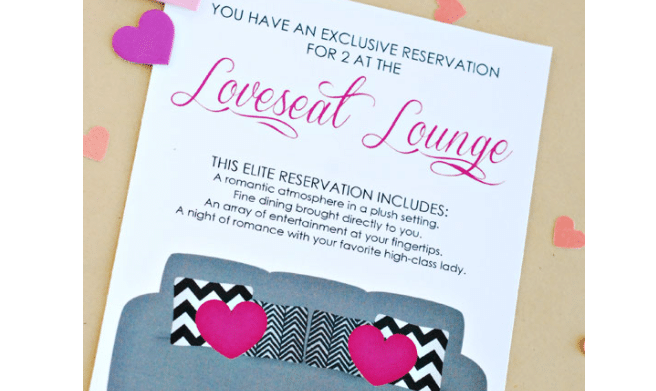 17. Love Shack – Now that the song is stuck in your head, check out this romantic valentine date you can do at home! Create a nice little escape into your own little Love Shack. It's quick, easy, and provides a cozy night in with your sweetheart!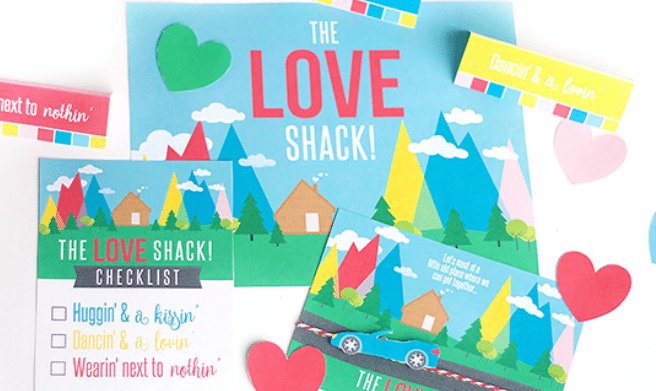 18. The Game of Love – Not all games need to be played on a table or a board! In fact, this particular game uses a bed sheet! Do we have your attention yet? Simply customize the fitted bed sheet (aka your "board" for the evening) with fun activities to do together…. in bed! Both players score in this sexy game! 😉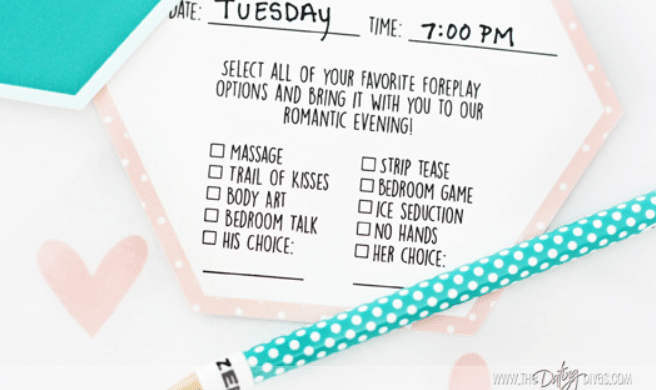 19. Spa Date Night Kit – Relax and unwind with your spouse for Valentine's Day. Think massages, bubble baths, a delicious meal, and more! We love bath bombs, so you might want to have one or two on hand for this one!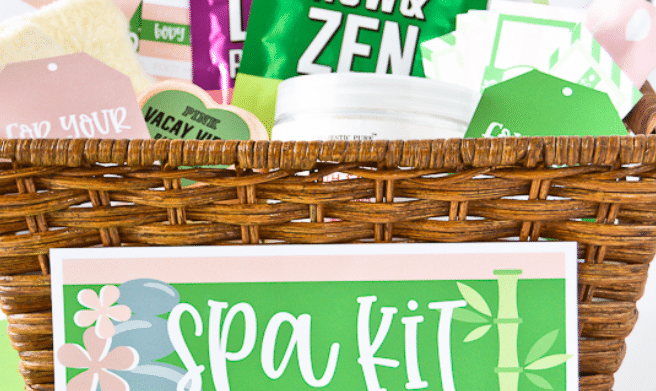 20. Fondue Date Night – We've got everything you need for a sweet fondue night at home. Whether you choose to do dinner or dessert (we suggest both!), we know you'll love this easy and memorable Valentine's Day date!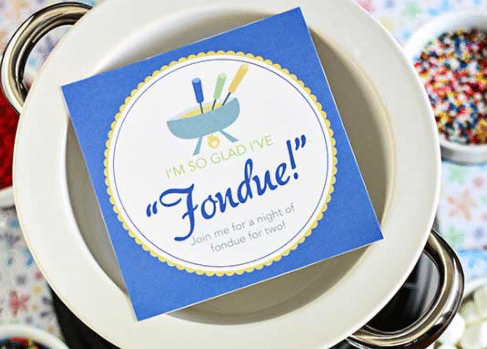 21. Couple's Cafe – Add a simple twist to dinner with these printable menus and unique payment options! Forms of payment include: kisses, massages, and more. Ooh la la!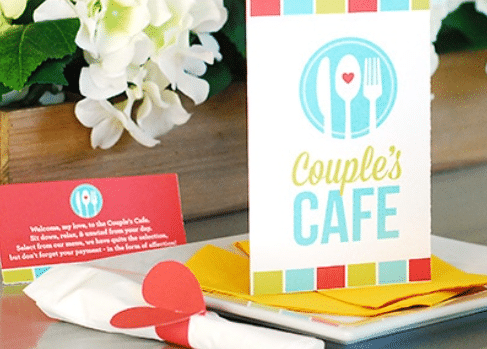 22. Chocolate Tasting – Can't celebrate Love Day without chocolate, right? Use that box of chocolates for a fun chocolate tasting activity for two! Super sweet and super simple. We know you'll love it!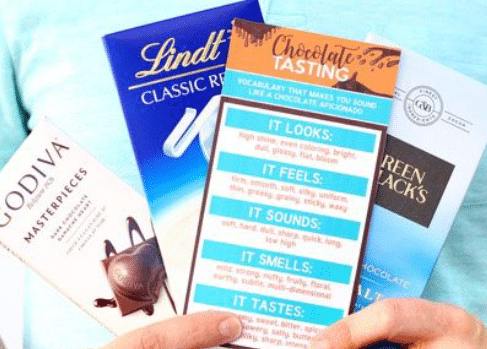 23. Spoil Your Spouse Date Night – Valentine's Day is the perfect time to spoil your spouse to the max! Whether you're looking for Valentine's gifts for him or Valentine's Day ideas for her, these "his" and "hers" printables will help you plan the perfect day your spouse will love!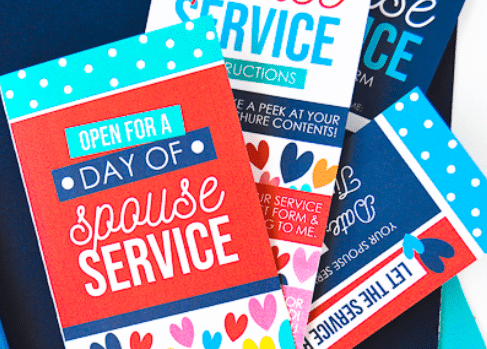 24. Romantic Rooftop Date – If you have an accessible roof, convert it into a romantic place for two! Eat a romantic dinner during sunset, then cuddle up and watch the stars come out. You could even add some twinkle lights or candles for extra romance!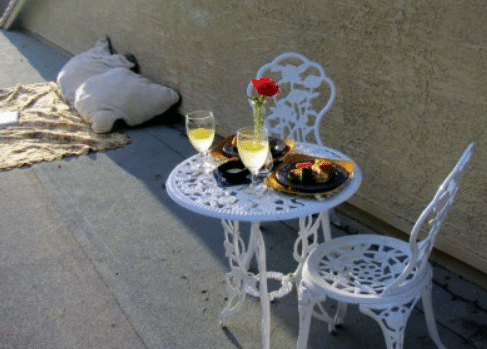 25. Je T'aime Hotel – Can't escape to France for a weekend getaway? No problem! Create a fancy French hotel in your home! Make it even more fun with towel animals. Not sure how to make them? This should have you covered!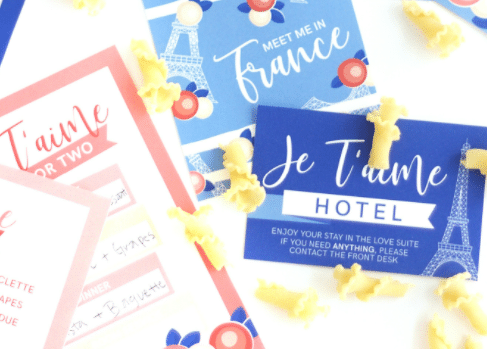 26. Power Outage Date Night – Lights out, date night on! Unplug this Valentine's Day, and really focus on just the two of you. We have some awesome activities you can do together without the lights! Enjoy each other–technology-free!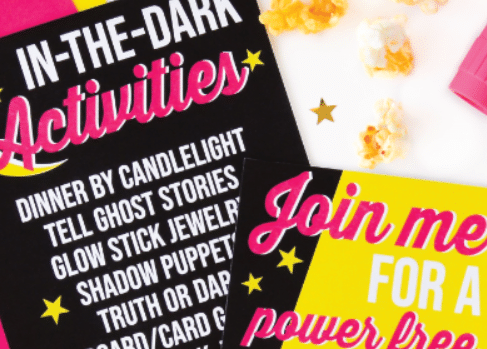 27. "Tied" to You! – This Valentine's Day, surprise your sweetheart with a fun string hunt that leads them straight to three brown paper packages (tied up with string!). You choose what goes inside the bags, and we'll provide the printables. Easy!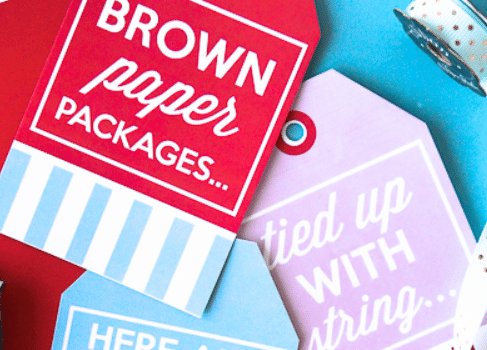 28. Hotel Slumber Party– Escaping to a hotel isn't always feasible especially around Valentine's Day. No worries! You can create a romantic and fun hotel slumber party for two with this at-home date night! Complete with a Do Not Disturb sign, slumber party schedule, and a list of essentials.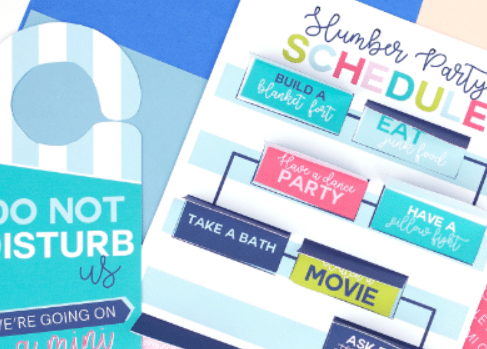 29. Sexy Valentine's Day Ideas – Need more sexy ideas for Valentine's Day? Here are 80 fun, flirty, and sexy Valentine's ideas that all hit the spot.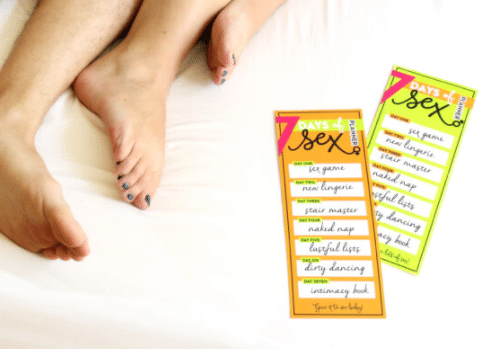 Valentine's Day Gift Ideas
Shopping for your spouse can be so difficult. If you're one of the many people who Google "Valentine's Day ideas for wife" or "Valentine's gifts for him," then keep reading! We've done our absolute best to make it easier for you this year. In fact, choosing just one of these unique Valentine's Day ideas below will be the hardest part!
30. DIY Love Coupons – A unique coupon book with over 25 coupon ideas. Choose the ones your spouse will most appreciate.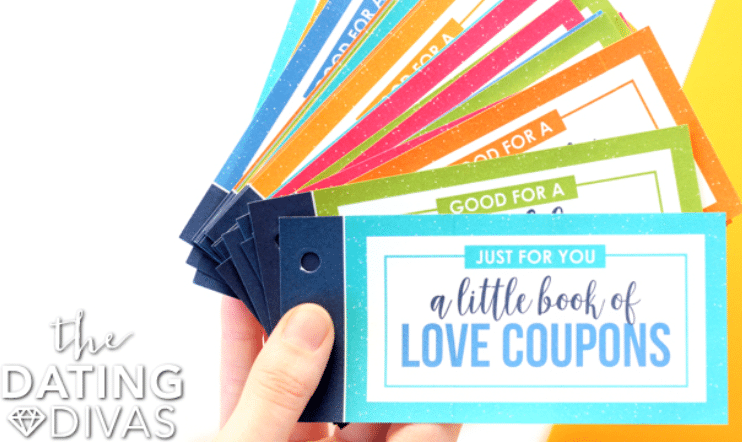 31. I've Kissed the Ground You Walk On… – It doesn't get better than this. Leave a trail of kisses for your valentine to find!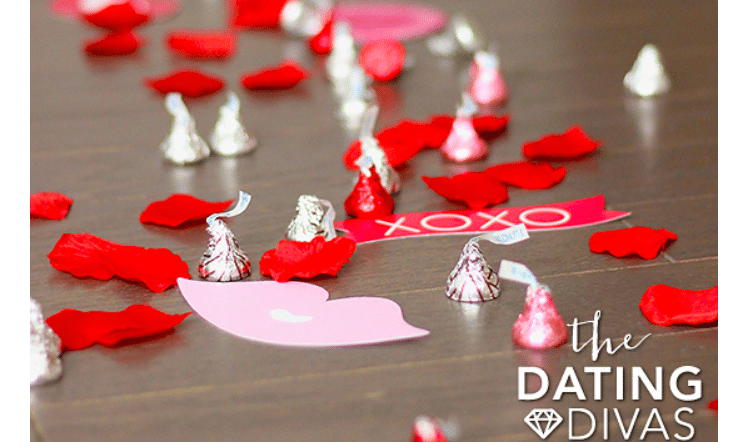 32. Valentine's Day Video Gift From Animoto – Create a professional-looking, customized video slideshow in less than 10 minutes!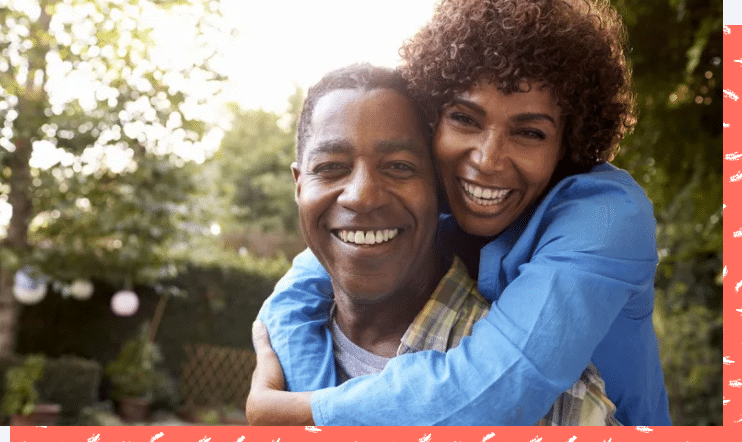 33. Sexy Love Book – Give your sweetheart just what they want–more of YOU!! This love coupon book is full of sexy favors. Running short on time? You can grab this one, just make sure to get rid of anything you wouldn't want to do!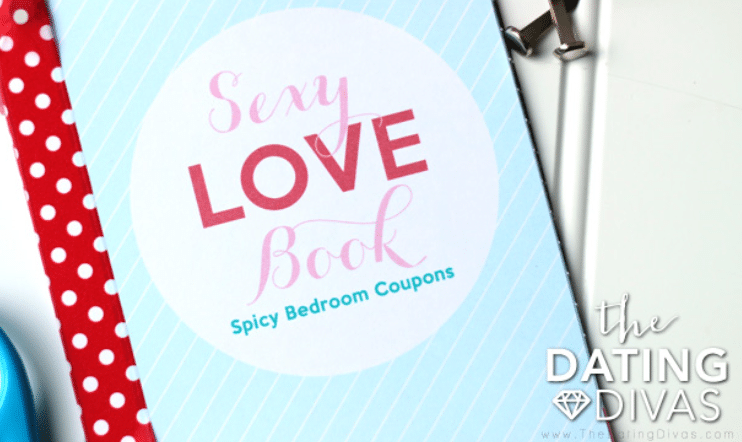 34. Valentine's Gift Box – Whatever gift you are giving for Valentine's Day, you can add some flair to the box, gift bag, and more with these fun printables!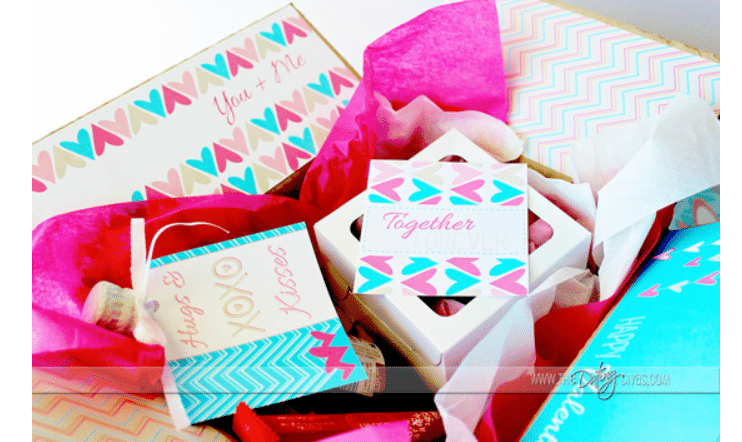 35. Cuddle Kit For Valentine's Day – A gift basket with everything you need for an evening of cuddling. Definitely something you can add to the list of Valentine's Day gifts for him OR Valentine's Day ideas for her!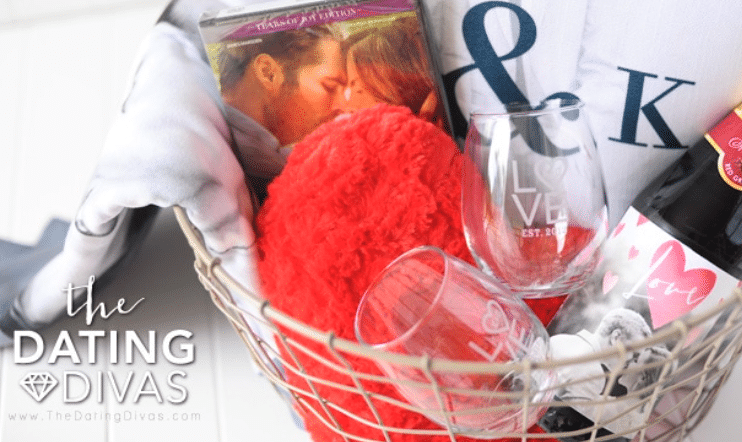 36. Valentine's Mixed CD Printables – Make your honey a creative and thoughtful CD mix filled with the best love songs! Plus, what a great Valentine's gift idea to help set the mood for the entire night!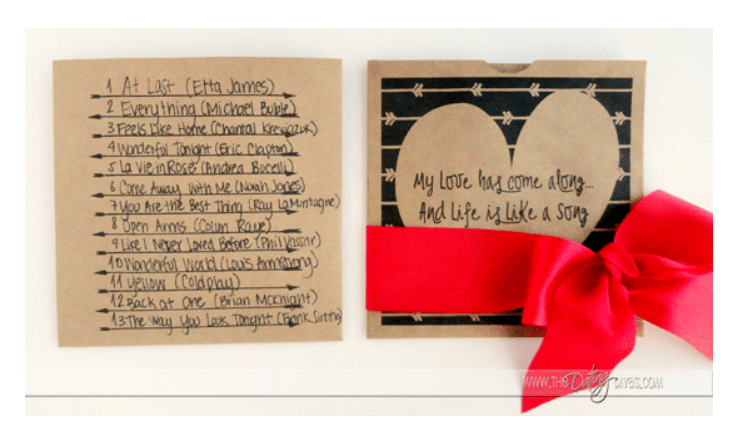 37. Candy Bar Gift Tags – Sweet valentine love notes to attach to your love's favorite candy bar.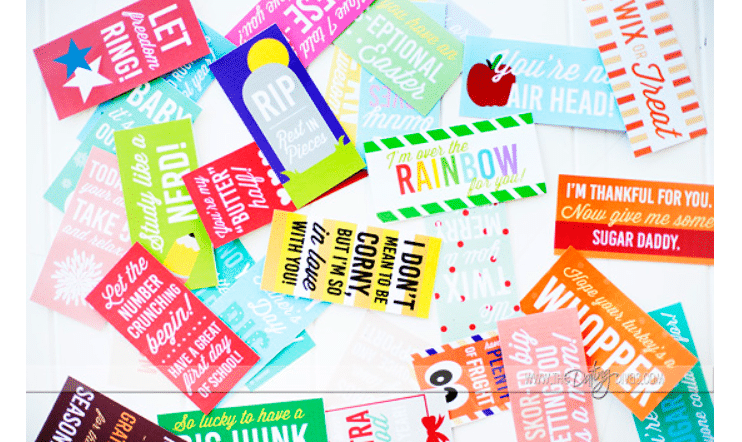 38. Romantic Carved Initials Gift – A meaningful, DIY gift idea that can also double as romantic bedroom decor!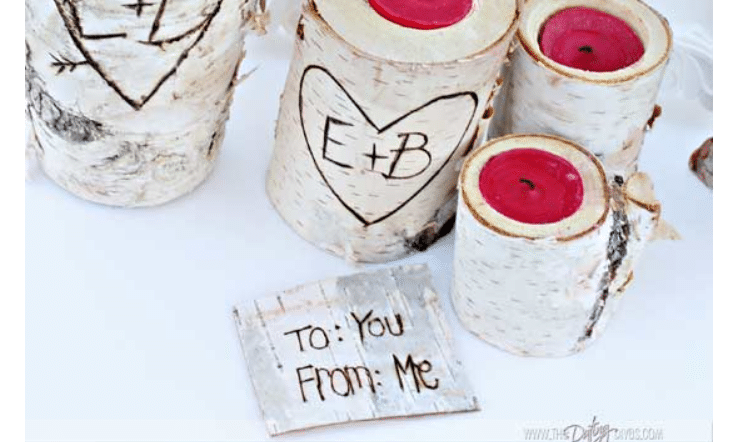 39. Valentine's Day Spicy Book of Love – Spicy love coupons for your spouse's eyes only!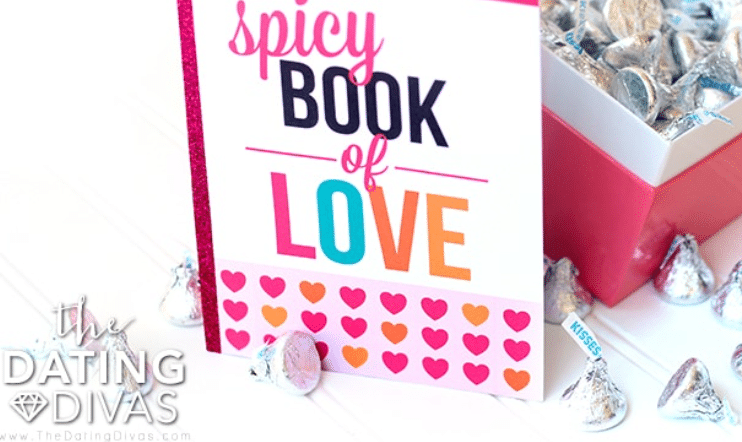 40. Heart-Shaped Picture Poster – With this easy-to-use template you can convert your favorite photos into a fun heart-shaped picture display.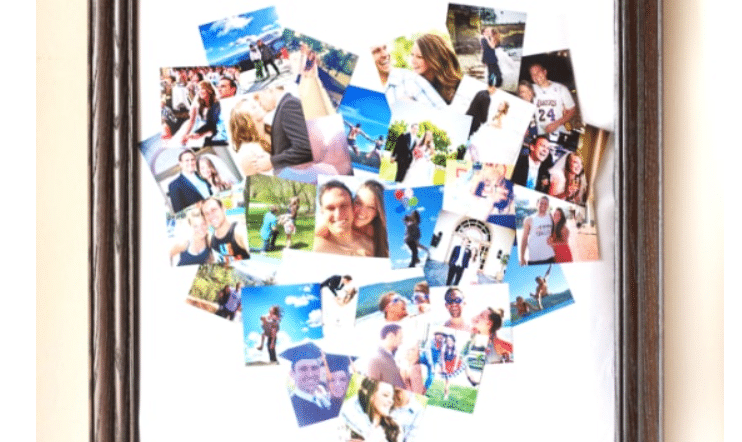 41. Valentine's Day Man Bouquet – Whip up a "bouquet" with your spouse's favorite sweets and treats! Both women and men would appreciate this one! Make sure to find a cute pot to put them in!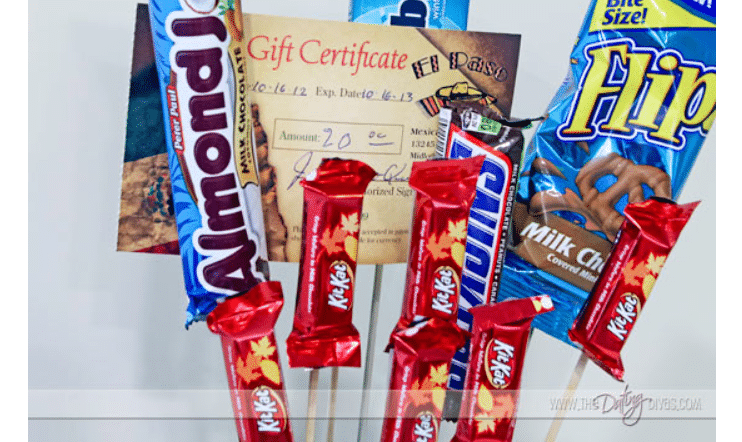 42. The Five Senses Gift – A gift basket with items centered around sight, sound, touch, taste, and smell!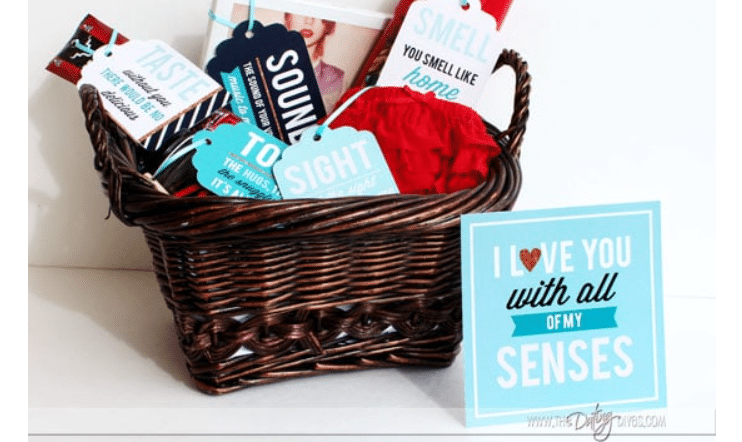 43. Showered in LOVE – Shower your spouse with love with this fun gift basket surprise placed in the bathroom!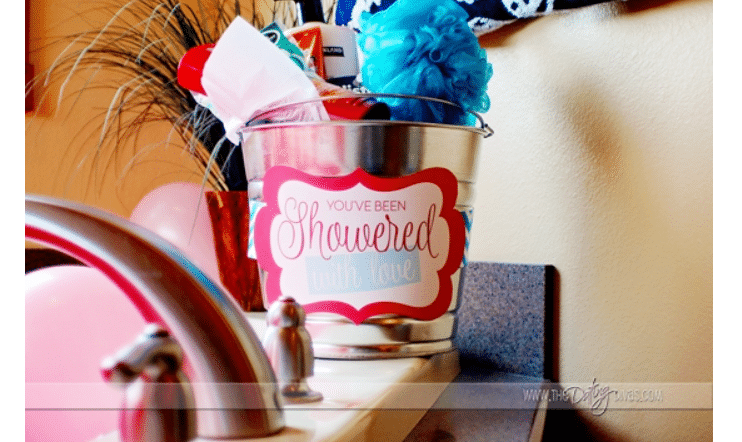 44. Memoirs Romantic Gift Idea – This website can turn communications with your spouse from emails, WhatsApp, and Facebook chat into a beautiful, printed book.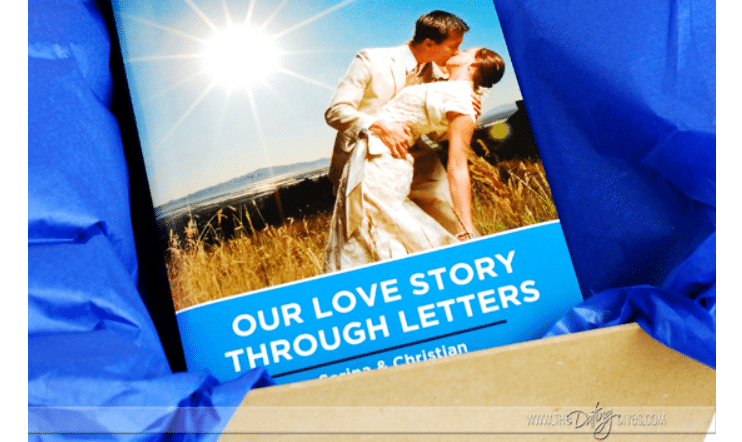 45. Cuddle Kit for Two – A gift with an activity attached! This gift basket includes items to promote an evening of cuddling together + more!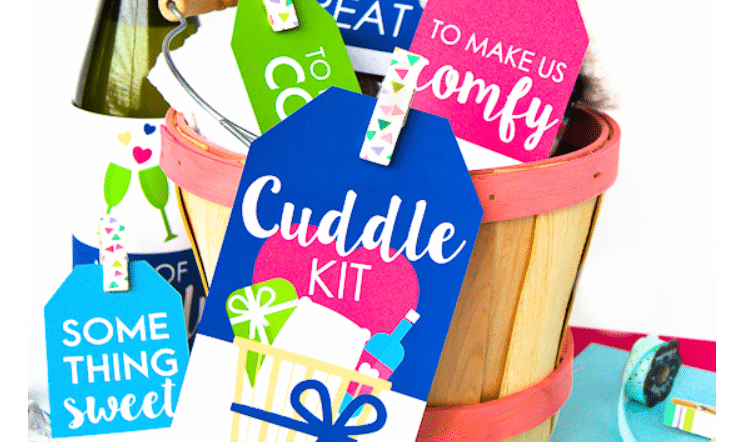 46. DIY Photo Pillow – Surprise your sweetie with a customized pillow with a photo, memory, or phrase that is special to your relationship.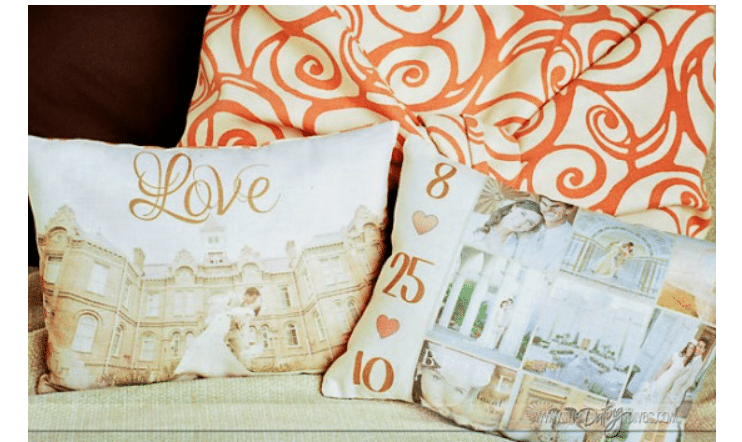 47. All About You Basket – This is one of our favorite Valentine's Day ideas! A gift basket filled entirely with things your spouse loves.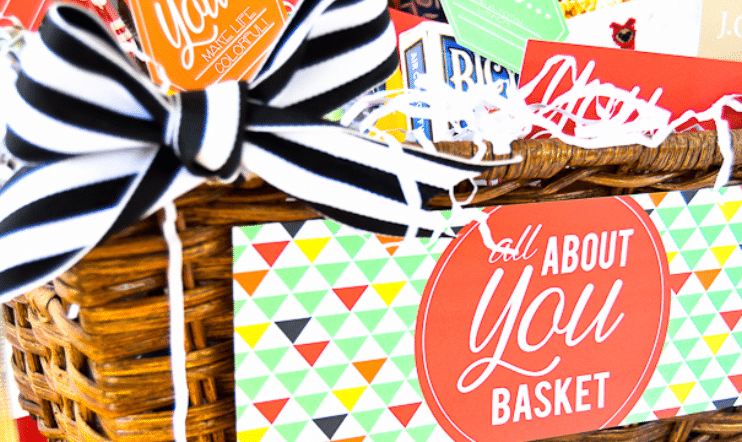 48. Create Your Own Storybook – My husband's favorite gift to date! This website helps turn your love story into a personalized storybook!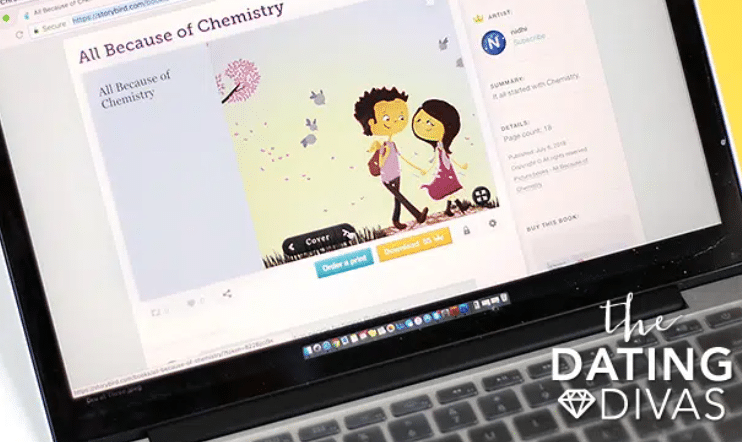 49. Year of Dates Gift Ideas – A gift of future date nights fully planned and prepped for each month of the year–and five different options to choose from! A year of sporty dates, intimate dates, around the world dates, and more!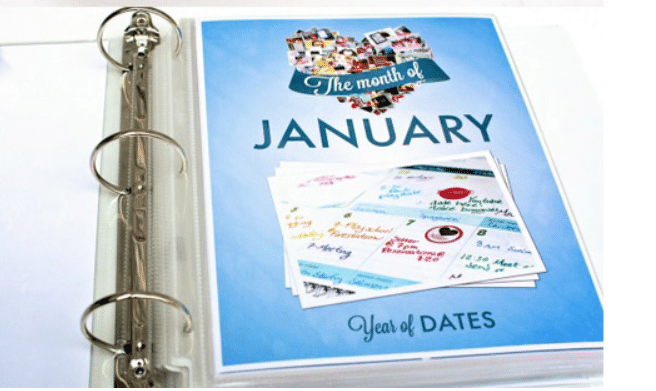 50. Romantic Wall Art – Three different designs for personalized artwork that feature your own love story. This would make a great gift idea!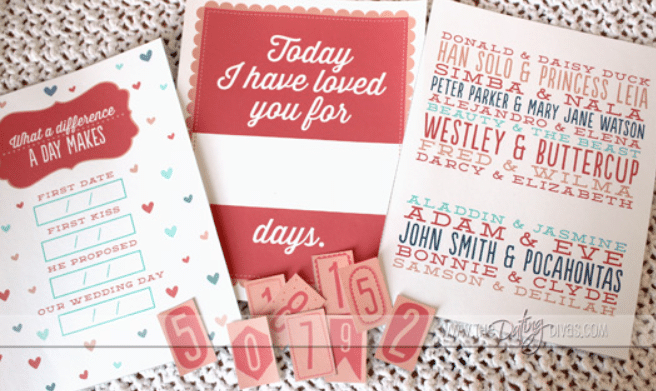 51. A Personalized Love Print – Four gorgeous wall art designs that can be personalized for any couple.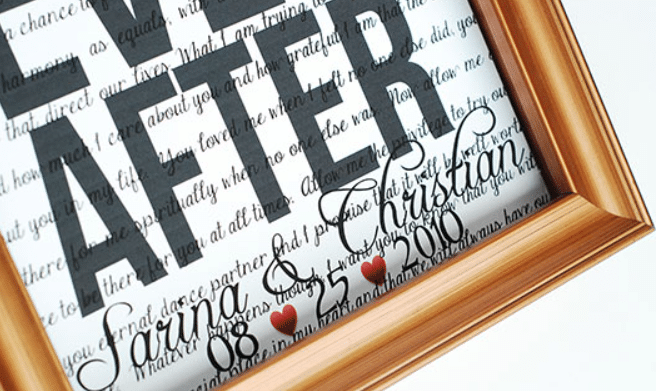 52. The Best Valentine's Day Ideas for Wife – If you're struggling to find the perfect gift for your wife, this post shares the secrets behind hundreds of our surveyed readers' responses! From flowers to romantic dinners, we're sure you'll find something on this list of Valentine's Day ideas for her.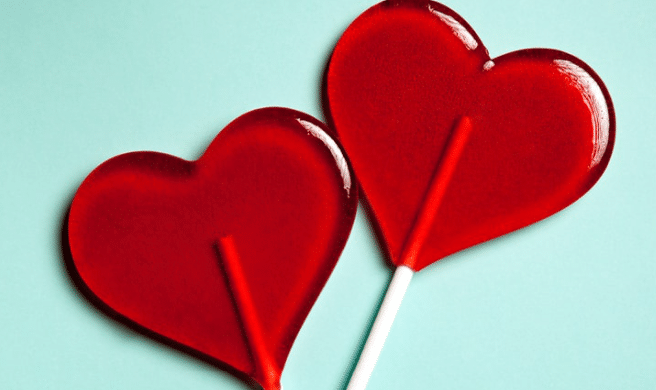 53. The Best Valentine's Day Gifts for Him – It can be hard to shop for a man, but after surveying hundreds of men, we narrowed it down to three main things men really want for Valentine's Day.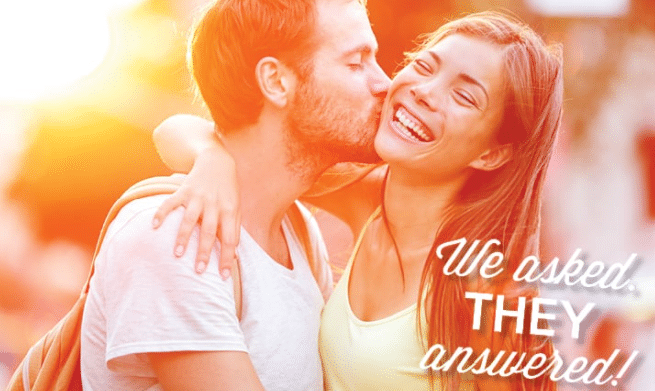 Valentine's Day Love Notes
Expressing your love for your spouse on Valentine's Day is a must! Whether you are looking for a card that is sentimental and sweet, or silly and humorous, we have something for you! Check out these unique and cheap Valentine's Day love note ideas.
54. 25+ Sexy Love Letters – These love note printables are romantic, sassy, and, yes, sexy!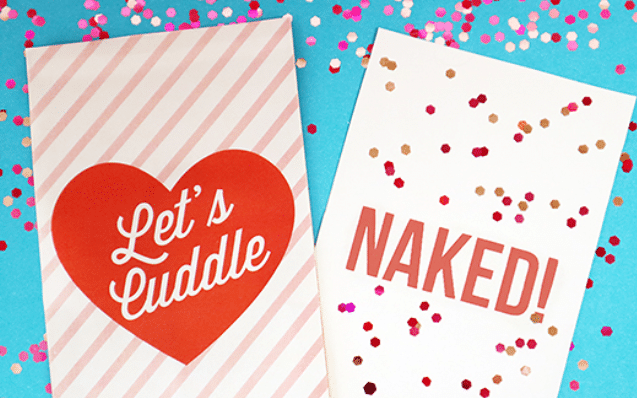 55. Fill-In-The-Blank Valentine's Day Love Notes – Personalize your love notes by filling in the templates with words specific to you and your spouse!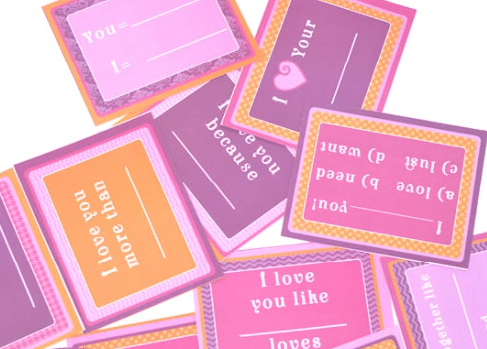 56. Candy Gram Poster – A sweet love note AND some delicious candy? Combine the two in this easy-to-create, giant Valentine's Day candy gram! Another one of my spouse's favorites!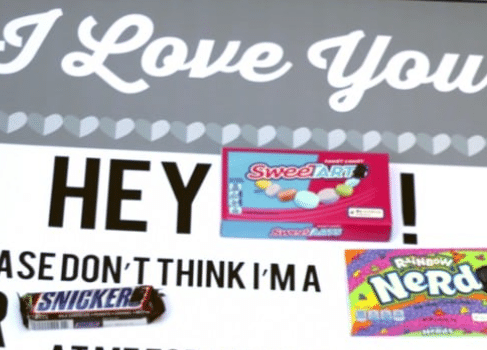 57. Man Approved Valentine – These are love notes that your man will truly appreciate!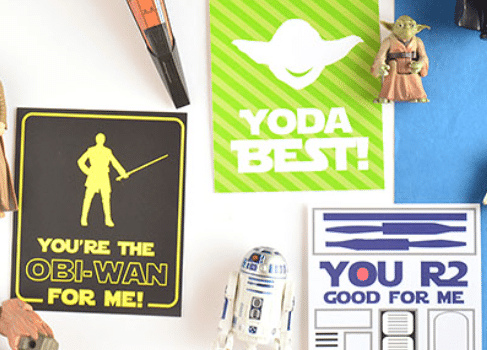 58. 14 Unique DIY Valentine's Day Cards – Whether you need funny cards, mushy ones, or just plain corny, you will find a unique card in this collection.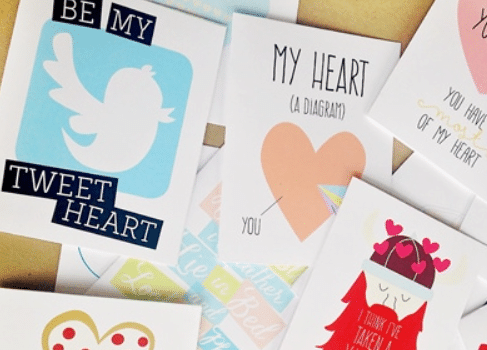 59. Funny & Clever Cards for Your Sweetheart for Valentine's Day – Add some humor to the day of love with this collection of clever Valentine's Day cards.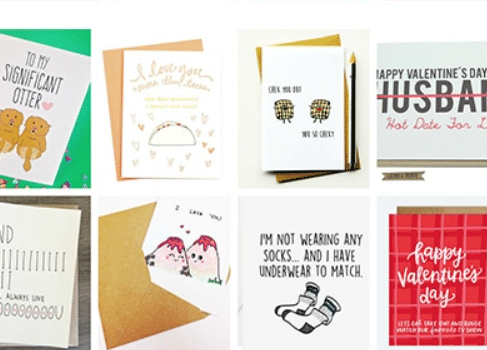 60. "Reasons I Love You" Posters – Poster-sized engineer prints with plenty of room to write your love note!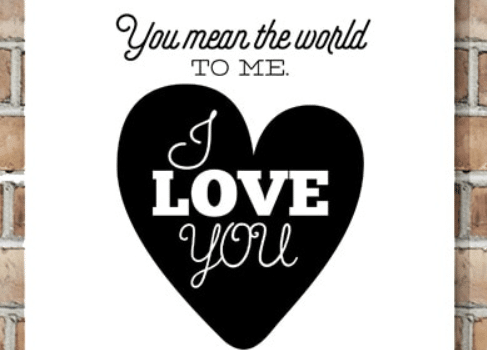 61. Valentine's Day Candy Gram Card – A card to accompany special Valentine's treats. Includes a healthy version, too!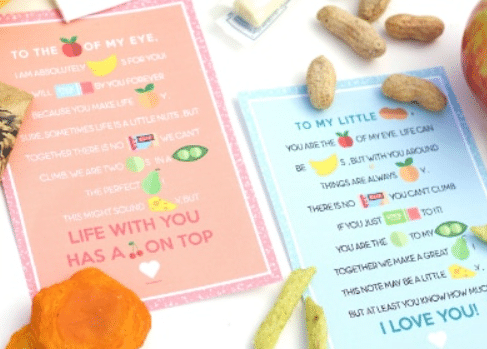 62. Exploding Love Box – A unique DIY card that converts into a box. When opened, 10+ flaps are revealed with places to add pictures, quotes, and love notes!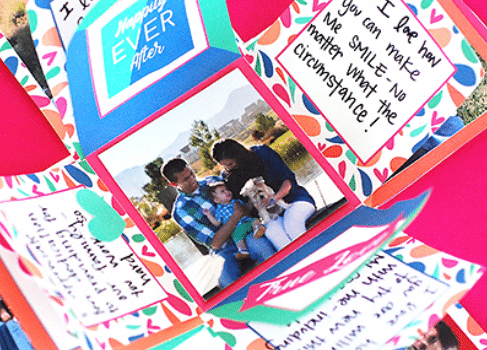 63. Word Art Card – Customize a subway art style card with an easy-to-use website.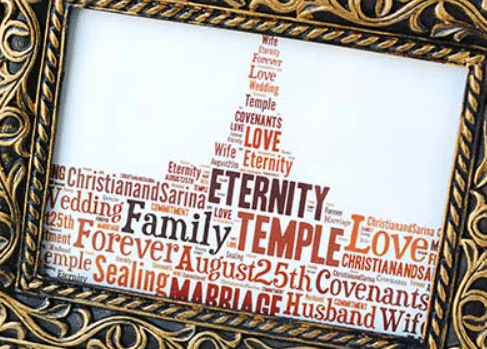 64. "100 Reasons Why I Love You" DIY Book – Your spouse will definitely feel loved after reading the 100 reasons why you truly love them!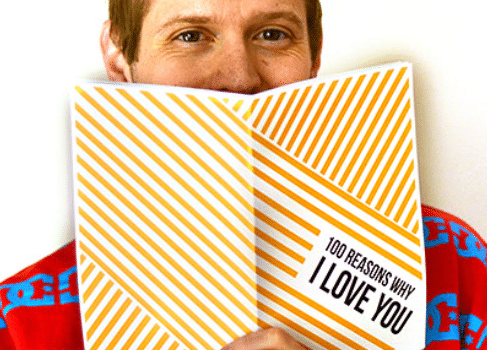 65. Printable Love Check – Leave your spouse a love note to cash in kisses later!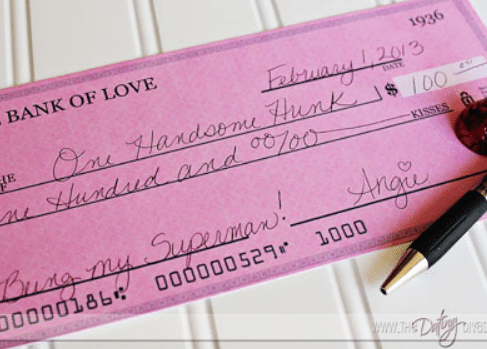 66. Sexy Mad Libs – Anyone a fan of Mad Libs? These unique templates will give you a super silly and interactive night with your spouse!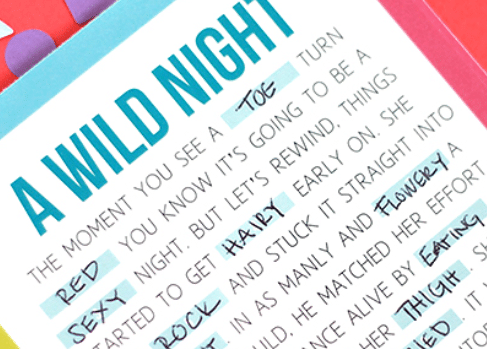 67. Sticky Notes – Print sexy, flirty, and fun messages onto sticky notes. Then, you can shape them into a heart for display!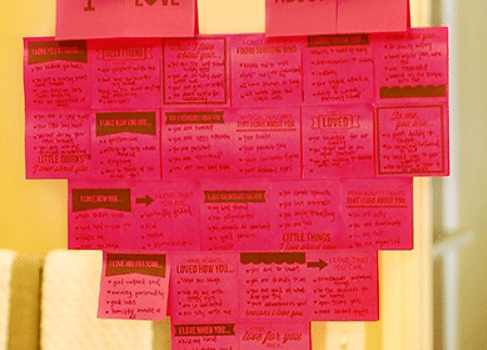 68. Open When Letters – Make your own "Open When" letters! The perfect romantic, meaningful (but still simple and inexpensive) gift idea for your love!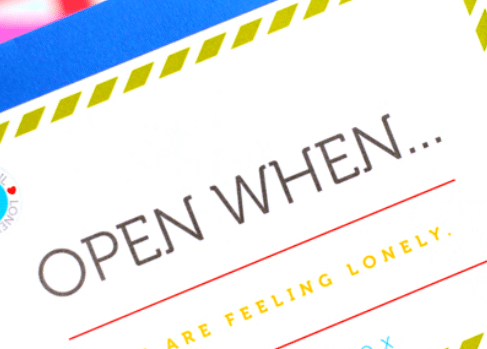 69. Love You a Hole Punch – A sweet way to show some appreciation to your spouse and encourage a little more romance at the same time. Make sure to have a hole punch!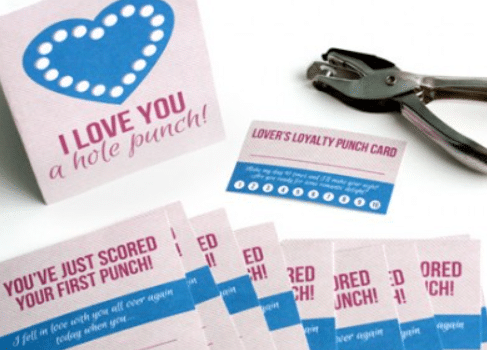 70. Valentine's Day Scratch-Off Ticket – This unique card has your love scratch off a portion of the card to reveal a note or activity underneath.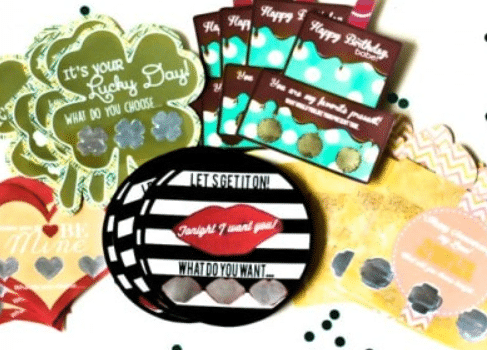 71. Clever Candy Sayings – Add love notes to your spouse's favorite sweets and treats.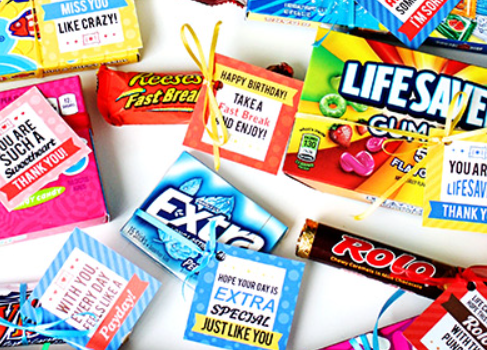 72. Love Letter of the Month – Why give just one love note this Valentine's Day? Subscribe your spouse to this love letter of the month club (and we will help you write the perfect love letter!)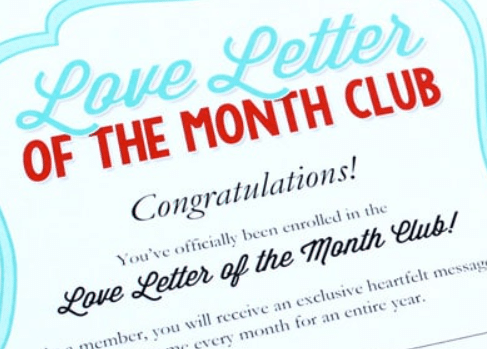 73. Accordion Memory Book – A fun memory book filled with nooks and crannies to place photos, memories, love notes, and more!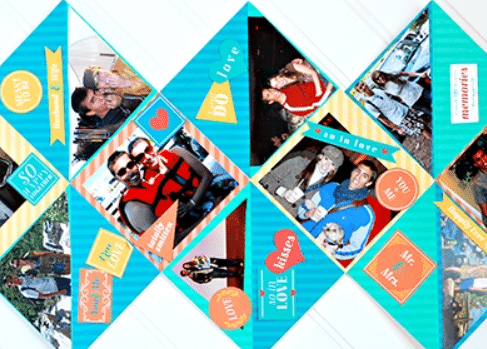 74. Step Card – A unique DIY card with numerous pages to share with your sweetie what you love about them!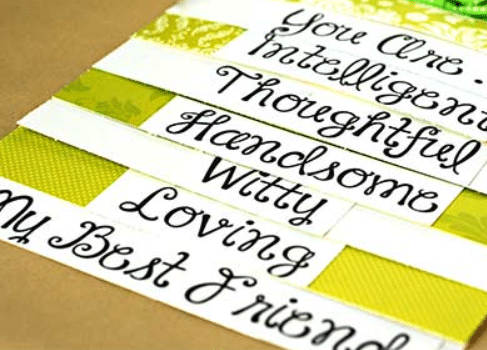 Valentine's Day Decor Ideas
All of these cute Valentine's ideas are just so exciting, aren't they?! Well, now it's time to set the mood with these easy Valentine's Day decor ideas from our site!
75. Using Rose Petals for Romance – It is easy to make the mood in your home a little more romantic. Check out these tips for utilizing rose petals to up the romance!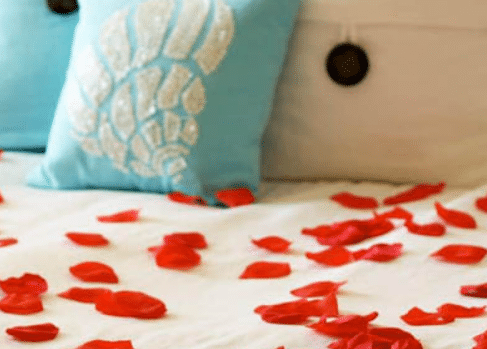 76. Romantic Heart Art – Two hearts come together to display words to describe your love. So cute!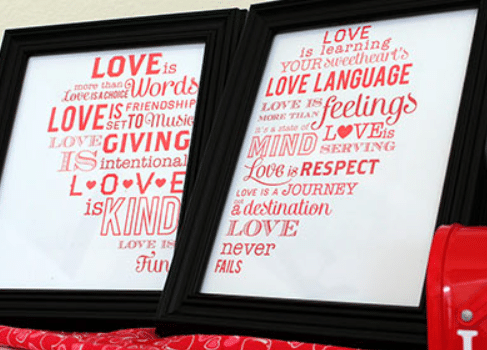 77. Lucky in Love Framed Art – This classic song converts to beautiful decor for your home!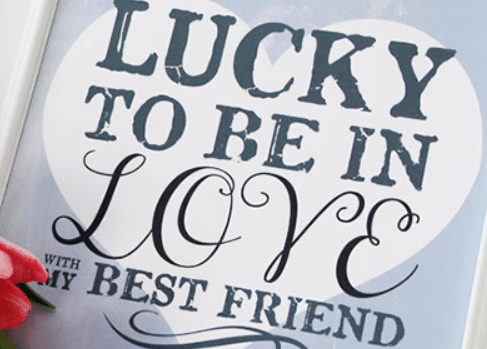 78. "I Love You" Banner – This banner is so easy to make and would also be a sweet surprise for your spouse to wake up to!
79. Love Story Subway Art – Put your own unique love story on a beautiful display!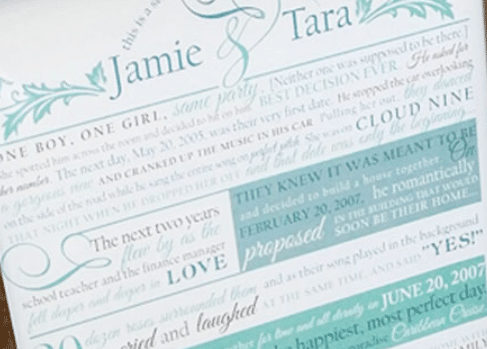 80. "Two Little Lovers Sitting in a Tree" Decor – Take your love song and convert it into this personalized artwork.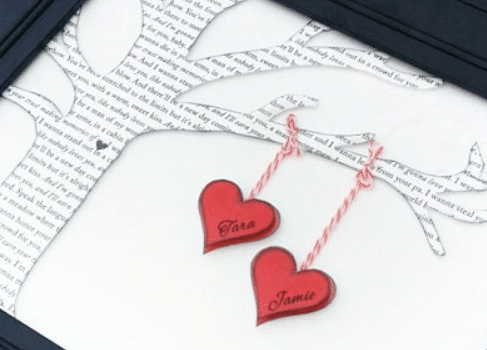 PLUS we have 50 more ideas from other sites in our 50 Valentine's Day Decor Ideas Round-Up!
Valentine's Day Food Ideas
Whether you are planning on surprising your spouse with some sweet treats or dinner at home, we have a few fun Valentine's Day food ideas you will love! Who doesn't LOVE a themed dinner or treat?!
81. Valentine's Day Love Lunch – Printable lunch tags, Valentine's Day jokes, love notes, fruit labels, and more for your spouse AND your kids!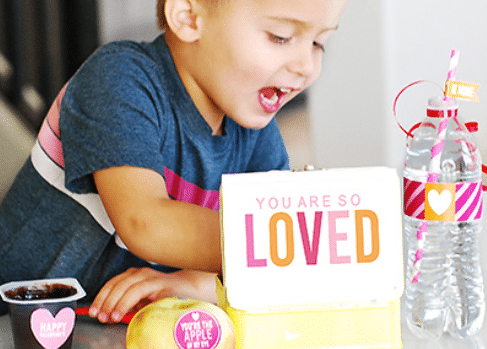 82. 101 Healthy Treats for Valentine's Day – Valentine's Day doesn't have to completely be about sweets and treats (although those are nice too). For a healthier Valentine's Day, check out some of these recipes and ideas.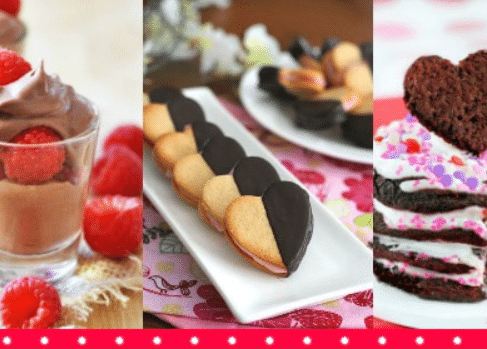 83. Sweetheart Tarts – These sweet pastries are delicious and adorable too!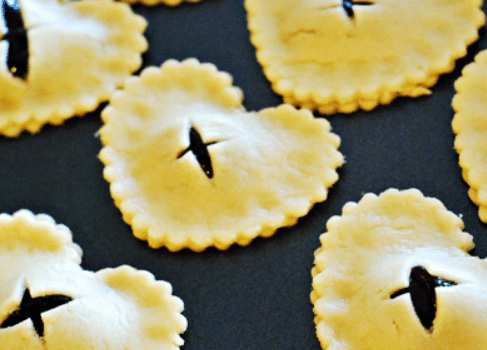 84. "Love Potion" Drink Labels – Convert a soda drink into a romantic love potion with these free printables.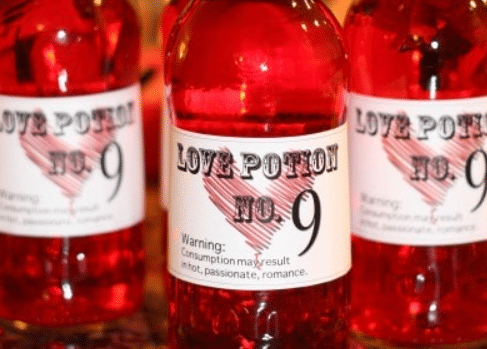 85. Valentine's Day Round-Up: Food – Several of our favorite Valentine's Day recipes all in one place. From dinner to dessert, we have you covered.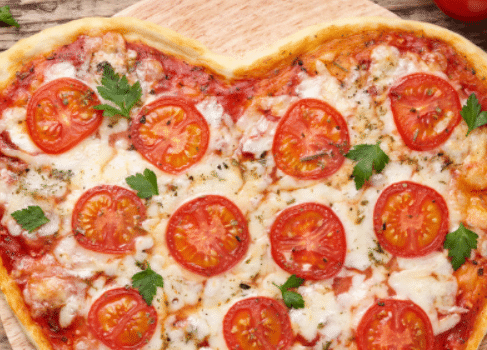 86. A Hearty Breakfast – Start the morning off by showing your sweetheart some love with this breakfast idea.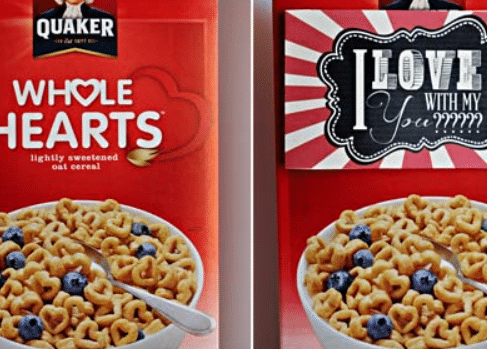 Fun Valentine's Day Ideas for Families
Valentine's Day is definitely about celebrating your love in your marriage, but you can spread that love to the kiddos too! Here are a few of our best Valentine's Day ideas that you can do with your whole family!
87. Heart Attack – Spread the love during this holiday season with a poem and lawn signs for an unsuspecting neighbor. Also, lots of alternative ideas for a unique heart attack!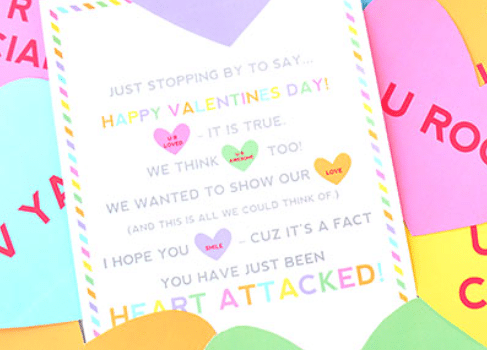 88. Cupid's Crazy Cafe: Family V-Day Dinner – A fun twist on a family Valentine's Day dinner. Instead of actual food names, you'll be using Valentine's code words to order your food!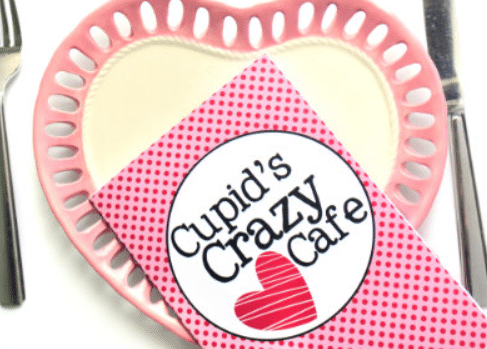 89. Valentine's Day Scavenger Hunt – A hunt with clues and activities that the family must work together to complete!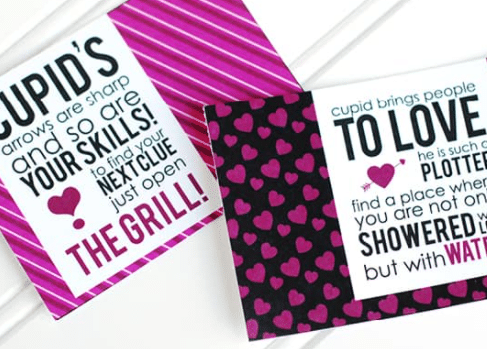 90. Valentine Photo Booth Props – Just print, adhere to skewers or popsicle sticks, and get your "picture perfect" valentine game on! Out of time?? Order these and no printing or cutting required.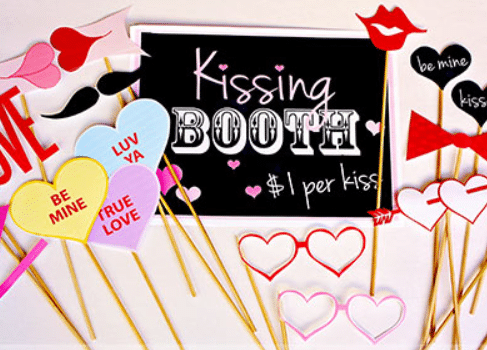 91. Valentine's Search and Find – A quick and easy valentine surprise hunt for your kids or your spouse (2 versions!)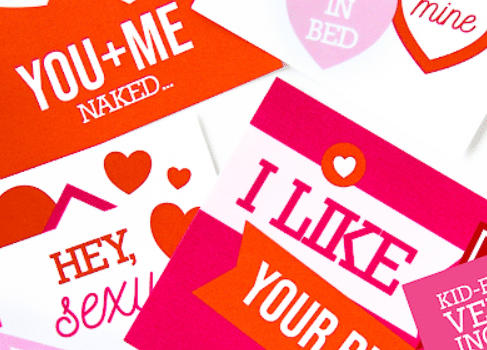 92. Covert Cupid – Covert Cupid is a family tradition that runs the first two weeks of February leading up to Valentine's Day. It's ALL about serving each other!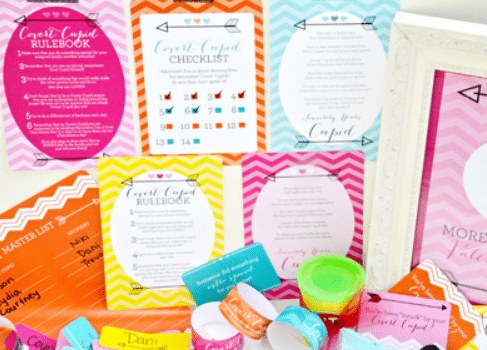 While these are our most popular ideas for families–don't worry, we have more! We have 75 Kids Valentine's Day Ideas including crafts, activities, mailbox ideas for school parties, and more!
Valentine's Day Countdowns
How special would it be if you did a little something special for your spouse in the days leading up to Valentine's Day? Well, if that seems daunting, let me assure you that with these done-for-you unique Valentine's Day countdown ideas, it can be so easy (but your spouse doesn't need to know that!)
93. 12 Days of Valentines – Why should Christmas be the only holiday to enjoy 12 days of celebration? Shower your spouse with a little somethin' somethin' for 12 days leading up to Valentine's Day.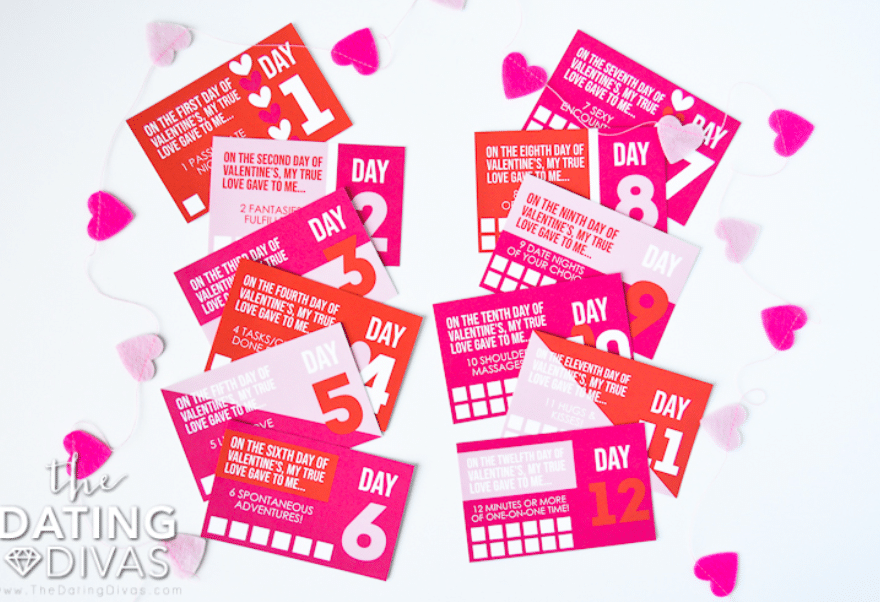 94. Valentine's Fortune Cookie Countdown – Who wouldn't like to countdown to Valentine's Day by eating a yummy fortune cookie and reading a sweet love note each day? This idea is perfect!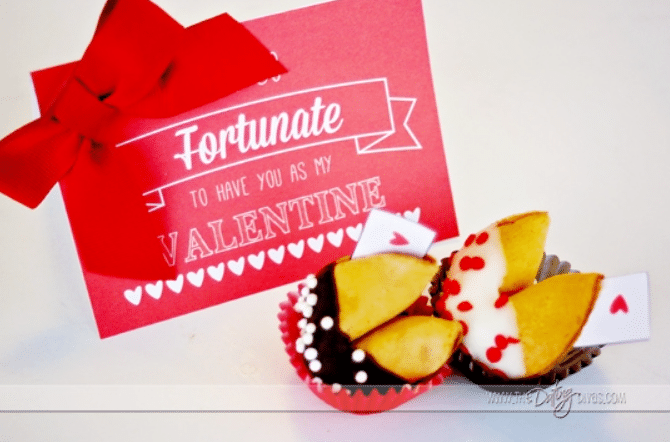 95. The Perfect DIY Valentine's Countdown – Open an envelope a day leading up to Valentine's Day. Each envelope includes either a sweet love note, a date night activity, or an act of kindness. P.S. This one is my personal favorite! These mini clothespins are the perfect embellishments.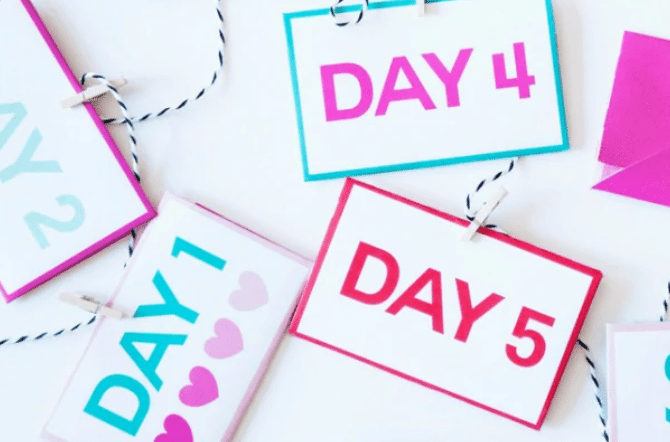 96. 30 Days of Love – This is what I did for my spouse this year! 30 quick and easy love ideas in an all-in-one printable kit.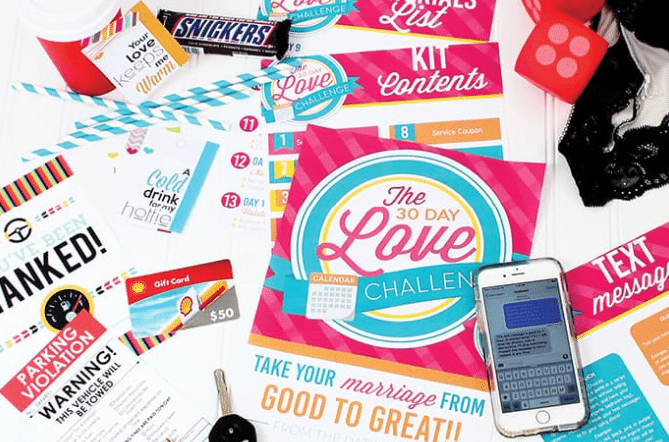 97. Valentine's Advent Love Notes – Make the days leading up to Valentine's Day extra special by putting together this super sweet set of framed love notes to help you count down until the ultimate day of love!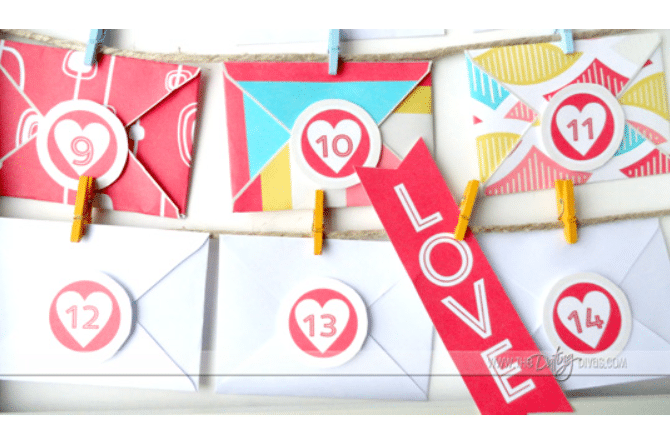 98. Love Note Clothespin Wreath – Here's one of the easiest Valentine's Day ideas out there! 14 days-worth of love notes for your spouse! This unique clothespin wreath will display them perfectly! You can even use some adorable Valentine's clothespins.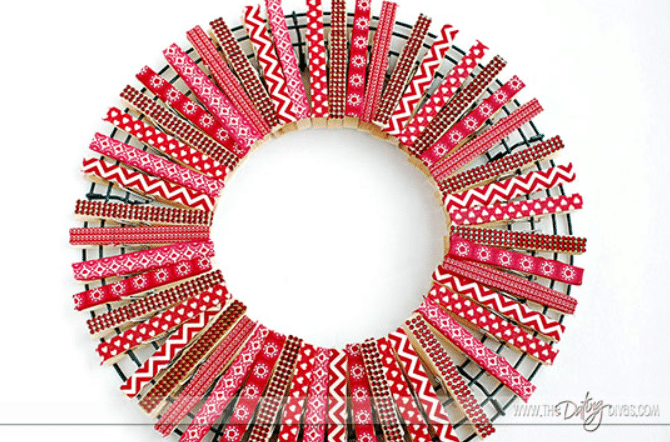 99. 14 Days of Love for Him – Build the anticipation as you count down to the big day filled with sweet treats and our darling printables!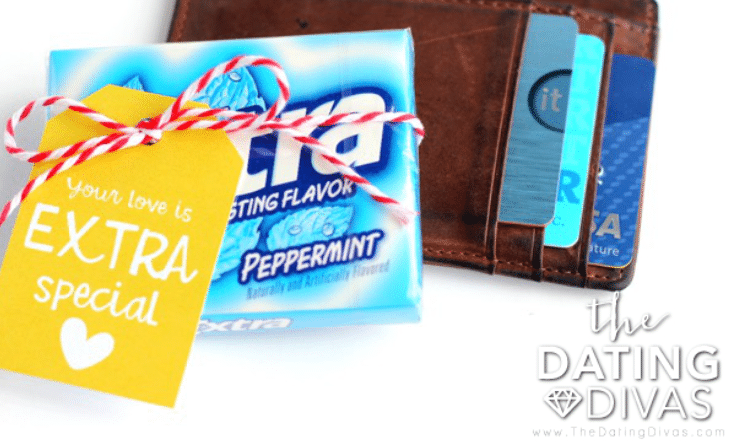 100. The 14 Sexts of Valentine's – Free and cheap Valentine's Day ideas are my favorite! 14 printable "texts" that you can send your sweetie to let them know you love them, and you are ready for a good time!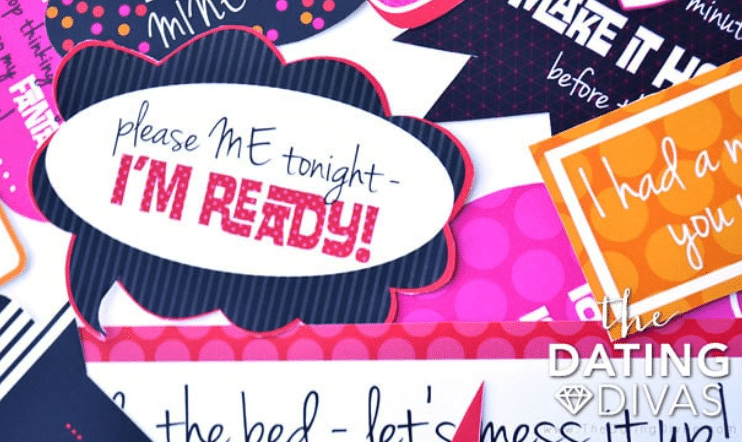 101. How Do I Love Thee? – A Valentine's Day Countdown using a mini-muffin tin and magnets.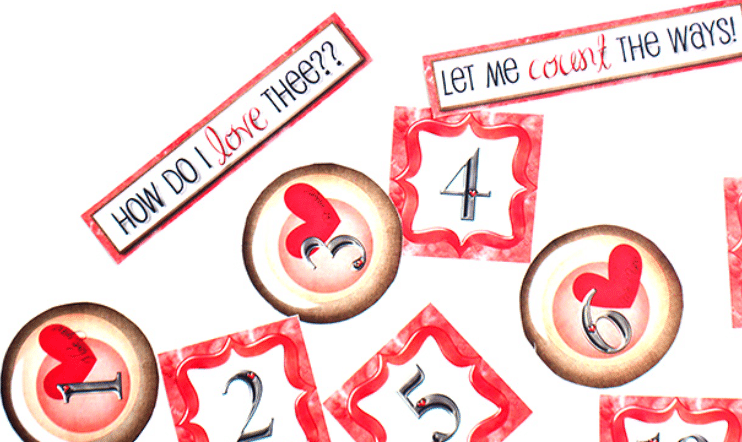 102. Valentine's Day Gifts by the Hour – A quick and easy countdown in which your love will receive a fabulous Valentine's Day card to accompany a small gift every hour of the day!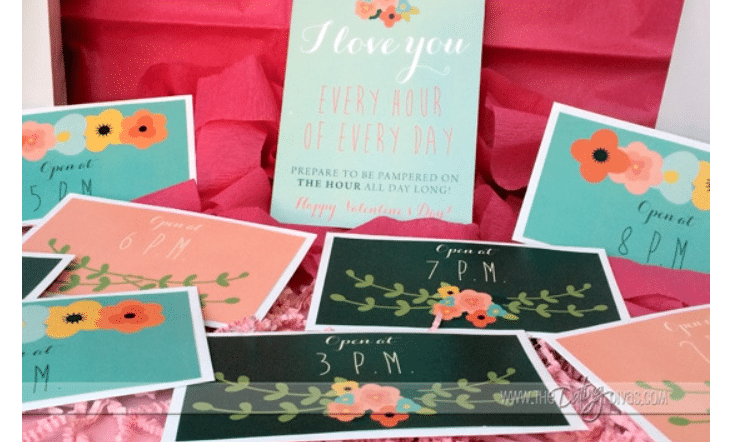 103. Seven Days of Valentine Love – An entire week to show your spouse some love with this unique pill case holder and several options for love notes to house inside.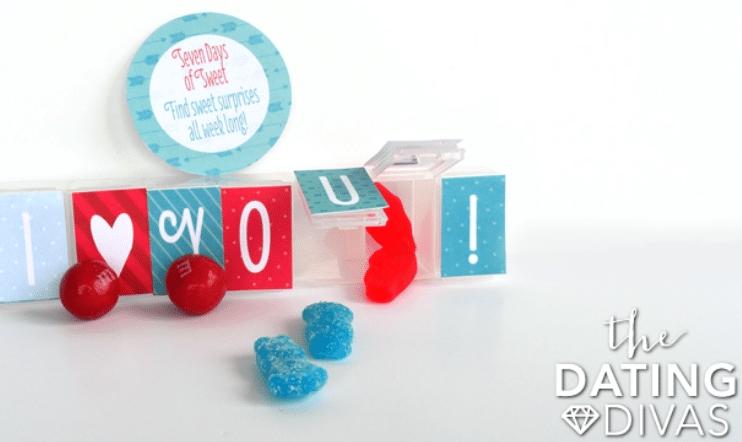 Bonus Valentine's Day Ideas
With so many good Valentine's day ideas to choose from, here are two fun ways to keep yourself organized through it all!
104. Valentine's Day Success Checklist – Make sure that you don't miss a thing while planning your Valentine's Day with this helpful checklist.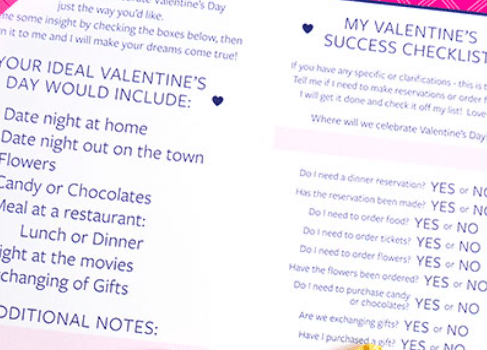 105. Couple's Valentine's Day Planner – Use these "his" and "hers" printables to plan your Valentine's Day together and still be able to surprise each other!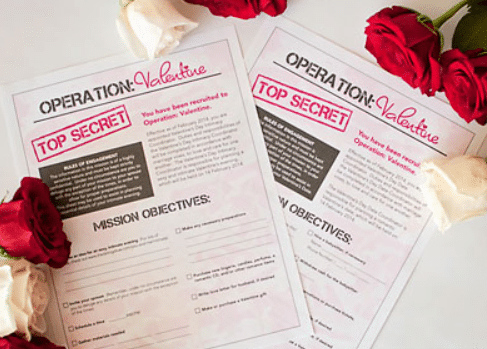 So, are you ready for Valentine's Day now? You are probably set for the next 50 years of Valentine's Days together!
Whatever you decide to do for February 14th, we hope you will come back to The Dating Divas throughout the year to find even more exciting ways to show your love for your spouse!
Happy Valentine's Day!
Now that you have Valentine's Day ideas galore, go check out our: