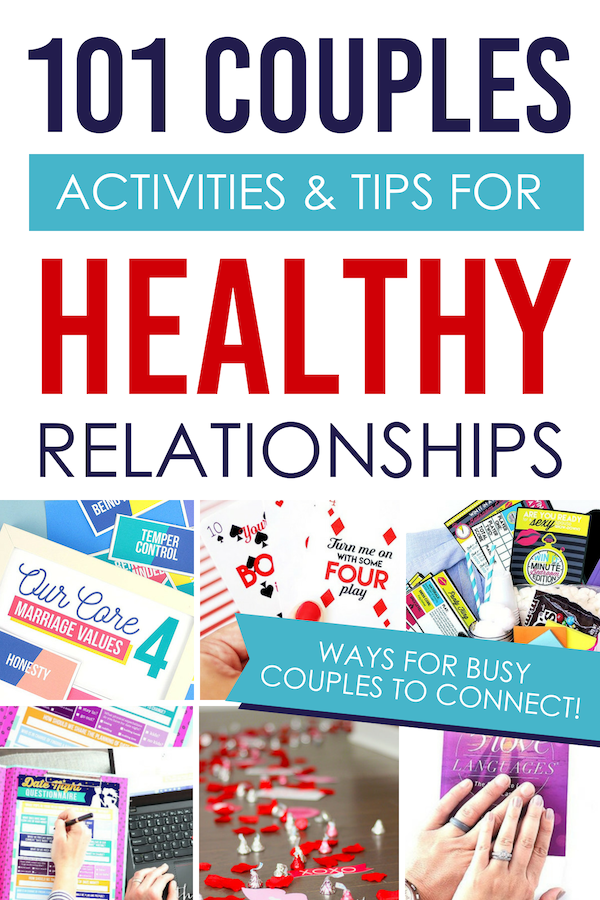 Disclaimer: This post contains affiliate links. To learn more about 'em, click 
here
.
These bonding couple activities are a great way to put a little extra effort in and create a healthy relationship! Look through these categories to find the perfect idea for your busy relationship.
Love Notes and Love Letters
Regardless of how busy you and your sweetie are, there is always time for a quick love note. It takes very little effort but makes a huge difference. Healthy relationships make the little things a priority. A love letter may be a little thing, but it can brighten the day and bring a loving feeling. When you are busy and your schedules seem to not match up, use one of these ideas to show your love that you are thinking of them.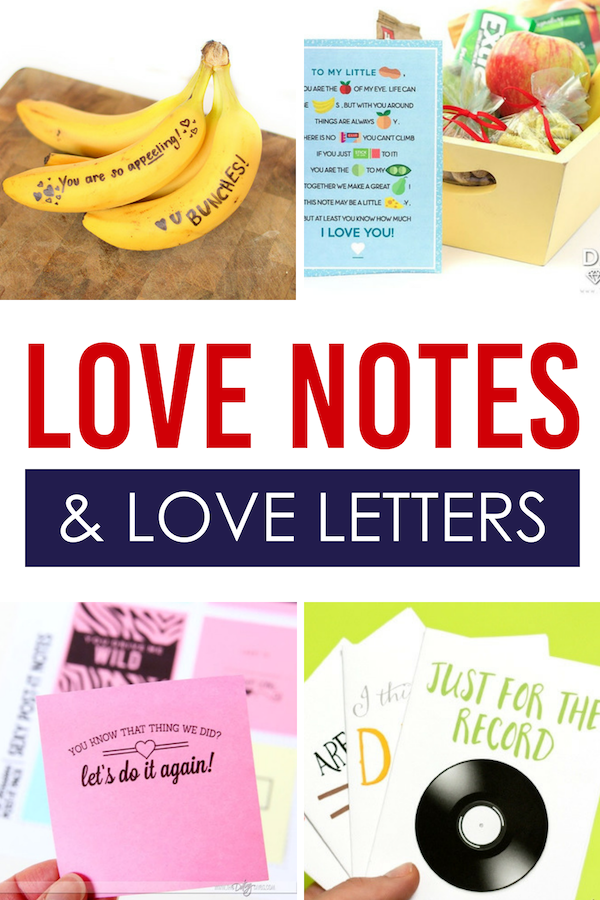 Date Ideas for Busy Couples
20 Questions Couples Games – Healthy relationships are open relationships. Use this 20 Questions game to open up and enjoy each others company!
Study Your Spouse Challenge – I know what you're thinking, you've got enough to do, you don't need more homework! Well, this is the best kind of homework out there. Get to know your spouse again by studying them with these insightful questions.
Conversation Starters for Marriage – These conversation starter sets from our store are the ultimate conversation starters for everything you could want. The prompts are thought-provoking and cover a little of everything.
Pillow Talk Conversation Starters – Pillow talk is the best time of the day. As you wind down together and review the day add some of these prompts into your nightly routine to make your time together even more meaningful.
Sexy Pillow Talk Conversation Starters – Make your bedtime more bonding– and sexy–by using these conversation prompts. They will help you be more open, and get you in the mood!
Conversation Starters for Families – Get the whole family in on the fun! Hectic schedules are hard on the whole family. These printables are a great way to sit down and have quality time together as a family.
A Few of Our Favorite Things – Favorite things change over time. Get to know each other again using these printables that will draw you closer together and help you get reacquainted.
The Newlywed Game – Sometimes it's good to remember what it was like at the beginning of your relationship. Pull out The Newlywed Game and laugh together over your answers.
Couples Appreciation Journal – Take your conversation down on paper! Create a couples journal and talk about all of the things you are grateful for. It will give you both a chance to focus on and talk about the good.
Intimacy Ideas for Healthy Relationships
When you are tired, stressed, and busy often intimacy is the first to go. Don't let it! Healthy relationships make intimacy a priority. Even when you are busy you should make time to be together and to be intimate. Spicing things up will turn things around and make both of you feel more connected and in sync. We believe healthy relationships take time to make intimacy a priority so much that we even wrote out 
8 Reasons You Should Have Sex Tonight
! Now that you're convinced, try out some of these fun ideas to bring the fire and fun back to the bedroom!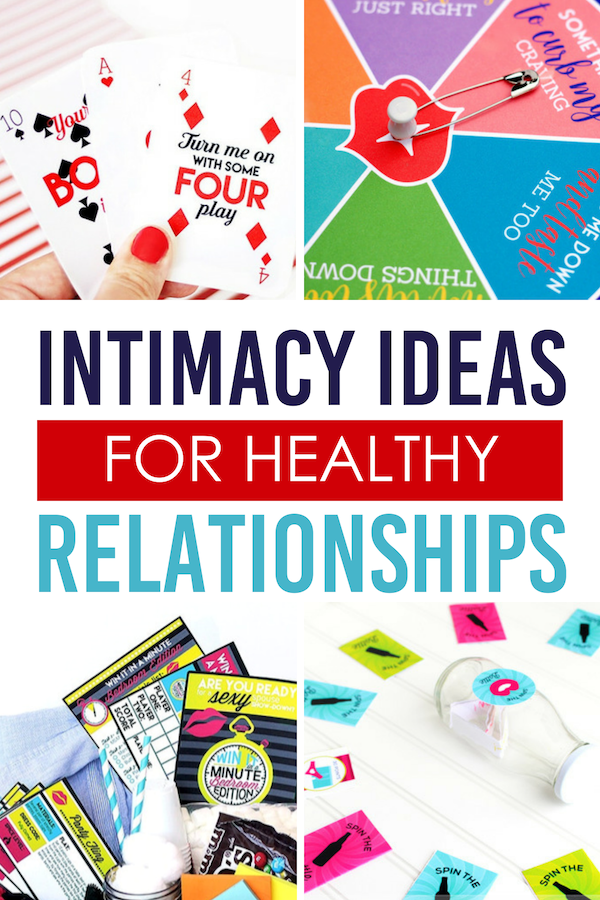 How to Improve Your Relationship While Apart
When you are in a relationship where one or both of you are very busy, it can feel daunting to cultivate a loving, meaningful connection. However, even when you are apart, you can take steps to improve your relationship. Over time the hustle and bustle of a busy schedule can lead to a feeling of disconnection. One of the best ways to ward off that type of tension is to make efforts to show your spouse that you love them. Luckily, that doesn't have to take a ton of time or money. Healthy relationships use gestures of love to make their partner feel special and thought of, even when they can't spend all of their time together. Choose some of these simple ideas to surprise your sweetie with and make them feel extra loved.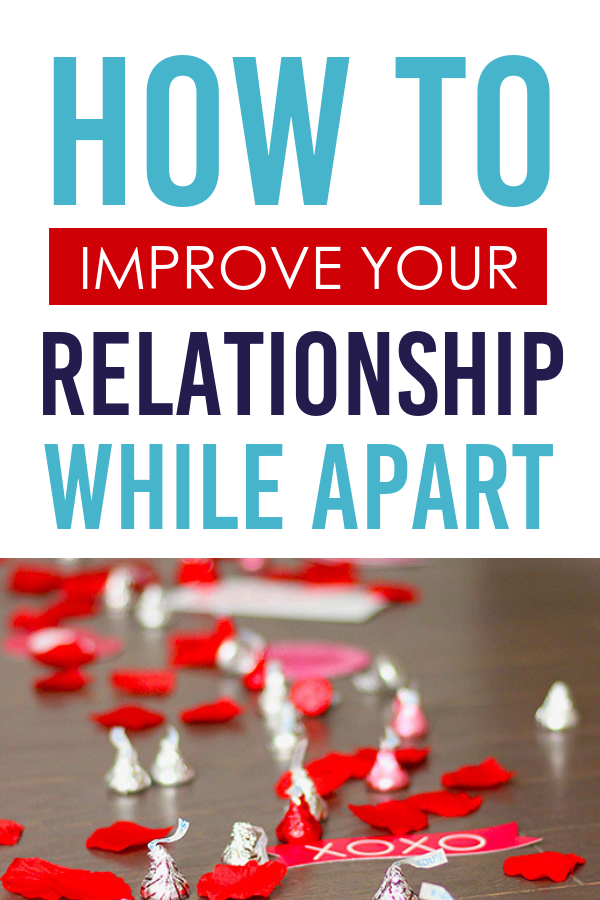 Helpful Hacks to Be on the Same Page
One of the most difficult challenges to having a healthy relationship when busy is being on the same page. The day-to-day management of your home and other responsibilities is difficult when you are busy. Things fall through the cracks, then you may become frustrated. Simple things that you once knew with certainty become unclear as your time apart grows. Putting your relationship first becomes difficult. Don't let that unhealthy tension mount! Be proactive and create a healthy relationship using these helpful hacks that will get you on the same page!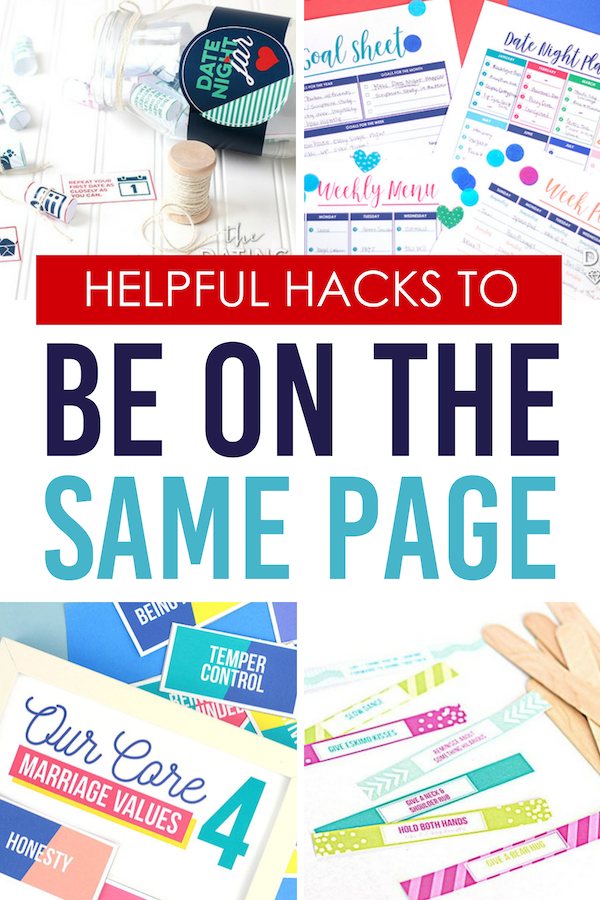 Weekly planner – Sometimes the most efficient use of your time together is to sit down and plan out what is to come! Understanding each other's schedules gives you an appreciation for what your spouse is going through AND it helps you identify when you can spend quality time together!
Marriage Core Values Couples Game – Reevaluate what's most important to you in your marriage. Use these insightful couples activities to get your marriage back on track or to get you both on the same page.
Dating Guide: How to Date Your Spouse – Use this date night guide to get you and your spouse on the same page when it comes to date night! The questionnaire, survey, and planning guide will give you everything you need to make date night a habit that lasts–no matter how busy life gets!
Vacation Planning Date – Getting on the same page has never been more fun! Plan out your dream vacation and enjoy a date at the same time! Tell us that's not a healthy relationship tip you can't get behind?!
Date Night Request Form – Your time is limited, get right down to business with these forms that let you know exactly what your spouse is thinking and what they want out of date night.
Couple Workout and Active Date Ideas – One of the best things you can do for yourself is to get healthy and fit. Why not get on the same page and do it together? Efficiency is the key to life when you are in a relationship filled with busy schedules!
Menu Planning Date Night – Plan your menu for the month while spending time together! That is a pretty efficient use of time for busy couples. You get to be productive and spend quality time together!
Financial Tips for Marriage – One of the most helpful things you can do to have a healthy, happy marriage is to get on the same page financially. Relieve any tension by getting ahead of the conflict and figuring out how to best manage your finances. These tips for a healthy relationship will help you find a resolution so you can spend your limited time together enjoying each other's company rather than arguing about money!
Date Night Jar – Don't resort to a simple, boring night in binge-watching shows when you could spend that time bonding and building your relationship. Create a date night jar and when time frees up, draw out an idea and spend your time on a fun couples activity that will make you feel closer.
Ways to Show Love to Your Spouse – The bottom line is, there is no schedule so busy that it is ok for your spouse not to feel loved. No matter how stressed, tired, or busy you are, take some time to show your love just how much you love them! It's amazing how many problems can be solved with just adding a little extra love to the mix!
101 Ways to Flirt with Your Spouse – The most helpful hack for any marriage is to flirt! There is something about keeping that playful love alive that gives life to a marriage. People in healthy relationships take time to flirt with each other. Now you have 101 ideas to get you started being more flirty with your sweetheart.
365-Day Love Calendar – Stay on the same page, and stay in healthy relationships with a calendar that keeps you both on track. You both will enjoy feeling loved and the reminder to give love every single day of the year.
Ways to Reconnect in One Minute – Stay connected! Don't let the stresses of life tear you apart. Take the time to reconnect. Even one minute can leave you feeling more in sync and better able to stay on the same page and conquer the world together!
Look Up and Light Up – When your spouse arrives home or walks in to meet you, you look up from whatever you're doing and light up. Show them that you are happy they are near you, this one piece of advice can change your marriage for the better immediately.
Adopt the 6-second Kiss – Rather than a simple peck to say hello or goodbye, commit to each kiss you share being at least 6 seconds long. Your kisses will take on so much more meaning and passion. You'll be amazed at how 6 seconds out of your day will change everything.
Go to Bed at the Same Time – This is a habit that will make all the difference in a busy relationship. This may be the only quality, and quiet time you have together all day.
Express Your Gratitude – Simple as it may sound, over time you can begin to take your relationship for granted. Even saying a simple thank you can make a big difference in the overall dynamic of your relationship. Doing so also makes both of you more willing to continue to do nice things for each other.
Find a Way to Serve Your Spouse Daily – Ask your spouse, "what can I do for you today?" as explained in this post. That single gesture will make your spouse feel genuinely appreciated, loved, and cared for. Serving your spouse can include following through with any of the great ideas listed in this post. All of these couples activities are a great way to show your sweetheart how much they mean to you.
Great, healthy relationships are built up day by day with each partner taking time to do the little things that nourish the relationship. You've heard the common saying, marriage takes work. The work it takes is the little gestures and building of positive habits over time. Worry about your spouse's happiness and do all you can to improve their day. Especially when you are in a busy season of life, having ways to connect throughout the day can be the difference between a superbly happy marriage and a struggling one. Consider incorporating these 101 ways to keep your love alive and well despite the chaos of life.
There you have it! 101 Couple Activities and Tips for Healthy Relationships. When you feel disconnected and overtired from the woes of life and a busy schedule, that's the time when your relationship needs an extra boost. Put in a little effort to do one or several of these ideas and watch your relationship grow despite the craziness of life!