It's almost Fall Y'all!
And to celebrate, we've rounded up 50 Fun, Fall Date Ideas just for you!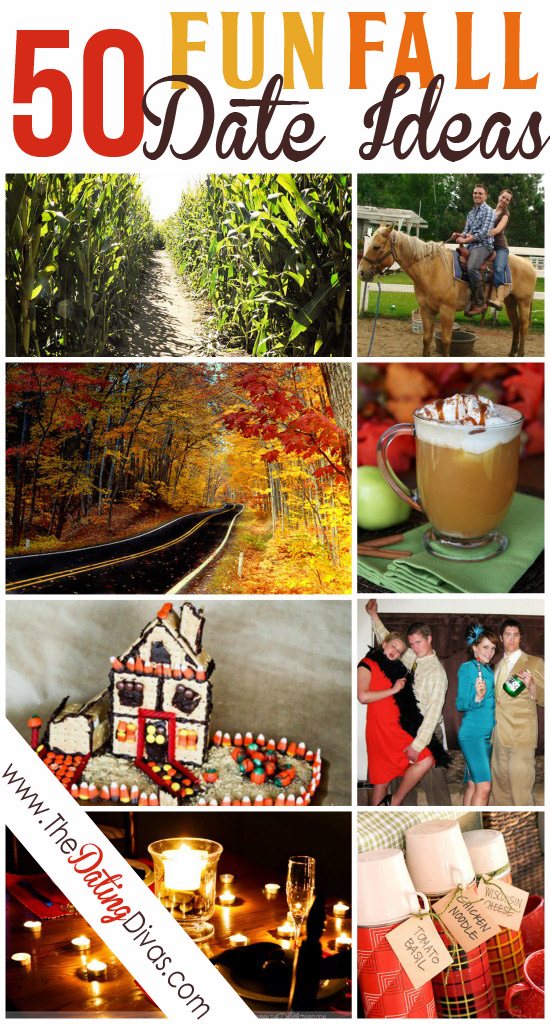 This post contains affiliate links. To learn more about 'em, click here.
And- that's not all!  We're also hooking you up with this cute Fall Bucket List printable!  
After all, there are SO many fun ideas for fall on here I KNOW you're going to want to try.  So… why not write them down and check 'em off your list one date night at a time?!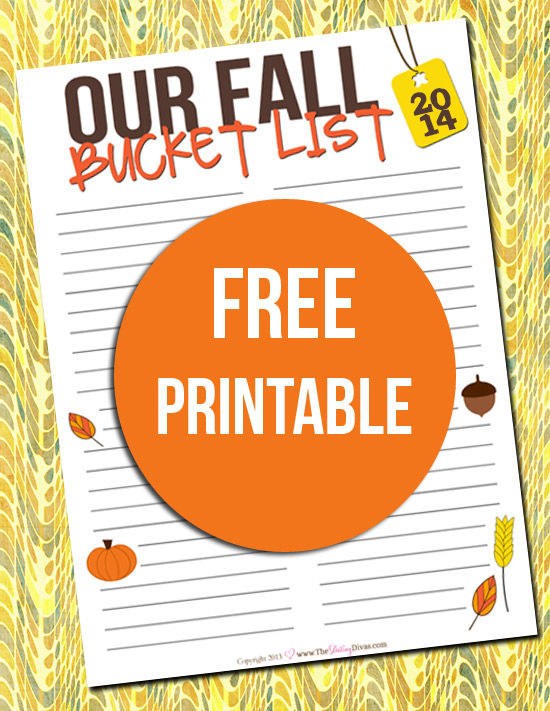 CLICK HERE TO DOWNLOAD YOUR FALL BUCKET LIST PRINTABLE
*** UPDATE- we've updated the printable bucket list so that it's blank without a year. This way  you can write in your own date and use it year after year.
And now… on to our favorite part- the fun DATE IDEAS!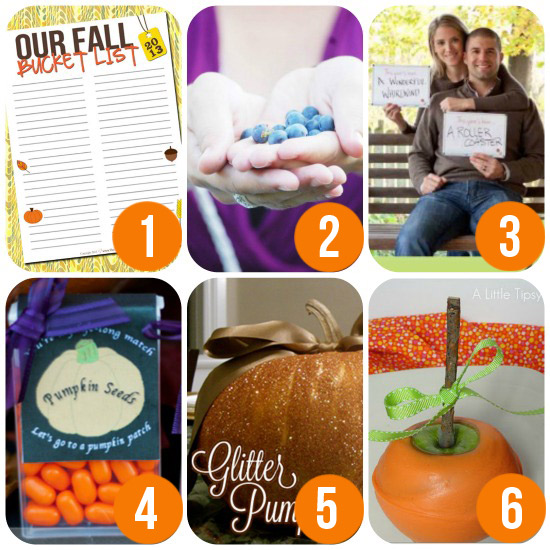 1.  Write your Fall Bucket List–  Why not make a date of it?  Sit down to write your "Fall Bucket List" together!  You could even take turns choosing something to put on the list.  (And the next 49 ideas are sure to give you plenty to choose from!)
2.  Go Berry or Apple Picking–  Then come home and make a pie together.  Yummy!  (The printable that goes with this date is pretty sweet too!)
3.  Have a Fall Photoshoot–  Grab the included printable signs, set the camera timer, and start snapping some photos!  What a clever idea for those pesky holiday cards.
4.  Go to the Pumpkin Patch–  Then come home to carve them together and roast the pumpkin seeds.  (Oh, and you've got to check out the tic tac pumpkin seeds Paige used to invite her husband on this date.  Super cute!)
5.  Decorate Pumpkins –  If you hate the messy "pumpkin guts" that comes with carving, try this fun alternative together!  It would make a fun fall centerpiece for your table, or a perfect gift for your friends and neighbors.
6.  Make Pumpkin Caramel Apples–  Caramel apples are always fun, but I especially LOVE this twist of the traditional treat!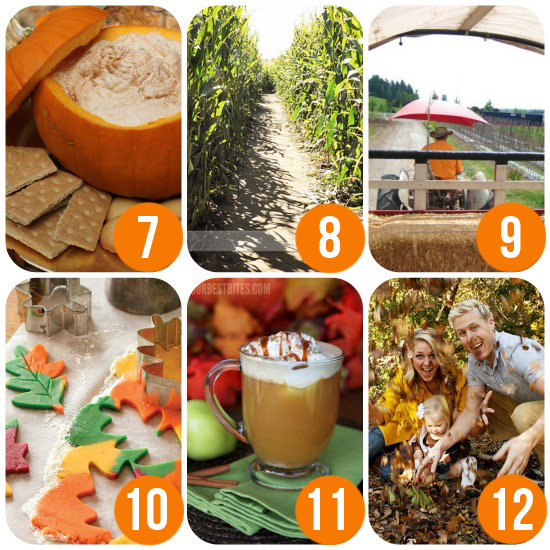 7.  Make Pumpkin Dip–  Speaking of treats, how about a little fall dessert date for two with this festive pumpkin recipe?  It would be the perfect treat to nibble on while you snuggled up to watch a movie.  
8.  Go to the Corn Maze–  You can even make a whole corn-themed night of it, like Lisa did, with a corn chowder dinner and candy corns to top it off.
9.  Go on a Hay Ride–  You're never too old for a hay ride.  In fact, it can be quite romantic without the kiddos climbing all over you.  
10.  Make Fall Cookies–  Aren't these Fall cookies so fun?  I love baking in the kitchen together and this is the perfect recipe for fall.
11.  Make Apple Cider Floats–  The gals at Our Best Bites have the most divine recipe!  So pour two big glasses and go snuggle on the porch after the kiddos are in bed for the night.
12.  Rake and play in the leaves–  I don't think you're ever too old for that!  Lisa even shows you how you can turn it into a candid fall photoshoot, if you want!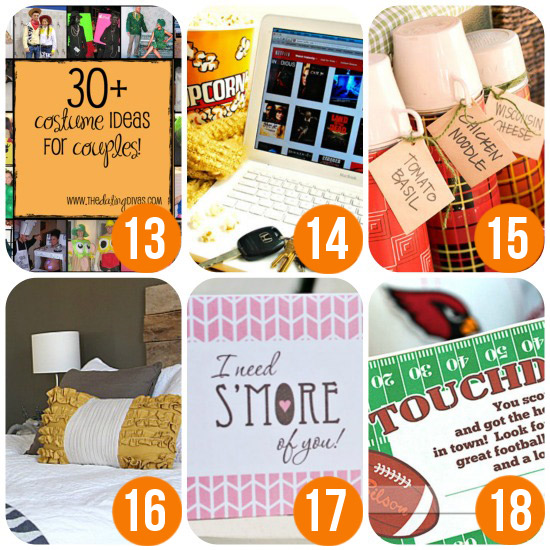 13.  Go Halloween Costume Shopping–  Or set aside a night to make them together!  Click on the link for TONS of ideas for couple's Halloween costumes.
14.  Watch a Scary Movie… on the Move –  Yep, taking your laptop and a bag of popcorn into a dark field or an abandoned building totally takes the thrill level up about a billion notches!  Are you brave enough to try it?
15.  Have a Thermos Picnic–   You've gotta check out this traveling thermos set
.  It's perfect for a little soup or cocoa picnic for two on a chilly fall evening.
16.  Make-over your bedroom together–  Here are some fun DIY projects to get you started.  You could even pull out all your festive fall decor and set the mood for the season.
17.  Make S'mores– Yummy… the perfect after-dark dessert date.  Whether you roast your marshmallows over a bonfire in the woods or a candle in the living room, it's the perfect excuse to cozy up close.  (And Angie's hooked you up with the perfect S'mores love notes to complete the date.)
18.  Go to a Football Game–  Now I'm not a huge football fan myself, but the clever (and YUMMY) details of this date get even me excited about it.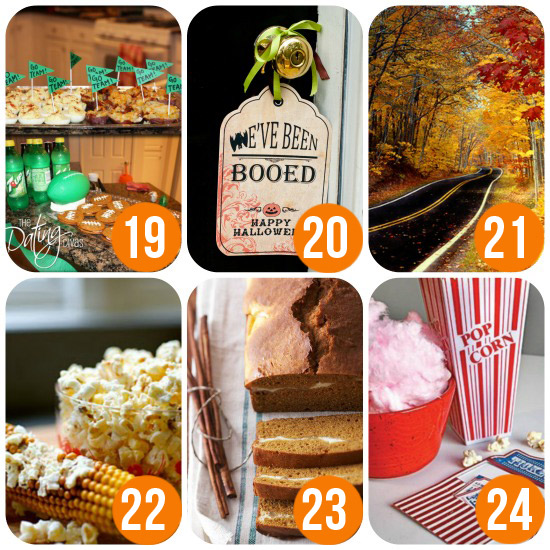 19.  Host Your Own "Pep Rally"–  And if you're going to a football game, why not host your own little "pep rally?"  I love the fun, football party foods on this.
20.  "Boo" a Family–  Have you ever been "Boo-ed" around Halloween?  It's a clever and cute way to spread some Halloween fun to your neighbors.  And this post even has a printable for you to use.  
21.  Go on a Fall Foliage Drive– When the weather gets just a little too cool for a walk, hop in the car and drive to see all the beautiful colors of leaves.  You could even bring along some hot cocoa or cider and your favorite playlist.  
22.  Pop popcorn on the cob–  Did you know that you can pop popcorn while it's on the cob?!  I love trying new things together, and this is a fun one.  
23.  Have a Pumpkin Baking Party– There are SO many fun pumpkin recipes to try out in the fall.  It's one of my very favorite parts! Why not make a whole date of it together and cook up a storm in the kitchen?  Check out the link for lots of festive pumpkin recipes.
24.  Go to a Fall Festival or County Fair– Such a fun date idea, and this post even includes a printable invitation AND a County Fair Date Challenge!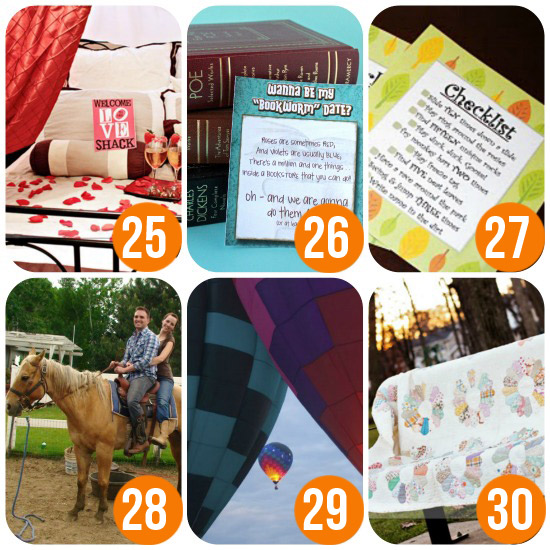 25.  Make a cozy fort for 2–  Fall is the perfect time for some cuddling!  Click on the link to grab your "Love Shack" printable and make a romantic, cozy fort for two.
26.  Go on a Bookstore date – Try your hand at the printable task cards and then grab some cocoa from the cafe.
27.  Go Park Hopping–  This makes a fun family date night, and the printable park hopping checklists are even included!
28.  Go Horseback Riding– Time to make good use of those cute fall boots and get all cowgirl'ed up! After some horseback riding, why not hit the town for some country dancing?  
29.  Go on a Hot Air Balloon Ride–  Now THIS is a date worthy of the Bucket List.  
If you're looking for the ULTIMATE fall date and are willing to splurge- this is the date for you!  Totally romantic!
30.  Go on a Sunrise or Sunset Date–  Grab a blanket and a thermos of cocoa and head to the park for an easy & inexpensive, but totally romantic date.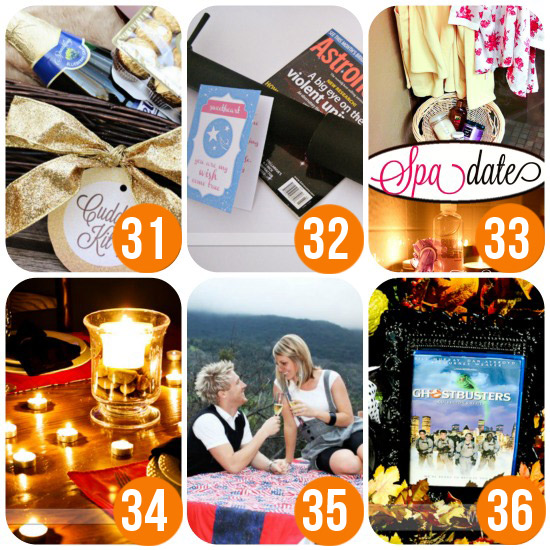 31.  Plan a Cuddle Date–  Autumn is perfect time for some cuddling, don't you think?  Fill your "Cuddle Kit" with cozy slippers, a blanket, some cider or cocoa, and a movie.  Then settle in for a night of cuddling on the couch.
32.  Go Stargazing– Or take the blanket and cuddling outside with this fun stargazing date.  Michelle even tells you how to make your own telescope.
33.  Have a Spa Night–  If you need a little romance and relaxation, this is the perfect at-home date for you.  Oh, and in case you need it- here are 25 DIY Spa Recipes to try out together.
34.  Try Our Power Outage Date– You don't have to wait for the electricity to go out to have some fun in the dark!  Here's your chance to cozy up in the candlelight.
35.  Discover a New Town– If you're looking to try something new, then you need to try this spontaneous date idea.  (And I just love the little rhyme she used to get him out on the road with her.)  
36.  Have a Ghostbusters Movie Night- With Halloween right around the corner, this 80's blockbuster is perfect for an at-home movie night.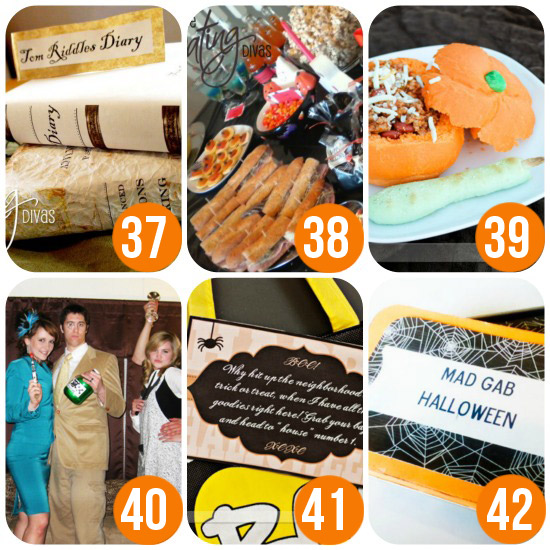 37.  Have a Harry Potter Movie Marathon– Or maybe Harry Potter is more your style.  You've got to check out the clever decorations for this one!
38.  Host a Black and Orange Party– Don't leave all the partying to the kiddos this Halloween! Get in on the fun with these cleverly Spooktacular Halloween treats and recipes.
39.  Eat Dinner out of Pumpkin Bread Bowls–  Okay this idea is SO easy but SO much fun!  Did you know most bakeries sell pumpkin bread bowls around Halloween?
40.  Host a Costume Party–  This is the perfect time of year to host a little costume party.  This Clue-themed date night should give you some inspiration!
41.  Go Trick-or-Treating Indoors – Nope, trick-or-treating is not just for kids!  You've gotta see how Paige turned it into a fun date night with her hubby.  
42.  Play a game of Halloween Mad Gab–  Mad Gab always gets everyone laughing and here's a free, printable Halloween version!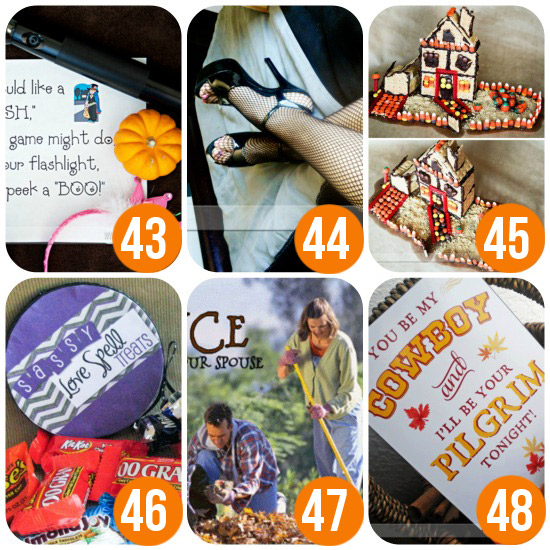 43.  Play Halloween Peek-a-boo for 2– If you're looking for more of a "intimate" date to surprise your man, then you're gonna want to take a peek at this Peek-a-boo game for 2.  
44.  Try this Love in Disguise Idea–  Why not turn this little love tip into a whole date?  Head to the Halloween aisle at the store and pick out a sexy costume for each other- for bedroom use only!! *wink*
45.  Make Haunted Gingerbread Houses–  Making these fun treats would be the perfect way to end the night after going to a Haunted House.  Don't you think?
46.  Cast some Love Spells–  This can of Love Spell Treats is way too clever.  Why not turn it into a whole date?  Take turns choosing a treat and casting a "love spell on each other."
47.  Do Service With Your Spouse –  If you want to feel closer to your spouse, I highly suggest doing service for others with your spouse.  And this post has lots ideas of "Random Acts of Kindness" you can do together.  
48.  Play This Cowboy and Pilgrim Bedroom Game– A flirty, sassy game for 2 that's perfect for playing around Thanksgiving!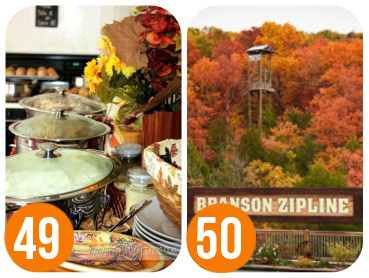 49.  Plan a Thanksgiving Prep Date–  Speaking of Thanksgiving, here are some fun ideas for turning all of that dinner prep work that must be done into a fun date.  The printable Turkey bag is seriously so much fun!  
50.  Go Zip-lining Through the Autumn Leaves– If you live anywhere near a zip-line, Fall is the perfect time to try it out.  We just went and seriously had so much fun.
Now go get to work on that Bucket List! 
For TONS more date ideas, make sure to check out our ULTIMATE Date Night Round-up Post!  And if you want to keep up with all of the NEW date ideas that we find, make sure to follow our "Date Night Ideas" board on Pinterest.  And, of course, you'll want to follow the board where we post OUR Dating Divas date ideas too.