Fall Date Ideas for Couples
Fall is the perfect time to get out with your spouse and enjoy an adventure together, we've got all the best fall date ideas right here for you! For those who want to enjoy a traditional fall, ya know, crisp fall air, changing leaves, pumpkins, and cider you'll want to pin this post and add some of these fall date ideas to your bucket list. The scents of fall are extremely irresistible and fall is a very romantic time of year. Time to go get your date on!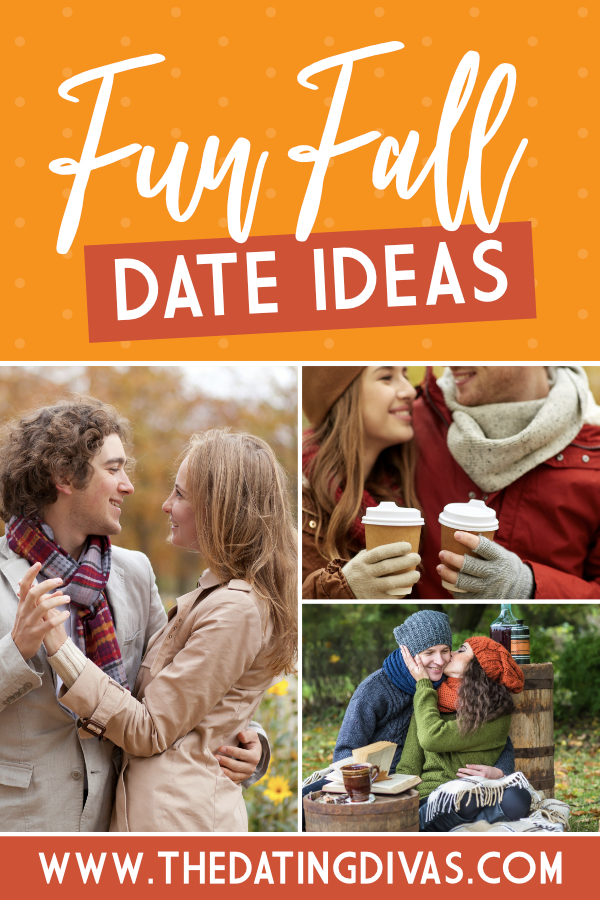 [social_warfare]
This post contains affiliate links. To learn more about 'em, click here.
The decrease in temperature makes for the perfect time to pull on your sweaters and explore a pumpkin patch or corn maze, rake the leaves or even just go for a drive to take in the gorgeous scenery!
There are so many fun ideas for fall, we definitely suggest making a Fall Bucket List! We've organized the dates into 6 categories to help you find the perfect date for whatever mood you're in. Check out all of our fun fall date categories:
And now… on to our favorite part – the fun Fall Date Ideas! 
1. Write your Fall Bucket List – Why not make a date of it? Sit down to write your "Fall Bucket List" together! You could even take turns choosing something to put on the list… we've got a list for Halloween and Thanksgiving!
Halloween Date Ideas
We all know that Halloween is one of the major fall events and there are so many crazy, fun traditions to enjoy around Halloween! Turn some of those Halloween to-do list tasks into a fun date—like costume shopping. We've also got some brand new Halloween Date Ideas (some sexy date ideas, too) that you'll want to try out, and probably add to your yearly traditions!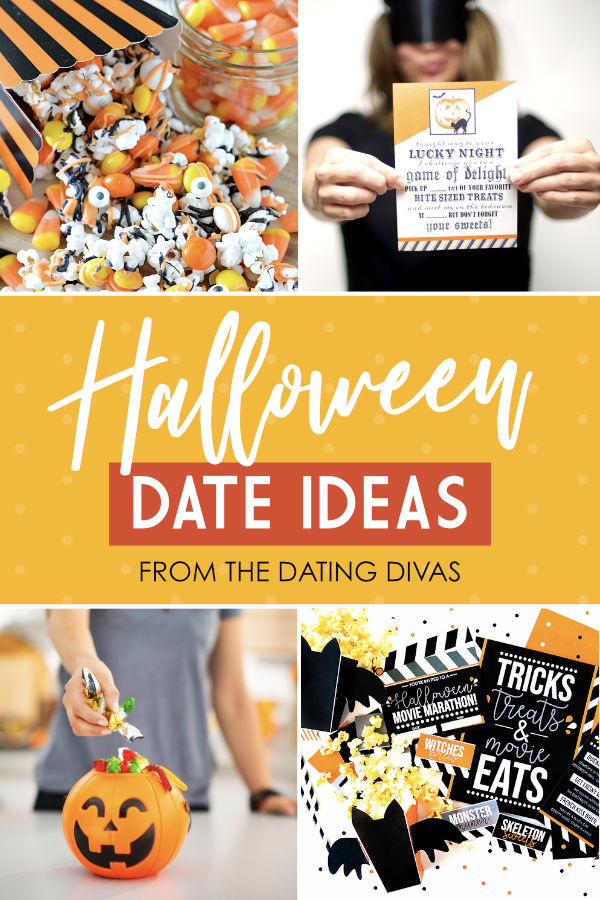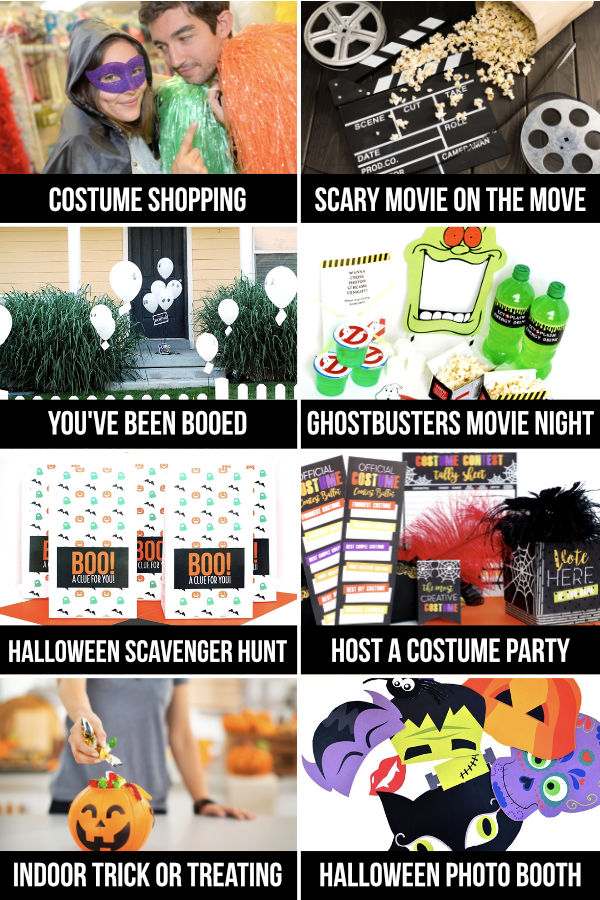 2. Go Costume Shopping – Or set aside a night to make them together! Click on the link for TONS of ideas for couple's Halloween costumes.

3. Scary Movie on the Move – Yep, taking your laptop and a bag of popcorn into a dark field or an abandoned building totally takes the thrill level up about a billion notches! Are you brave enough to try it?

4. You've Been Booed – Have you ever been "Boo-ed" around Halloween? It's a clever and cute way to spread some Halloween fun to your neighbors. And this post even has a printable for you to use.

5. Ghostbusters Movie Night – With Halloween right around the corner, this 80's blockbuster is perfect for an at-home movie night.

6. Halloween Scavenger Hunt – Get in on the fun with these cleverly Spooktacular Halloween treats and recipes. This scavenger hunt is perfect for the whole family.

7. Host a Costume Party – This is the perfect time of year to host a little costume party. This Clue-themed date night should give you some inspiration!

8. Indoor Trick or Treating – Nope, trick-or-treating is not just for kids! You've gotta see how Paige turned it into a fun date night with her hubby.

9. Halloween Photo Booth – Photos help us keep special memories. Take some silly Halloween photos to bring back some of the best memories and create a crazy fun Halloween season.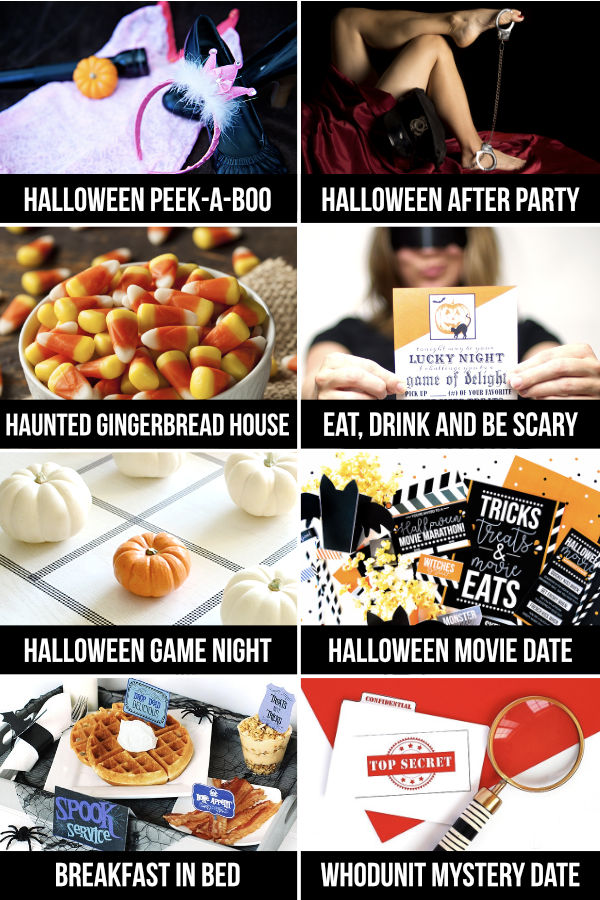 10. Halloween Peek-a-boo – If you're looking for more of an "intimate" date to surprise your man, then you're gonna want to take a peek at this Peek-a-boo game for 2.

11. Sexy Halloween After Party – Why not turn this little love tip into a whole date? Head to the Halloween aisle at the store and pick out a sexy costume for each other—for bedroom use only!! *wink*

12. Make Haunted Gingerbread Houses – Making these fun treats would be the perfect way to end the night after going to a Haunted House. Don't you think?

13. Eat Drink and Be Scary – This is a flirty Halloween candy guessing game for 2… what a fun way to mix up trick or treating!

14. Halloween Game Night – This list of Halloween themed games will help you throw an amazing Halloween game night!

15. Halloween Movie Date – There are so many great Halloween movies that sometimes it's just too hard to pick one! This date is a movie marathon date! Choose a few of your favorites and get ready for a night filled with your favorite movies and treats!

16. Whodunit Mystery Date – Get together with a group of friends and be detectives and solve a crime! Solving a good ol' mystery makes for a perfect fall date!

17. Halloween Breakfast in Bed – Breakfast in bed is great any time of the year but these fun "Dead and Breakfast" printables will make for an unforgettable Halloween breakfast in bed. Check out this tray for easy delivery!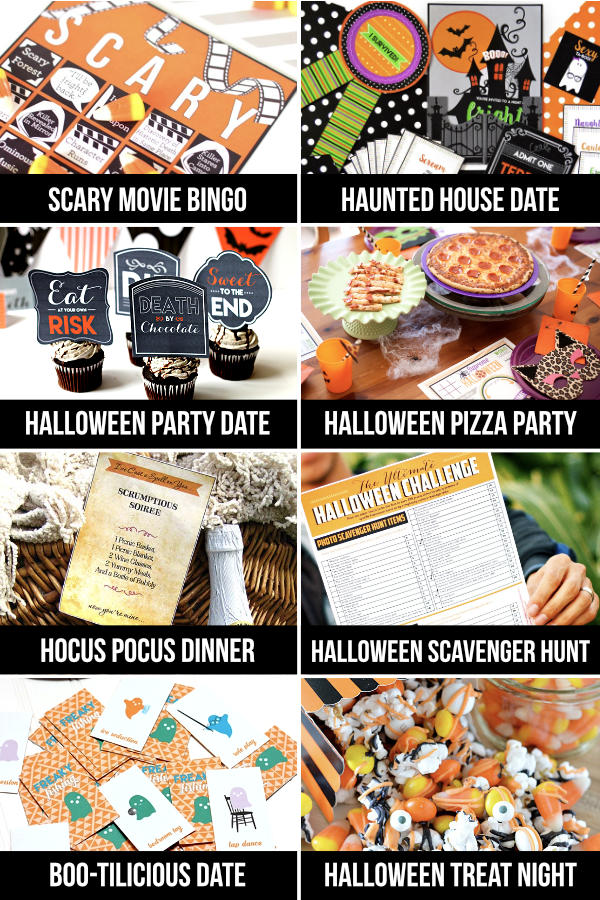 18. Scary Movie BINGO – If you are planning on watching a scary movie this Halloween with your spouse, turn it into a special movie date night complete with treats and games!

19. Haunted House Date – Halloween just isn't the same without at least one trip to a haunted house! This date will make your trip to the haunted house this year so much more fun. It even includes a fun (and sexy) activity for after you get back from the haunted house!

20. Halloween Party Group Date – This kit has everything you need to throw an amazing Halloween-themed group date. Send out the invites, prepare some food, and choose an activity and you're done!

21. Halloween Pizza Party – Throw a super simple and fun Halloween pizza party. We have got everything you need in this adorable printable kit!

22. Hocus Pocus Dinner and a Movie – Hocus Pocus is a classic Halloween movie that deserves a date all by itself!

23. Halloween Scavenger Hunt Date – As Halloween approaches you are likely seeing a lot more Halloween things all around you. This is the perfect time to have a fun Halloween scavenger hunt date night! Grab some friends or family and break into teams and see who can get to 300 points first!

24. Boo-tilicious Date Night – This fun bedroom date puts a sexy Halloween spin on the classic card game Go Fish!

25. Halloween Treat Night – Choose a fun Halloween treat to make together for a fun fall date.

Pumpkin Date Ideas
One of our favorite things about fall is the delicious foods, especially pumpkin. We've rounded up a whole post worth of pumpkin recipes! But while enjoying a few pumpkin treats is a great idea for date night, there are so many more things that you can do with pumpkins! Check out the pumpkin date ideas below.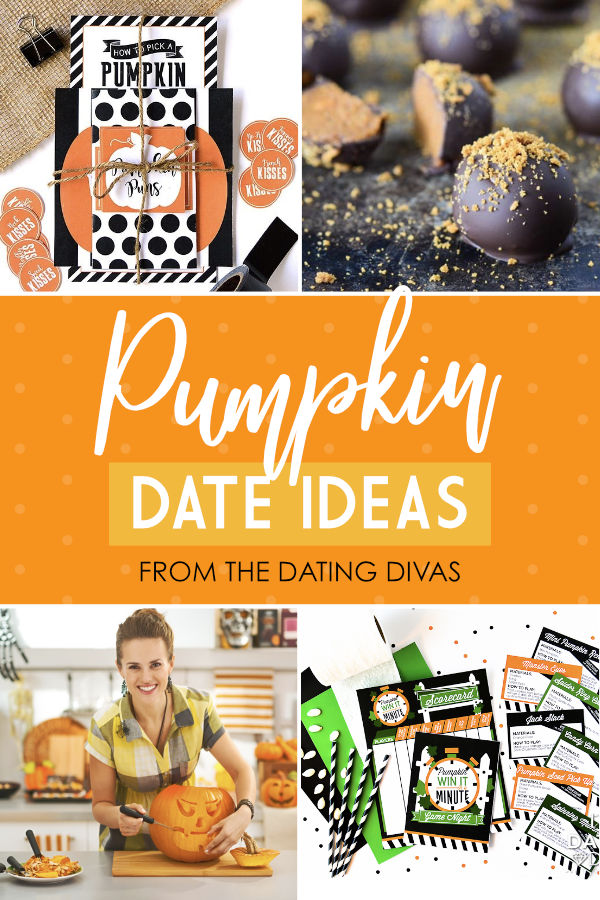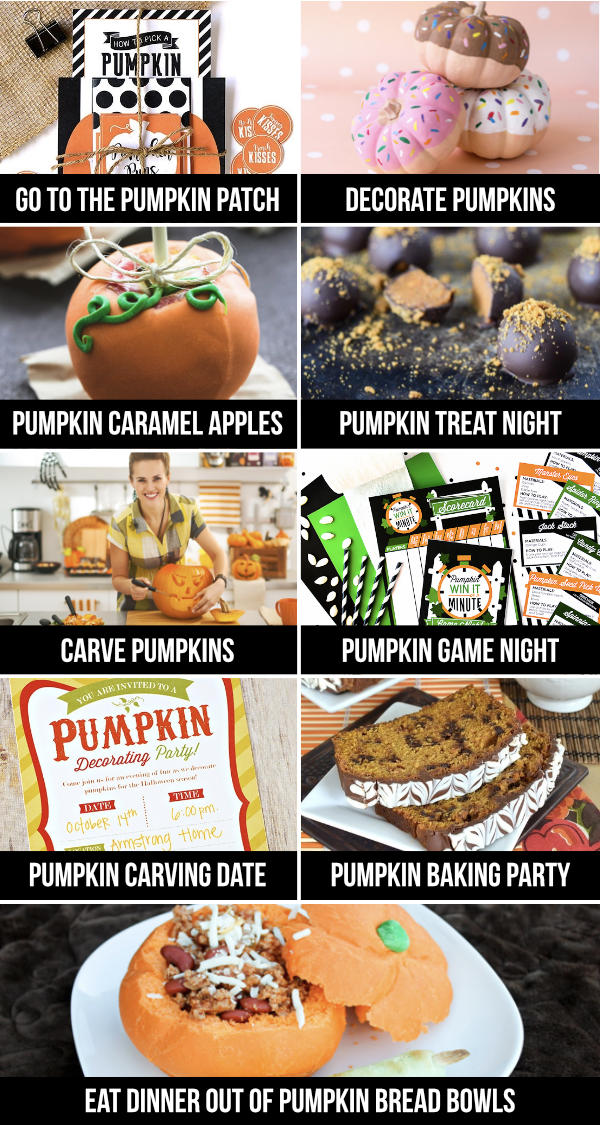 26. Go to the Pumpkin Patch – Then come home to carve them together and roast the pumpkin seeds. (Oh, and you've got to check out the tic tac pumpkin seeds Paige used to invite her husband on this date. Super cute!)

27. Decorate Pumpkins – If you hate the messy "pumpkin guts" that comes with carving, try this fun alternative together! It would make a fun fall centerpiece for your table, or a perfect gift for your friends and neighbors.

28. Make Pumpkin Caramel Apples – Caramel apples are always fun, but I especially LOVE this twist of the traditional treat!

29. Pumpkin Treat Night – Make a sweet or savory pumpkin treat for a fun fall date! Try out some of these festive pumpkin recipes, cuddle up to watch a movie or pull out the board games while you snack!

30. Carve Pumpkins with your Spouse – Spend some quality time with your spouse carving pumpkins! This is a great way to have some one-on-one time to talk and have fun while you carve.

31. Pumpkin Game Night – Enjoy a night of fun fall-themed minute to win it games with your family or a group of friends.

32. Pumpkin Carving Group Date – Carving pumpkins is a classic fall activity that makes for a great family or group date night. Turn it into a competition and judge each other's Jack-o-lanterns for even more fun!

33. Have a Pumpkin Baking Party – There are SO many fun pumpkin recipes to try out in the fall. It's one of my very favorite parts! Why not make a whole date of it together and cook up a storm in the kitchen? Check out the link for lots of festive pumpkin recipes.

34. Eat Dinner out of Pumpkin Bread Bowls – Okay this idea is SO easy but SO much fun! Did you know most bakeries sell pumpkin bread bowls around Halloween?

Traditional Fall Date Ideas
All those traditional fall things that you look forward to each year can easily be turned into fun fall dates! Make some fun memories with your sweetheart this year by putting a little extra thought into them and having some fun fall dates!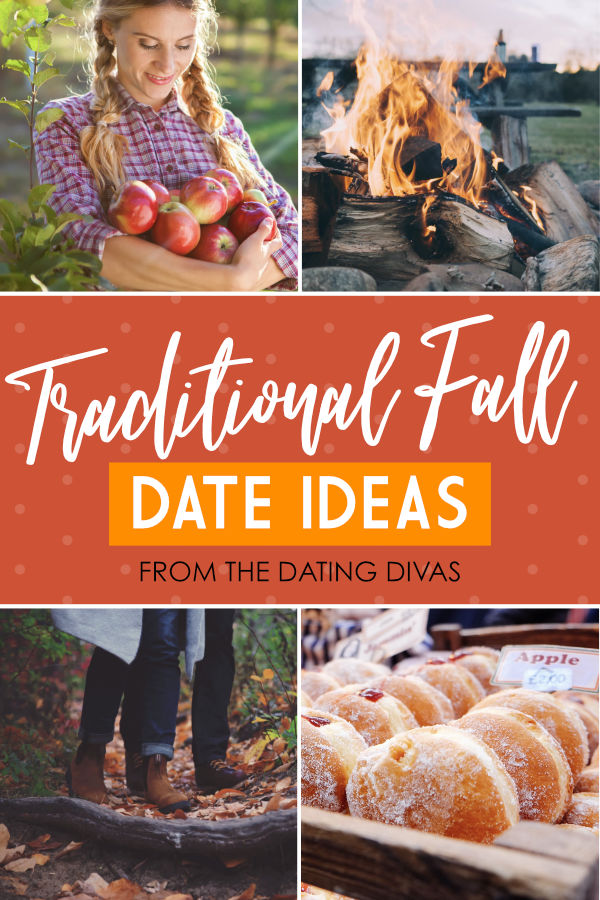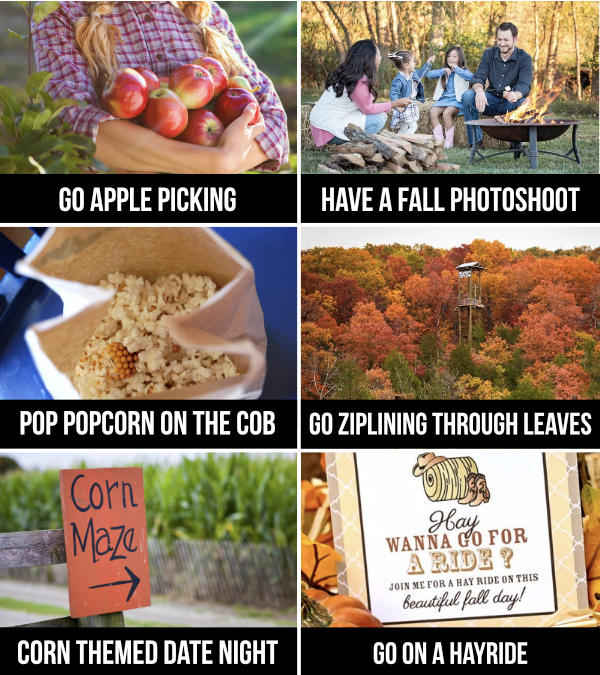 35. Go Berry or Apple Picking – Then come home and make a pie together. Yummy! (The printable that goes with this date is pretty sweet too!)

36. Have a Fall Photoshoot – Grab the included printable signs, set the camera timer, and start snapping some photos! What a clever idea for those pesky holiday cards.

37. Pop popcorn on the cob – Did you know that you can pop popcorn while it's on the cob?! I love trying new things together, and this is a fun one.

38. Go Zip-lining Through the Autumn Leaves – If you live anywhere near a zip-line, fall is the perfect time to try it out. We just went and seriously had so much fun.

39. Corn Themed Date Night – You can even make a whole corn-themed night of it, like Lisa did, with a corn chowder dinner and candy corns to top it off.

40. Go on a Hay Ride – You're never too old for a hayride. In fact, it can be quite romantic without the kiddos climbing all over you.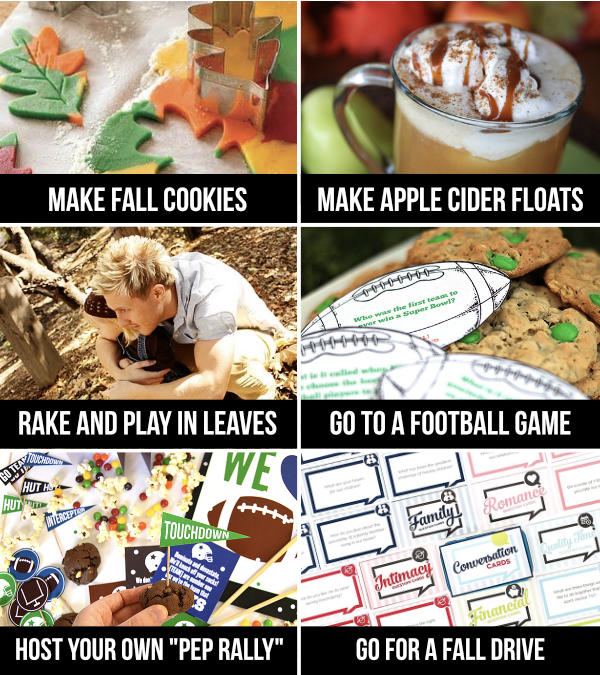 41. Make Fall Cookies – Aren't these fall cookies so fun? I love baking in the kitchen together and these sugar cookies are so colorful. These fall cookie cutters would be perfect!

42. Make Apple Cider Floats – The gals at Our Best Bites have the most divine recipe! So pour two big glasses and go snuggle on the porch after the kiddos are in bed for the night.

43. Rake and Play in the Leaves – We don't think you're ever too old for that! Lisa even shows you how you can turn it into a candid fall photoshoot if you want!

44. Go to a Football Game – Now we're not all huge football fans, but the clever (and YUMMY) details of this date would get anyone excited about it.

45. Host Your Own "Pep Rally" – And if you're going to a football game, why not host your own little "pep rally?" We love the fun, football party foods on this.

46. Go For a Fall Drive – When the weather gets just a little too cool for a walk, hop in the car and drive to see all the beautiful colors of leaves. You could even bring along some hot cocoa or cider, your favorite playlist or our couples conversation starters.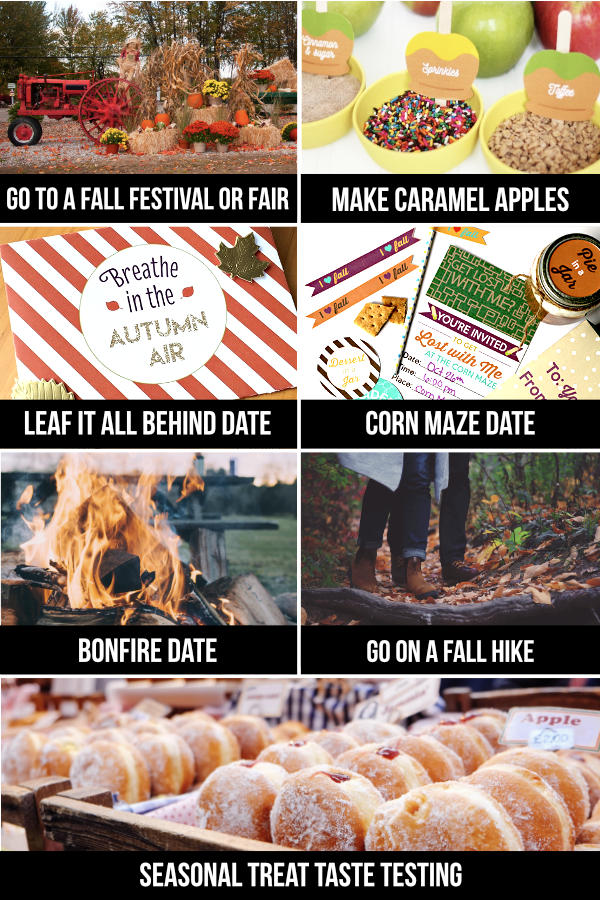 47. Go to a Fall Festival or County Fair – Such a fun date idea, and this post even includes a printable invitation AND a County Fair Date Challenge!

48. Make Caramel Apples – Don't just make caramel apples… have some friends over and have a caramel apple date night with gourmet apples and fun games!

49. Leaf It All Behind Date Night – This date will help you and your spouse get in the autumn mood. Enjoy the wonders of fall before all the craziness of the upcoming holidays takes over!

50. Corn Maze Date – Find a corn maze near you and enjoy a fun fall date with your spouse! This date even includes an on-the-go dessert to take with you!

51. Have a Bonfire – Fall is a great time to get out with some friends and enjoy a bonfire. See if you can find some seasonal s'more ingredients for a fun bonfire snack!

52. Go on a Fall Hike – The changing colors of the autumn leaves are so beautiful. Go for a hike to truly enjoy their beauty! Choose a hike that fits your skill level and just get out and enjoy the fall leaves!

53. Seasonal Treat Taste Testing – As fall comes, the grocery stores begin to fill with seasonal flavors. Explore your favorite grocery store aisles and select several seasonal flavored items (think pumpkin or apple) you and your spouse would like to try. Take them home and enjoy a nice evening together trying some new seasonal treats!

Thanksgiving Date Ideas
Another holiday that comes around every fall is Thanksgiving and we have so many fun ideas to help you bond with your spouse on a fun Thanksgiving date for two! Most of these fall date ideas are meaningful and service-oriented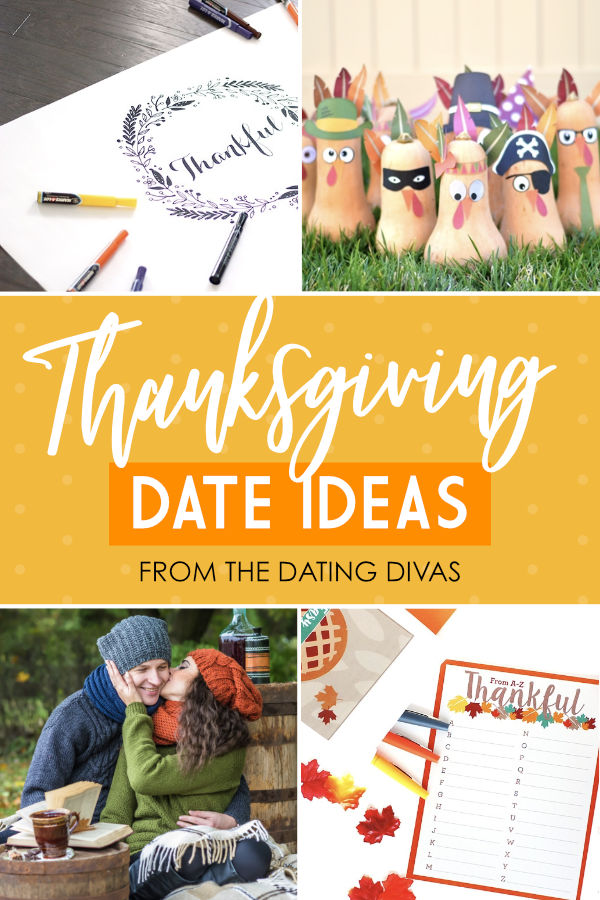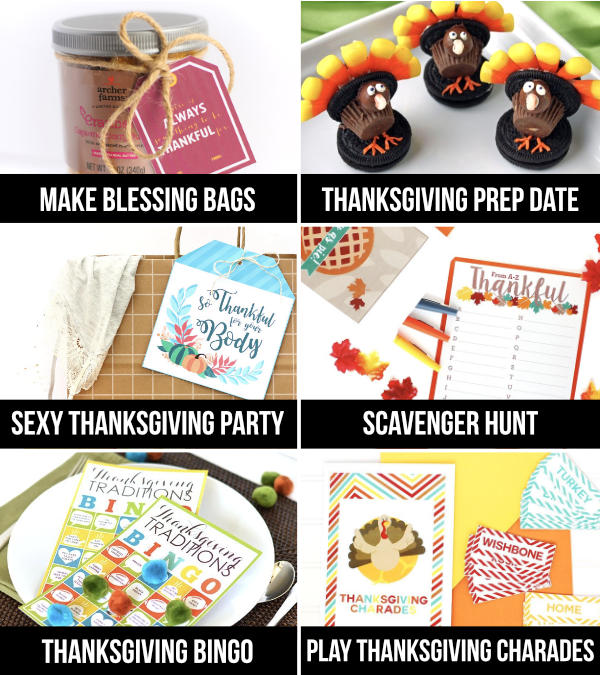 54. Make Blessing Bags – One of our favorite ideas for service is these fun blessing bags. They're FULL of ideas to get your family focused on GIVING all throughout the holiday season, plus putting them together for a fall date is a great activity!

55. Plan a Thanksgiving Prep Date – Speaking of Thanksgiving, here are some fun ideas for turning all of that dinner prep work that must be done into a fun date. The printable turkey bag is seriously so much fun!

56. Sexy Thanksgiving After-Party Date – Thanksgiving is full of food, fun, and family. When it is all over though sometimes you need some time to spend alone with your spouse to reflect on how grateful you are for them. This date serves just that purpose!

57. Thanksgiving Scavenger Hunt – This great Thanksgiving scavenger hunt takes you through the house and at each stop you must complete an activity as a family in order to move on to the next clue. The activities are designed to help you think about the things you are grateful for.

58. Family Thanksgiving BINGO – This Thanksgiving when you are together with your family pull out this BINGO activity to keep everyone entertained. Watch whats going on around you and when you see something happen that is on the Bingo card mark it off!

59. Play Thanksgiving Charades – This is such a great way to show gratitude! In this version of charades act out the things you are grateful for!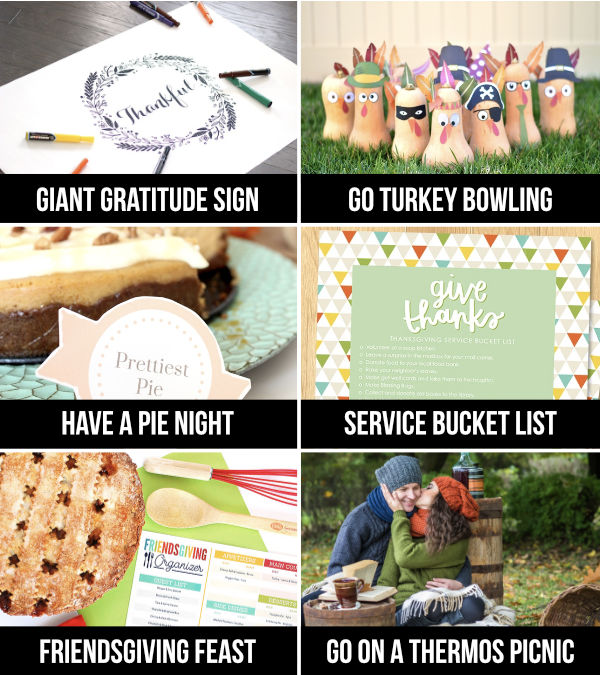 60. Make a Giant Gratitude Sign – These giant poster-sized signs are a great way to show how grateful you are for the many things and people in your life. Spend some quality time with your spouse discussing all the things you are grateful for while you create your poster!

61. Go Turkey Bowling – Turkey bowling is such a fun activity perfect for a special fall date night with your family.

62. Have a Pie Night – With all the dinner preparation and eating all that good food, there is rarely time or space in your stomach to really enjoy the pie. The pie should get its very own night where it can be the star! This date makes sure pie gets the attention it deserves!

63. Thanksgiving Service Bucket List – It's easy to find some service to do this time of year! Work through a service bucket list for date night!

64. Friendsgiving Feast – Gather with friends and have a Thanksgiving feast, our printables will make it so easy to plan and organize this fun date with friends!

65. Thermos Picnic – Fill up your thermos and head out for a picnic under the gorgeous trees. It's perfect for a little soup or cocoa picnic for two on a chilly fall evening.

Outdoor Fall Date Ideas
Getting outdoors is one of the best parts about fall and there are so many fun ways to enjoy the changing of the seasons, including those gorgeous colorful leaves!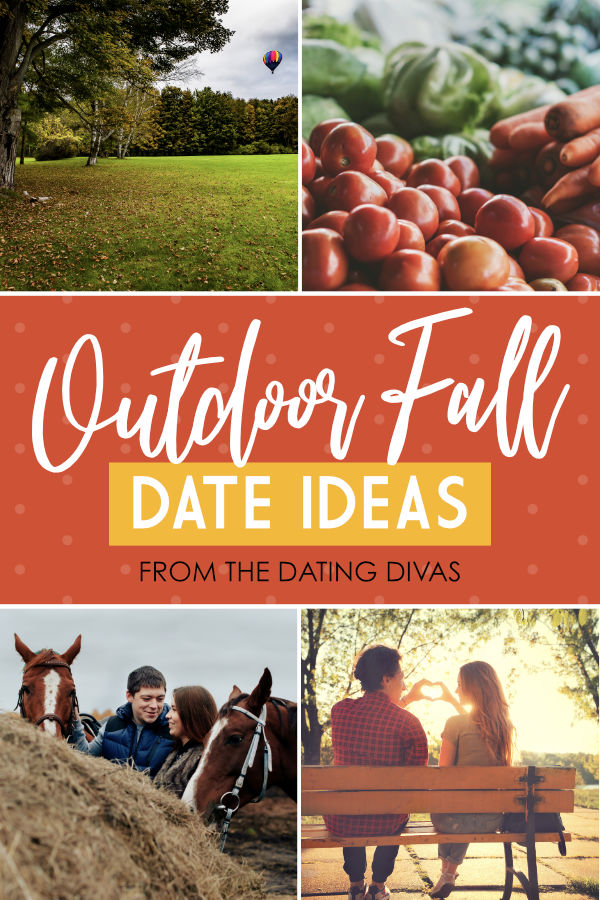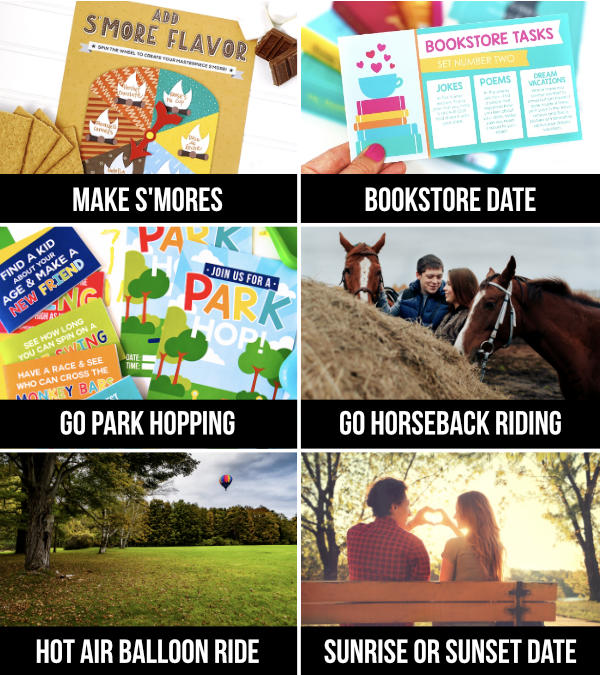 66. Make S'mores – Yummy… the perfect after-dark dessert date. Whether you roast your marshmallows over a bonfire in the woods or a candle in the living room, it's the perfect excuse to cozy up close.

67. Go on a Bookstore date – Try your hand at the printable task cards and then grab some cocoa from the cafe. It might even be fun to grab a book and head to your favorite park bench and read together.

68. Go Park Hopping – This makes a fun family date night, and the printable park hopping checklists are even included!

69. Go Horseback Riding – Time to make good use of those cute fall boots and get all cowgirl'ed up! After some horseback riding, why not hit the town for some country dancing?

70. Go on a Hot Air Balloon Ride – Now THIS is a date worthy of the Bucket List. If you're looking for the ULTIMATE fall date and are willing to splurge – this is the date for you! Totally romantic!

71. Go on a Sunrise or Sunset Date – Grab a blanket and a thermos of cocoa and head to the park for an easy & inexpensive, but totally romantic date.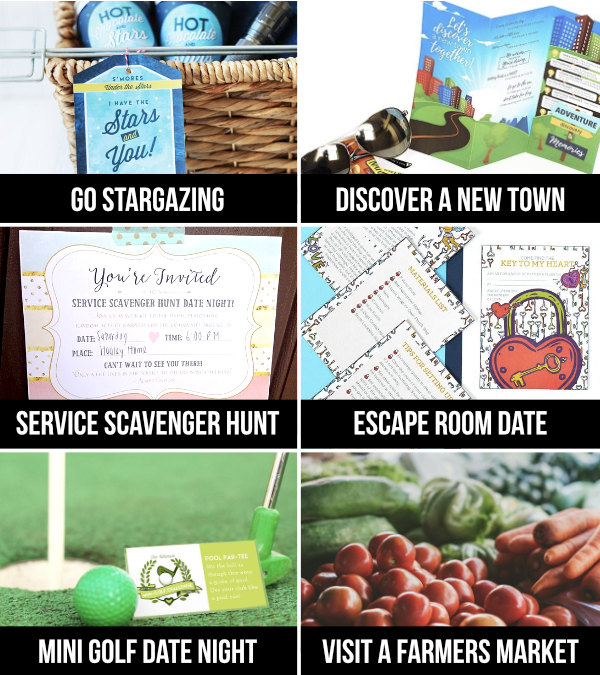 72. Go Stargazing – Even though it's a bit chillier out now that it is Fall, this is actually a great time to go stargazing. Grab some blankets and warm clothes and pack a thermos of hot cocoa to help keep you warm!

73. Discover a New Town – If you're looking to try something new, then you need to try this spontaneous date idea. (And I just love the little rhyme she used to get him out on the road with her.)

74. Service Scavenger Hunt – If you want to feel closer to your spouse, I highly suggest doing service for others with your spouse. And this post has lots of ideas of "Random Acts of Kindness" you can do together.

75. Escape Room Date Night – If you haven't done an escape room (or want to do another one!) find one near you and get ready for a night of solving puzzles! This would make a perfect fall date night for you, your spouse, and a few of your couple friends.

76. Mini Golf Date Night – Mini golf is such a fun activity and Fall is the best time to play because the temperature is just right!

77. Visit a Farmers Market – Fall is a great time to visit your local farmers market. Fresh fall produce is great for so many great fall recipes. Take your goods home and make something delicious together!

Indoor Fall Dates
Here are a few more fall date ideas that you can add to your list! We've got so many fun ideas for couples, but also for family date night. Plus, our Mafia date night and Choctoberfest are fun group dates that you will absolutely love. We also have some fun intimate date ideas that will help you grow closer and make some great memories.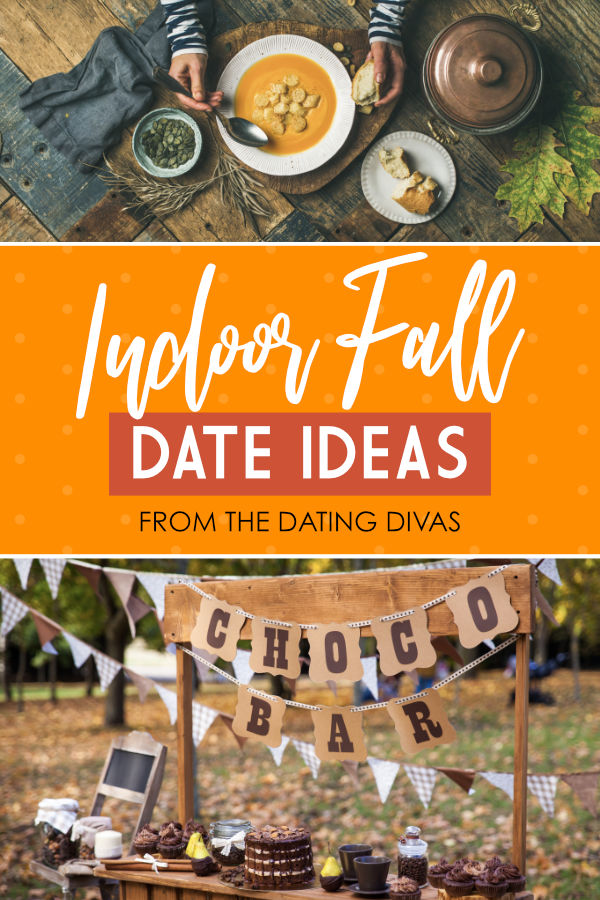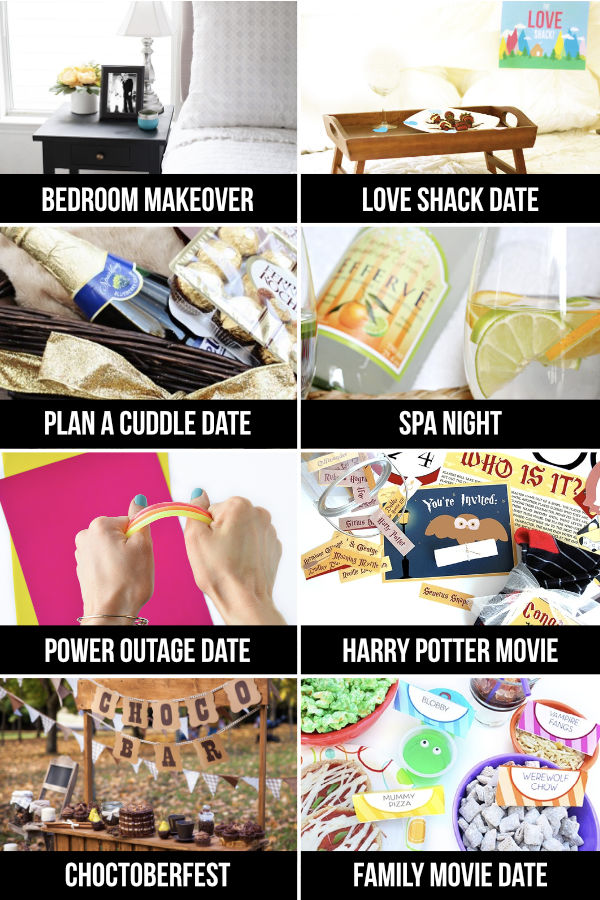 78. Bedroom Makeover – Makeover the most important room in the house—your bedroom! Don't forget to decorate for the season!

79. Love Shack Date – Fall is the perfect time for some cuddling! Click on the link to grab your "Love Shack" printable and make a romantic, cozy fort for two.

80. Plan a Cuddle Date – Autumn is the perfect time for some cuddling, don't you think? Fill your "Cuddle Kit" with cozy slippers, a blanket, some cider or cocoa, and a movie. Then settle in for a night of cuddling on the couch.

81. Have a Spa Night – If you need a little romance and relaxation, this is the perfect at-home date for you. Oh, and in case you need it, here are 25 DIY Spa Recipes to try out together.

82. Try Our Power Outage Date – You don't have to wait for the electricity to go out to have some fun in the dark! Here's your chance to cozy up in the candlelight.

83. Have a Harry Potter Movie Marathon – Or maybe Harry Potter is more your style. You've got to check out the clever decorations for this one!

84. Choctoberfest – Chocolate and fall go so well together! So grab some chocolate and have the fall date dreams are made of!

85. Hotel Transylvania Date Night – This family movie date is all about the fun Hotel Transylvania movies which are perfect for fall!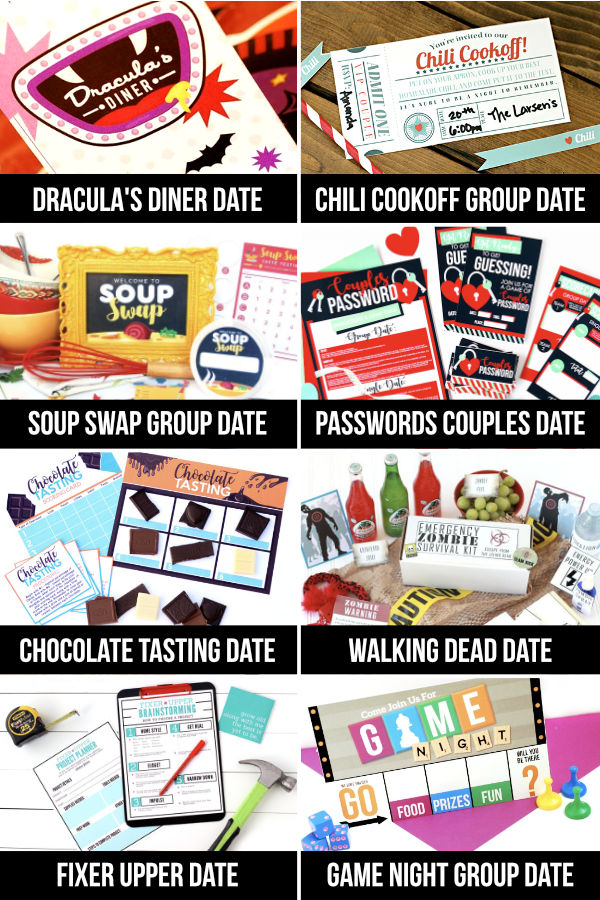 86. Dracula's Diner Family Date – This special dinner date is a great way to get into the fun of Halloween!

87. Chili Cook-Off Group Date – With temperatures cooling down it is time for a hot bowl of chili! A chili cook-off makes for a wonderful fall date night! This printable kit has everything you need to make your chili cook-off a huge success!

88. Soup Swap Group Date – This kit provides everything you need to host a soup swap! Fall is such a great time to make and eat soup, especially on those chillier days!

89. Passwords Couples Date Night – Fall is such a great time to get together with friends and play games! This is a spin-off of the original Password game show that we turned into a super fun couples date night!

90. Chocolate Tasting Date Night – This date is honestly good to do any time of year because it involves eating chocolate… but hey it's fall right now and you want chocolate so this date is perfect!

91. The Walking Dead Date Night – As Halloween approaches watching some zombies together as a couple is a great way to get in the mood for Halloween!

92. Fixer Upper Date Night – Fall is the perfect time for a simple home improvement project!

93. Game Night Group Date – Playing games with a small group of close friends is a great way to spend date night. If you are looking for some game night ideas this fall look no further! This kit has everything you need to make your game night a huge hit!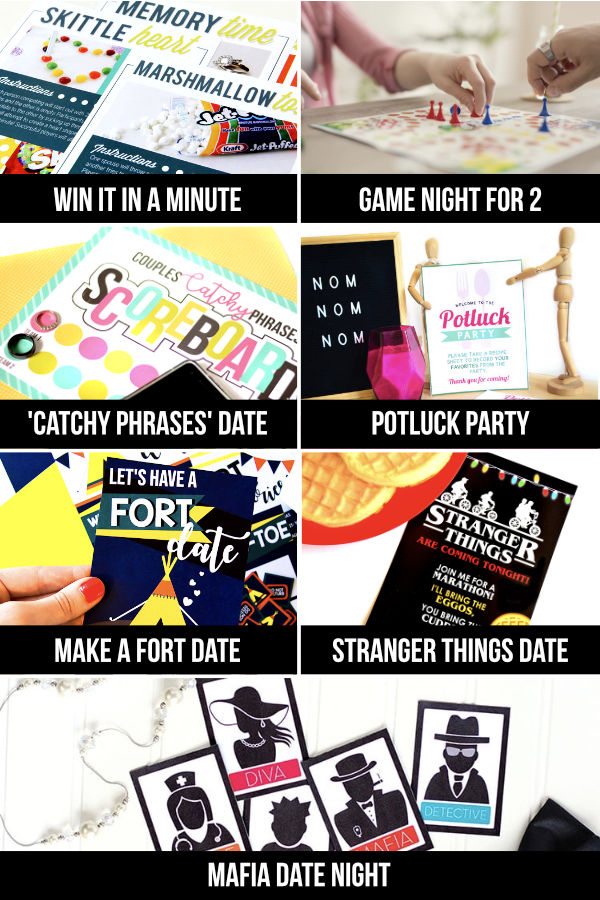 94. Couples "Win it in a Minute" Date Night – It's minute to win it time! Grab some friends or family and head inside as the evening cools off and play some games!

95. Just You and Your Spouse Game Night – Sometimes playing a simple game with just you and your spouse is just what you need. Finding good two player games can sometimes be difficult so we have put together a great list for you to use. Pick a few of your favorites from this list and you have some easy fall date nights planned and ready to go!

96. Couples "Catchy Phrase" Date Night – Catchy Phrase is the Diva's digital version of the hit party game Catch Phrase! Grab a few other couples and get ready for a fun night of Catchy Phrase!

97. Potluck Party Group Date – Eating food together with friends and family is a great way to spend quality time together. Throw a potluck party with some friends you would like to get to know better this fall!

98. Make a Fort Date Night – Build a fort with your spouse and spend some time cuddling! While cuddling you could watch a movie, read a book, or play a game. This idea is so versatile and is perfect for those chilly fall date nights.

99. Stranger Things Date – Love the show Stranger Things? Make a date night of it with these fun themed printables and activities.

100. Mafia Date Night – This is the perfect fall group date since it brings out the detective in all of us!
And there you have it, 100 amazing Fall date ideas to help you enjoy the cooling temps and gorgeous views with your sweetheart.
SaveSave
SaveSave
SaveSave
SaveSave
SaveSave
SaveSave
SaveSave